Have got much done on the VAG 1,9 AEF diesel engine the last days. Dieselpump cleaned up and wiring is fixed. Only 3 sensors are used now. There is alot of wiring and electric sensors that is not needed in a van. (removing immobilizer for example). I moved the dipstick hole to the other side of engine, as it is tilted 45degrees in the bus also are on the wrong side. So drilling a new hole in the engine block was needed. And the old was tapped and sealed up with a 12mm bolt. The tube from the AEF was used and modified/bracket.
The intake manifold don't fit in the tight bus engine compartment so the old one from the 1,6 CS are going to be used, it has a better angel/shape that fits inside the bus compartment. But it's a little smaller in diam so I made a port matching (as close as possible) for better flow. The exhaust manifold, I probably going to use the AEF, its bigger in diam than 1,6 so will improve the performance. The downside is I must make a custom exhaust and blank off the EGR valve. Hopefully worth it in the end!
New water pump and thermostat is installed. New timing belt and tensioner etc. Changed flywheel to the 1,6 CS, new needlebearing (don't forget!) new throw out bearing, new clutch kit. I used new bolts from FEBI to the flywheel, standard size. I took the backing plate from the 1,6 as it will fit the bus transmission better. Also needed to remove two upper studs from engine bolt holes, bolts straight thru will be used instead.
All sensor need to be taken from the old engine (good since I bought all these new awhile ago) like oil pressure, water temp, glow plug sensor etc. Waterflange in alu with sensor was taken from the 1,6 also. All waterlines and hoses to oil cooler etc was removed. Next up is changing oilpan to bus cast alu 1,6 CS. The oilfiller tube has to be removed and plugged, the servopump will be in the way. Will use the cap in the camcover instead. New alternator and servopump, waterpump pulley, idlerwheel and new fan belt is going to be installed next time. Also some new resistors and relays need to be added to the glow plug sensor and relay for coldstart etc.
Transmission have also been removed from the bus now, getting it ready for overhaul and difflock, new seals and shifter bushings. More about that soon…
Another really good page for AEF conversion is Colins write-up on Brick-Yard forum, here is the link: http://www.brick-yard.co.uk/forum/1-6cs-to-aef-engine-swap_topic52595.html
#vwt3overland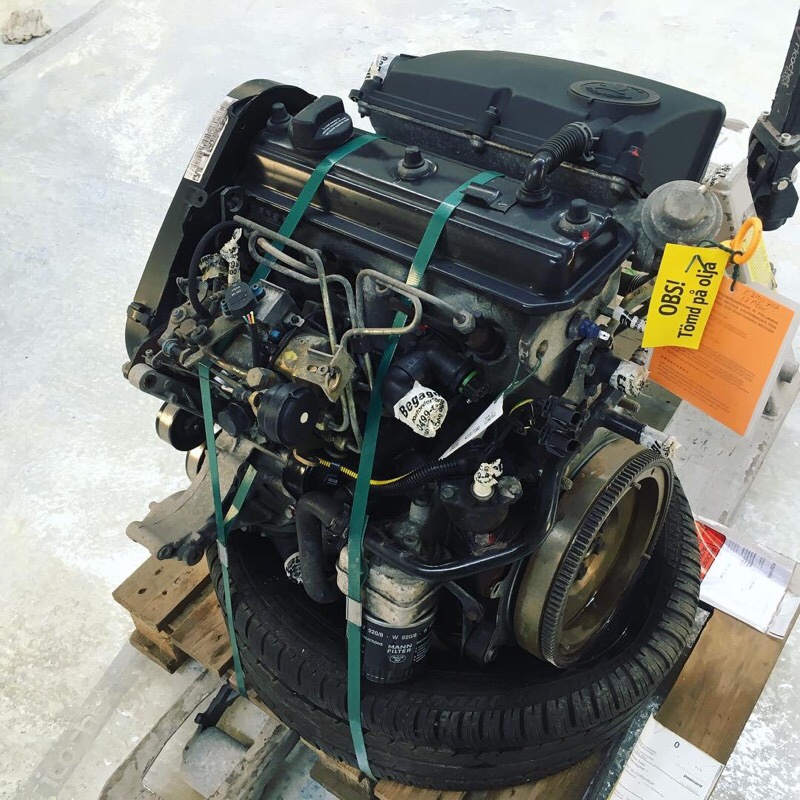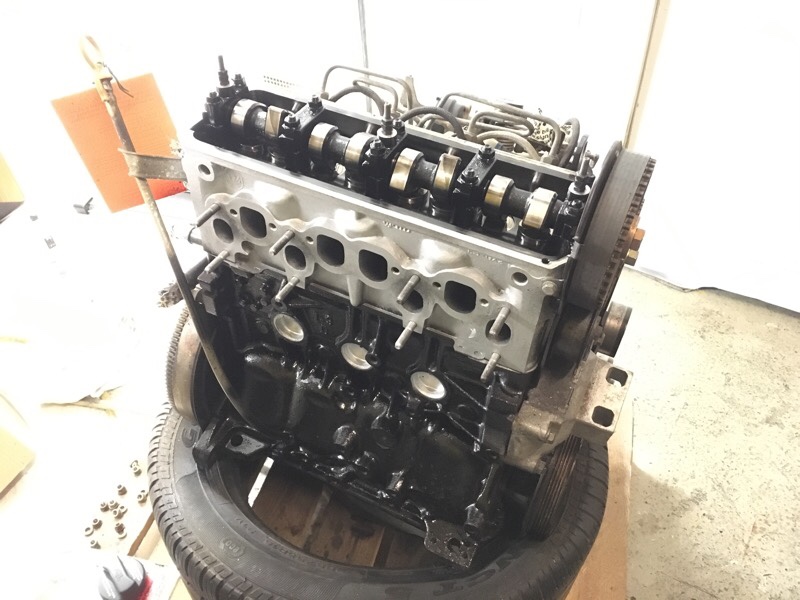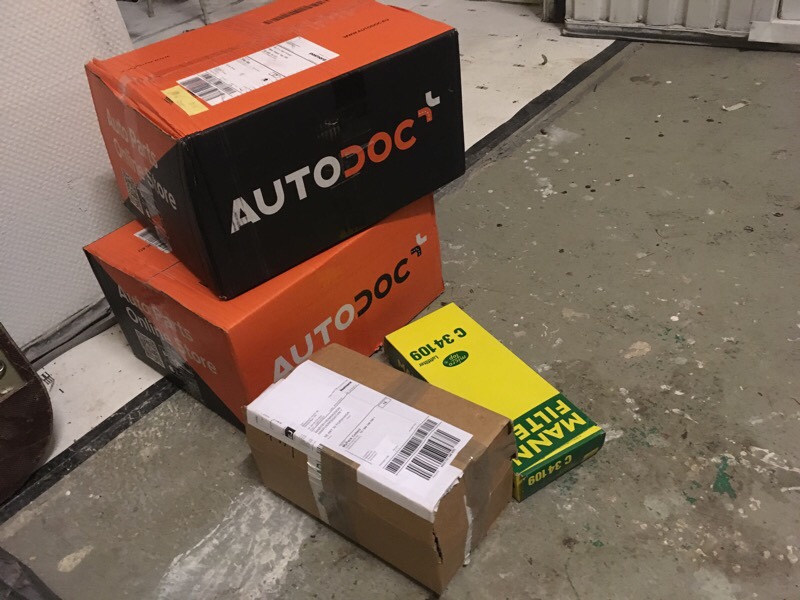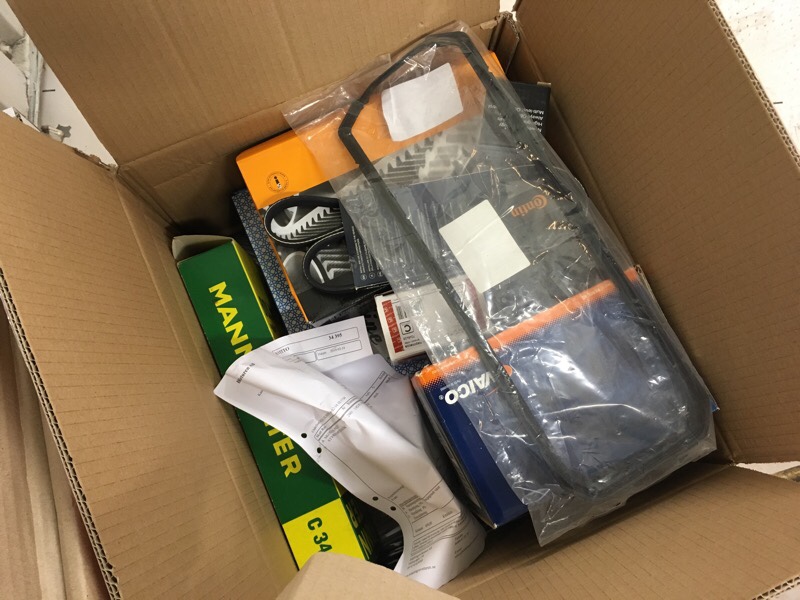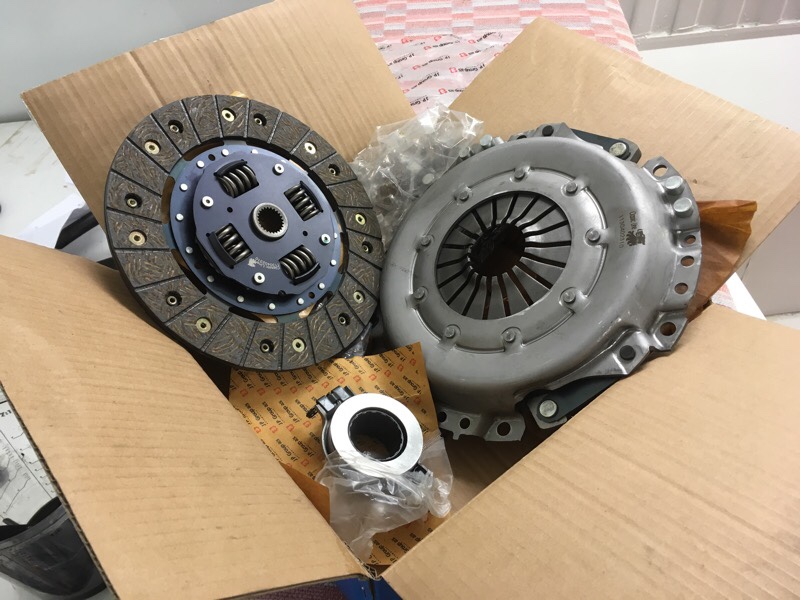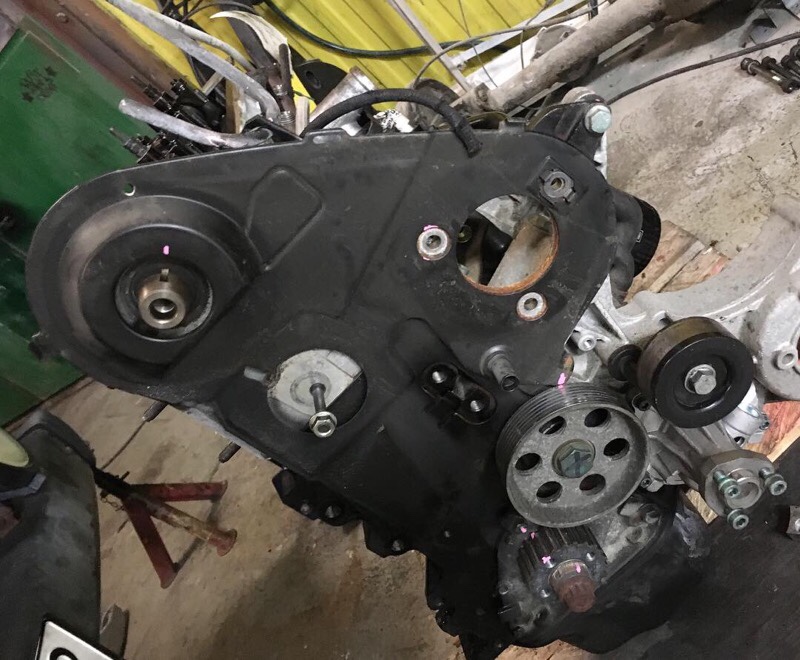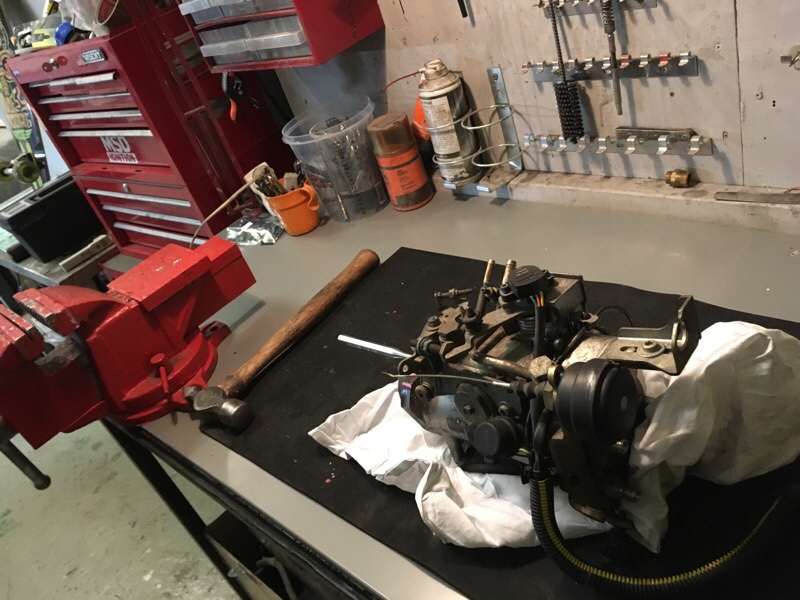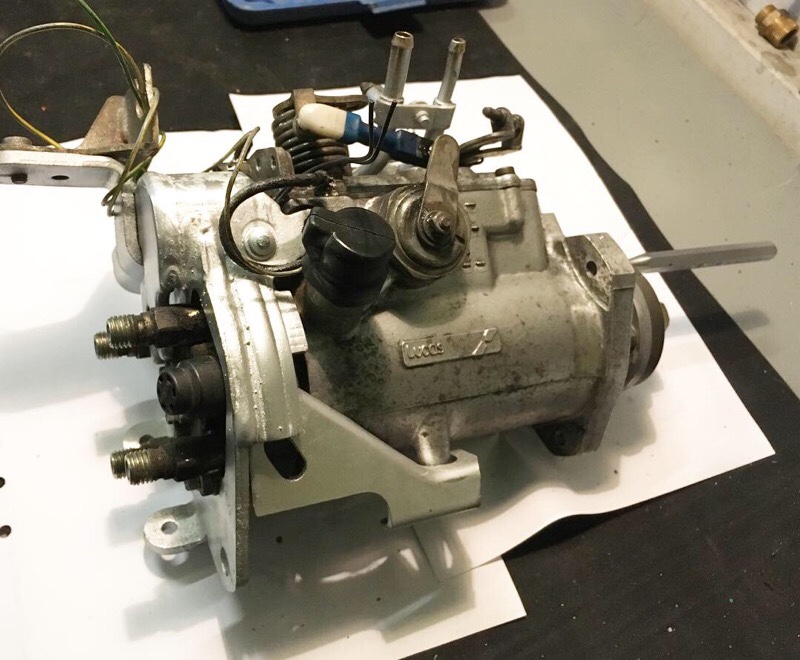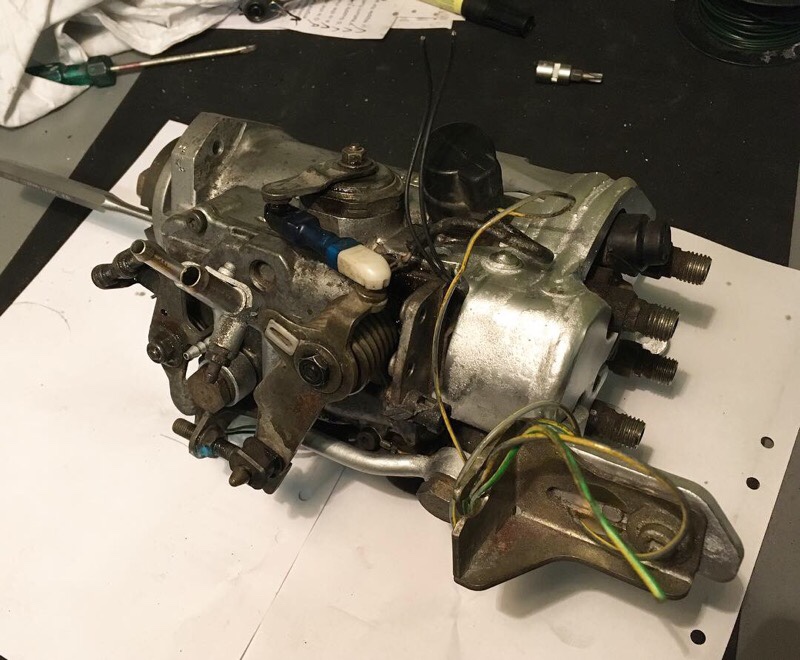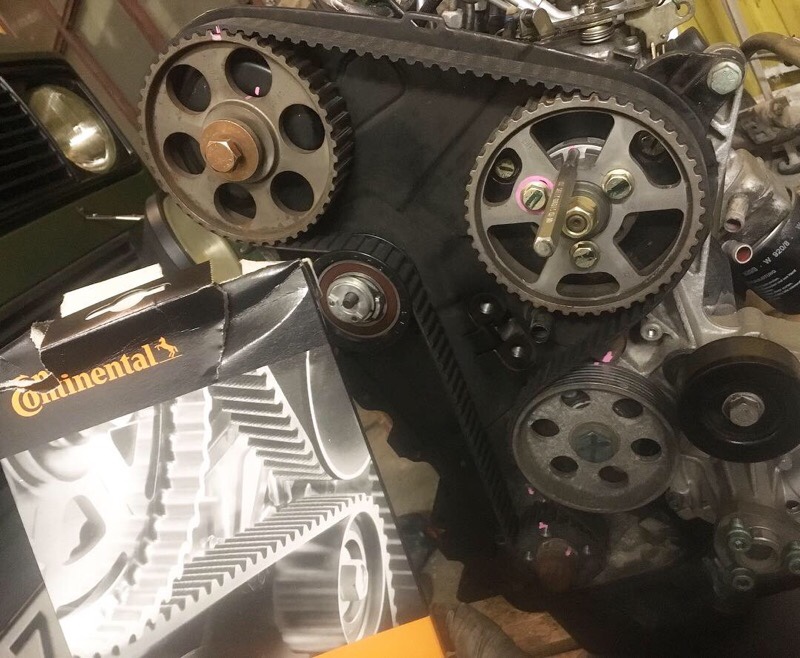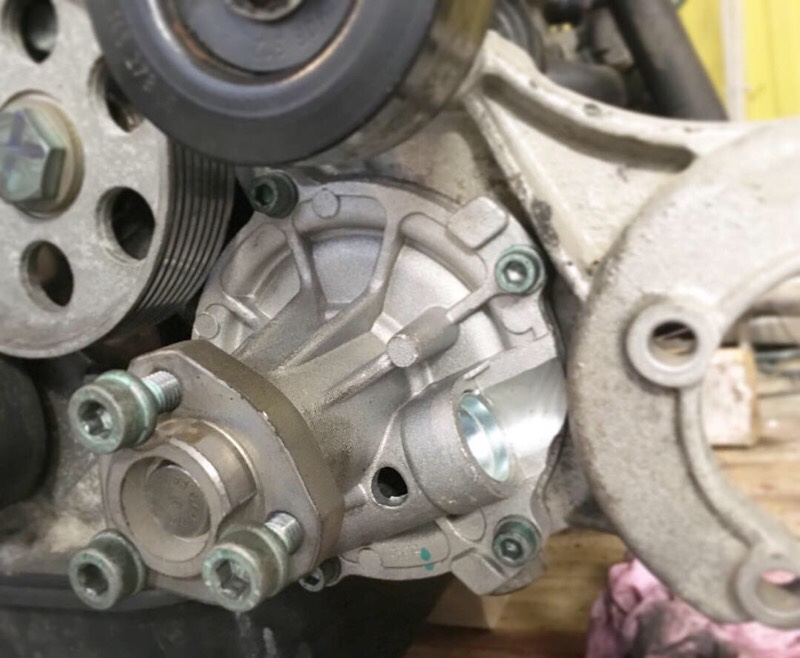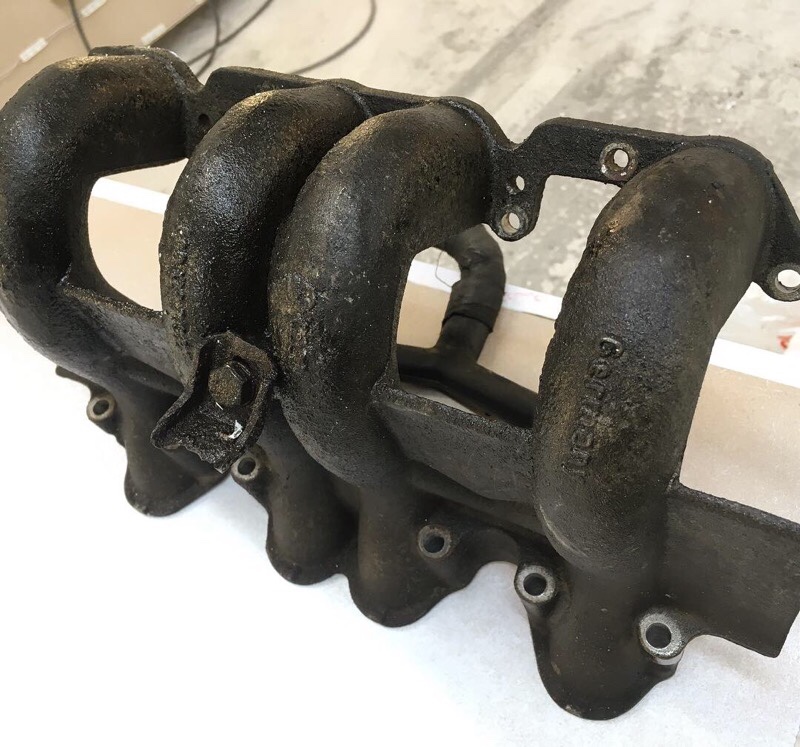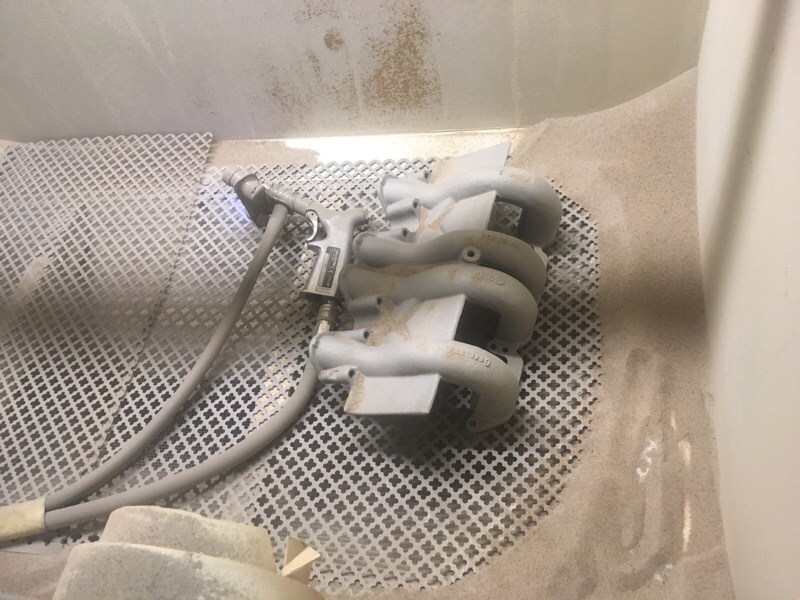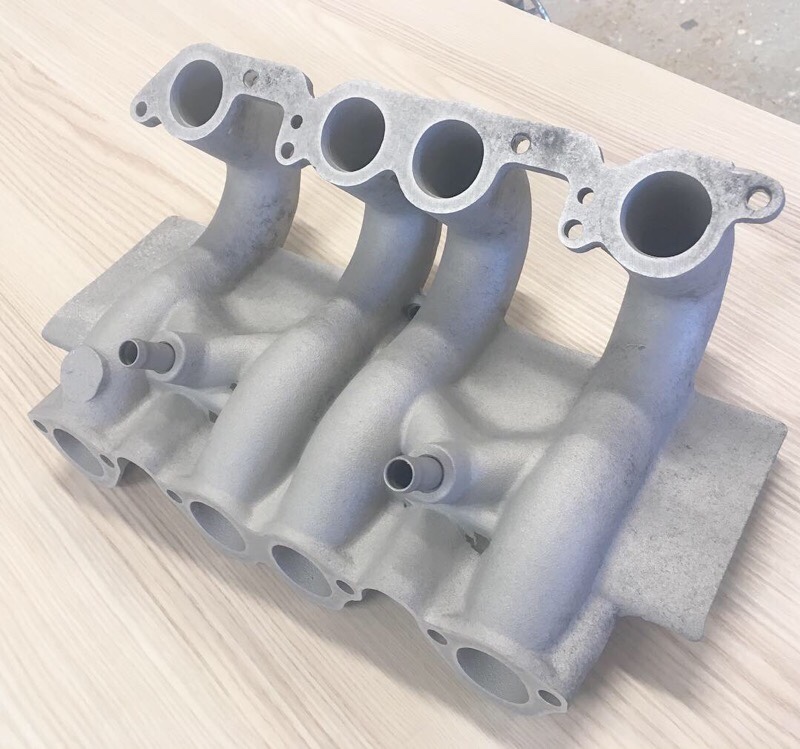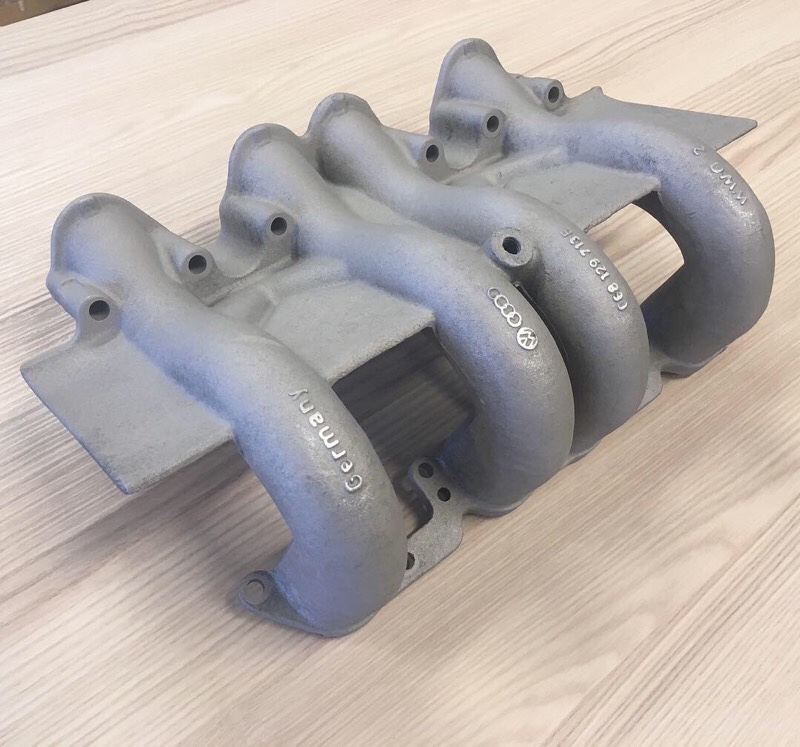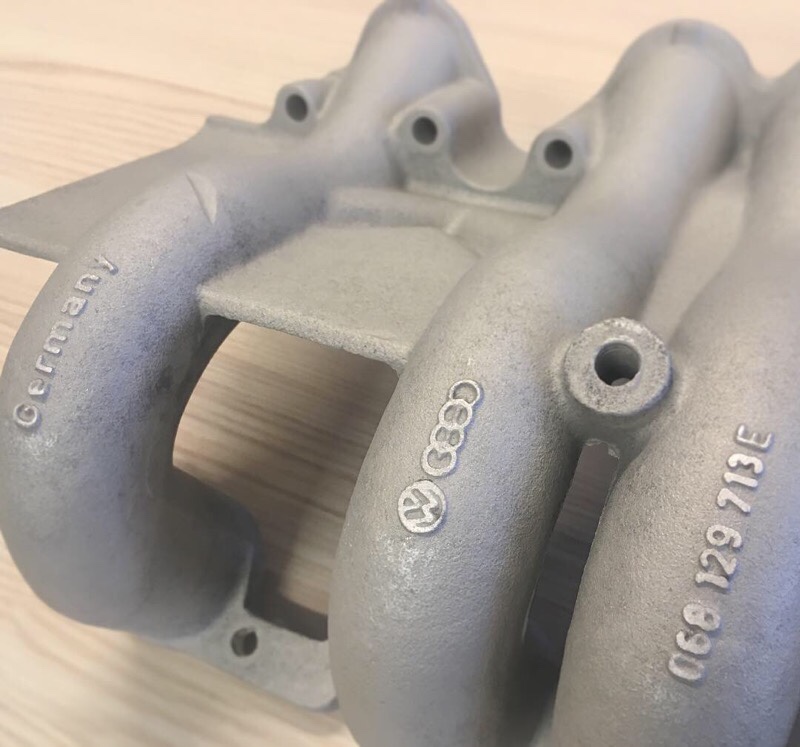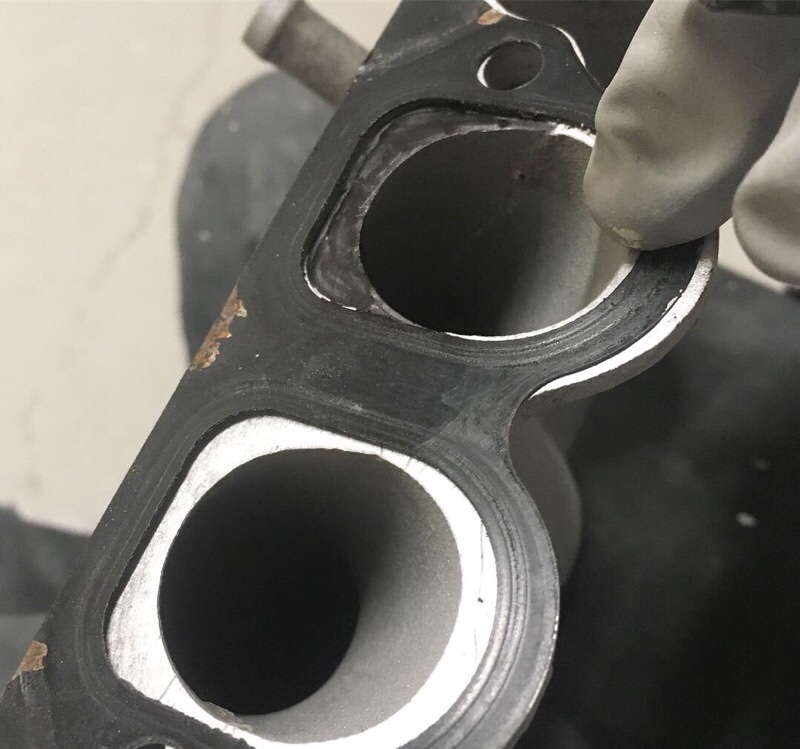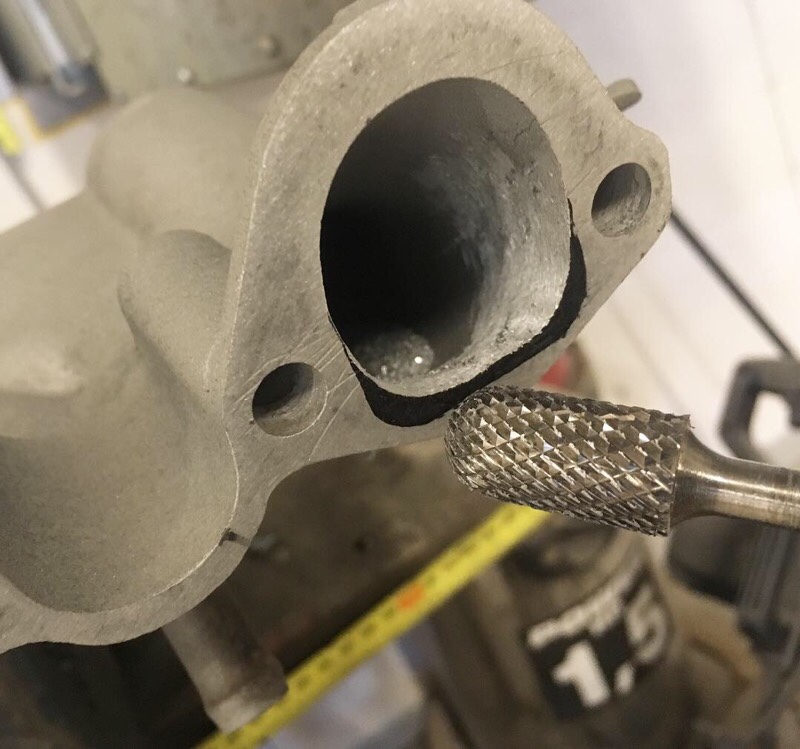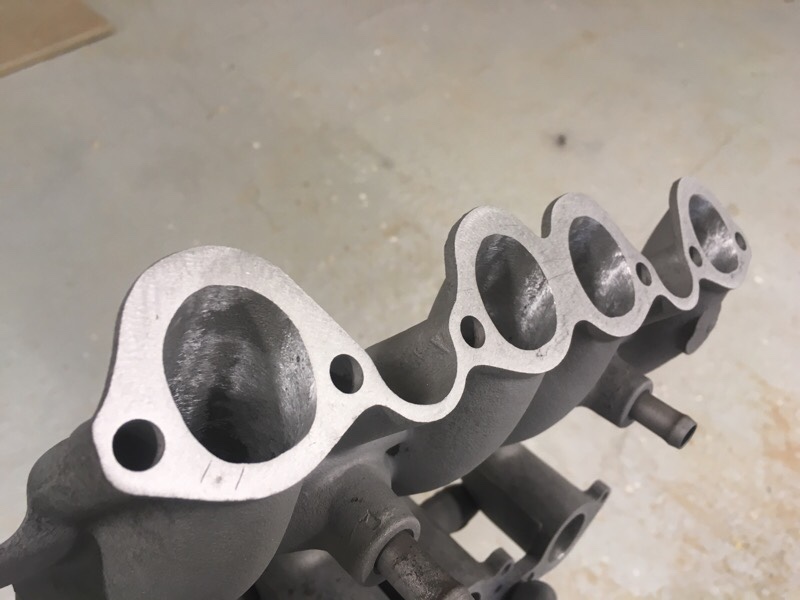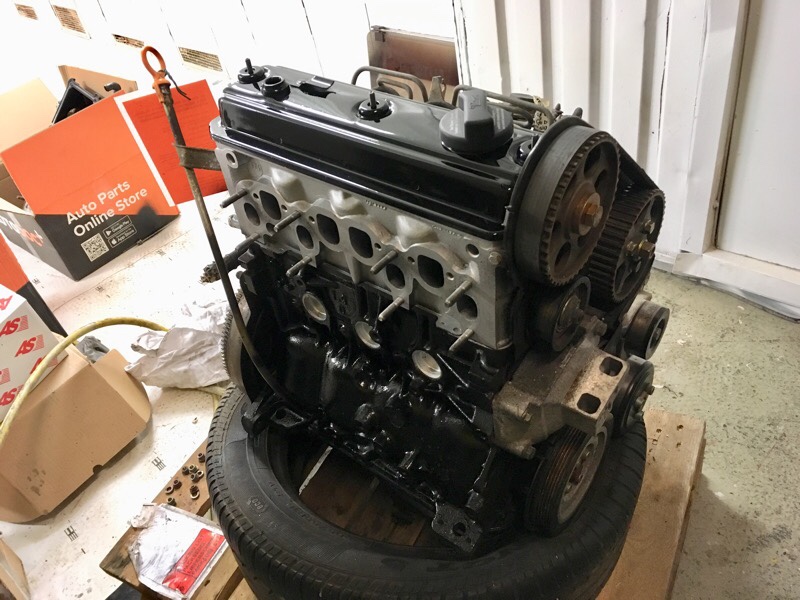 The old 1,6 CS diesel was a bit to slow in hills/highways (to the point it get dangerous in traffic). So it needed to go. I don't going to race Lemans with the bus, I just want a more modern, stronger, cheap to drive (diesel) and most important RELIABLE engine that always work. First I was looking at a AAZ 1,6/9 Turbo engine but with a turbo it's just another thing that can brake and these engines always runs much hotter. So I decided to go with a VAG 1,9 AEF engine, found in VW Polo, Golf, Audi and Skoda Felicia.
THE NEW ENGINE
I managed to find a really lowmilage 1,9 AEF diesel engine from a Skoda Felicia, year 2000. But it is not just to bolt this engine in the bus and drive, a lot of stuff need to be changed and parts from the 1,6 CS need to be re-used and modified. But its probably the easiest conversion you can choose, if your thinking of using a non standard engine in your VW T3 diesel bus.
TRANSMISSION
While the engine is out I will also take out the transmission. And make a check up, change shifter couplings, linkage bushings and gaskets. Upgrade driveshafts to stronger, Porsche. Upgrade the differential with a difflock from Weddle Ind. In a standard "open" differential, torque is divided equally between the wheels. If one wheel slips and spins, only a fraction of the torque is utilized. The difflock eliminates this problem. Power will always be delivered to the wheel with the most traction to keep you moving instead of getting stuck, up to 100%. Then it we can do some serious off-roading 🙂
More to come soon! #vwt3overland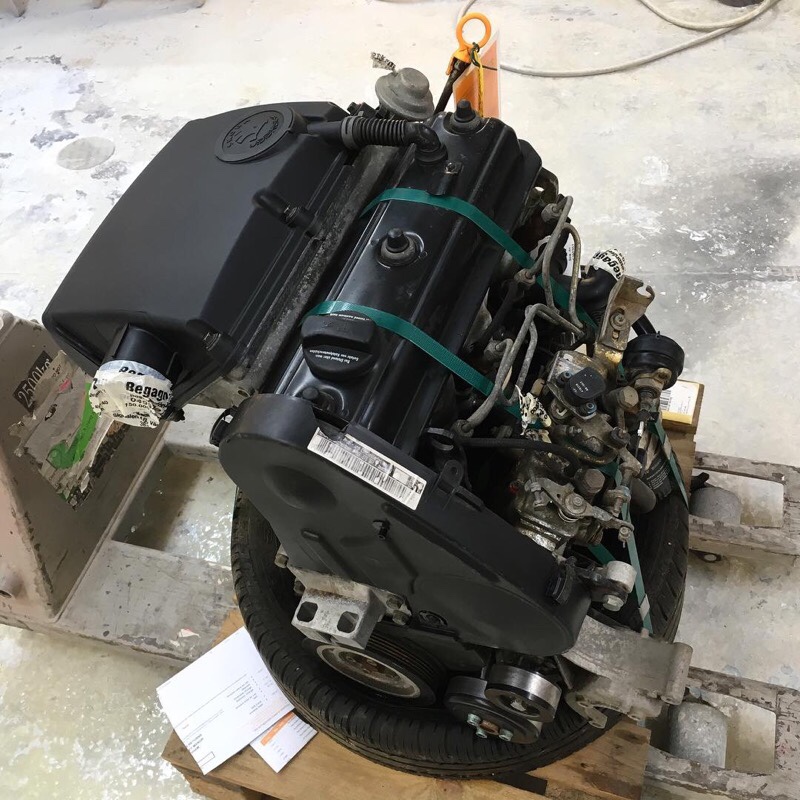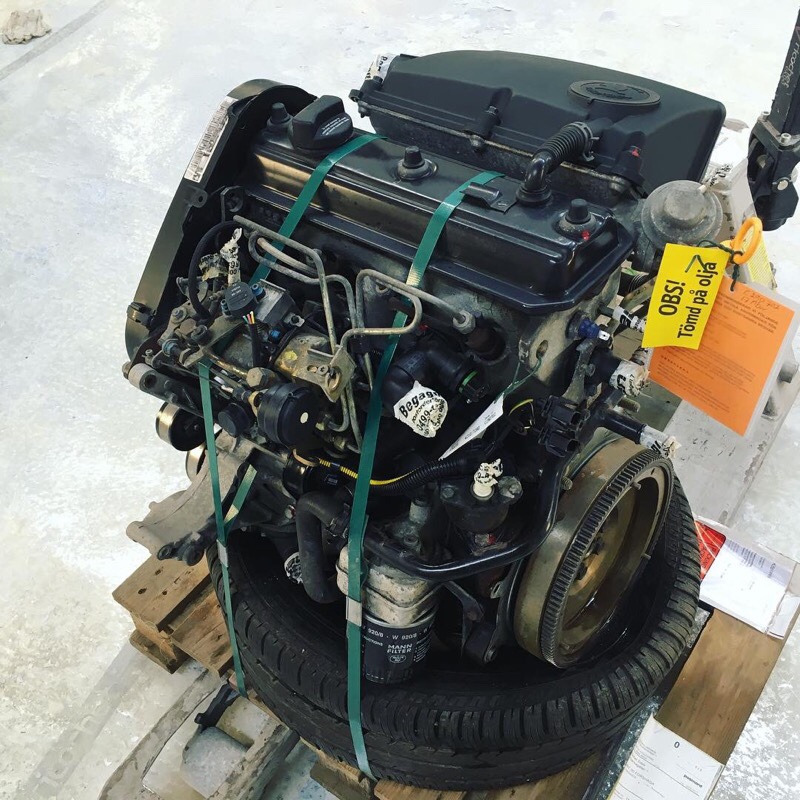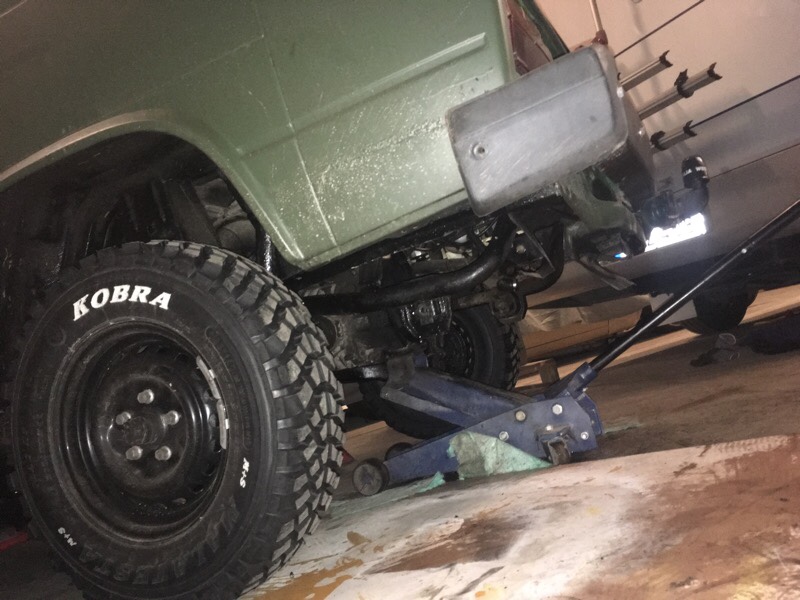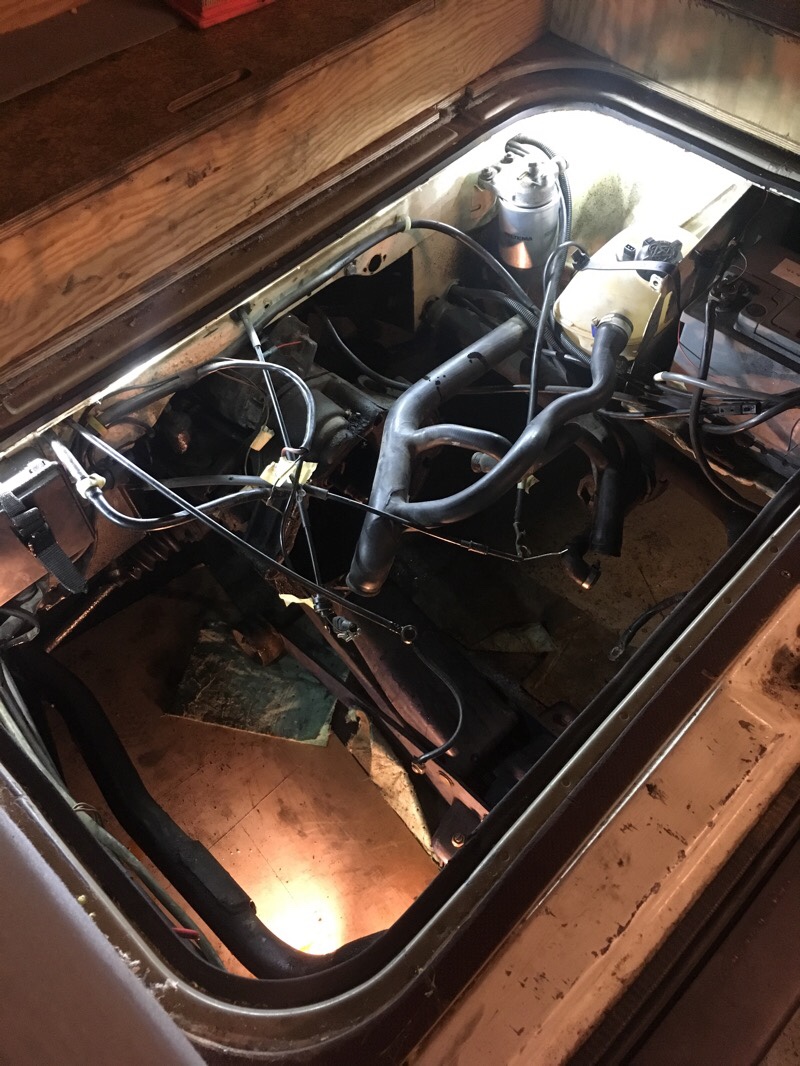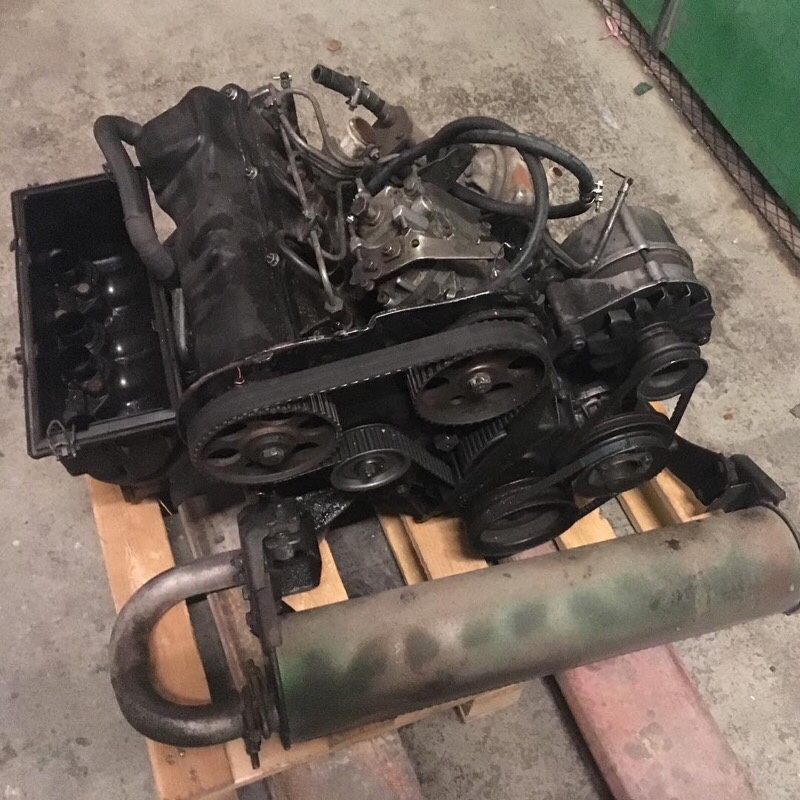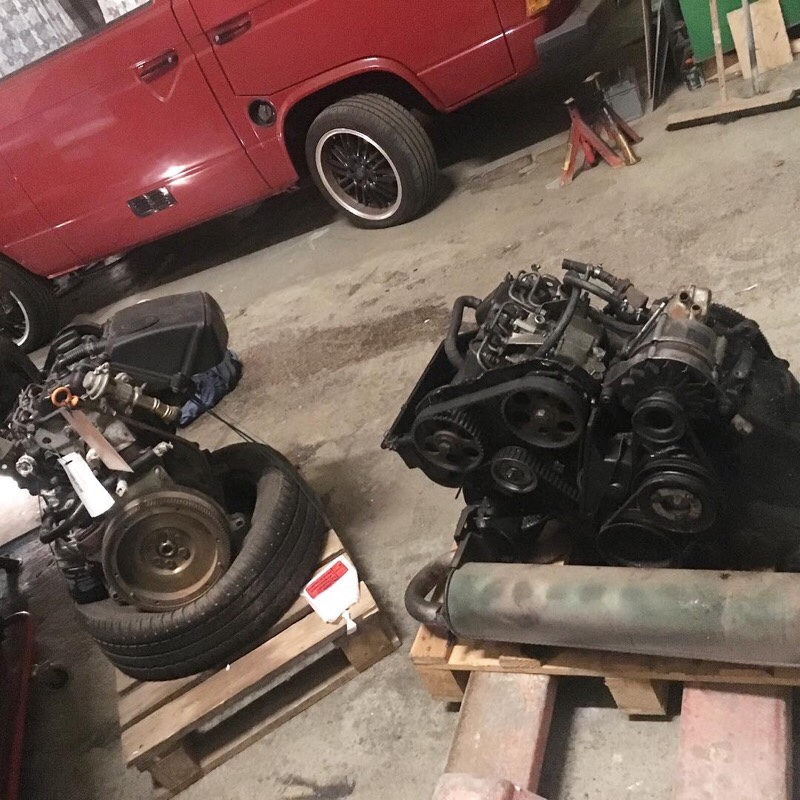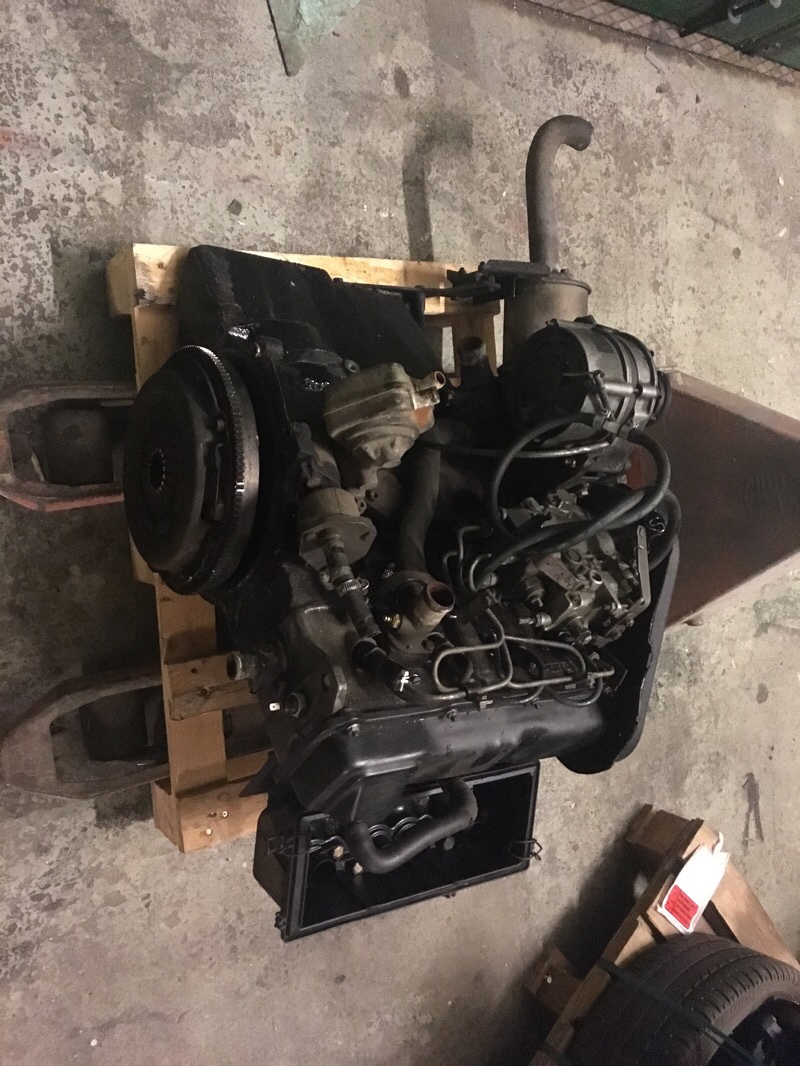 The interior is almost finished now, just some small details left to do. Here is how it looks so far… it so nice with heater on the winter, it was -9 celsius and inside was set to 26+celsius 🙂
#vwt3overland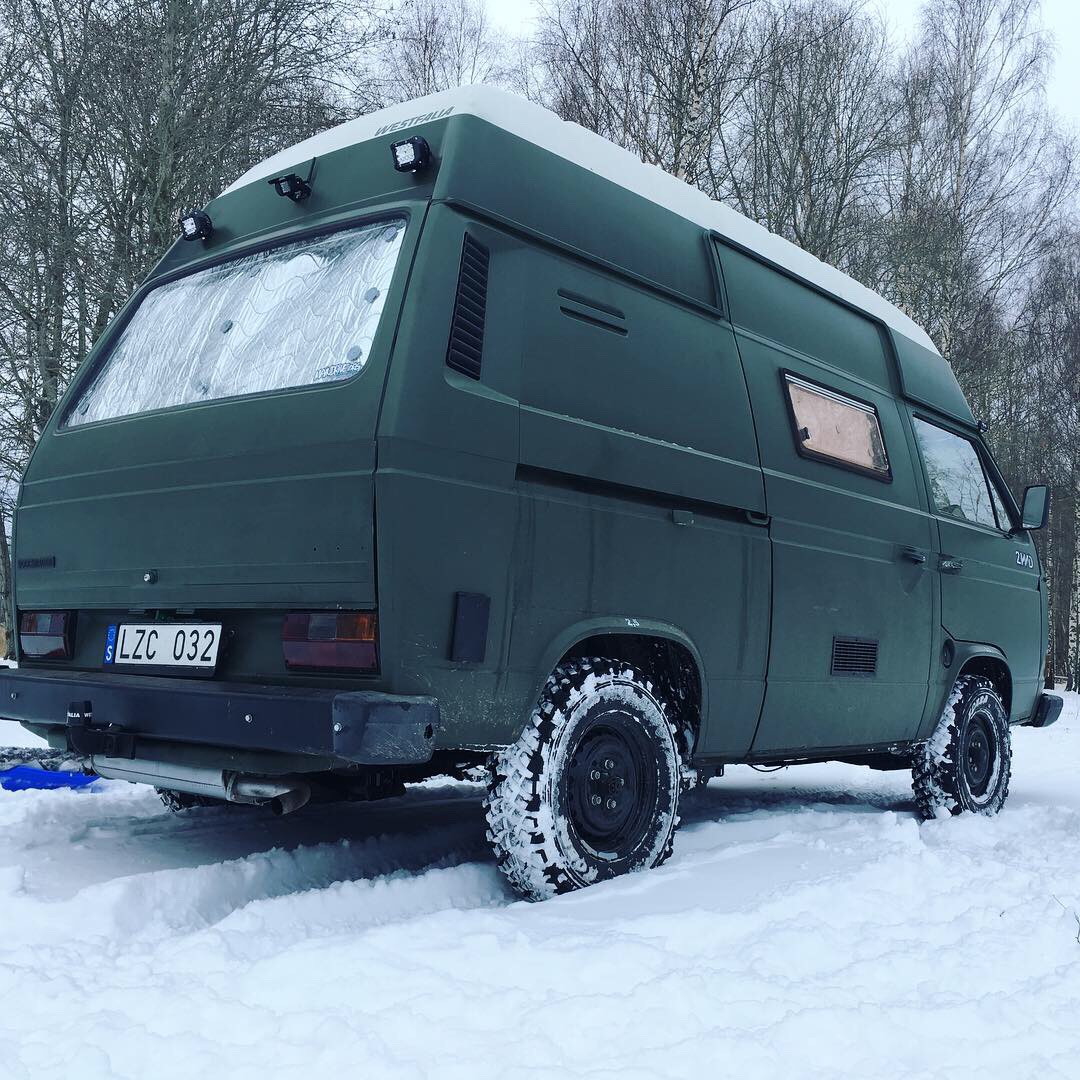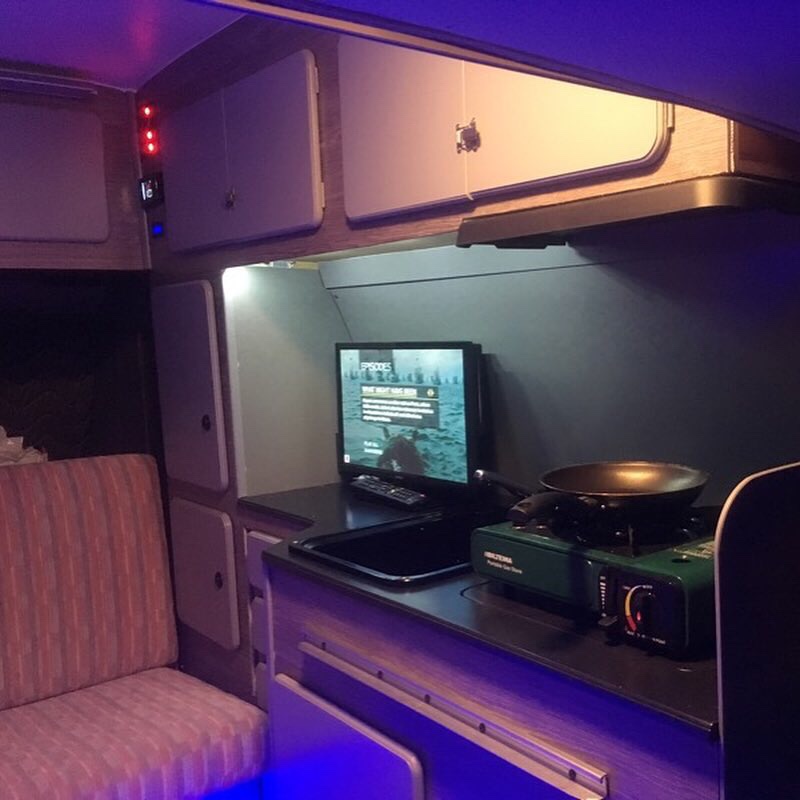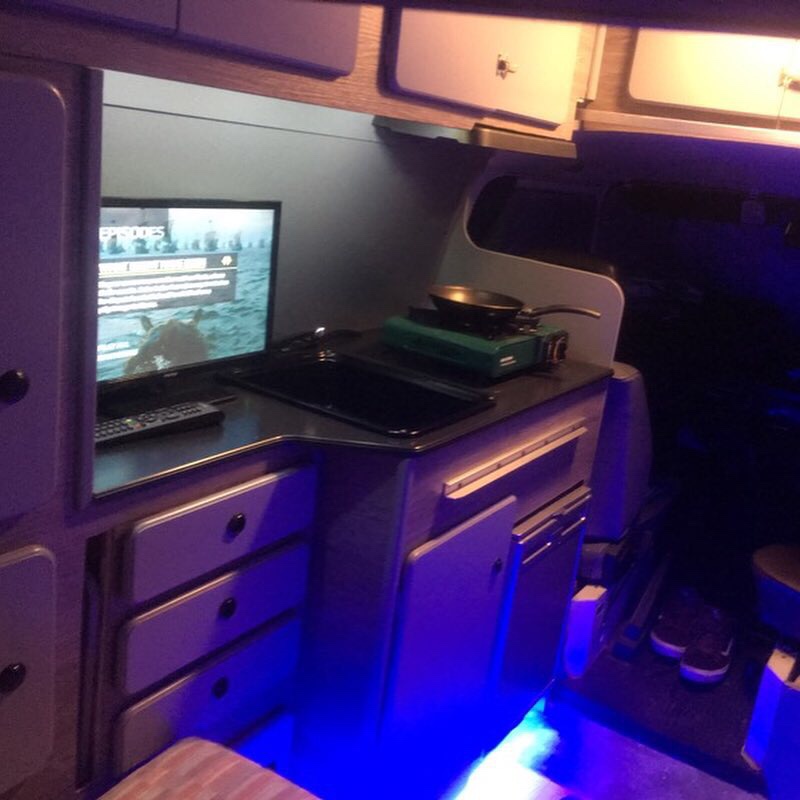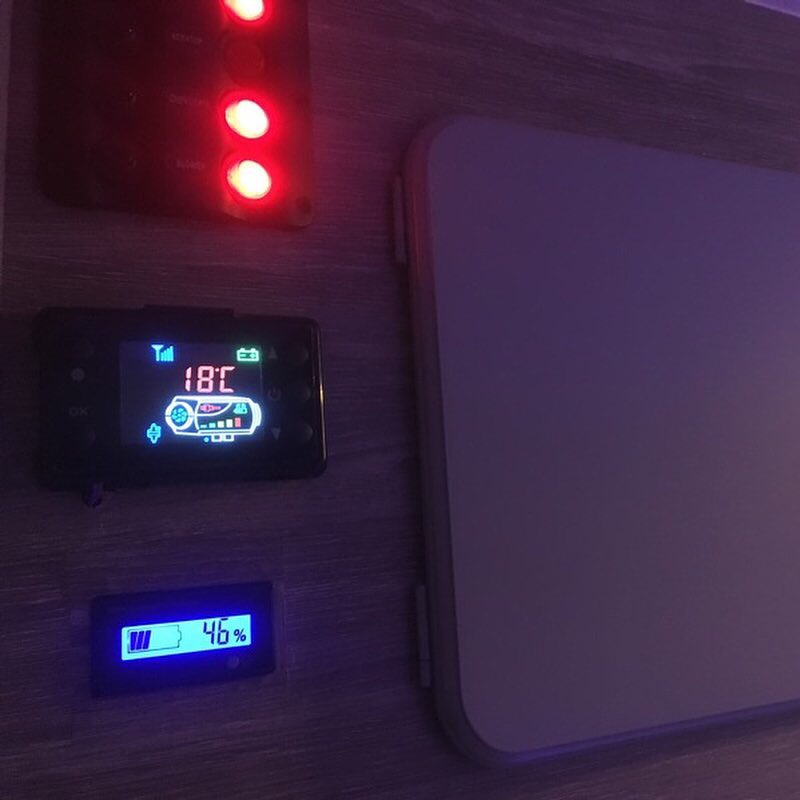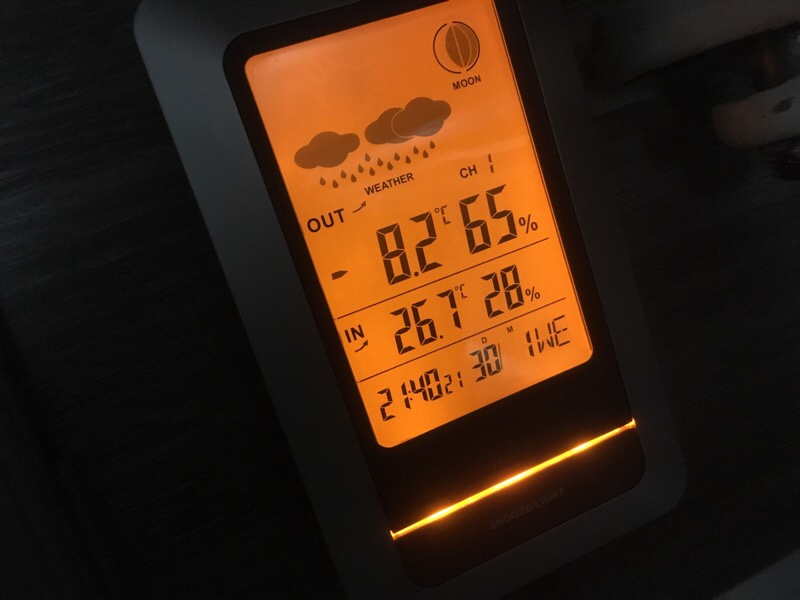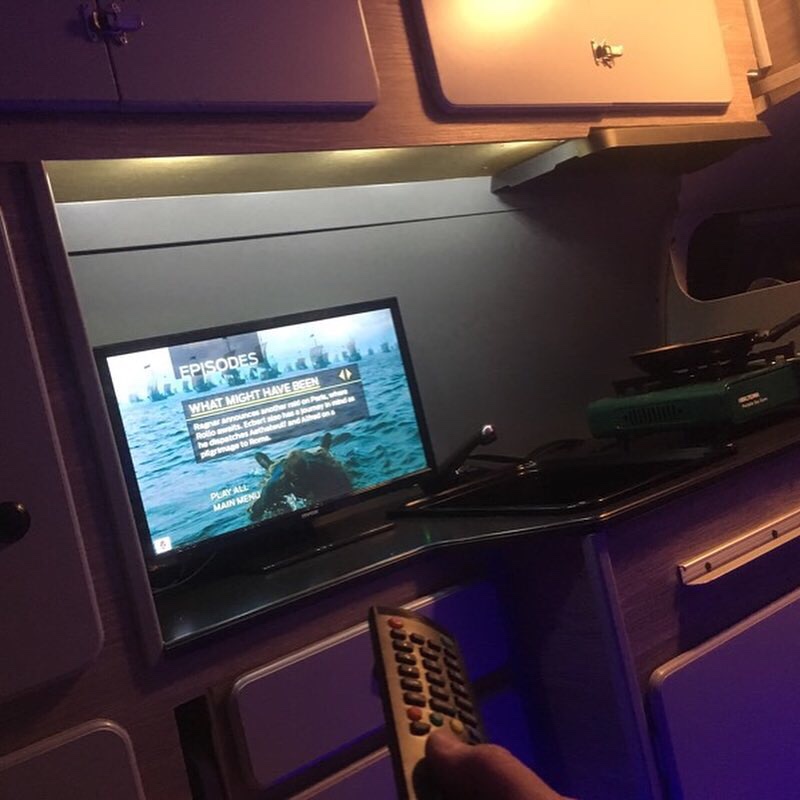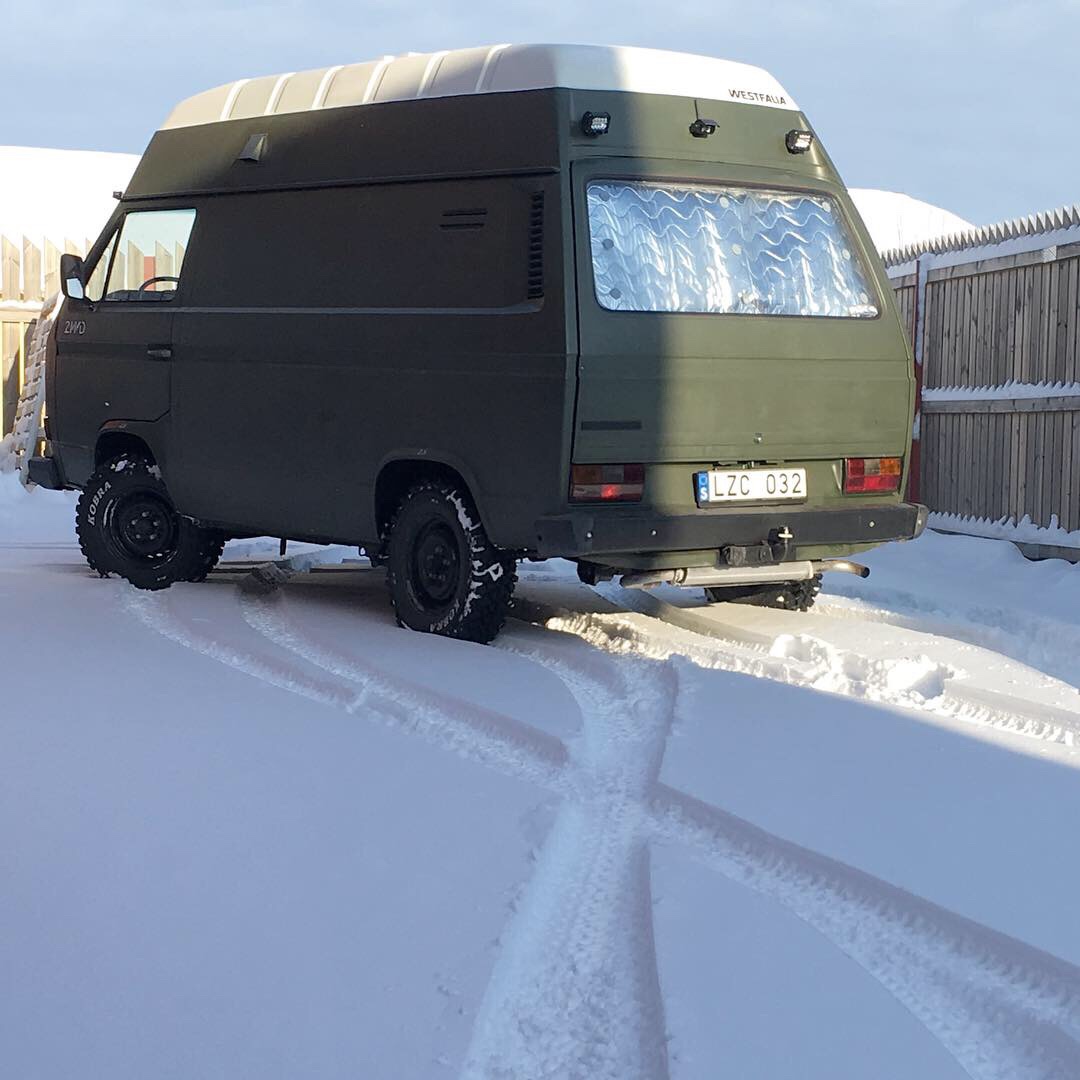 The wiring was a mess (for all equipment) so a new control panel with automatic fuses was installed togheter with new wiring. The 230v wiring (camping power) was also updated with automatic ground fuse and two new sockets with combined USB outlets.
The old interior lightbar was only 230v, but it was a great design so you can flip/turn the light angle. So I took it apart and converted it to 12v with LEDs. An extra LED light with two touch dim/settings was mounted up in the front of the sealing/roof also.
Under the rock n roll sofa I made space for 200amp of batteries (dual 100amp). These I connected to the car/start battery thru a relay, so the car alternator will charge all battery's. These batteries are connected thru Bluetooth to my cellphone so I can see how much power is left and how much is charging. The solar panel (portable 120w) have a quick connection to these battery's. Also the 5kw diesel heater is installed under the sofa. It takes air from outside and diesel from the main tank, and the exhaust is routed thru a silencer and out. It runs on diesel and 12v so it can be used anywhere for a very longtime, no need for 230v power. It has a digital display, and a thermostat so it will keep the inside toasty warm on winter. It can be started thru GSM net with my phone. I routed the heater outlets to the main floor and one to the back/bed. It works great and produce a lot of warm dry heat!
The walls, doors and roof was already insulated with 50mm cellplastic, thats very good! But I had some extra aluminium/bubblefoile rolls that I put inside some of the doors and walls for some extra insulation and vapor barier.
#vwt3overland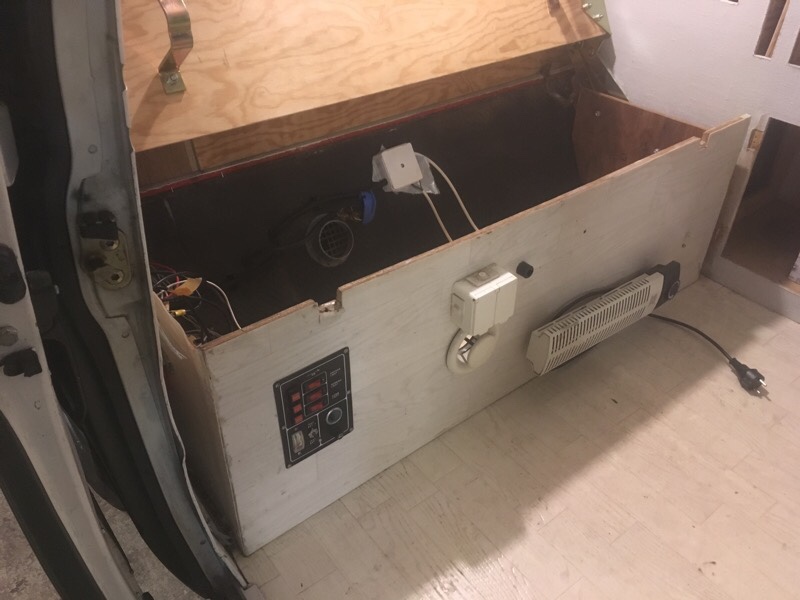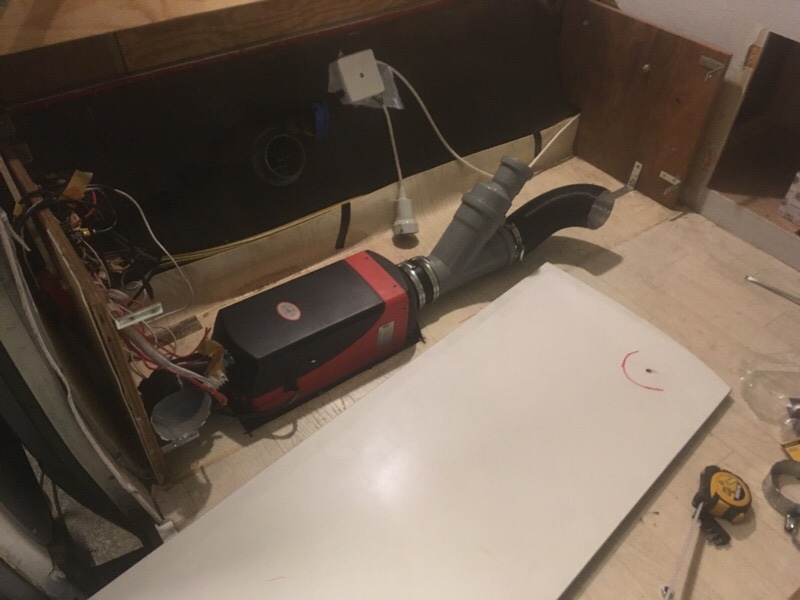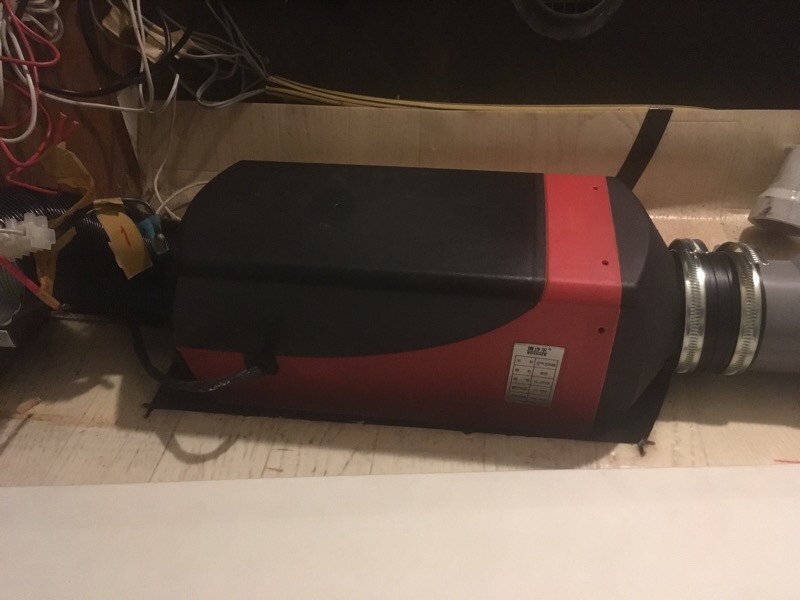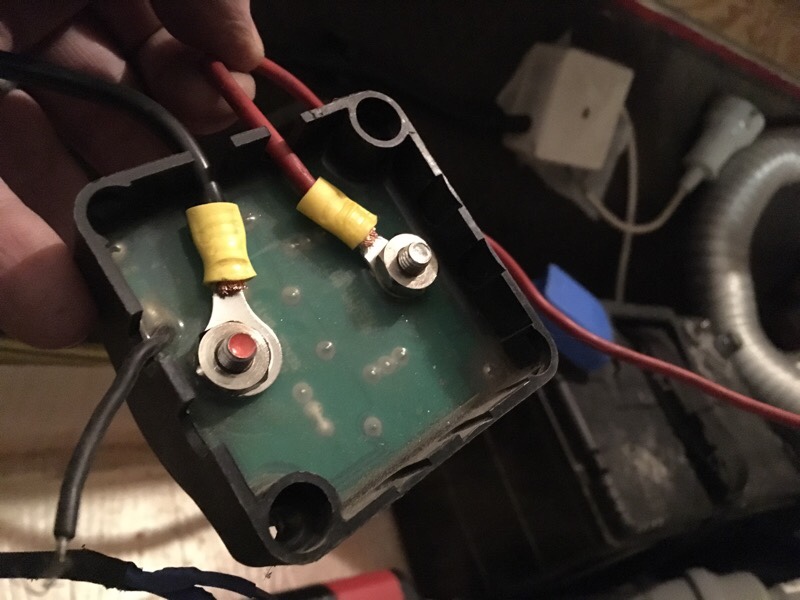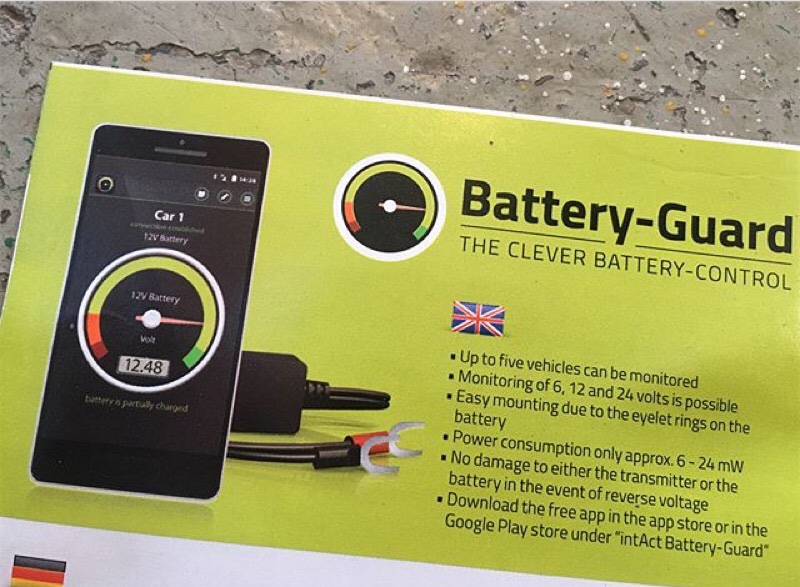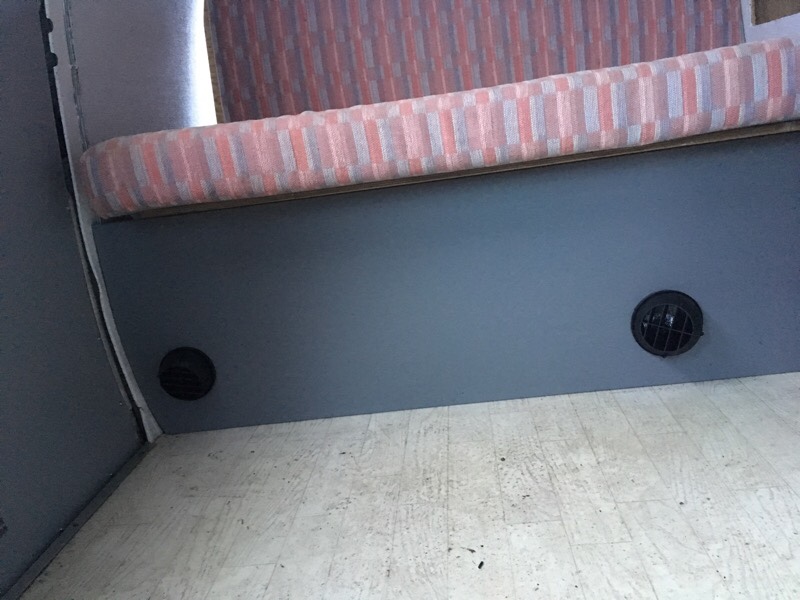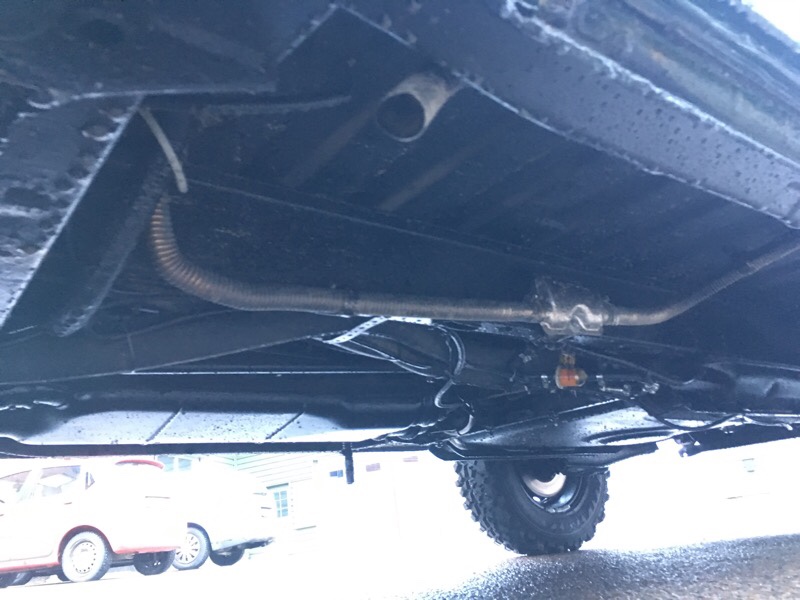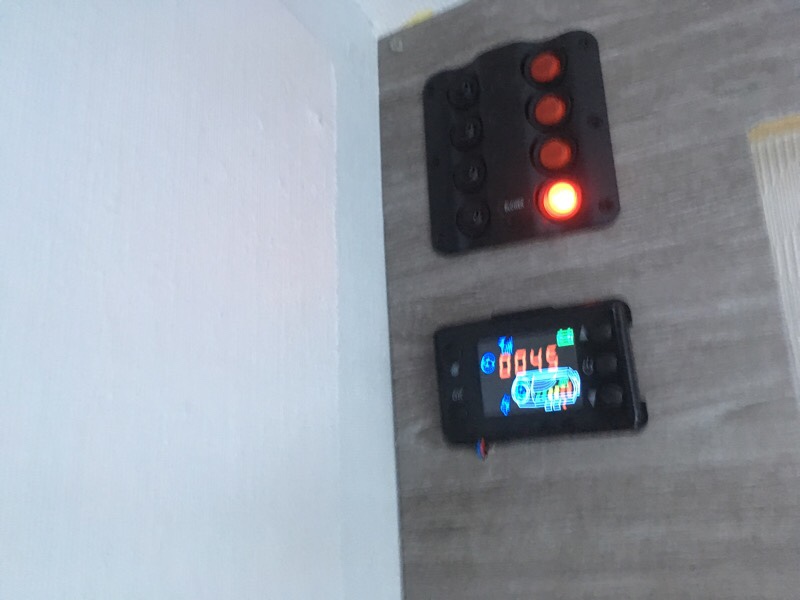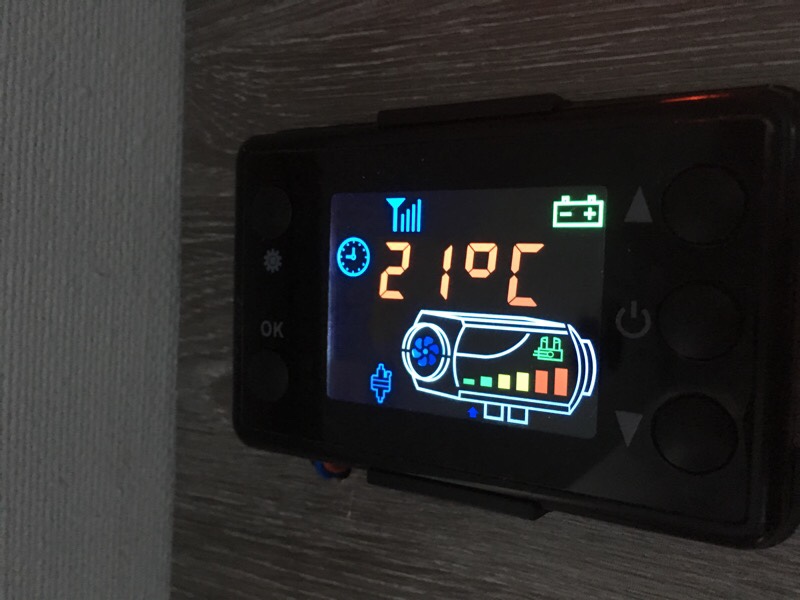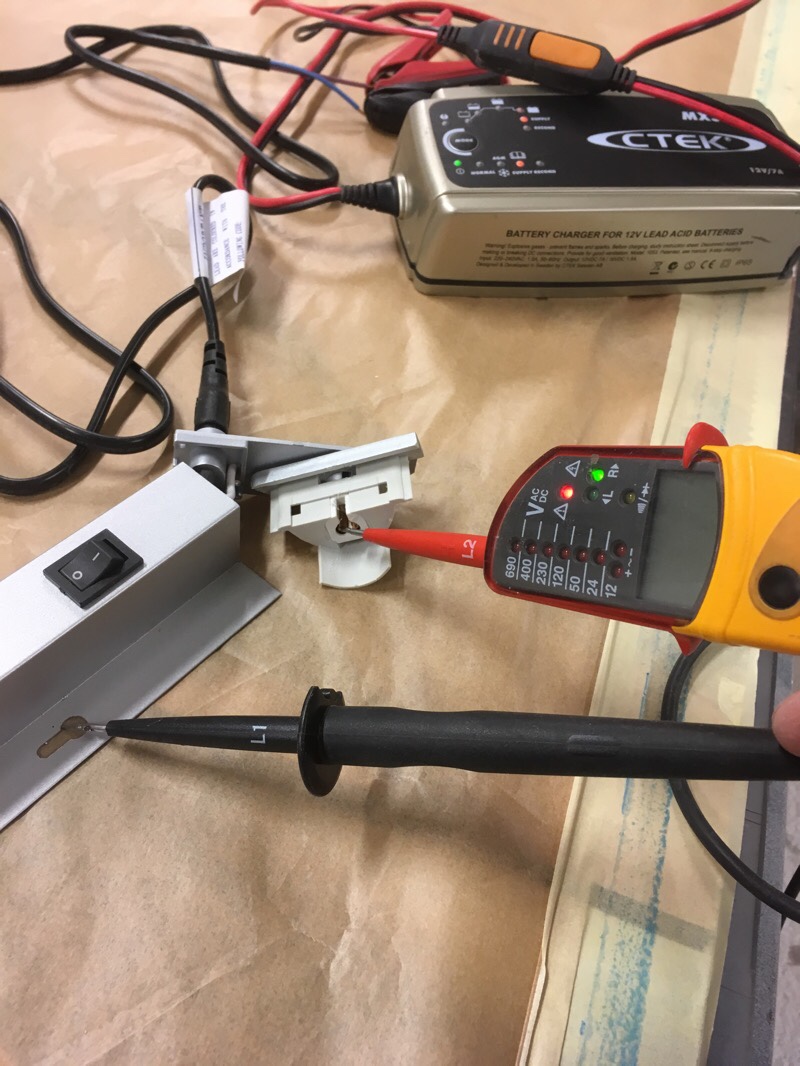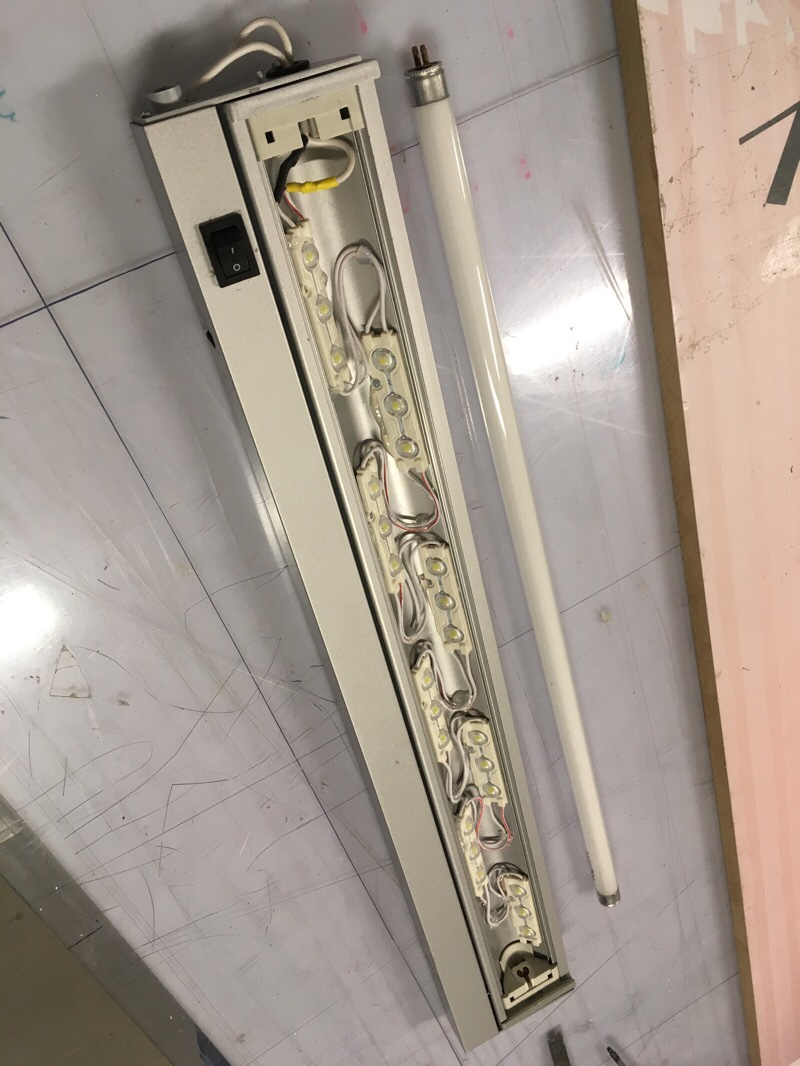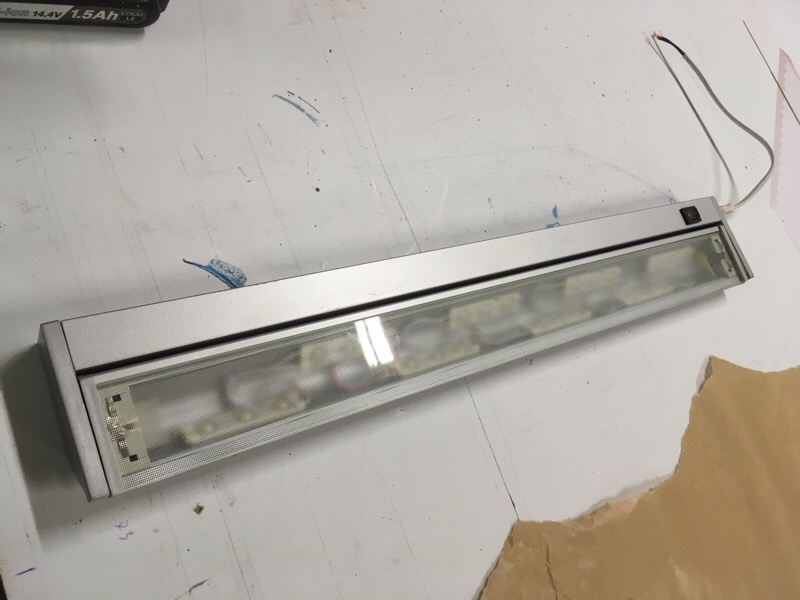 Have been working on the camping interior lately. The old interior was crappy and looked like shit, it had some structure wall weave/papper that hade been rolled with paint 10 times, the touch and feel was like a 40 grit sandpaper so it needed to go. But it was a good design/plan layout on the cabinets and storage. So I decided to keep the base of it and make a new outside finish on it in light grey oak vinyl.
All cabinet doors was made new in 12mm Medium Density Fibreboard and painted in medium gloss grey with paintgun. Countertop was made new in black colored MDF with semi-gloss clear coat, now with space for a portable kitchen / stove. Above the stove space I made a 12v kitchenfan with outlet, the fan is moving 3,8 squaremeters of air per minute so now you can make bacon with closed doors without smoke/smelling anything 😉
All the old gas equipment was removed, and the old fridge was replaced with a modern 12v Waeco 48L fridge with freezer. A new black sink and a new Reimo water tap was mounted. And all new waterlines, pump and 20L freshwatertank. Before the water ran straight out on the ground, now it goes into a 10L tank first, with a valve so the water can be emptyed. This is good of you are using water when you are on a parkinglot, ferry or on a big camping with neighbors.
Part 2 is coming on Tuesday…
#vwt3overland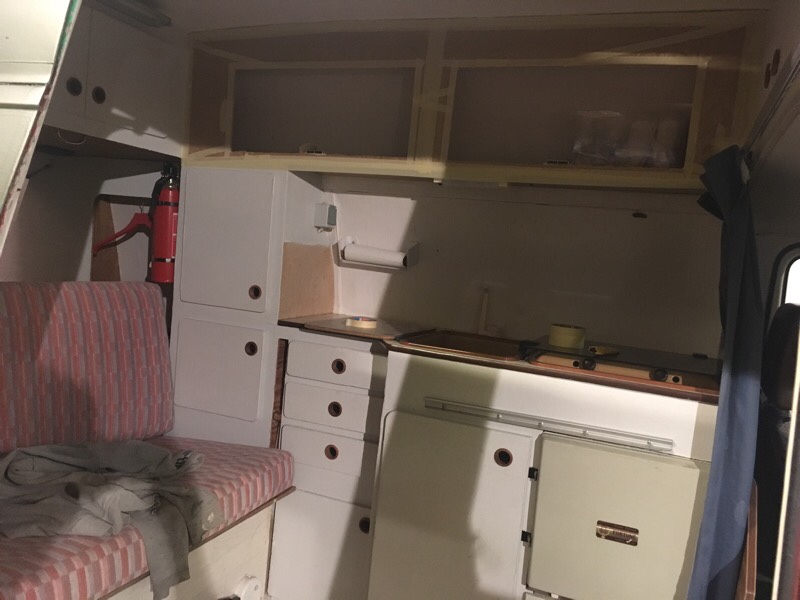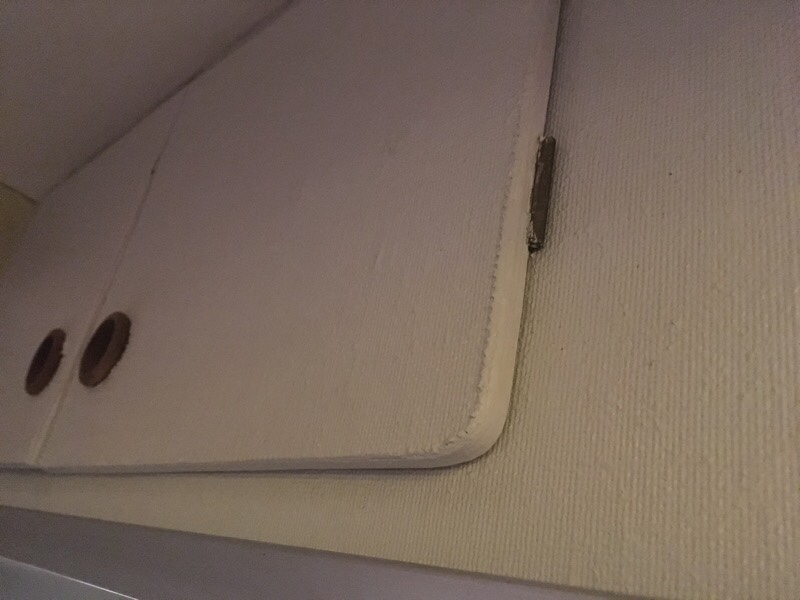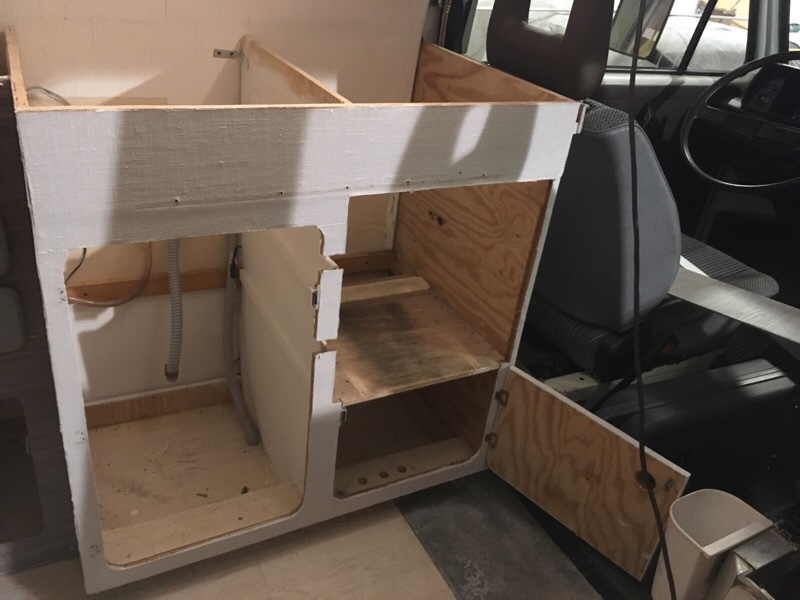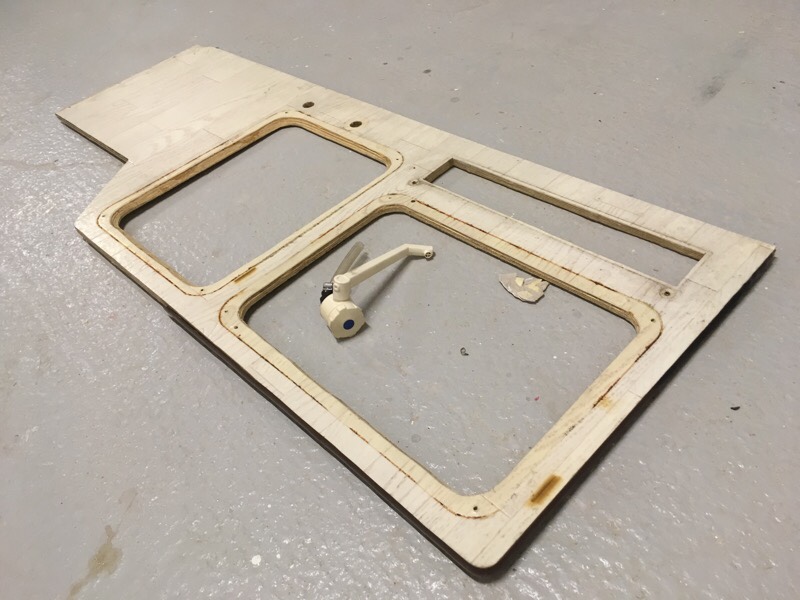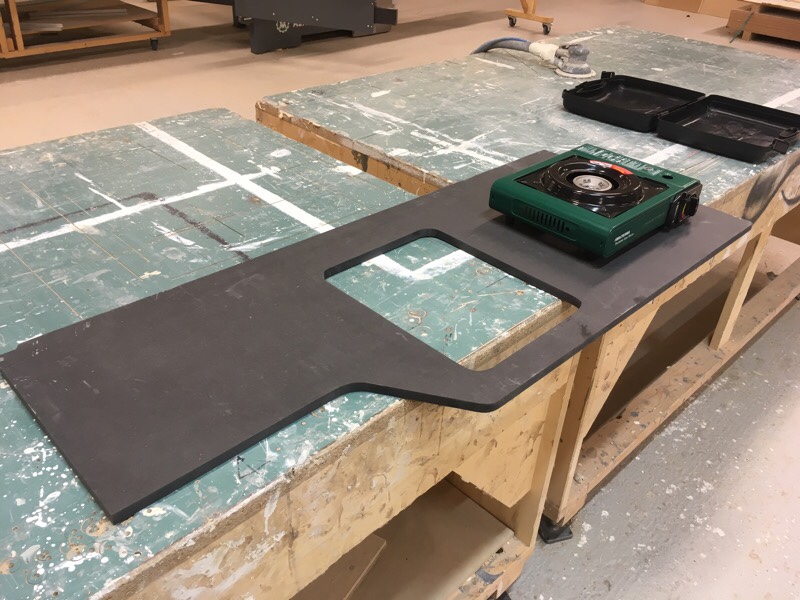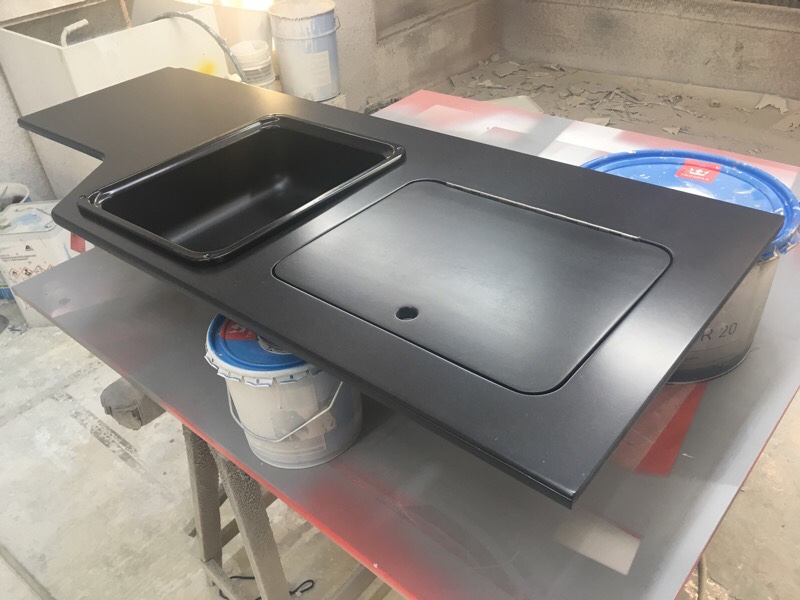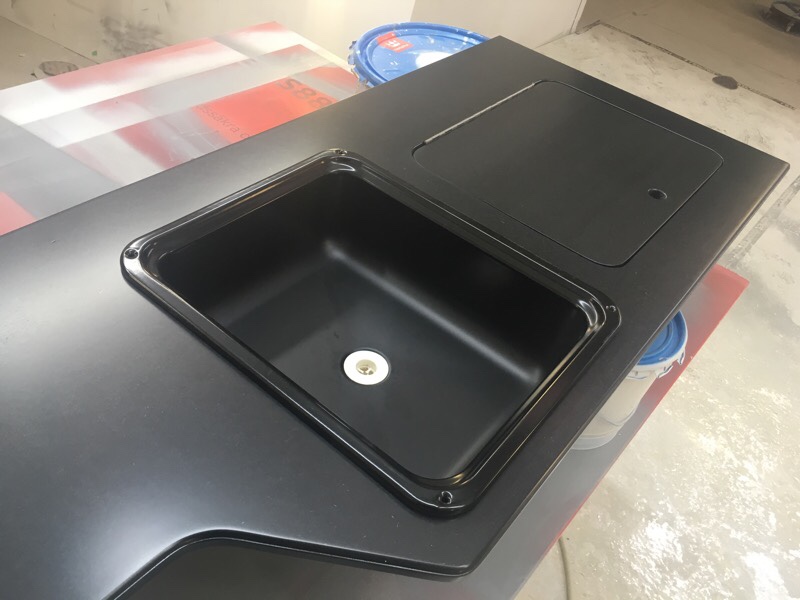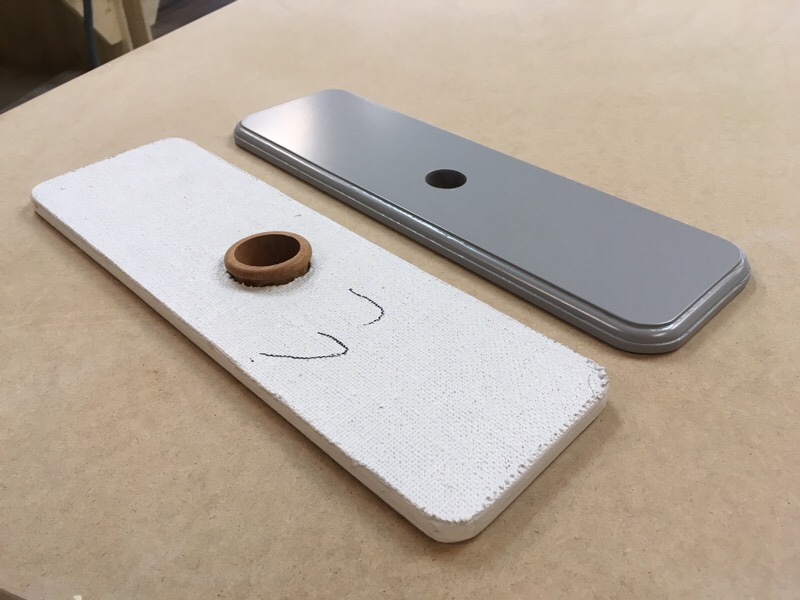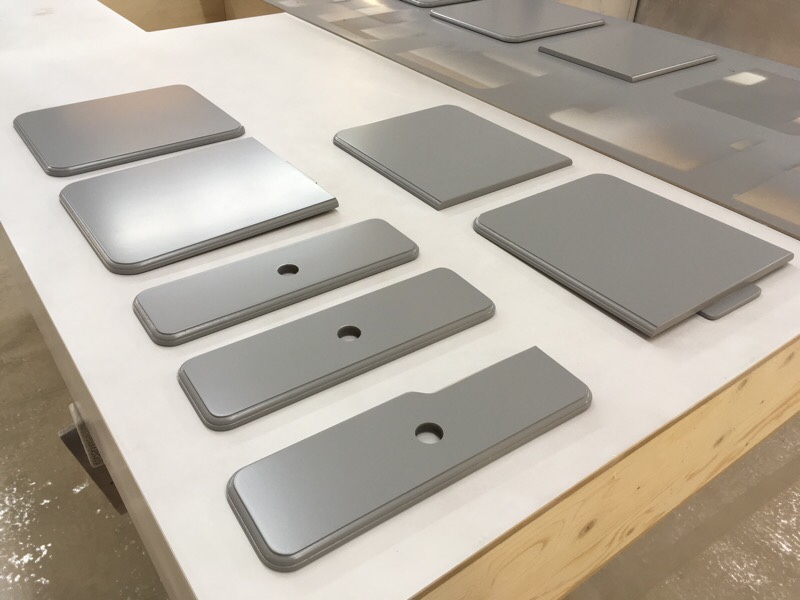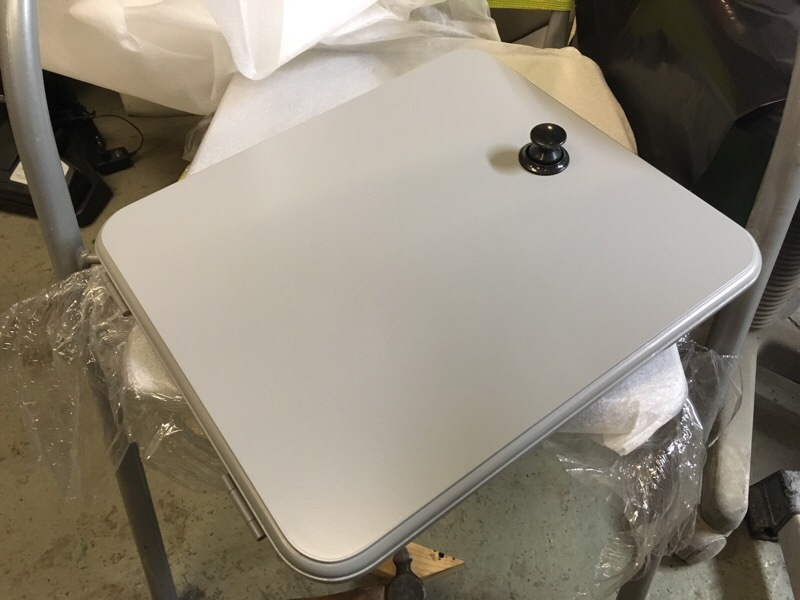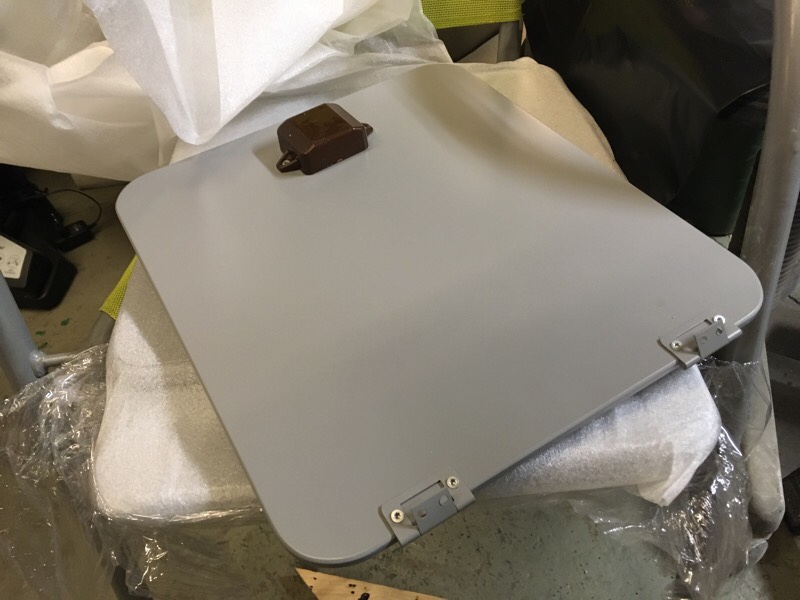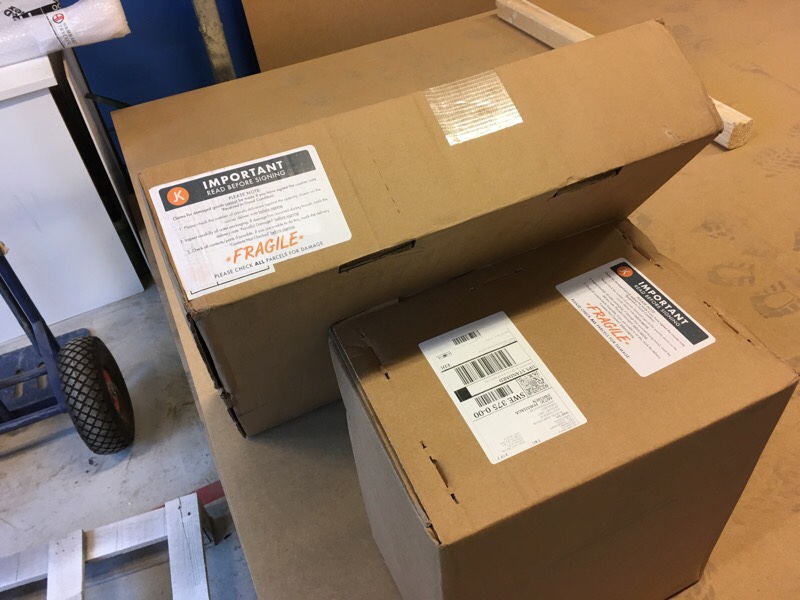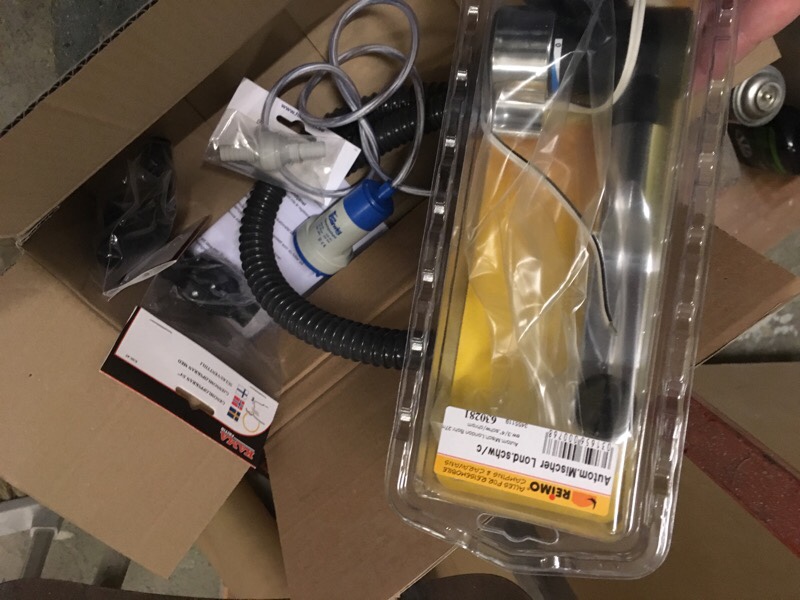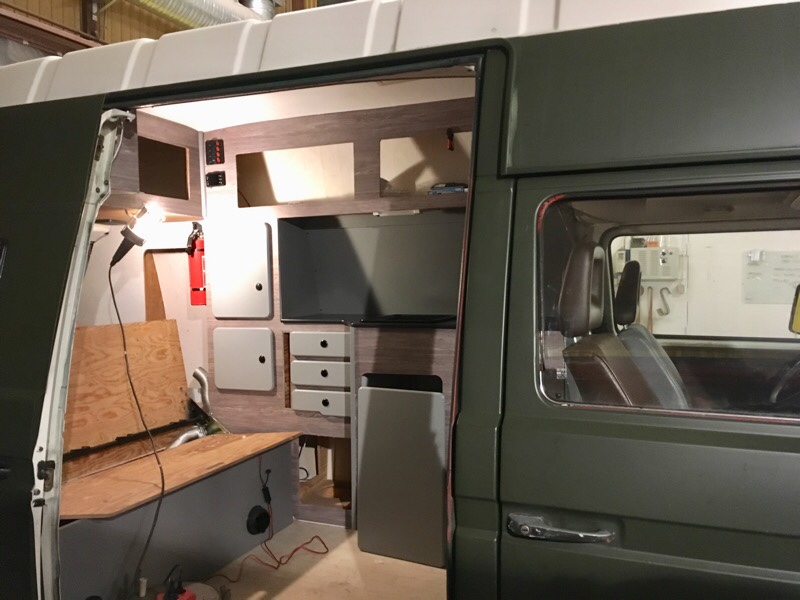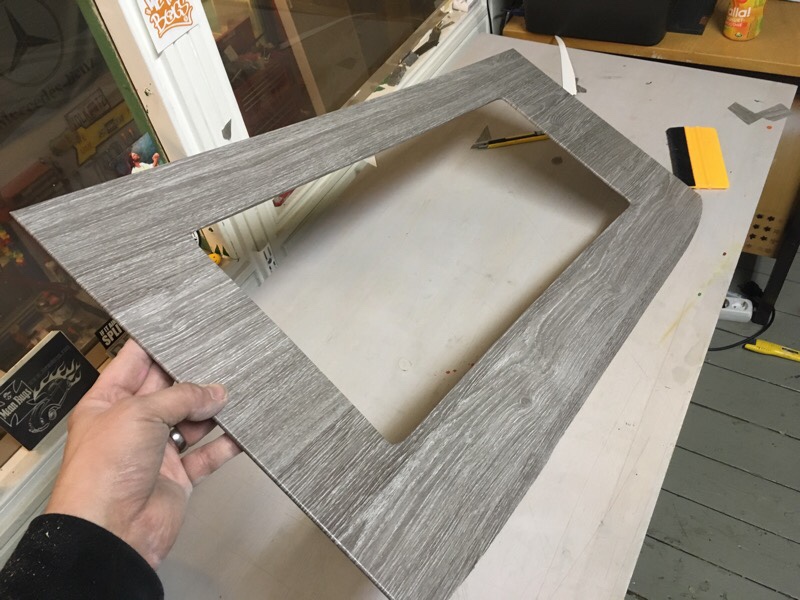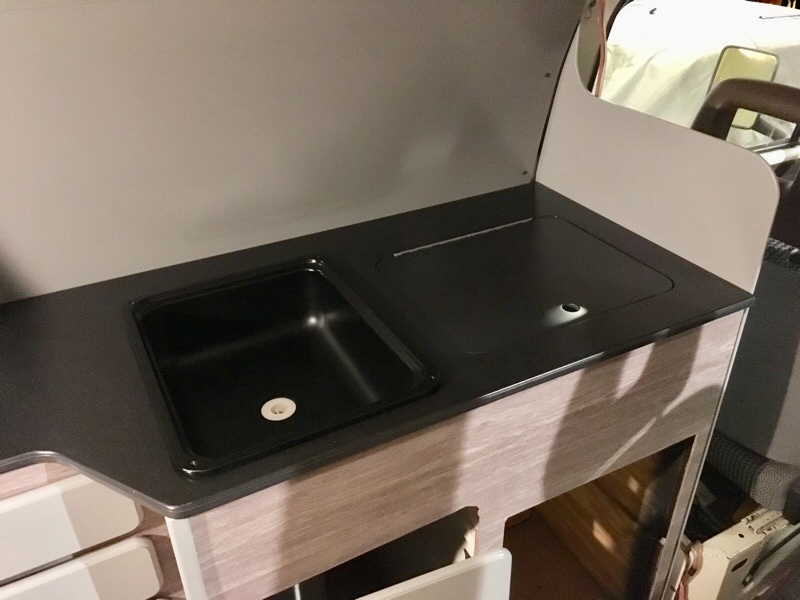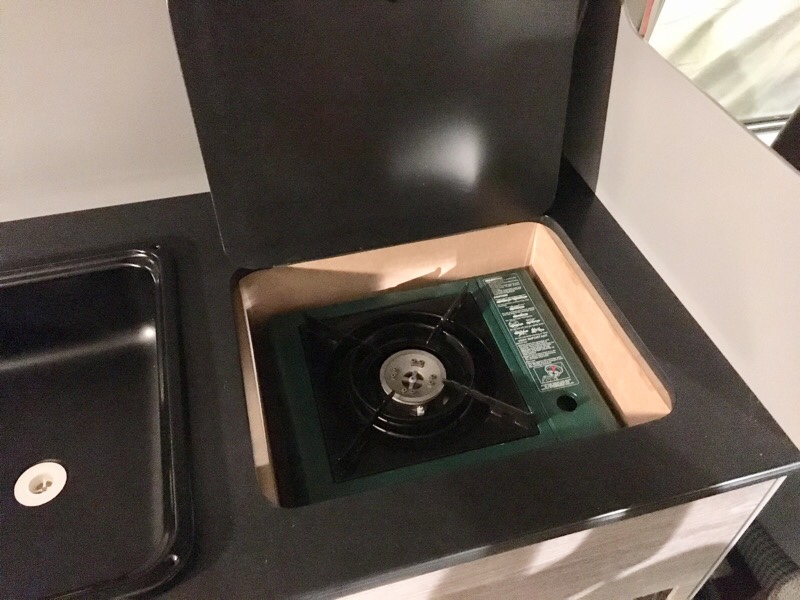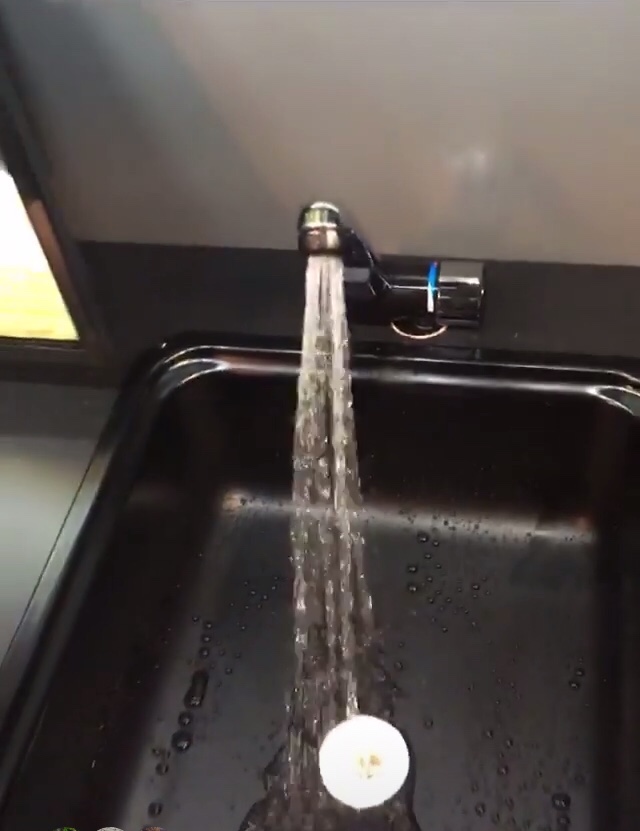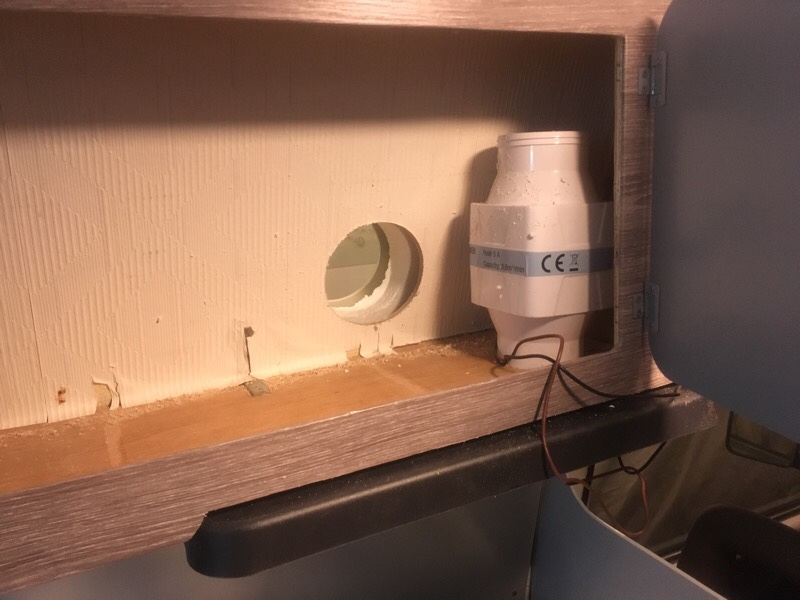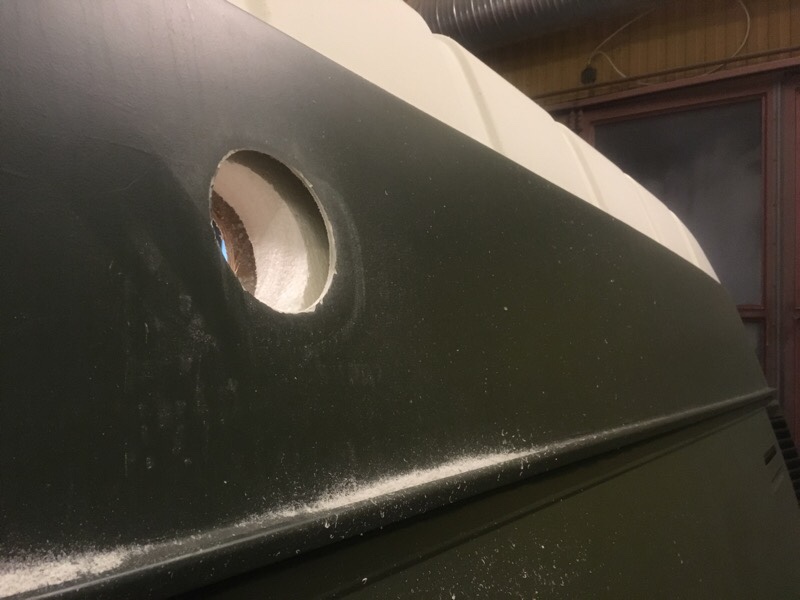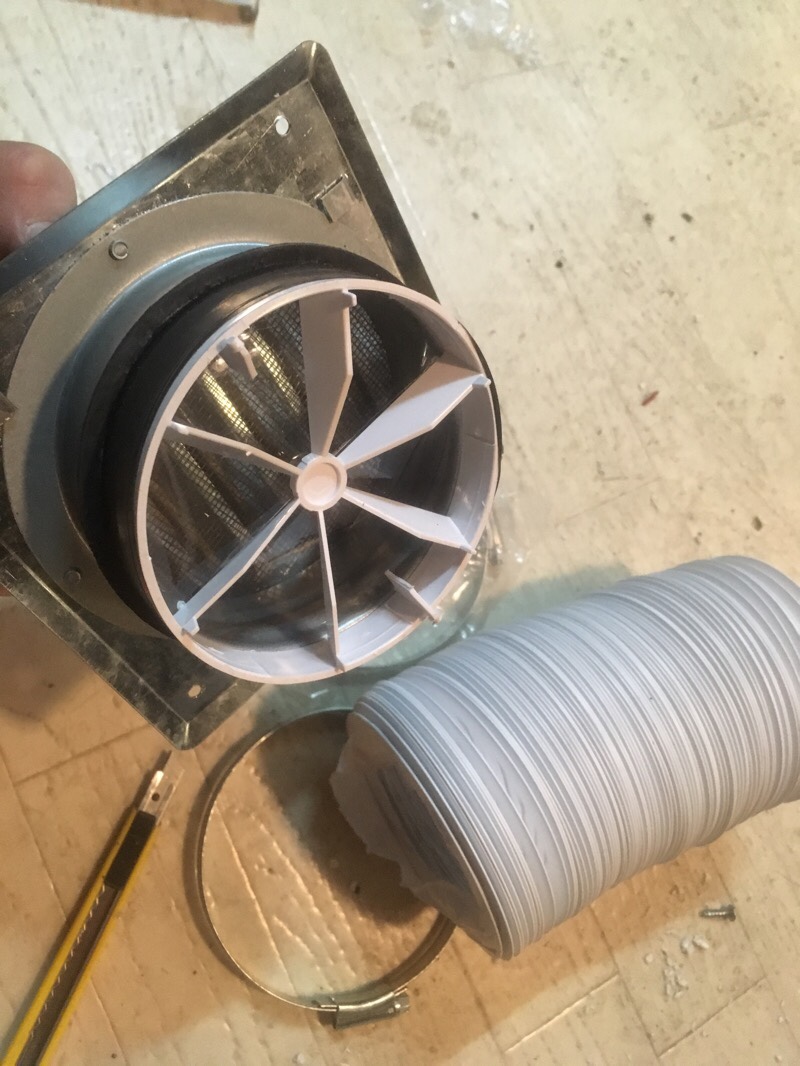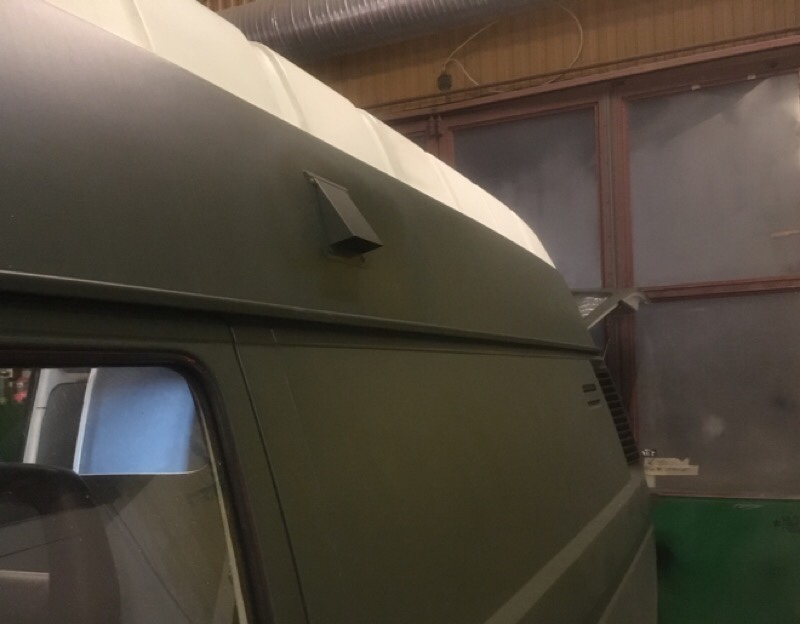 Tested the bus on snow tonight, it rides great in snow with the terrain tires. And the heating works great now. It was -7c and inside of bus was 25+c 🙂 More about dieselheater and interior is coming soon…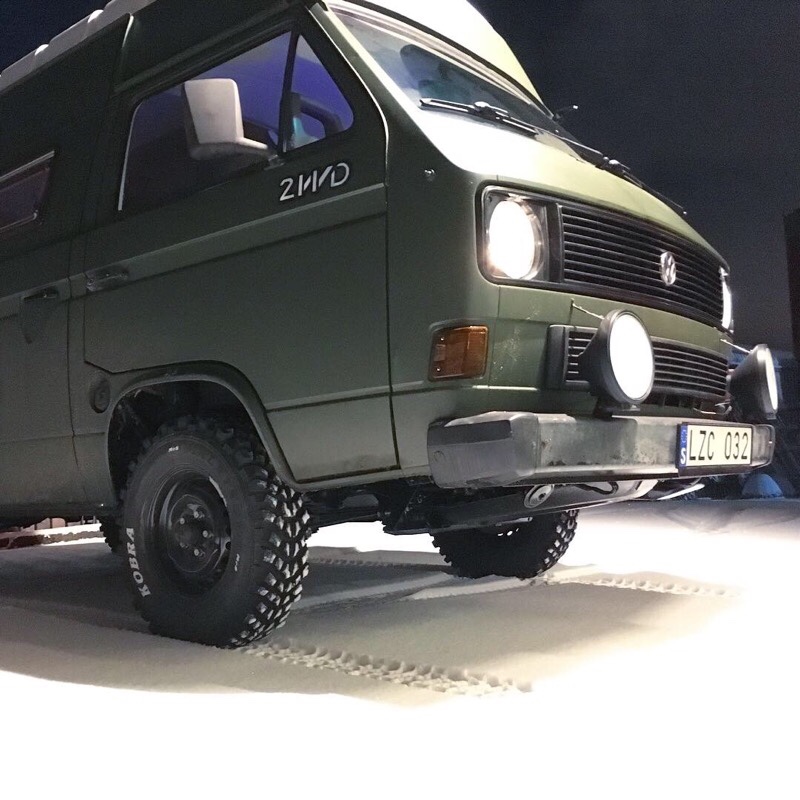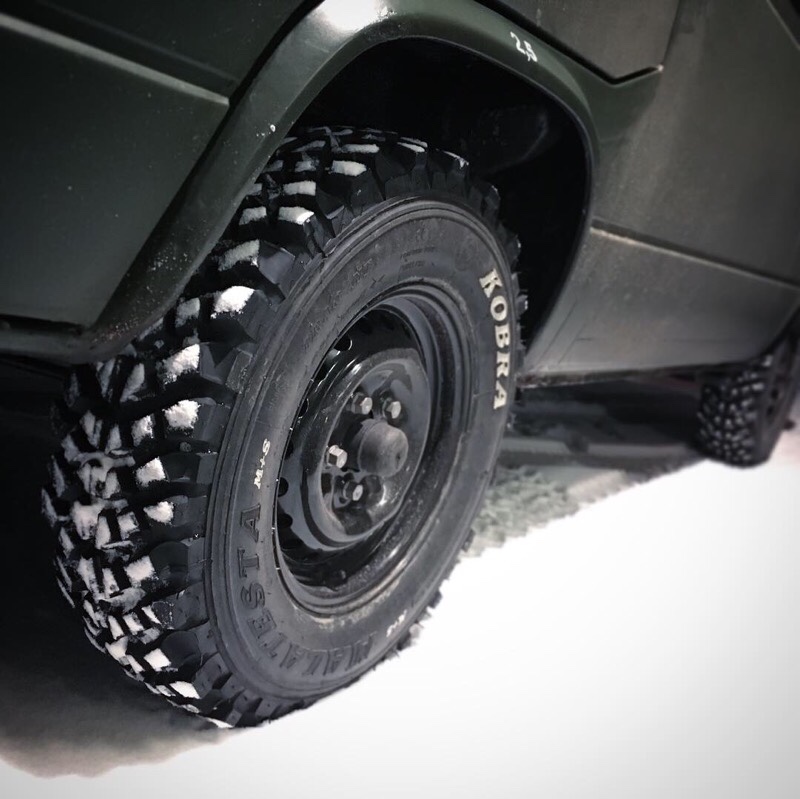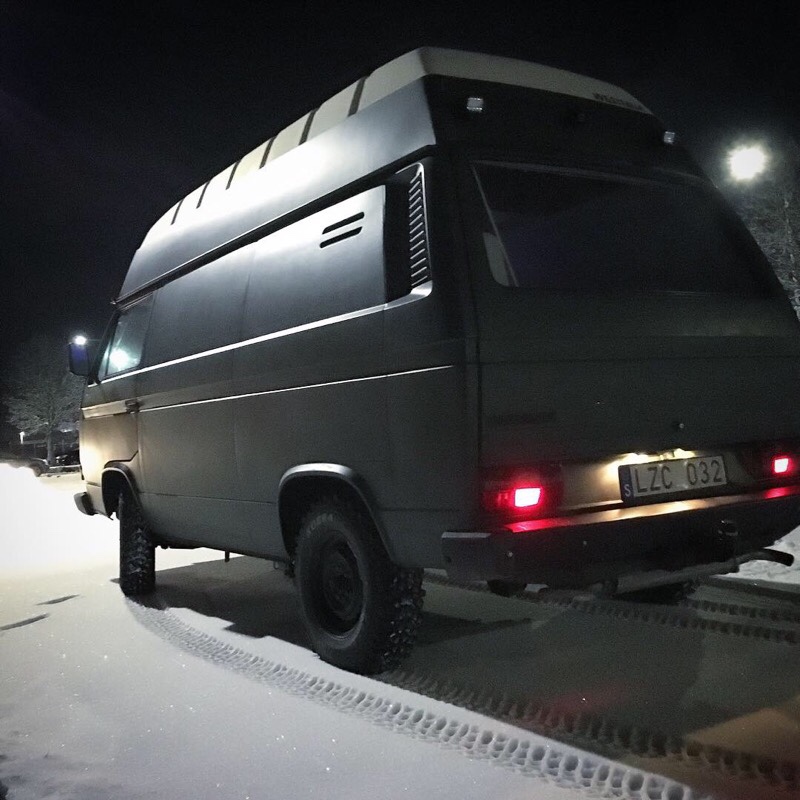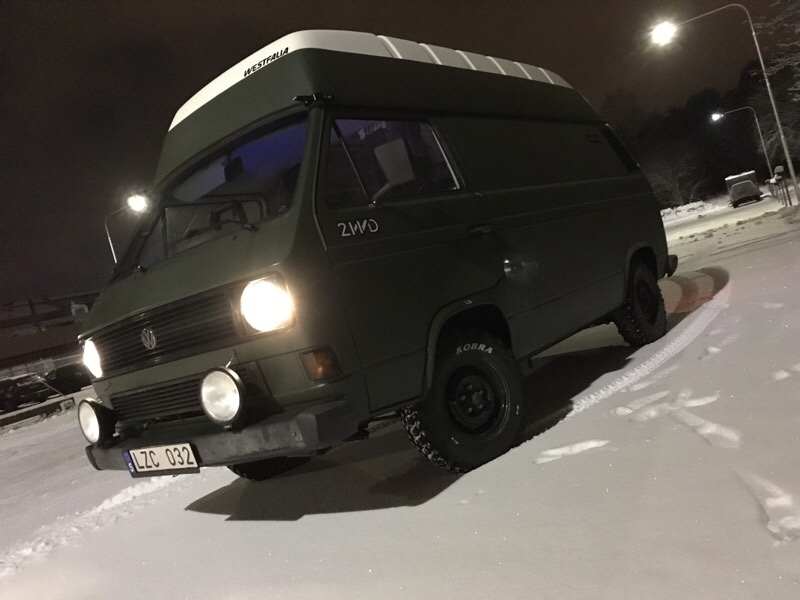 Finally time for a test drive in the snow and mud. Awesome! Check out the video clips below. Tested the cab window covers from Justkampers.com and they are great when parked/camping. #vwt3overland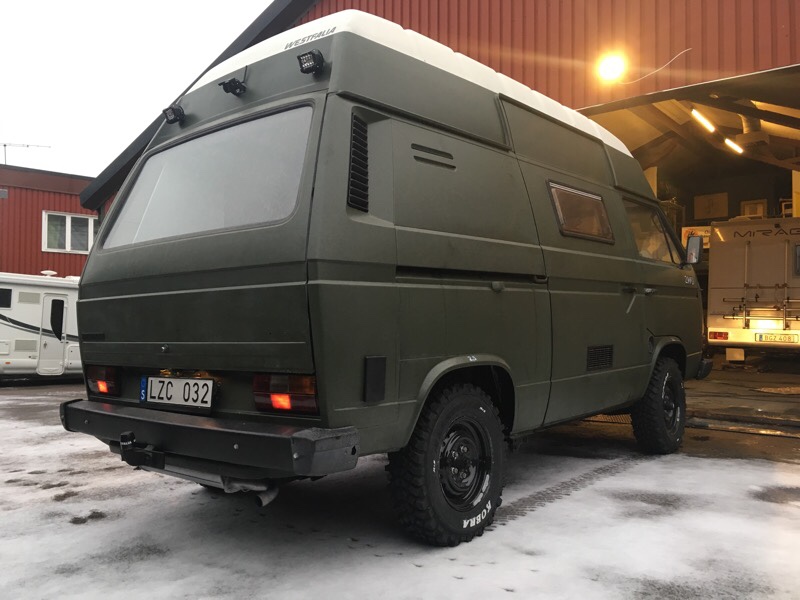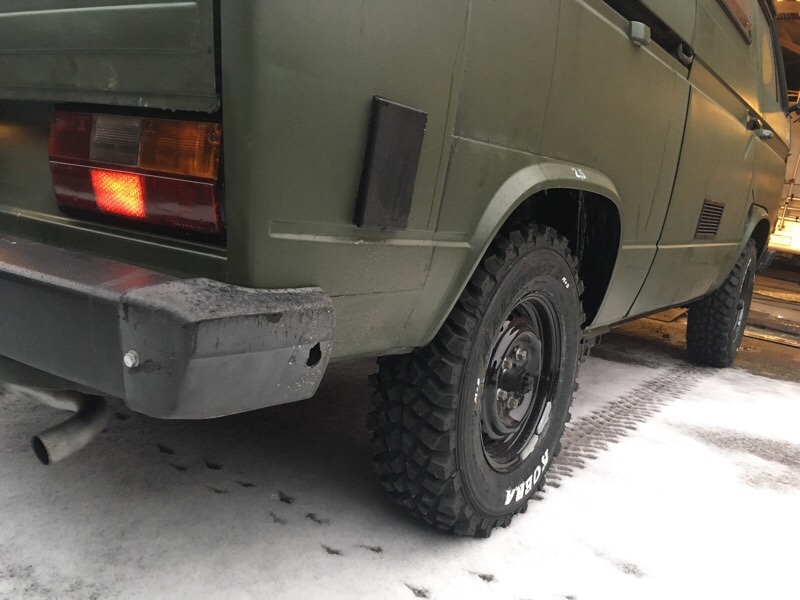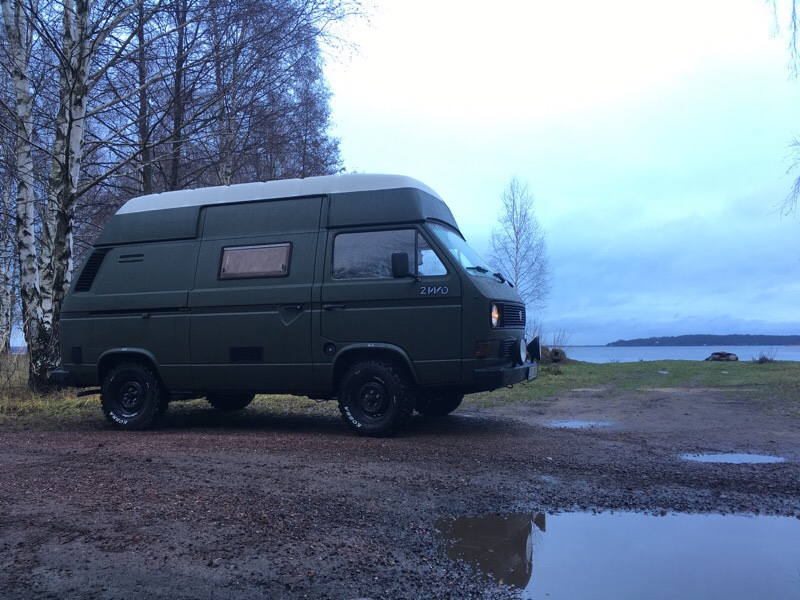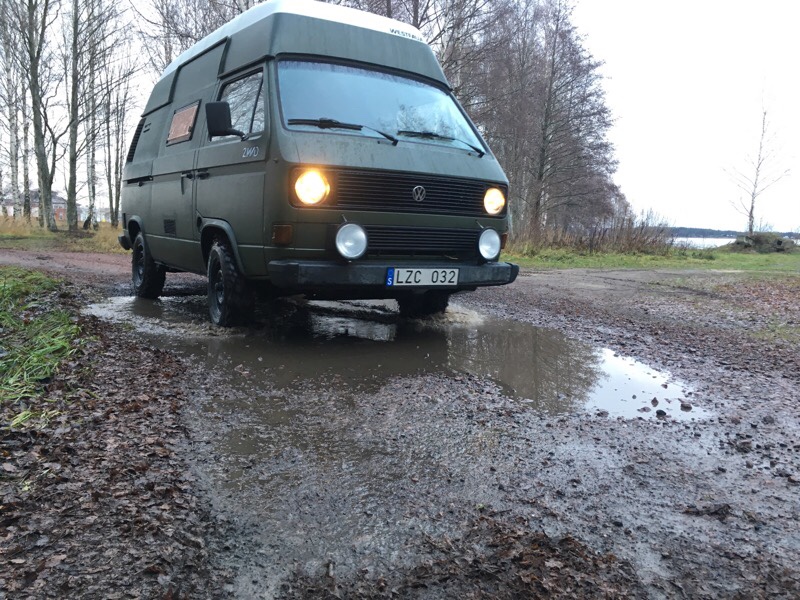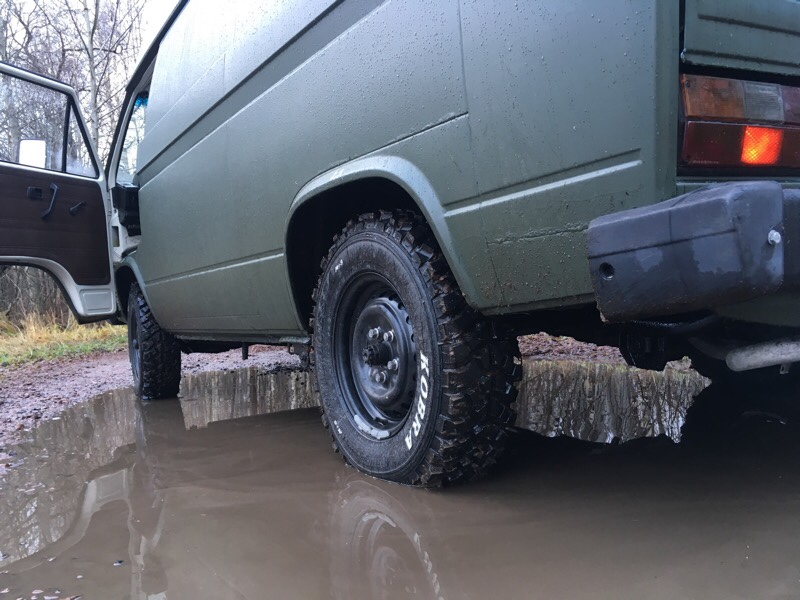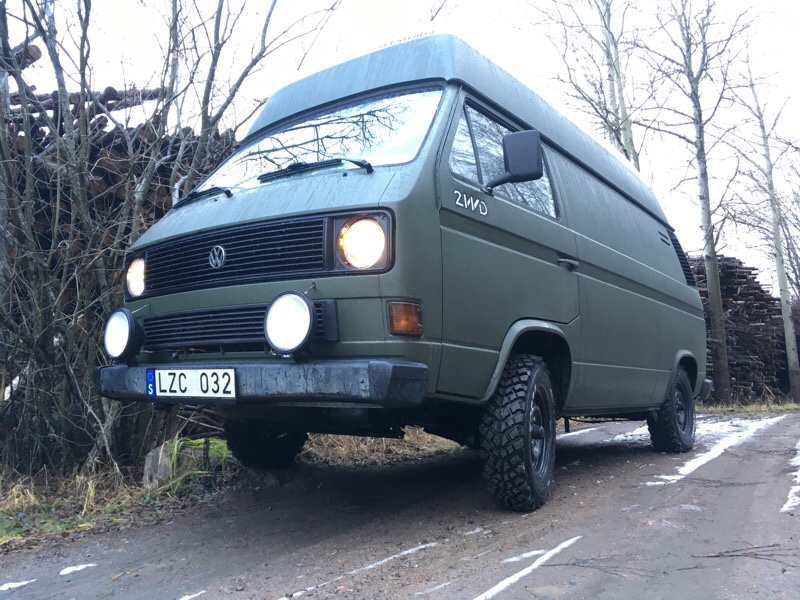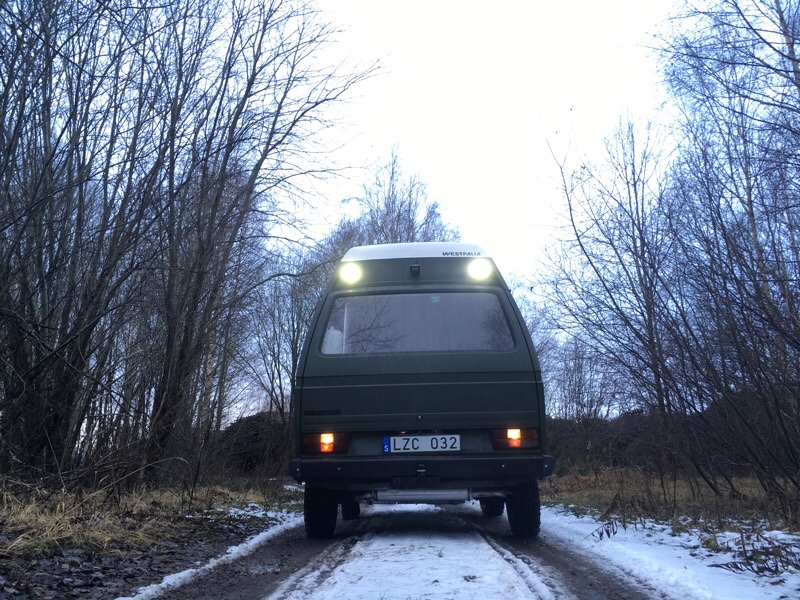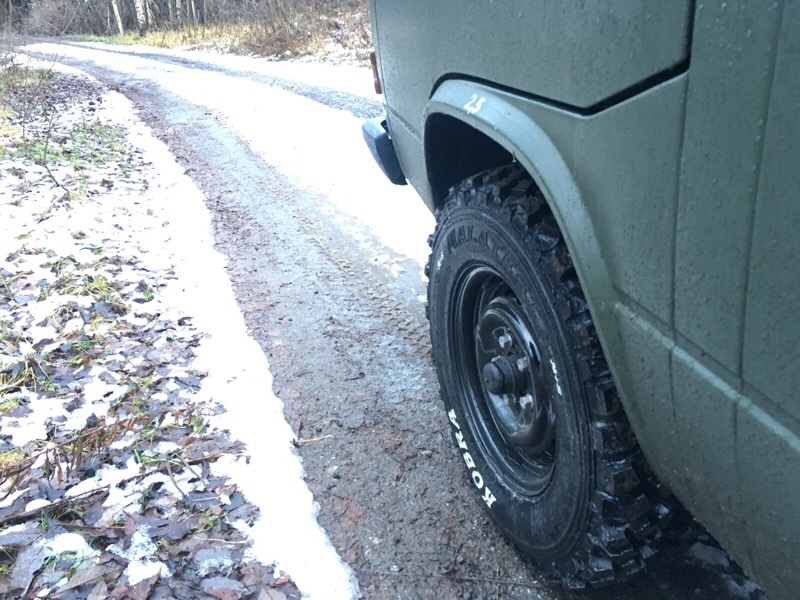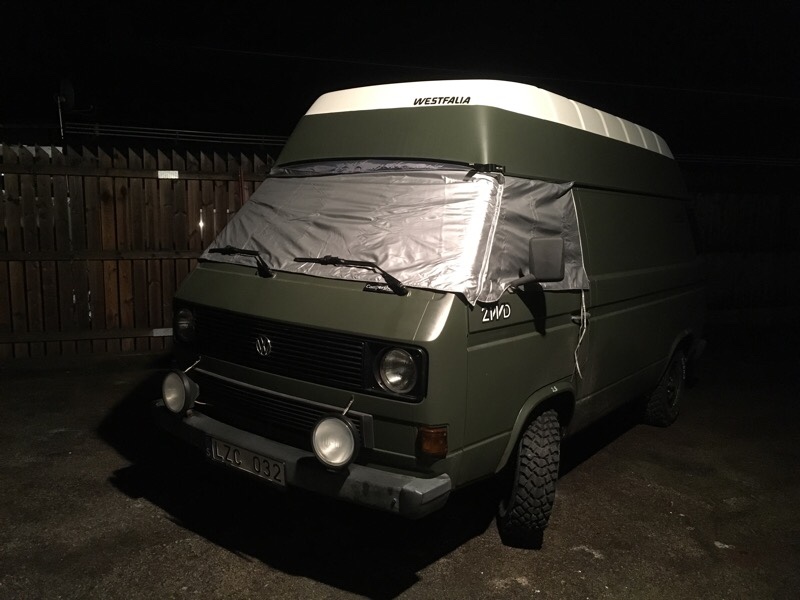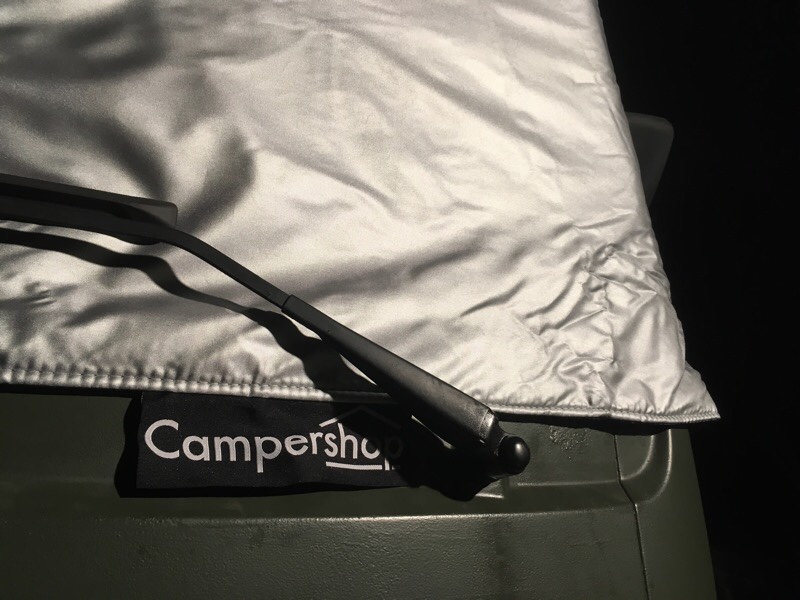 The bus is now finally Safetyinspected / MoT without any issues or problems. Perfect! Since this bus are rust free underneath and I'm going to use it in all weather/terrain a lot I decided to do a wax/oil undercoat on it to protect and keep it in nice shape for many years. I also sprayed inside doors, rockers etc with a thin wax/oil treatment. And yeah, the taillights and turn signals have been "smoked" for a more badass look 🙂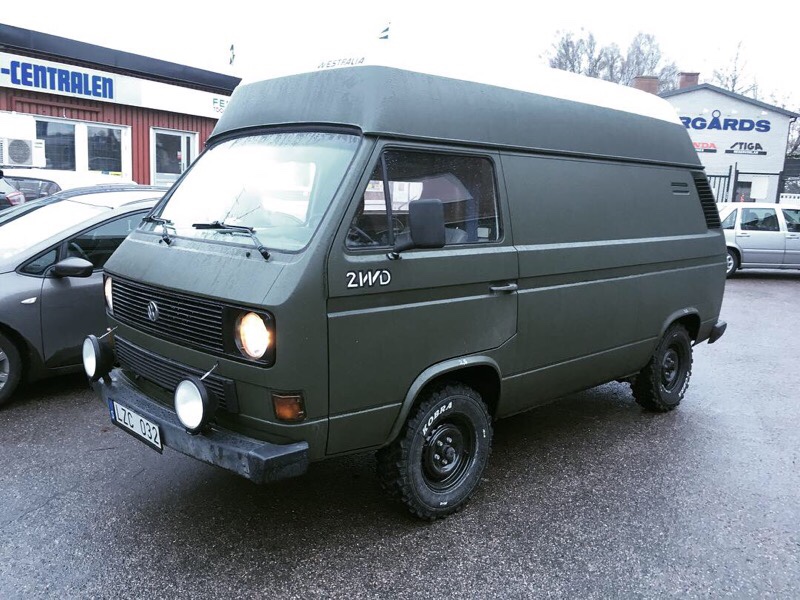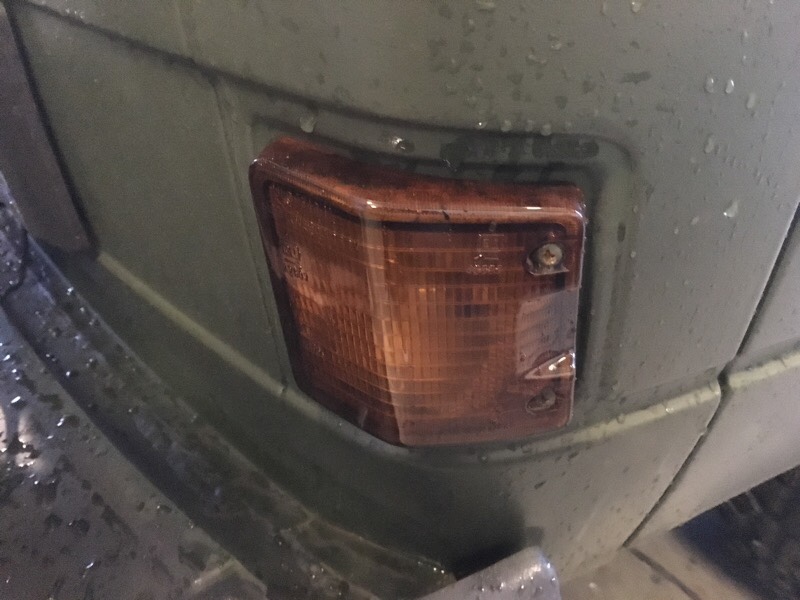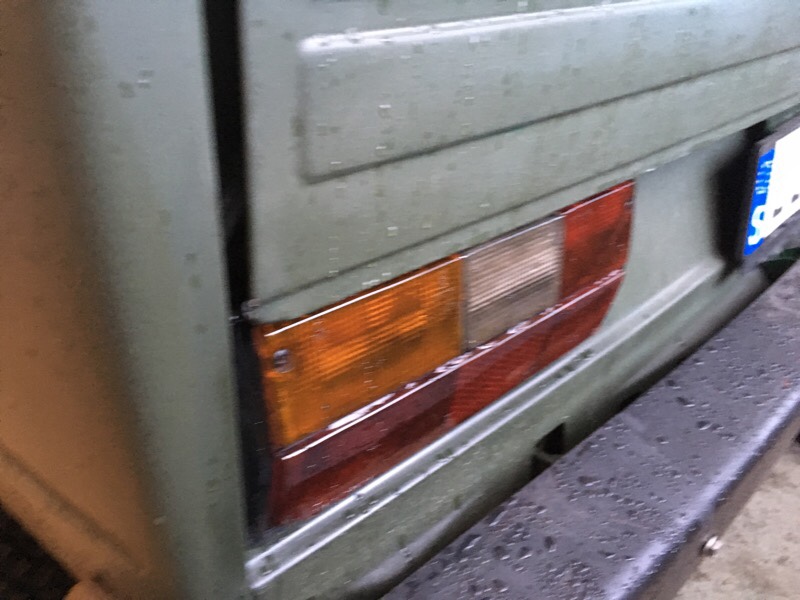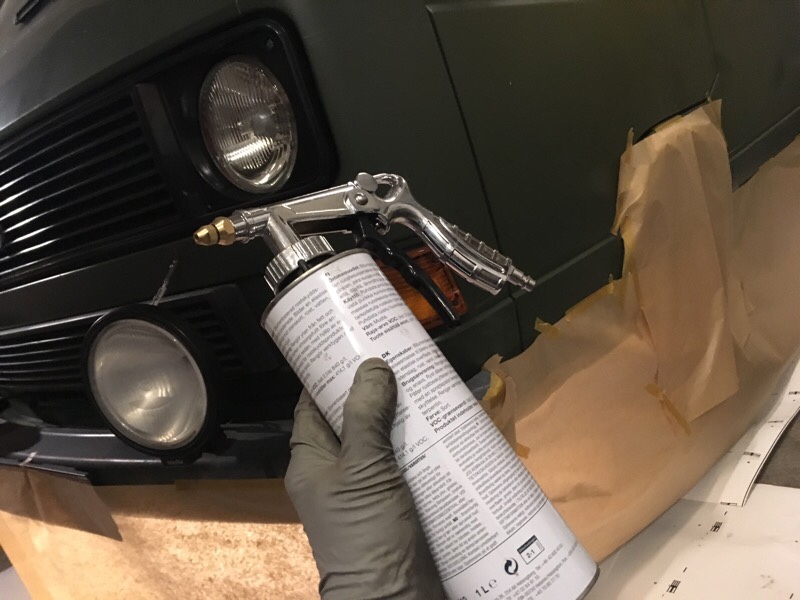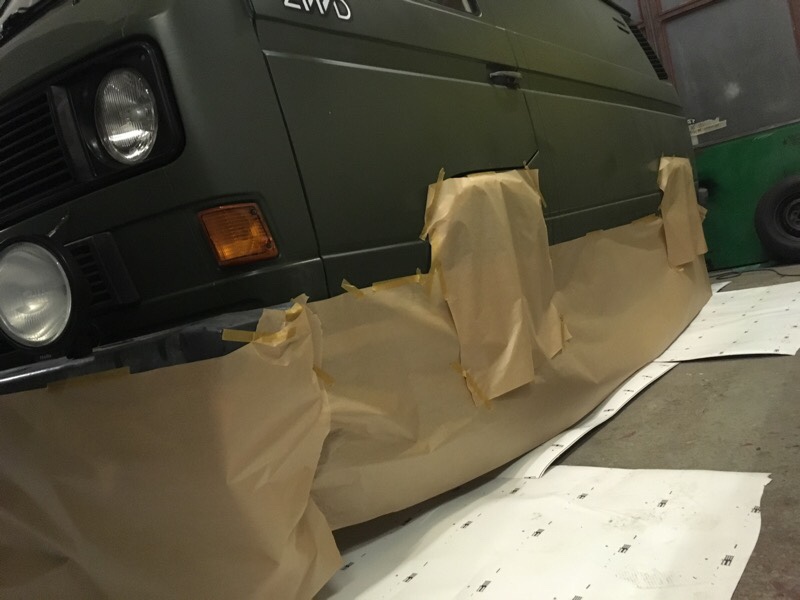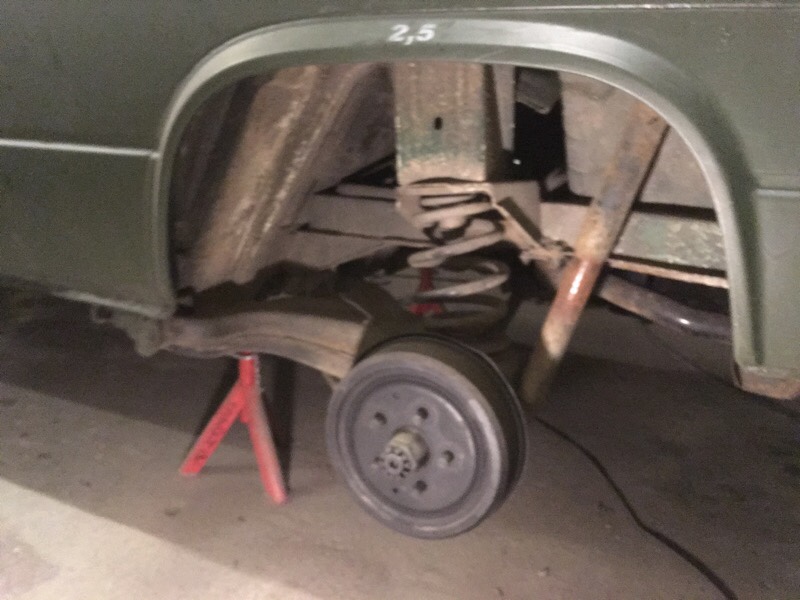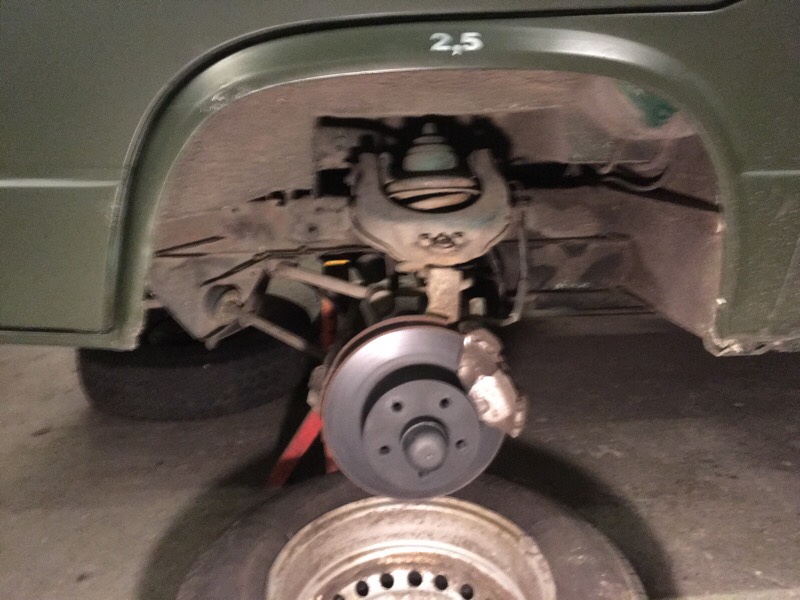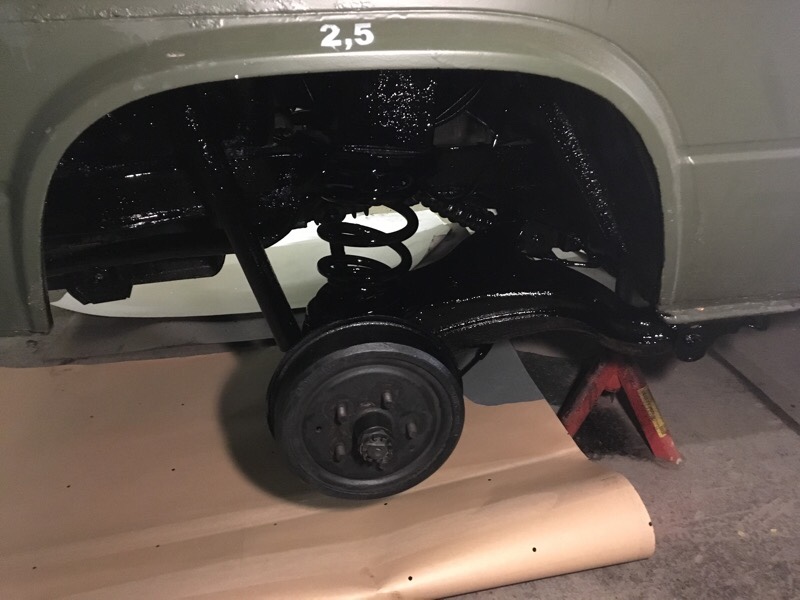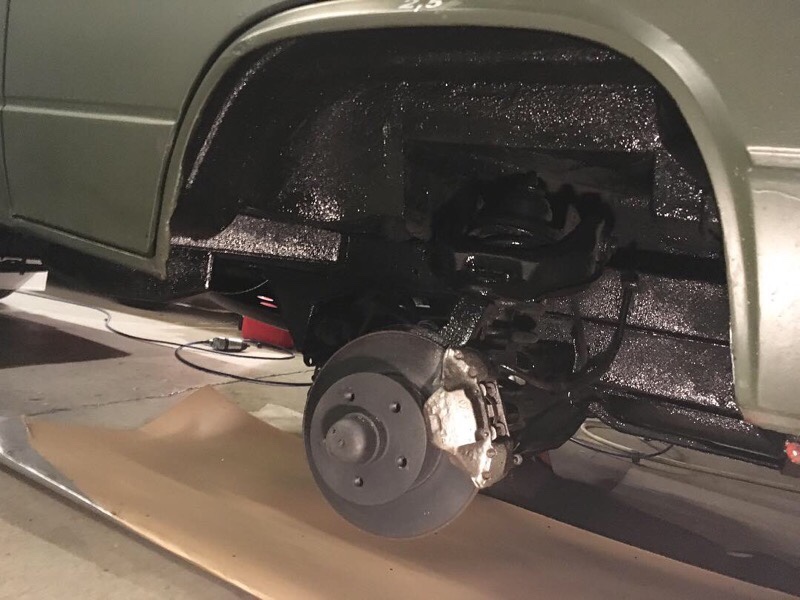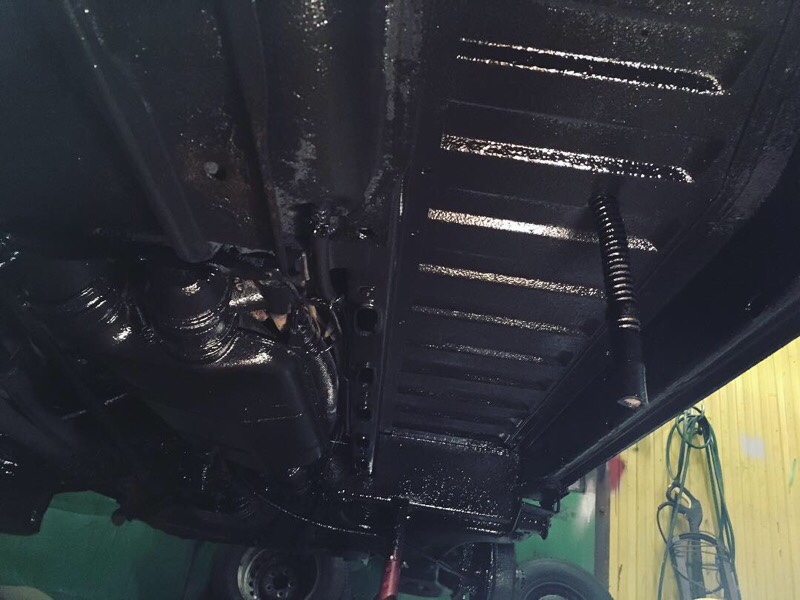 New speedometer and cable have been fitted, the needle on the old one was stuck! Added LED light diods to the rear engine bay, you cant have to much light when wrenching in that tight dark engine compartment, specially after the road. New modern wipers installed, and a new ventilation cover for the slidingdoor, painted in black. The old washerpump was junk so a new was added. Rear view / back up camera is now all done and is a great thing to have on a bus! More updates coming! It's now ready for safetyinspection / MoT. Hope it goes well…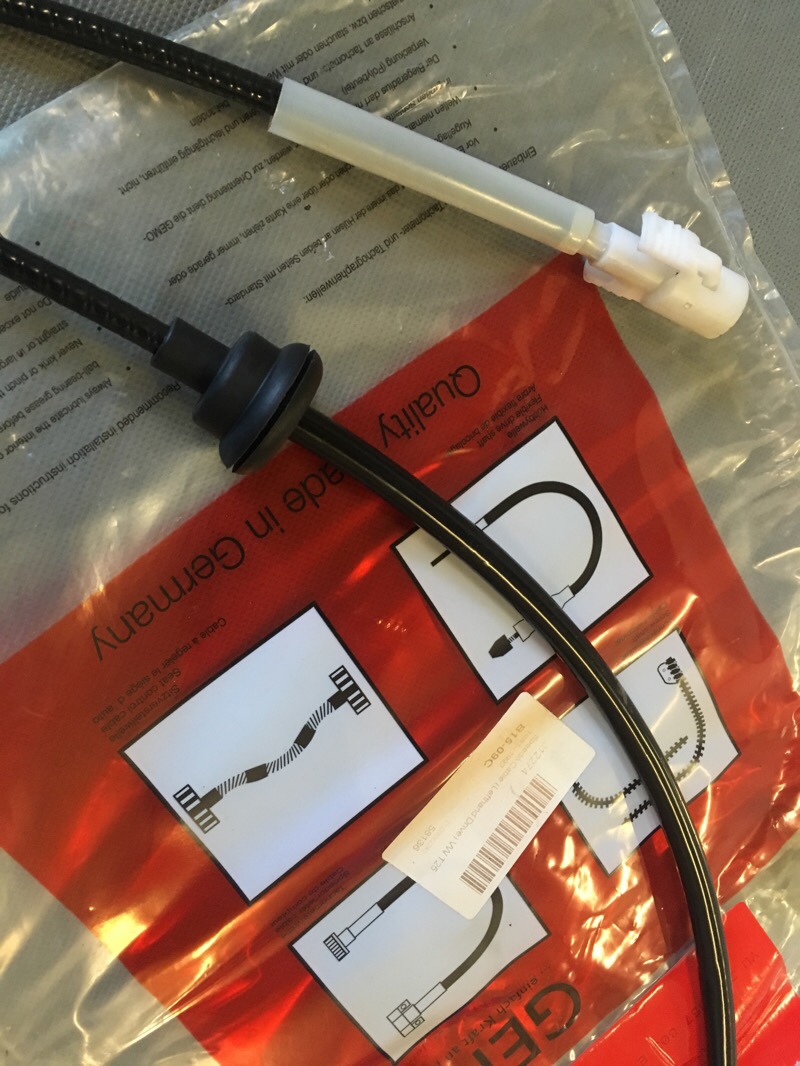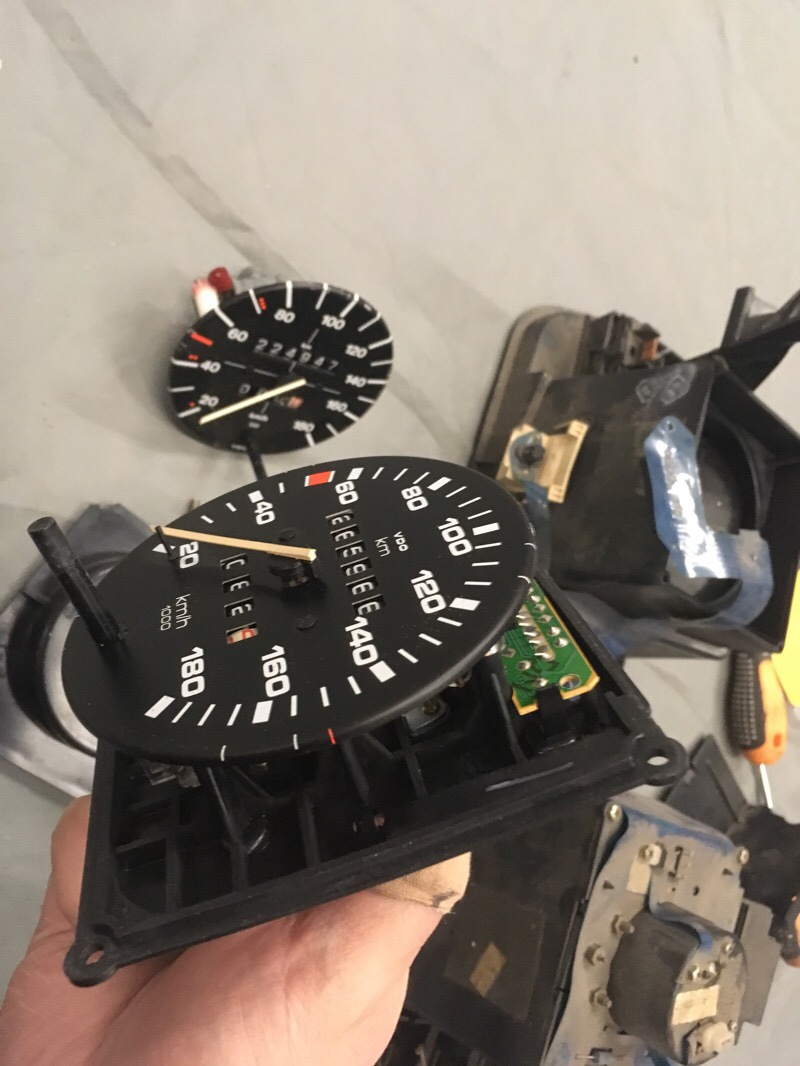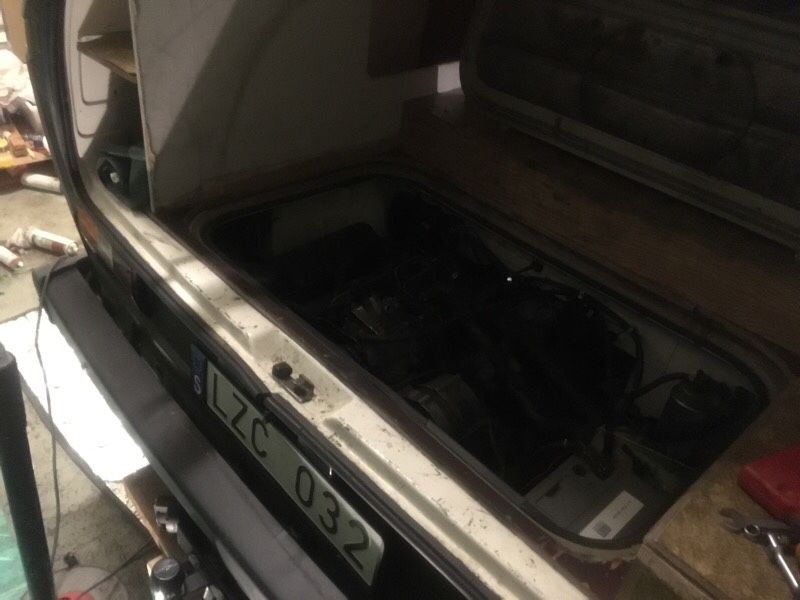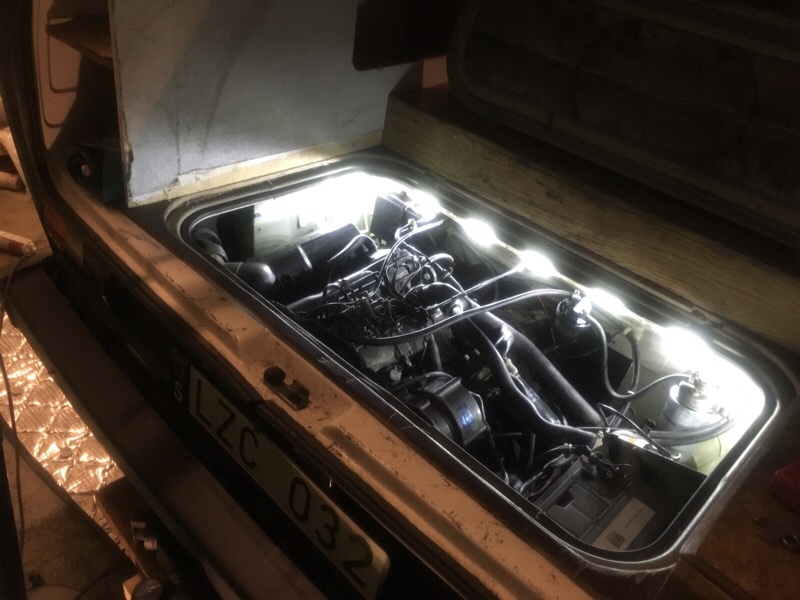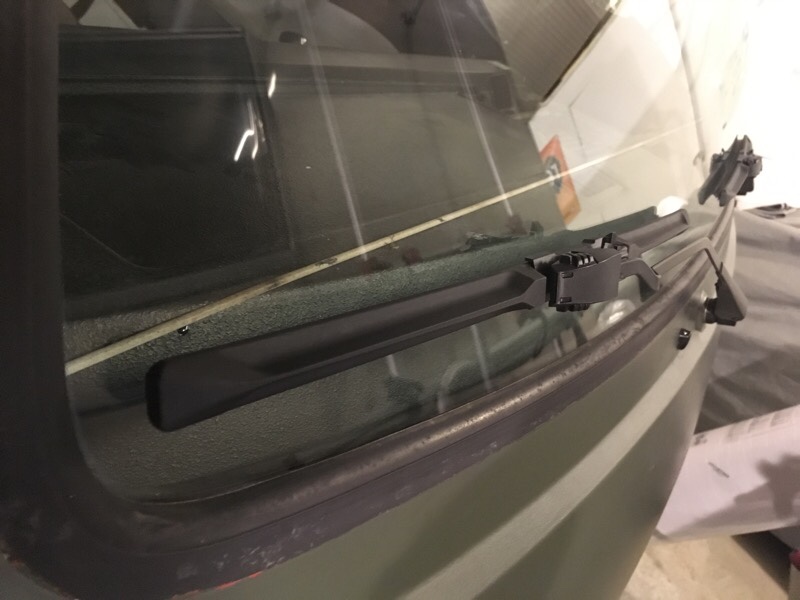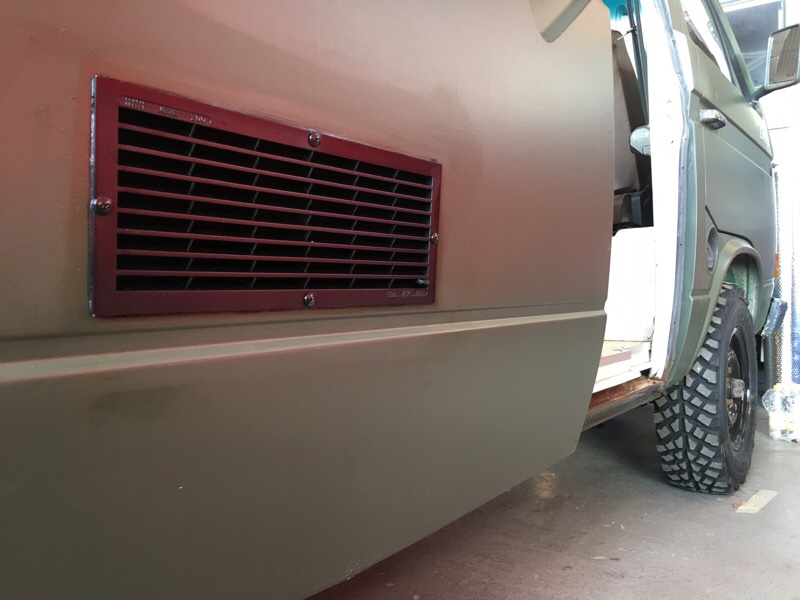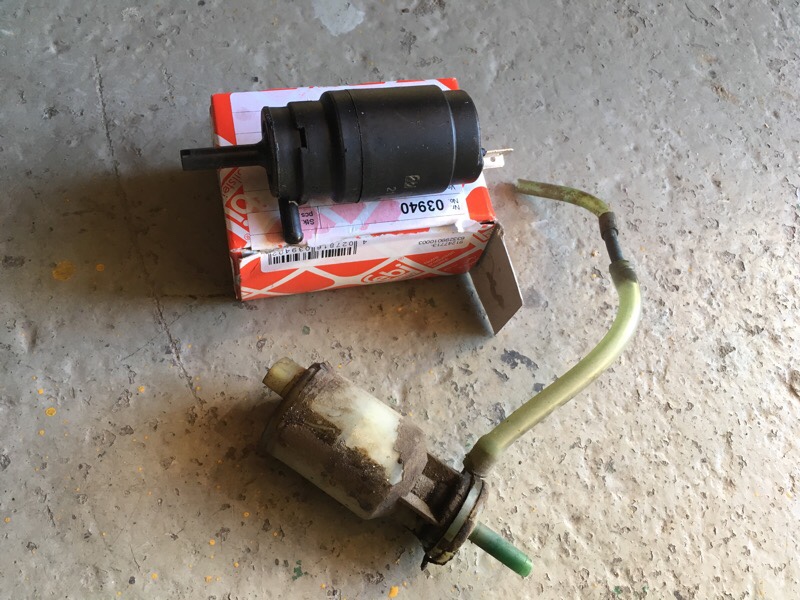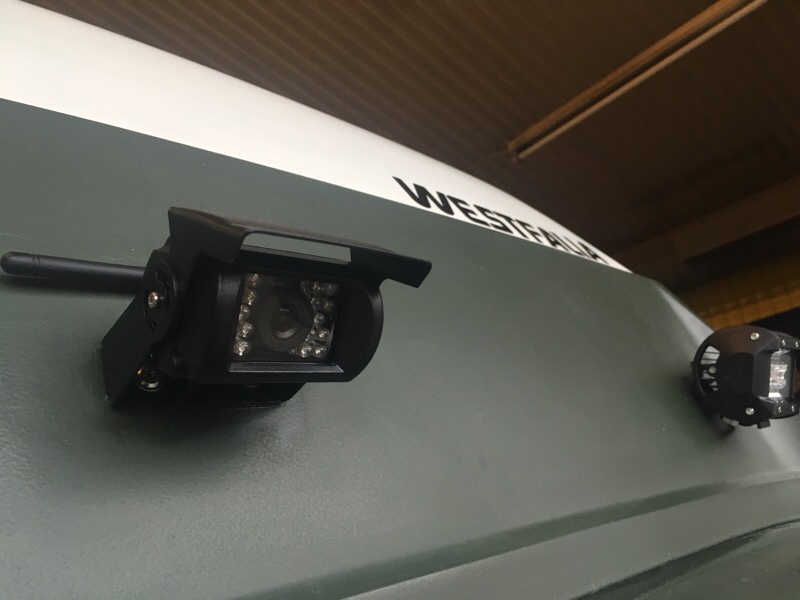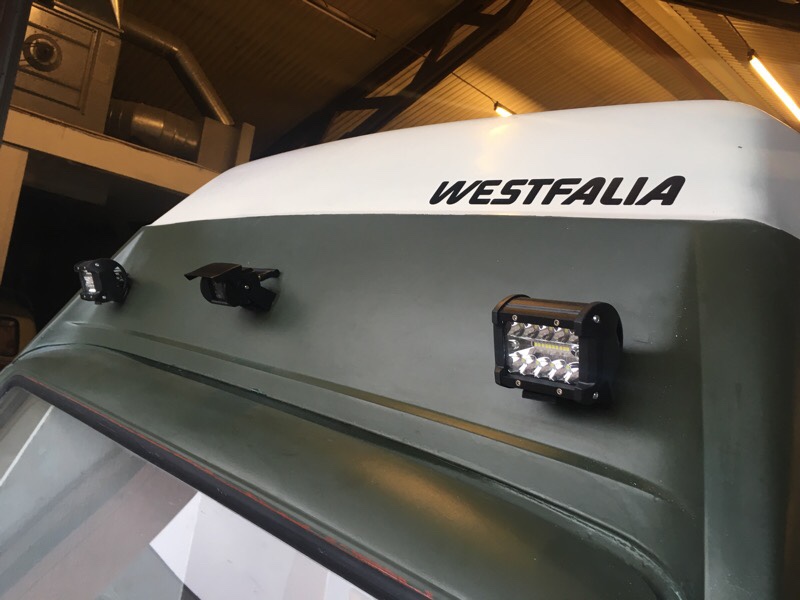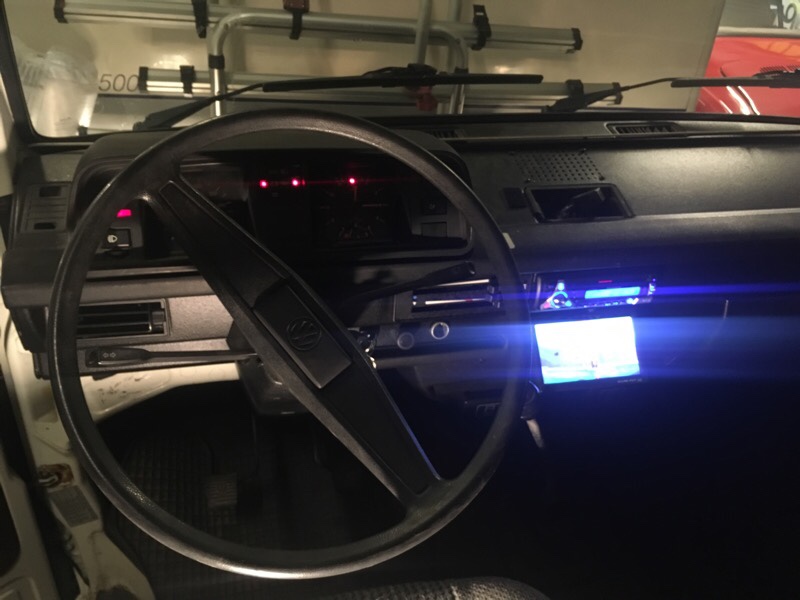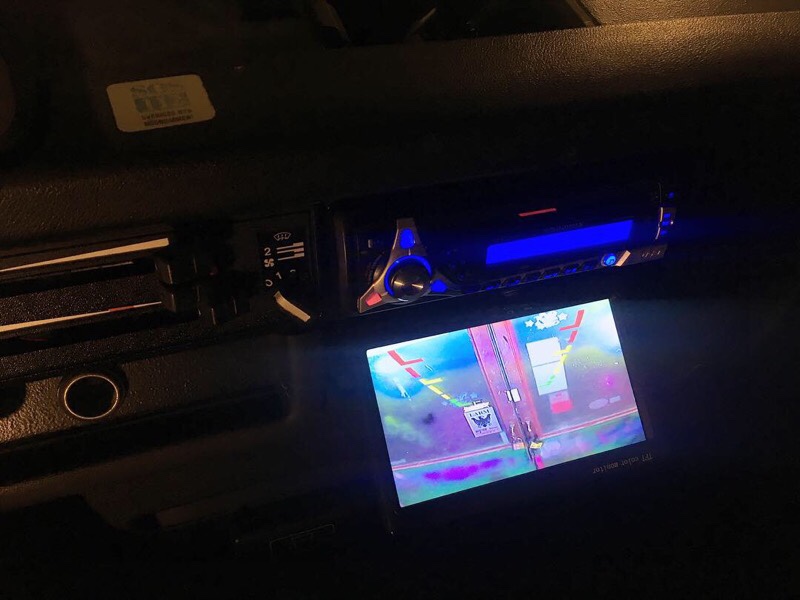 Another generation to the collection, at the moment I now have T1, T2 and T3 buses. This one is going to be the offroad bus and for autumn/winter camping/expeditions 🙂
It's a 1983 Transporter with 1,6 Diesel and 4-speed transmission. It has a ugly camping interior already fitted that will get a refresh/restoration. A Webasto/Planar diesel heater with thermostat will be installed to the interior in future, so you can stay warm on the winter. New 12v fridge will be installed and the gas stove will be replaced with a new small portable gas bottle one.
The goal is to have it pass the MoT / Safety Inspection before the winter comes. The engine starts but is not running very well. It has a new cam, timingbelt, waterpump at the moment. Going to align the timing belt better because it squeaks at lower RPM right now. Also the diesel pump is needing adjustment with special VW TOOL 2066.
Some meaty offroad tires (Malatesta Kobra) have been fitted on stock VW 14″ steel wheels, that was sandblasted and painted. Looks badass now! The diesel tank have been drained on old diesel and a new fuel filter fitted. Also added some anti-bacteria and injectioncleaner to new diesel. New oil (15w-40 mineral) and filter in the engine too. New air cleaner filter added. Injection pump adjusted with micrometer (vw2066) up to 00,95, before was only 00,81. Engine now runs much smoother but need to align the timingbelt before any real test drive can be done. More too come soon…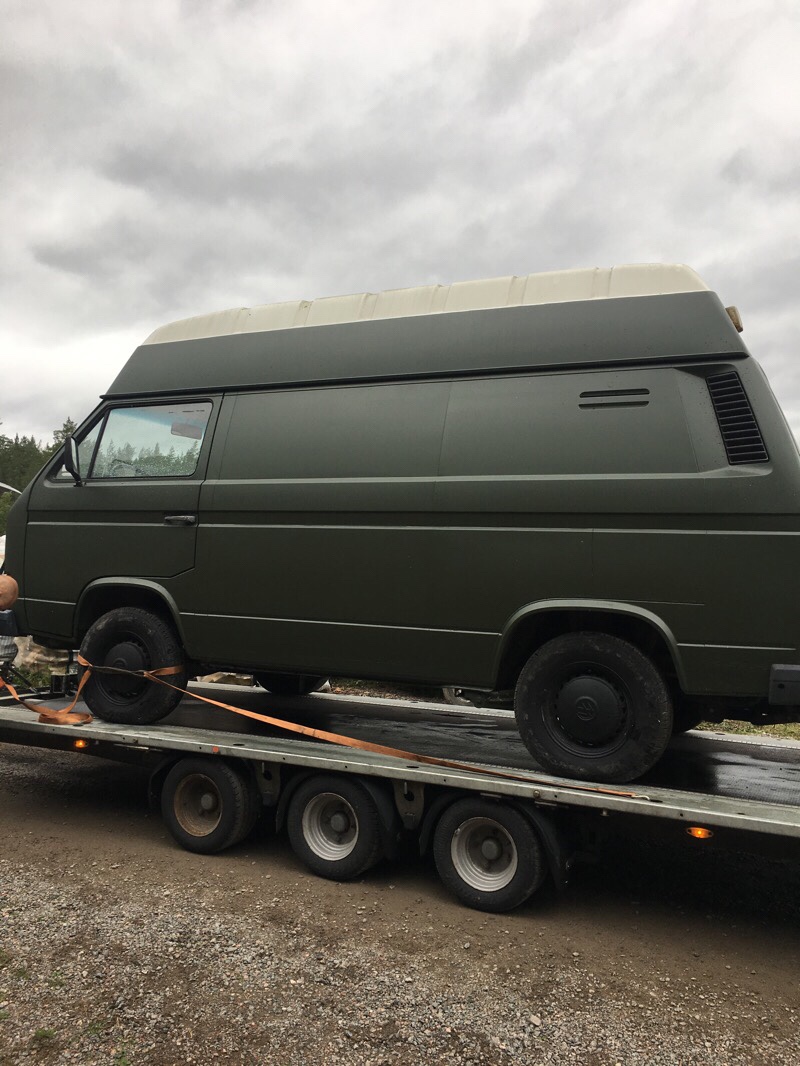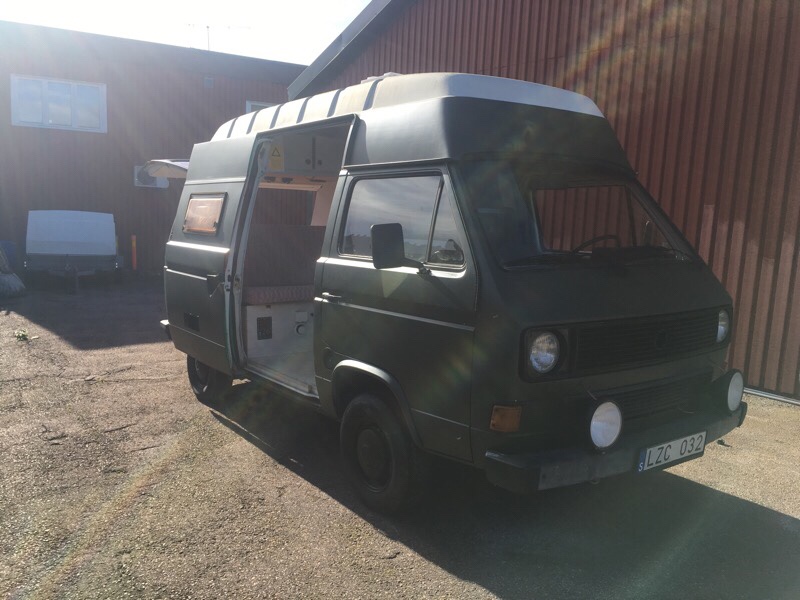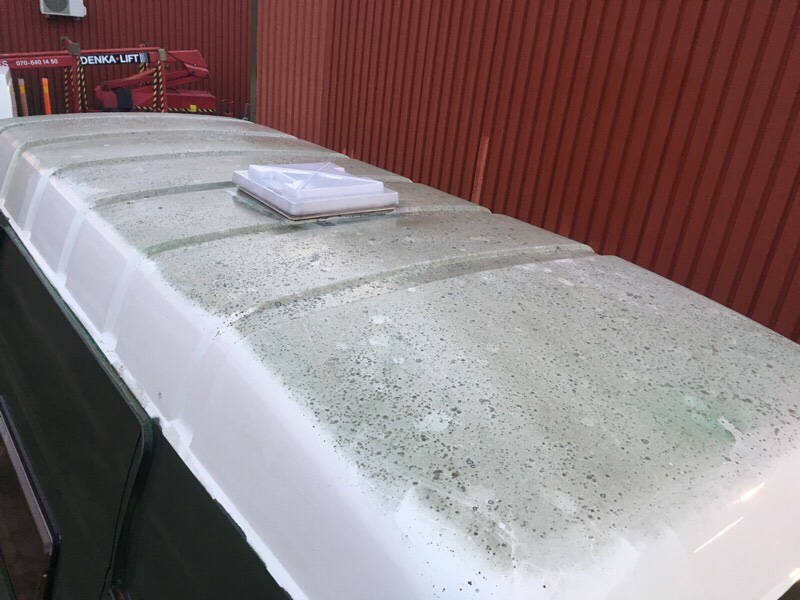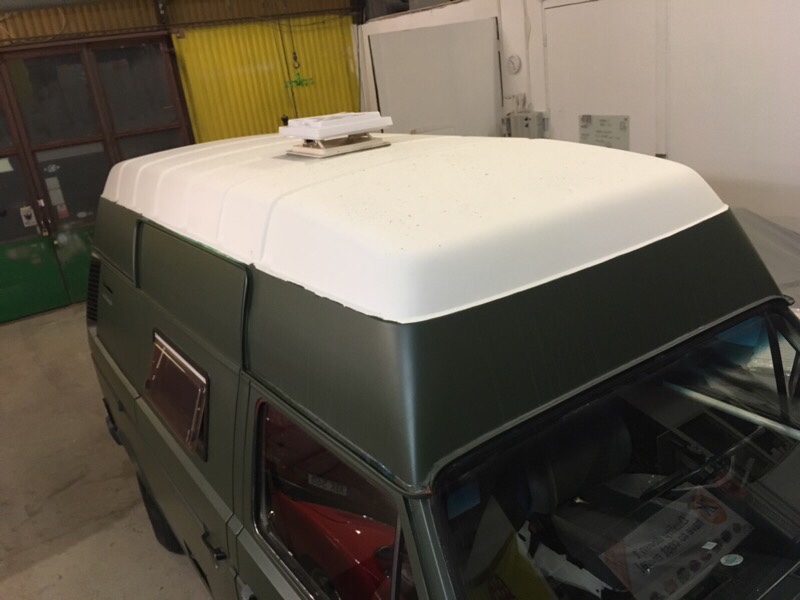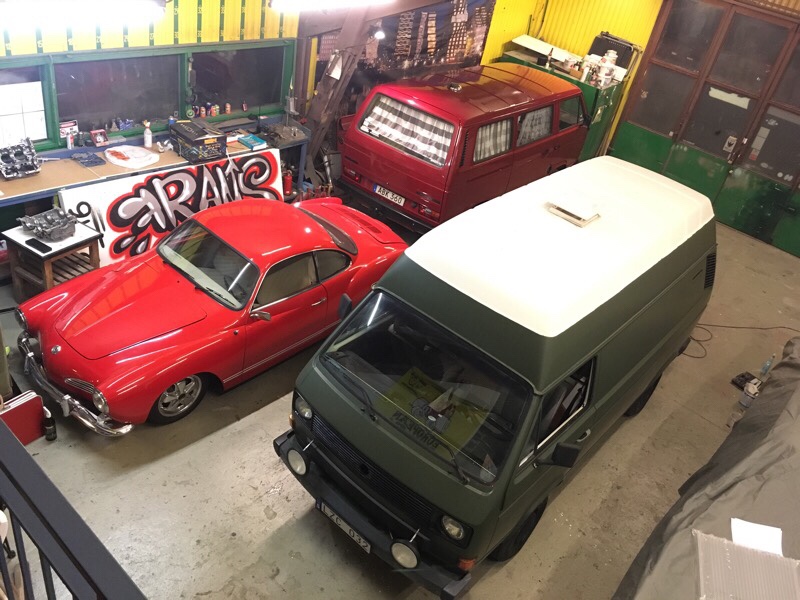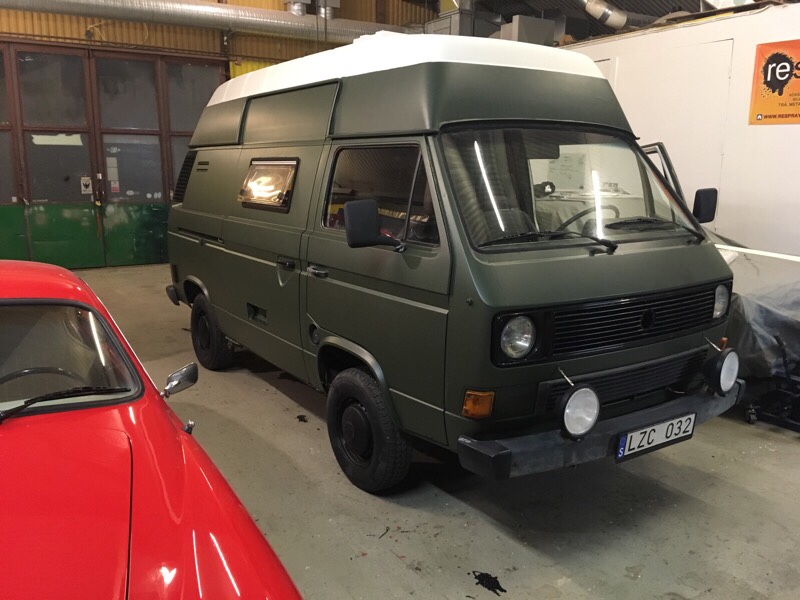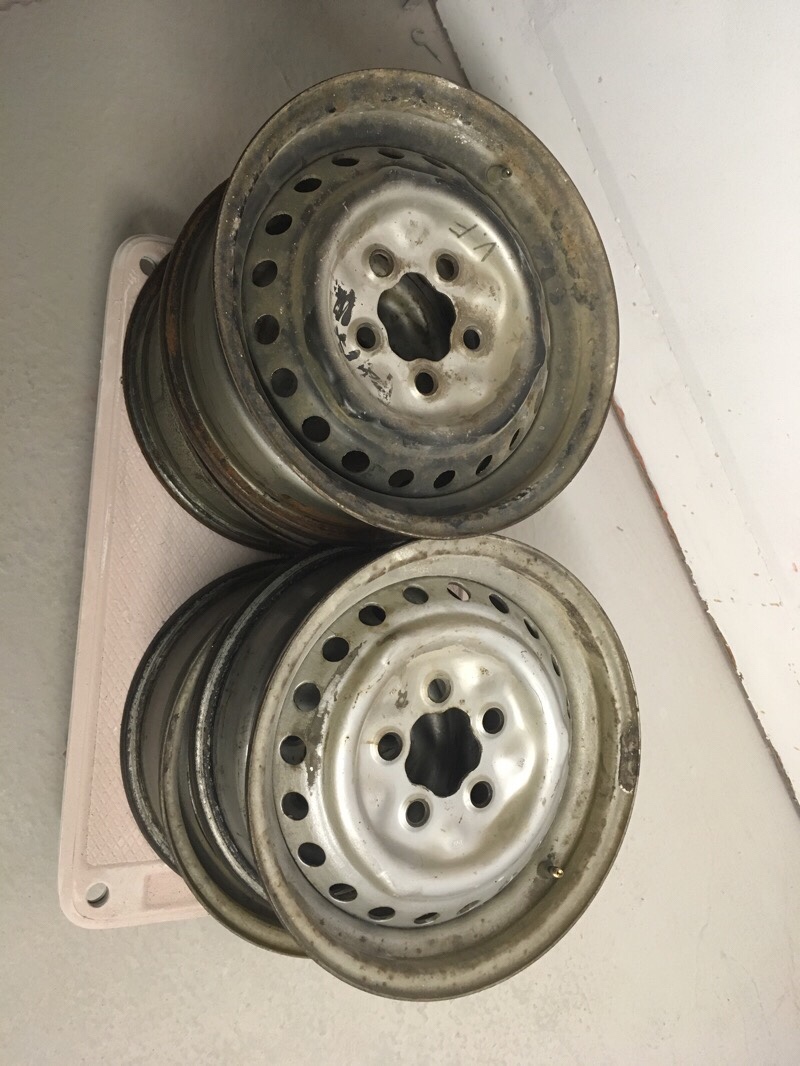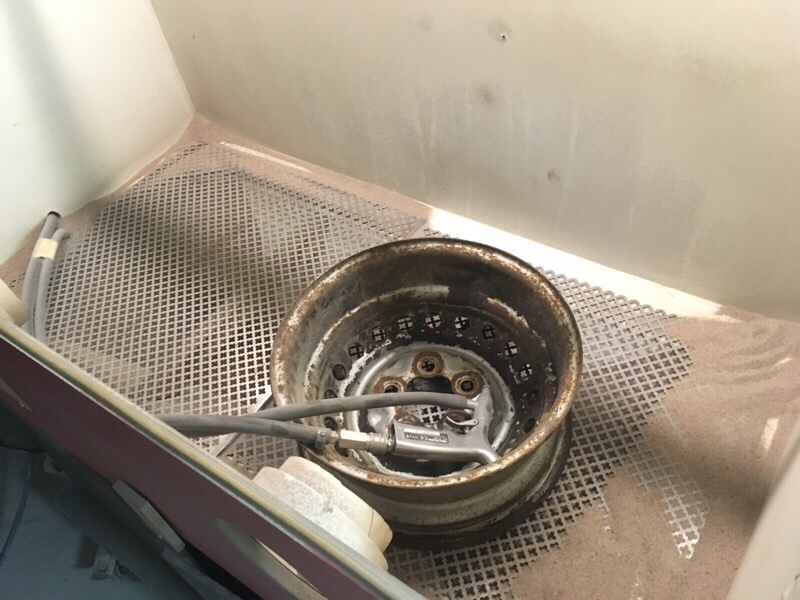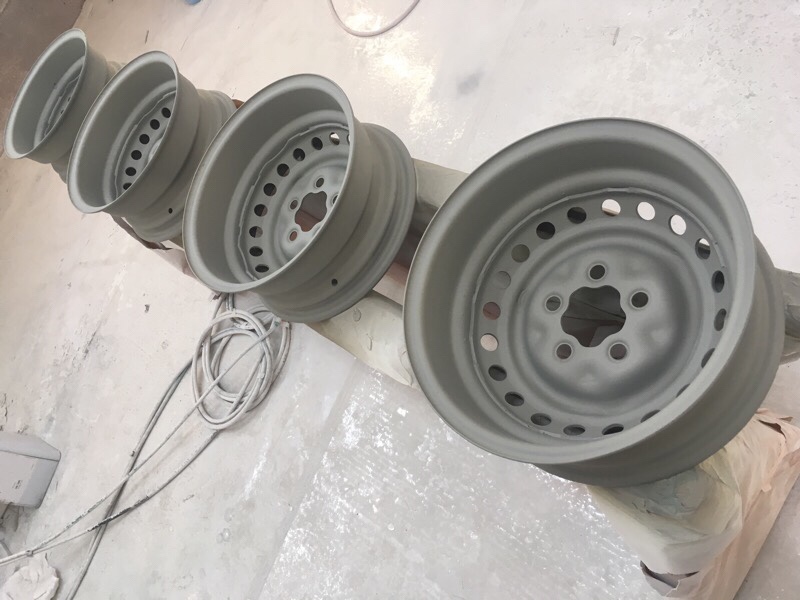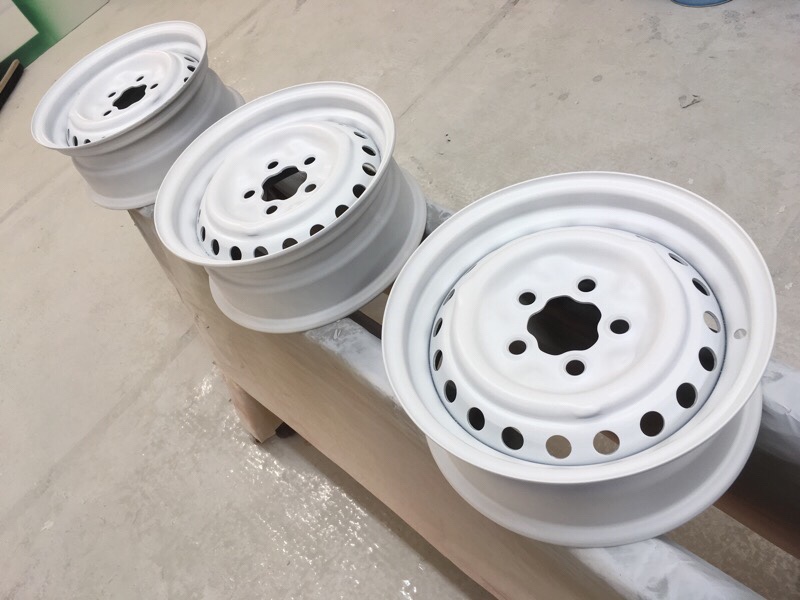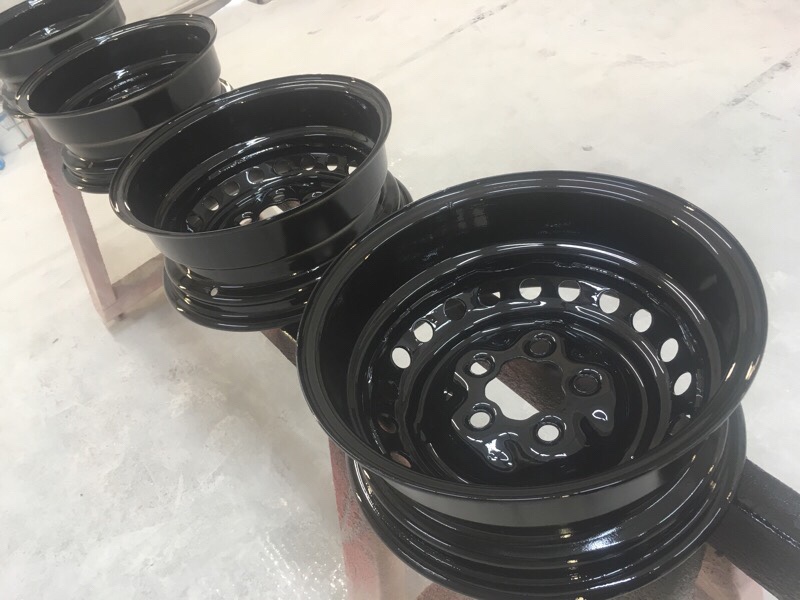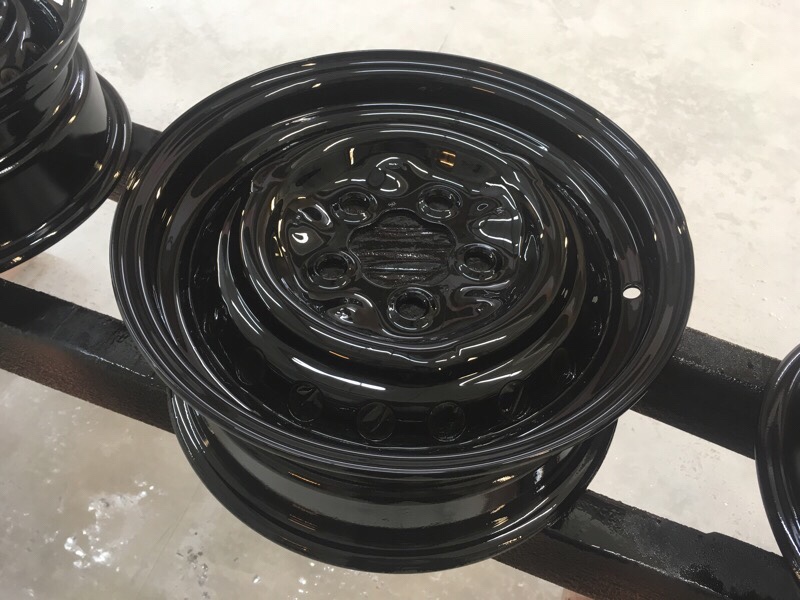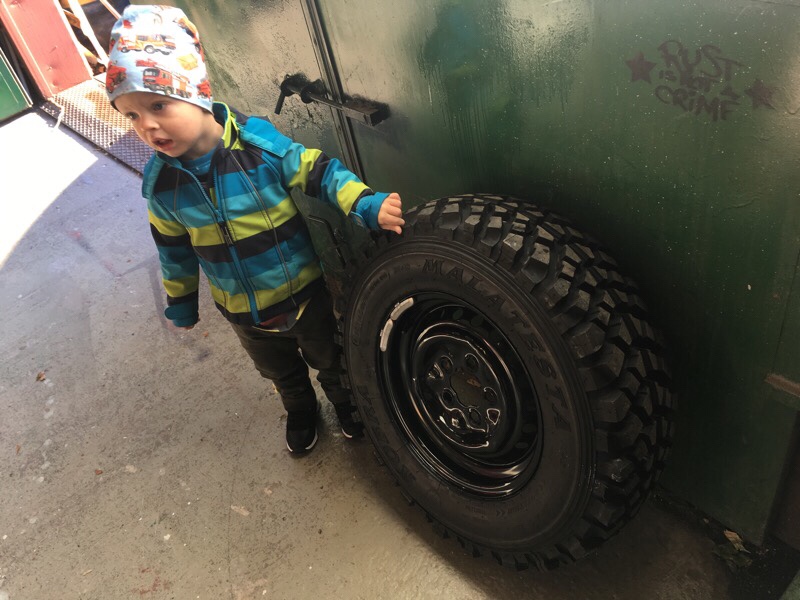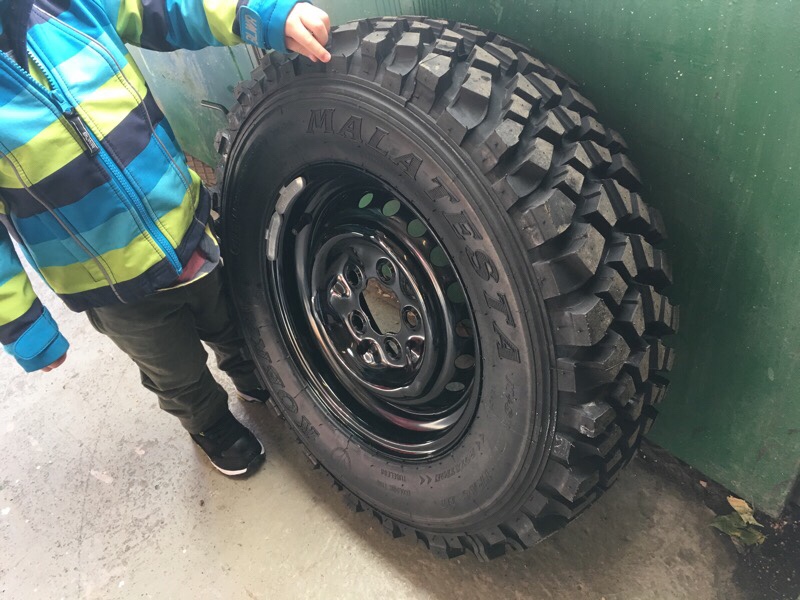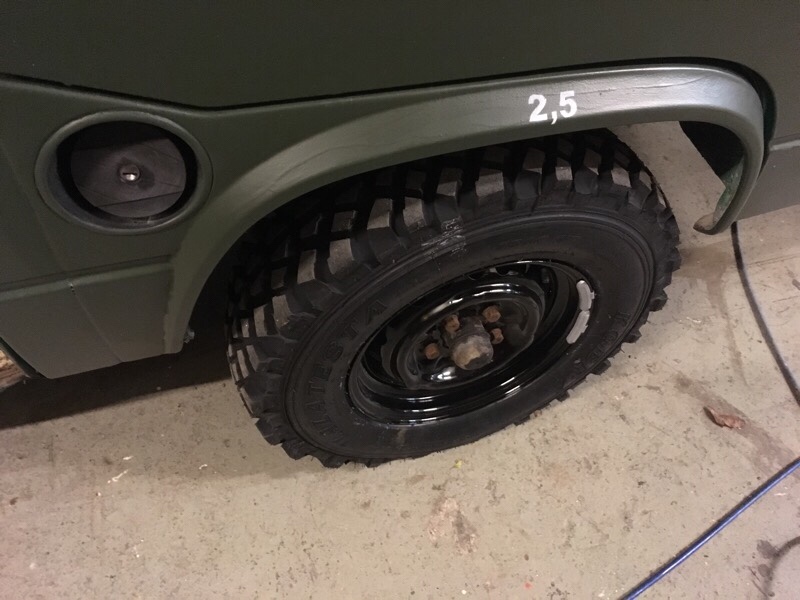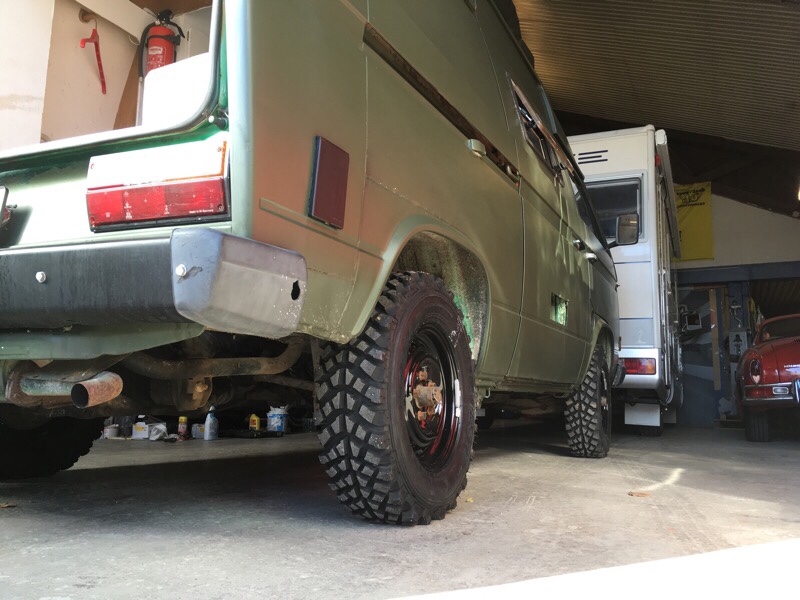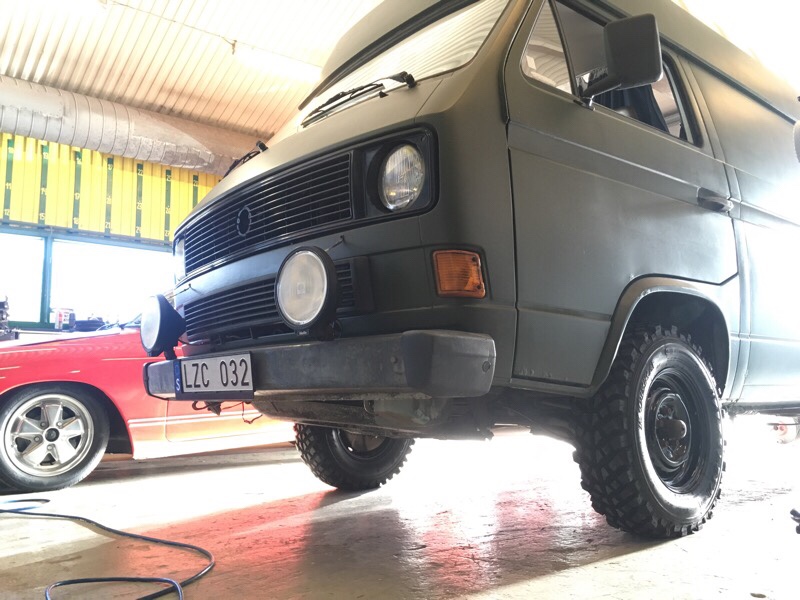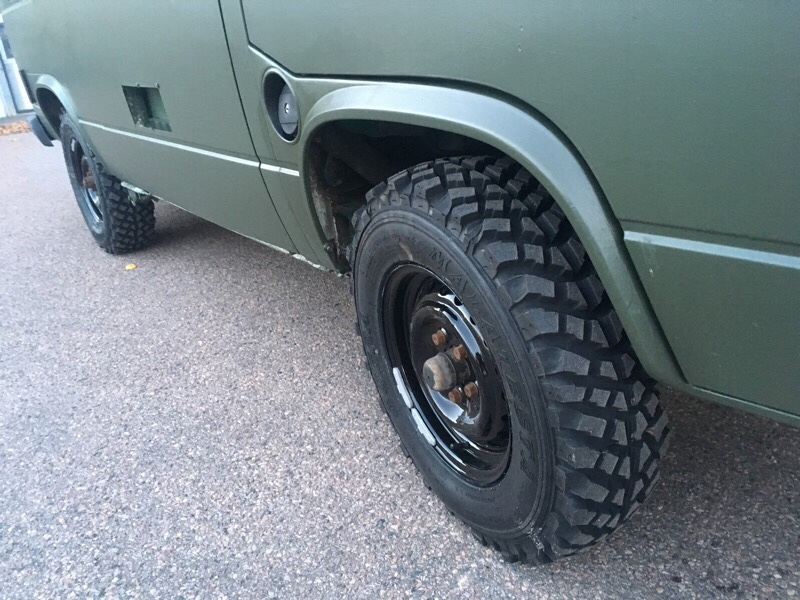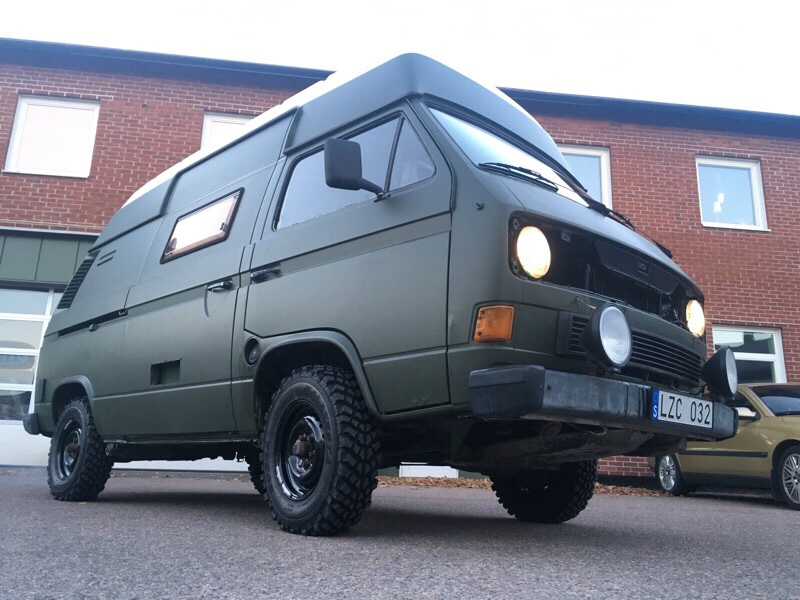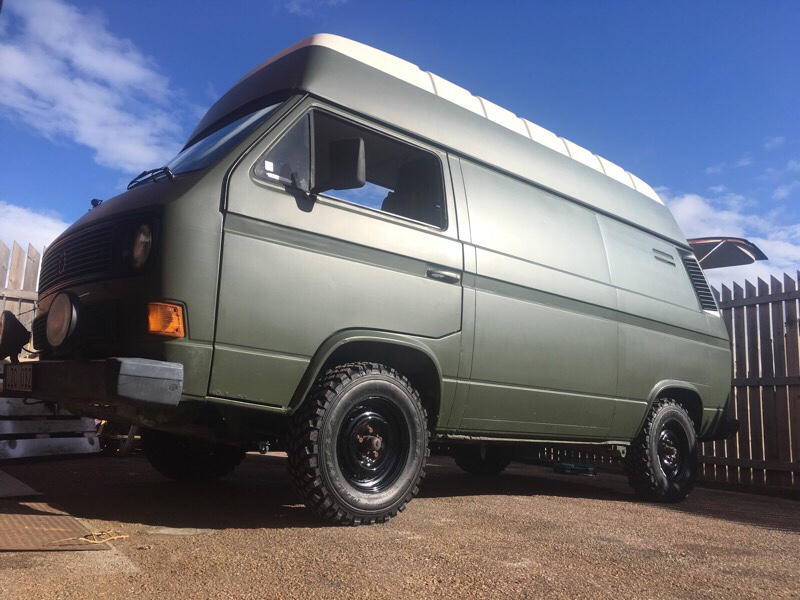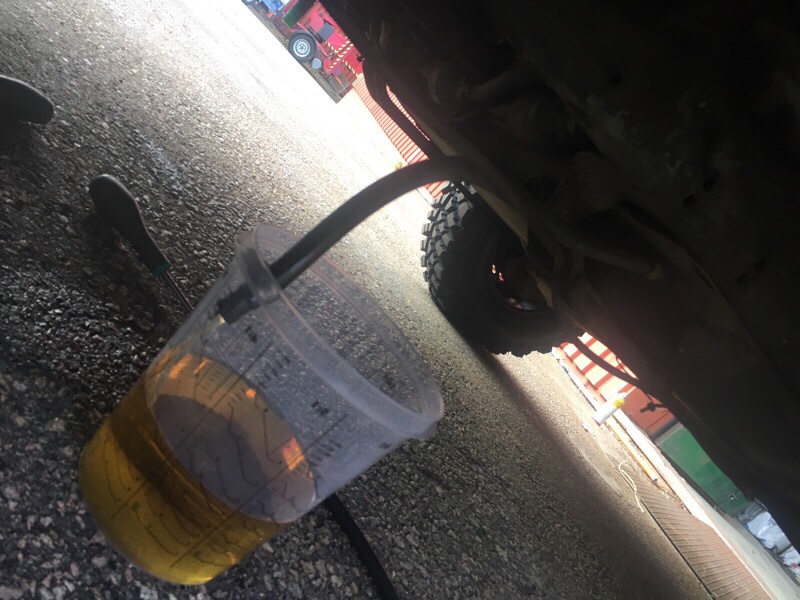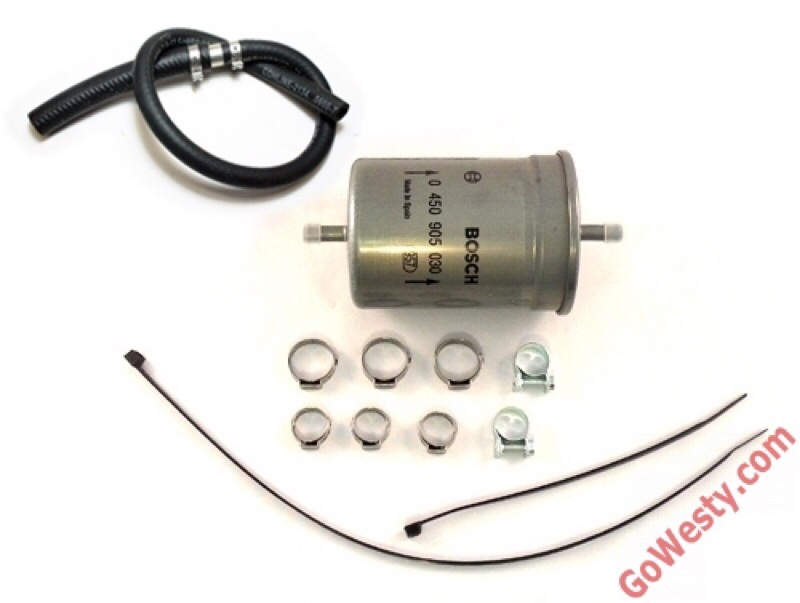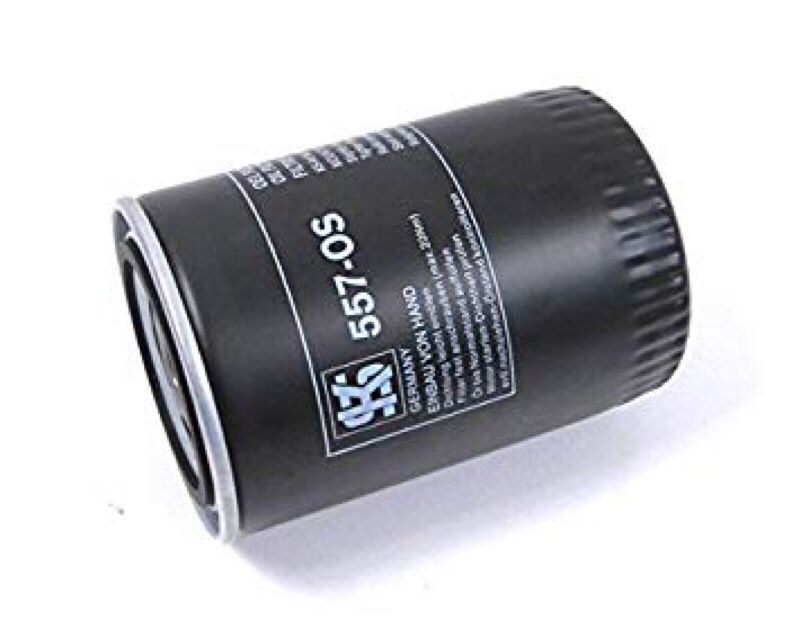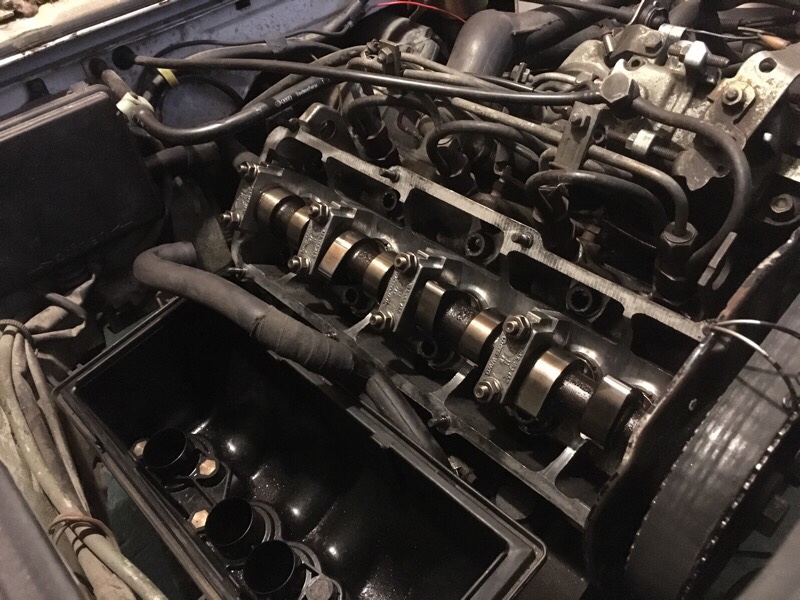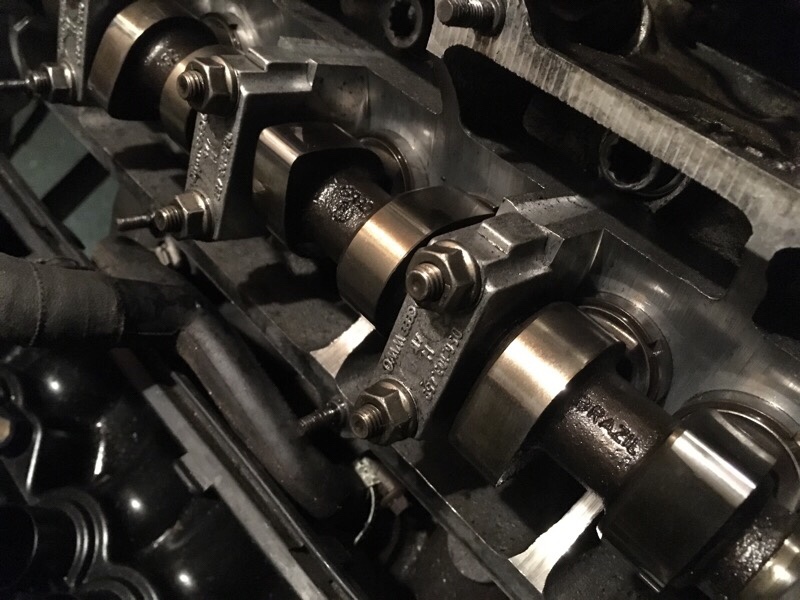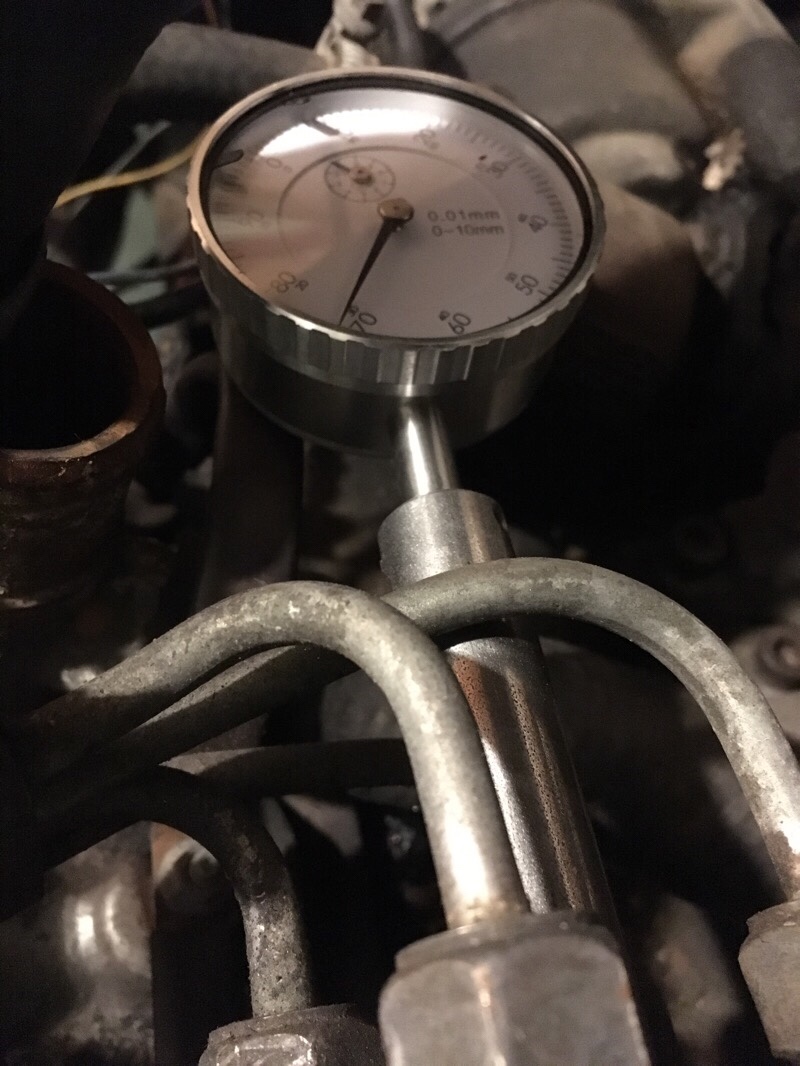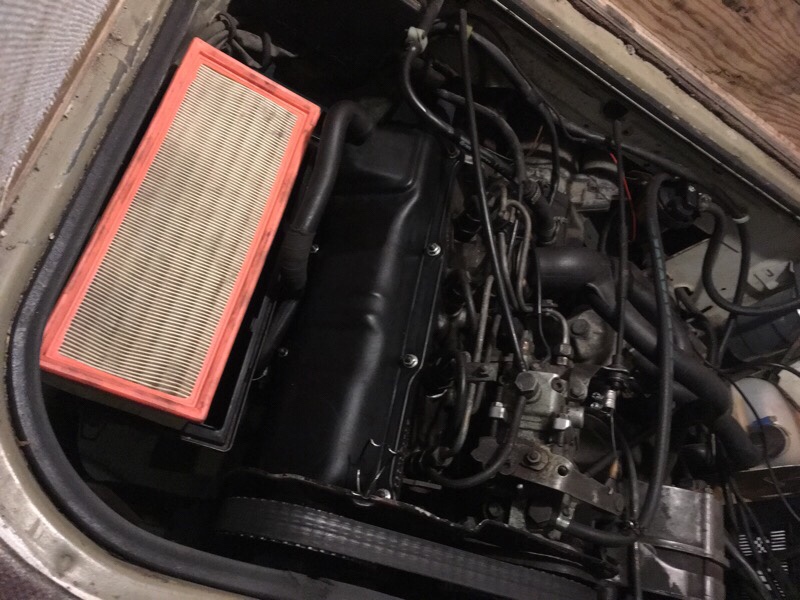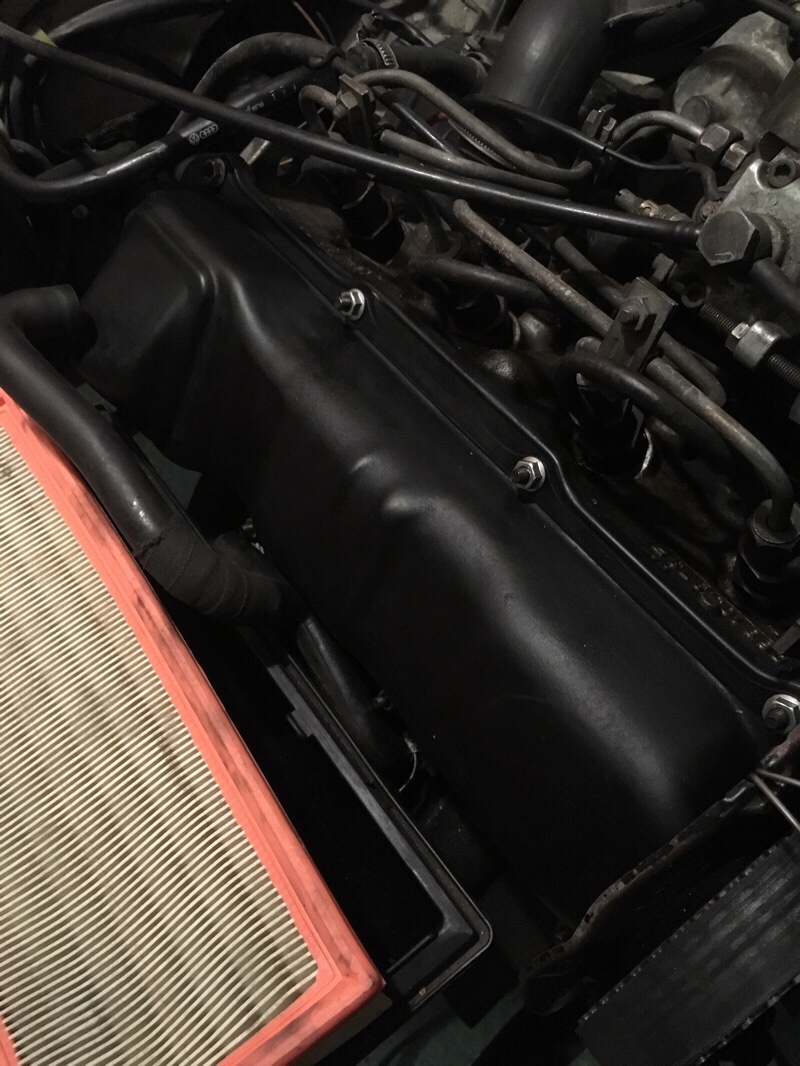 Designed in Italy by Ghia carosserie, built by Karmann in Germany for Volkswagen.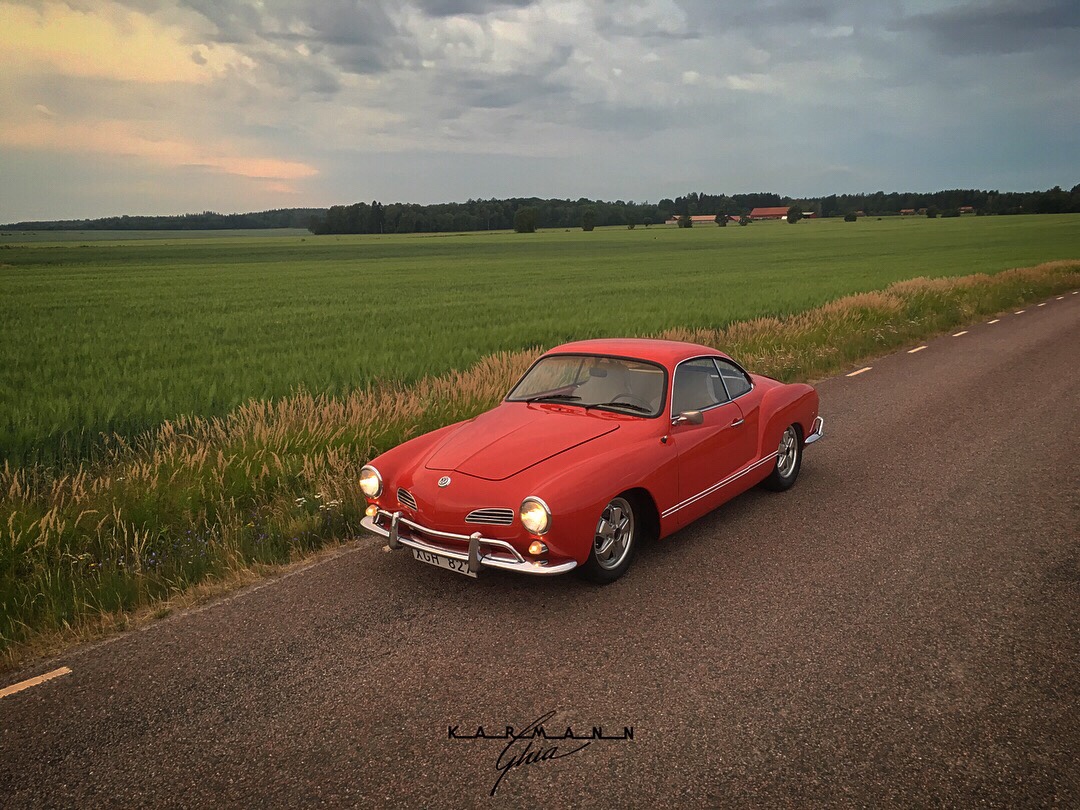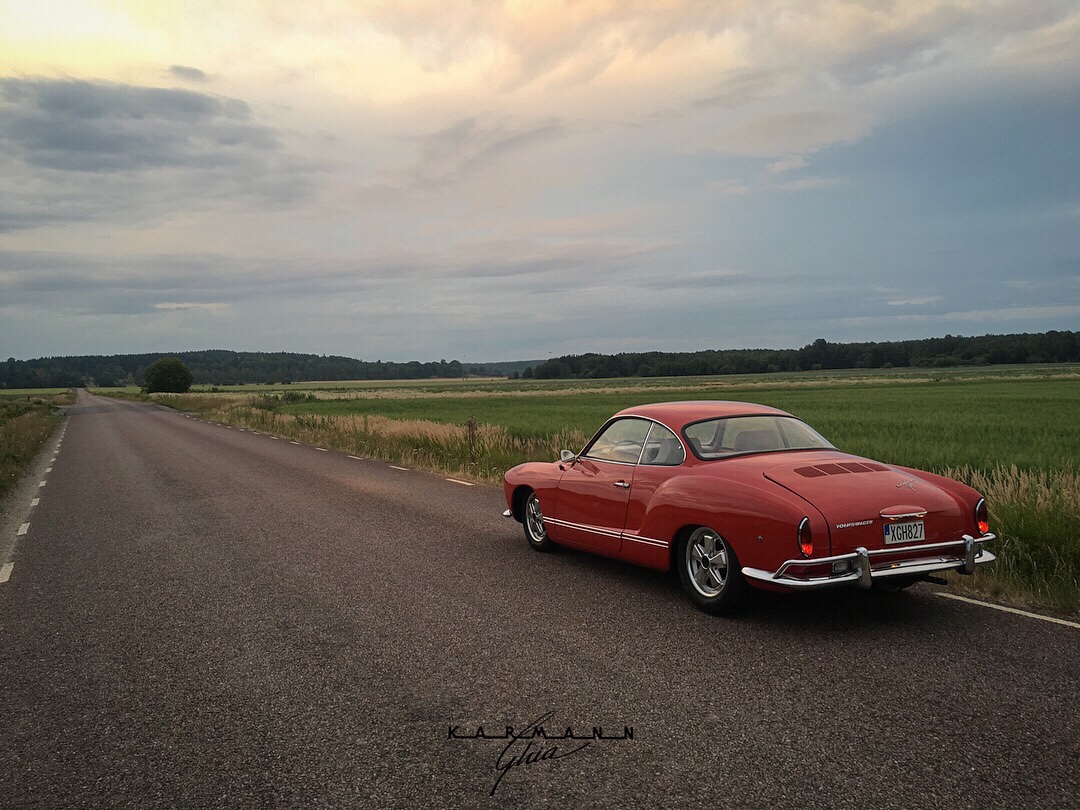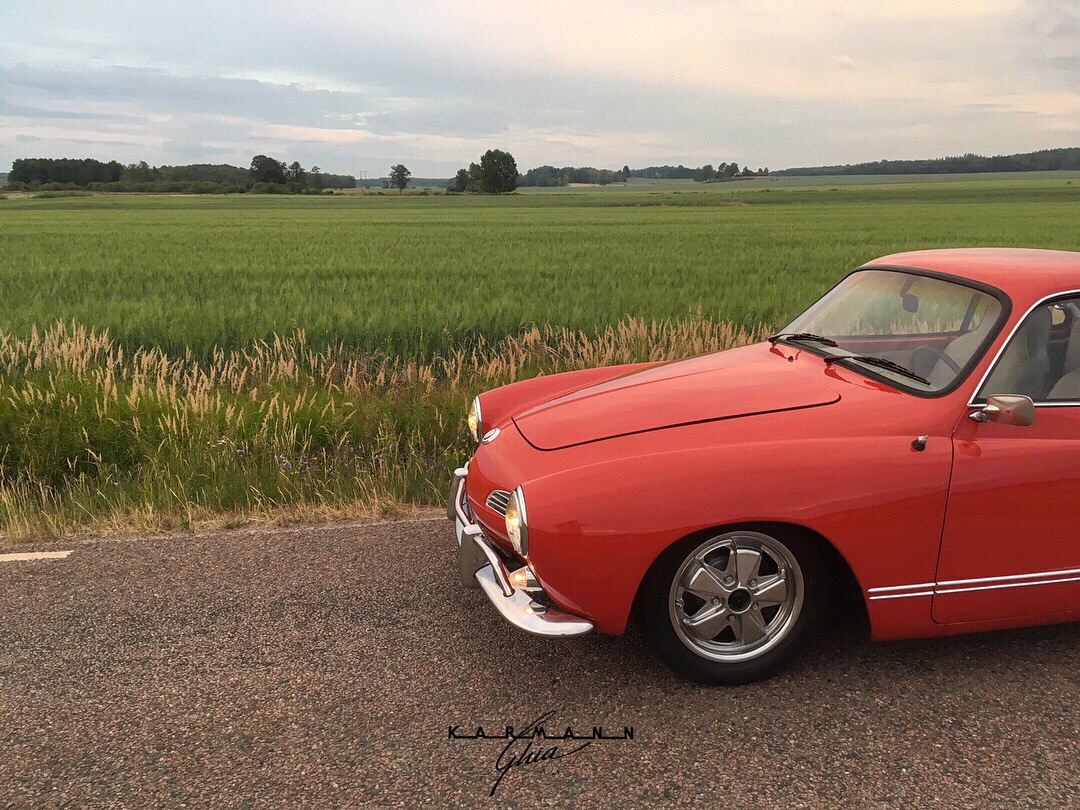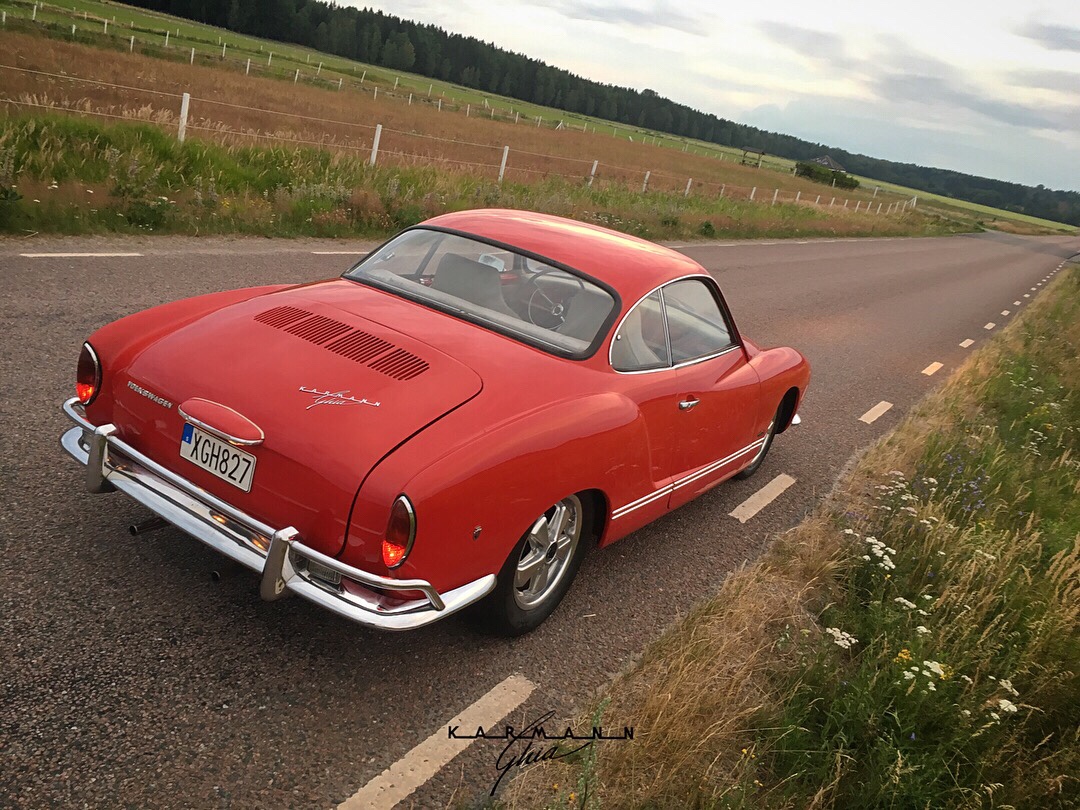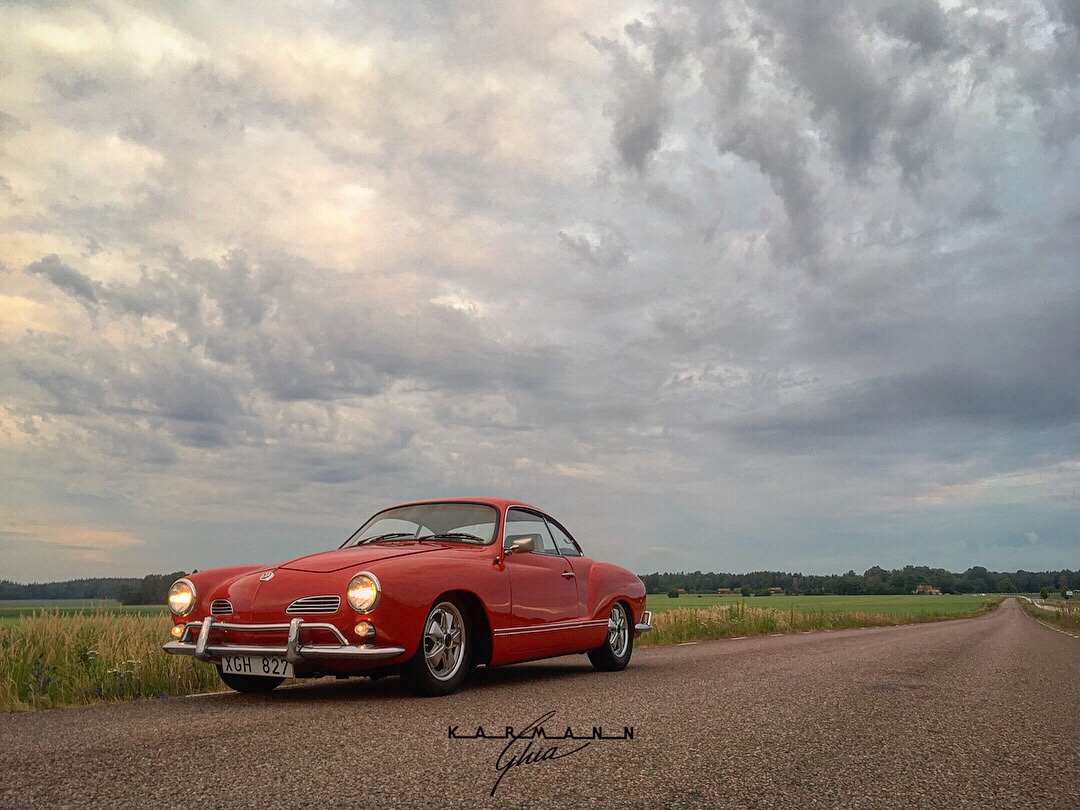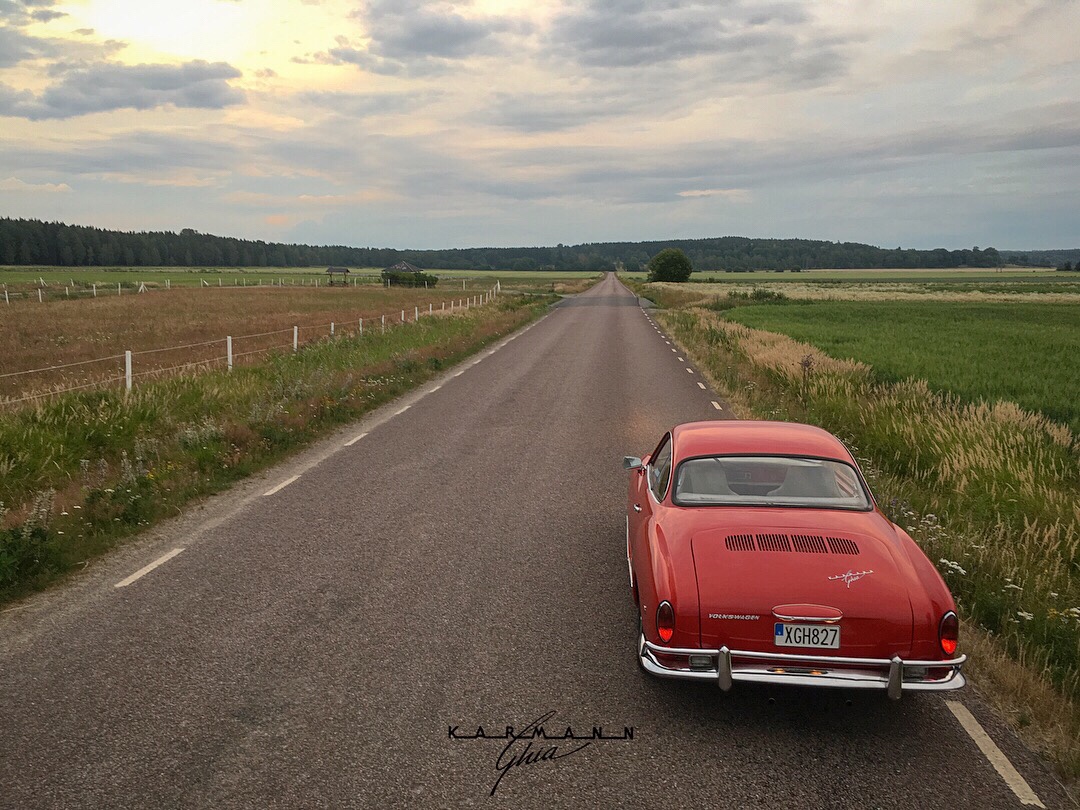 The best from two worlds, Porsche 911 and VW Karmann Ghia.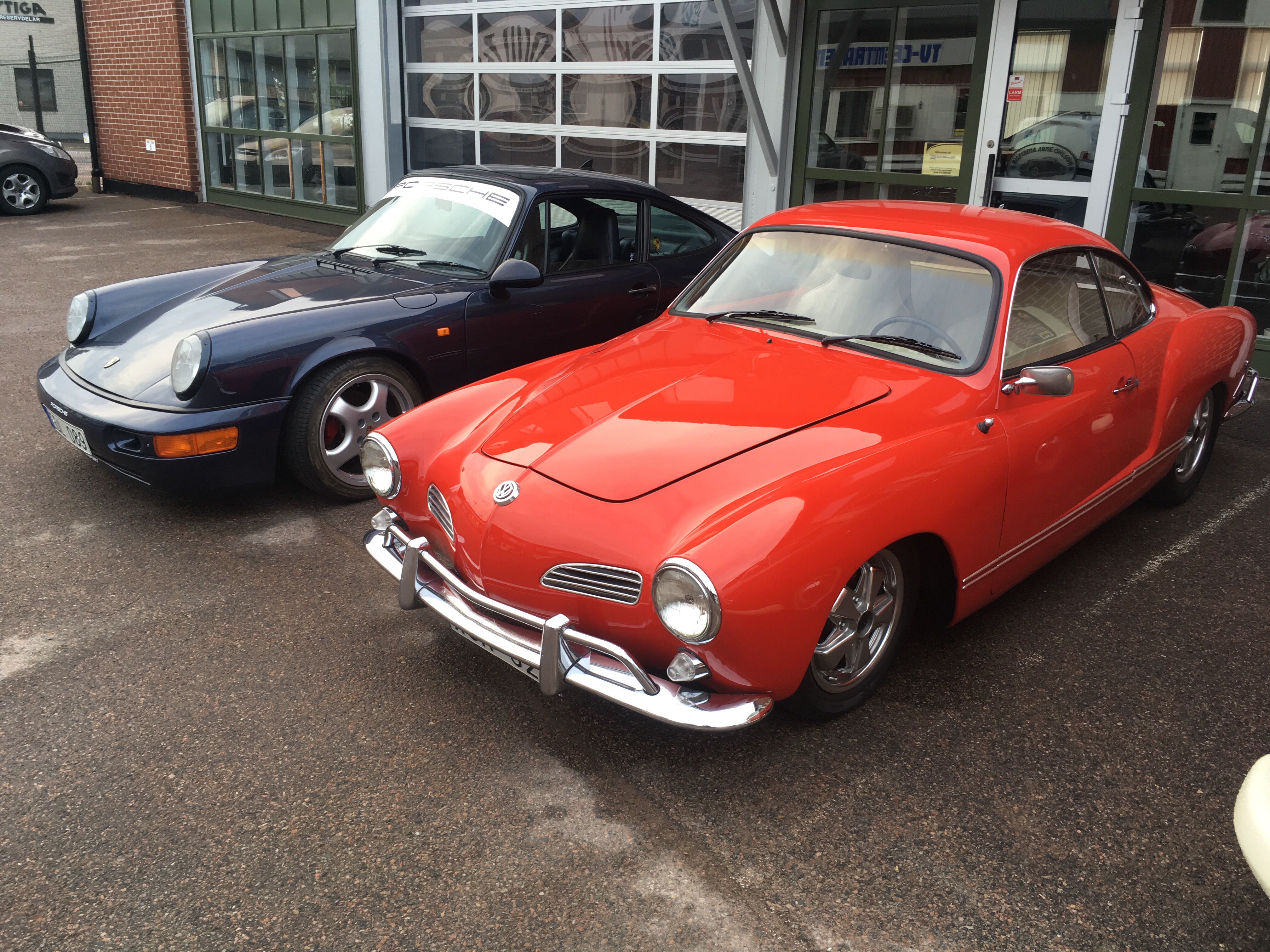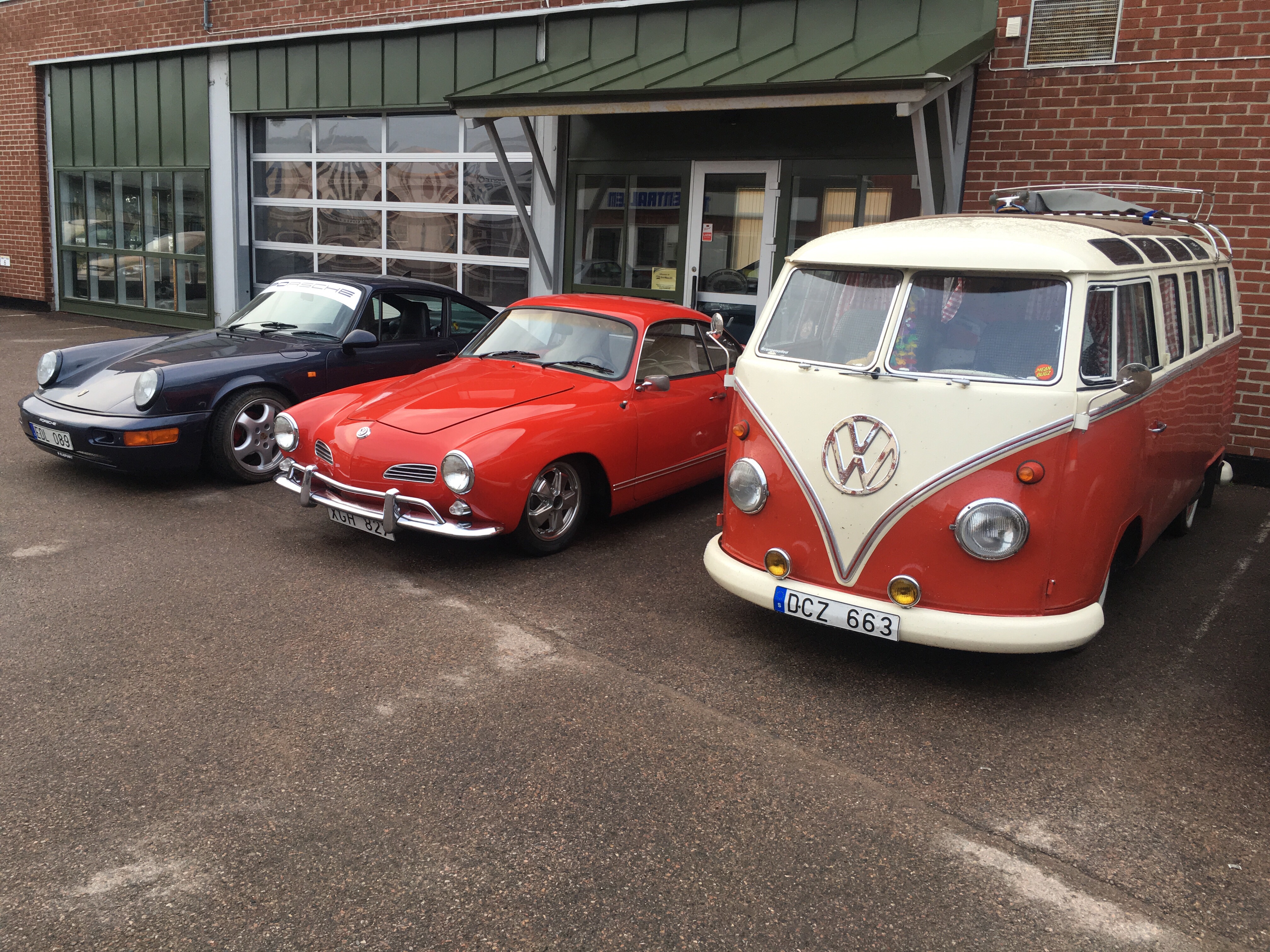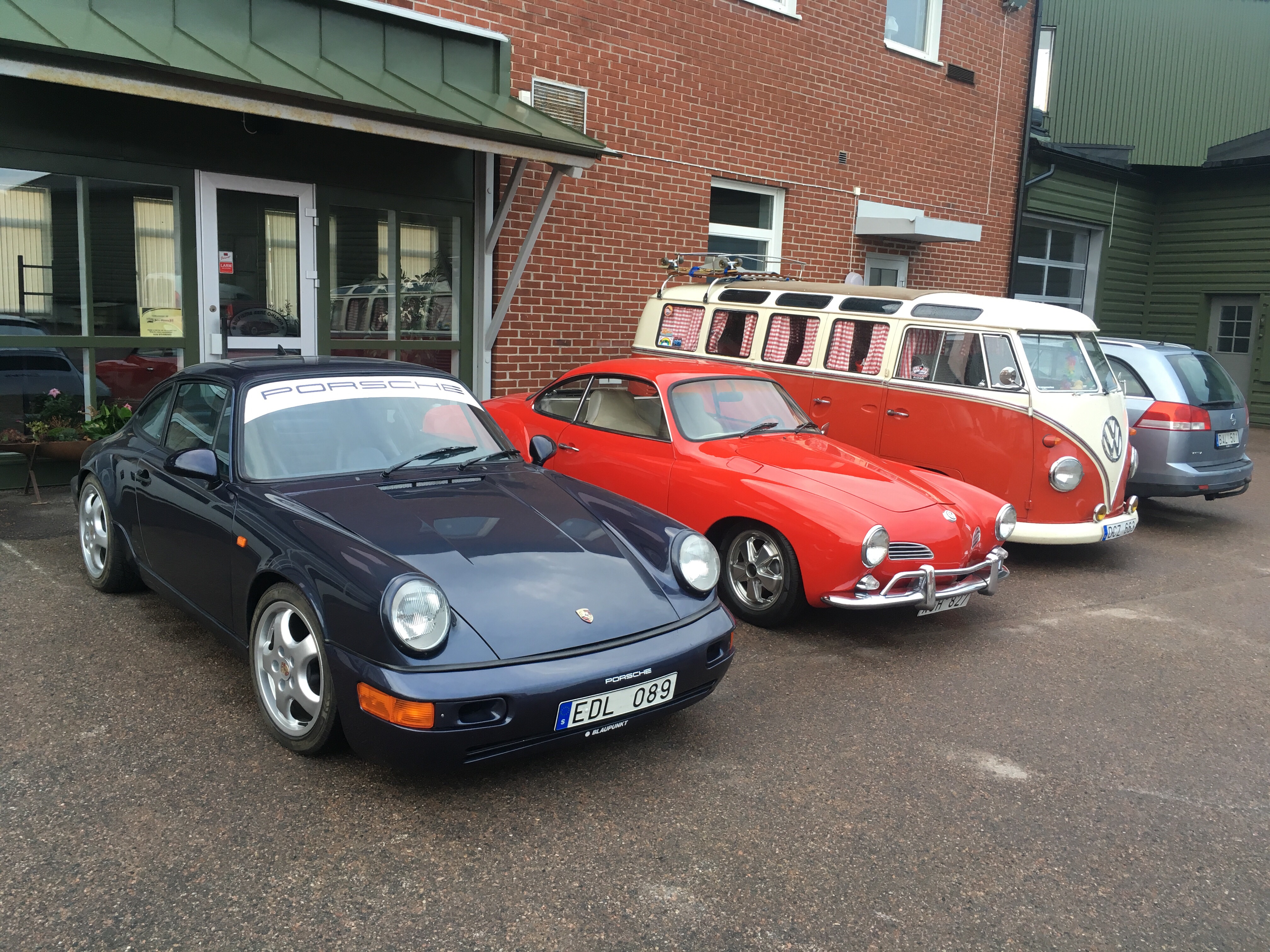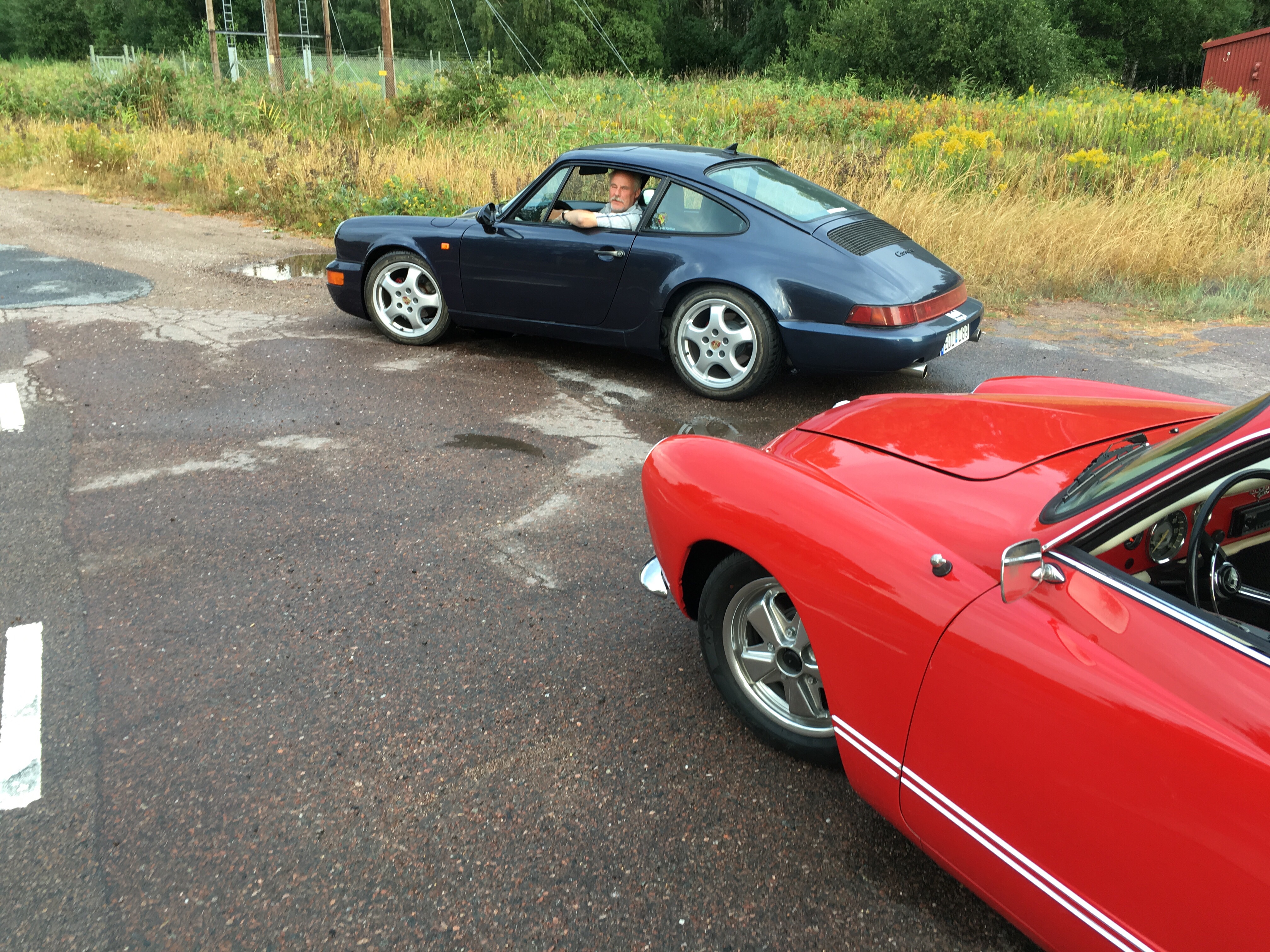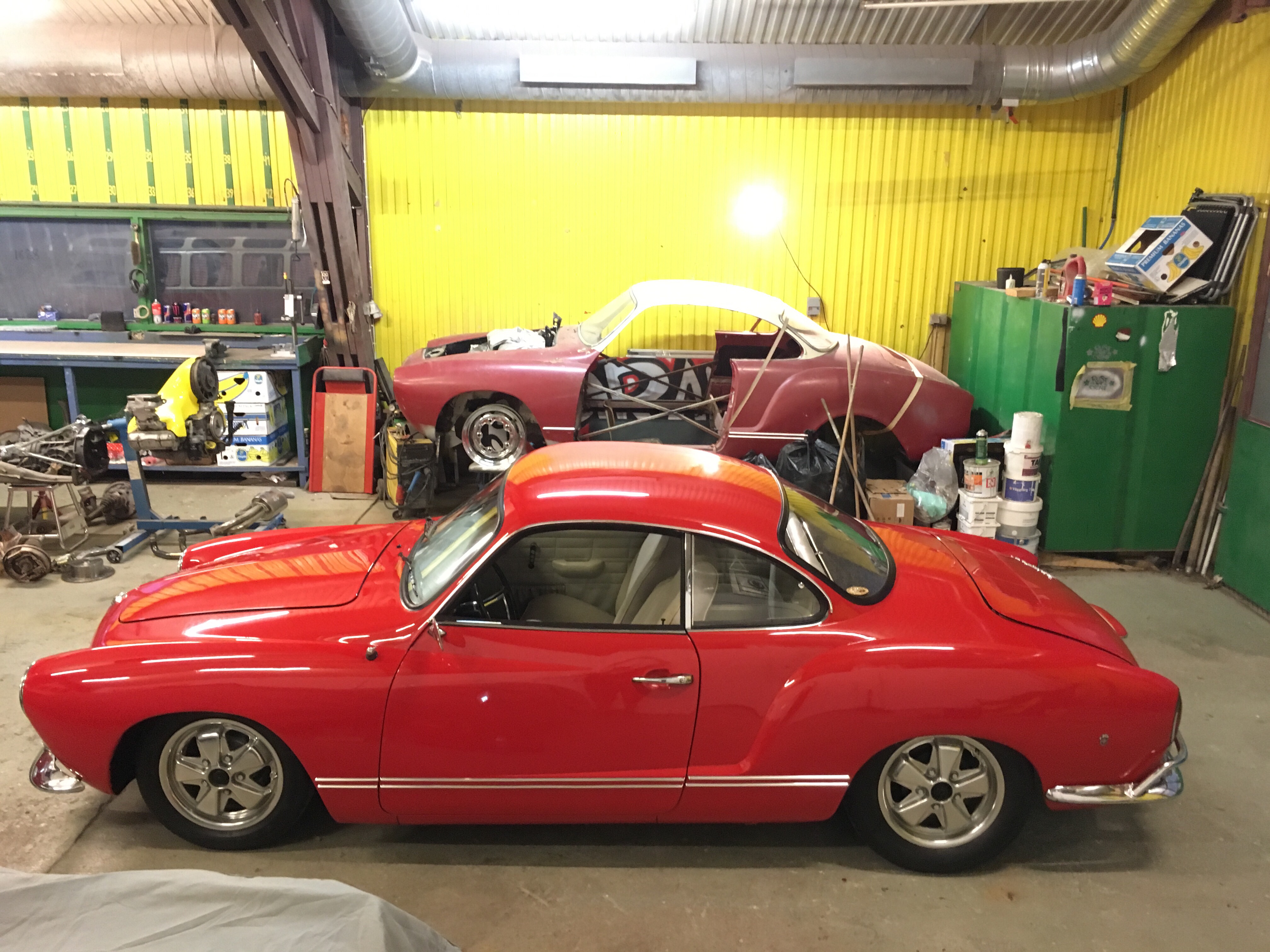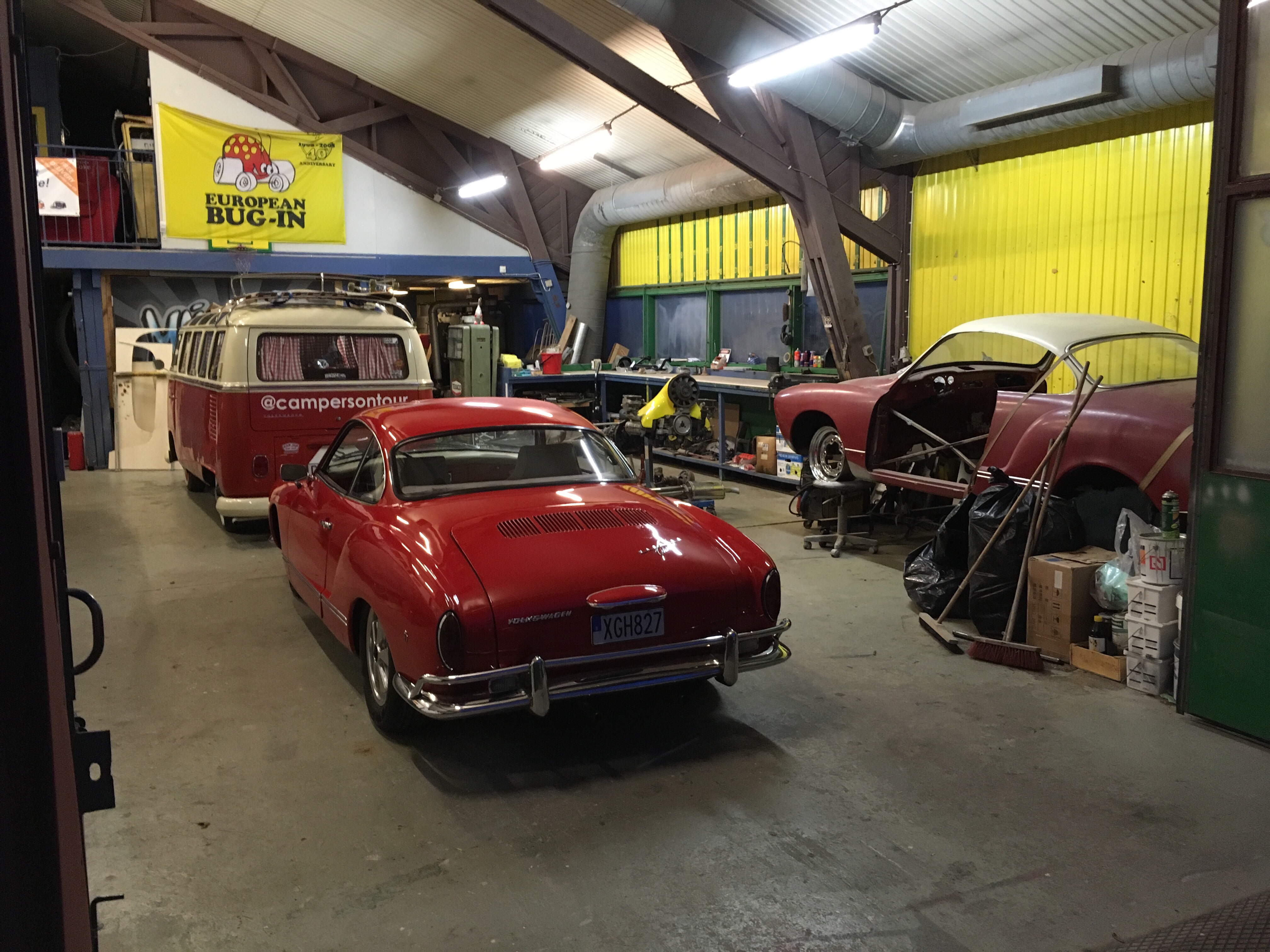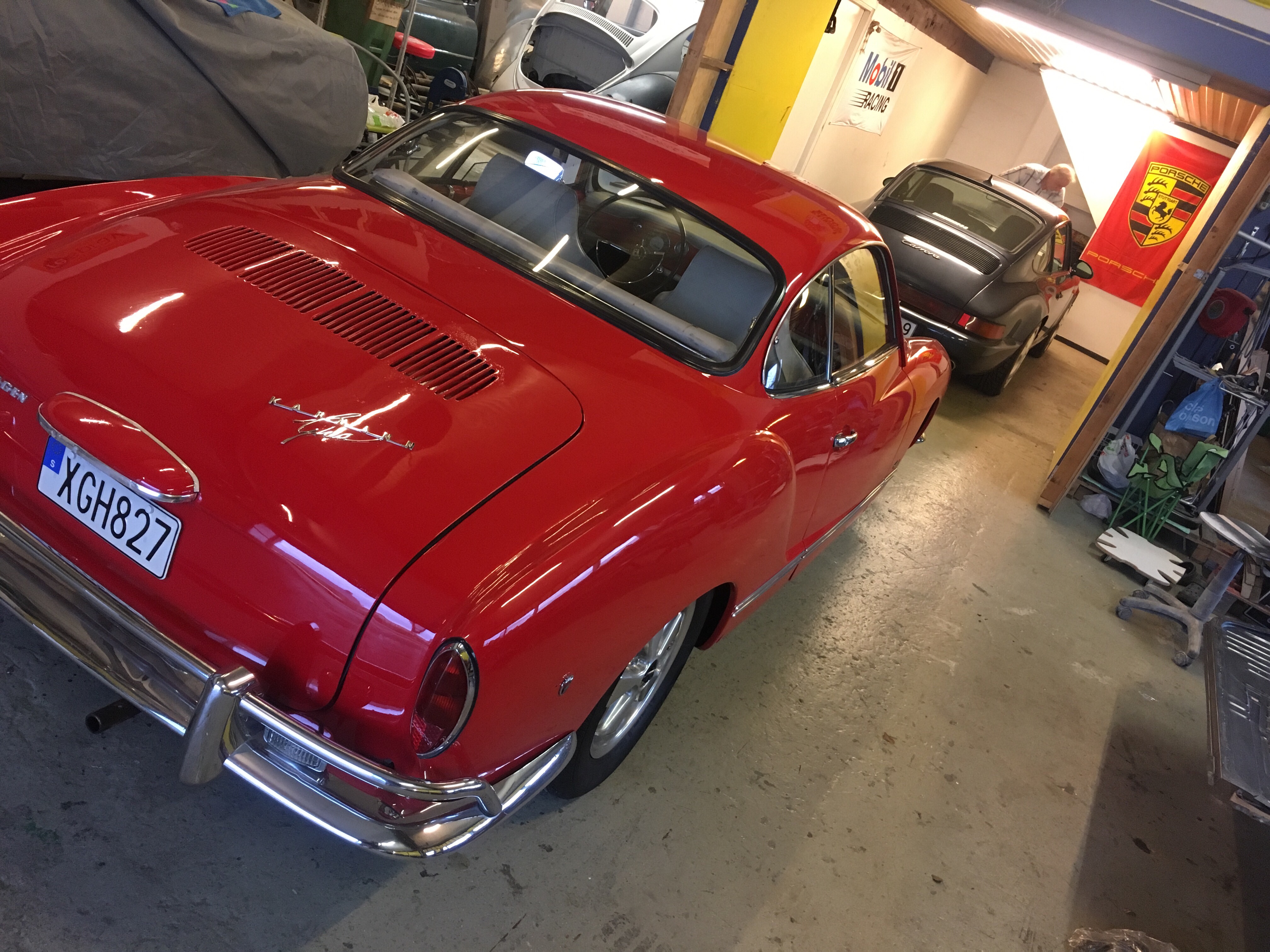 The summer of 2018, hottest summer in Sweden in 260 years!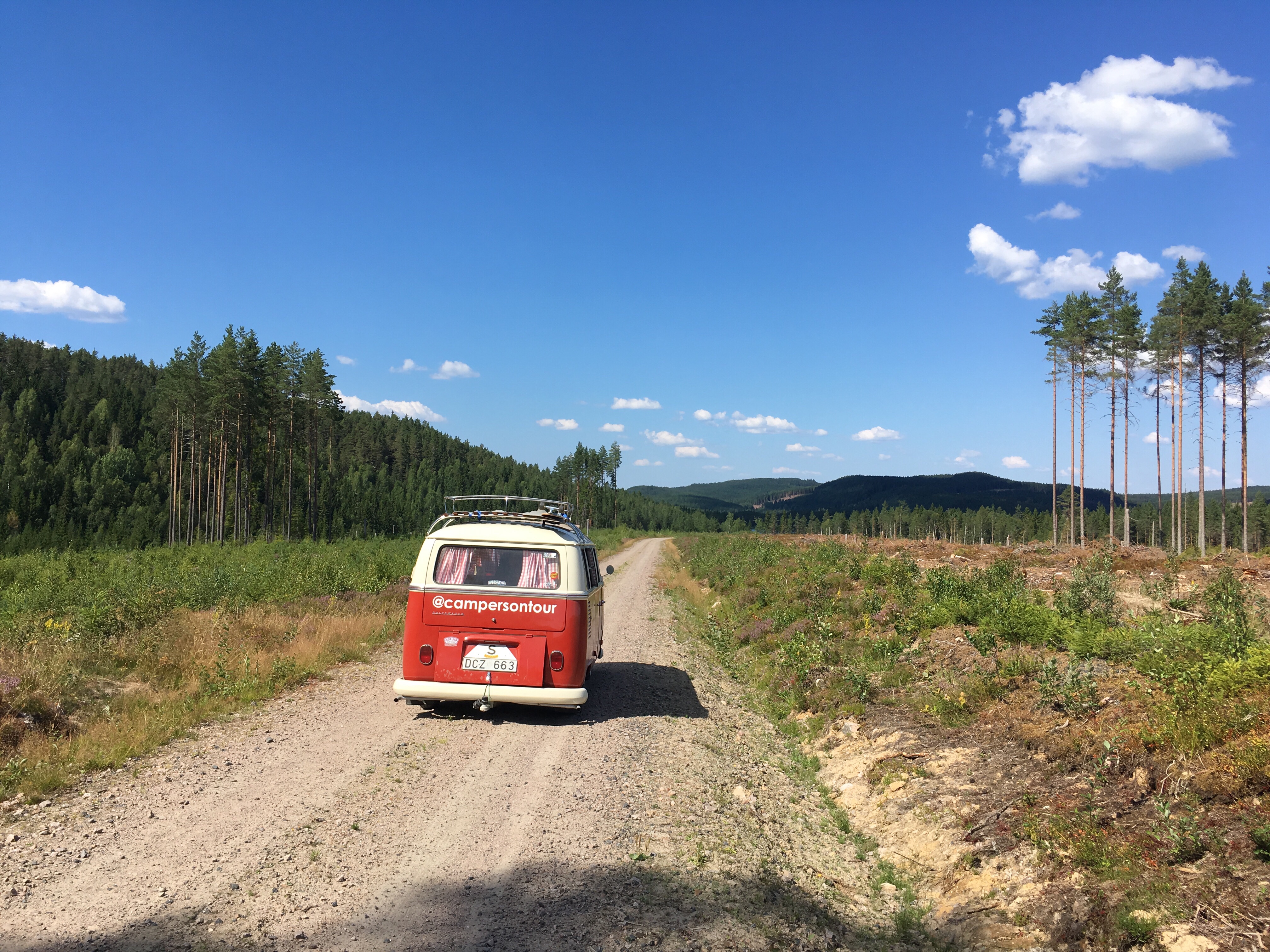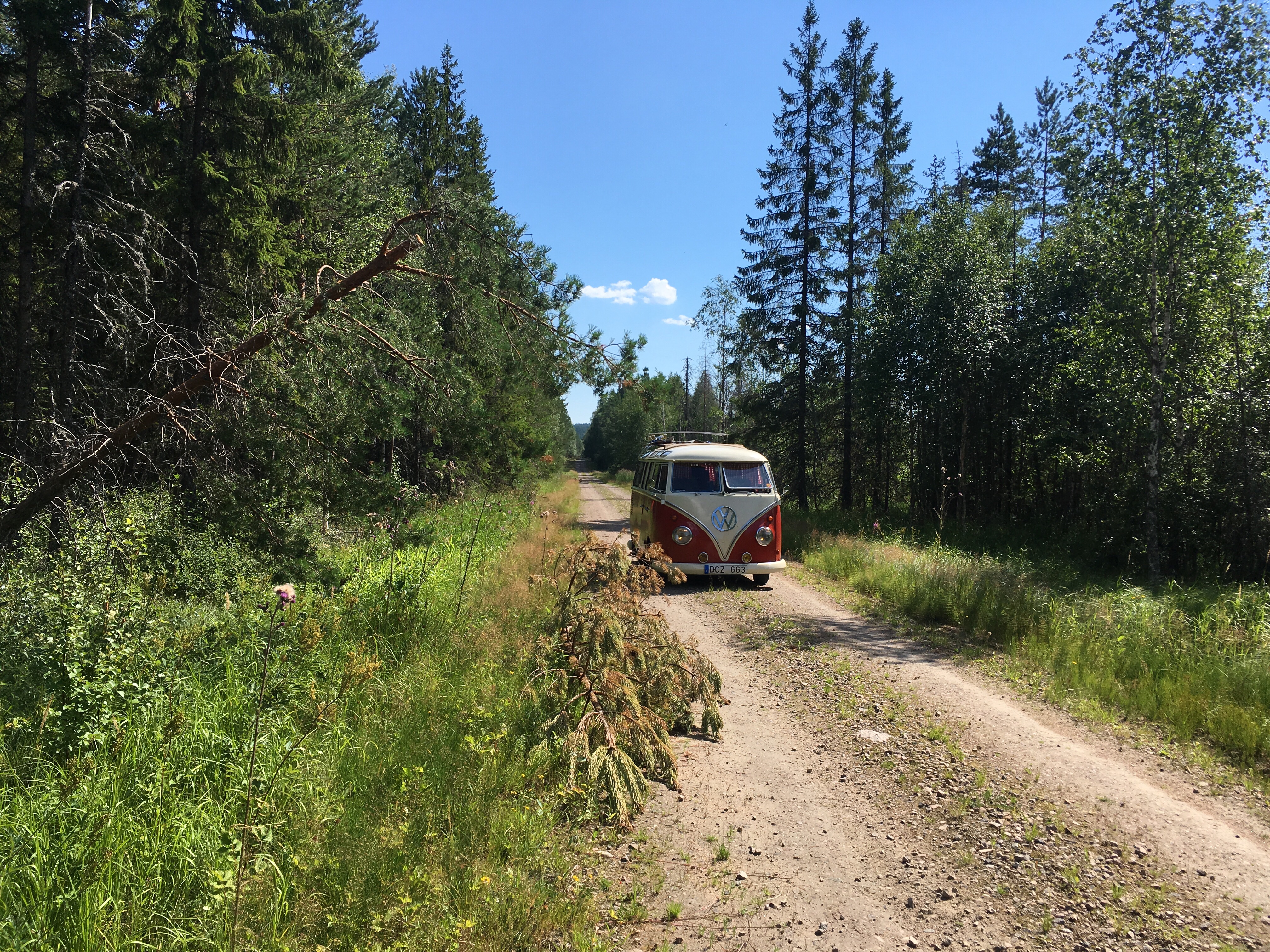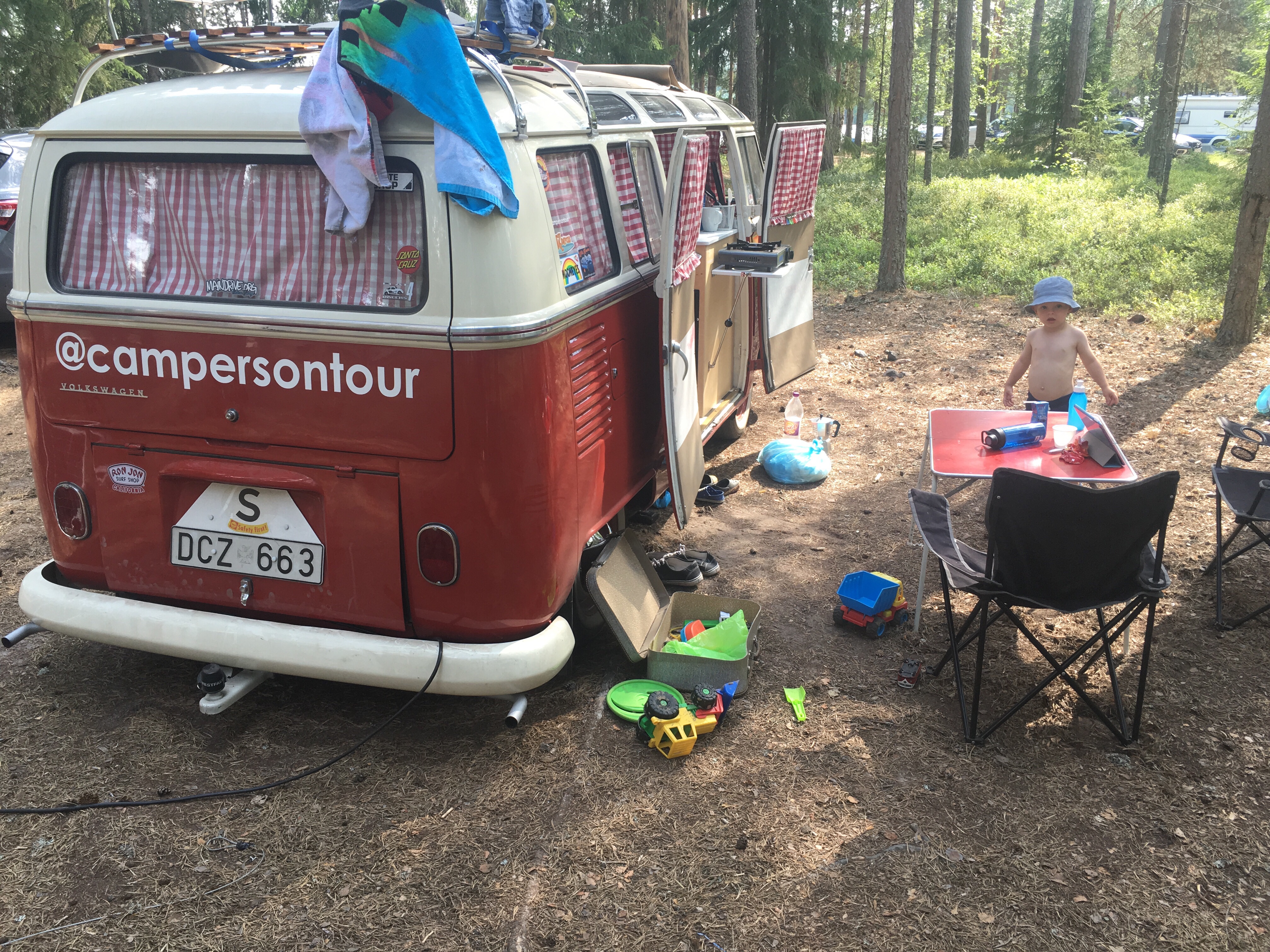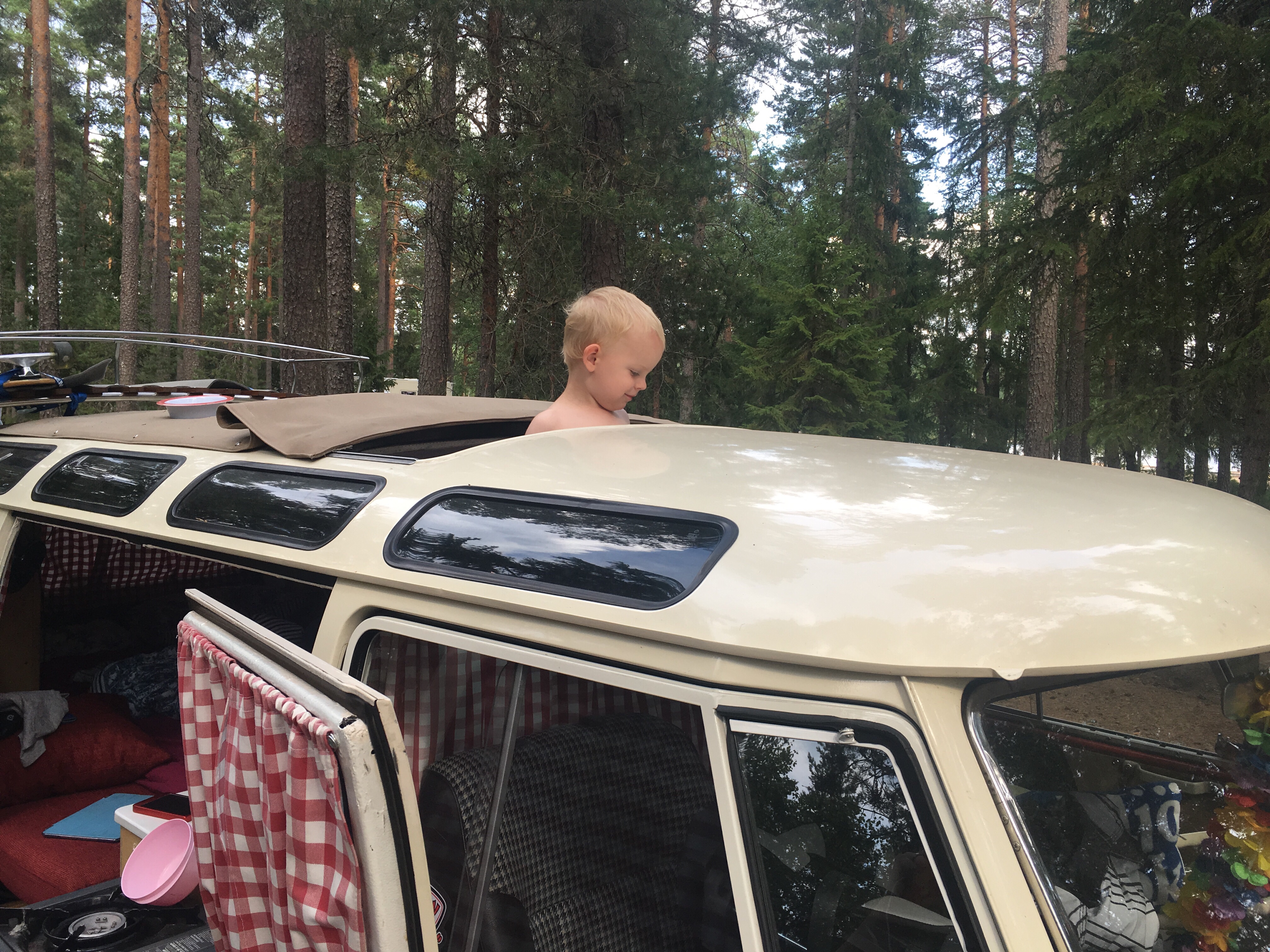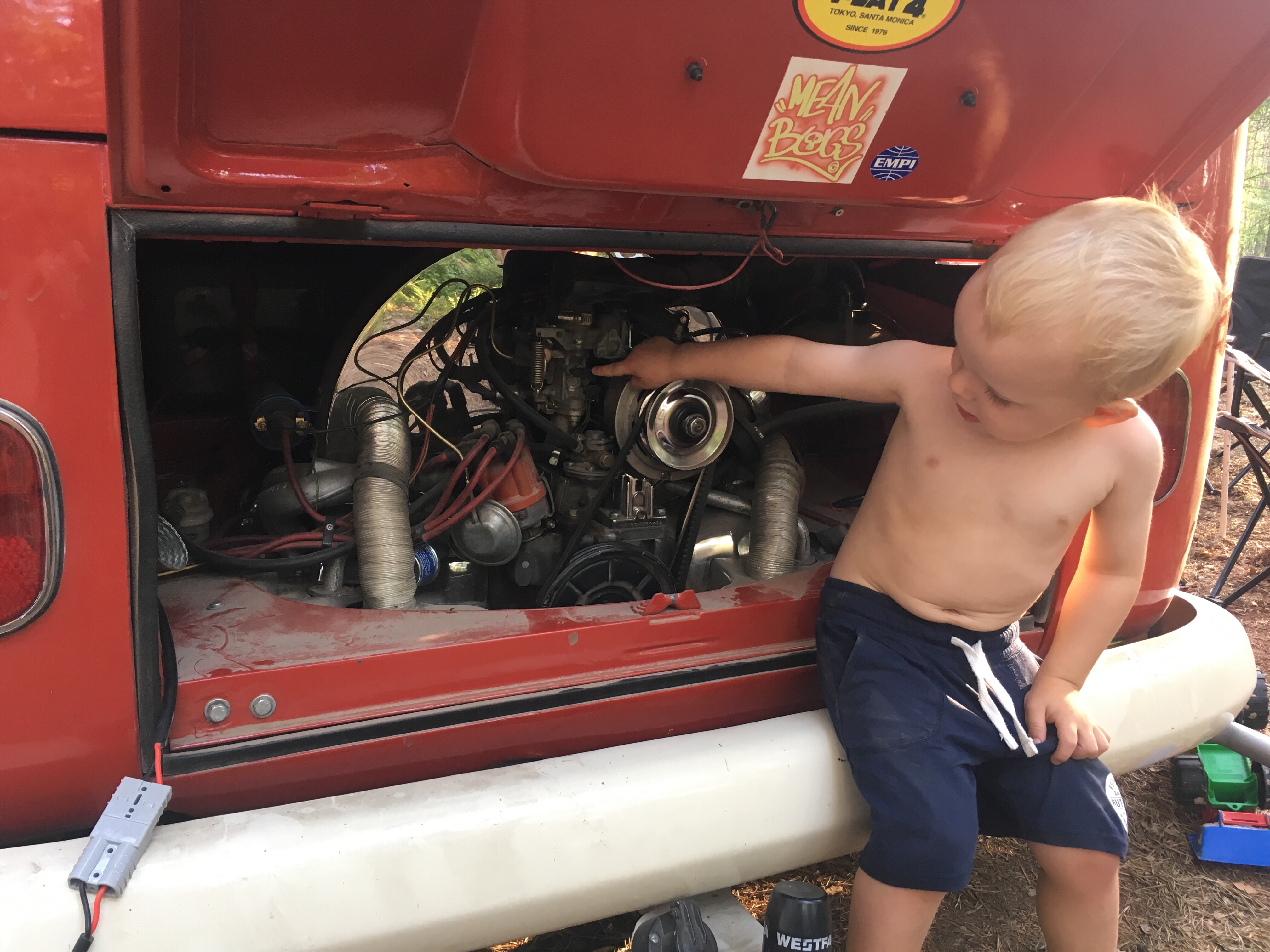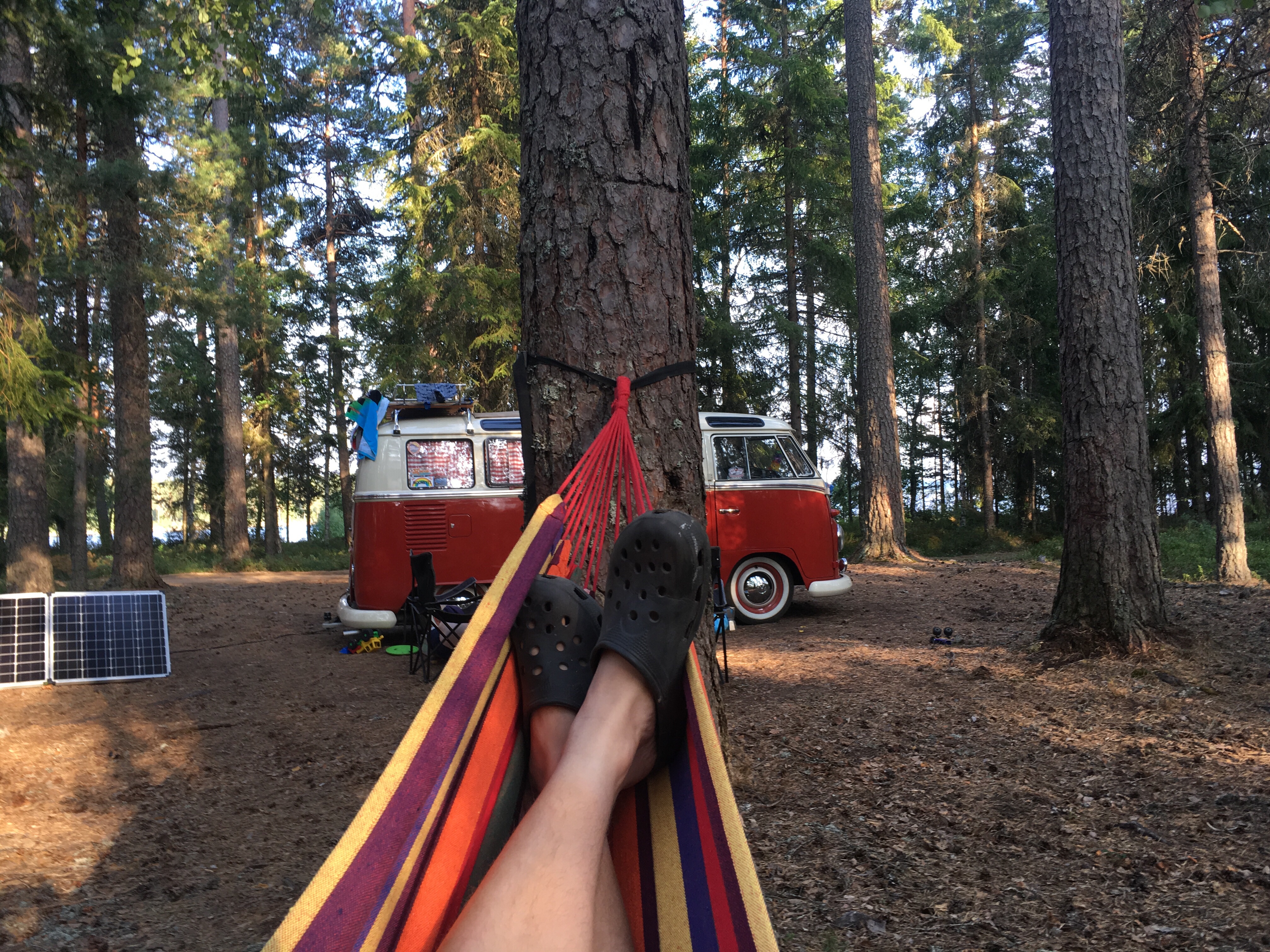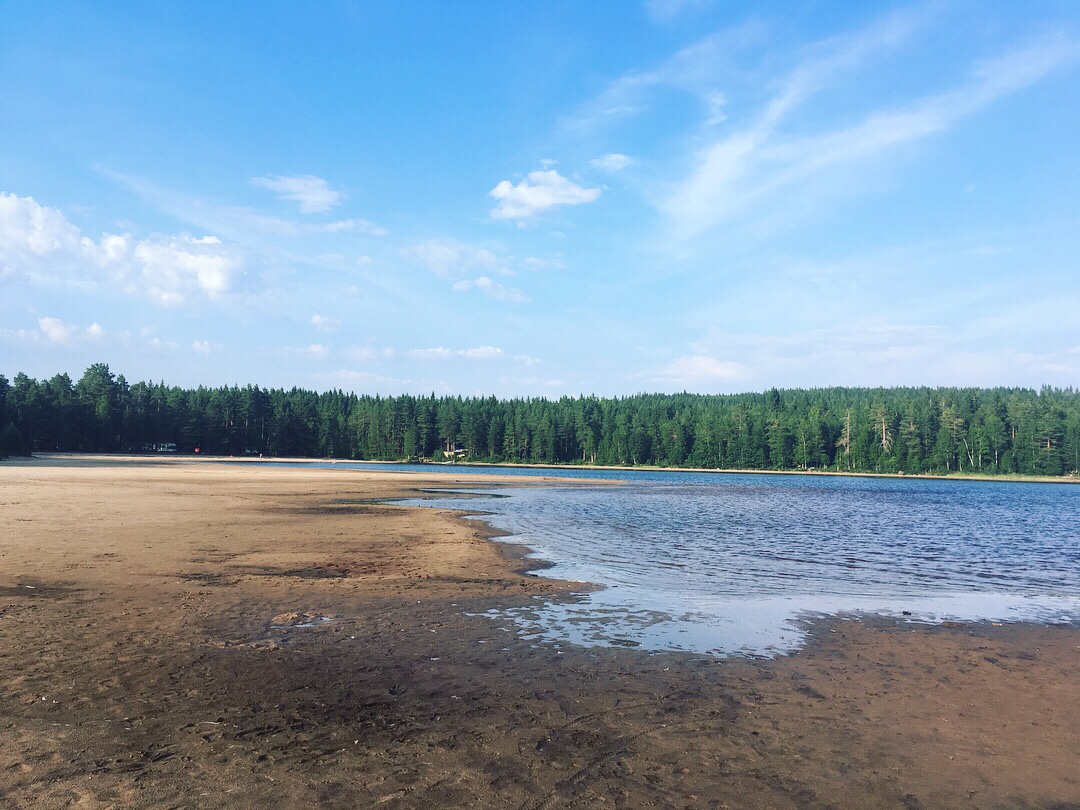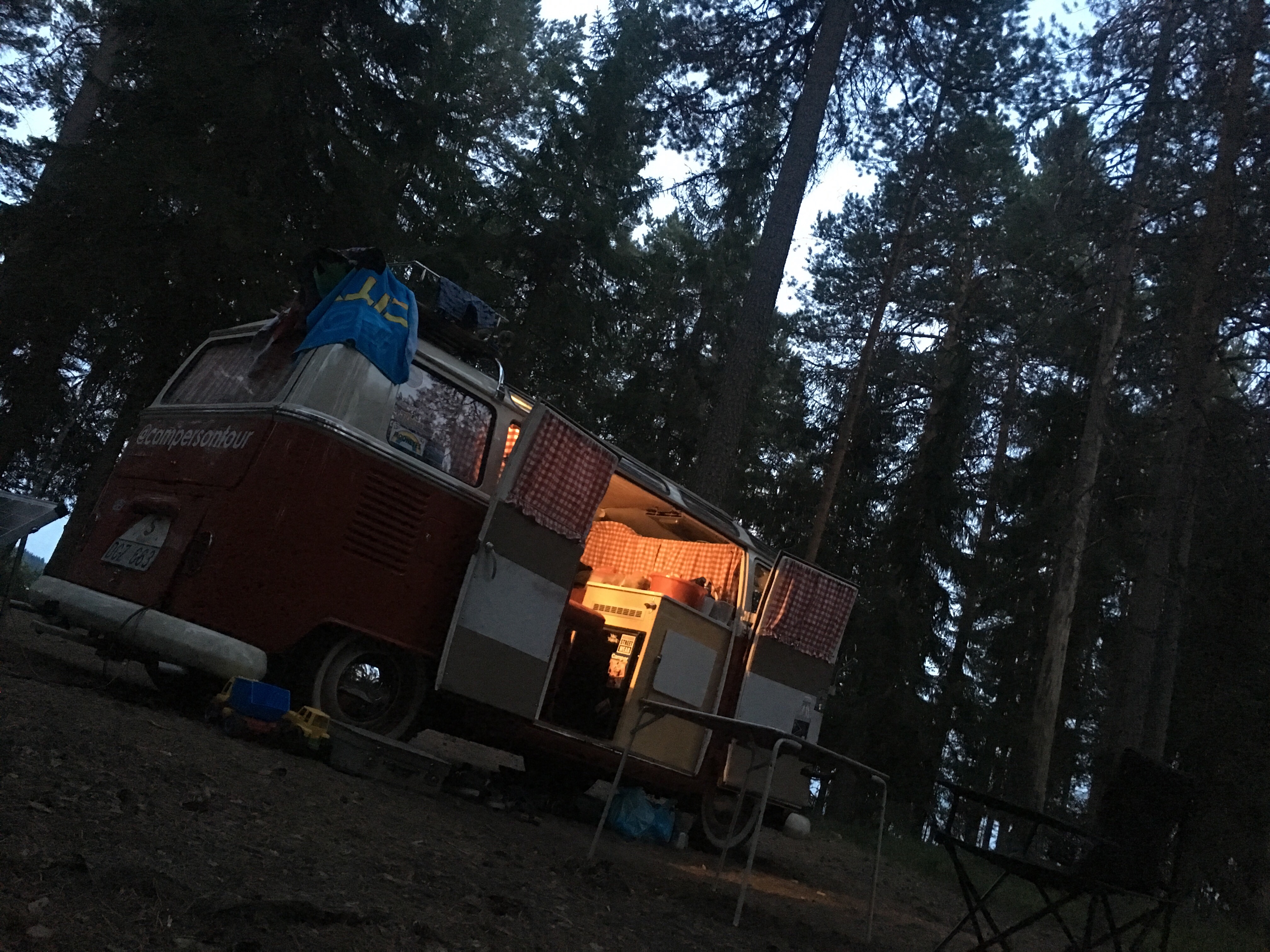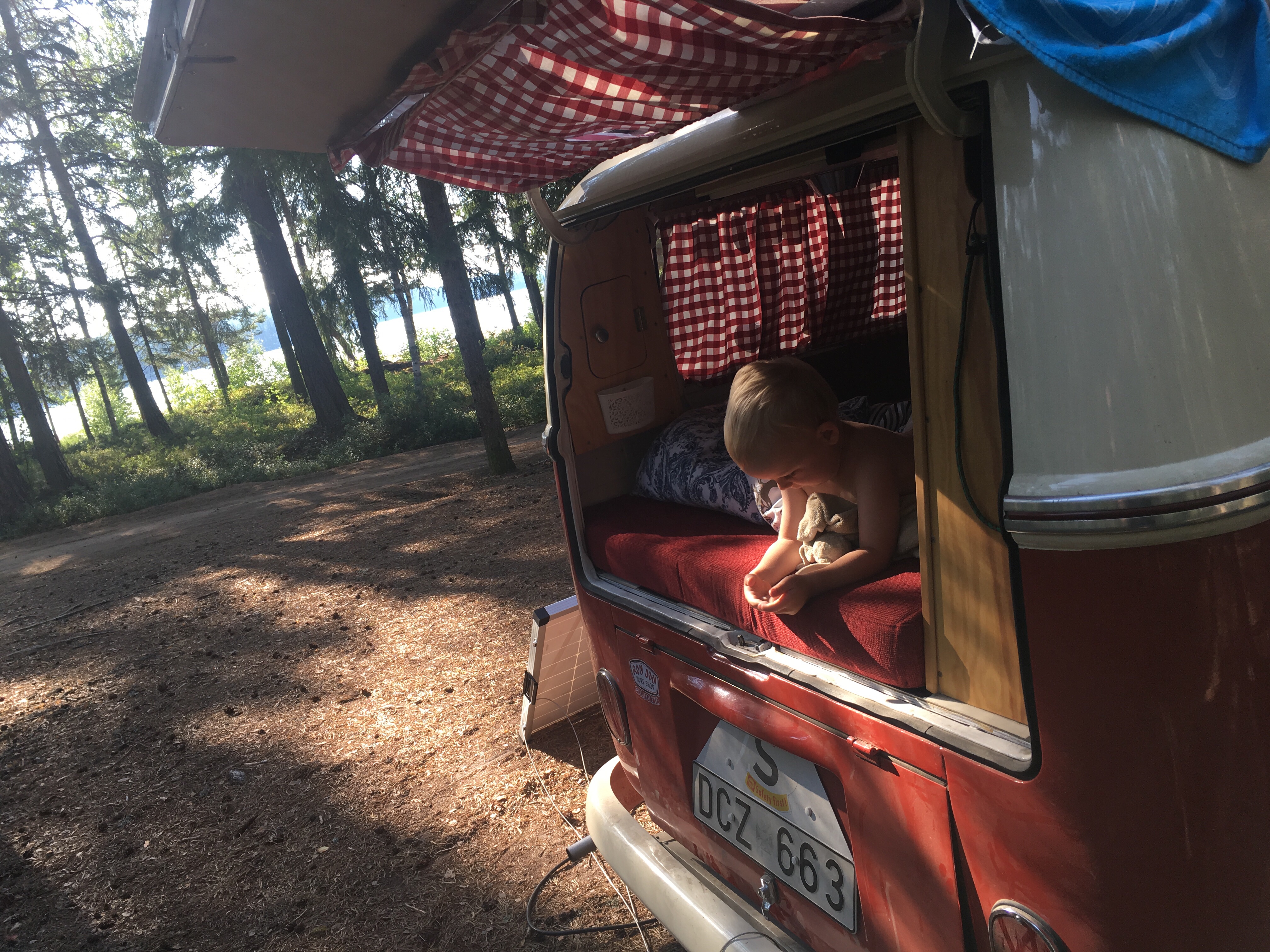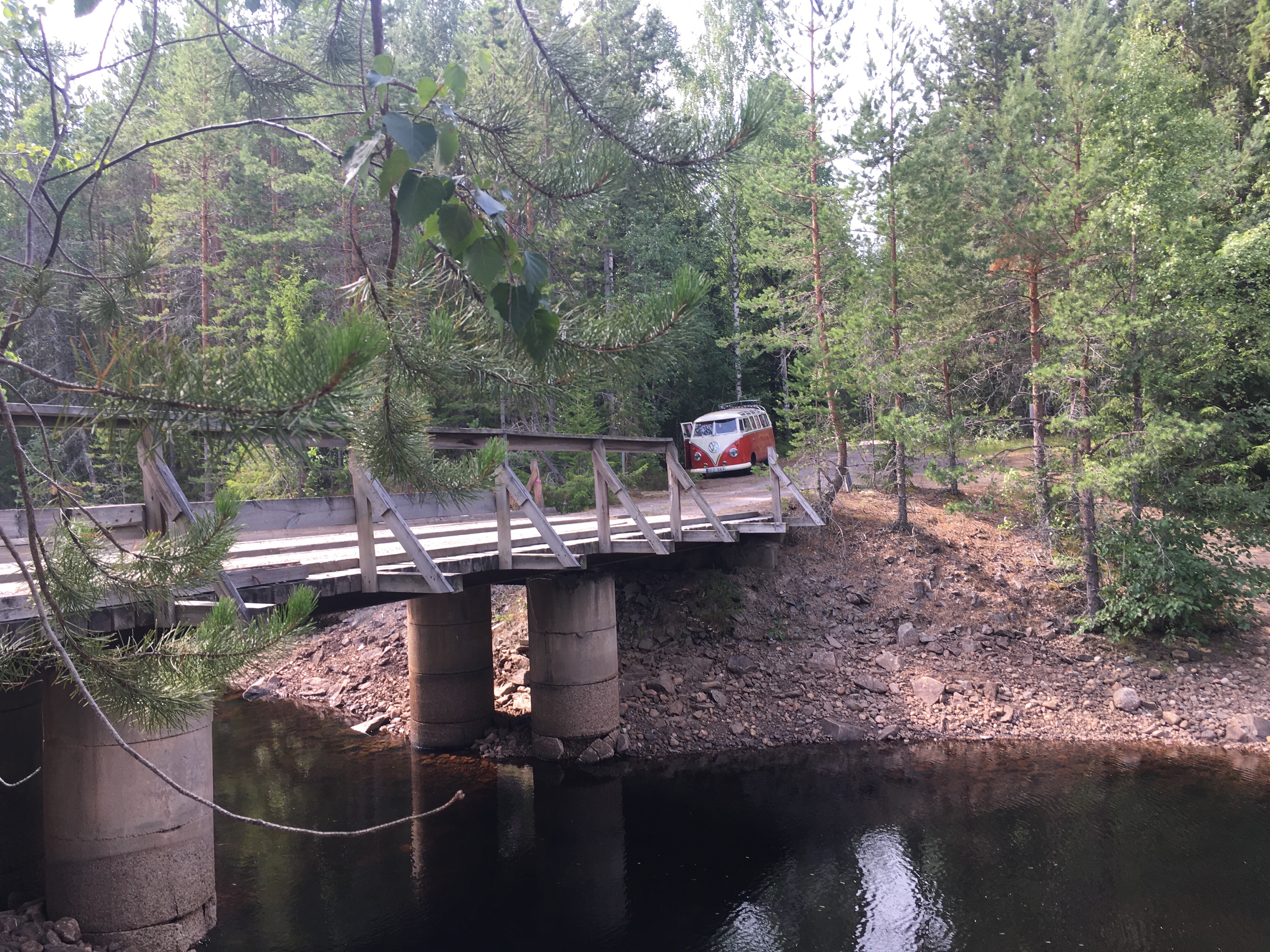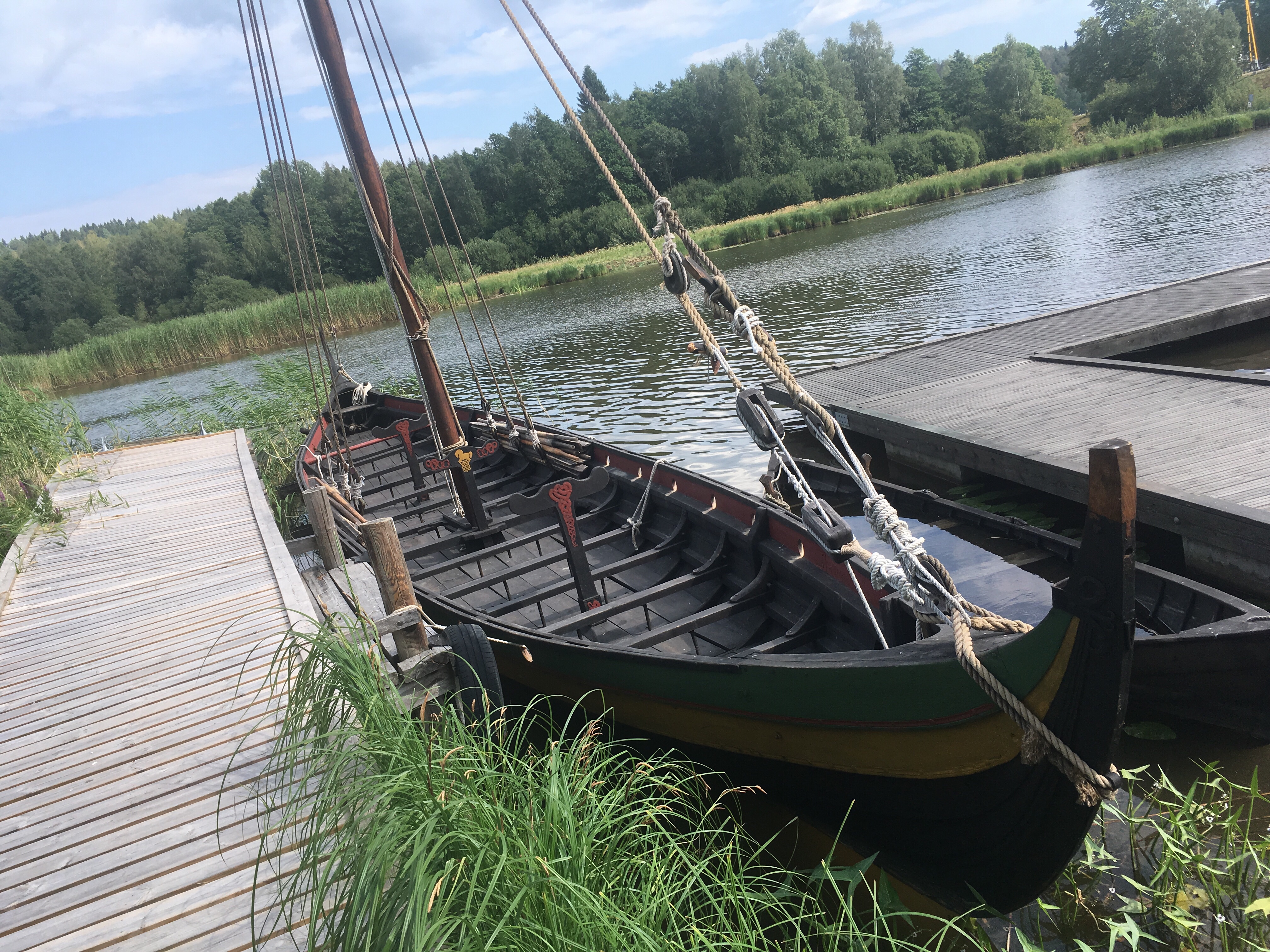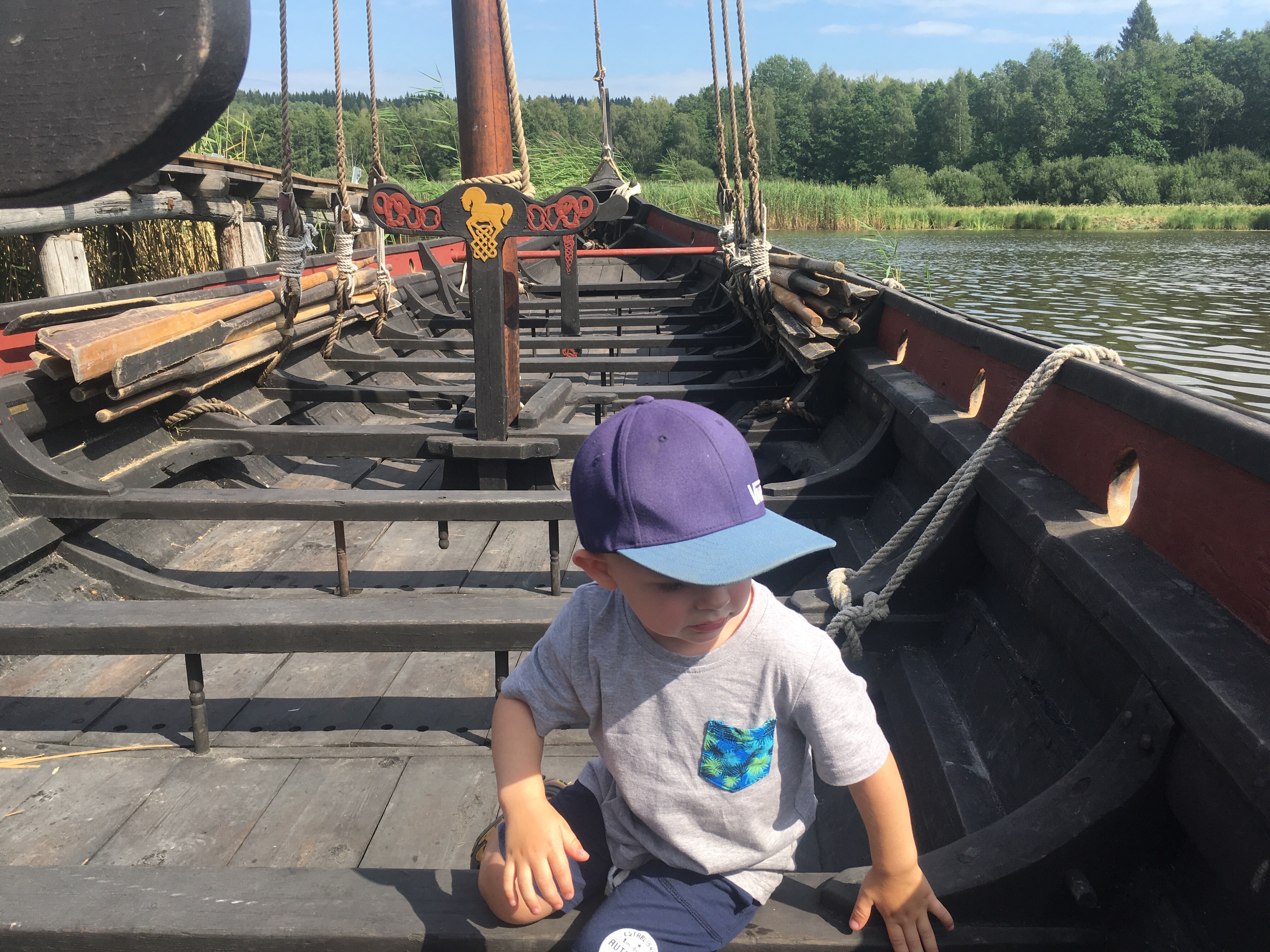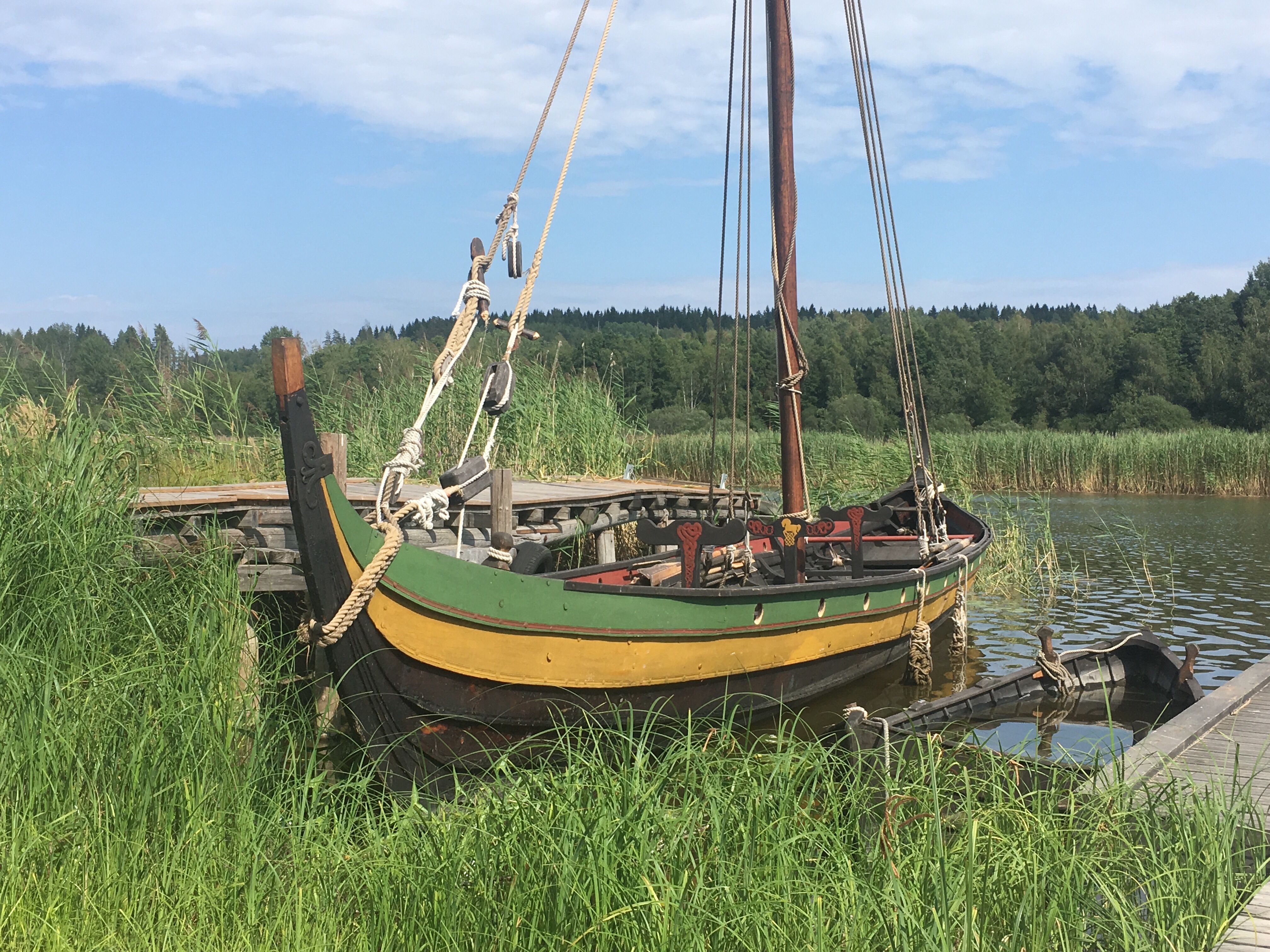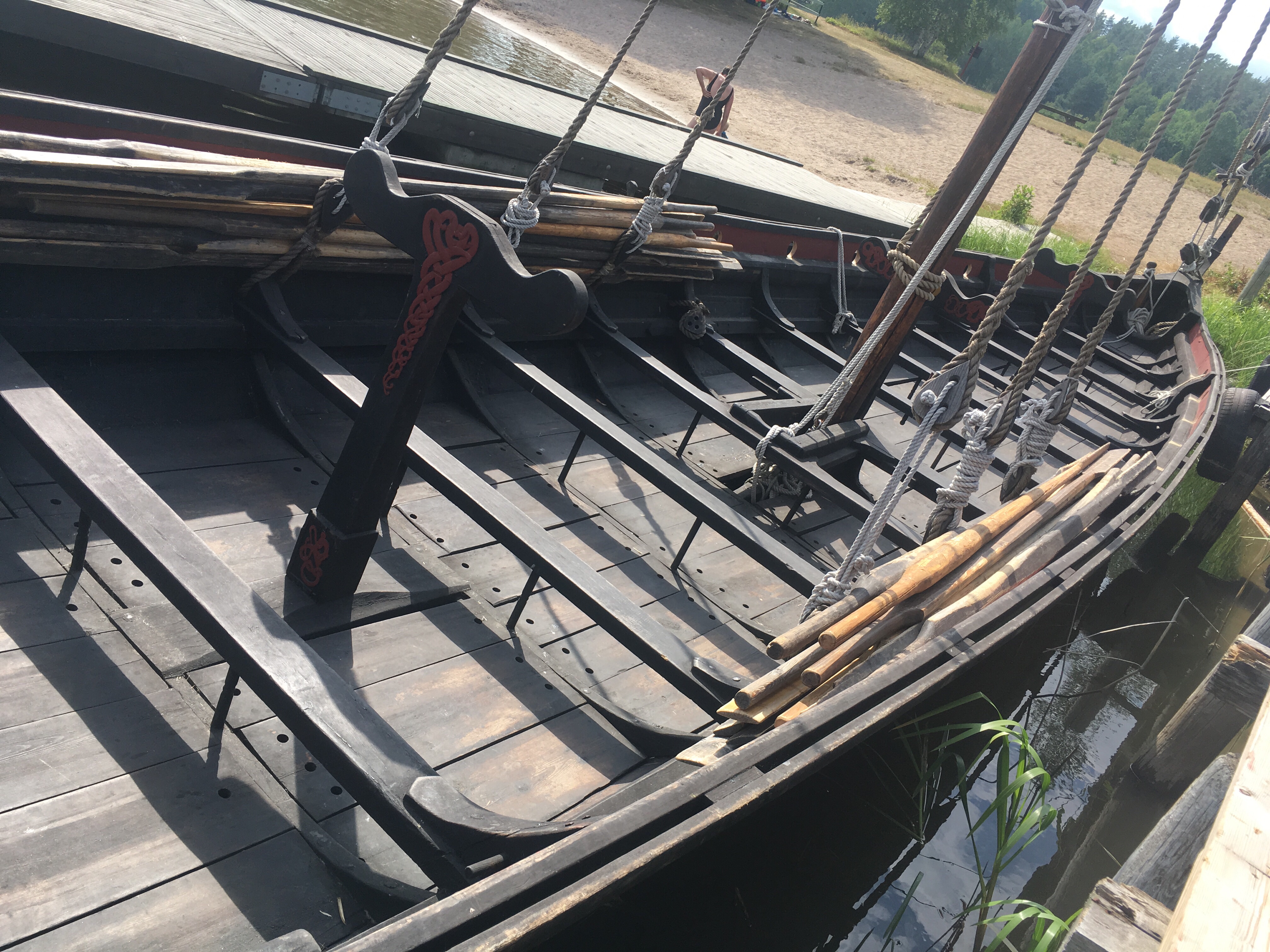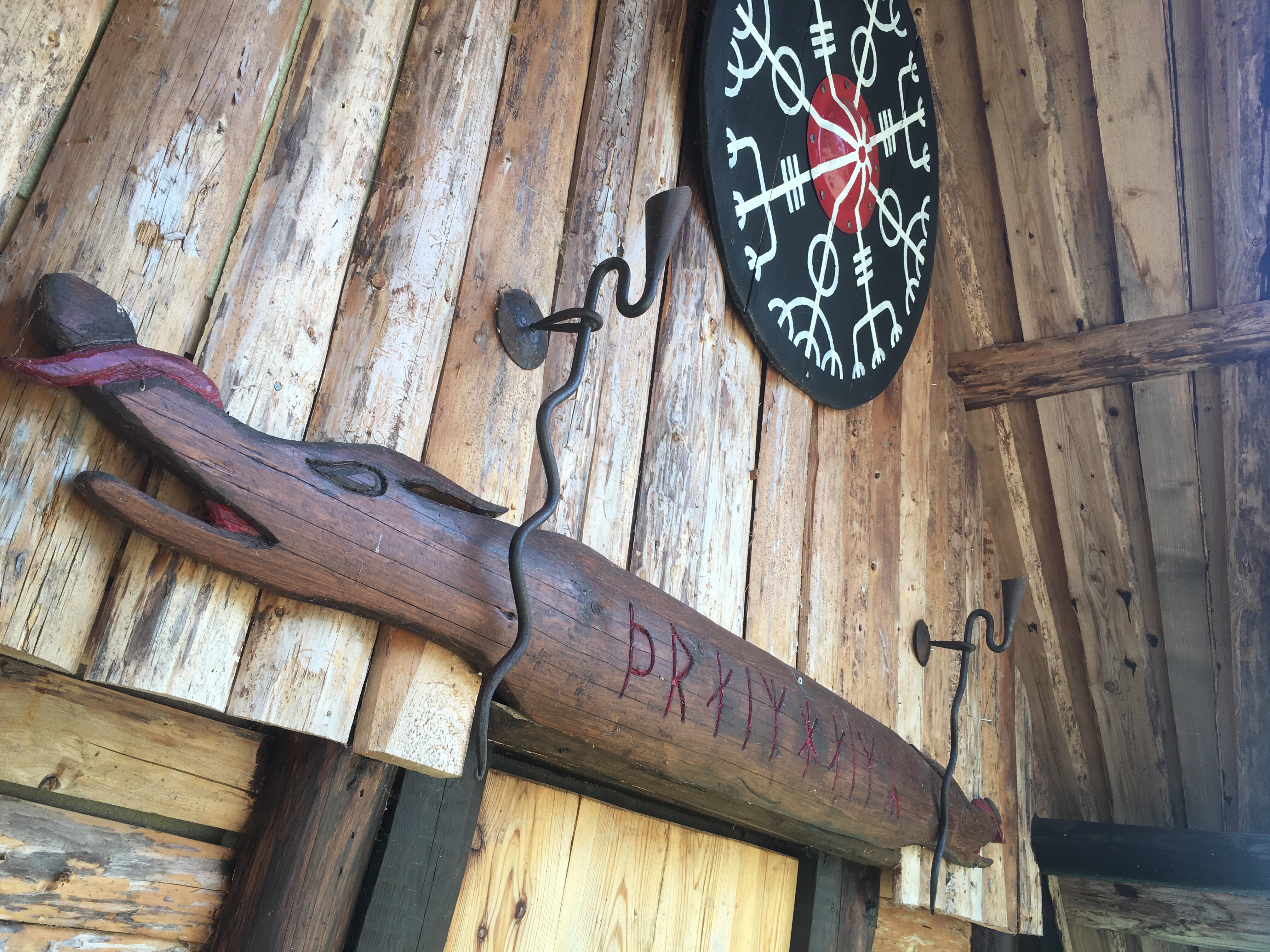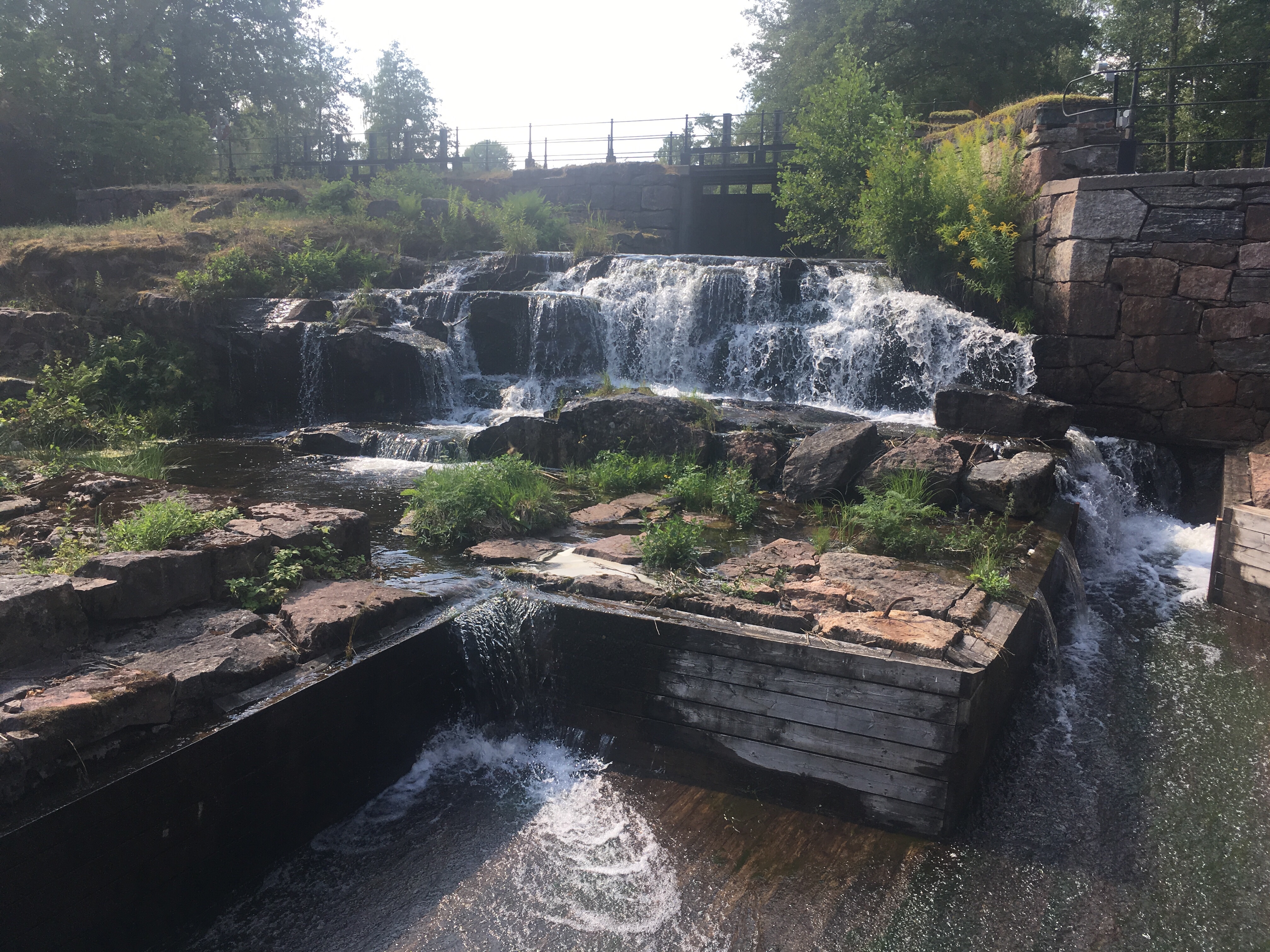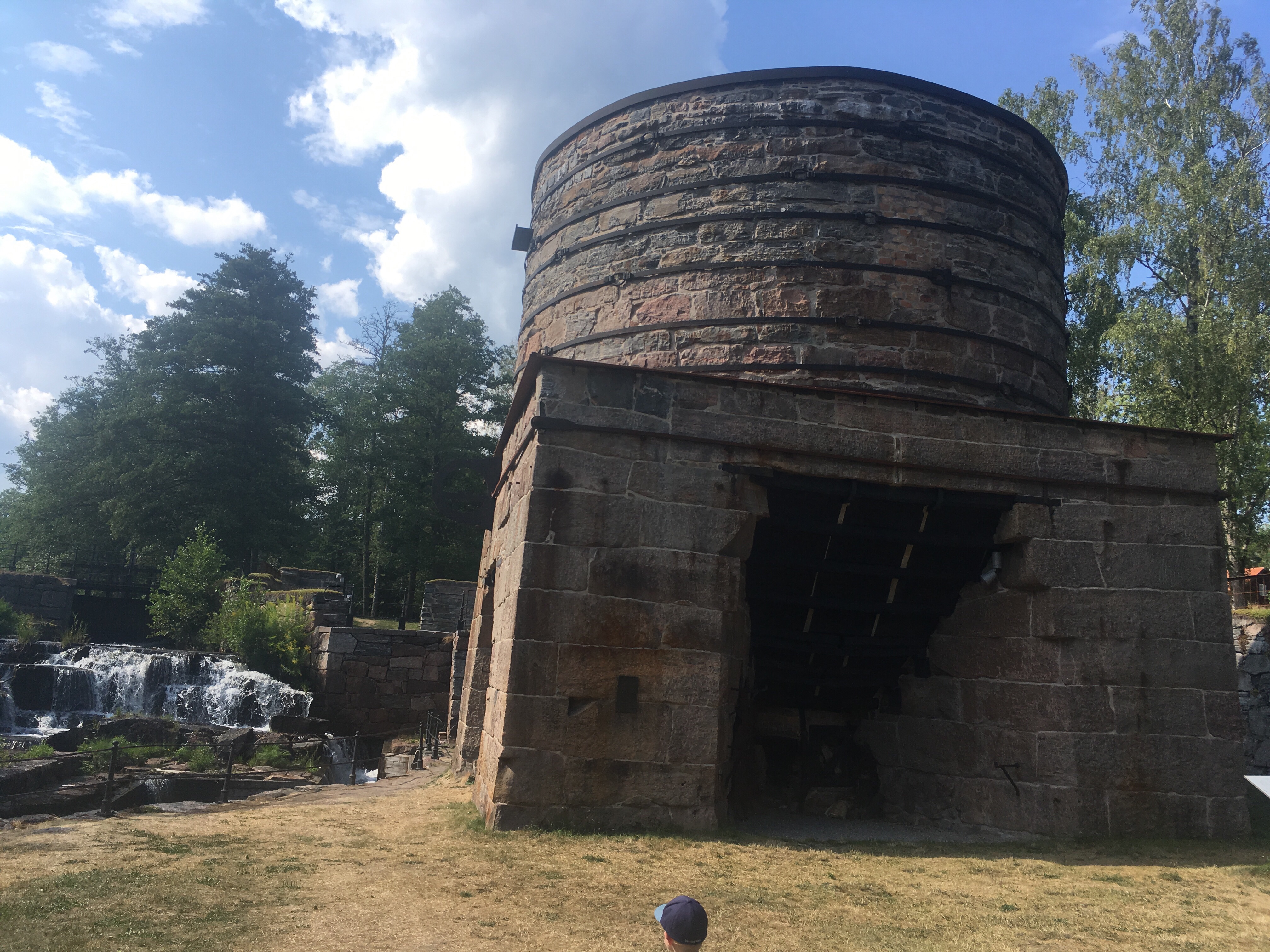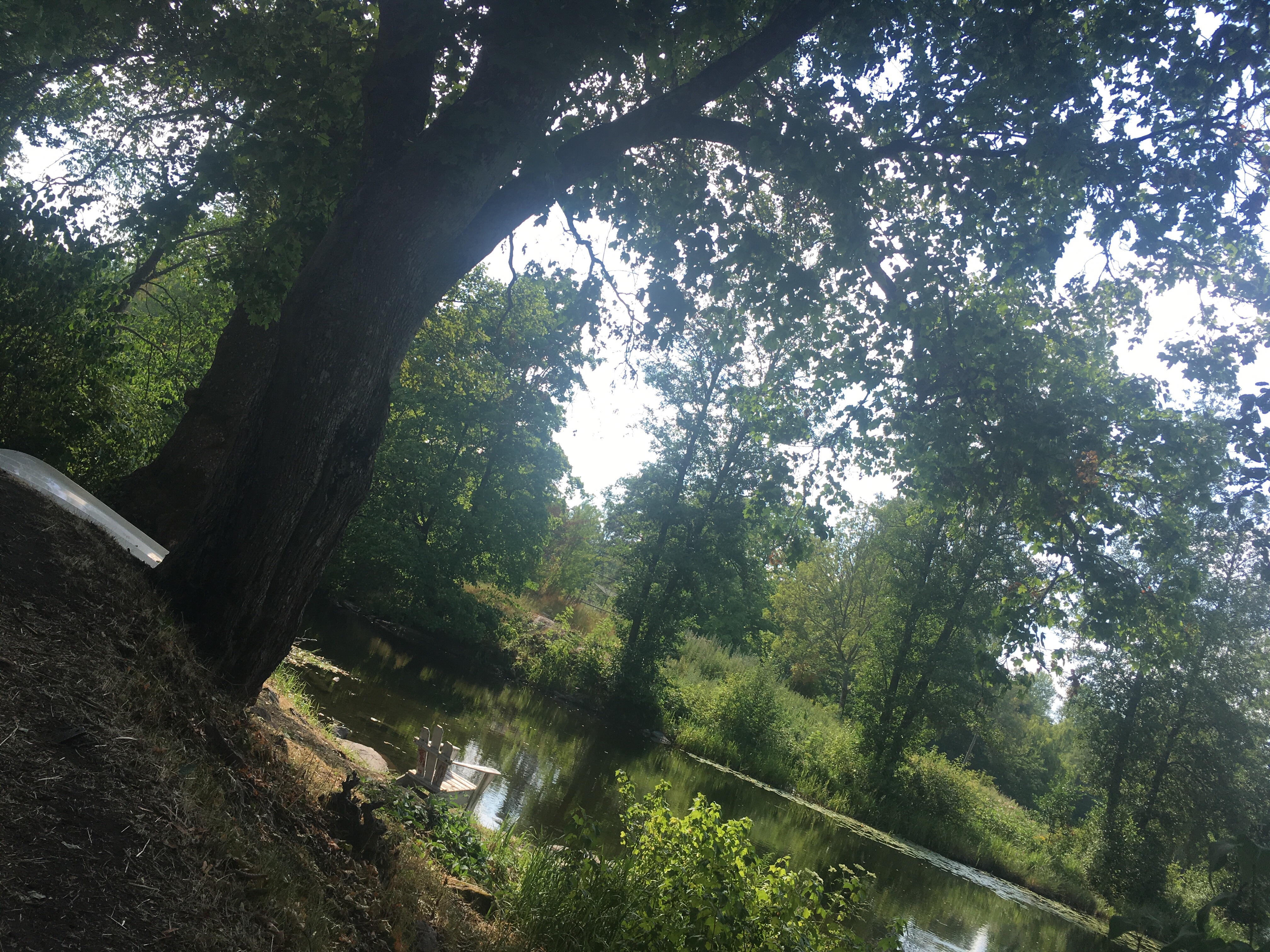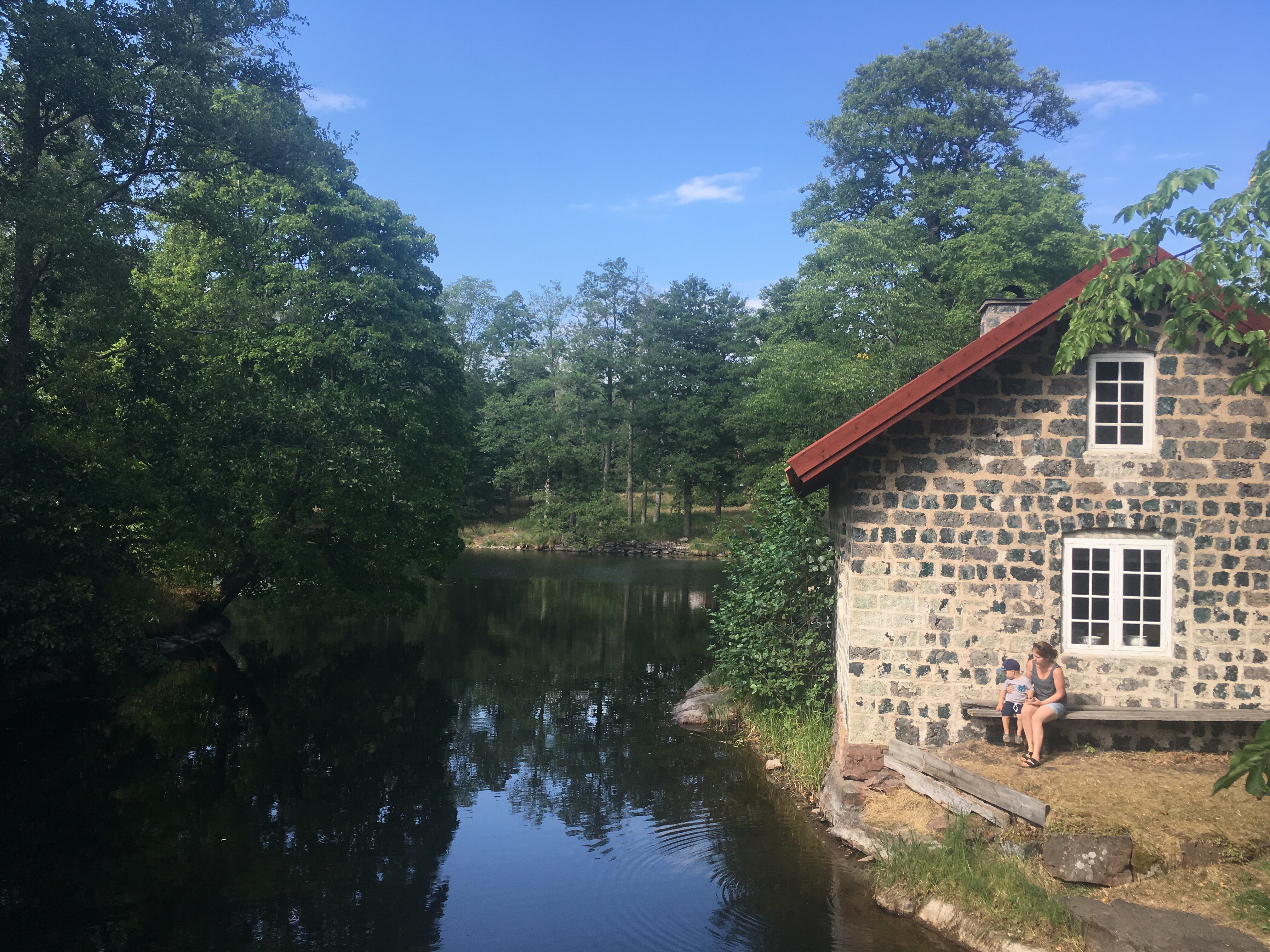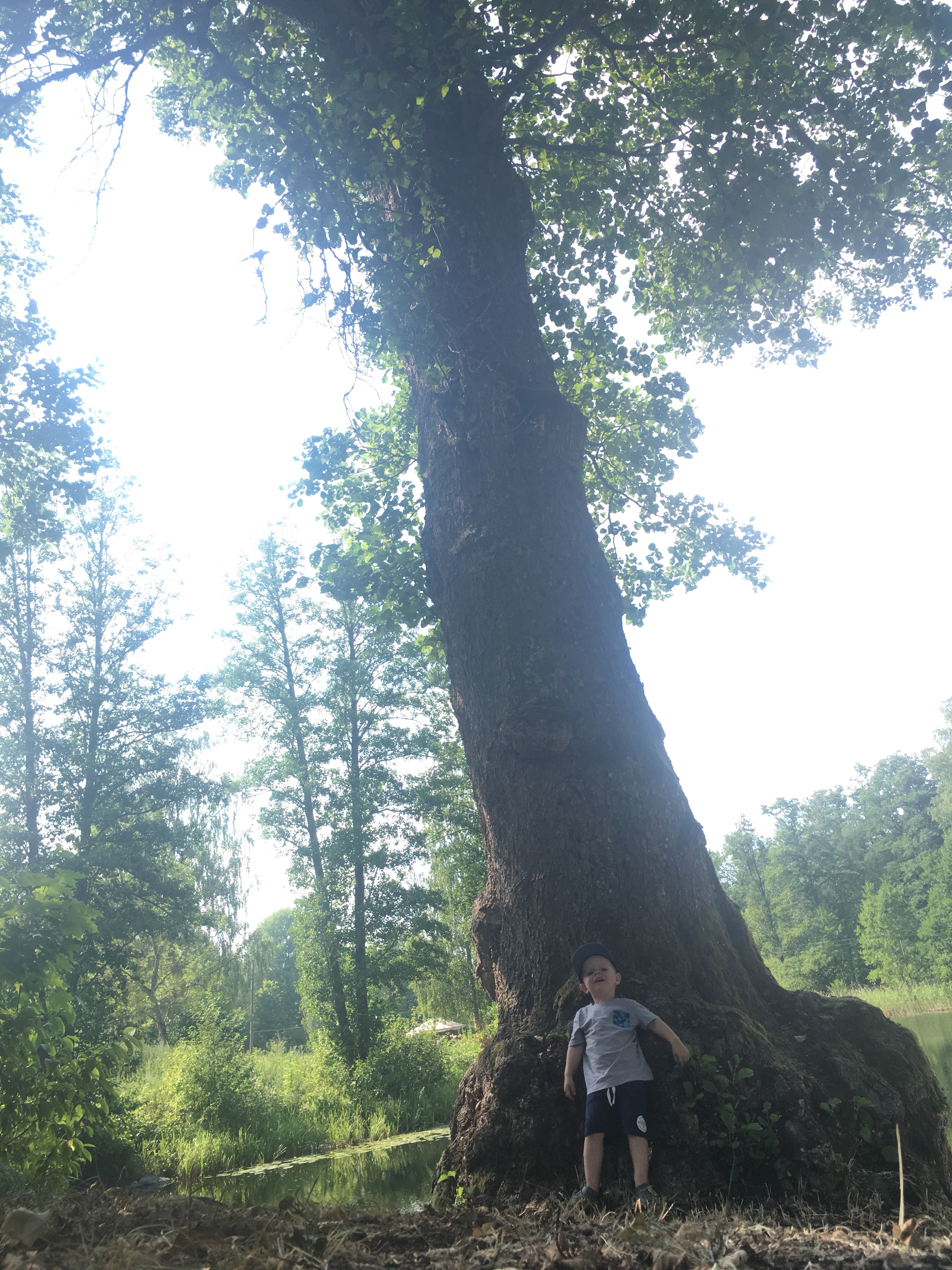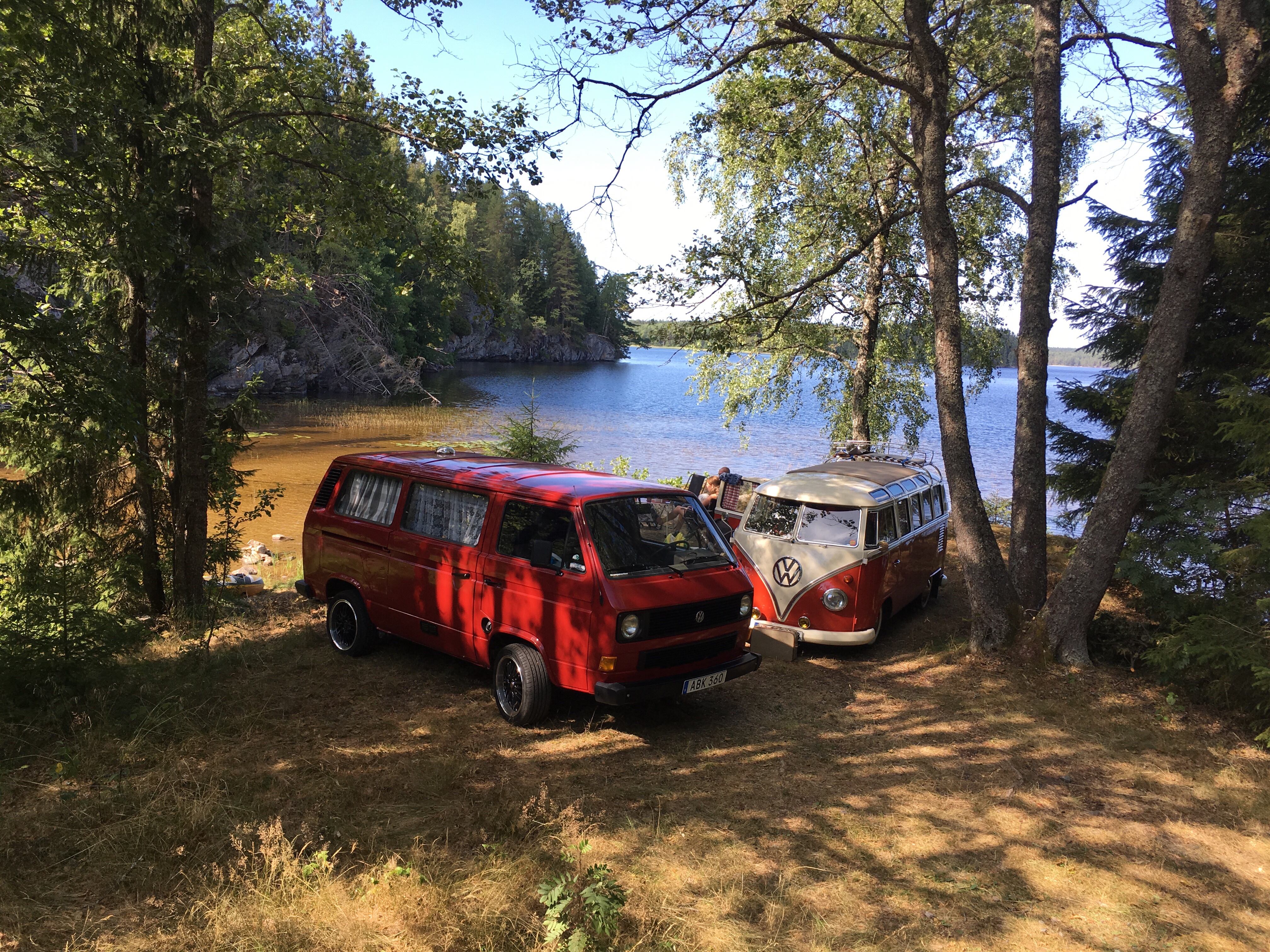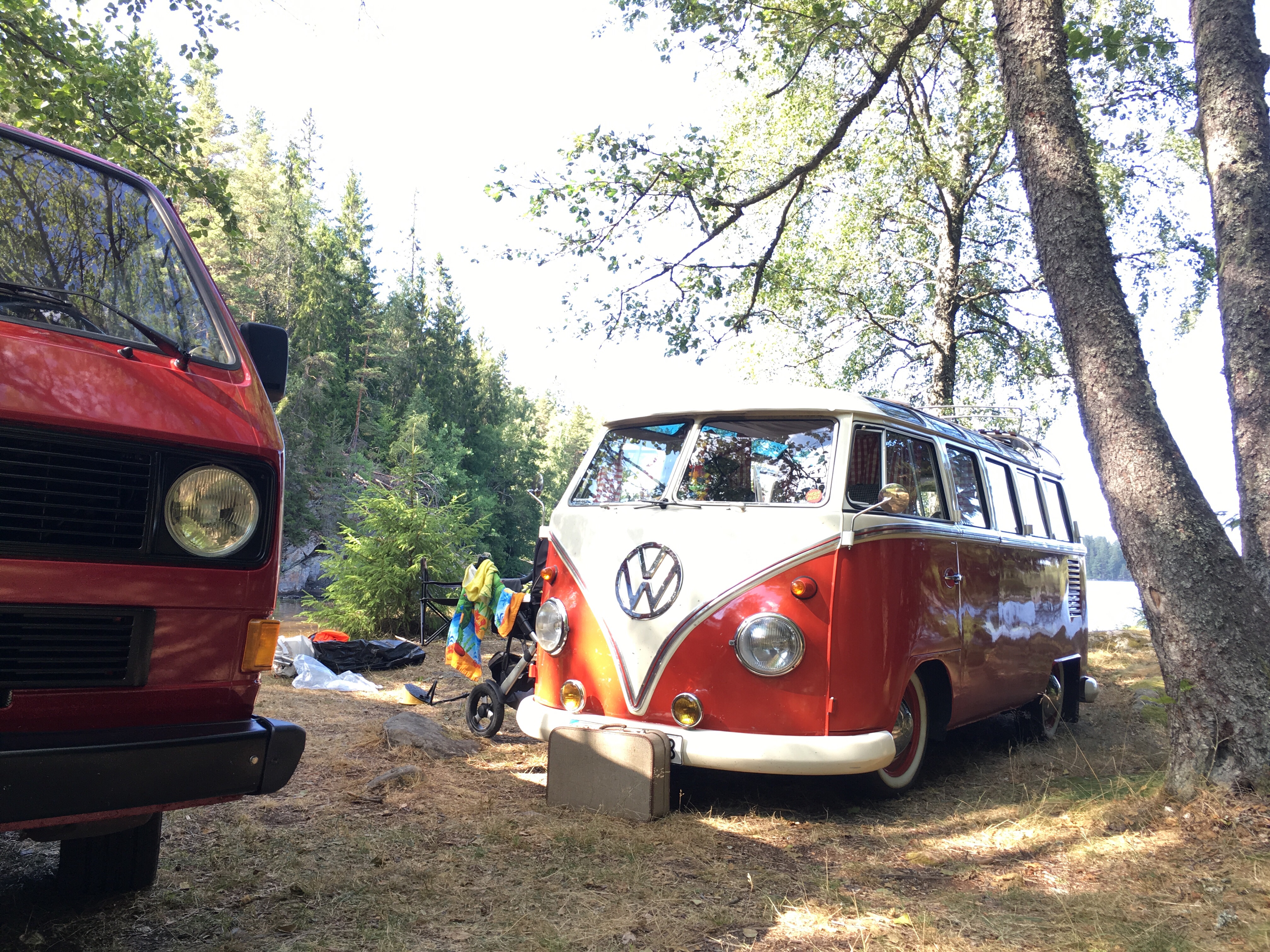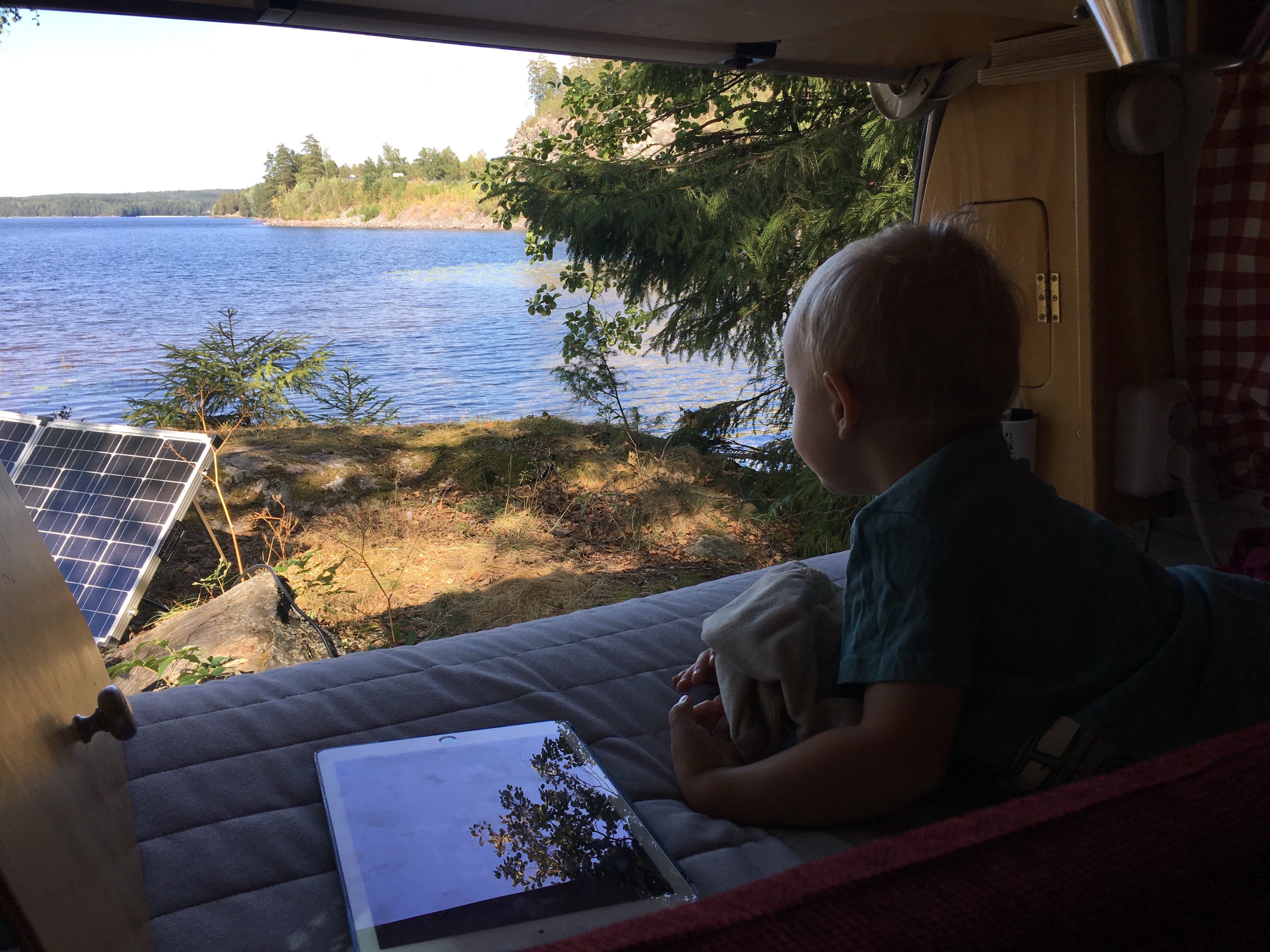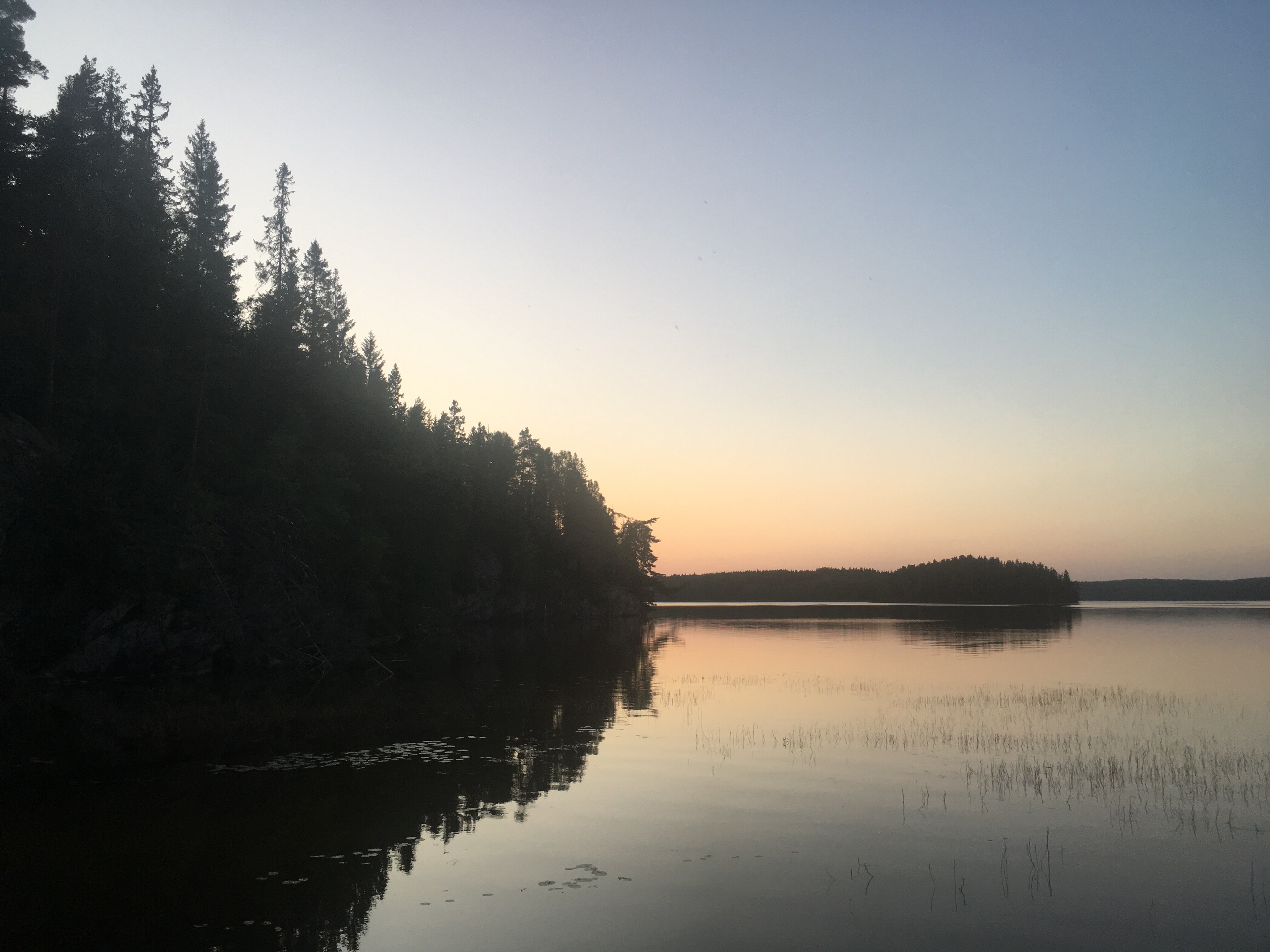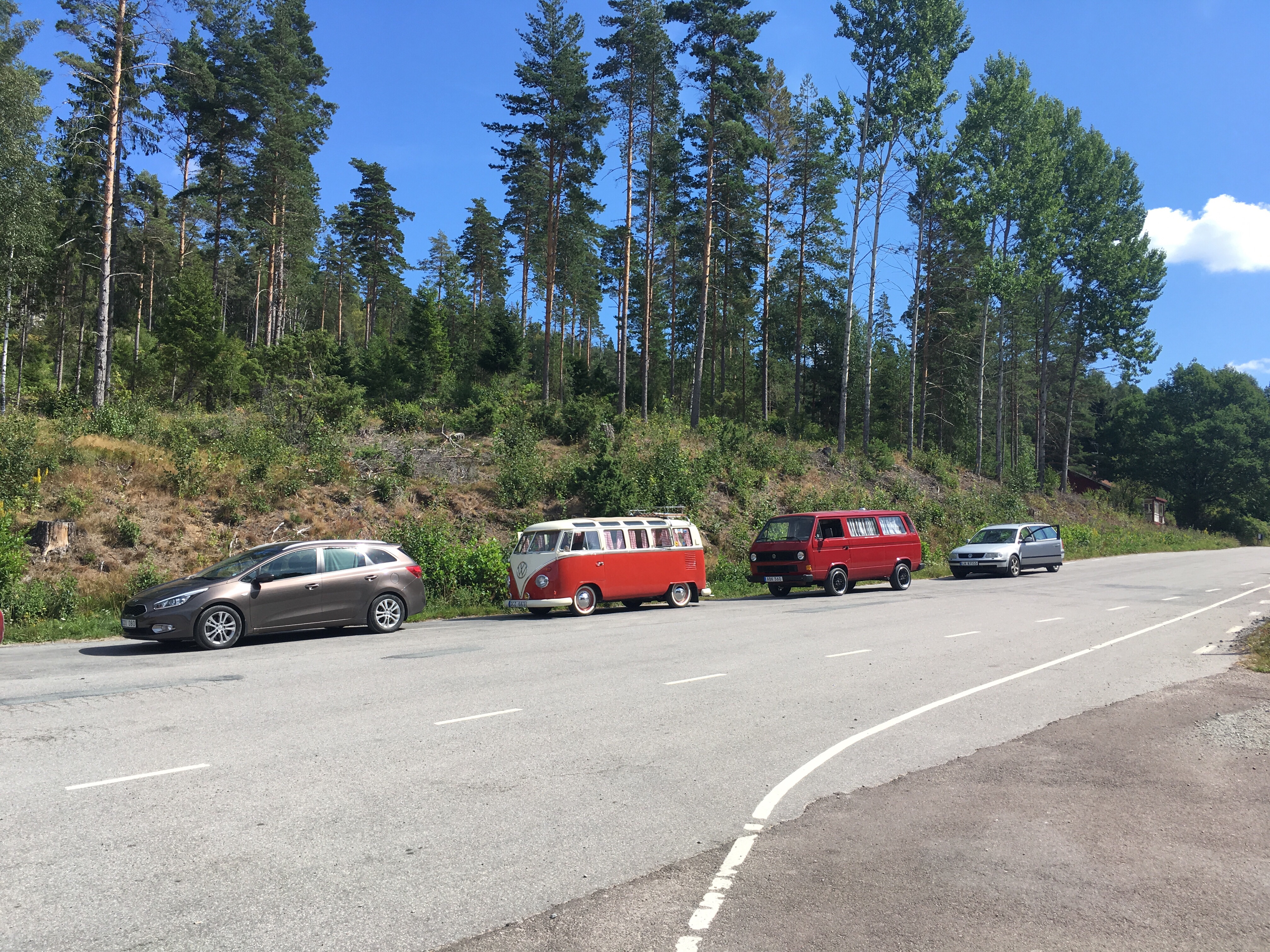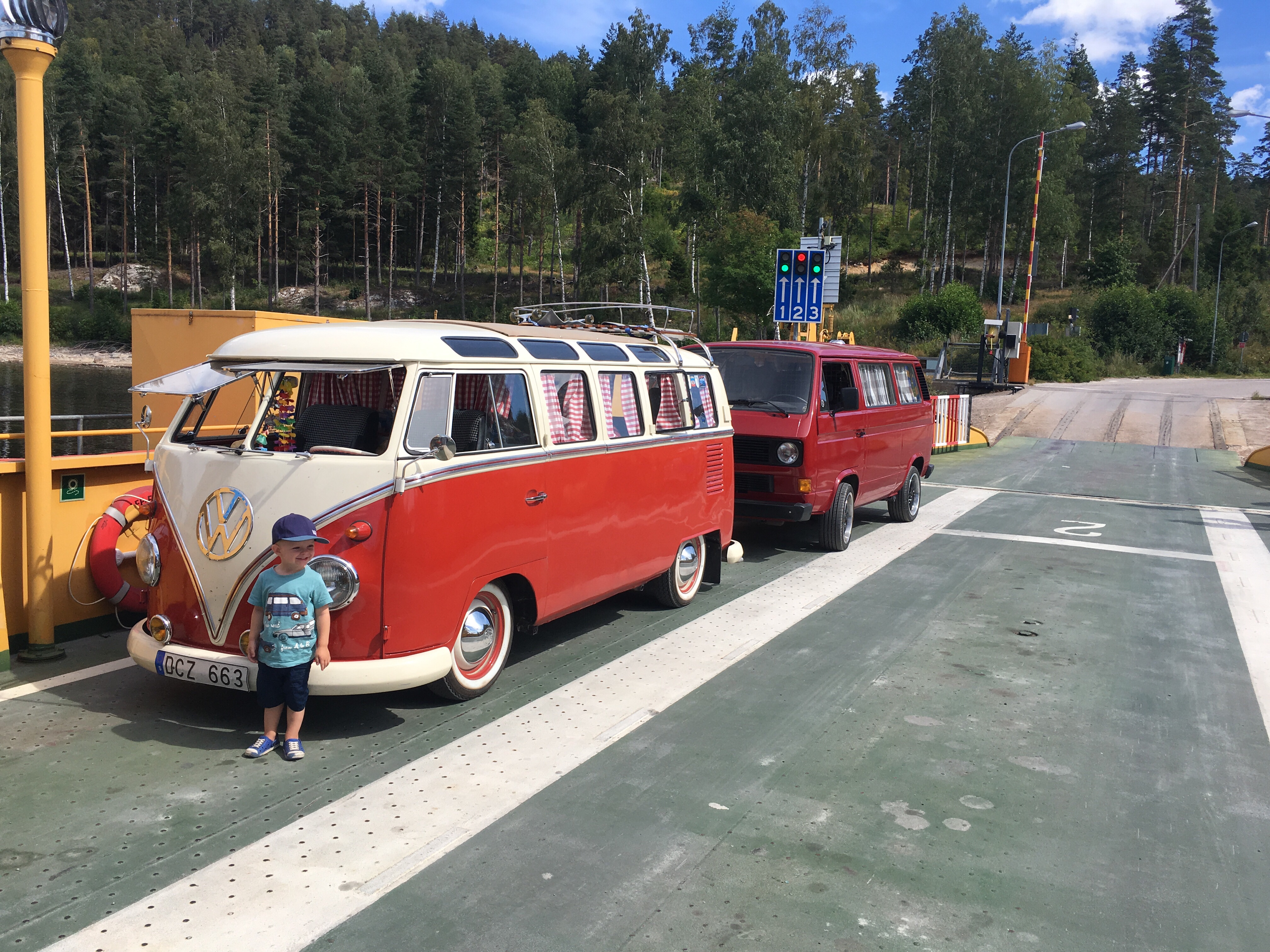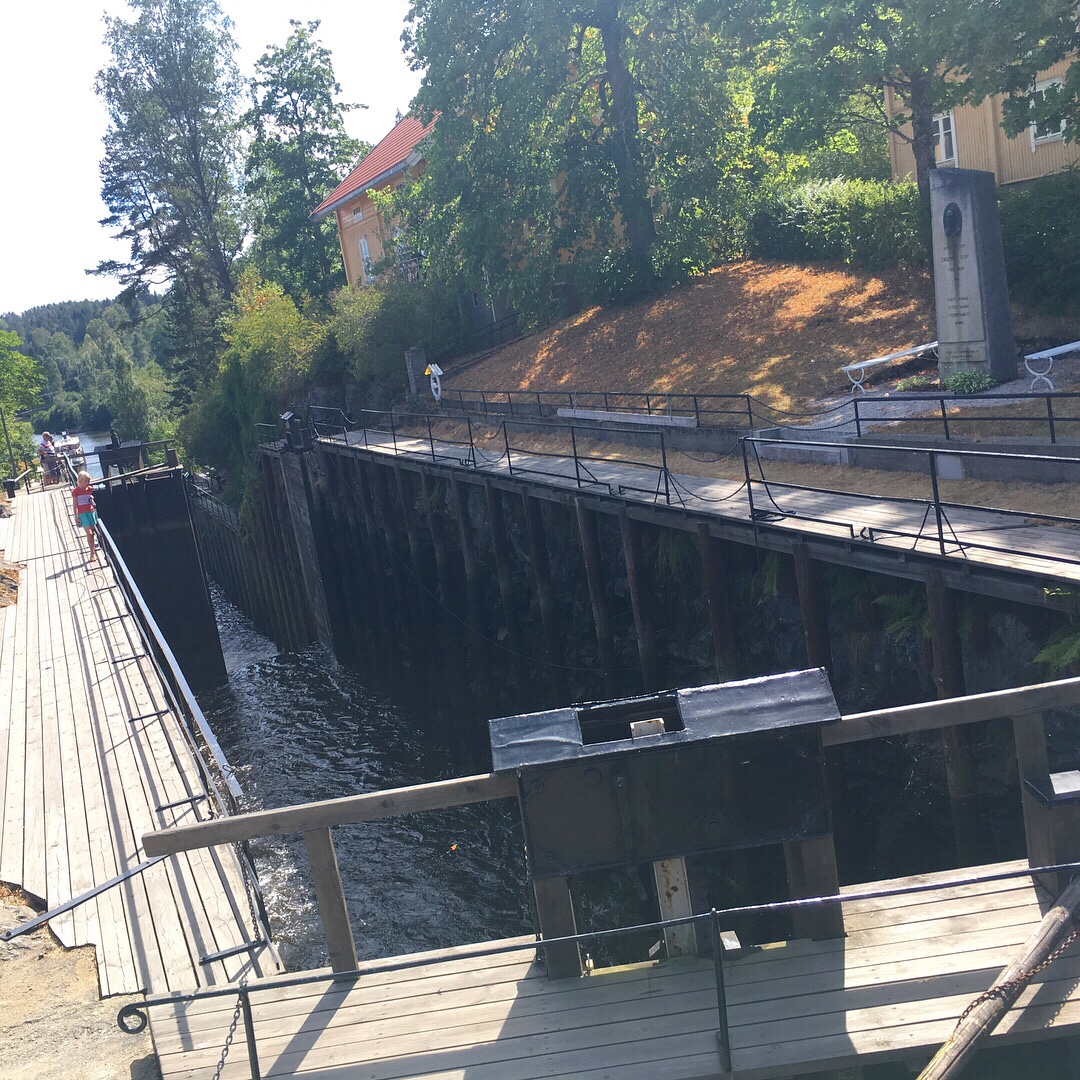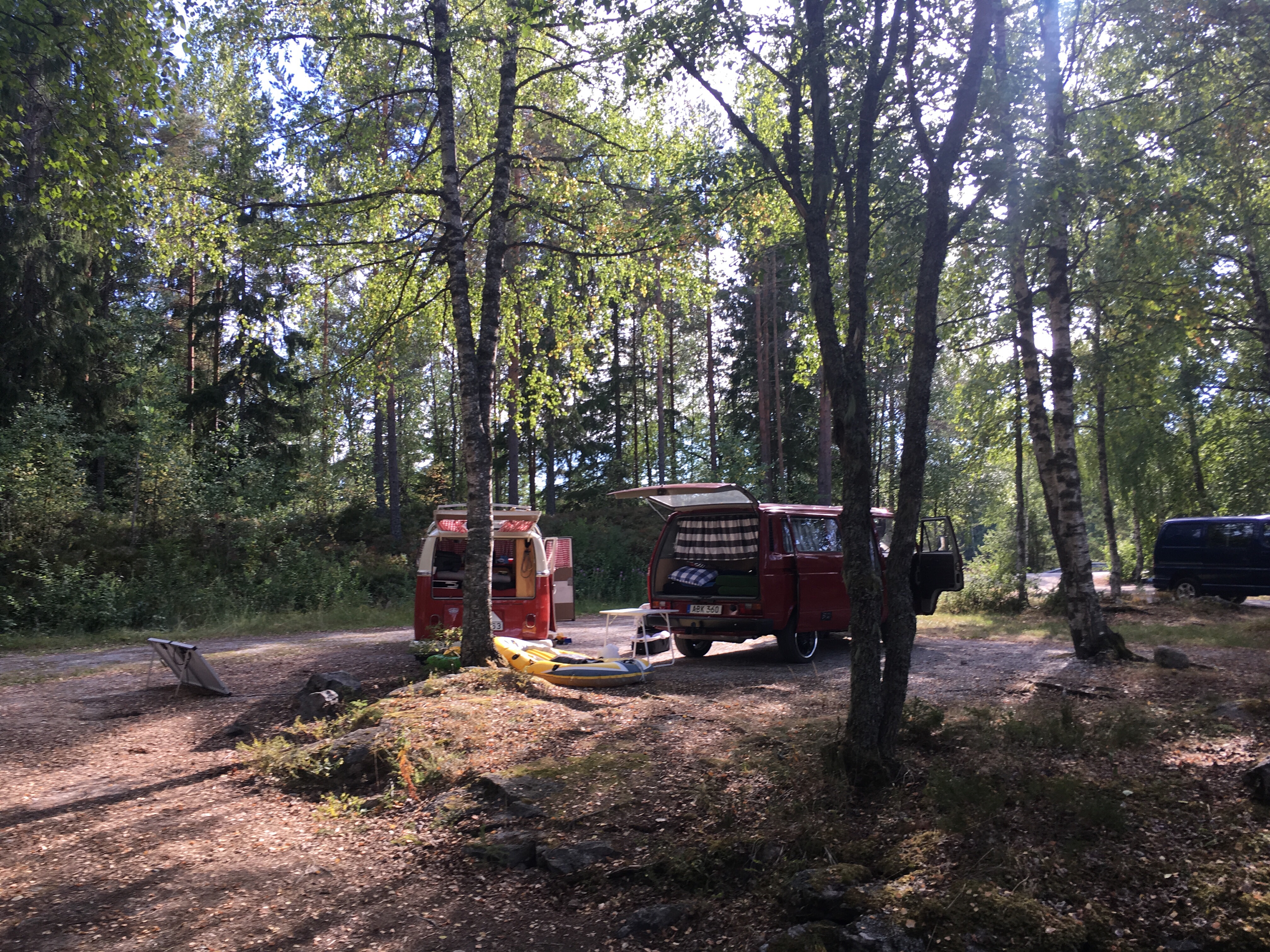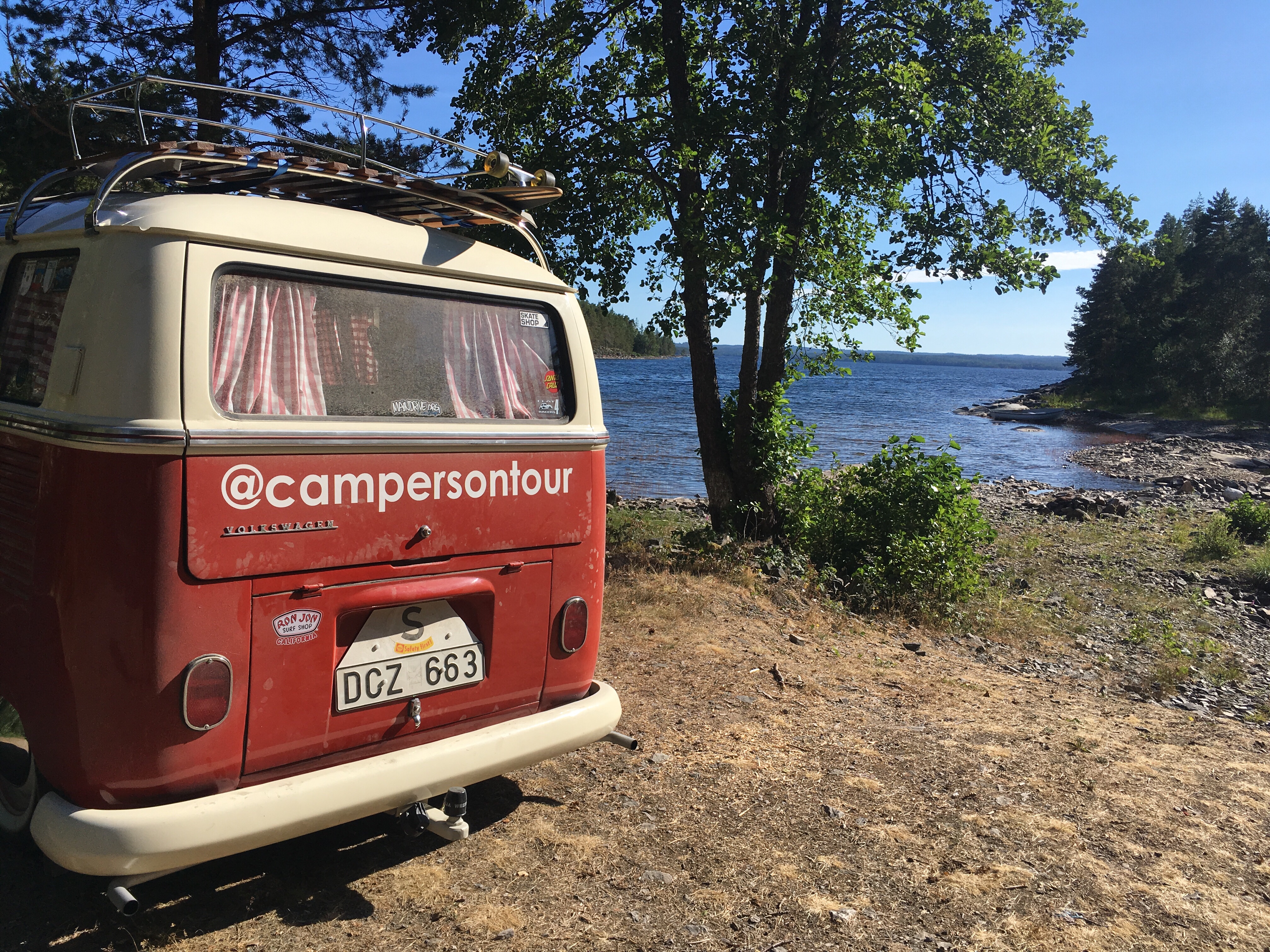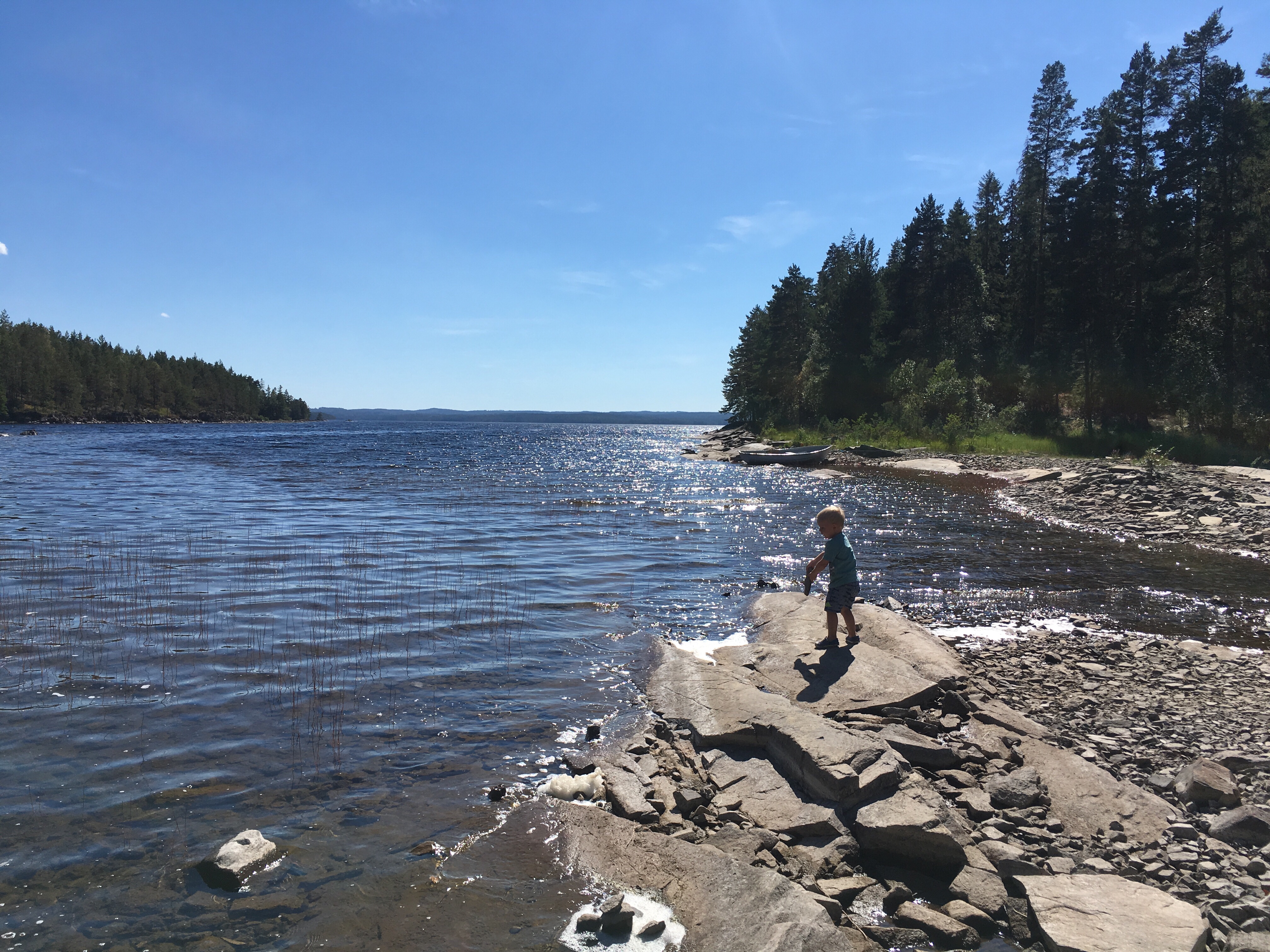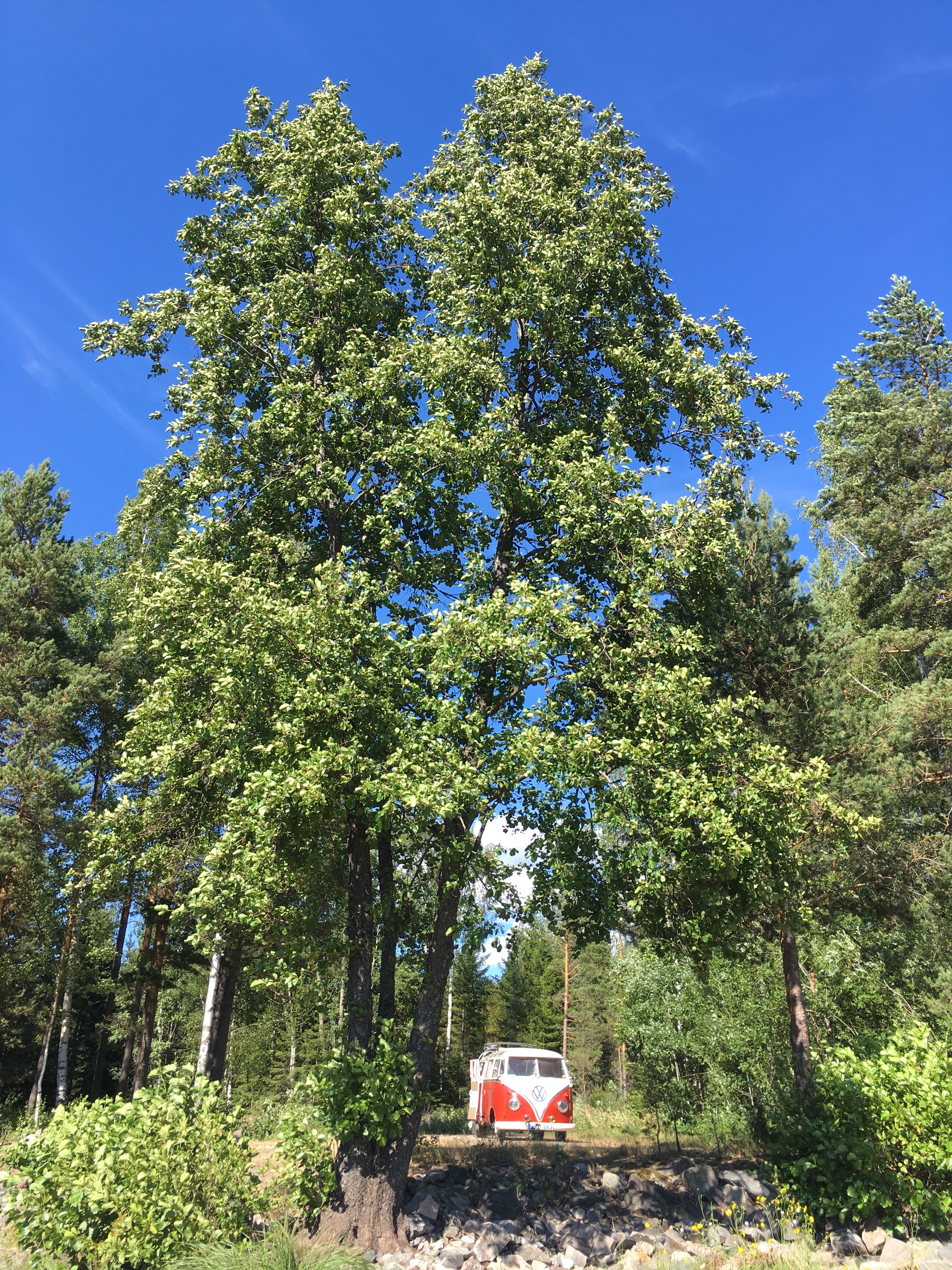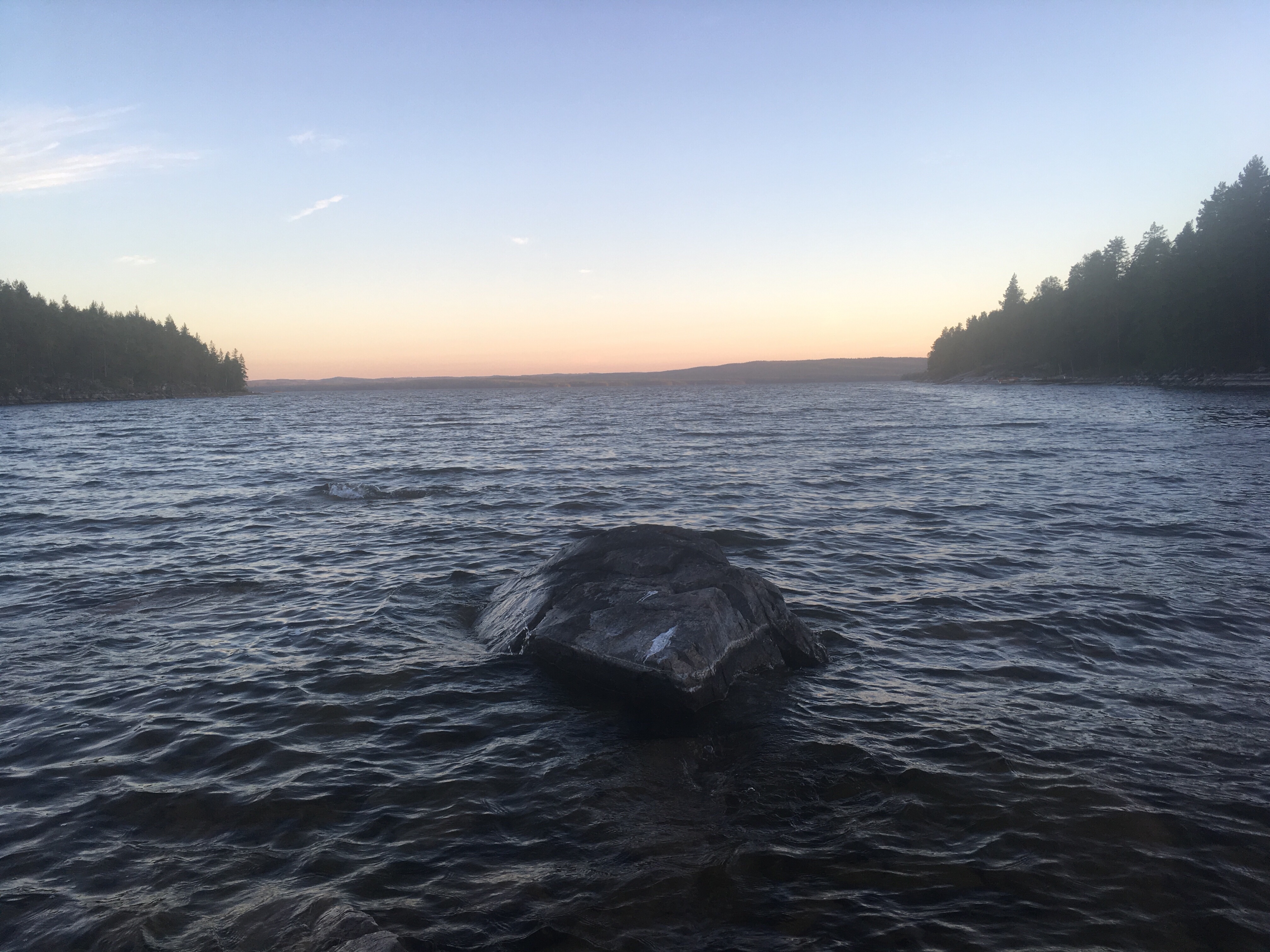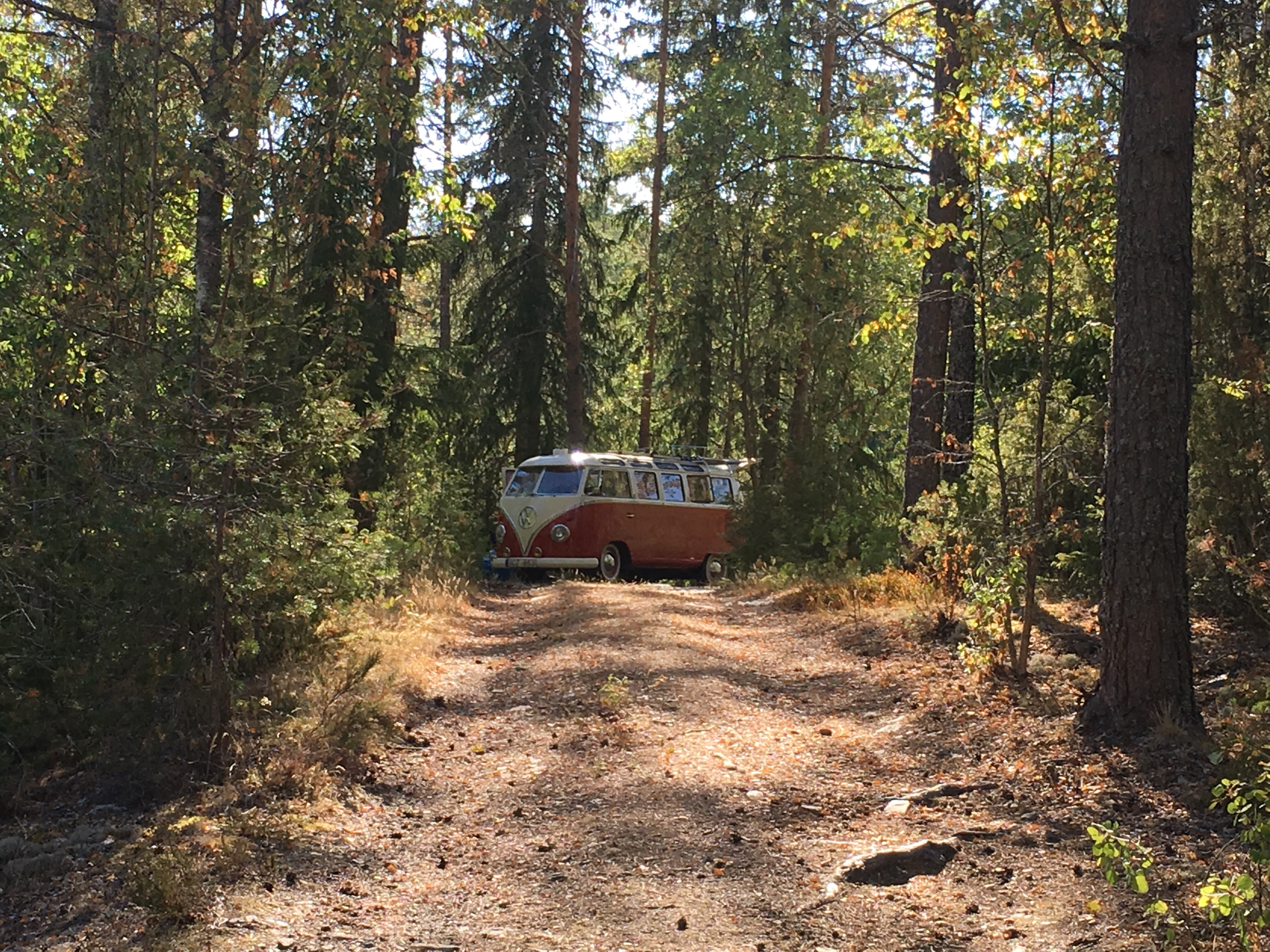 New rear taillights on the Highroof Bay bus. Housings are new aftermarket, lenses are clearcoated original VW from SWF. Some pics…
#highroofbayproject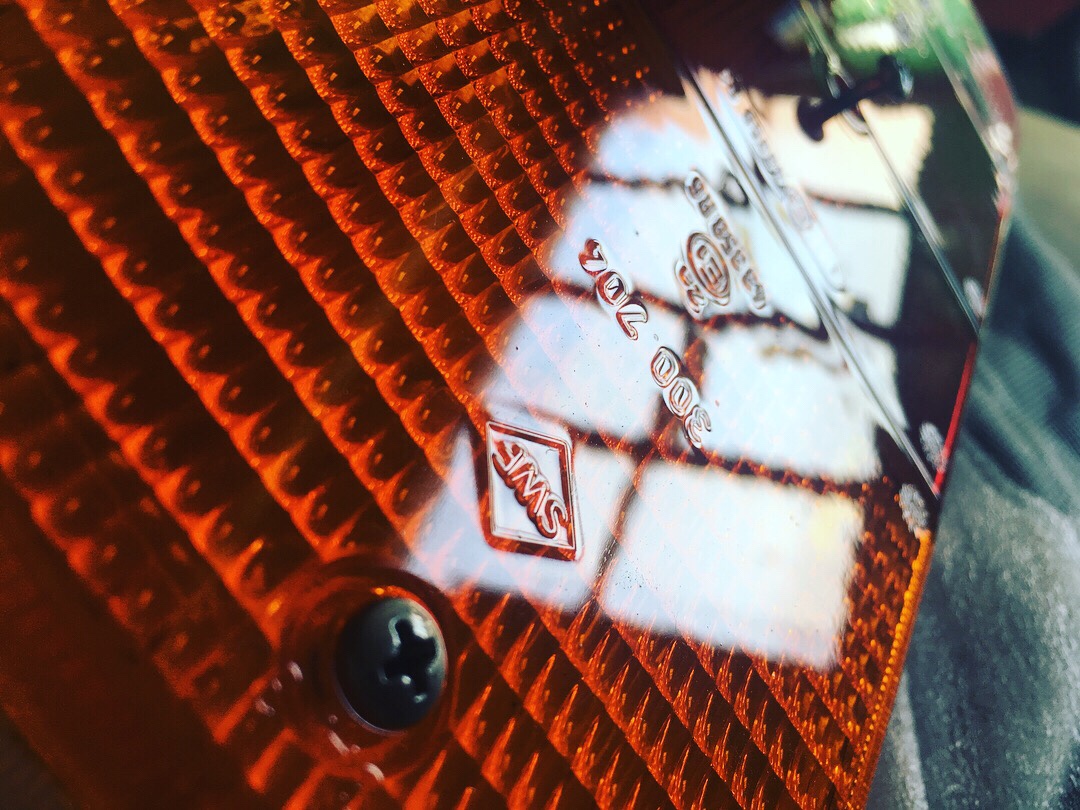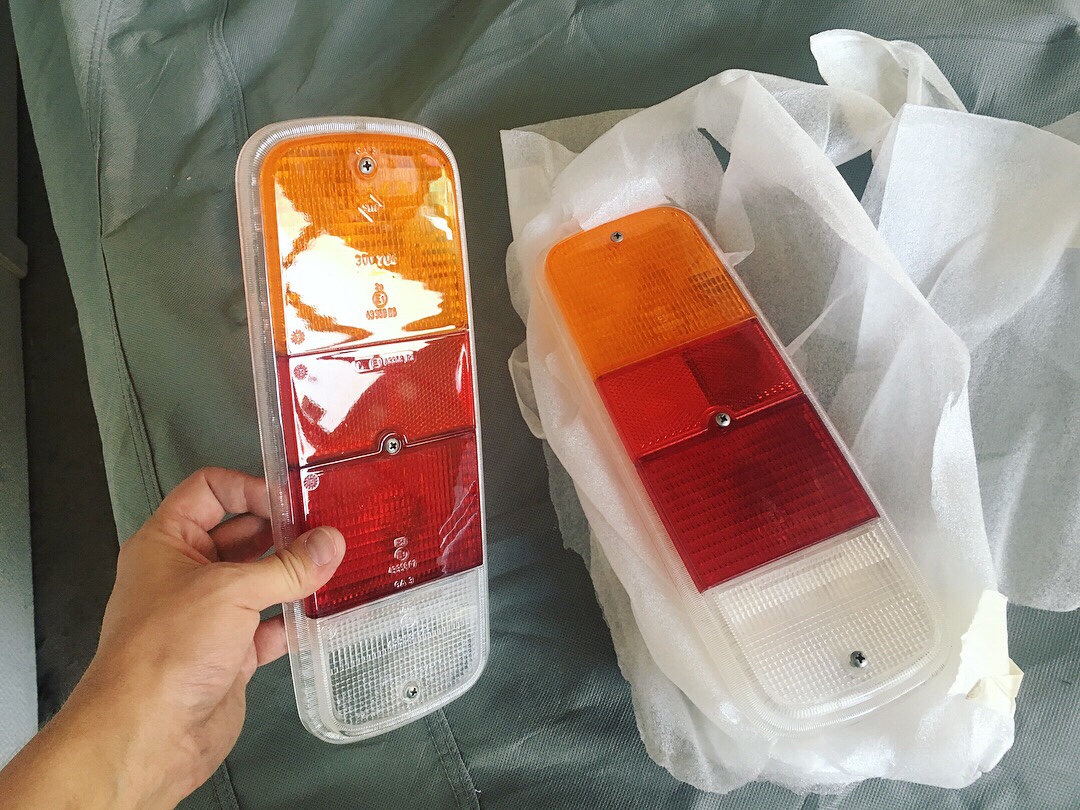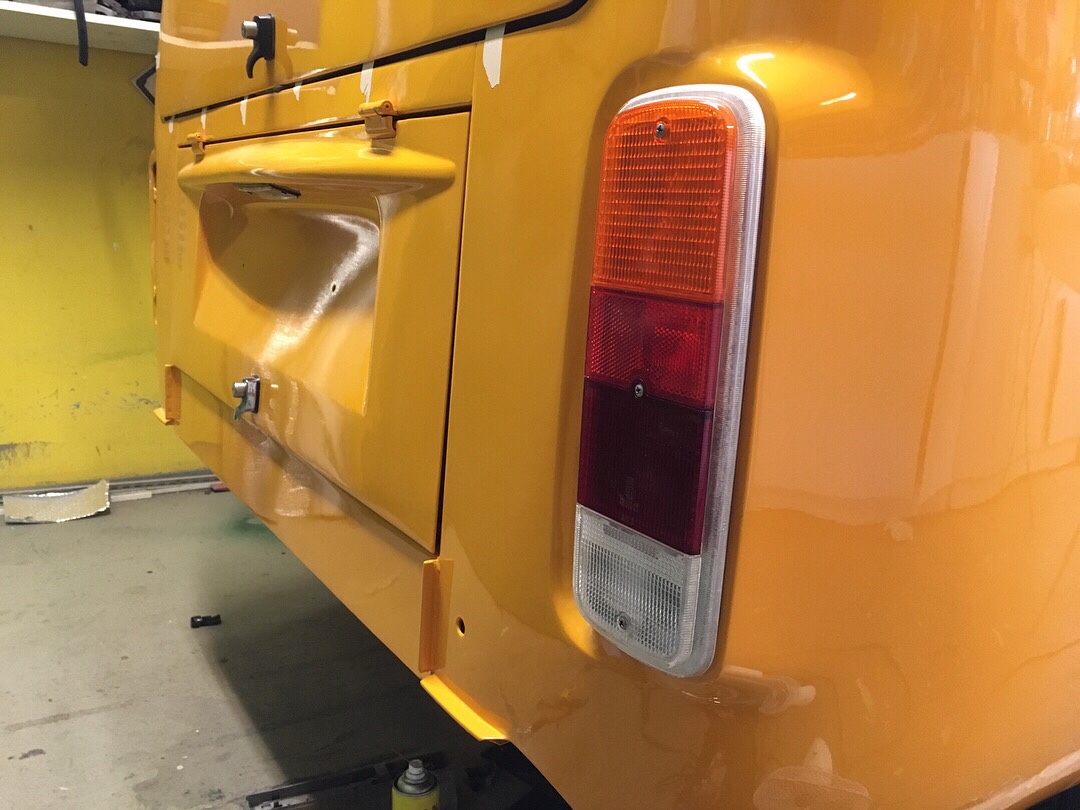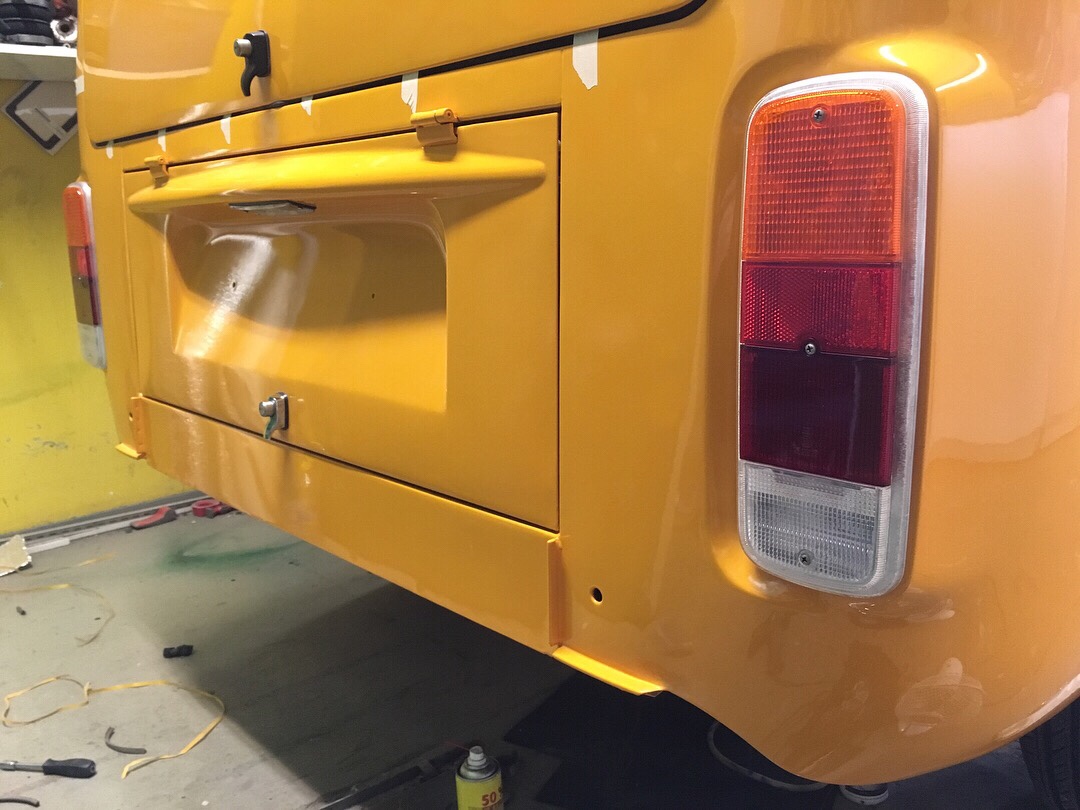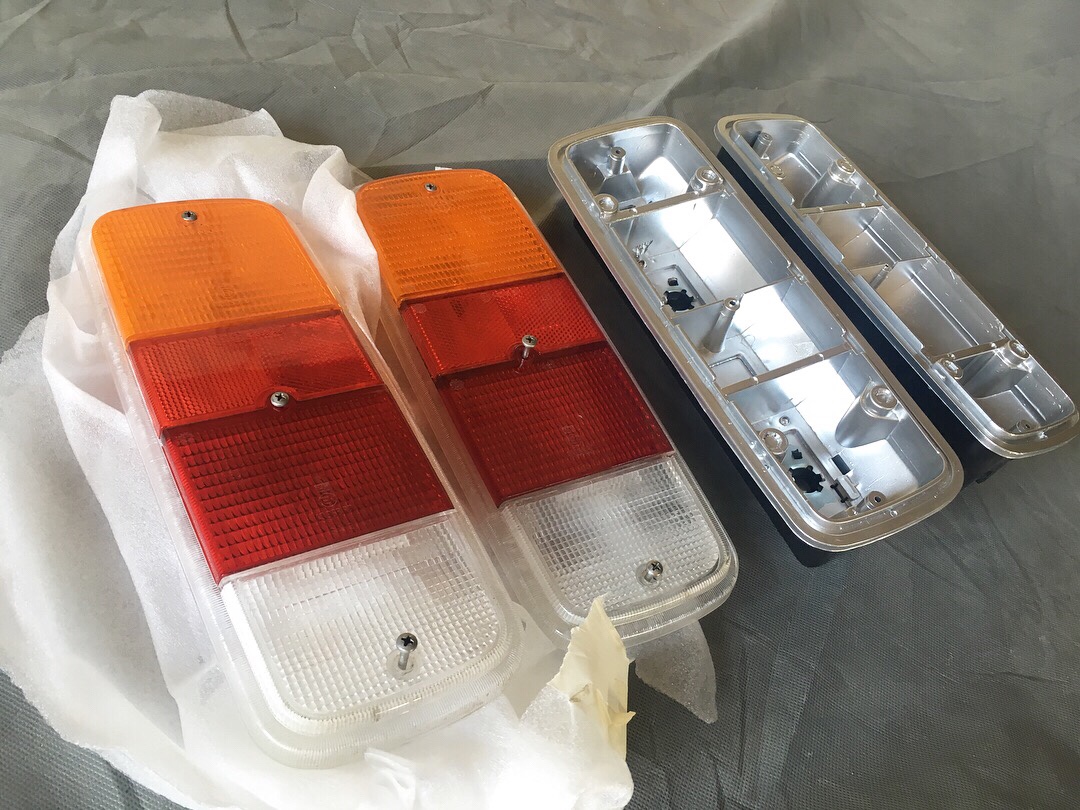 My 1967 Ghia gets a complete overhaul of the frontend. It was all stock height but the front is a little to high for my taste, it needs to be lowered around 50-100mm to get the beauty lines of the car to really flow. Rear is stock height. A brand new adjustable 2″ narrowed front beam with needle bearings. New narrowed tierods, new droppen spindels, new wheelbearings, new shocks, and all the brakestuff was already new. Wheels will be polished Porsche Fuchs. Since I had to remove the fuel tank I installed new fuel lines and cleaned up the front luggage compartment a little. Here comes some pics…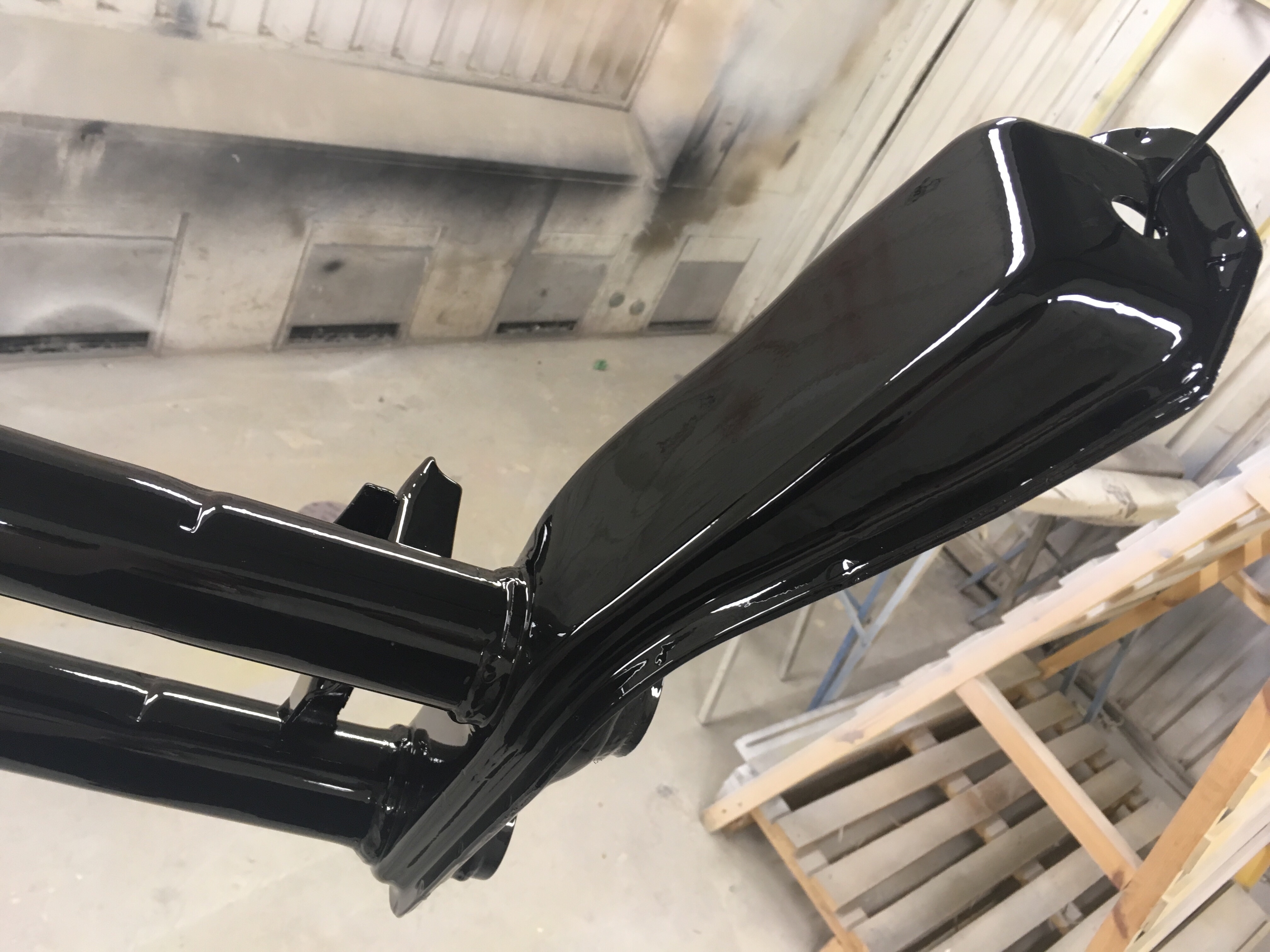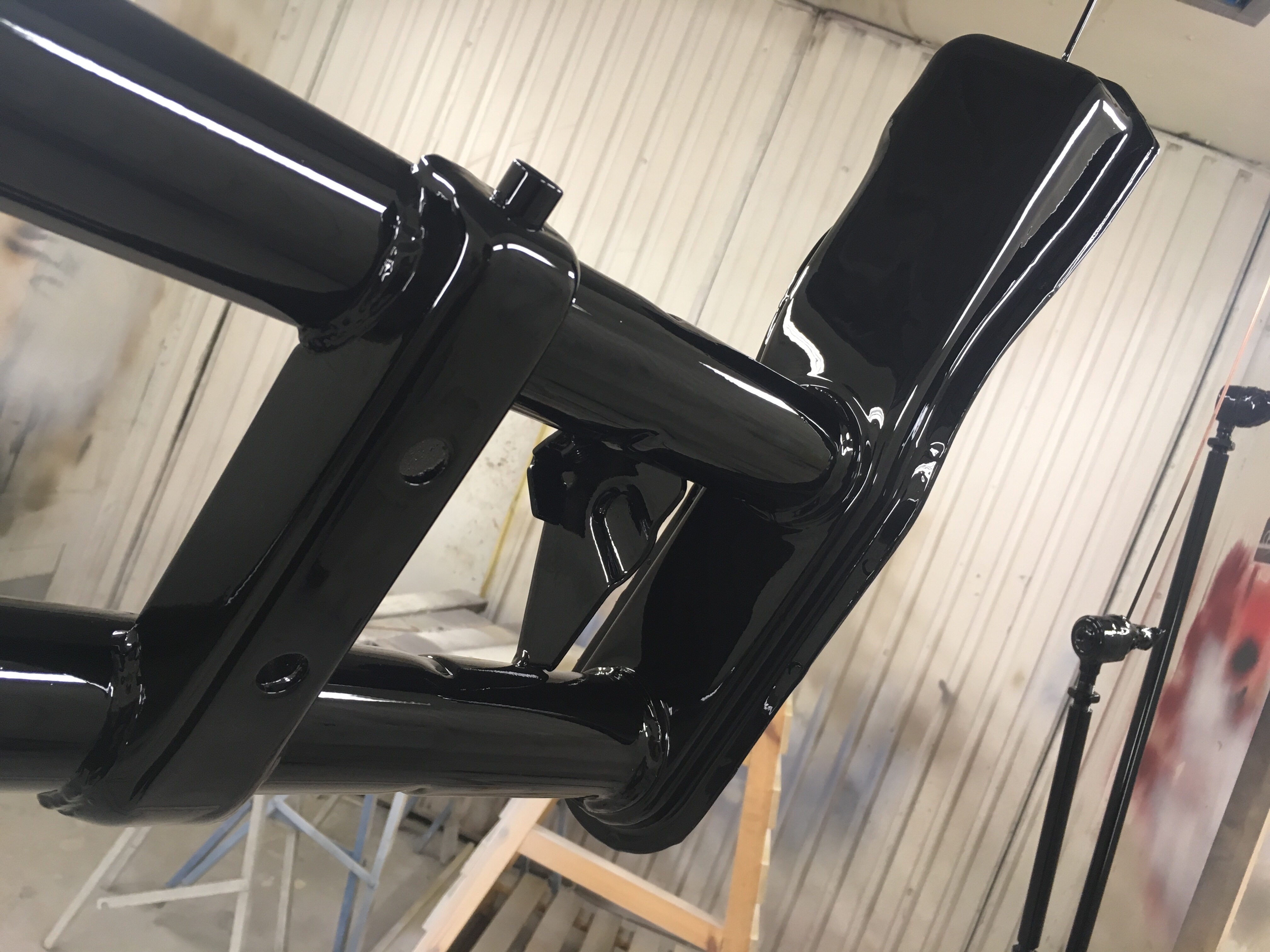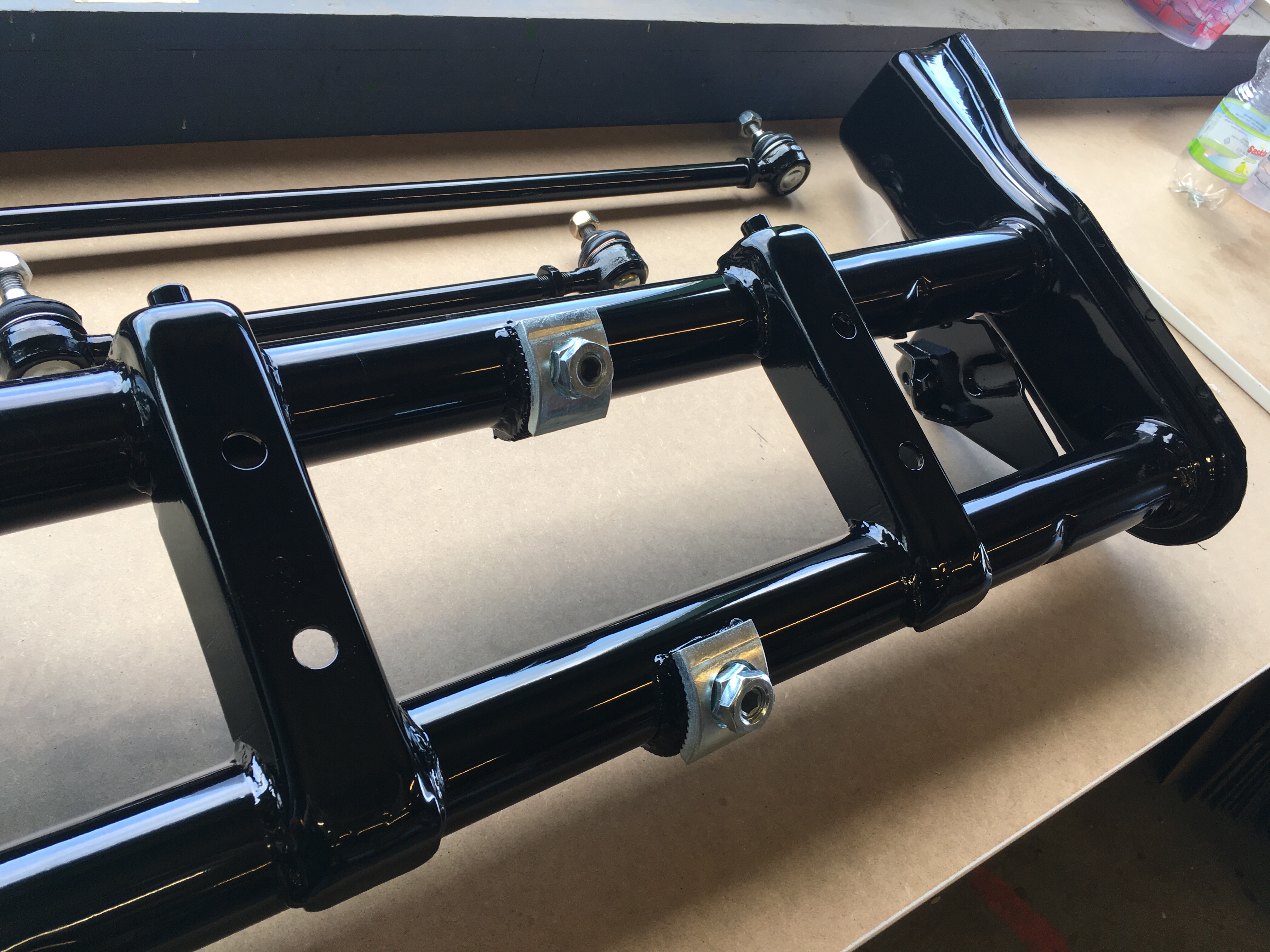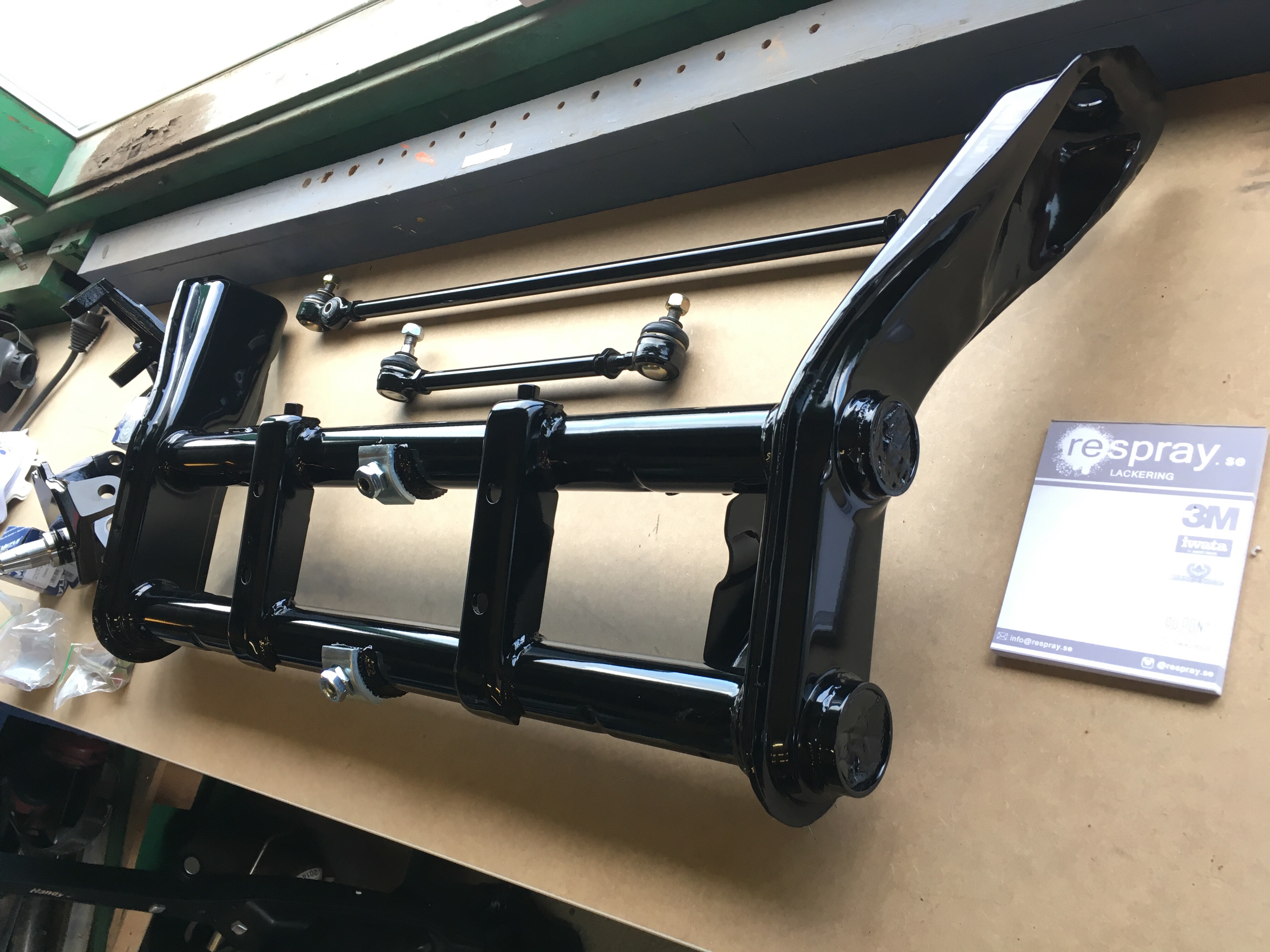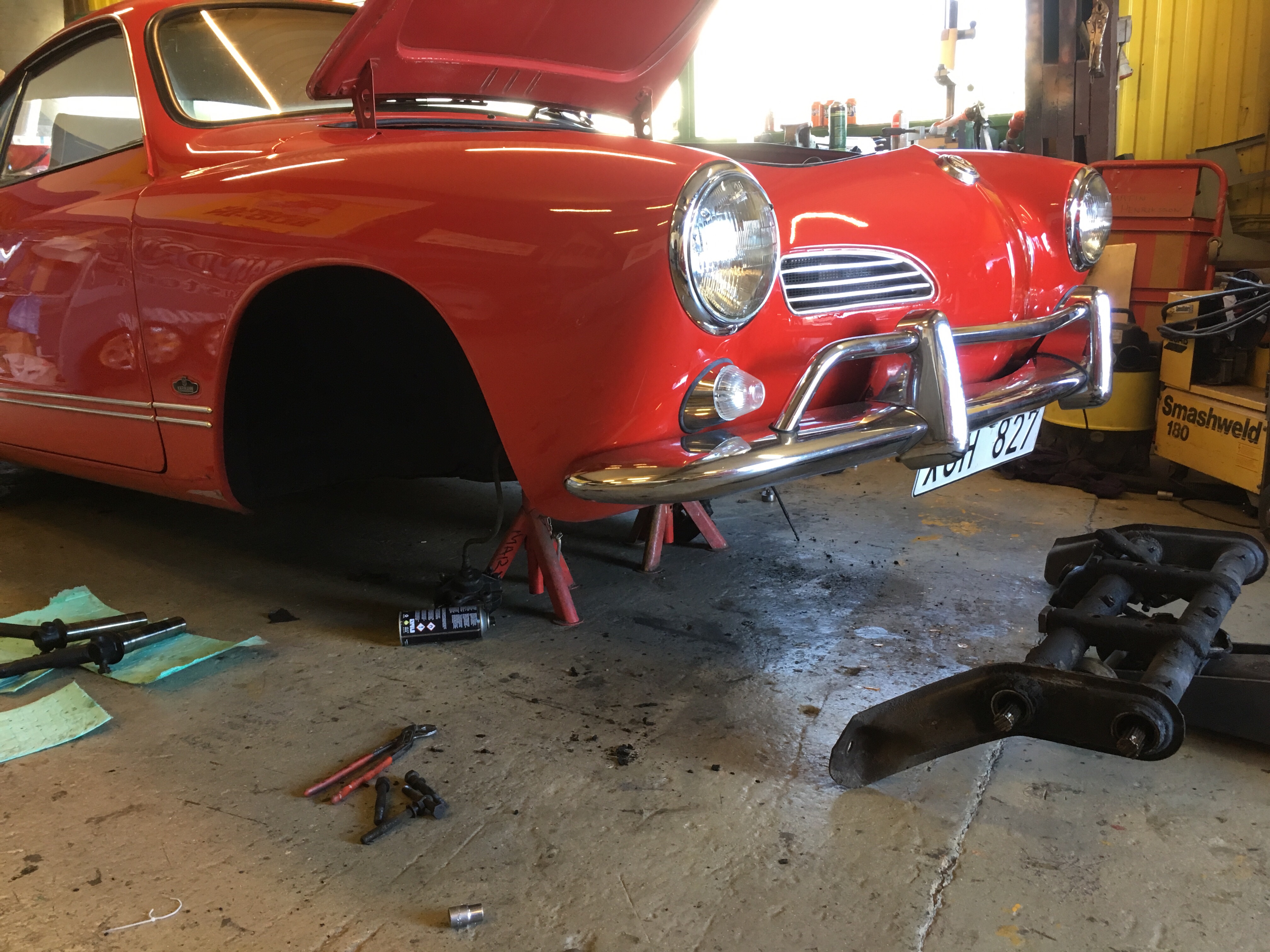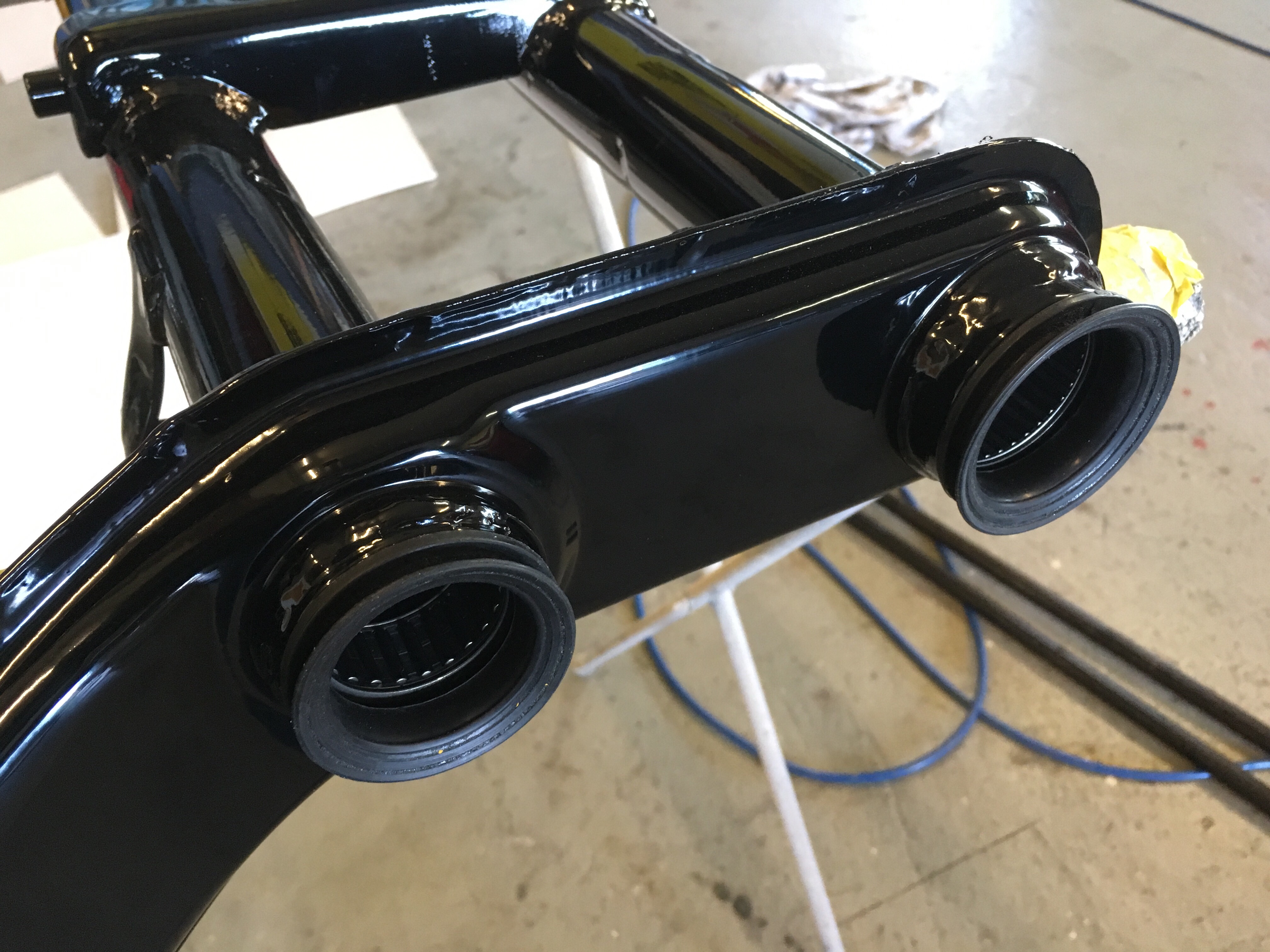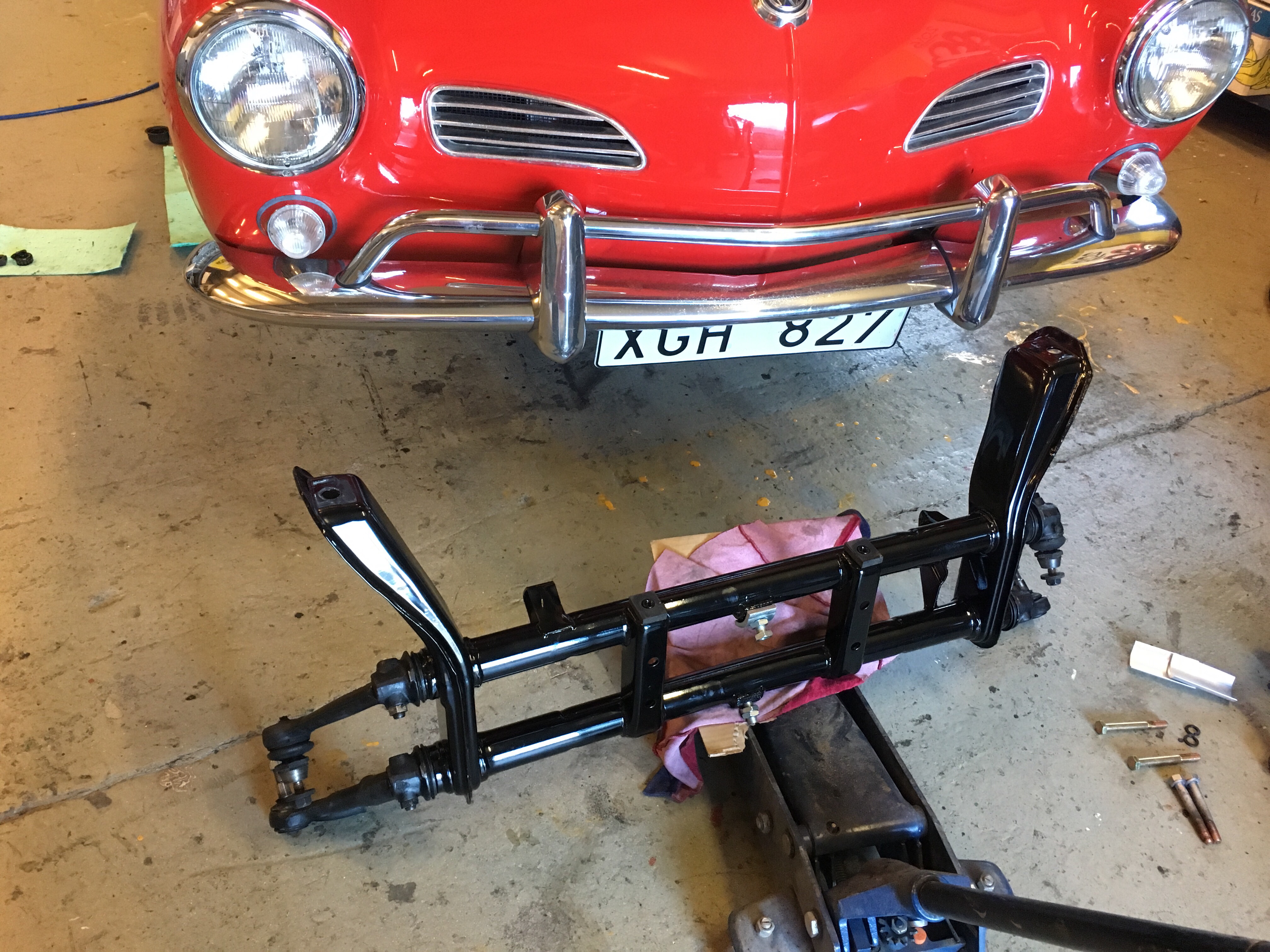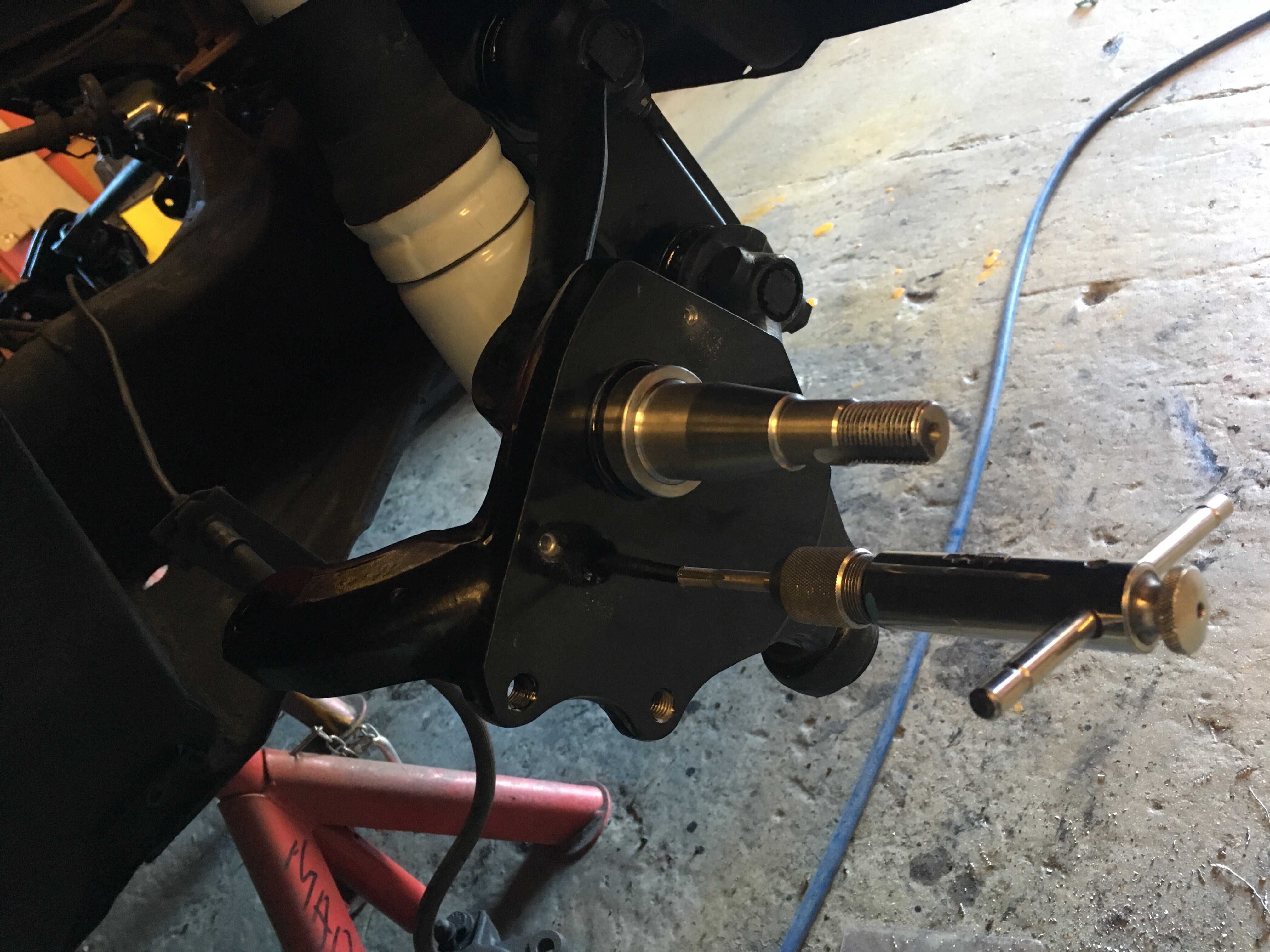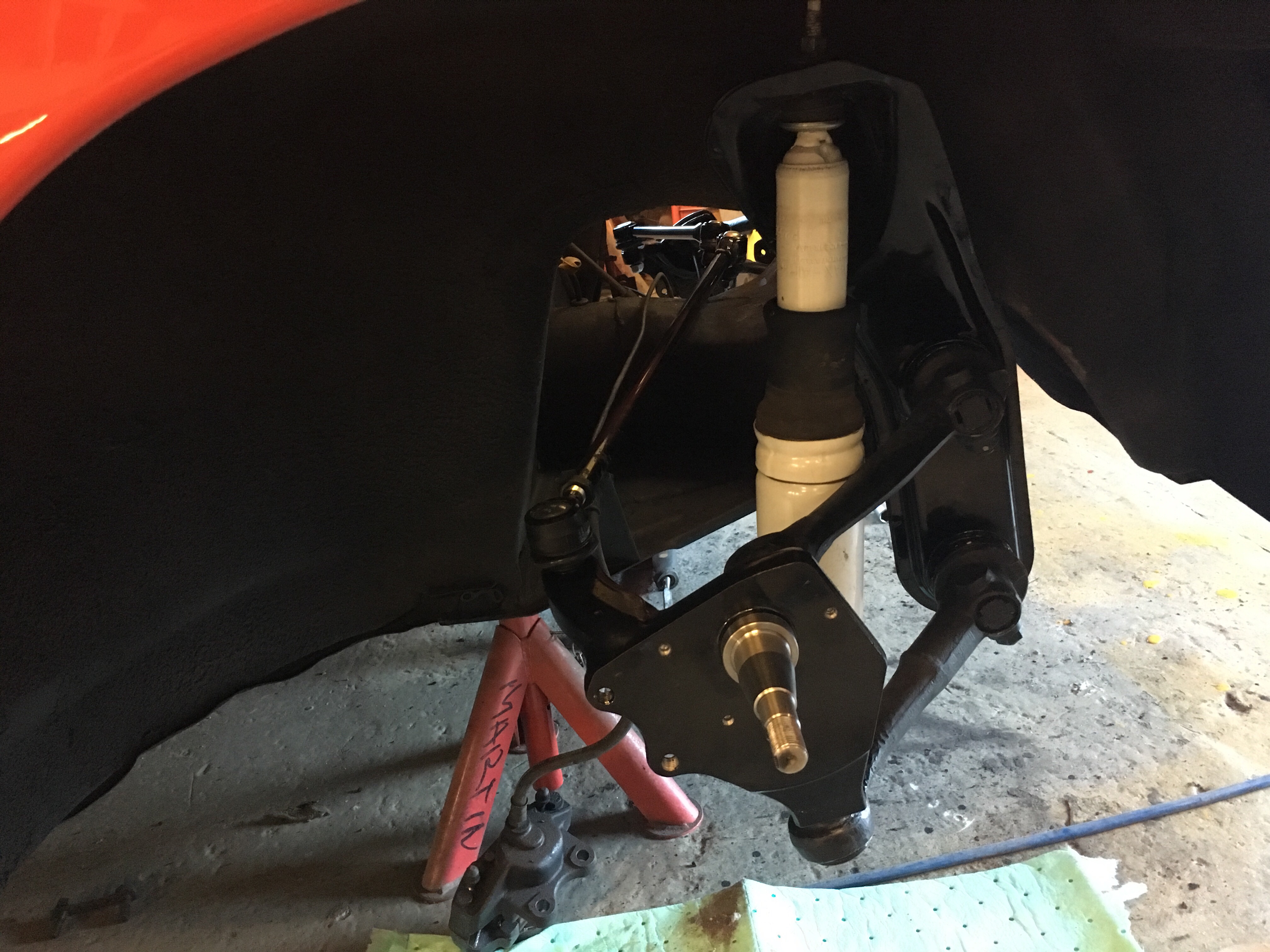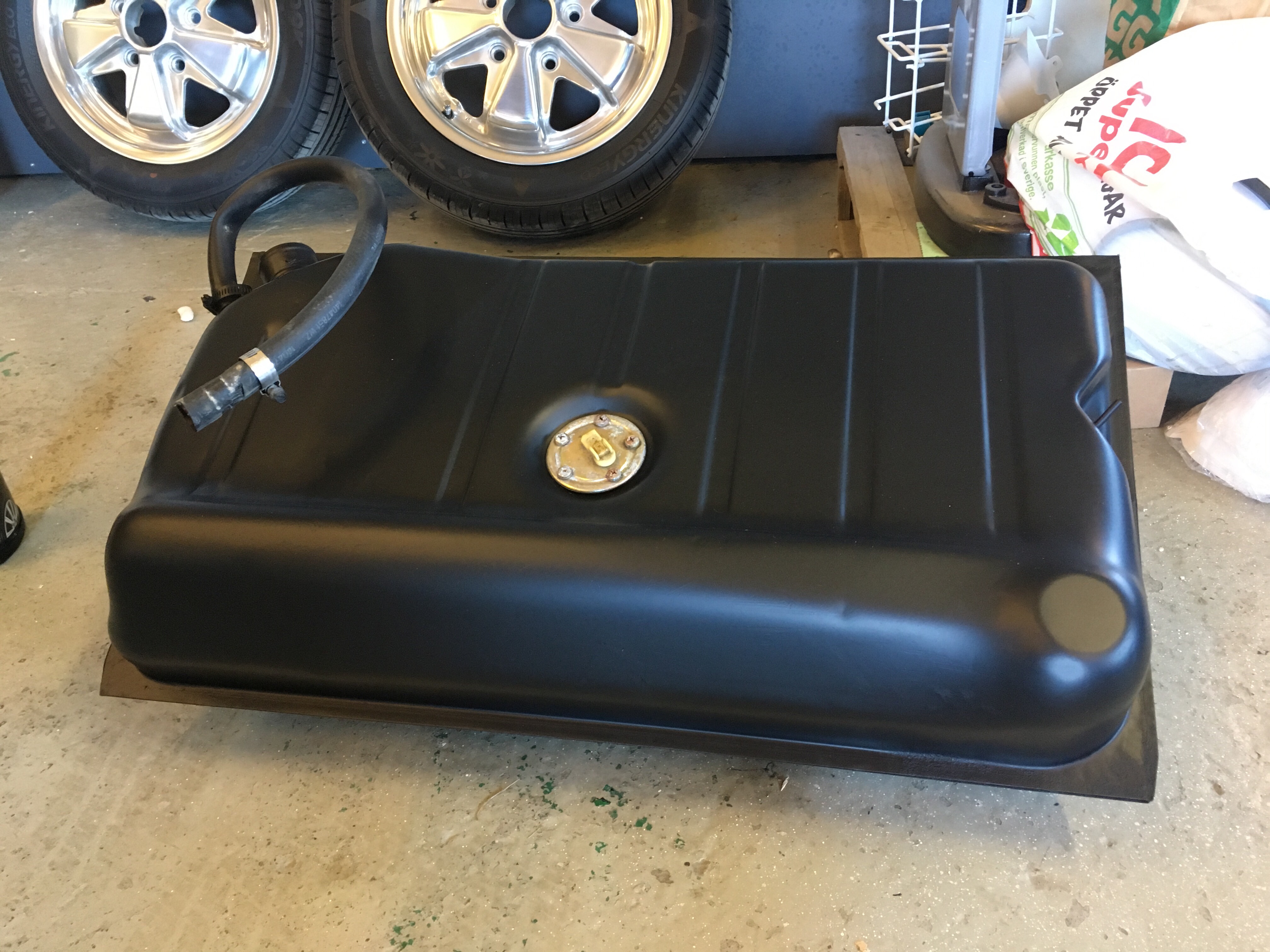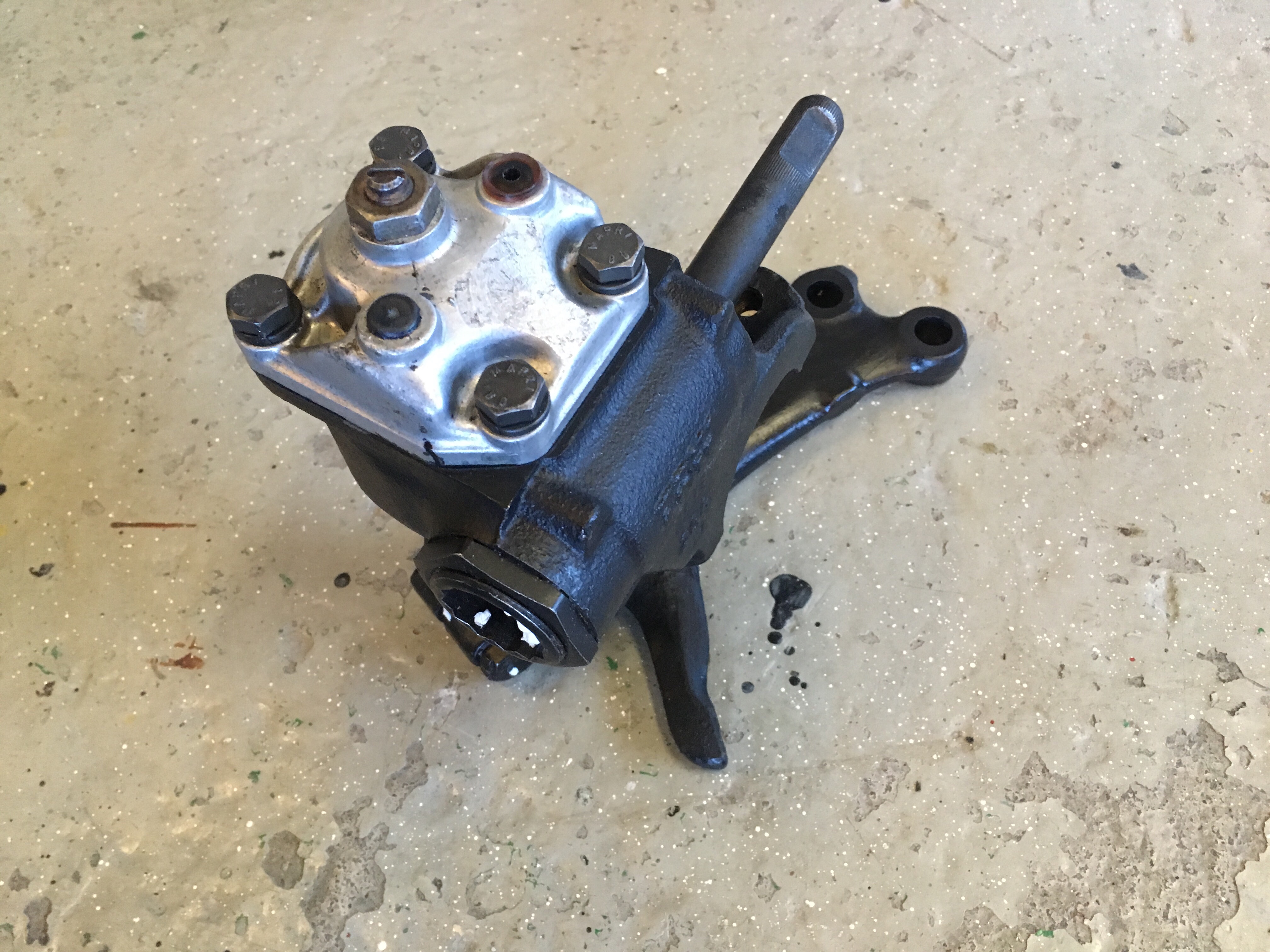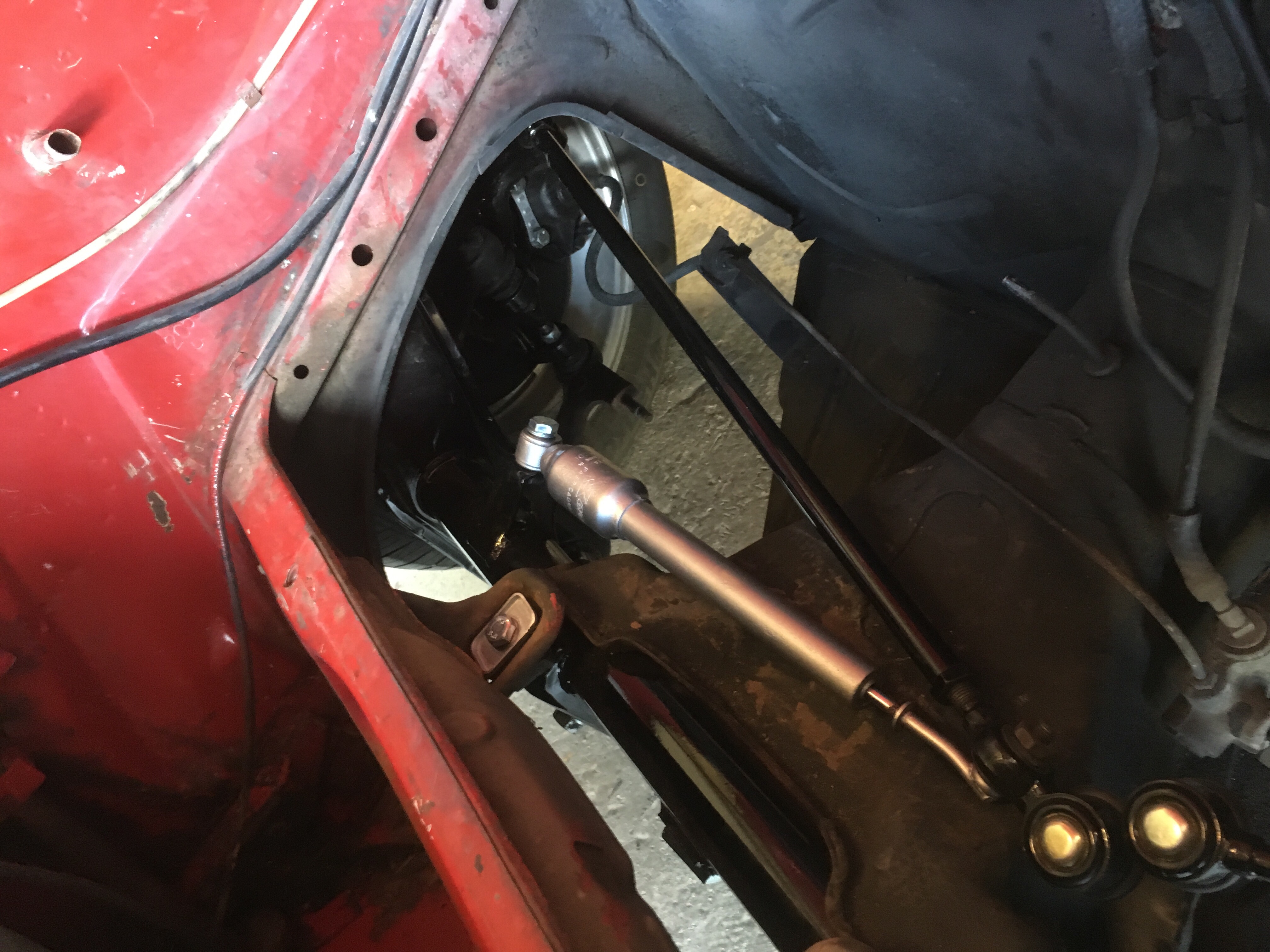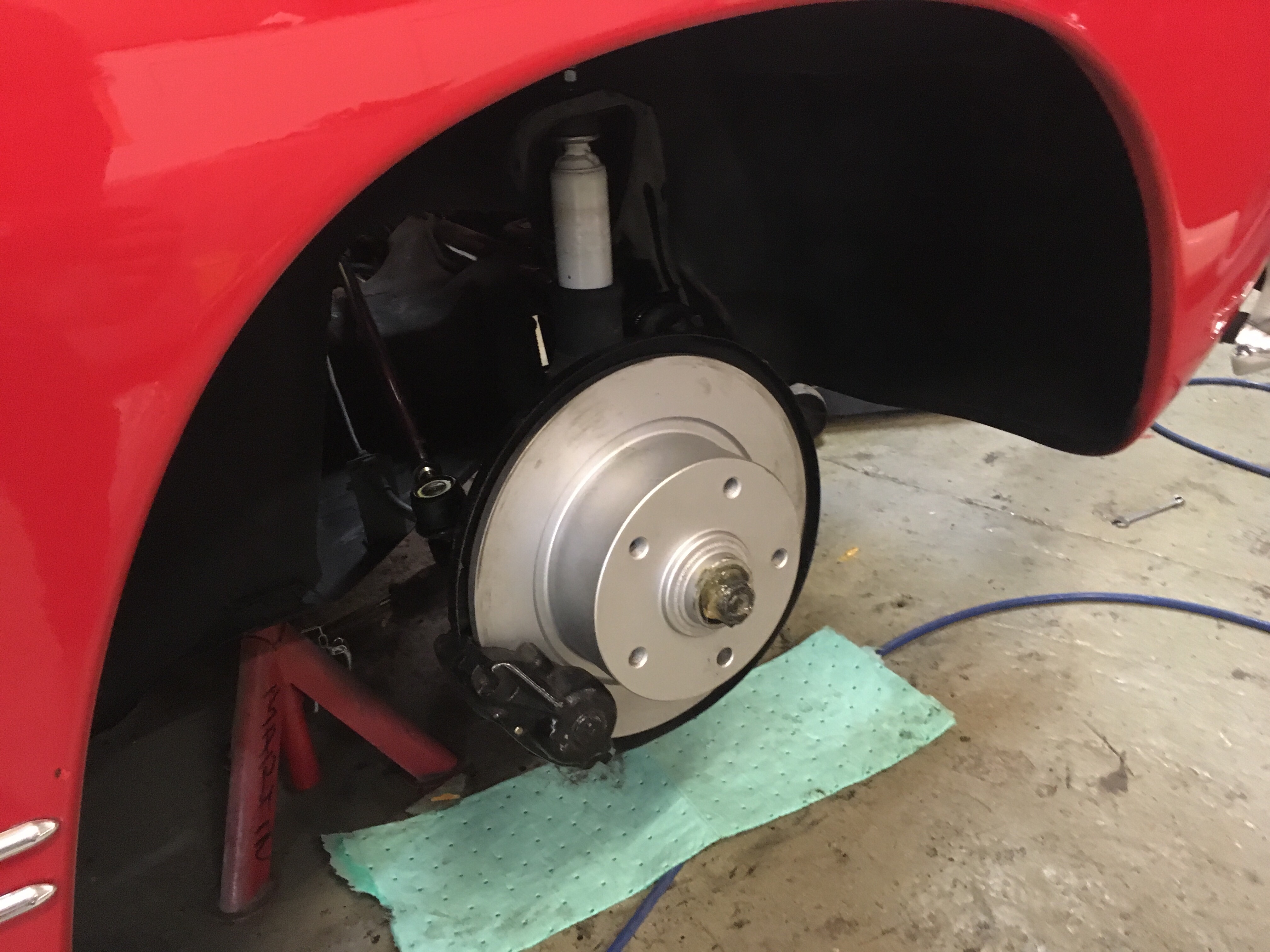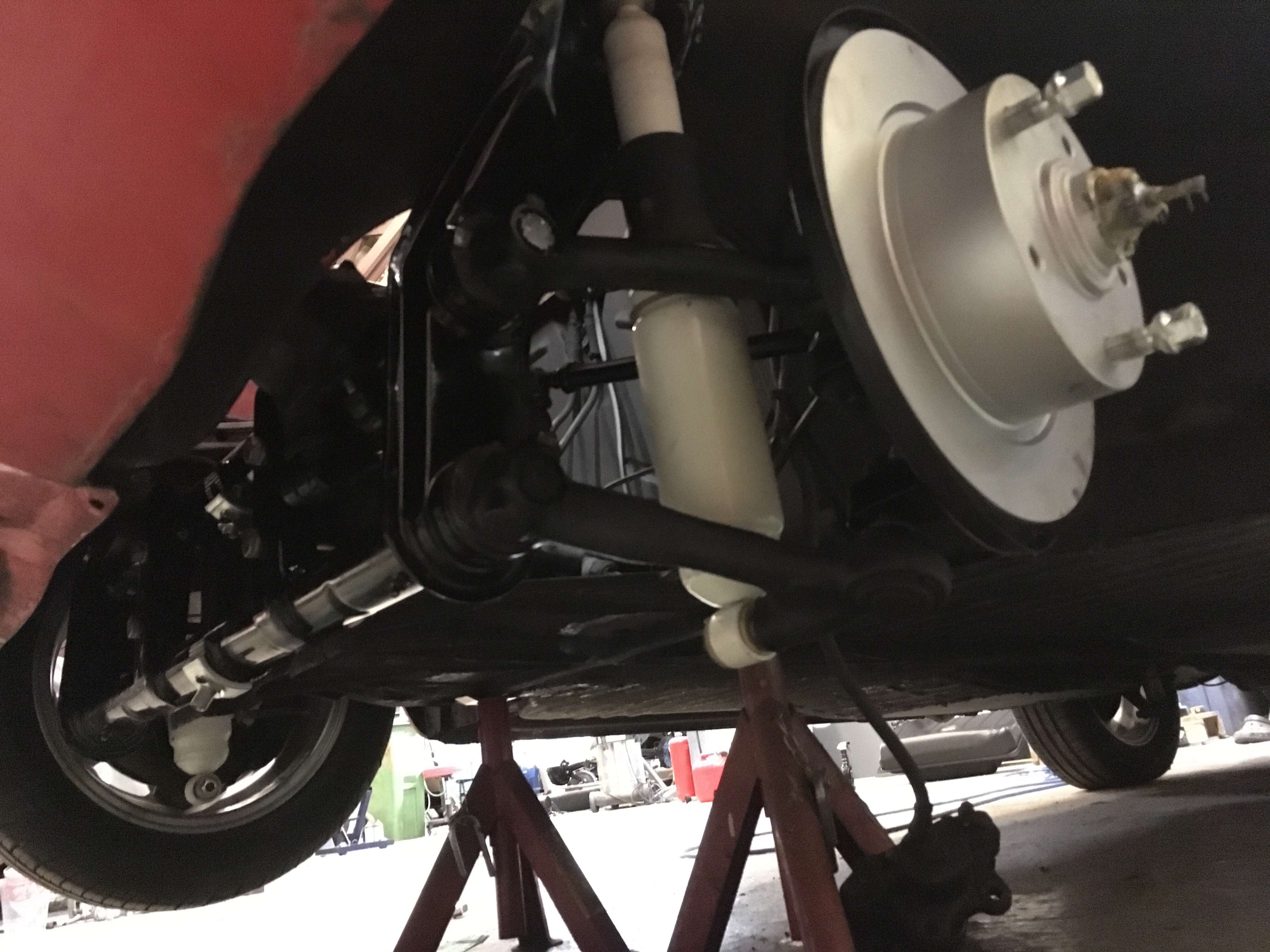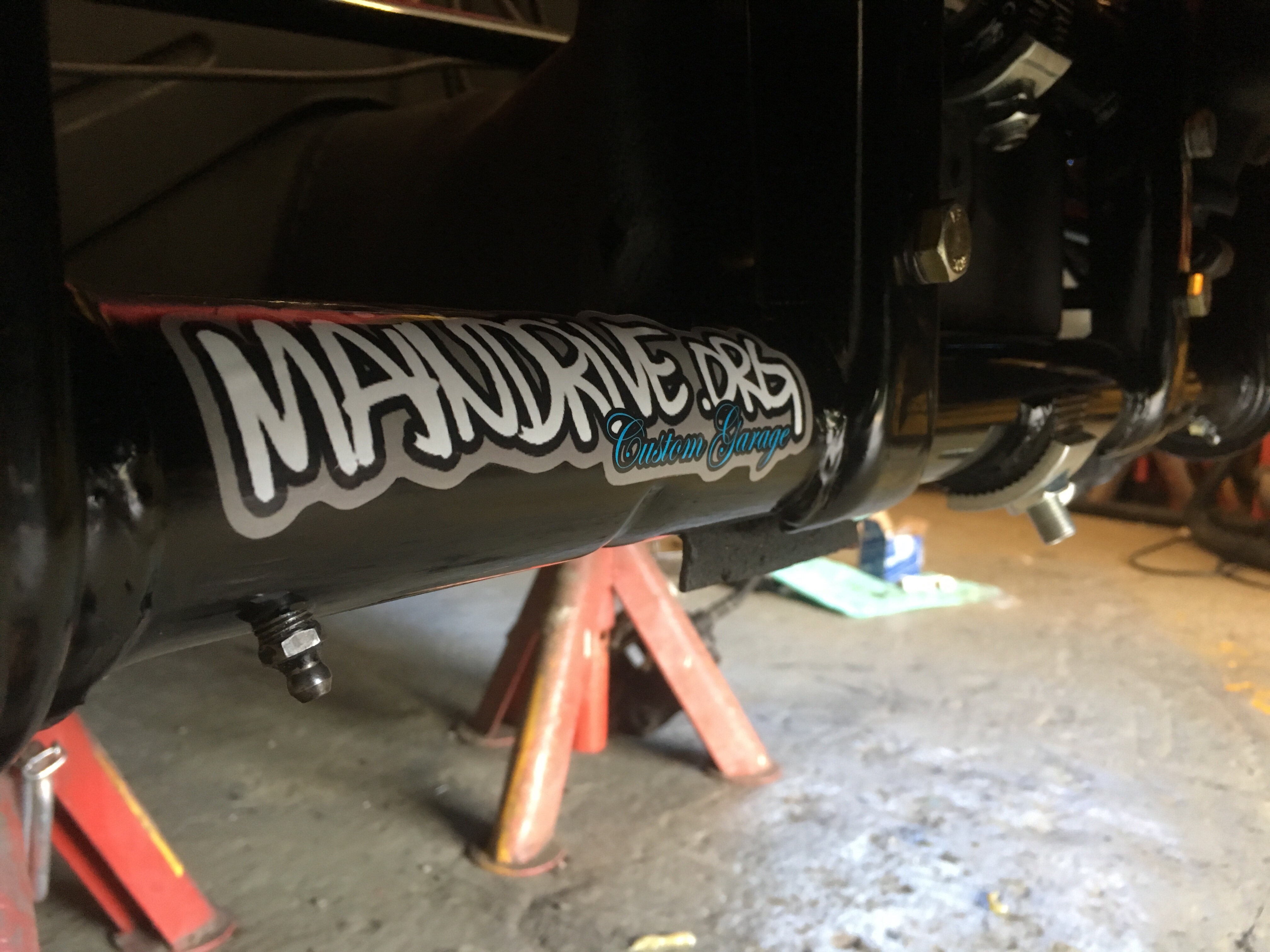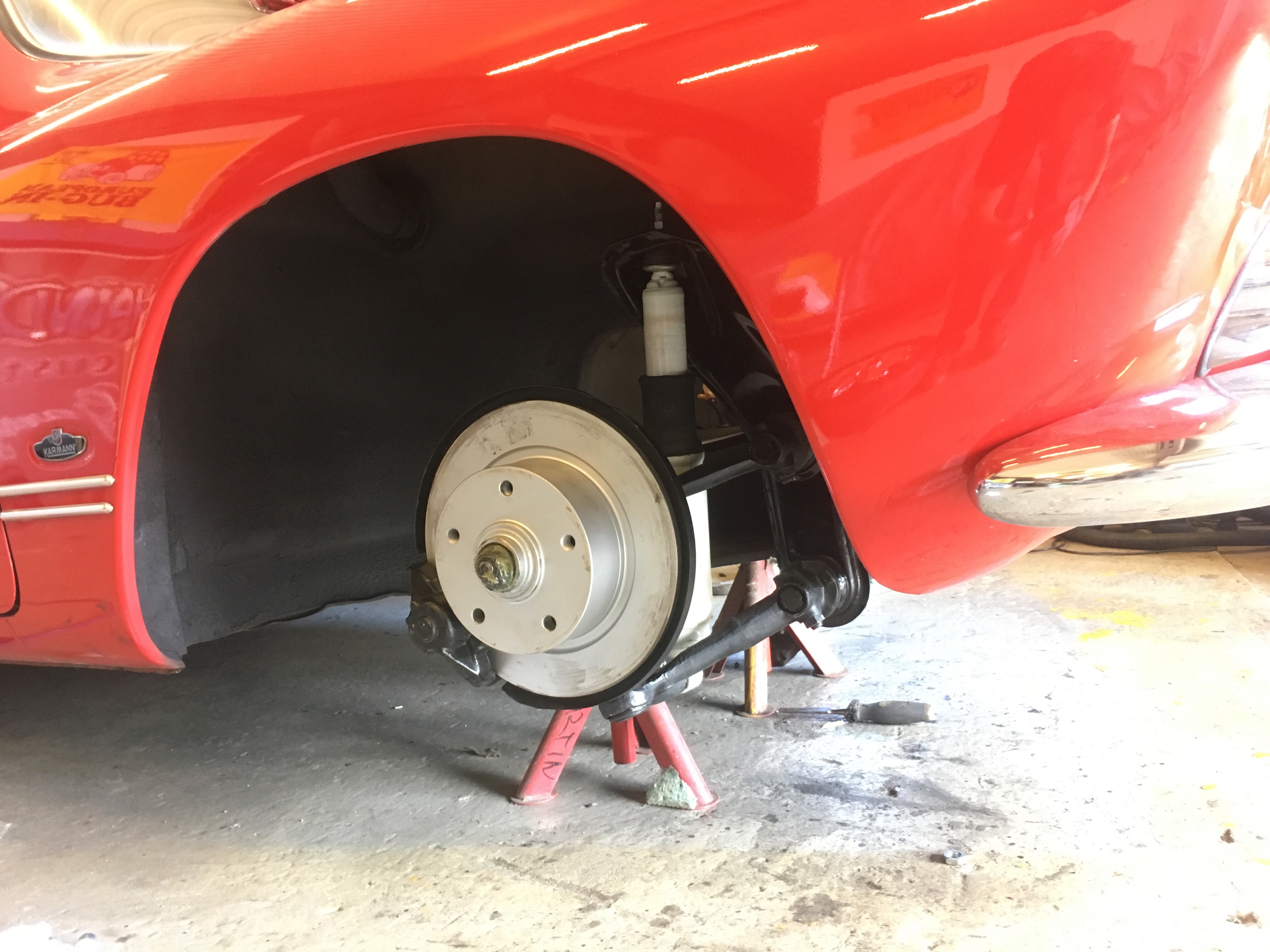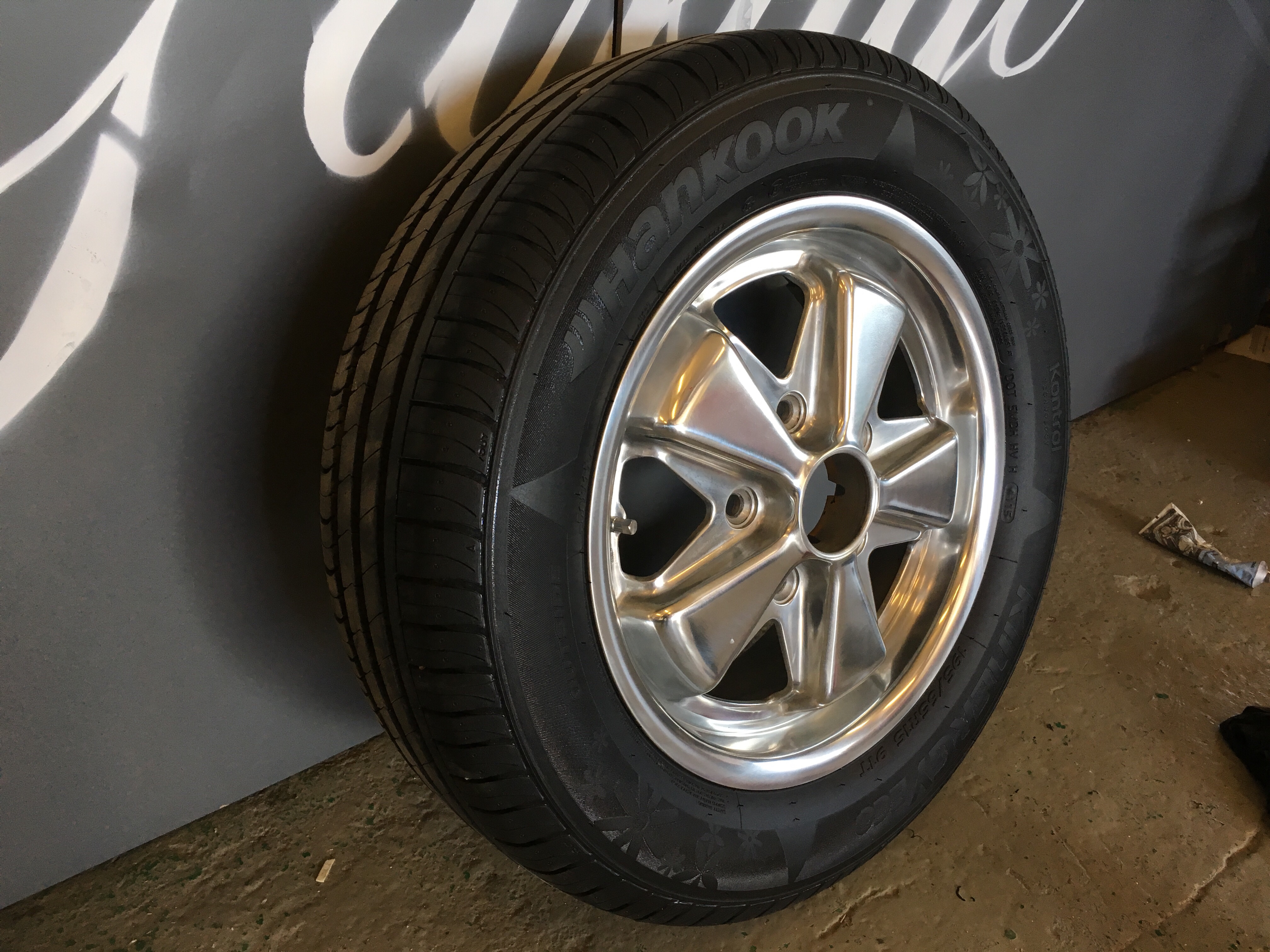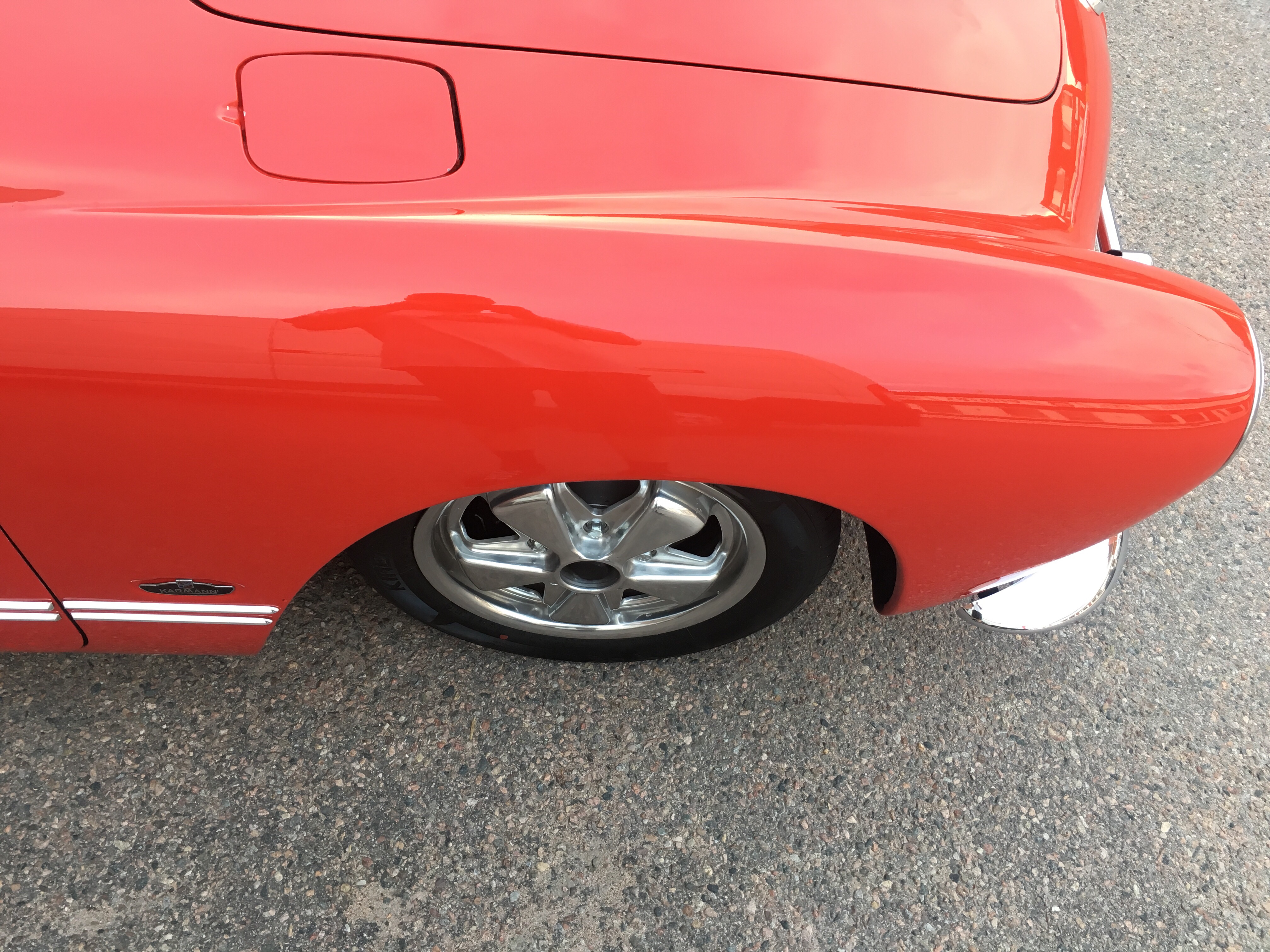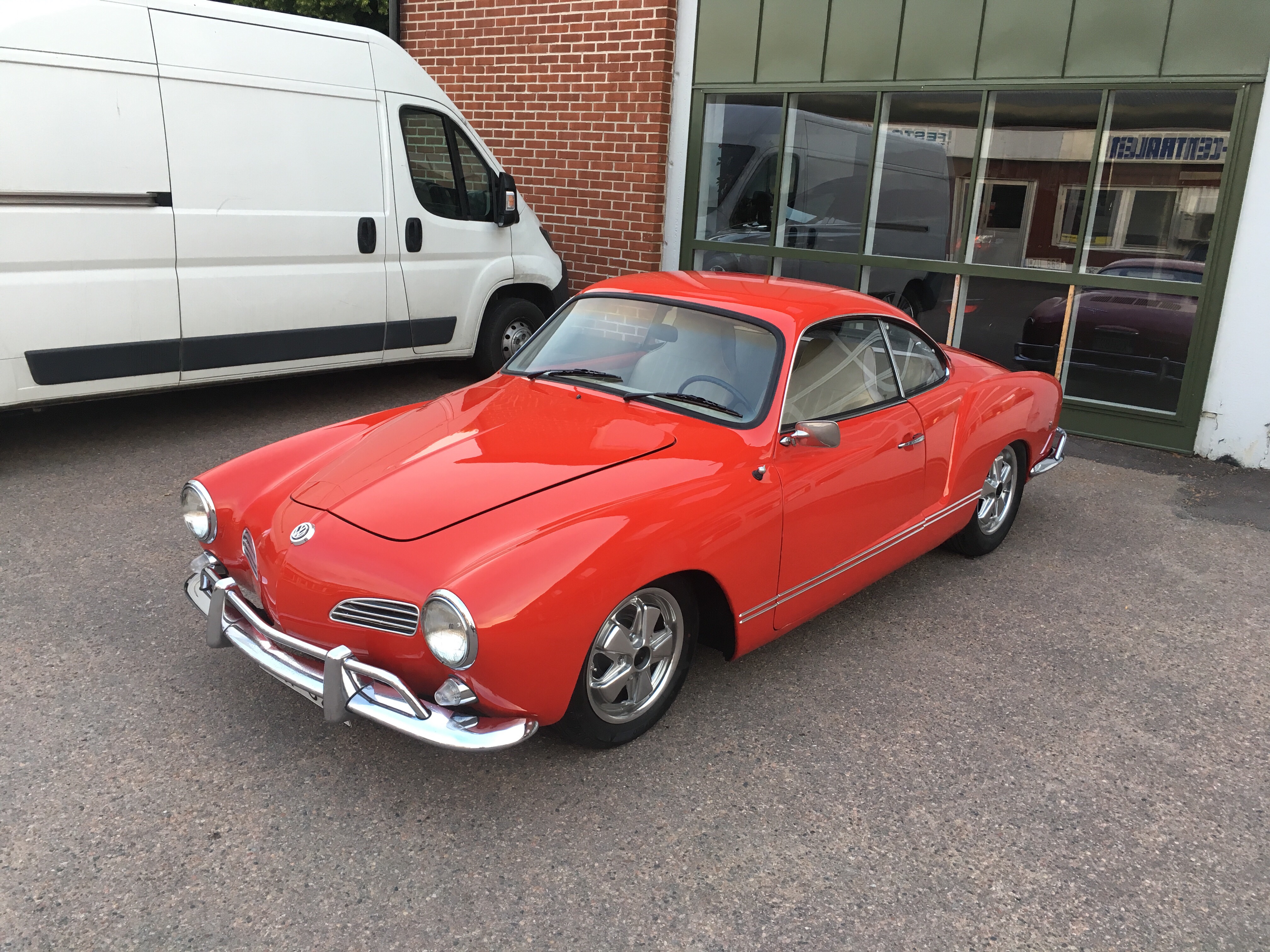 In this post I will show how I make a cabinet door from a big sheet of plywood. After lots of measures it's time to cut these numbers out to actually real things, this time cabinet doors for a overhead locker/storage to the Highroof Bay.
Draw up the dimensions on a 12mm lightweight plywood (never use ink pen!). Then cut it out with a steady hand and a jigsaw. Cut out laminate in slightly bigger size than the plywood, add 3M laminate glue on both sides, let it dry separate for 60mins. Then press the laminate together with the plywood and put it under pressure for at least 1hour or 2. Repeat it again to do the other side if needed. After this it's time to use the electric wood router and cut out the coutures. Then cut a profile in the end of the door using a special router bit. When this is done you can start knocking on the edging, you can buy these from special wood company's or camper conversion firms. Then measure out were you want the doorknob, drill it out, press in a bezel and install the lock. Mount hinges. Now you have one complete door, just everything else left to do 😉 Good luck!
Some of you have been asking for build plans for the Highroof Bay bus interior, but the only plans I have is in my head, sorry guys! 🙂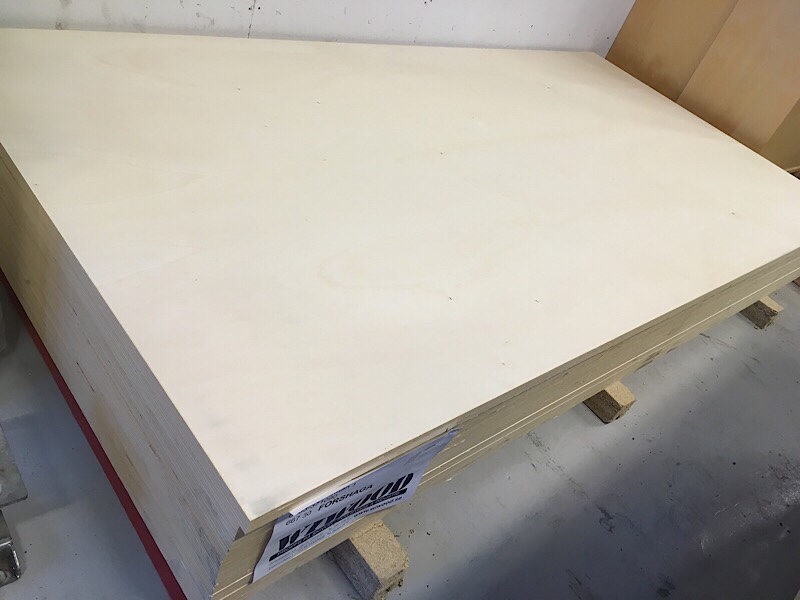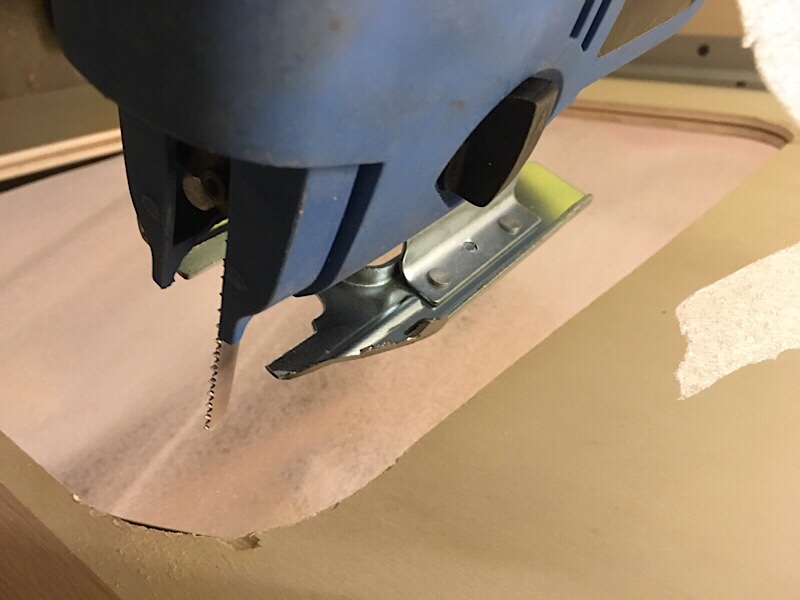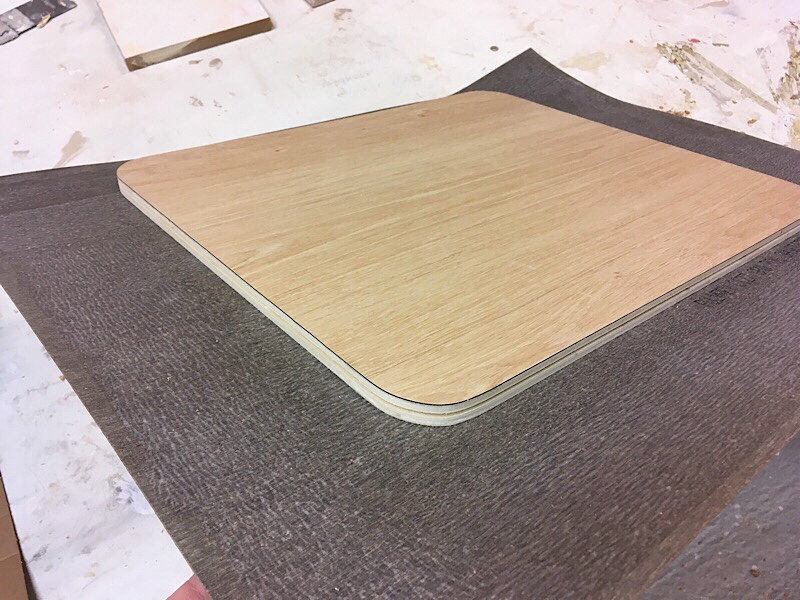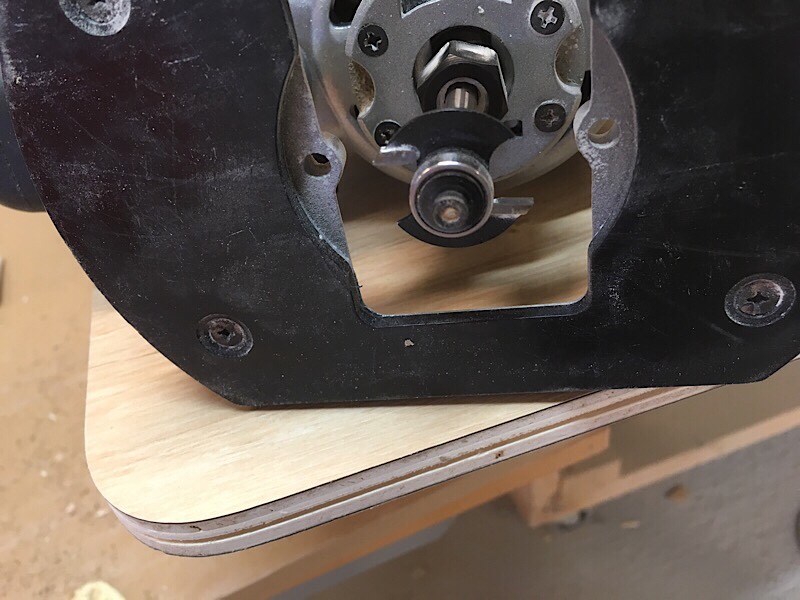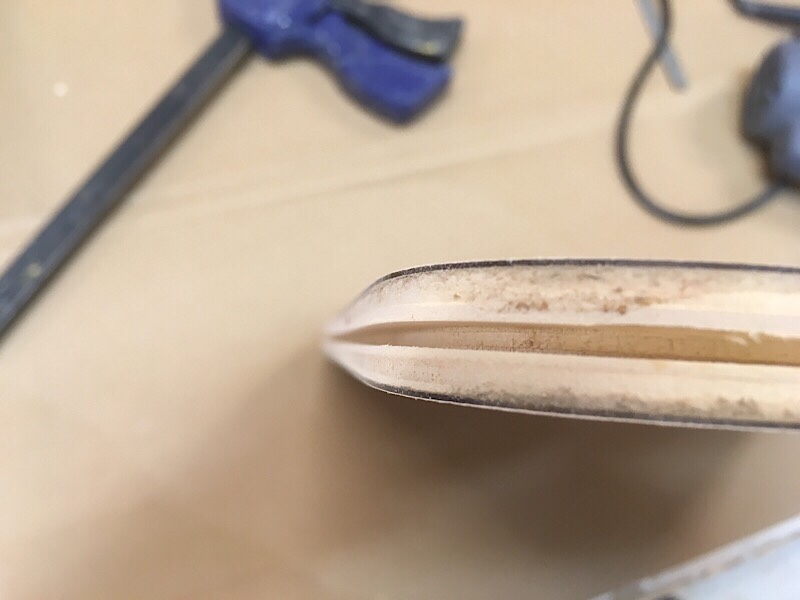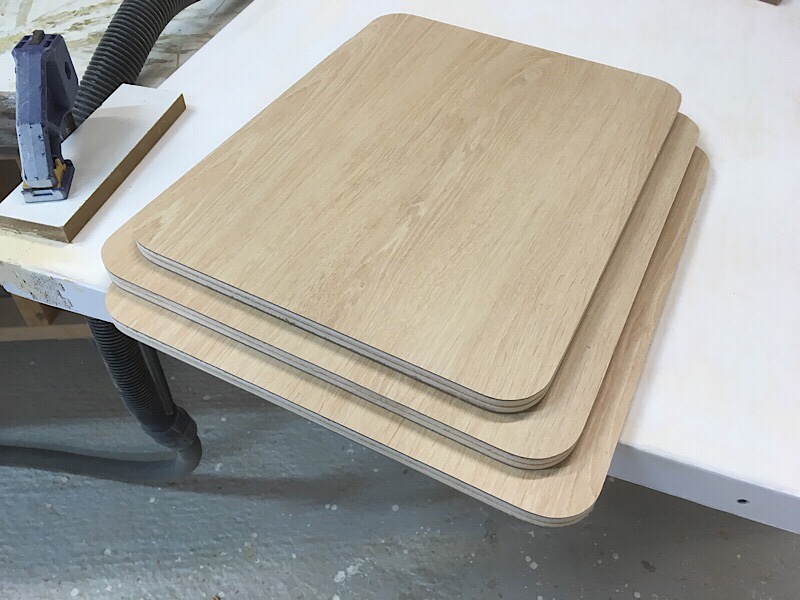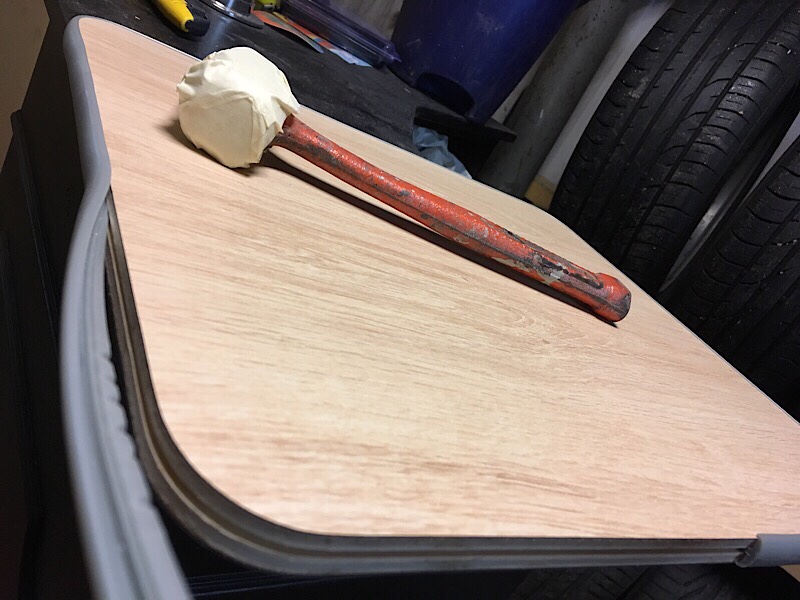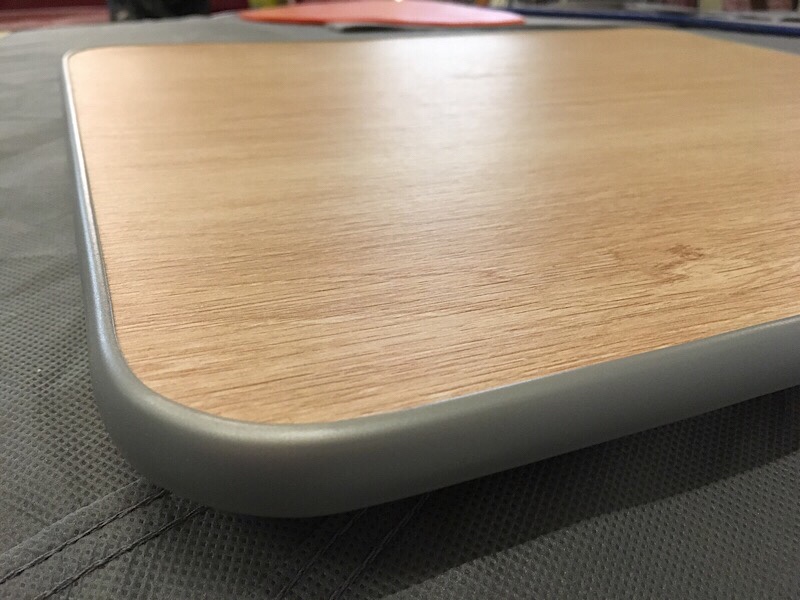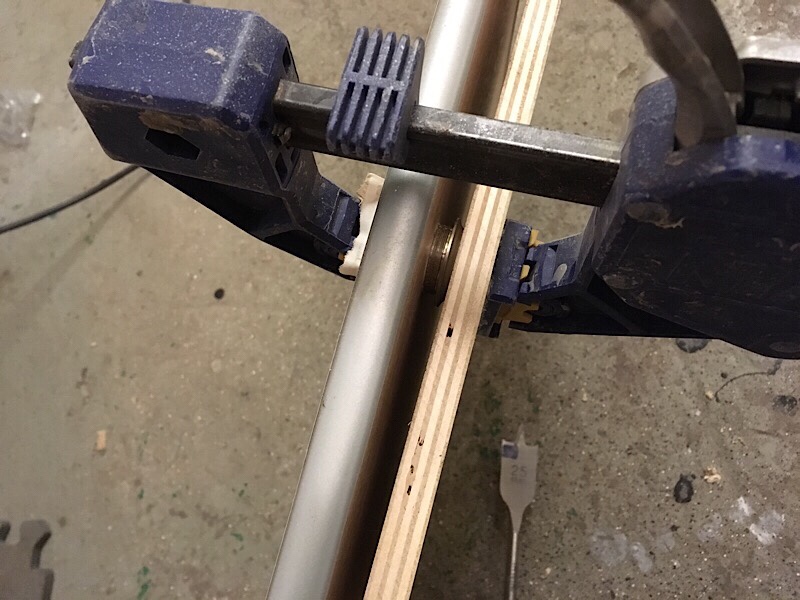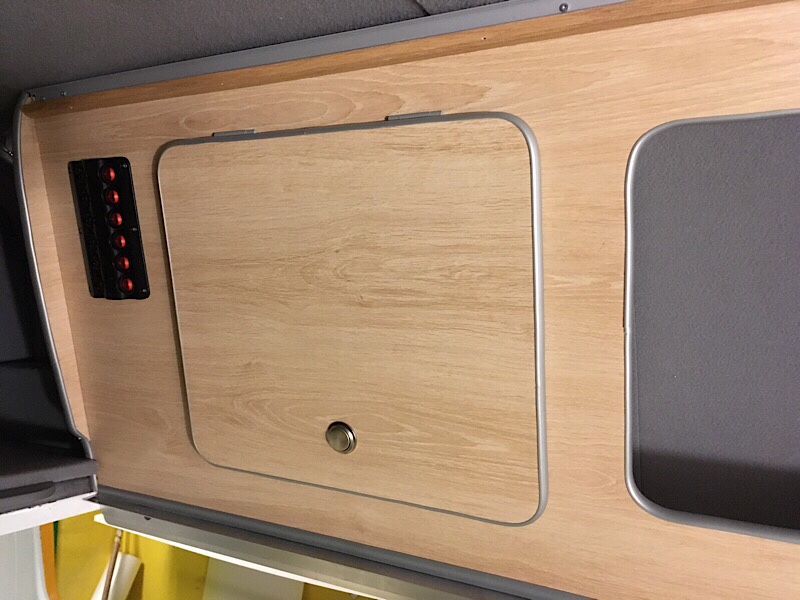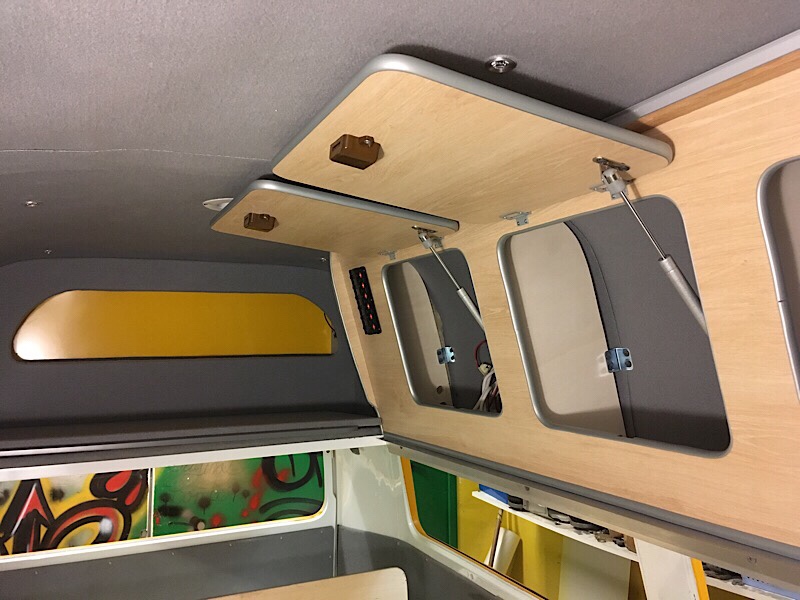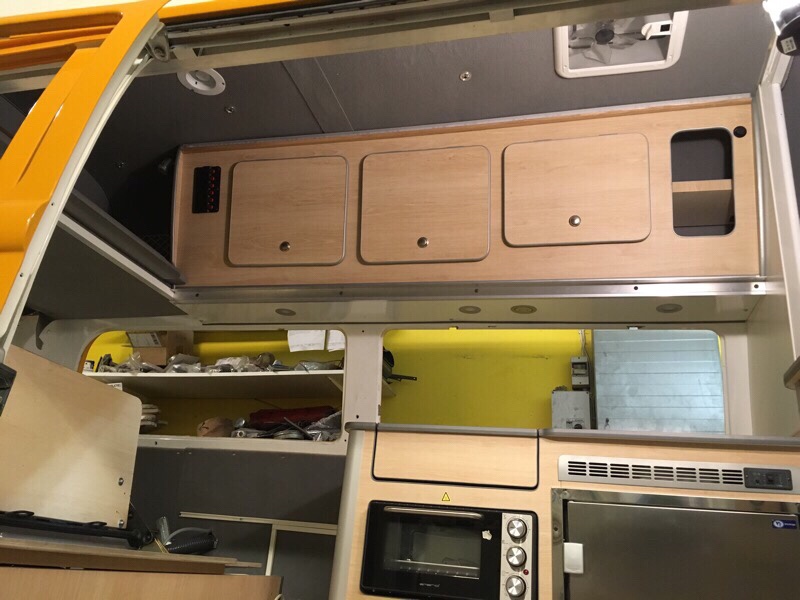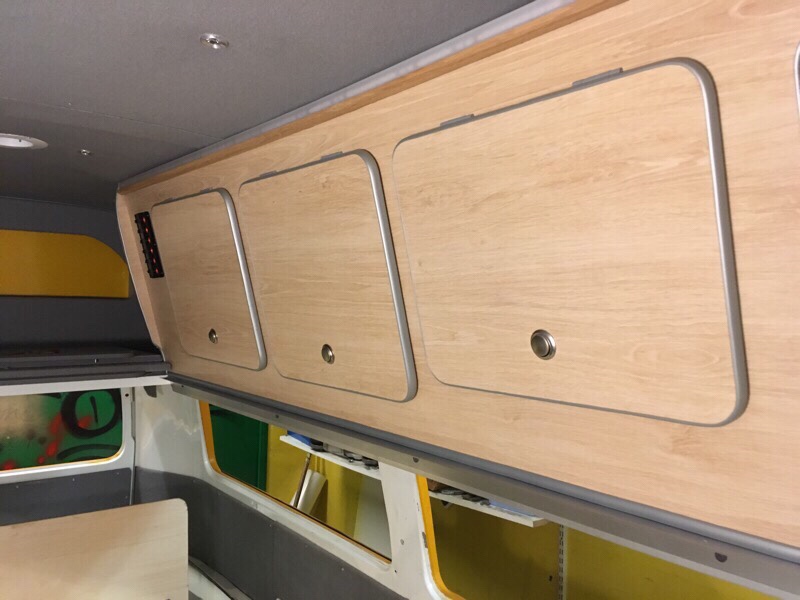 The new heater is now installed and incorporated with the old heater system design on the Highroof bus. Easiest and fastest way to install this would be to just place it under one of the sofas inside the bus and pull the heater hose out. But I decided to complicate it a little more but in the end with a much better result I believe. My bus had the Eberspacher heater M-code from factory so my idea is to remove the old heater and replace it with a new modern diesel heater.
Doing it this way, I will get a modern reliable diesel non explosive/safer heater than the old which ran on petrol. I will automatically get digital display with timer, remote start, thermostat control and much more. I will not loose space or hear the noise from it (like if it was installed inside the bus) because the heater will now be outside under the middle floor (inside the protective splashpan) where the old factory heater was mounted. I will now get heat not only in the rear of the bus but also in front cab and windshield ect. I will also add some extra airflaps in the heaterchannel so I can adjust the heat to only front or back to the rear floor, bed and top bunk. I will then insulate all pipes with aluminum air bubble foil to protect the heat from the cold surrounding. More work doing it like this but I think it will be all worth it in the end.
I started by removing the old crusty Eberspacher BA6 heater that was mounted in the center under the floor, mounted a new 90mm center pipe under floor instead (like on a ordinary Baywindow without the BA6 heater option). The new parking heater was the installed on the side of the new center pipe. It was a really tight fit, the height of the heater is 140mm and the space under floor was 145mm. I had to cut a 3-40mm notch out in one of the floor supports to make it even possible. The heater exhaust was wrapped in "header wrap" for less heat radiation and was routed out back to a muffler and then out in front of the left rear wheel. You don't want to route the exhaust fumes out on the sliding door side of course! The fuel pump was mounted in a rubber holder in 40 degree angle on the frame of the bus, filter was put on outside for easier change in future. The air intake for the combustion chamber was routed back (don't place it against wind/driving direction) and a filter bolted in the end. The air inlet to the heater fan is hooked up to the stock inlet pipe (from a hole under the rear rock n roll sofa). This means it will circulate warmer and warmer air, and don't have to warm it up from ice cold outside air all the time. It will make it produce more heat too. The heater outlet is connected to a air flap (where I can choose where I want the hot air, front cabin or rear. I also made a extra heat pipe for the rear bed and top bunk, so you can feel the heat directly in the bed when you turn it on in the morning. 🙂 You can see the heat outlet in top bunk on the last picture. Stock is only rear floor otherwise. The small 10 liters diesel tank will be mounted under or behind the front passenger seat, this way you can easily see when it's time to refill. It consumes only between 0,19-0,5 liters per hour. So on one tank it can run on full blast for about 20-24 hours before it time to fill it up again. Insulated all pipes from back/rear of the engine to all the way to the front cabin. Still have some electric wiring left to do before it all done. Can't wait to test this beauty out!!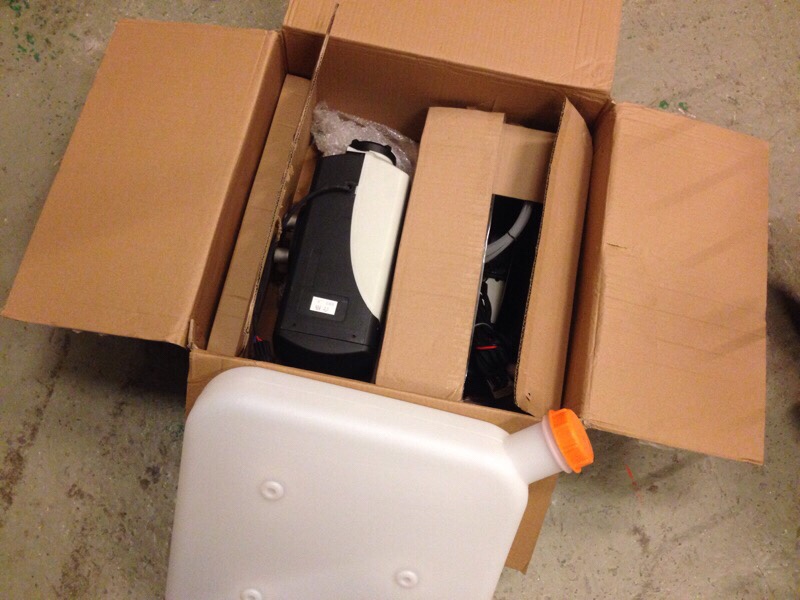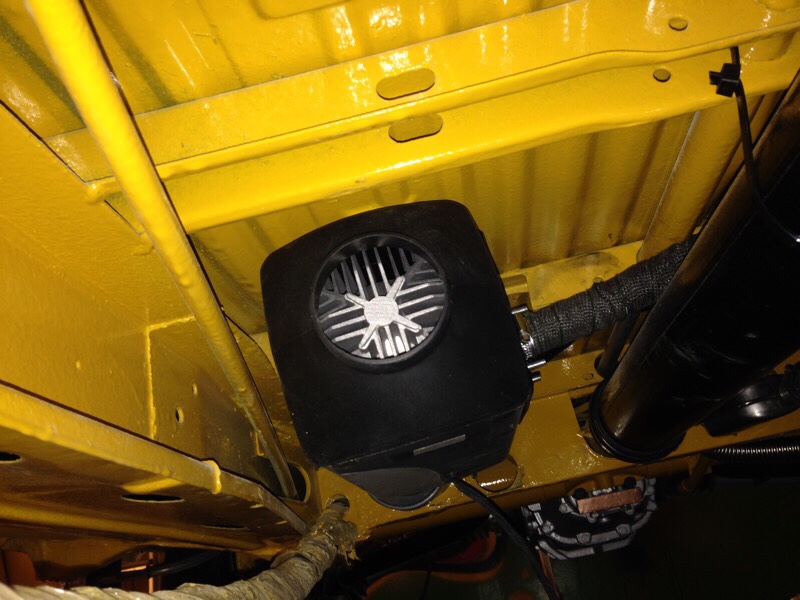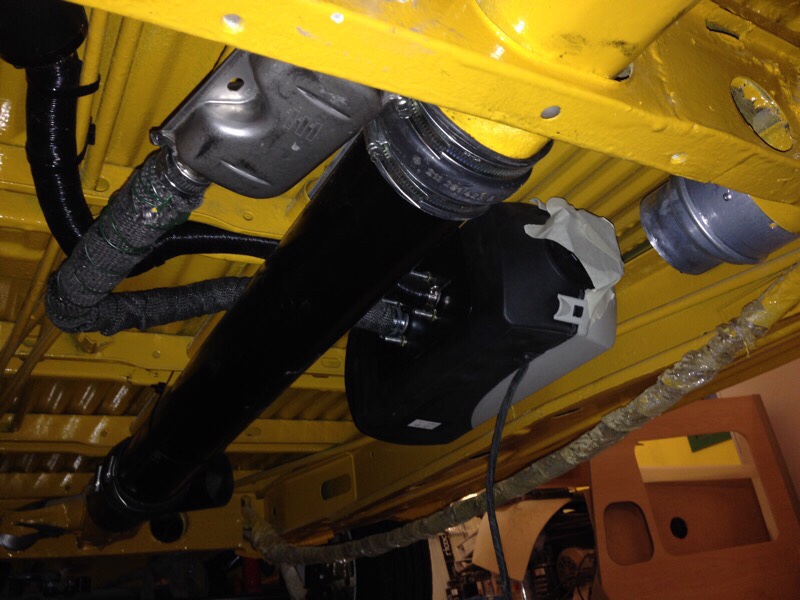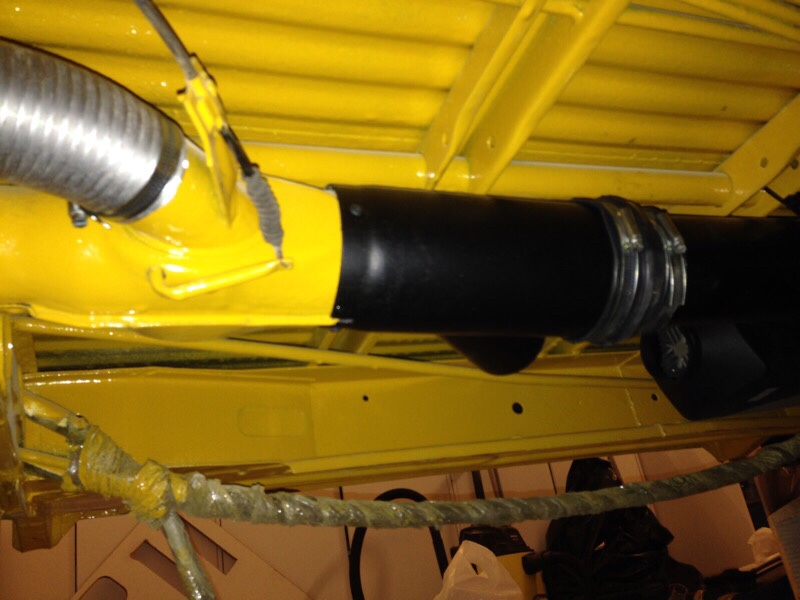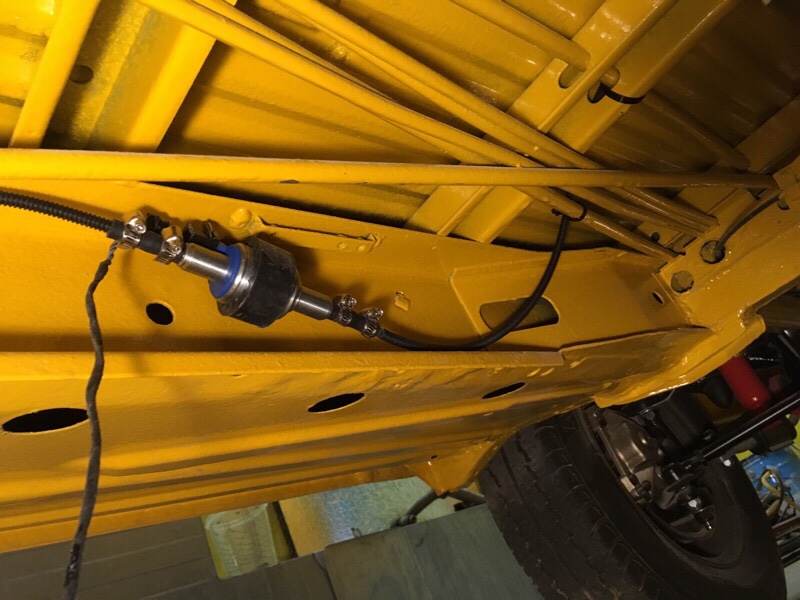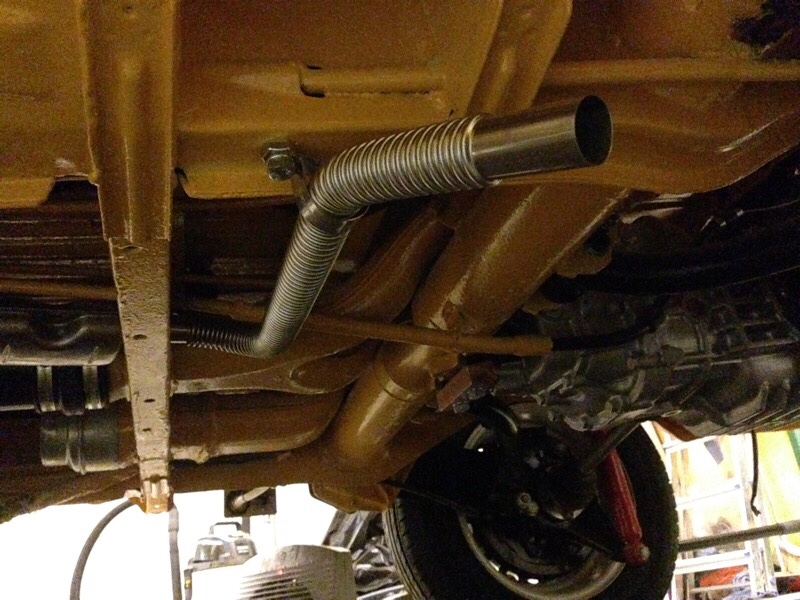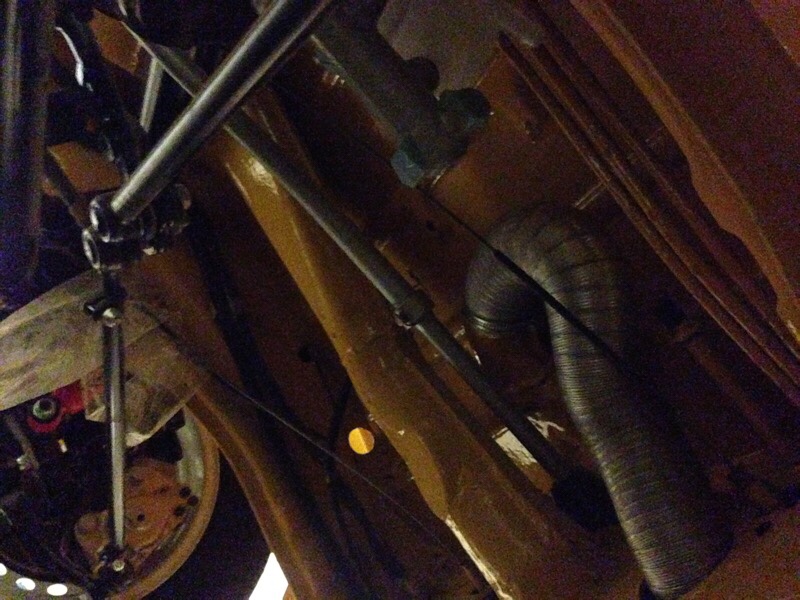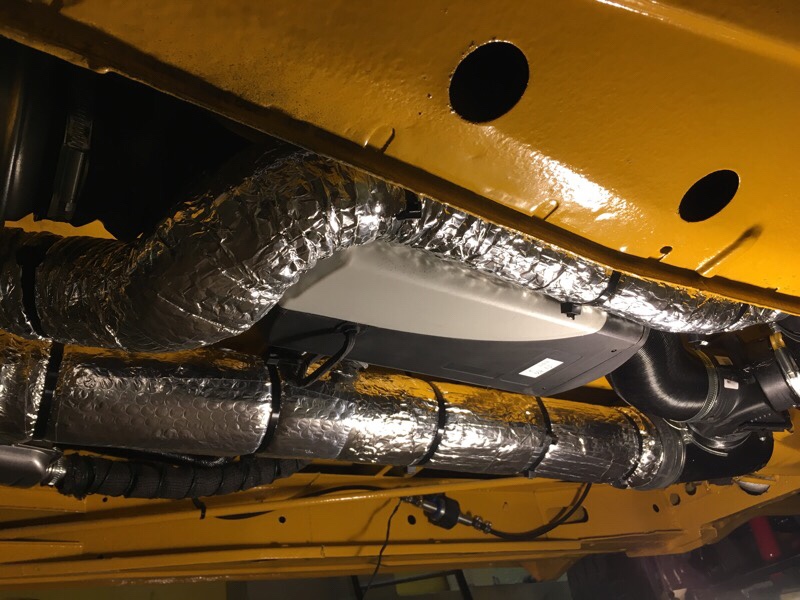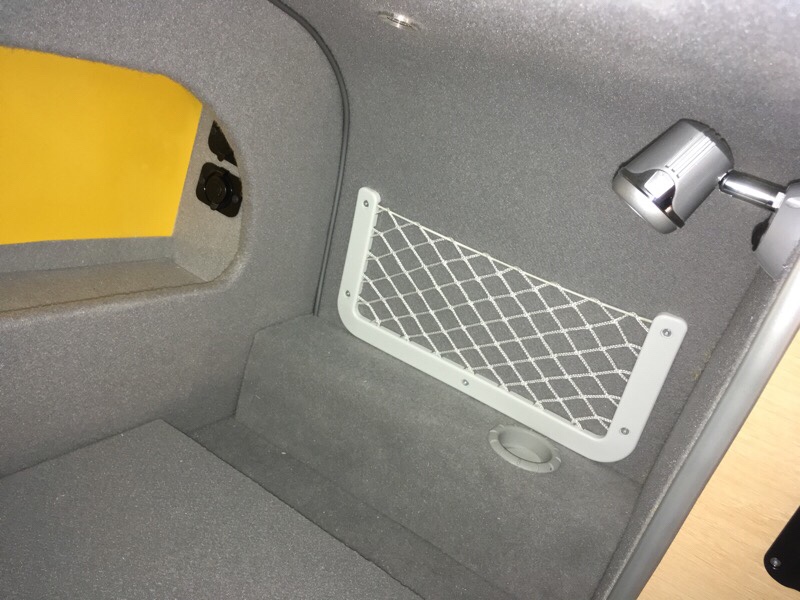 Have been routing waterlines, electrics, wires, 12v DC USB outlets, 240v hook up socket, inverter with pure sinuswave, batterycharger, thermostatic ventilation roof fan, controlpanel with automatic fuses, LED spotlights, Gasoline heater BA6 enerspracher, extra fridge fans with thermostat control and much more.
Rock n roll bed/sofa is done with 45 liters freshwater tank underneith. Sink is finished with water inlet hot and cold. 12 liters greywatertank (if using water parked on camping or in city) Also have a outlet valve so it can be emptyed if parked in the woods.
Overhead locker is almost finished also, that will have a ton of storage. And will also have controlpanel integrated and space for future solarpanel controllers ect.
More to come soon, next to do is installing headliner/roof before overhead locker goes in. Also all electrics in roof (fans, spotlights, 12v outlets ect) need to be done first!
Piece by piece it's coming together! I Have been fixing with the bumpers and wheels lately. It have all been sandblasted, welded, epoxyed, sanded, primered and painted in same white as the roof. Really starts to come together now, some light in the tunnel. But still lots left to do, here is some new pics…
#highroofbayproject
Have now started with the interior on the Highroof bus. Have put sounddeadning mats in floors and doors, sprayed it all with wax for rust protection. Then added insulation (Refectix) a material of aluminium with plasticcells of air in middle. NASA came up with this tecnology when insulating spaceships actually! After this I put some extra 5mm insulation foamboards (green) then 15mm marine plywood and then a new linoleum carpet in Classic checker pattern, went with light grey to match the grey details on furnitures. The furnitures itselfs is in Light Oak wood finish (laminate). I built it all in a special extra light plywood 15mm. This interior is gona weight nothing!! And thats great in a slow VW bus, all the stuff thats going to be loaded in the cabinets are heavy enought 😉 The kitchen pod/cabinet is featuring a new Vitifrigio fridge on 48 liters + 2 liter freezer. A new small owen in stainless that will be running on 240v (euro). The zink is from a newer crashed/parted out Knaus campervan I bought cheap online. The lid in top is hiding a gastove and the cupboard in bottom will be housing the greywater tank etc.
Still have plenty to do before I can start restoring the 1800cc AP engine.
More to come soon!
#highroofbayproject
Some movies from this summer with my VW Samba splitbus. Follow: @campersontour at Instagram for daily pics!
So the Highroof is now painted at last, in Marino Yellow VW L20a, period correct for 1975. It have been a ton of work and to get that yellow color to cover the bus needed to be painted 4times/coats. That because all yellow (and sometimes red) colors have less pigment than all other colors.
Now the fun can begin, mounting on all new parts like lights, handles etc! Next step will be to start with the interior and begin with insulation in walls and floor. Would be nice to have the most done on interior and exterior until fall so the winter can be focused on engine build and install etc.
More pics coming soon!
Lots of work have been done lately on the VW Baywindow Highroof! Whole roof have been finished in California White color. All doors and lids have been painted on the insides and then fitted back on the body. All panels are now sanded in 800grit and ready for toppaint in VW L20a Marino Yellow!
#highroofbayproject
Movie from this weekend with the VW bus. Fore more follow: @campersontour at Instagram.
Started to disassembly the VW Baywindow Highroof engine this weekend. A stock Type 4 1800cc AP case (no hydraulic lifters) and dual Solex carbs. Going to be rebuild from ground up and get some extra performance parts for even more torque! Plan is to resurface the heads, 96mm Porsche 914 cylinders, better carb setup and a better flowing exhaust system. Probably going to keep the stock camshaft ratio, because it gives maximum torque already around 2200 RPM, wich is perfect for a heavy bus and hills.
The engine was already unbolted when I got the bus and I did not know anything about it, more than it was a AP 1800cc VW type 4. I saw it was cleaned a little bit and the cylinders looked to have new paint on them. So somebody have started to restore it was my guess. But I saw that the lower cylinderhead cooling thins was missing, so I got a little suspicious about how good restored it really was going to be when important parts like that not was installed back. Hmm!
Here is some new pics…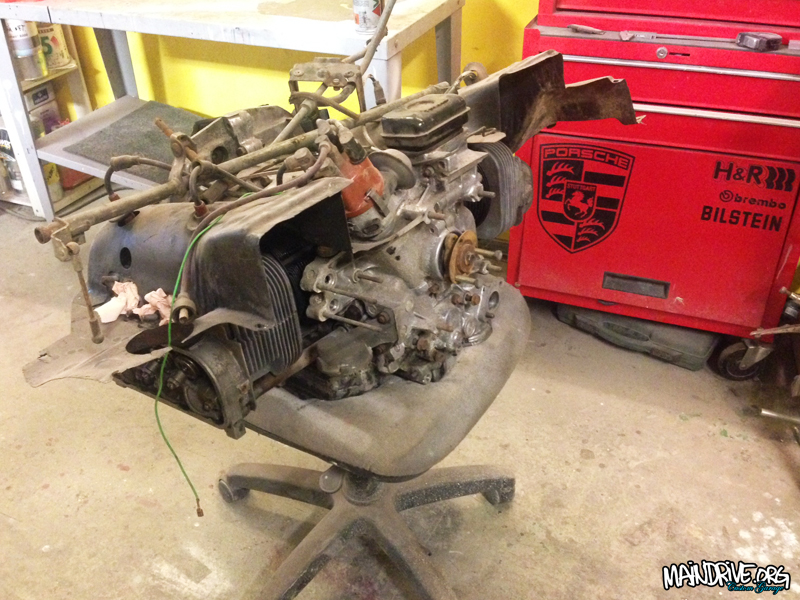 What I had to start with. Dirty old lump!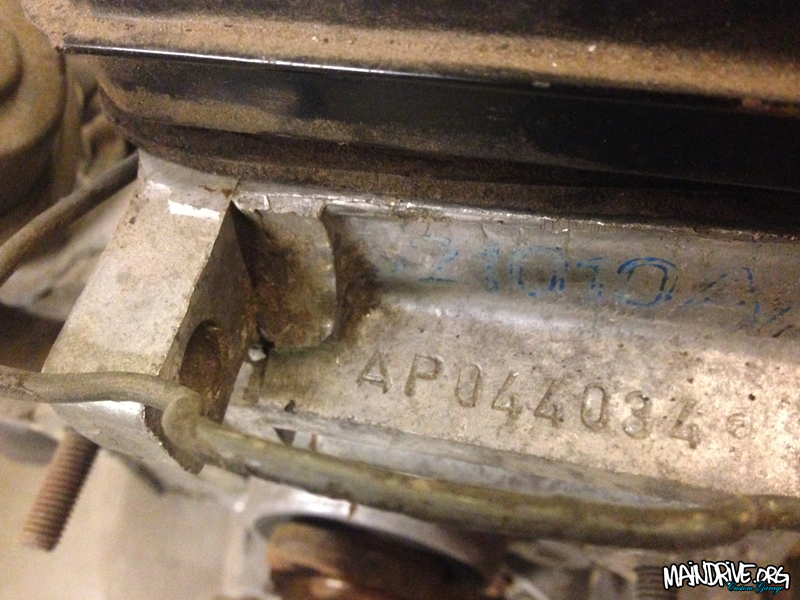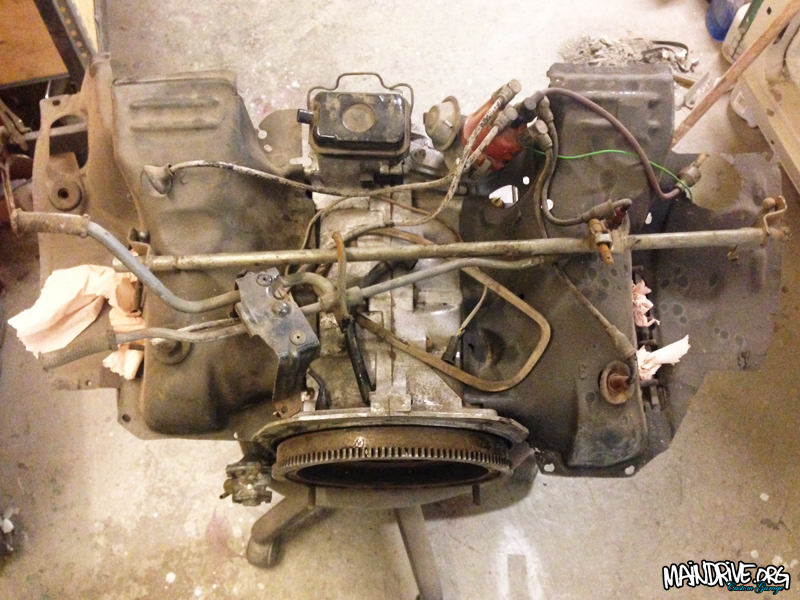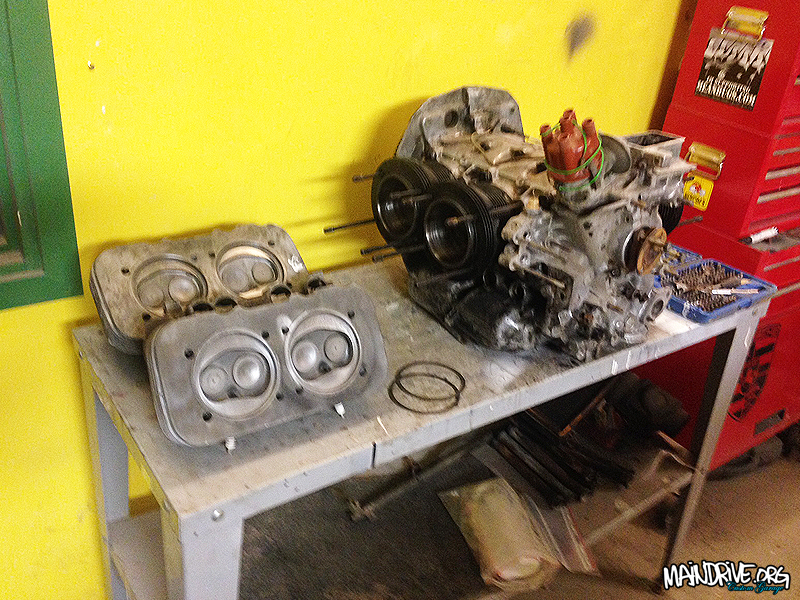 Teardown started, cylinderheads is off! Something have happend in cylinder nr 1 at some point. It had small marks and dings on the combustionchamber and on top of the piston. Nothing to serious tho. Maybe a washer or parts of a valveseat? One of the valves was new too. Funny thing is that the piston that had marks was now installed in cylinder nr 2. Not a good thing to mix them up on old used cylinders. But doesn't matter now since I will replace them with all brand new 96mm cylinders and pistons.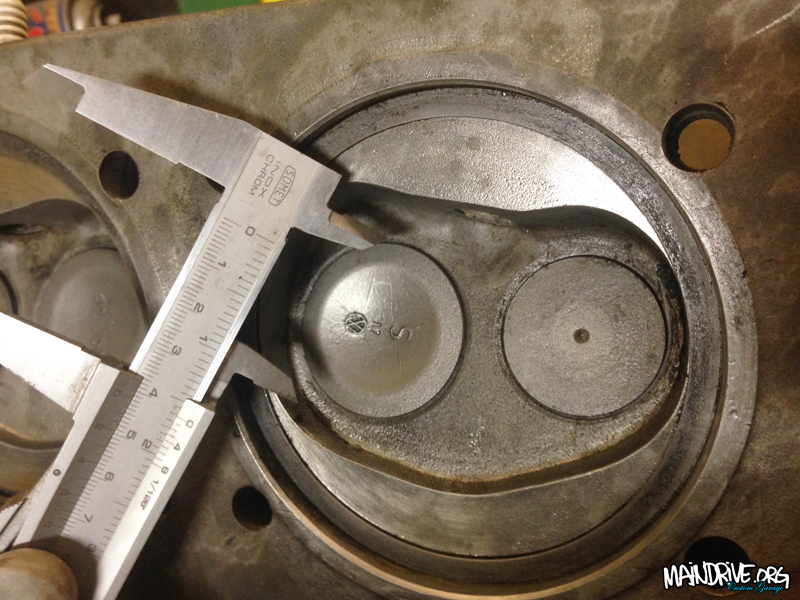 The good thing is that the cylinderheads are the ones with partnumber ending with an "S". And have the biggest valves VW ever put in any bus! Intake 41mm and exhaust 34mm. Bingo! Only Porsche 914 had bigger, and they also had a different angle on the sparkplugs for better performance/combustion. Heads will get rid of the headgaskets, resurfaced 0,5-1mm, new valve guides, new machined valveseats in a better material (Type 4 engines are famous for dropped valveseats) and new valves and new springs etc.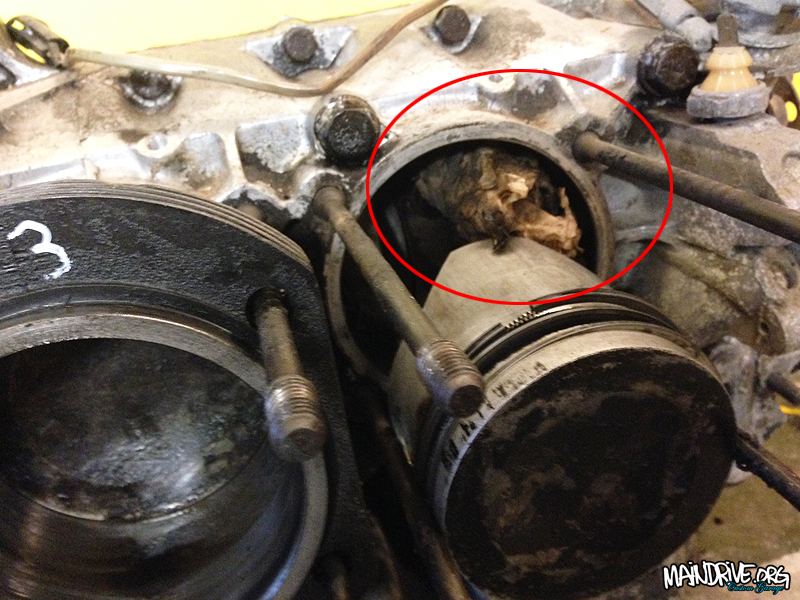 When I pulled of the nr 4 cylinder I found a rag inside the case(!) Somebody probably forgot it there. Ig the engine had been started up it would not run for a long time thats for sure! It was now confirmed that a total crackhead had restored my engine before.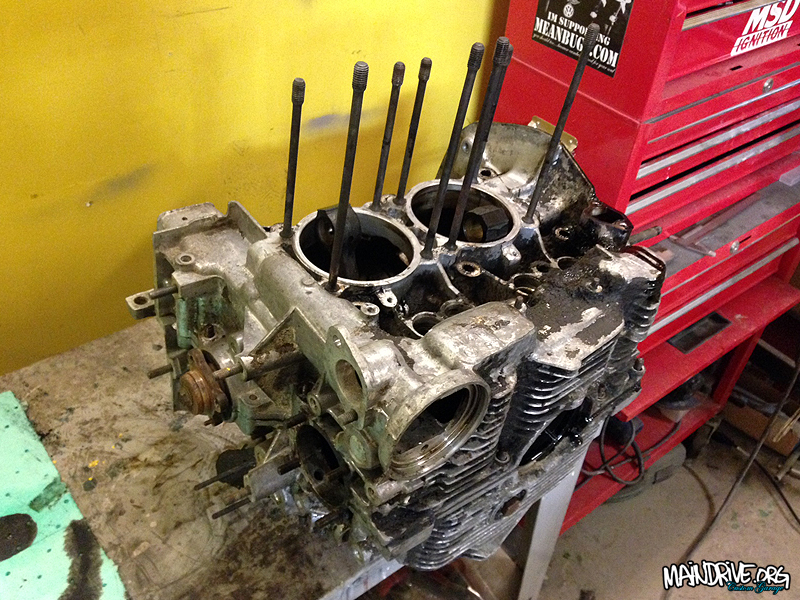 Everything removed and all bolts and washers etc. Ready to split!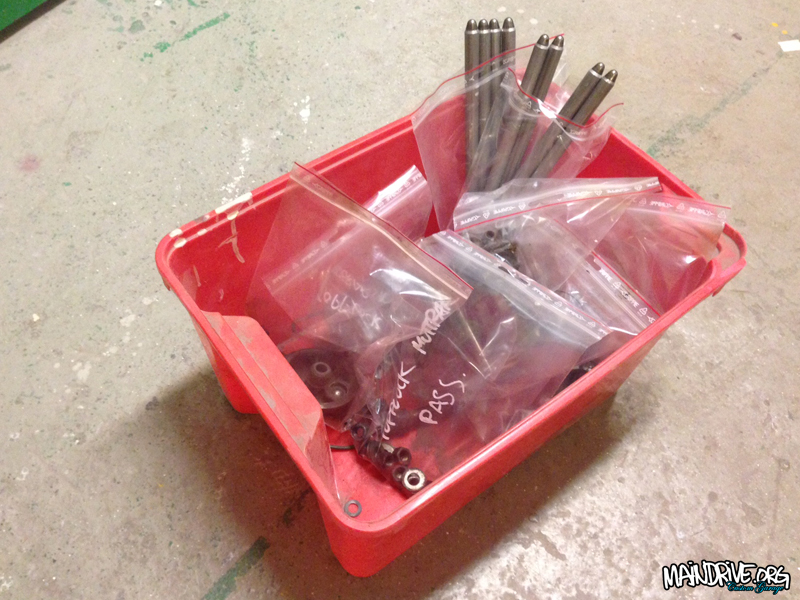 Every part labeled and bagged, keeping it organized and clean is a must when building a motor.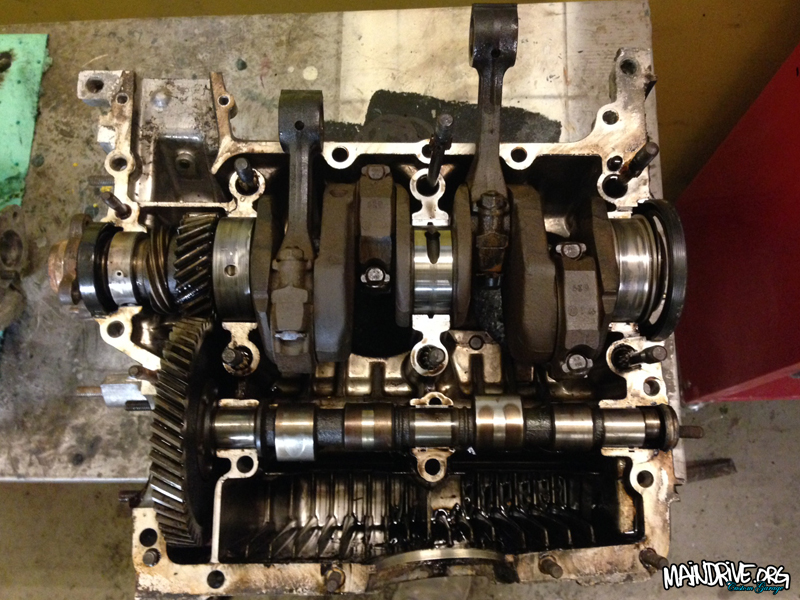 Inside of a VW type 4 engine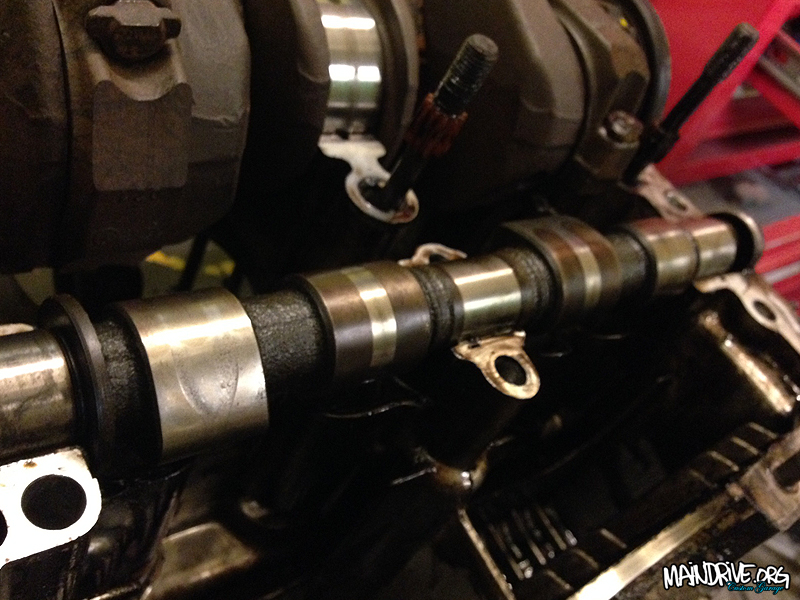 Camshaft totally shot! And nr 1 cambearing was worn down to the copper. Camshafts are almost never in good shape on the Type 4 engines, even worse on the later ones with hydrauliclifters. Highpressure and not the best design on the cam/followers are the main reason for this.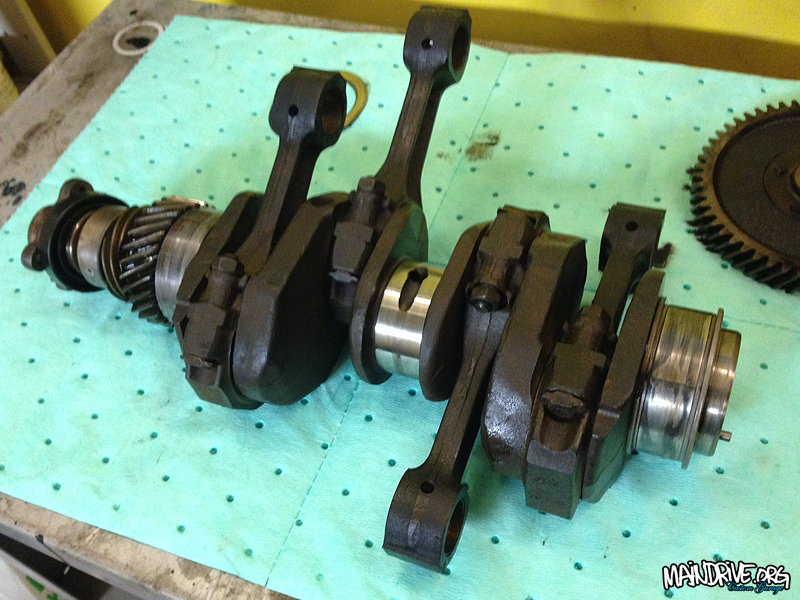 Crankshaft is out and looked to be in nice shape, bearings not to bad either. But will get replaced of course!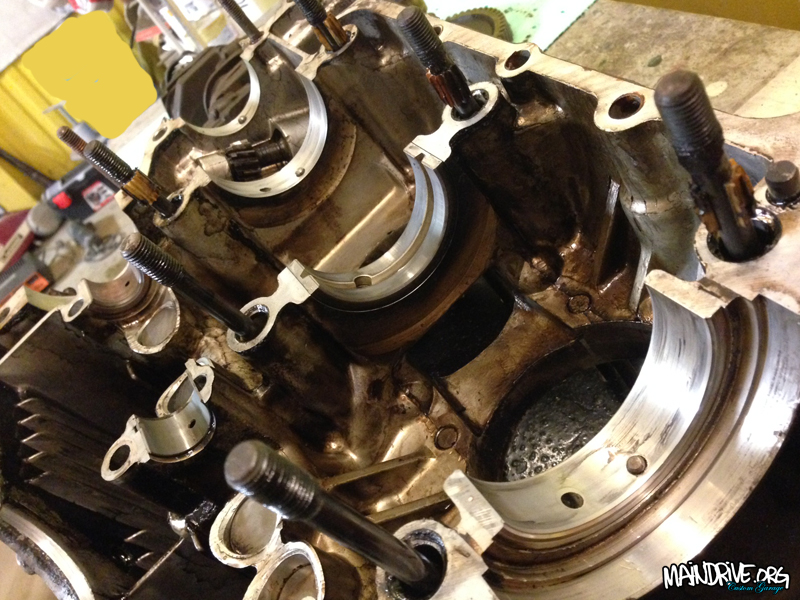 Mainbearings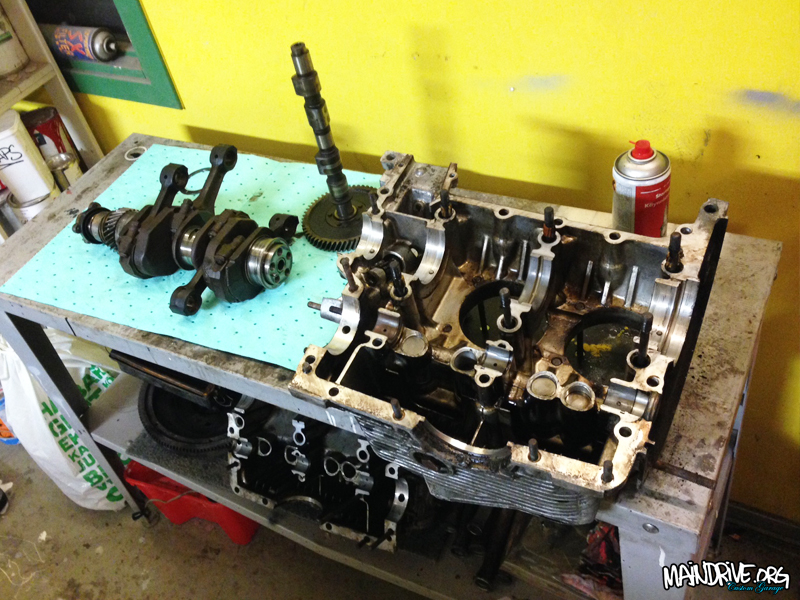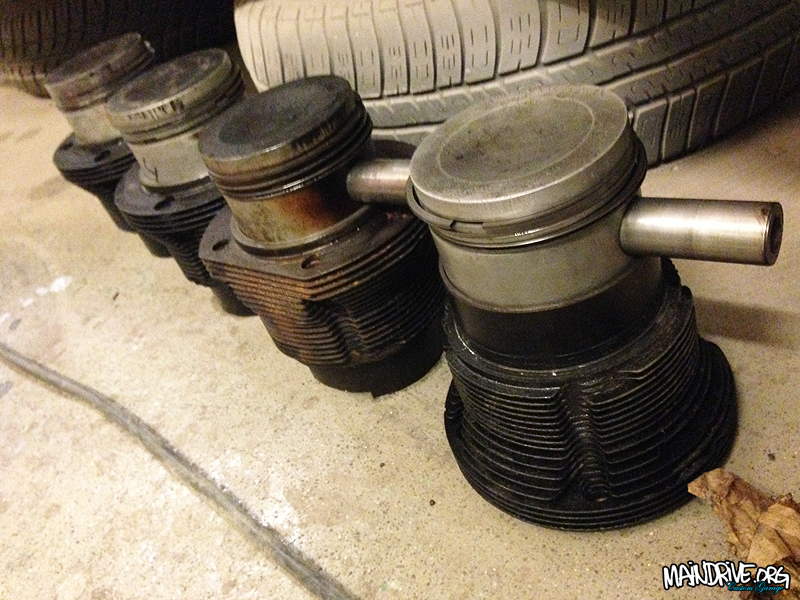 The old 93mm (1800cc) cylinder and pistons, will get replaced with new 96mm and will make it to a 1911cc.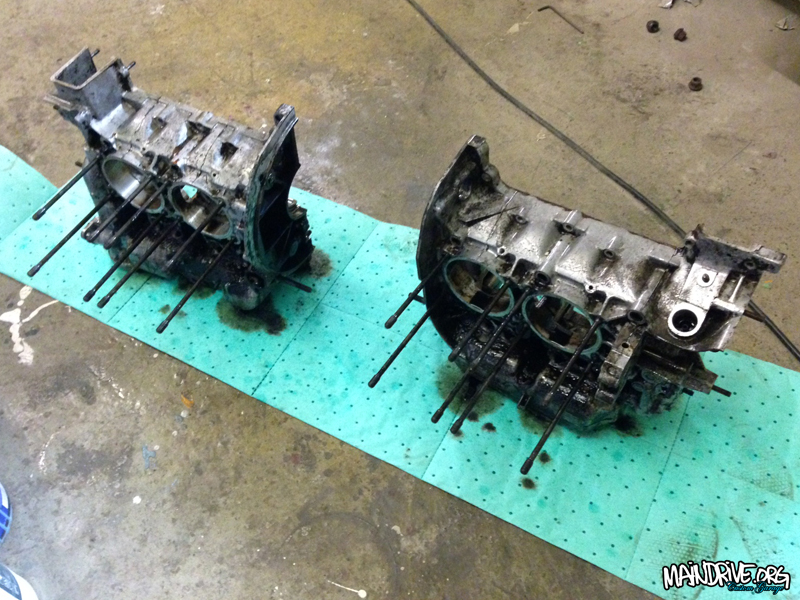 Empty engine halves ready to be 100% clean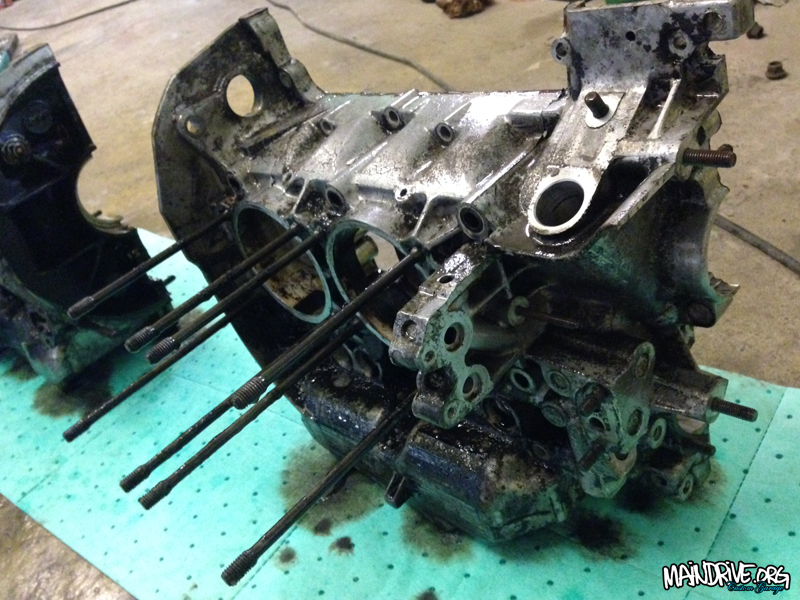 Inspection done, cleaning next on the list. Degreaser and hot highpressure washing etc.