The wiring was a mess (for all equipment) so a new control panel with automatic fuses was installed togheter with new wiring. The 230v wiring (camping power) was also updated with automatic ground fuse and two new sockets with combined USB outlets.
The old interior lightbar was only 230v, but it was a great design so you can flip/turn the light angle. So I took it apart and converted it to 12v with LEDs. An extra LED light with two touch dim/settings was mounted up in the front of the sealing/roof also.
Under the rock n roll sofa I made space for 200amp of batteries (dual 100amp). These I connected to the car/start battery thru a relay, so the car alternator will charge all battery's. These batteries are connected thru Bluetooth to my cellphone so I can see how much power is left and how much is charging. The solar panel (portable 120w) have a quick connection to these battery's. Also the 5kw diesel heater is installed under the sofa. It takes air from outside and diesel from the main tank, and the exhaust is routed thru a silencer and out. It runs on diesel and 12v so it can be used anywhere for a very longtime, no need for 230v power. It has a digital display, and a thermostat so it will keep the inside toasty warm on winter. It can be started thru GSM net with my phone. I routed the heater outlets to the main floor and one to the back/bed. It works great and produce a lot of warm dry heat!
The walls, doors and roof was already insulated with 50mm cellplastic, thats very good! But I had some extra aluminium/bubblefoile rolls that I put inside some of the doors and walls for some extra insulation and vapor barier.
#vwt3overland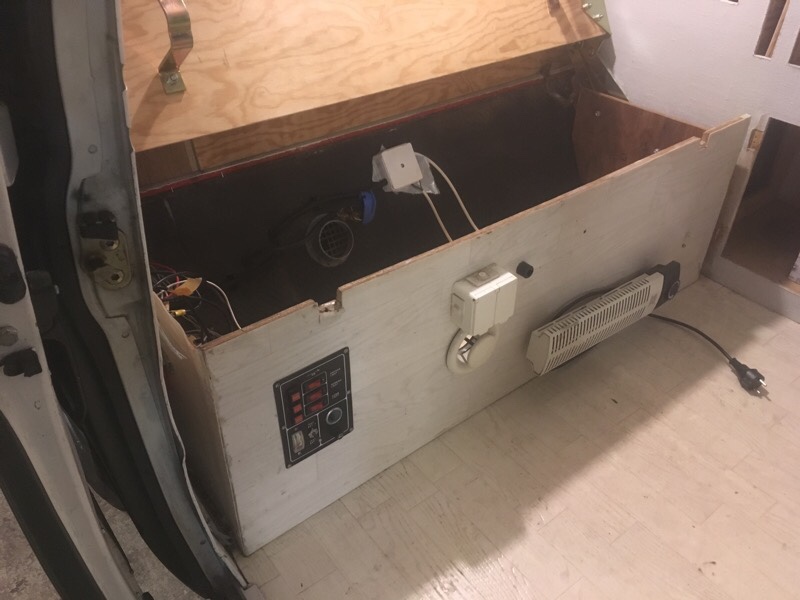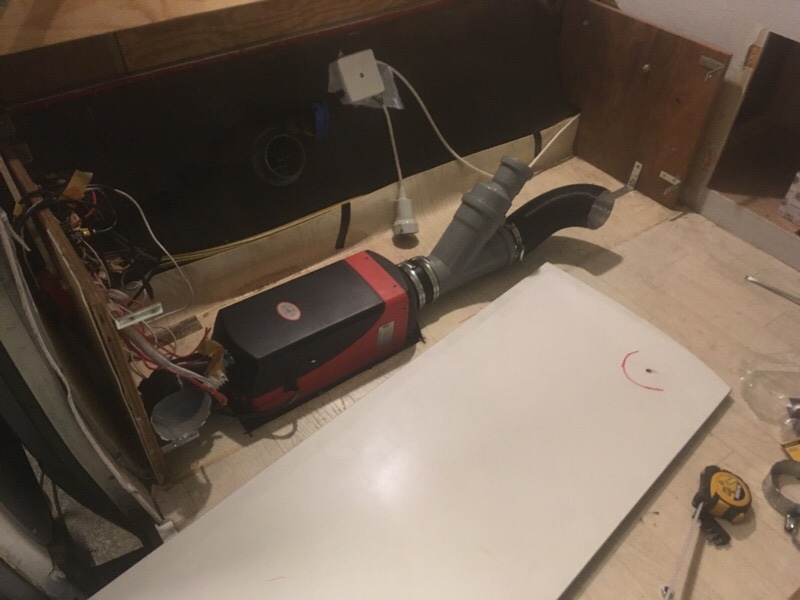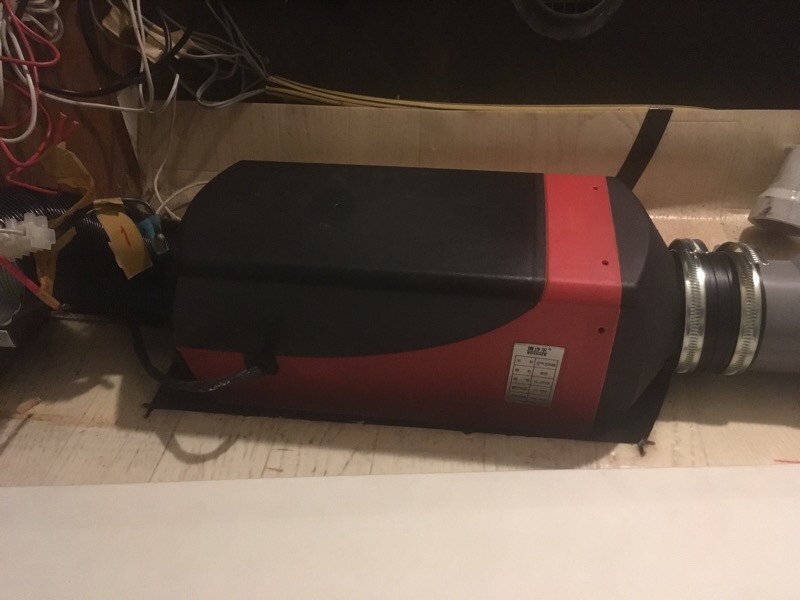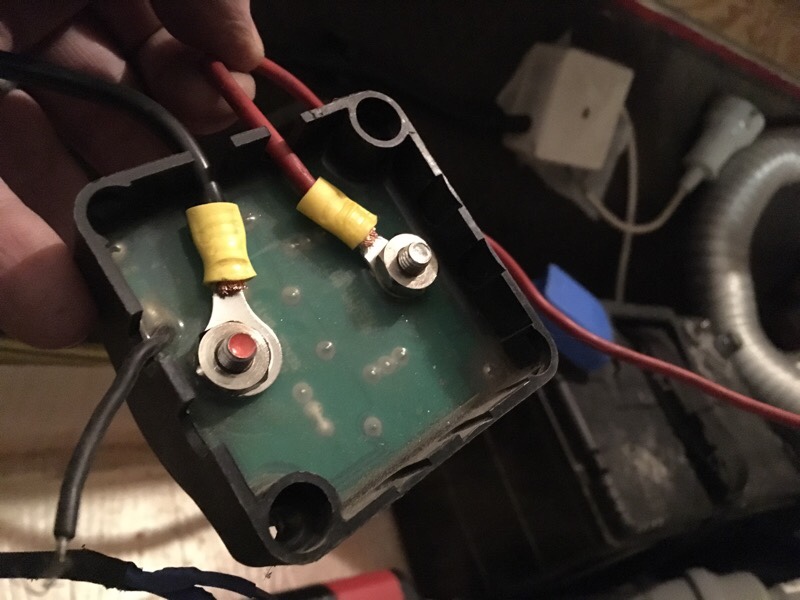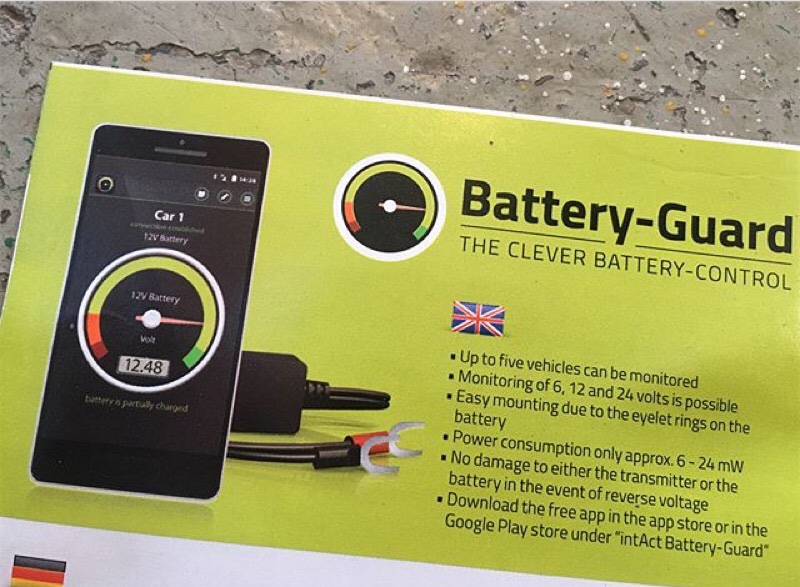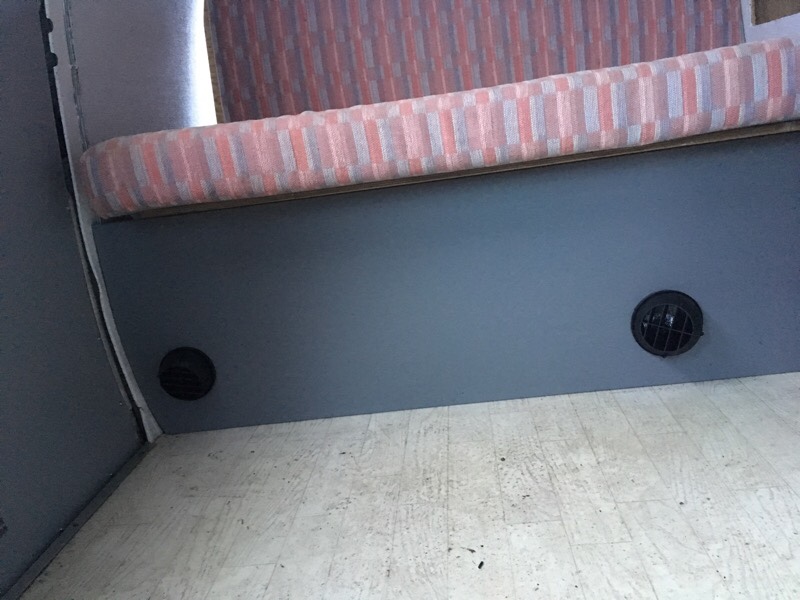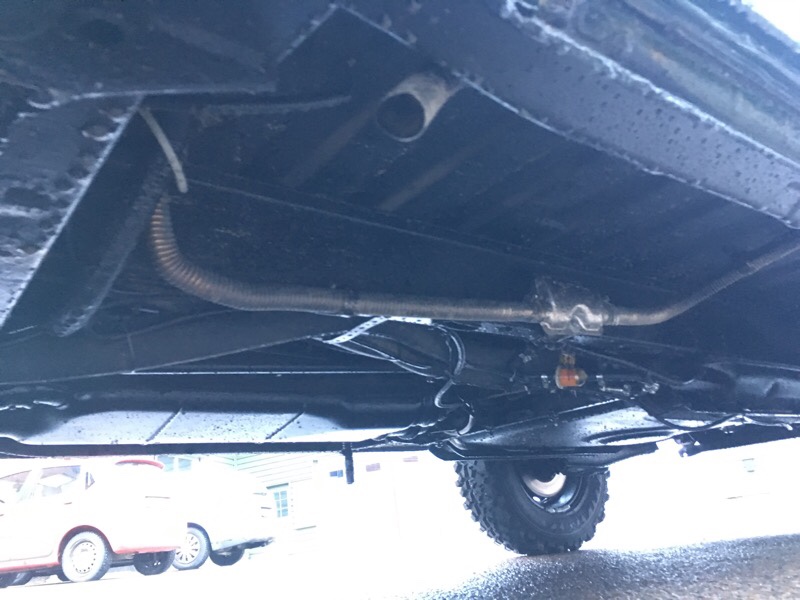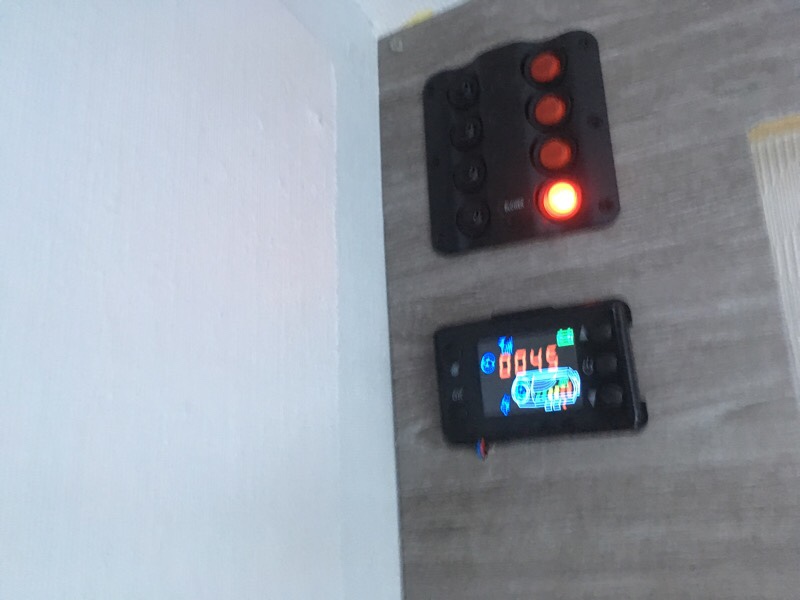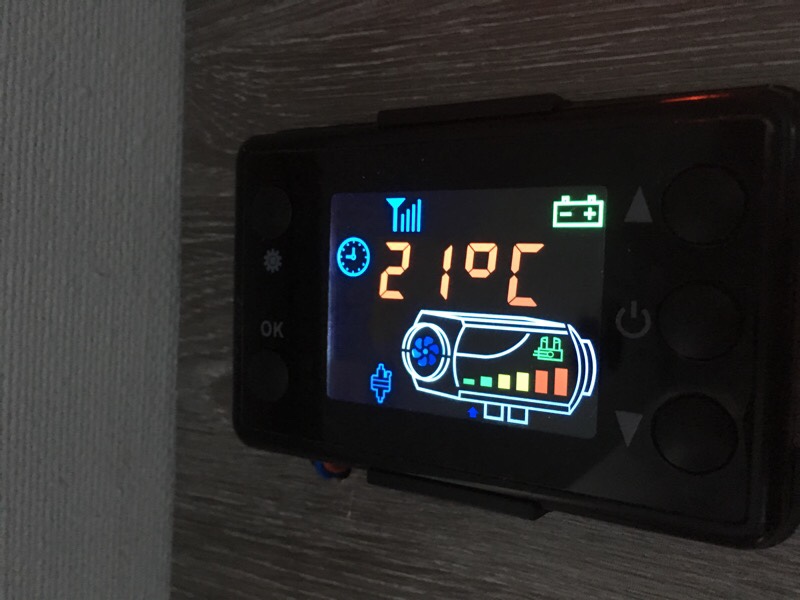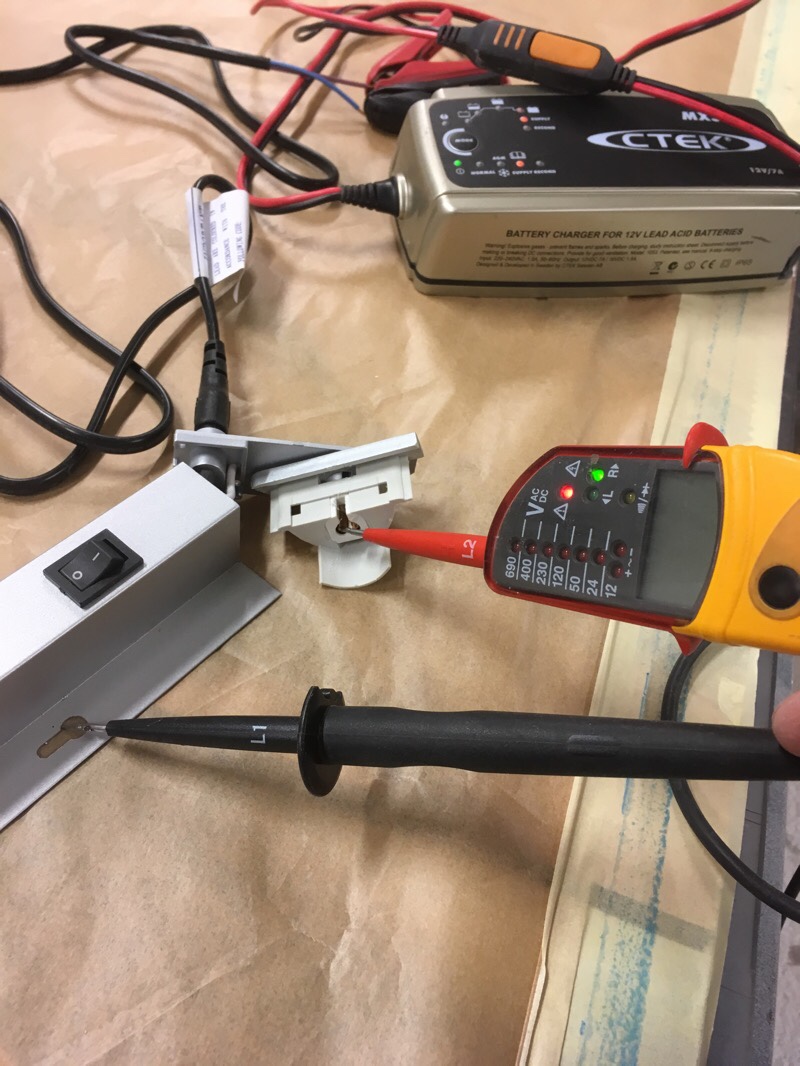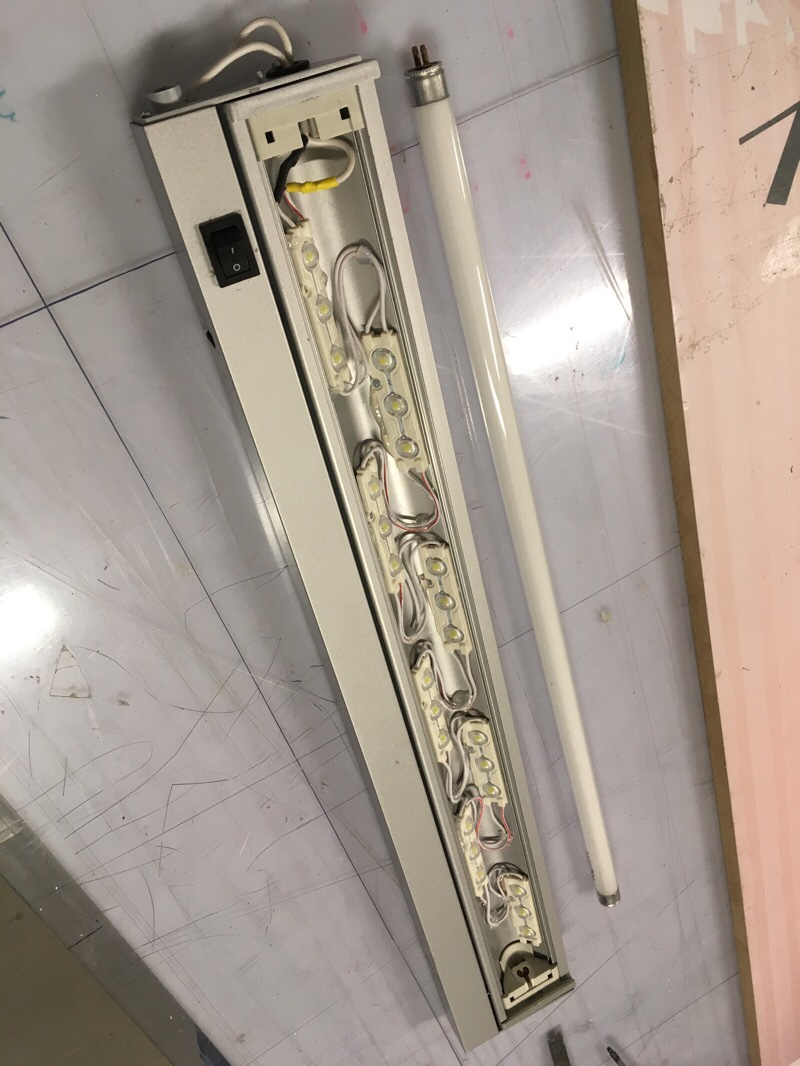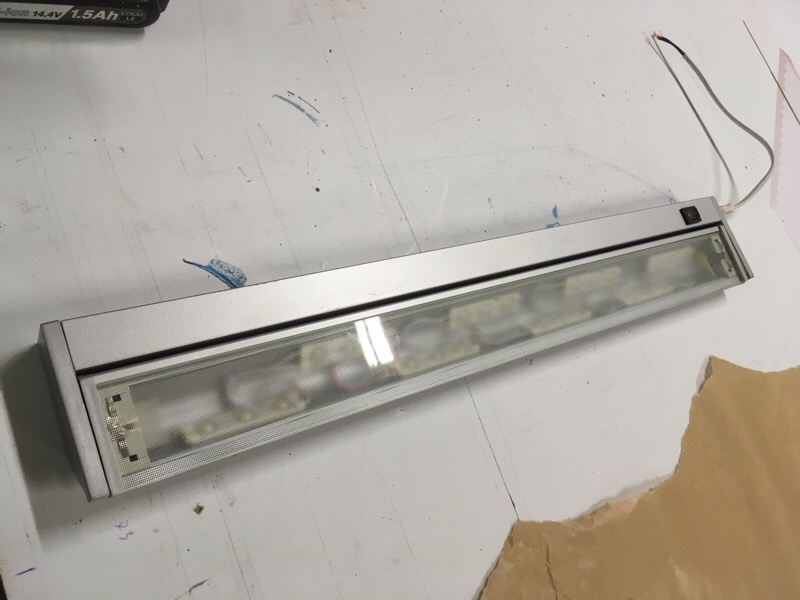 Another generation to the collection, at the moment I now have T1, T2 and T3 buses. This one is going to be the offroad bus and for autumn/winter camping/expeditions 🙂
It's a 1983 Transporter with 1,6 Diesel and 4-speed transmission. It has a ugly camping interior already fitted that will get a refresh/restoration. A Webasto/Planar diesel heater with thermostat will be installed to the interior in future, so you can stay warm on the winter. New 12v fridge will be installed and the gas stove will be replaced with a new small portable gas bottle one.
The goal is to have it pass the MoT / Safety Inspection before the winter comes. The engine starts but is not running very well. It has a new cam, timingbelt, waterpump at the moment. Going to align the timing belt better because it squeaks at lower RPM right now. Also the diesel pump is needing adjustment with special VW TOOL 2066.
Some meaty offroad tires (Malatesta Kobra) have been fitted on stock VW 14″ steel wheels, that was sandblasted and painted. Looks badass now! The diesel tank have been drained on old diesel and a new fuel filter fitted. Also added some anti-bacteria and injectioncleaner to new diesel. New oil (15w-40 mineral) and filter in the engine too. New air cleaner filter added. Injection pump adjusted with micrometer (vw2066) up to 00,95, before was only 00,81. Engine now runs much smoother but need to align the timingbelt before any real test drive can be done. More too come soon…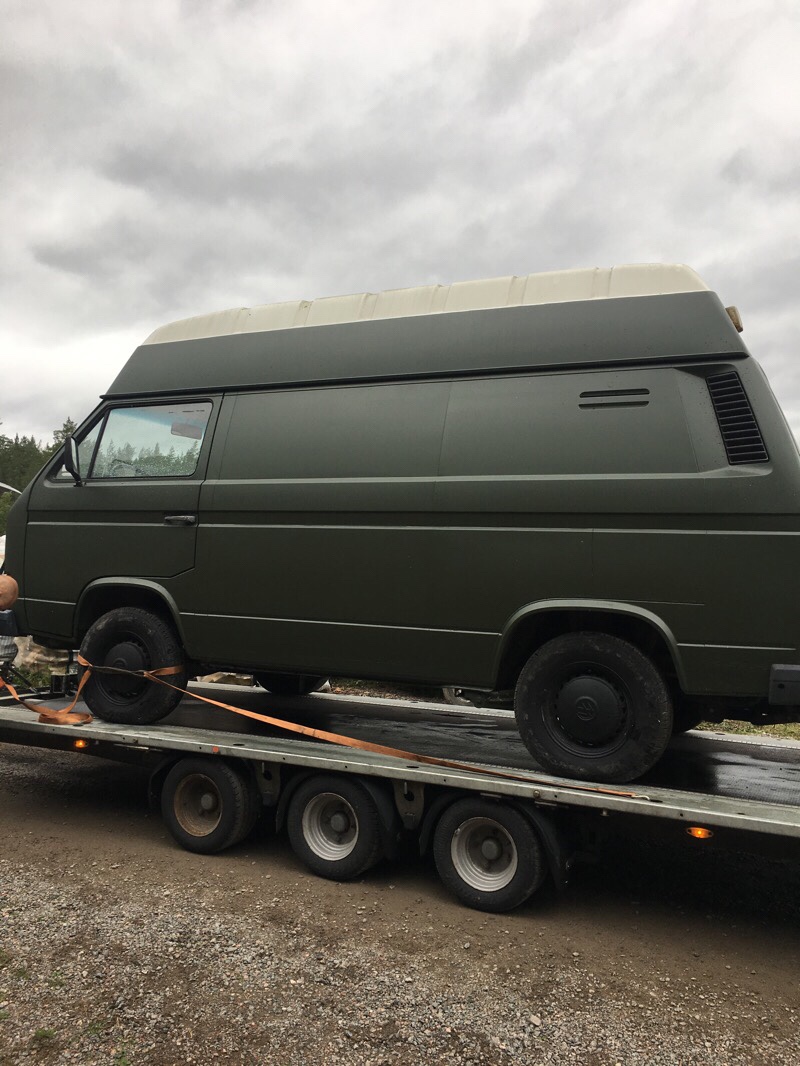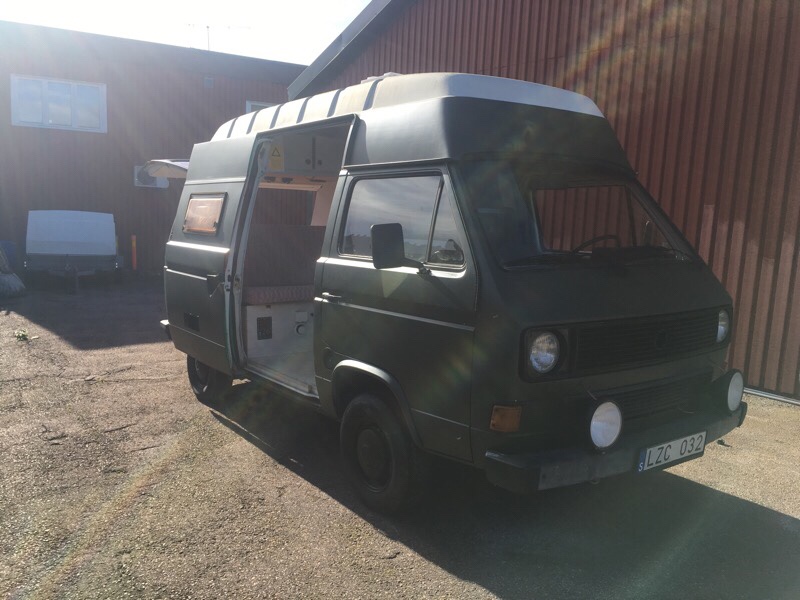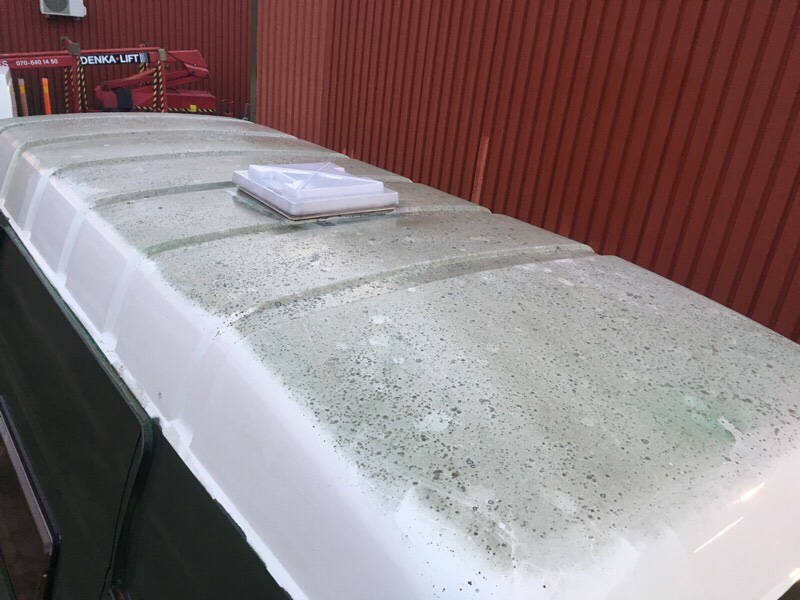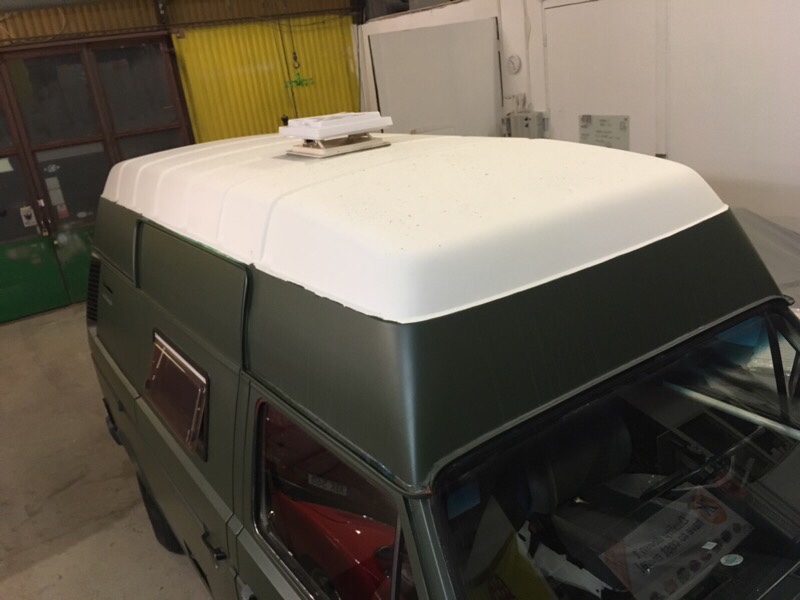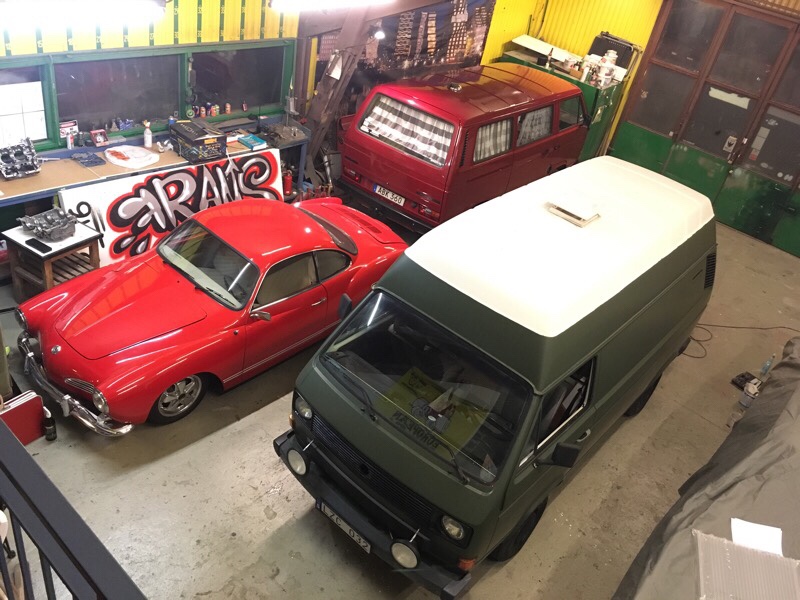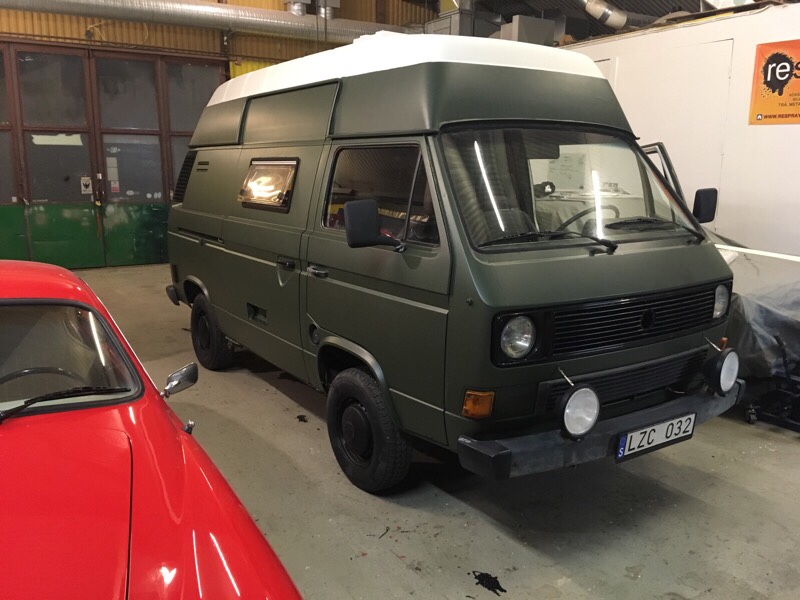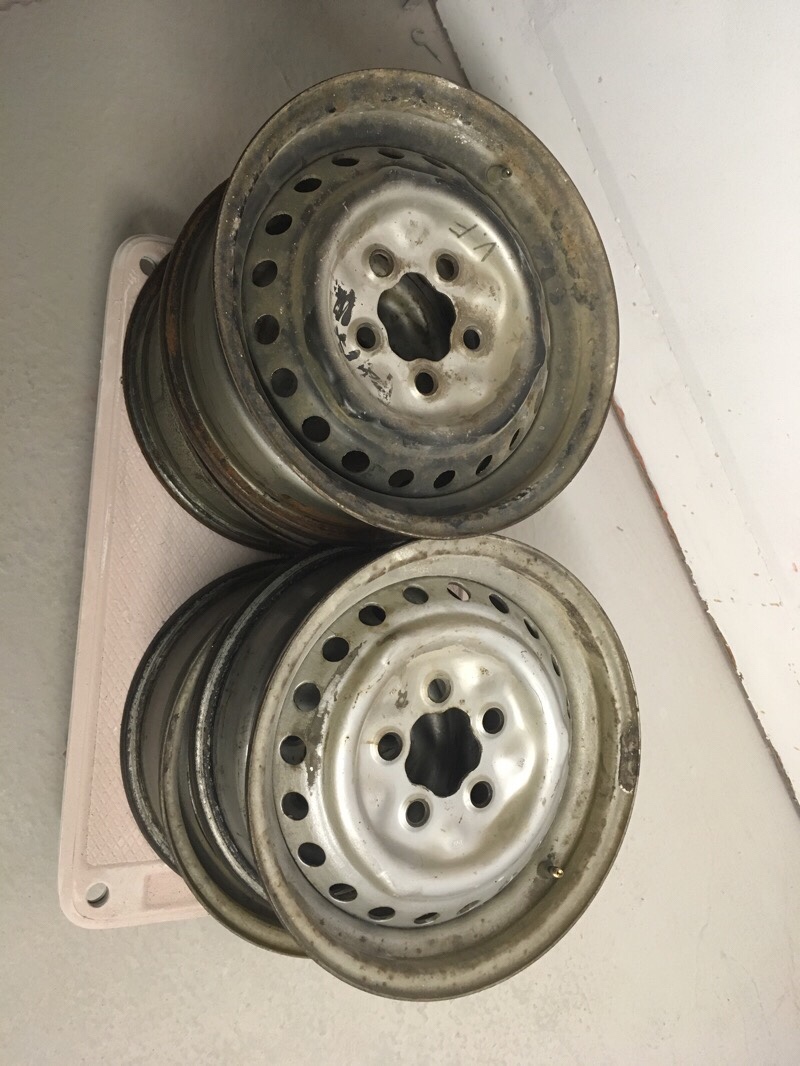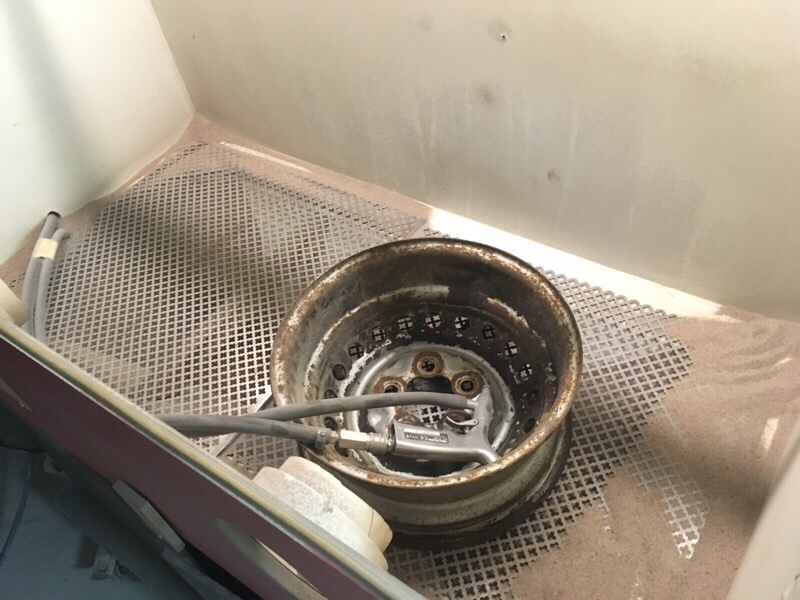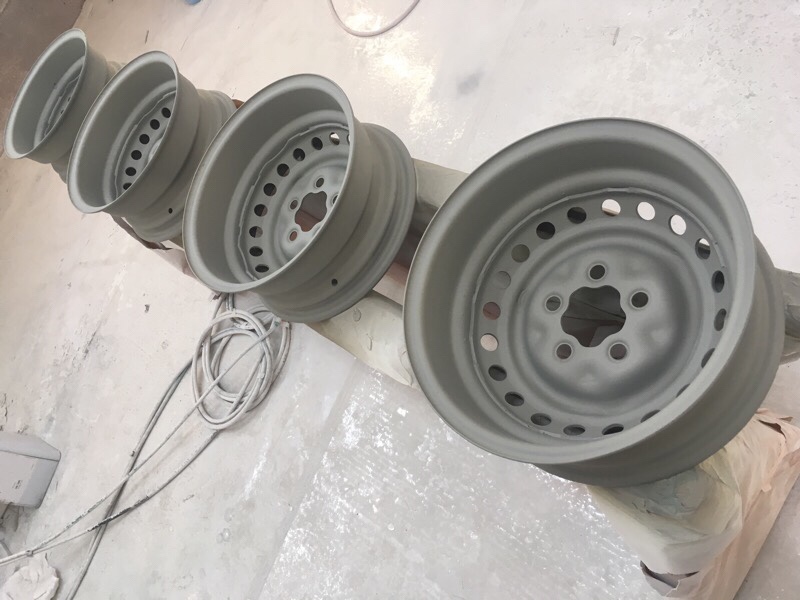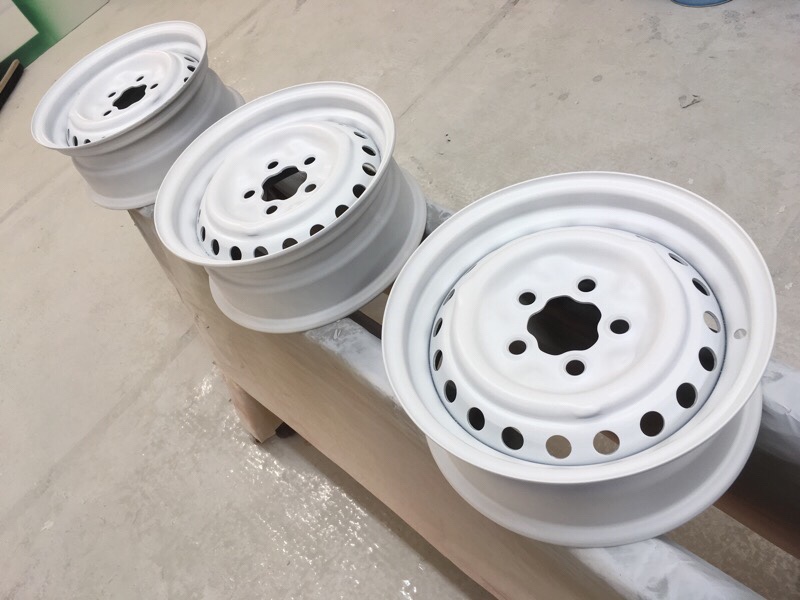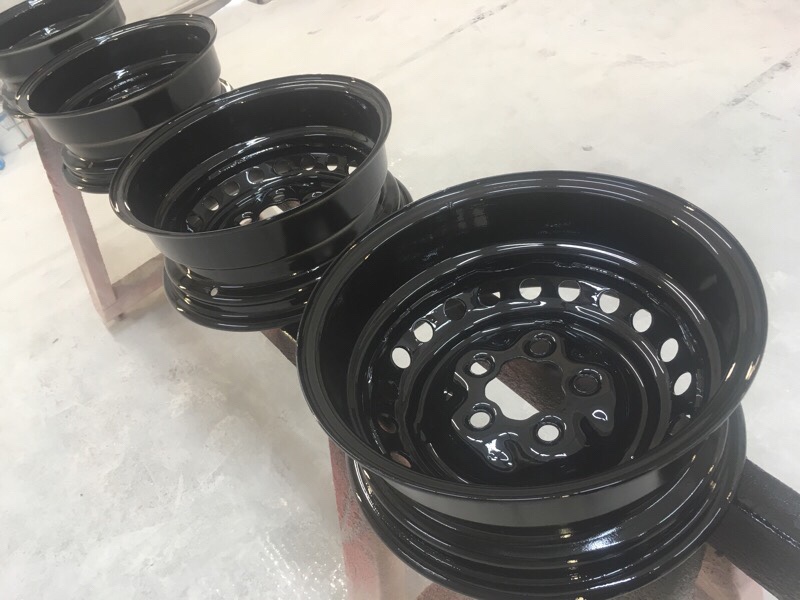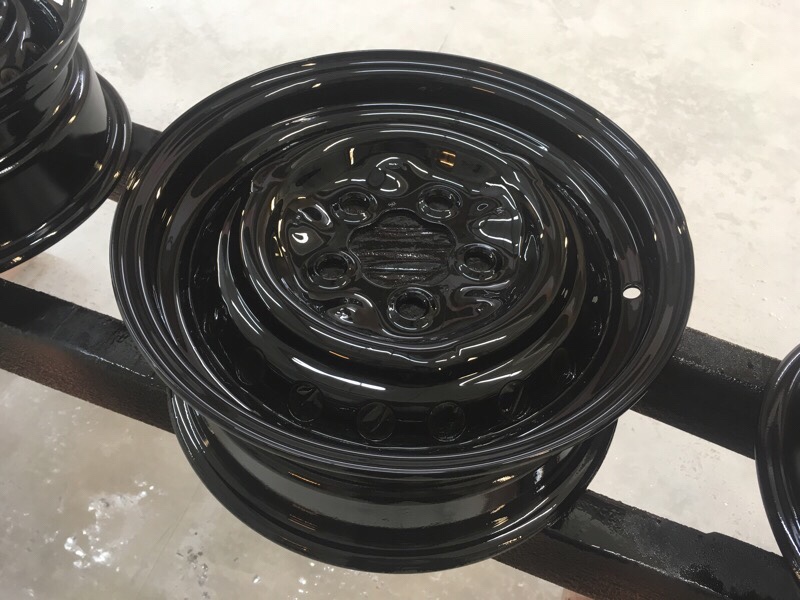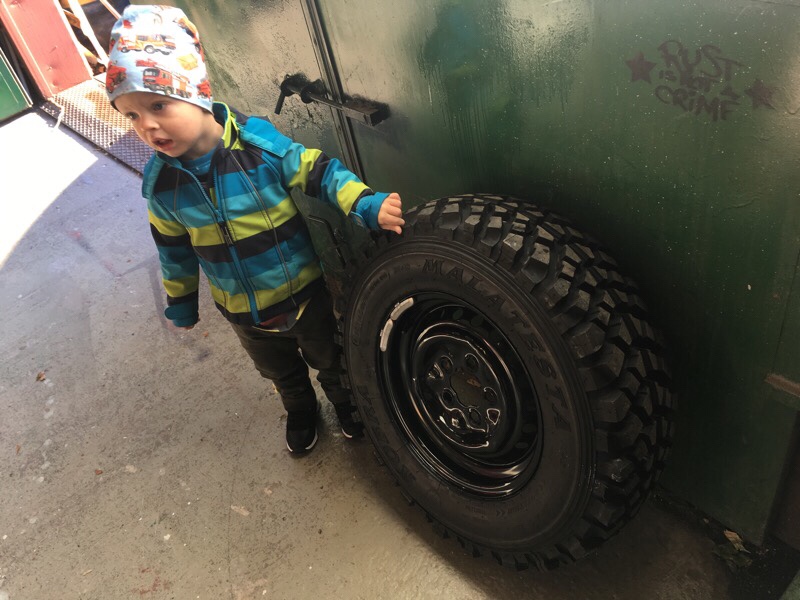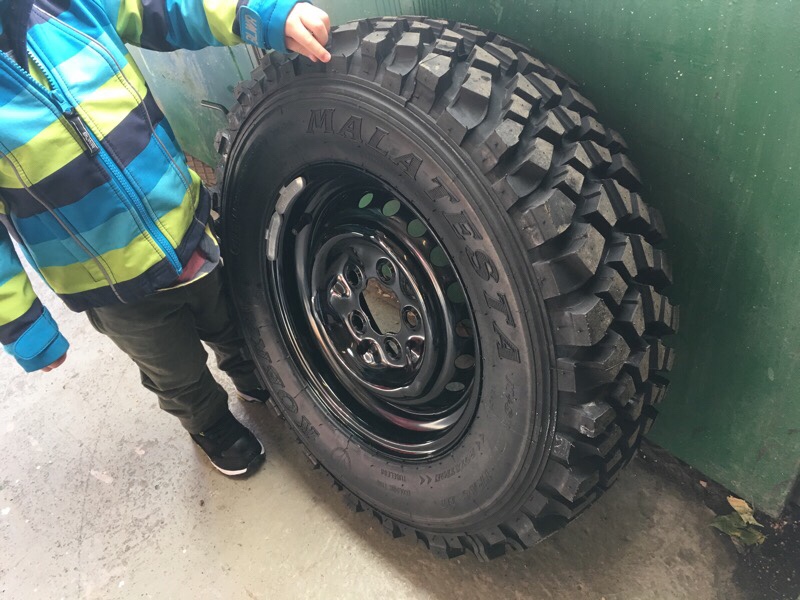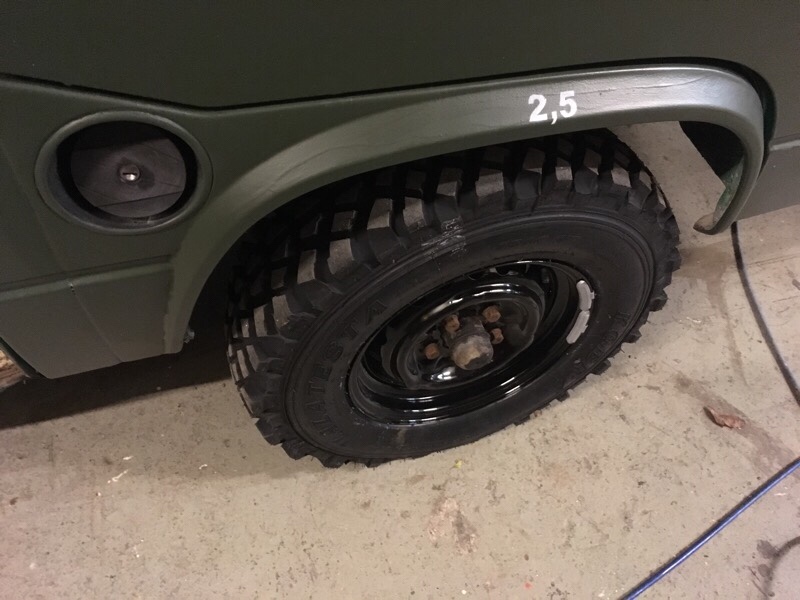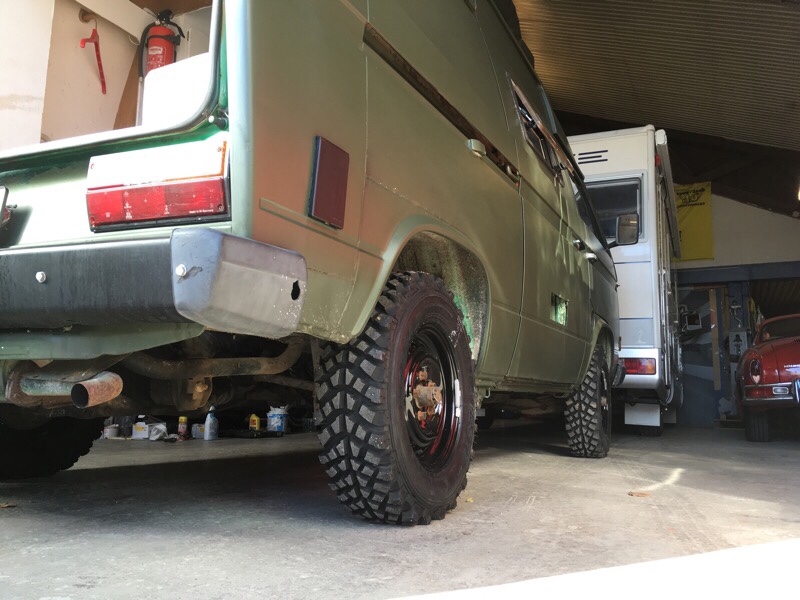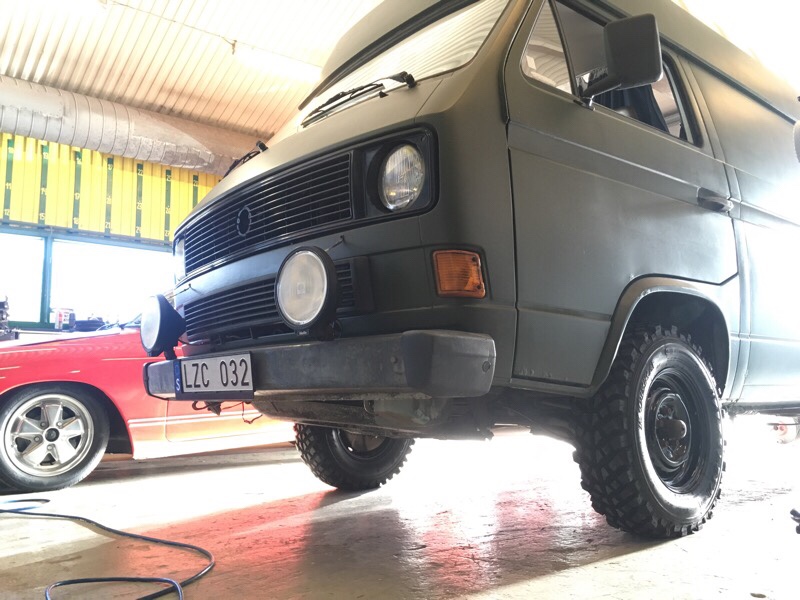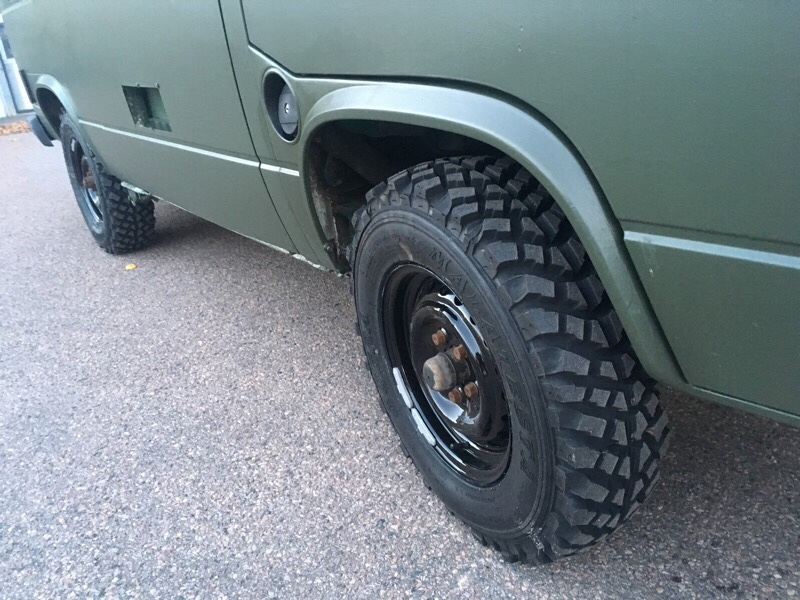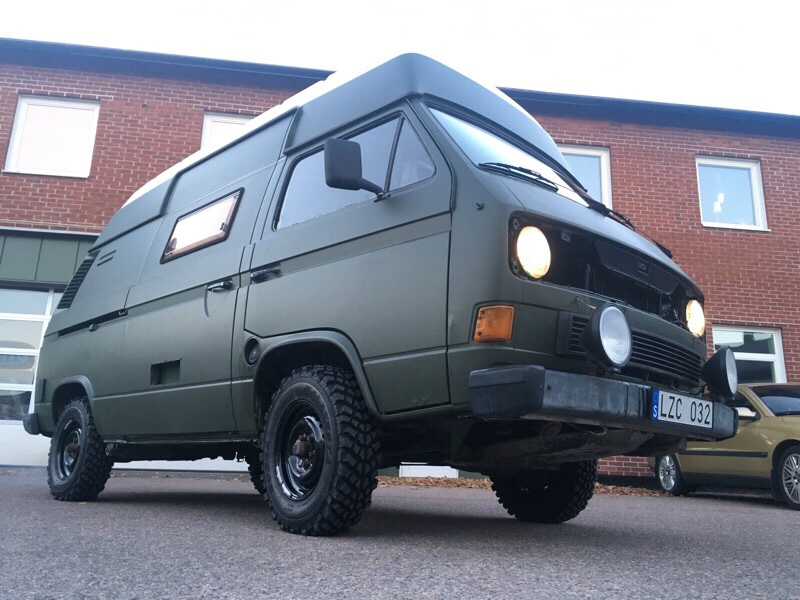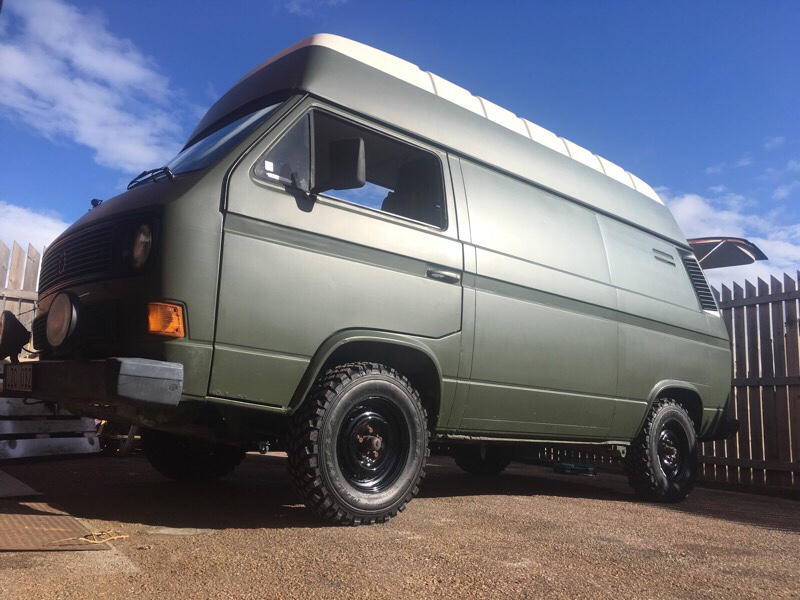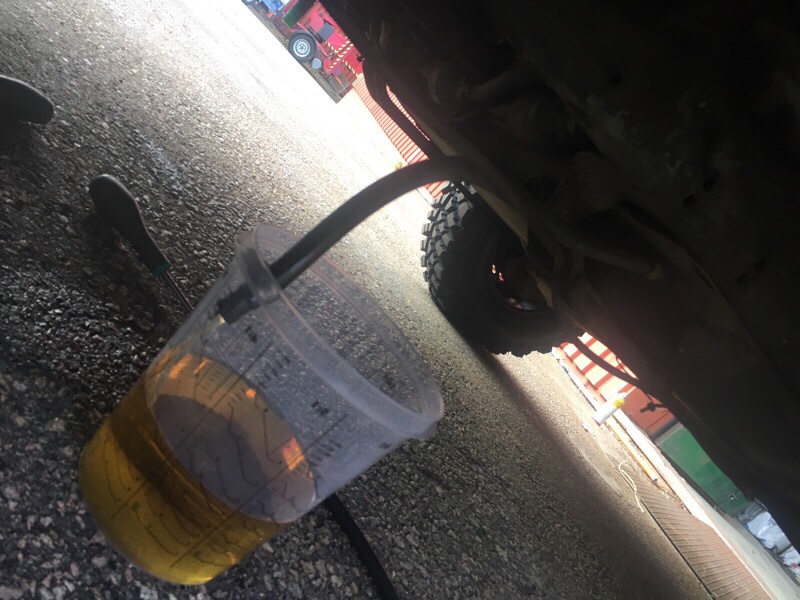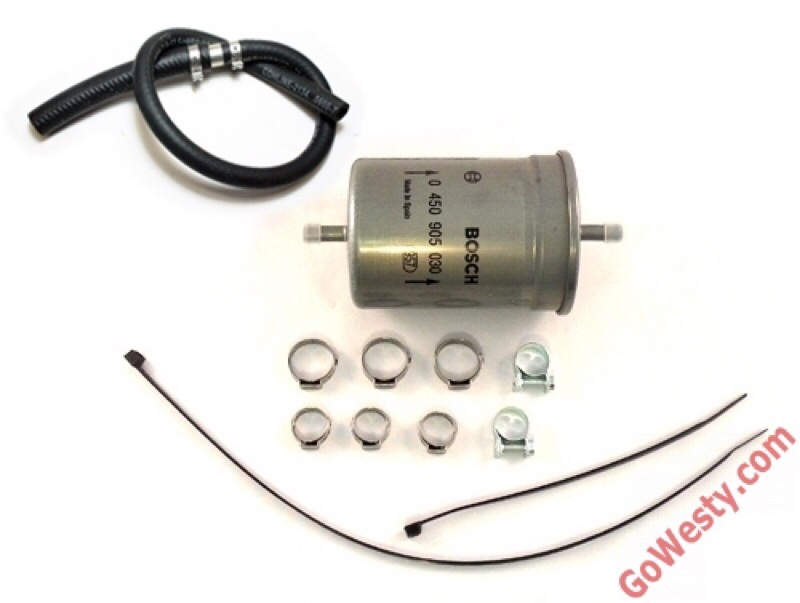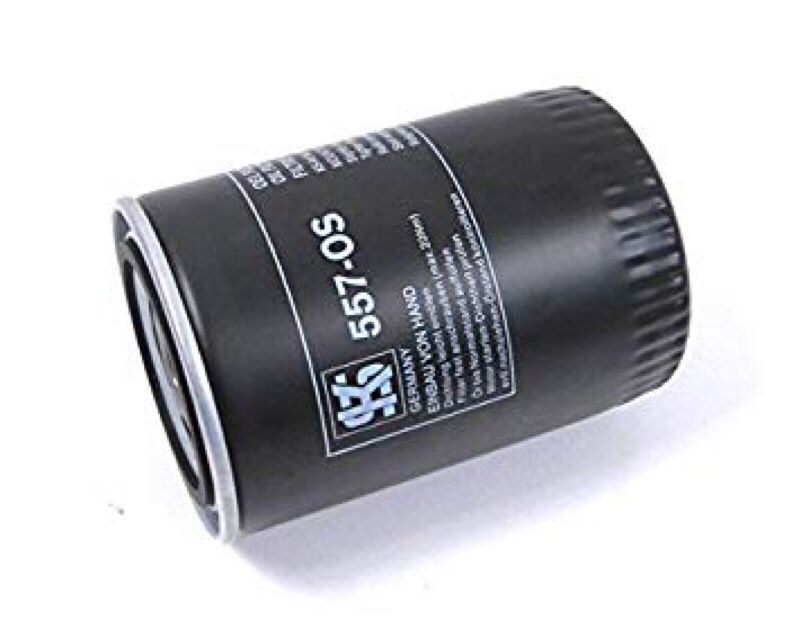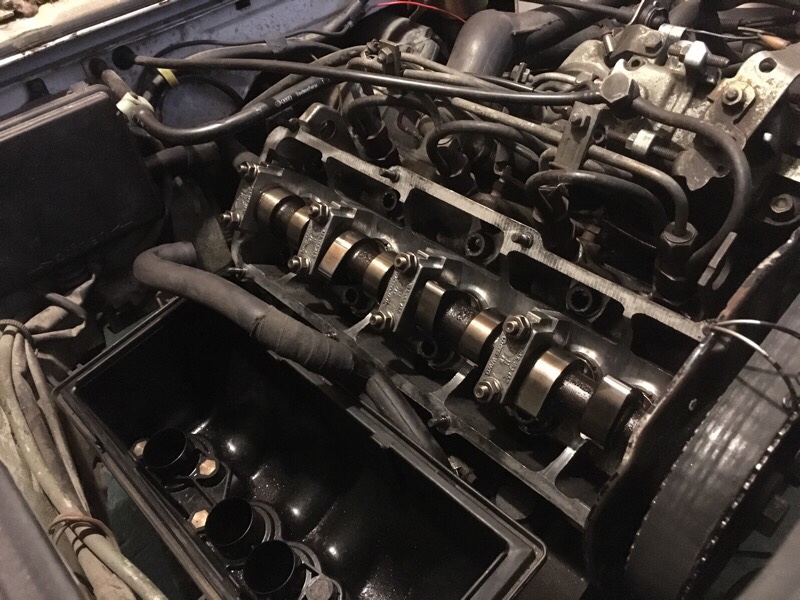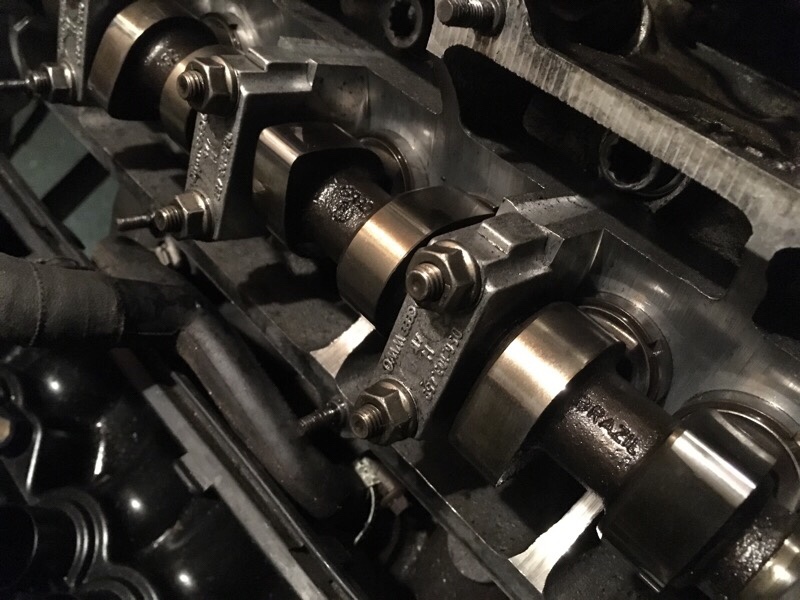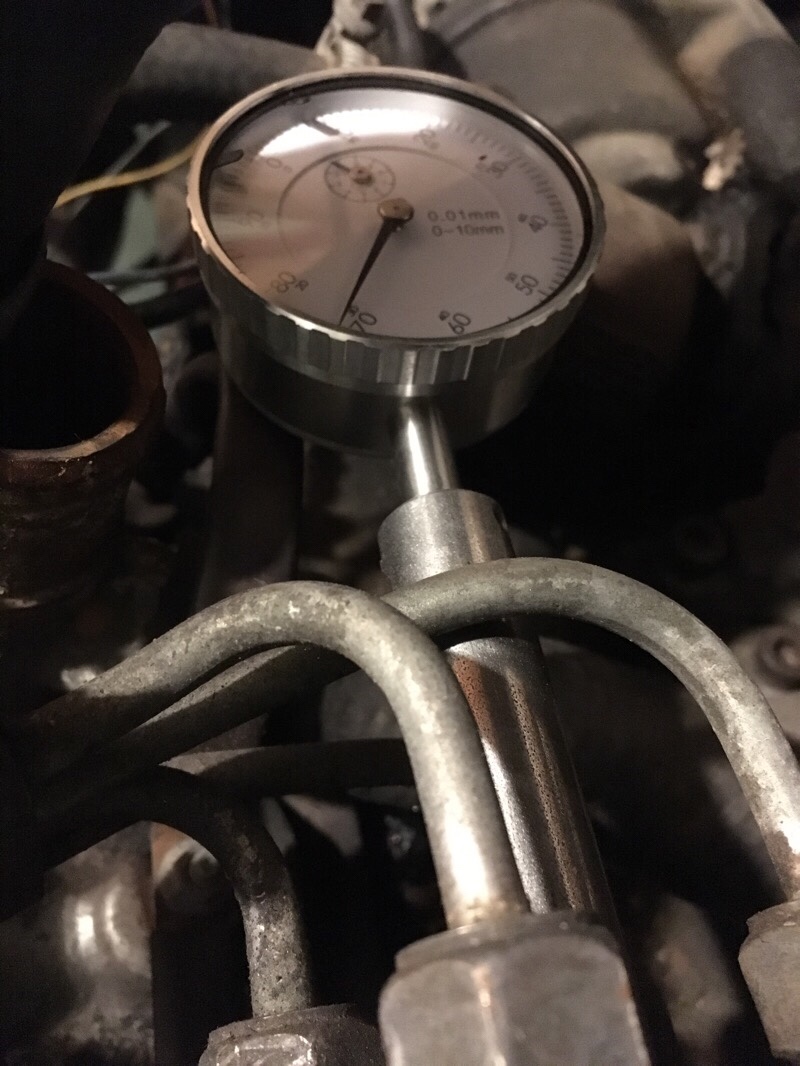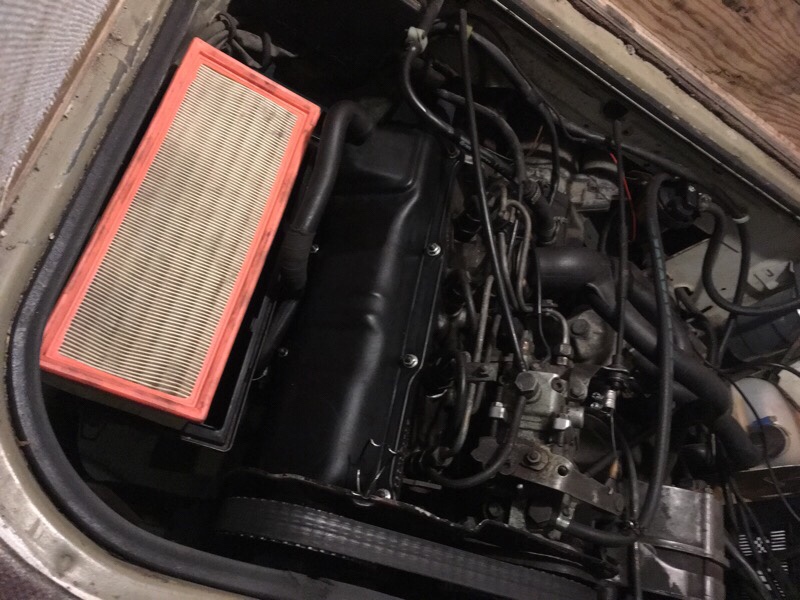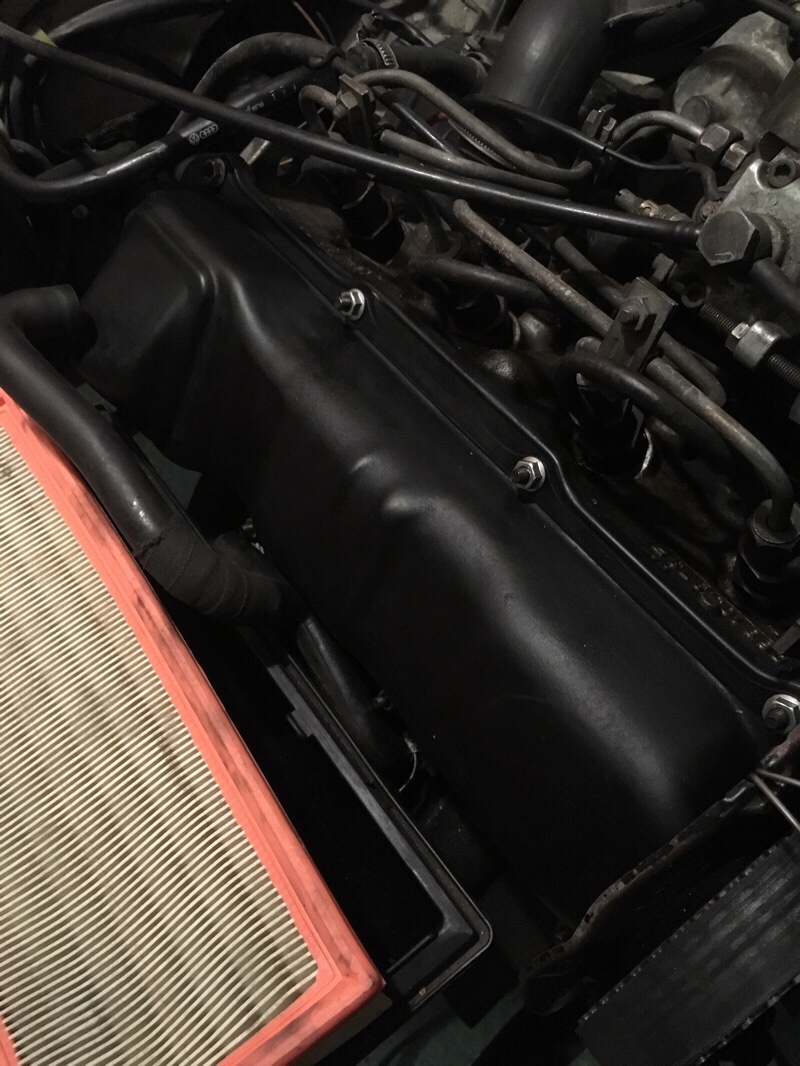 The best from two worlds, Porsche 911 and VW Karmann Ghia.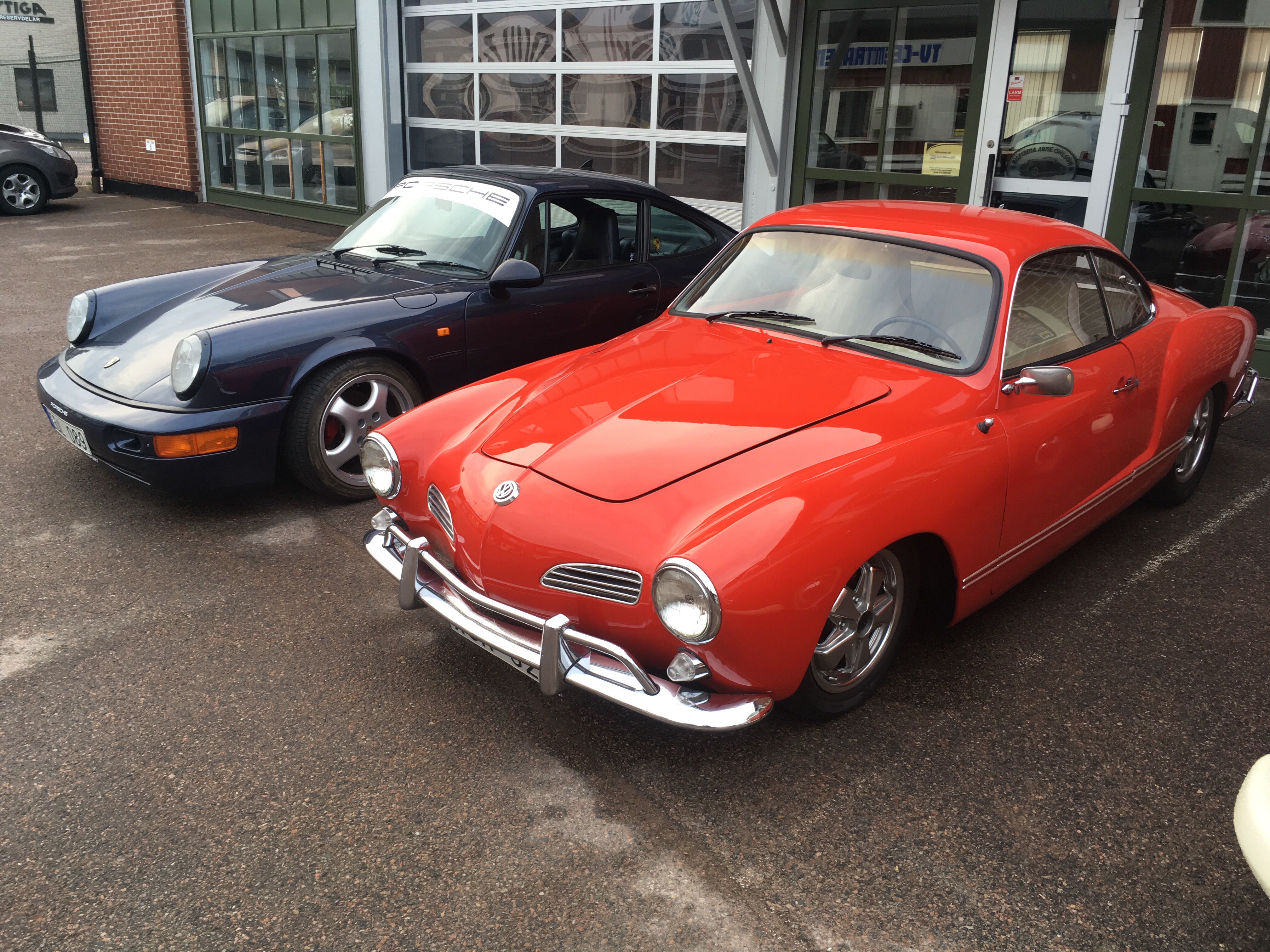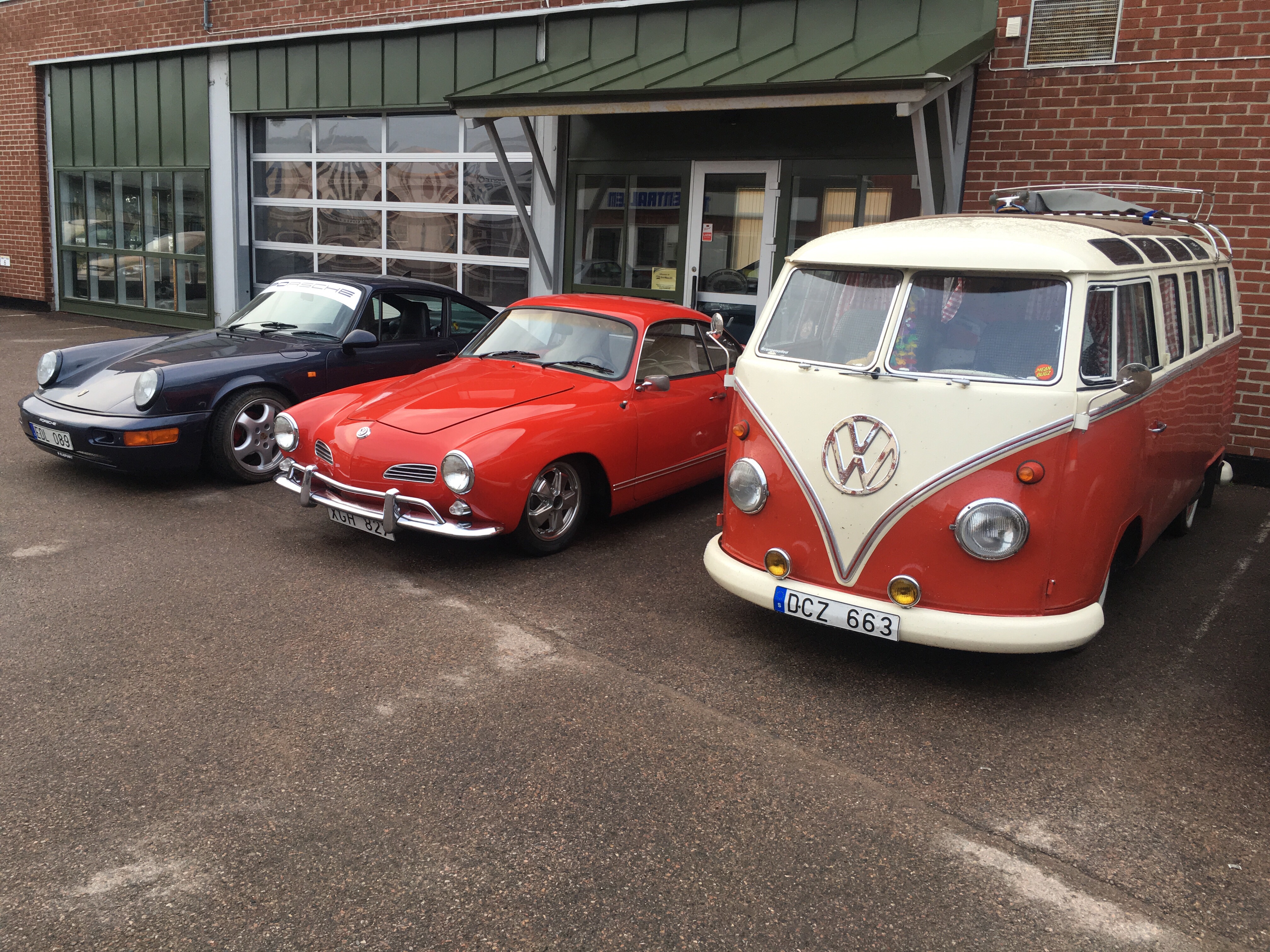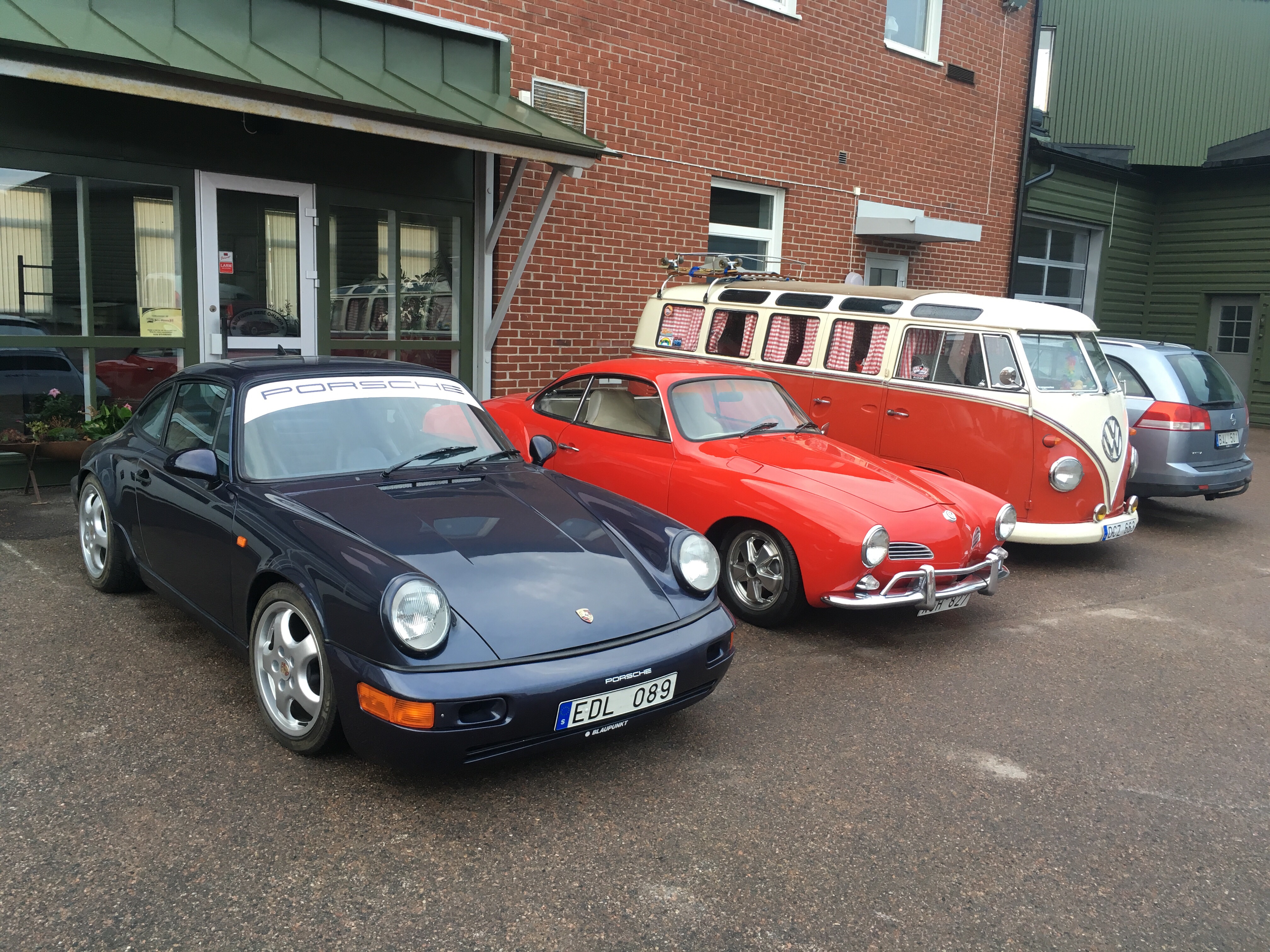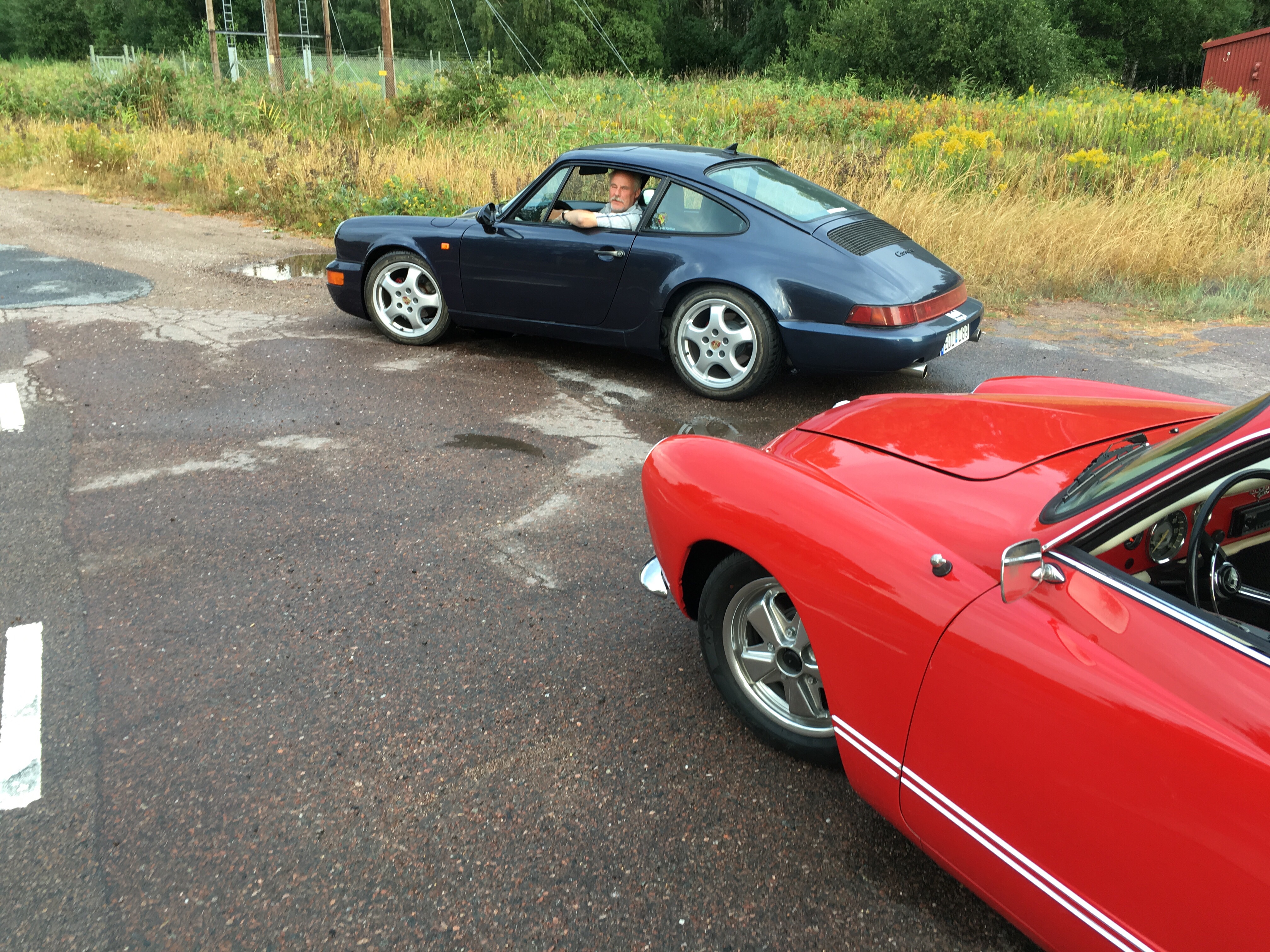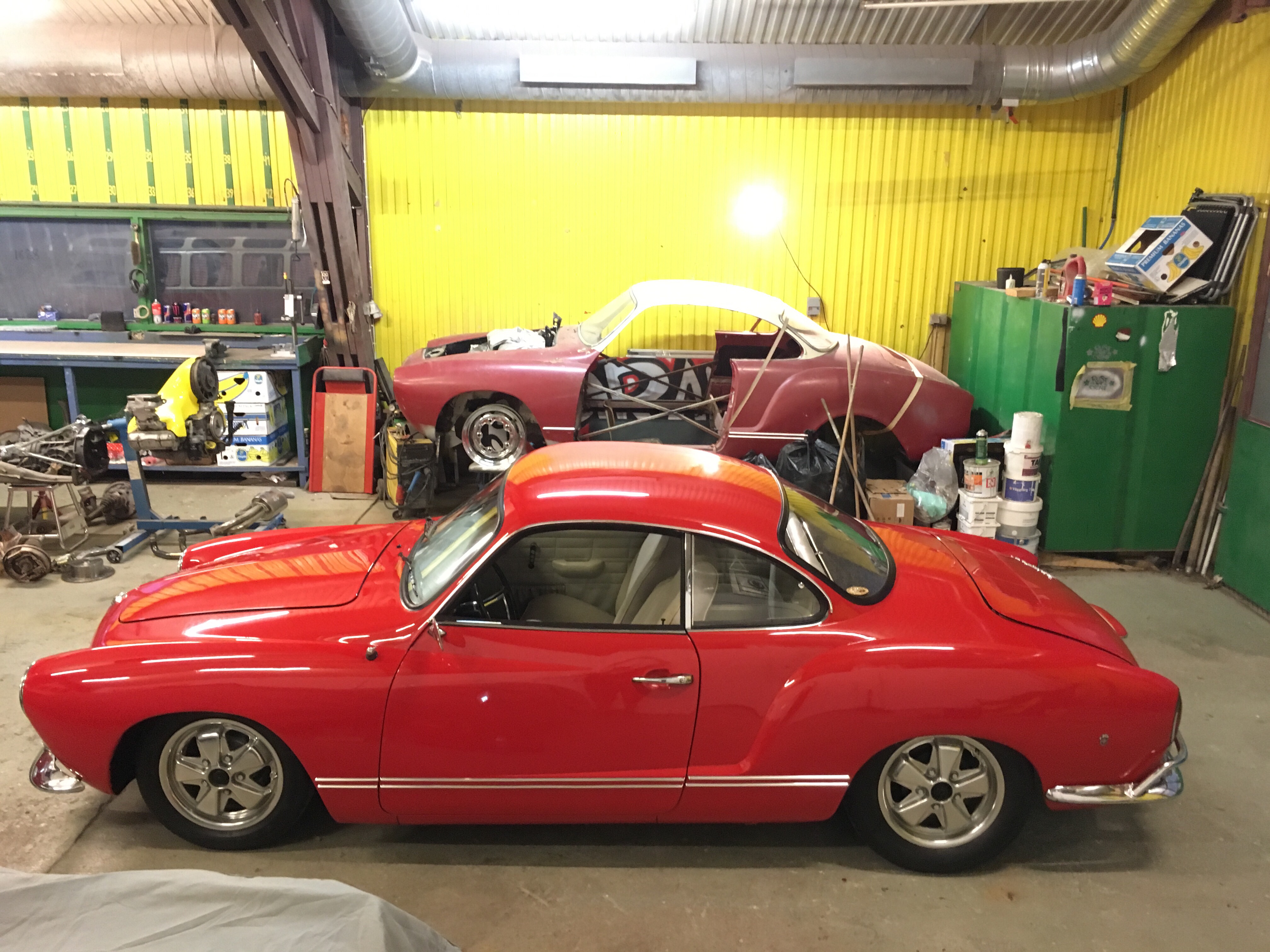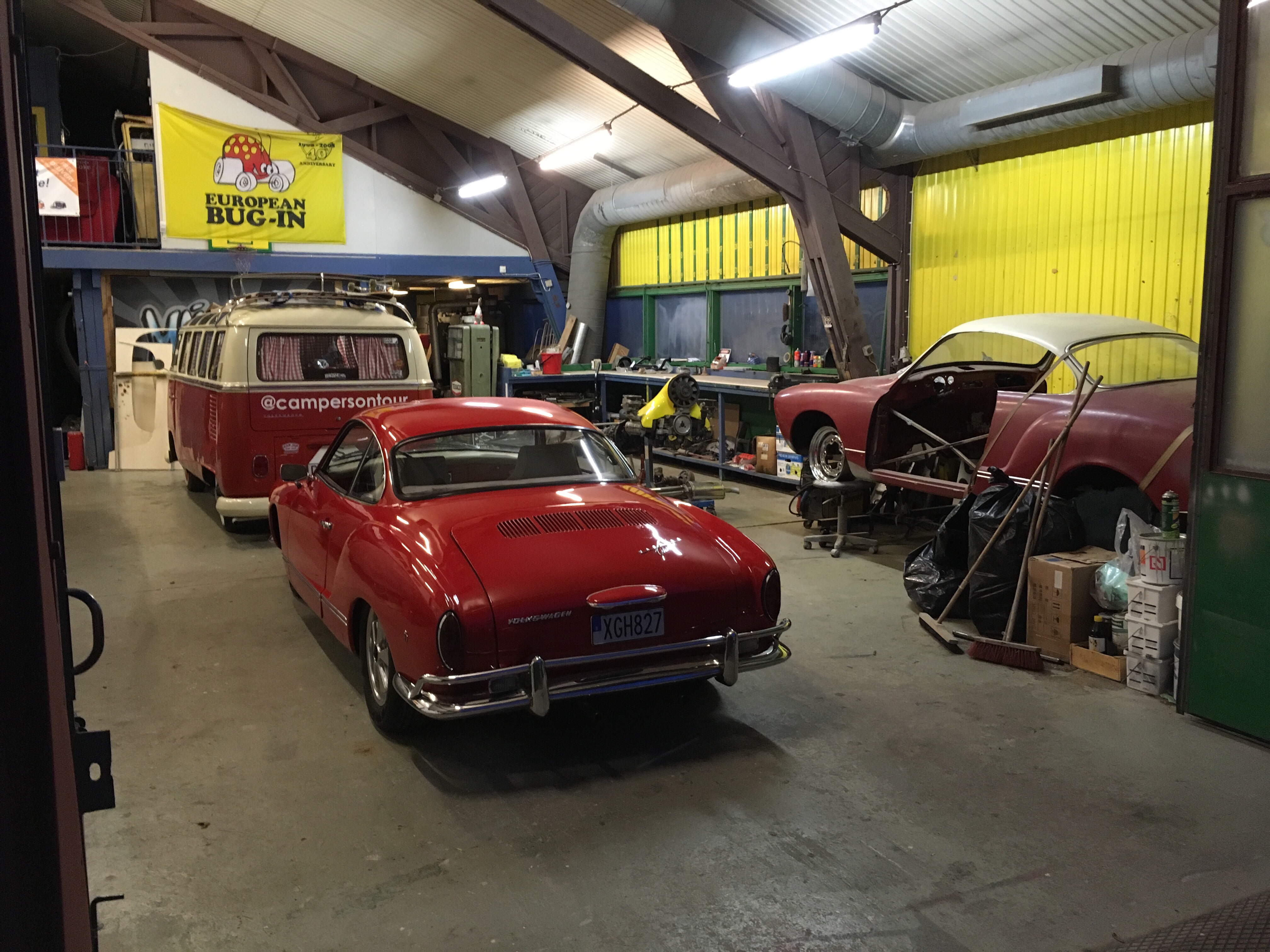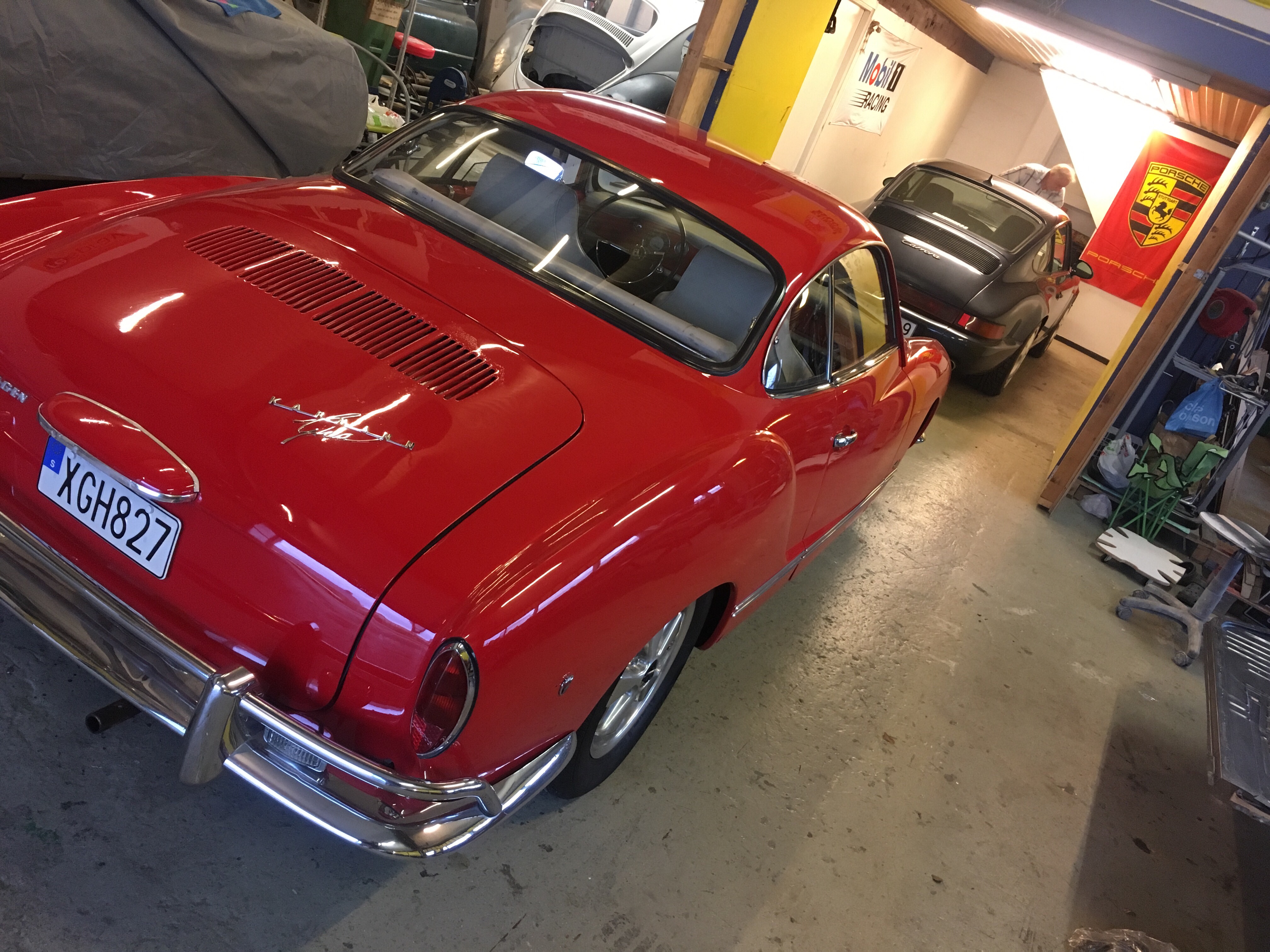 My 1967 Ghia gets a complete overhaul of the frontend. It was all stock height but the front is a little to high for my taste, it needs to be lowered around 50-100mm to get the beauty lines of the car to really flow. Rear is stock height. A brand new adjustable 2″ narrowed front beam with needle bearings. New narrowed tierods, new droppen spindels, new wheelbearings, new shocks, and all the brakestuff was already new. Wheels will be polished Porsche Fuchs. Since I had to remove the fuel tank I installed new fuel lines and cleaned up the front luggage compartment a little. Here comes some pics…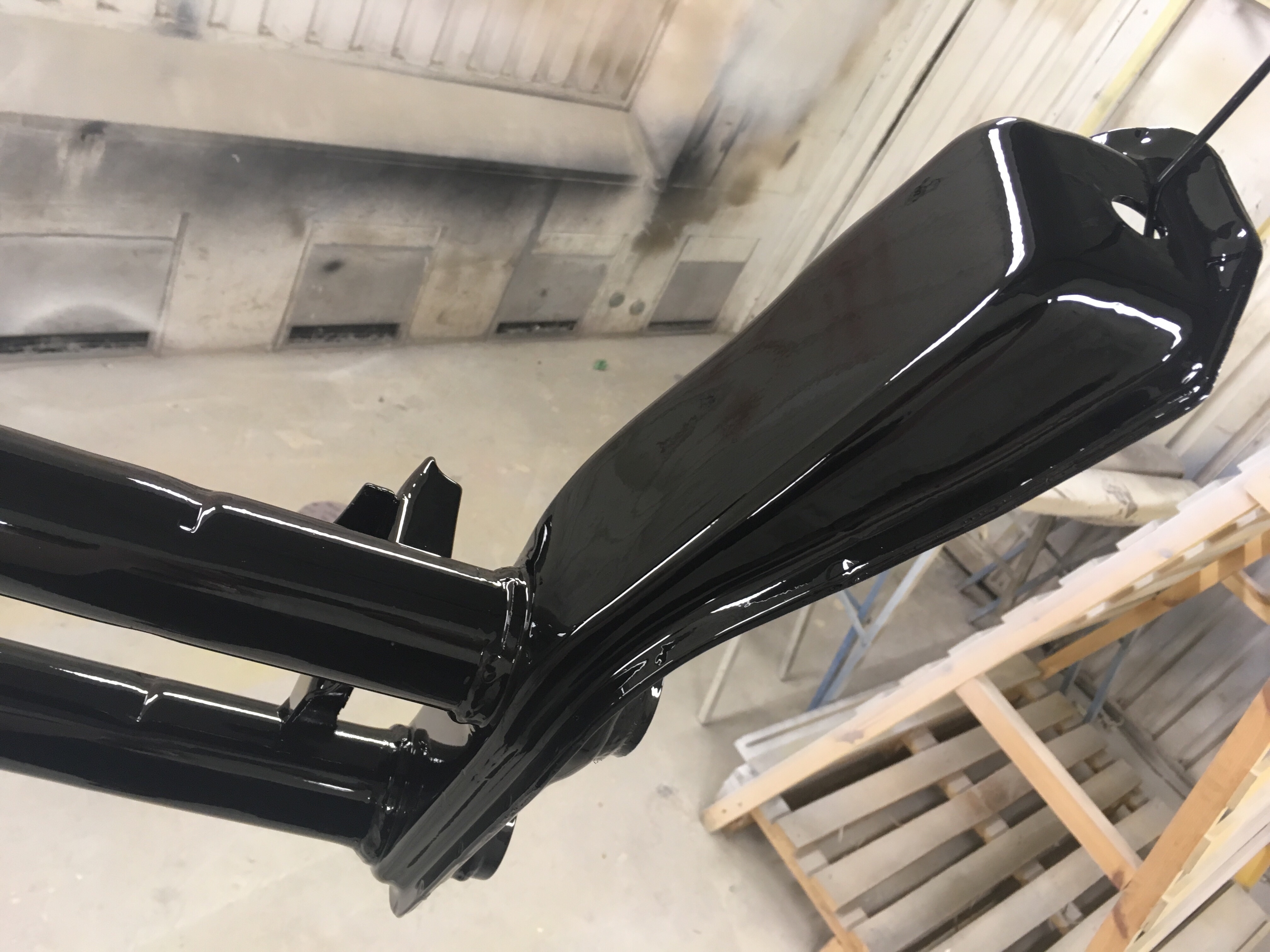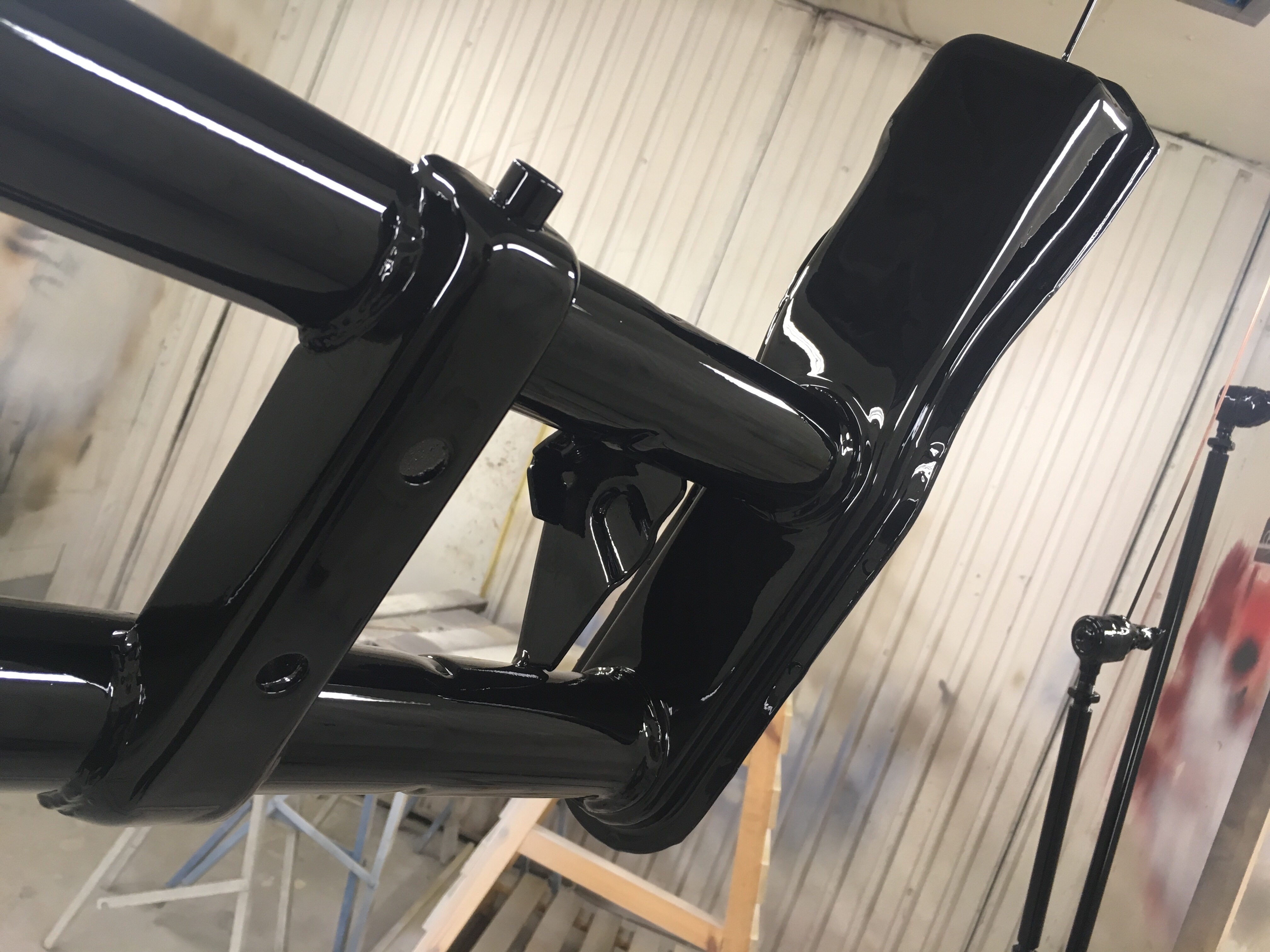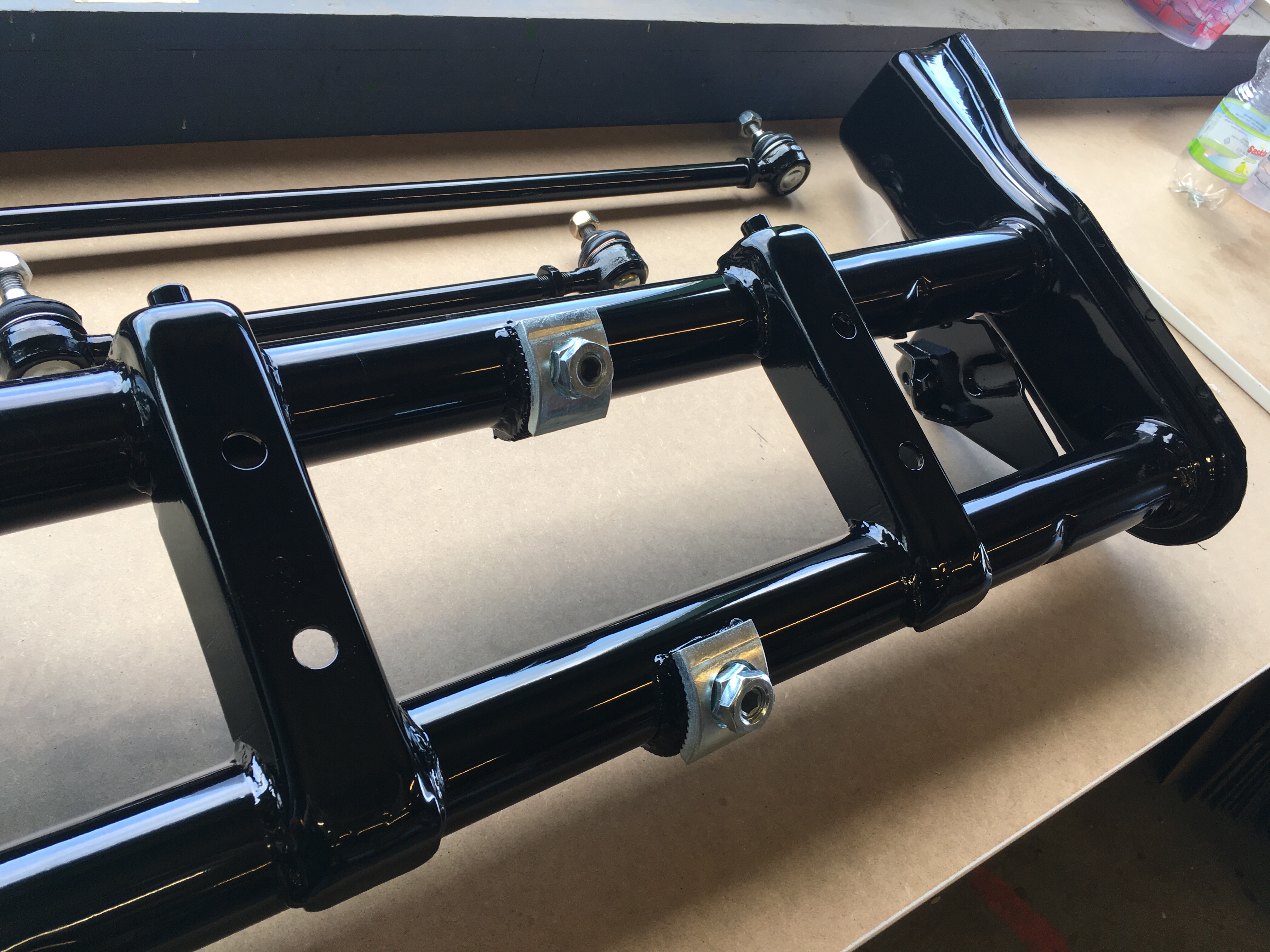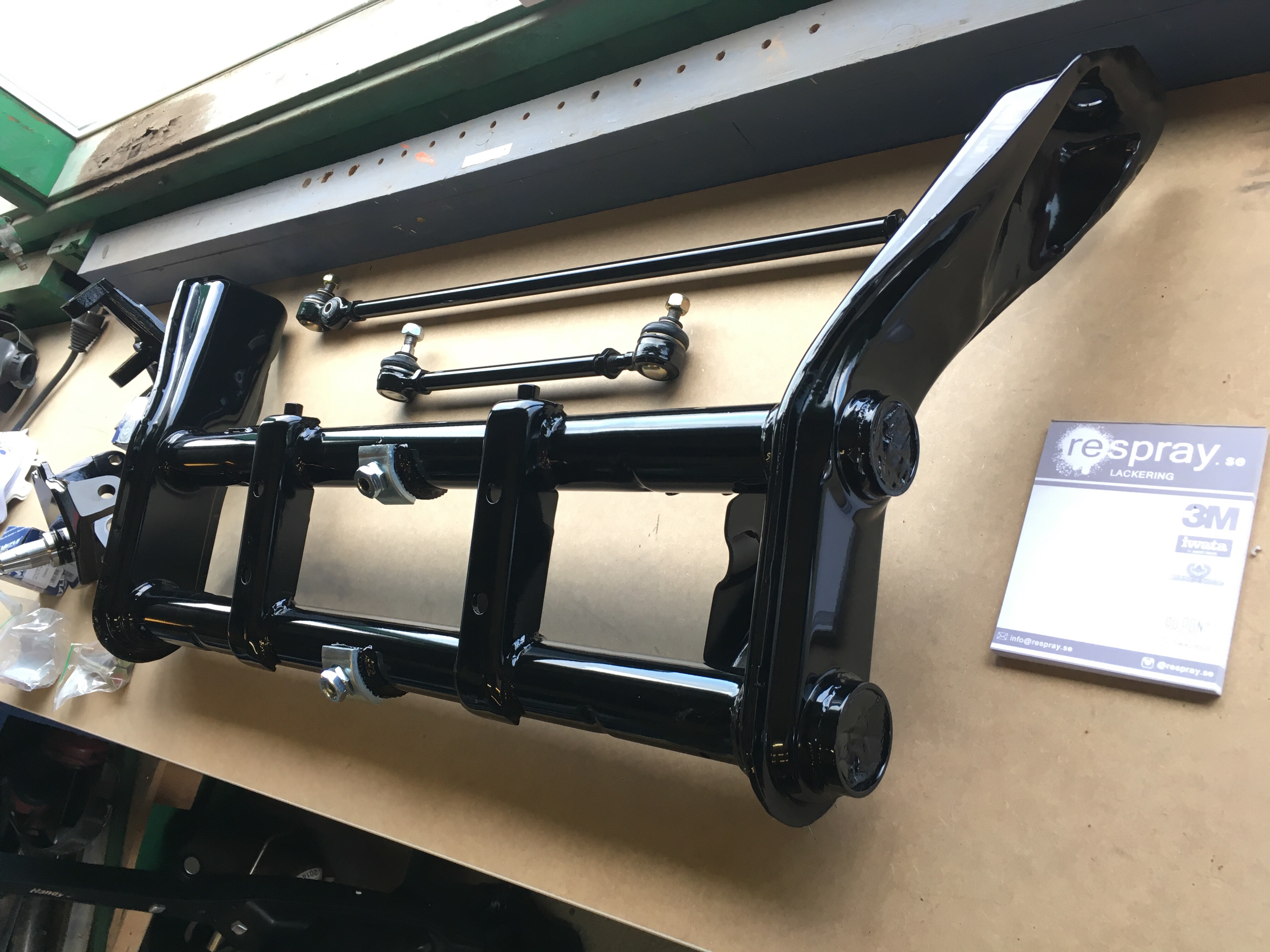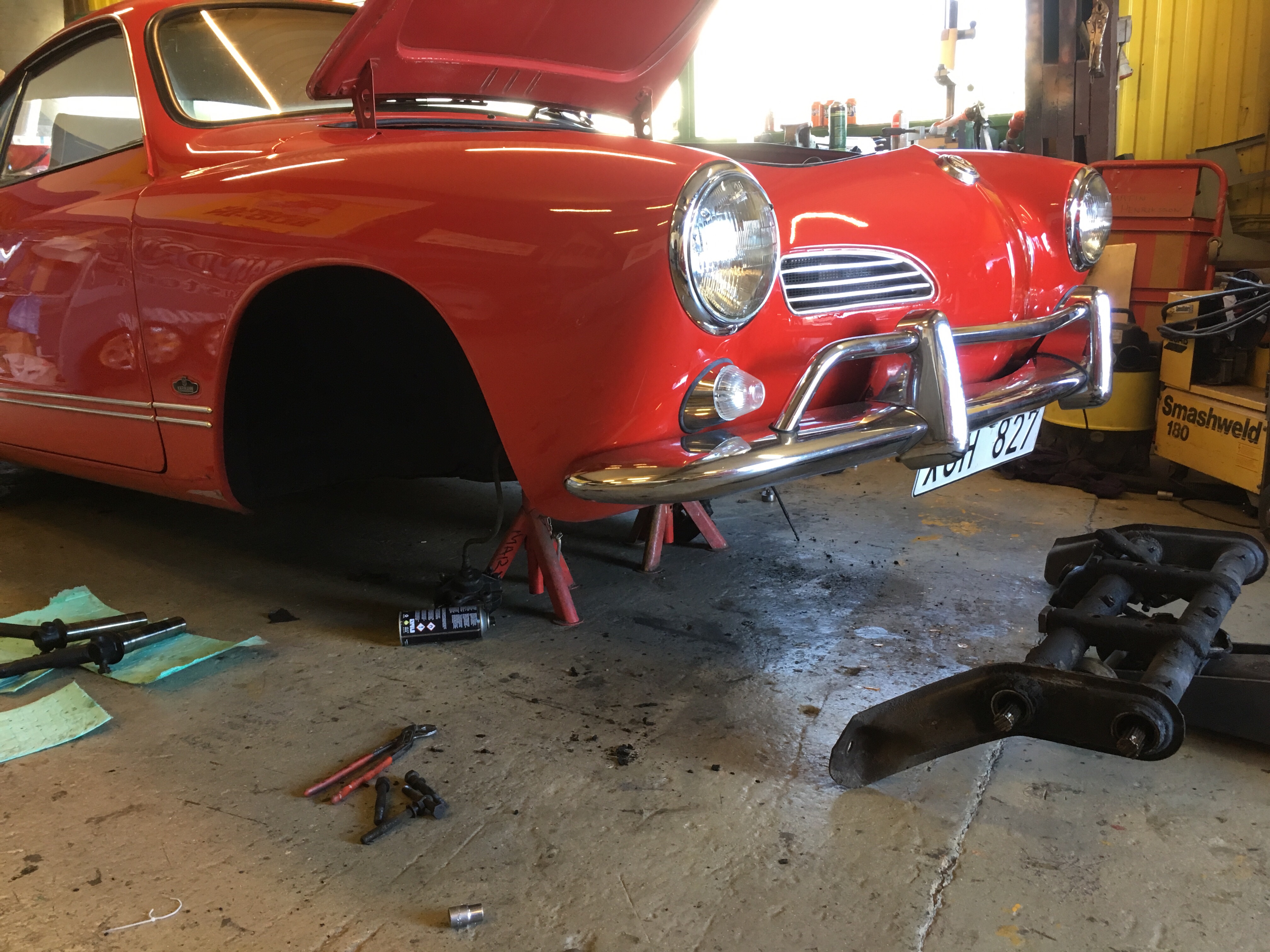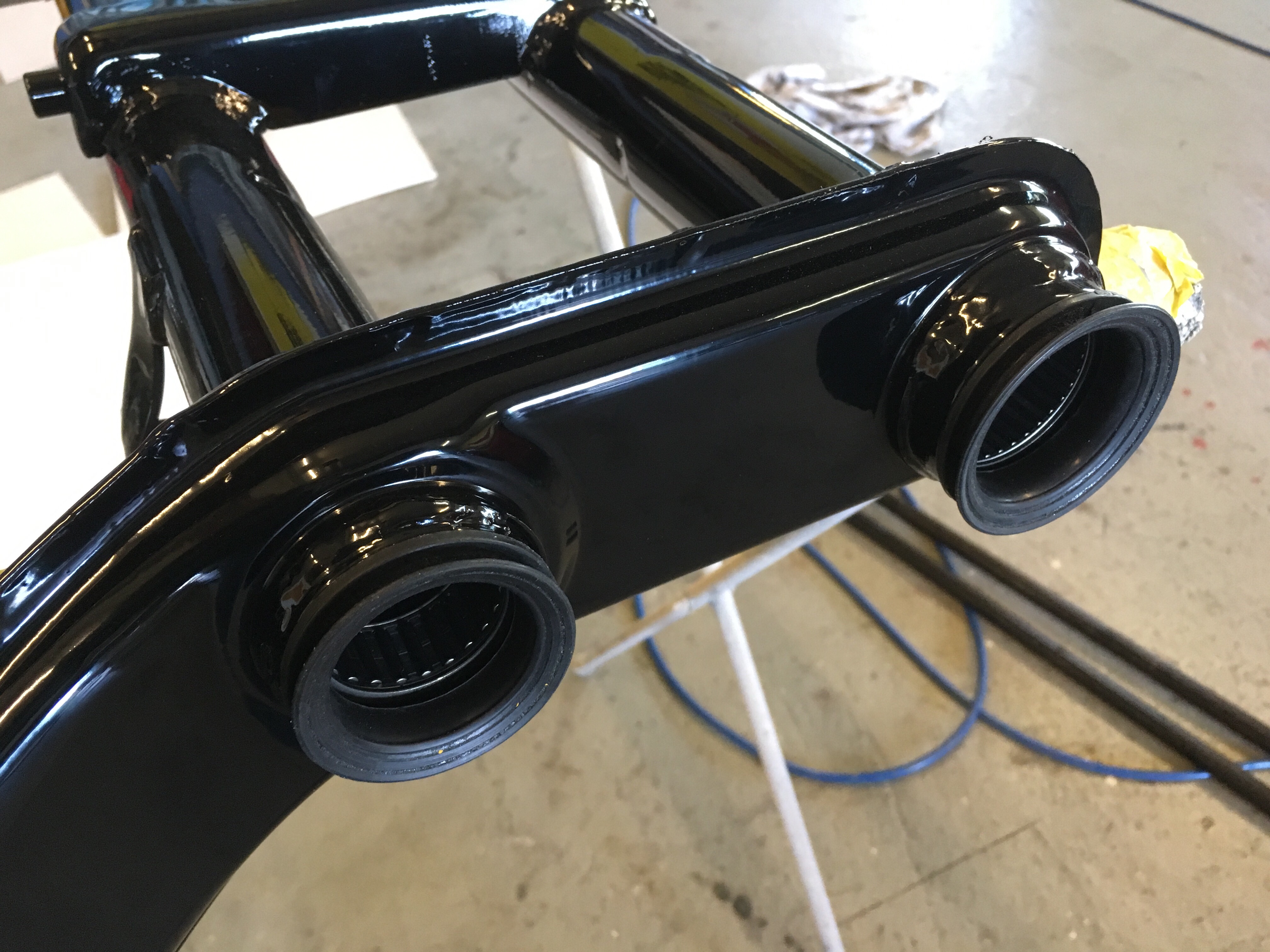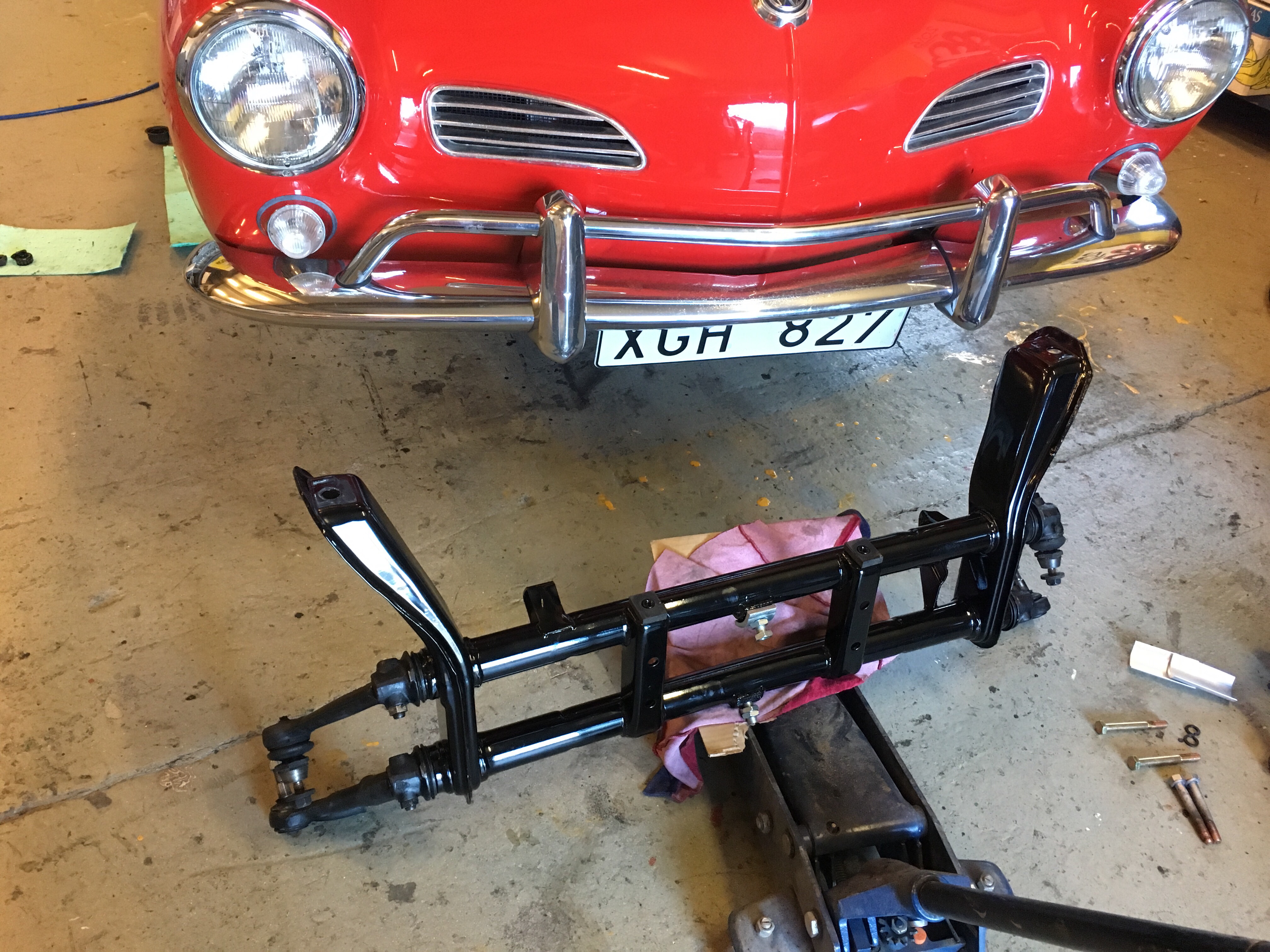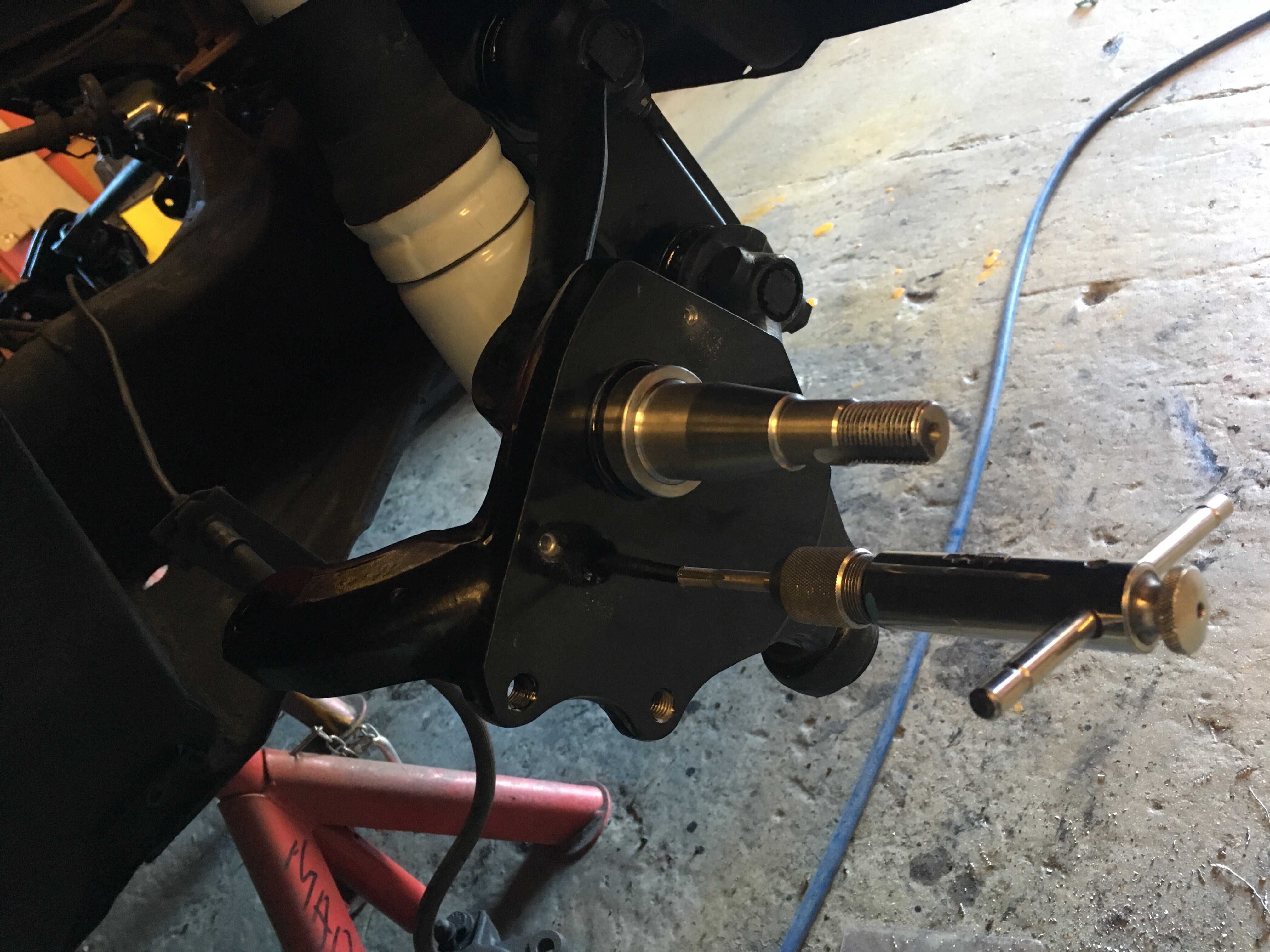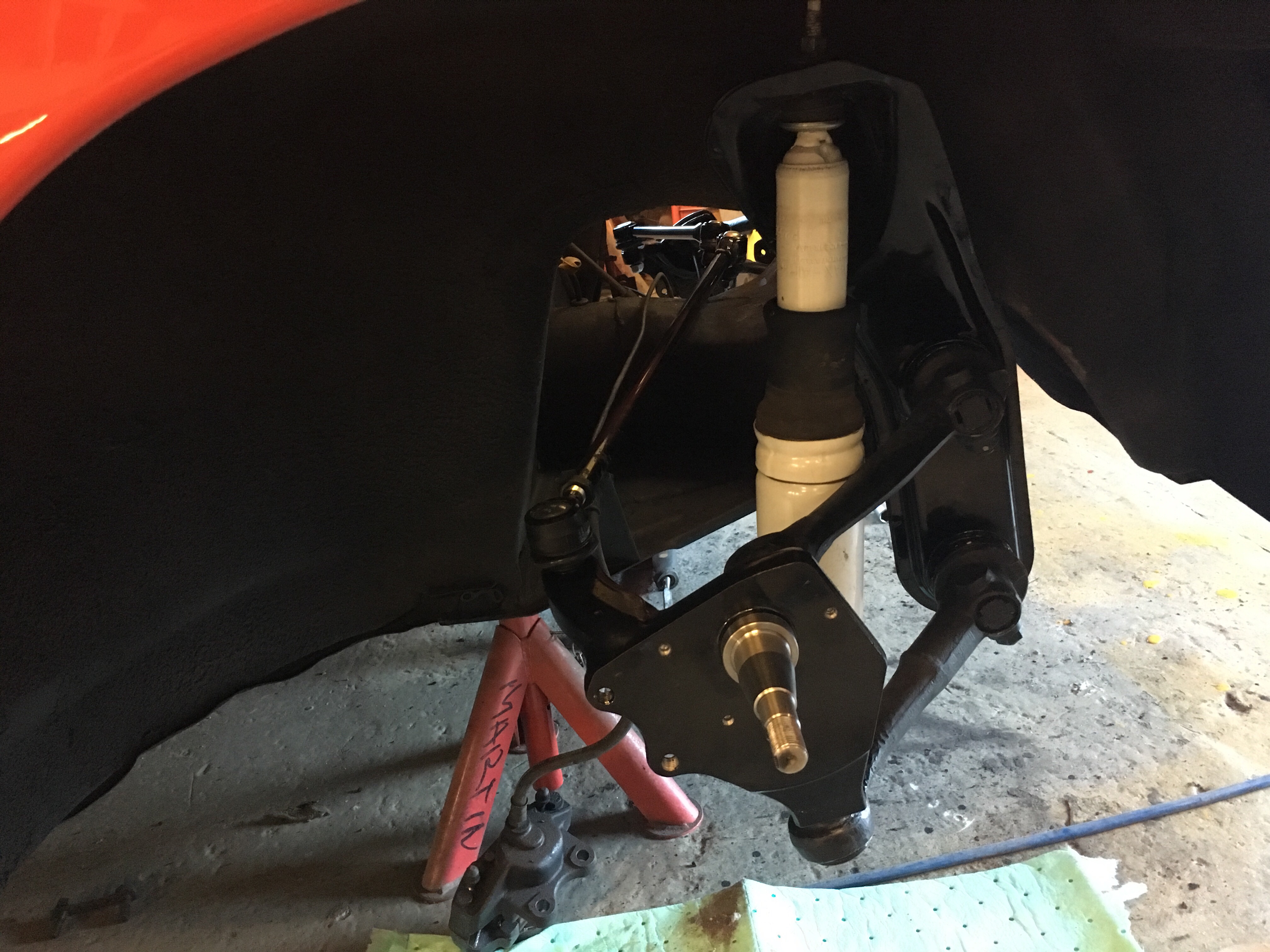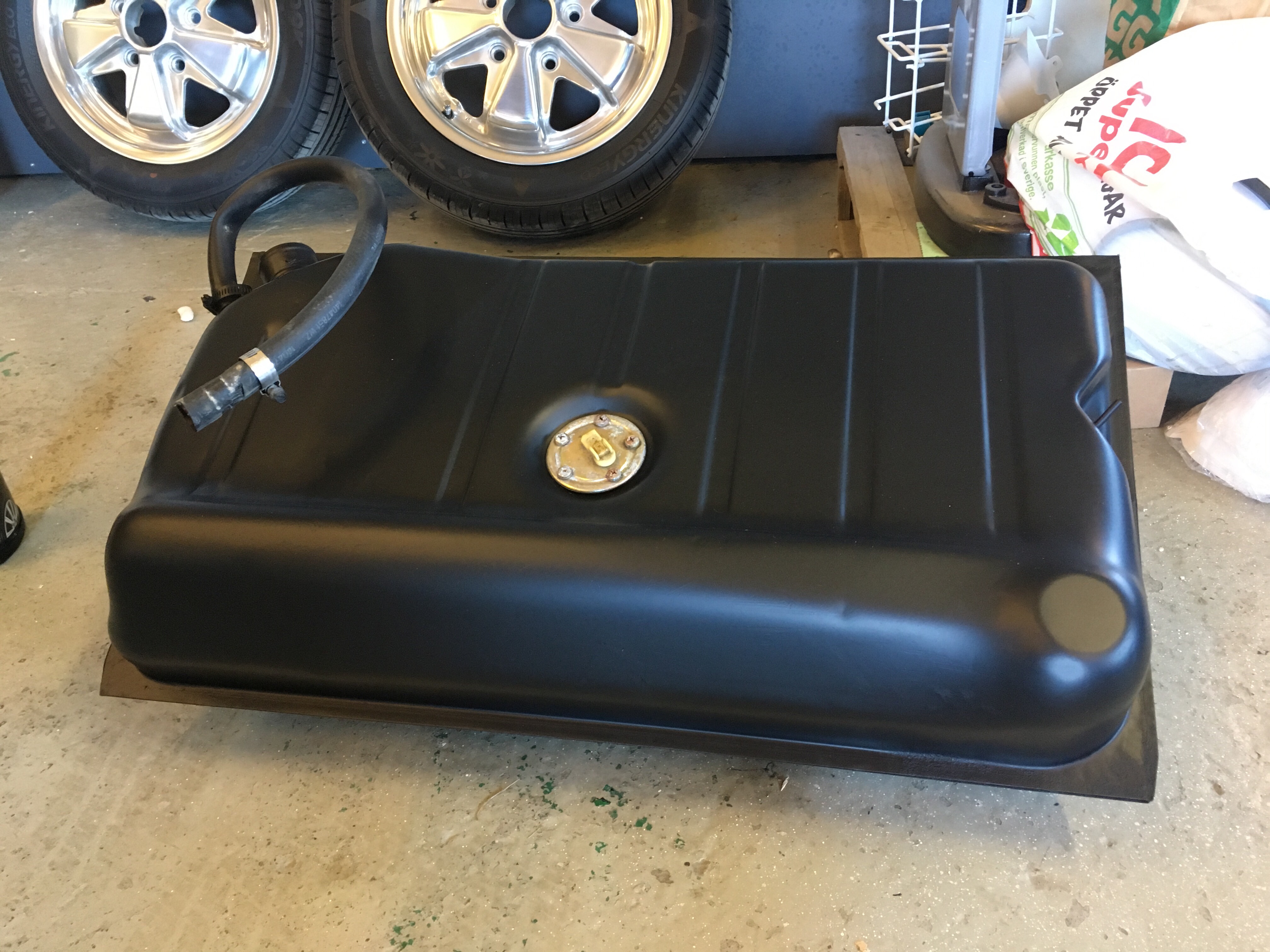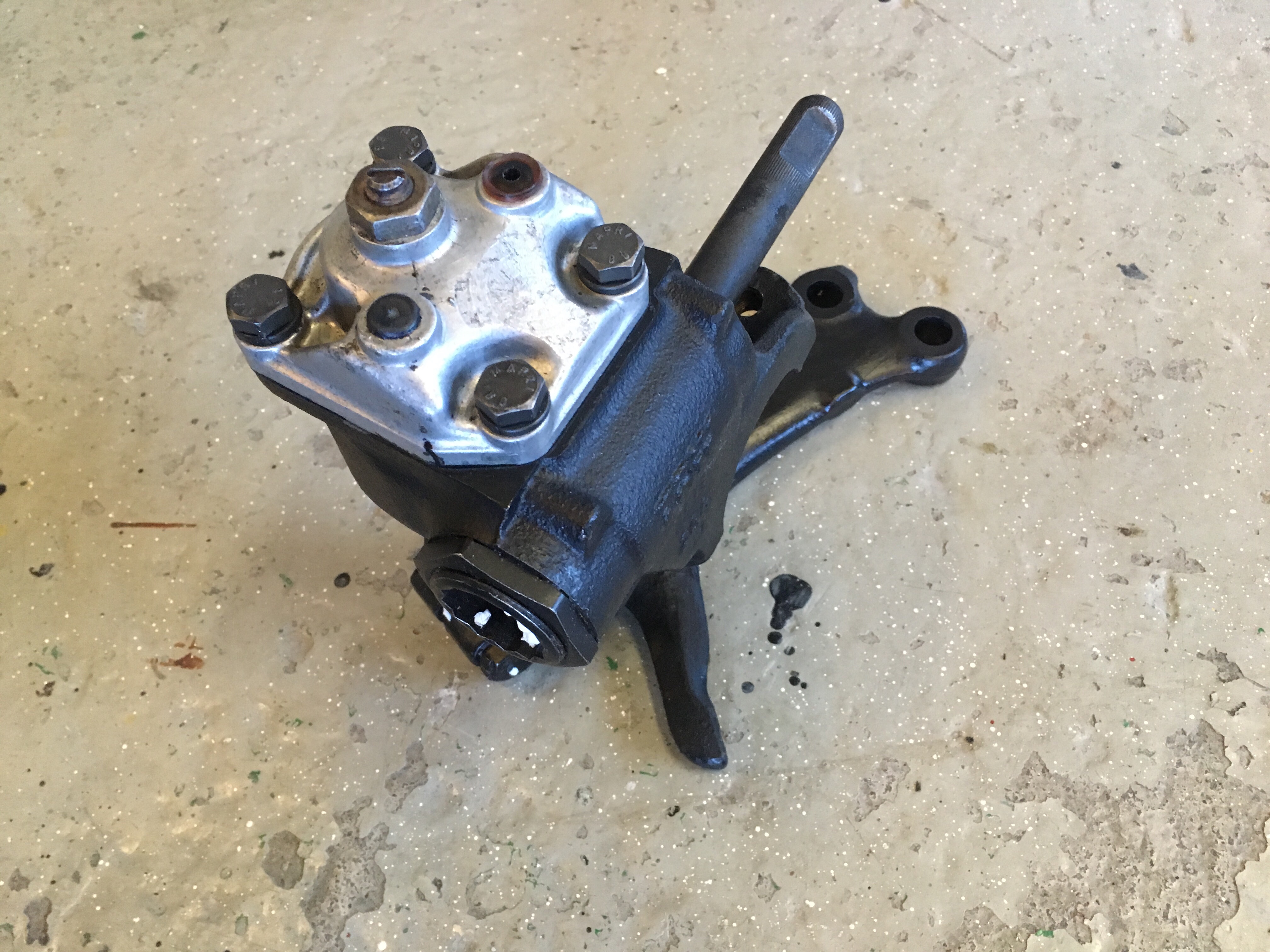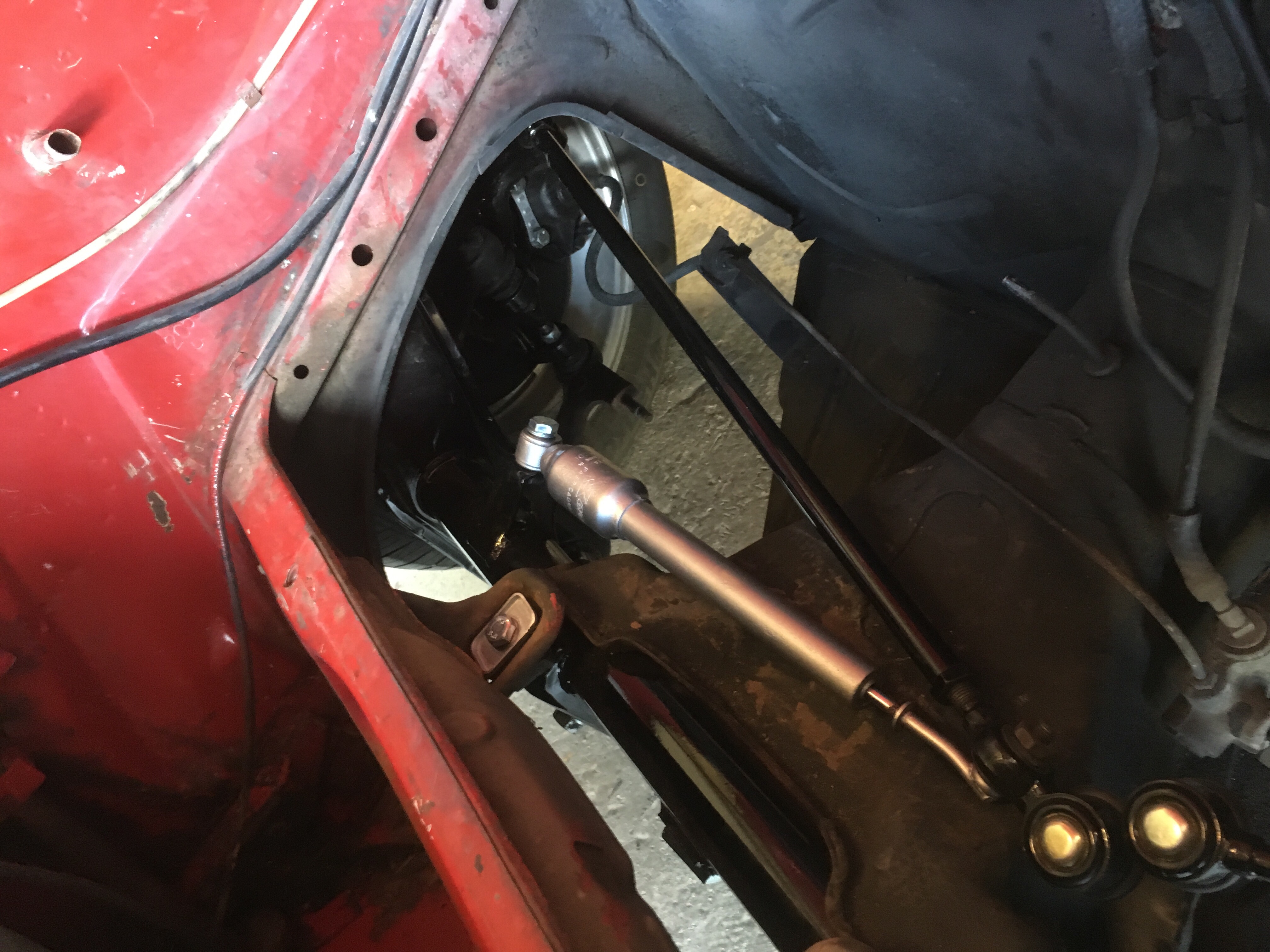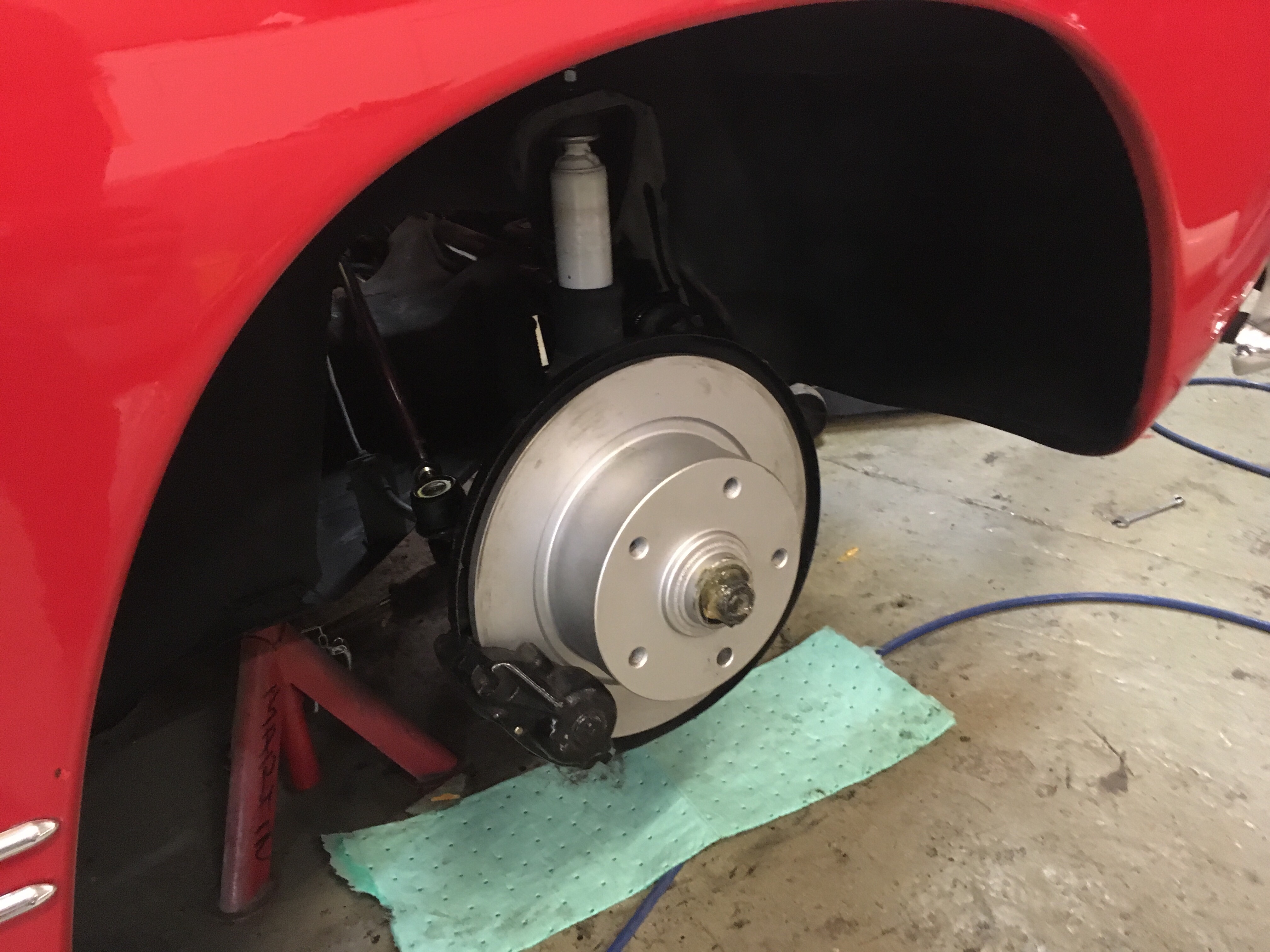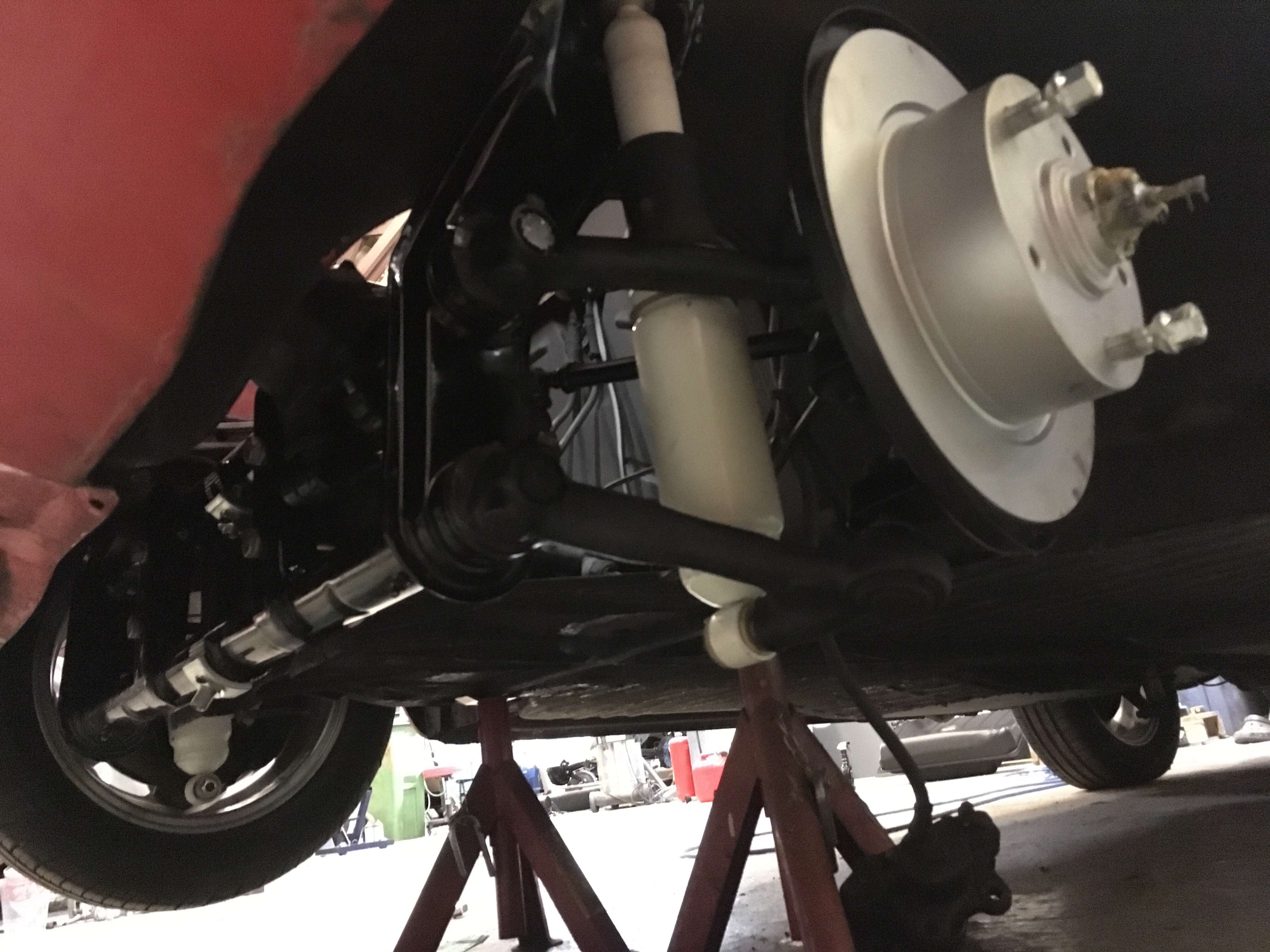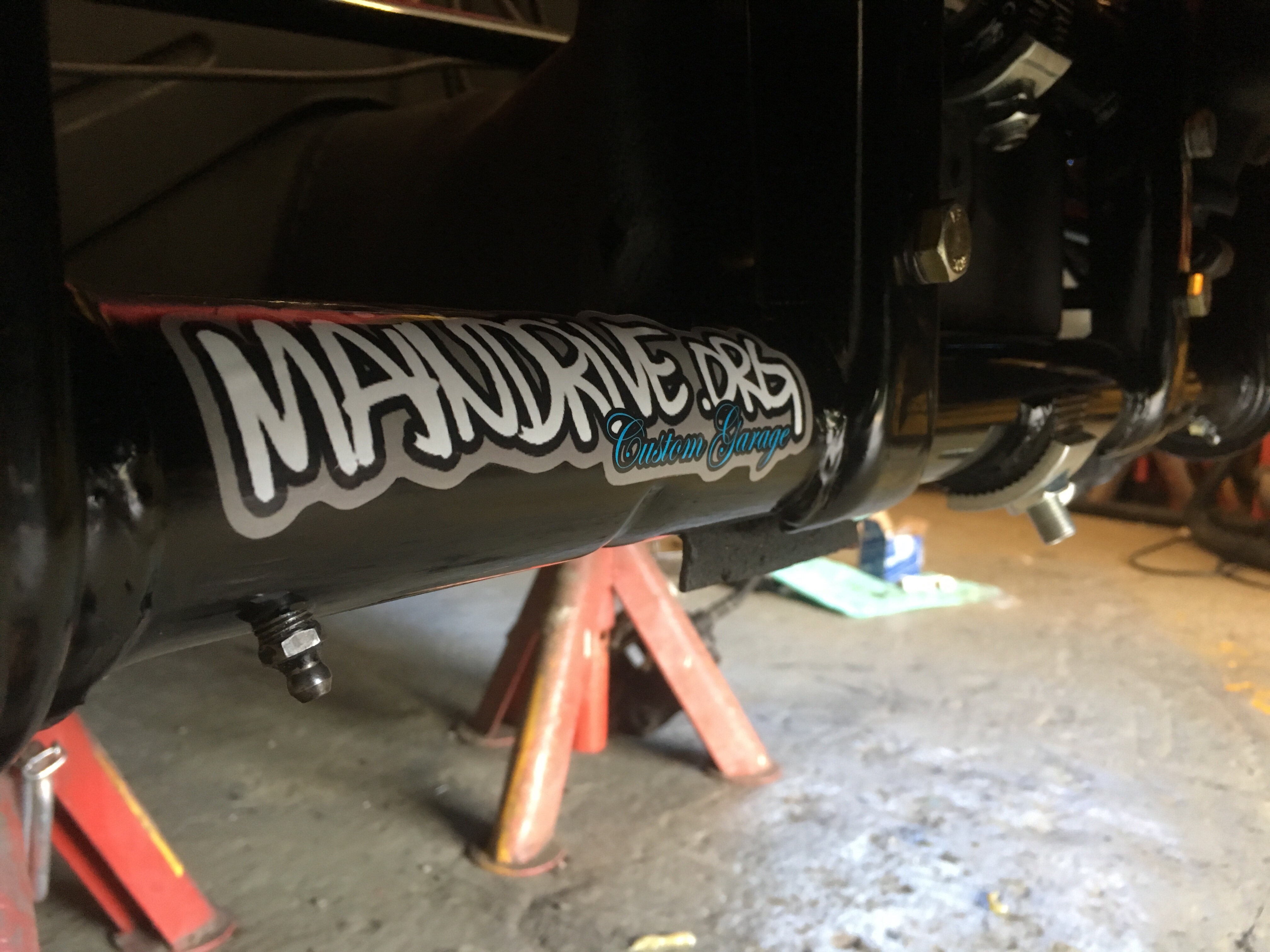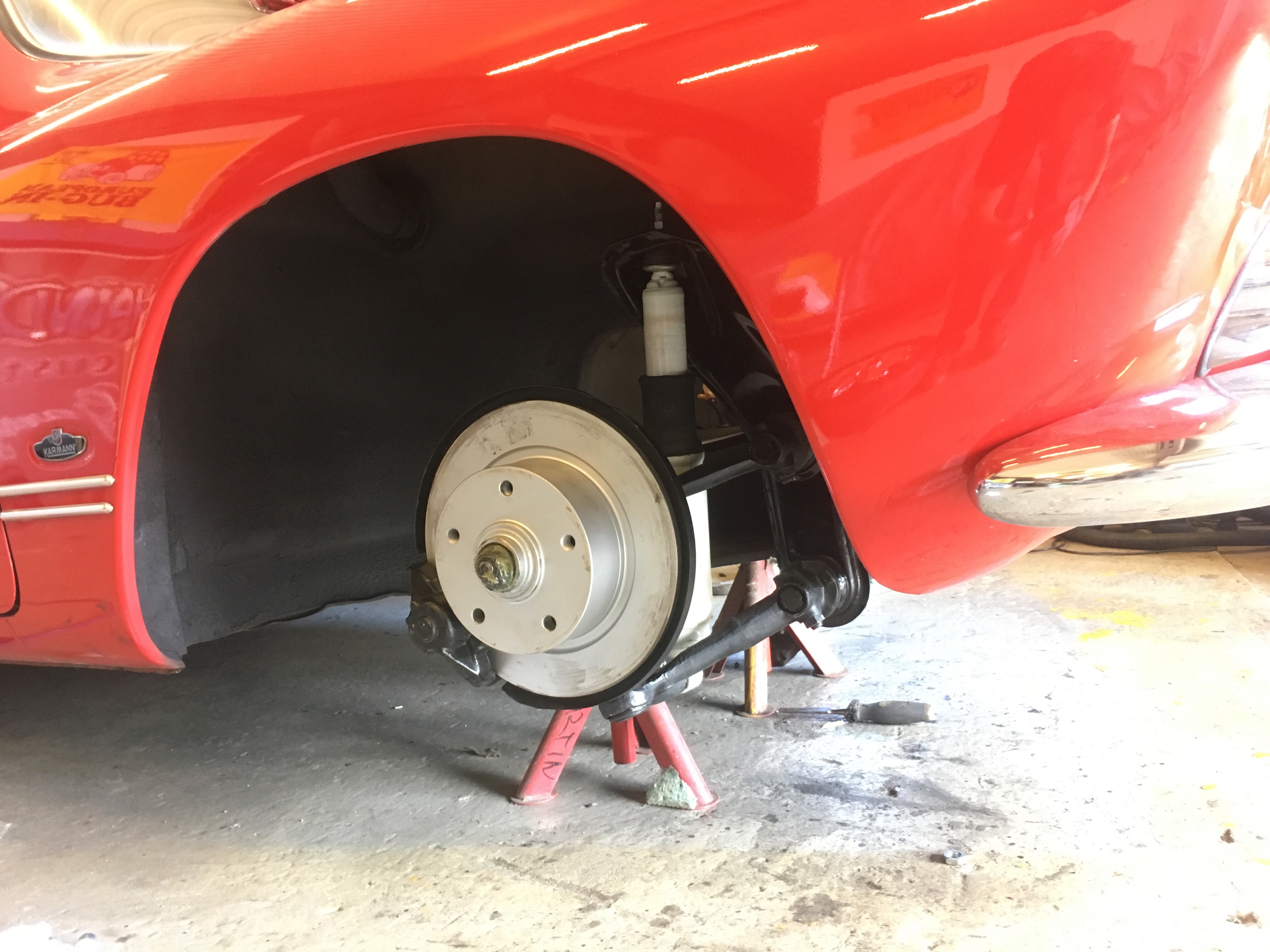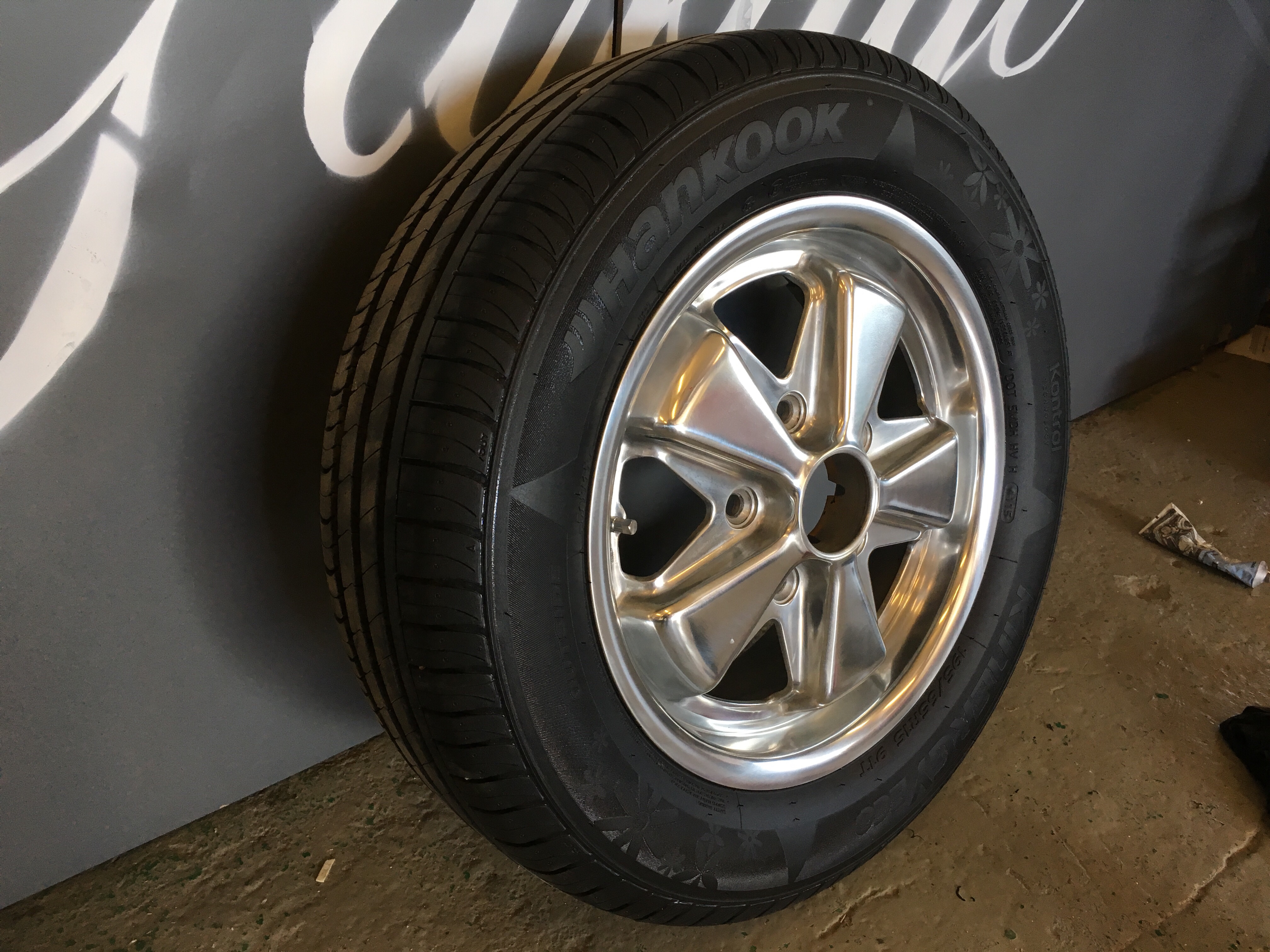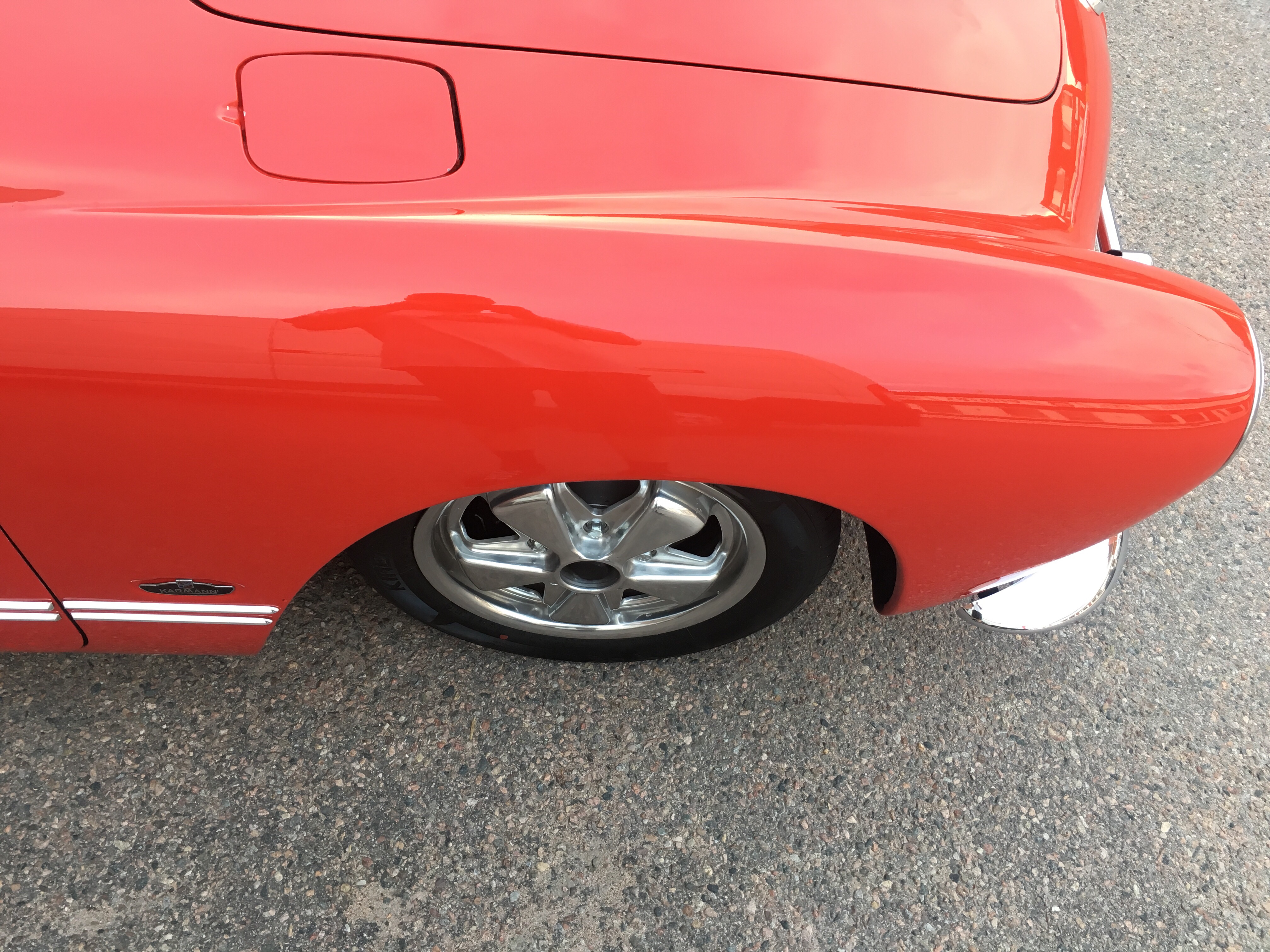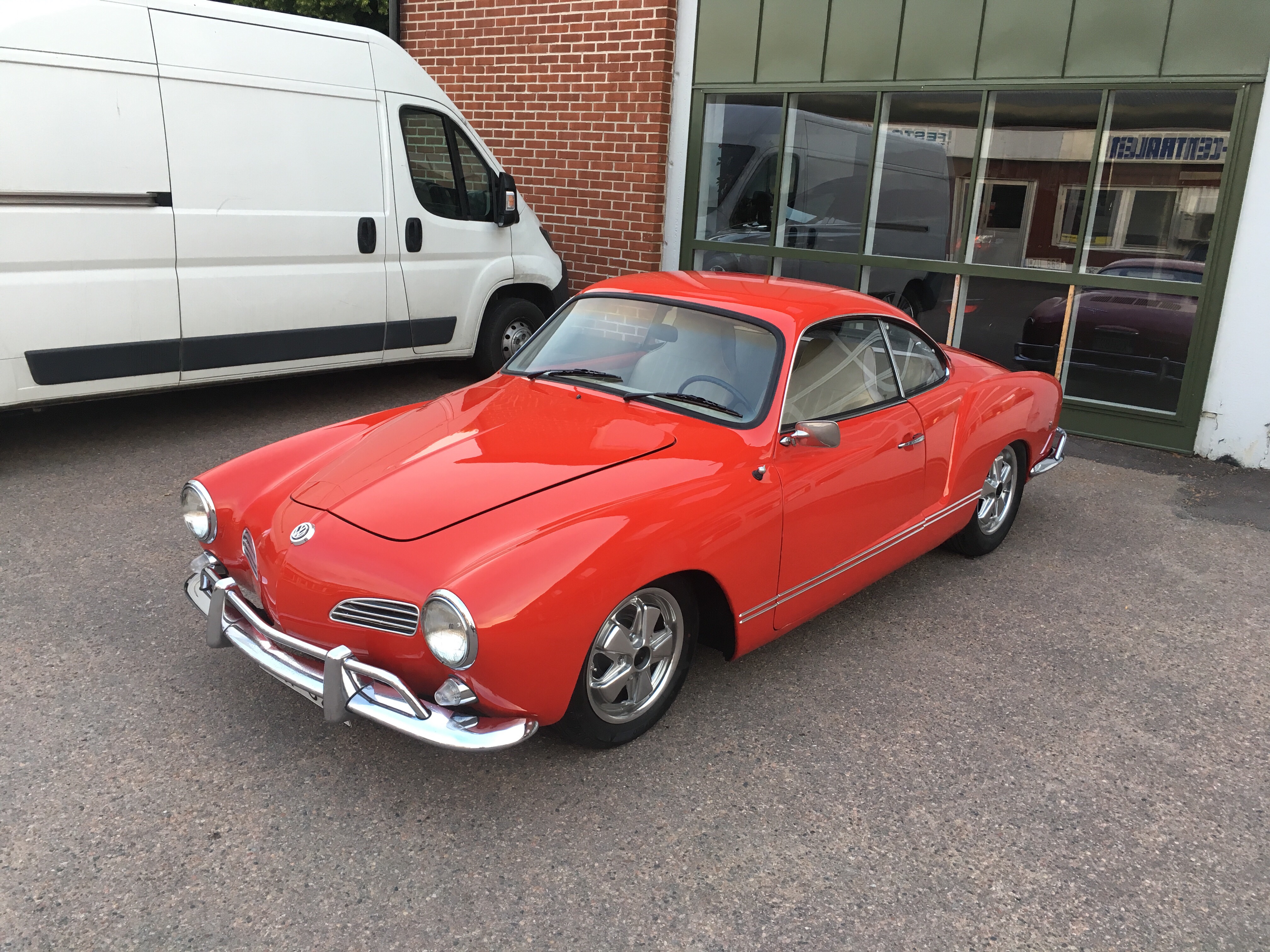 Painting this part in Canyon Red for a VW Amarok pick up truck. Nice color!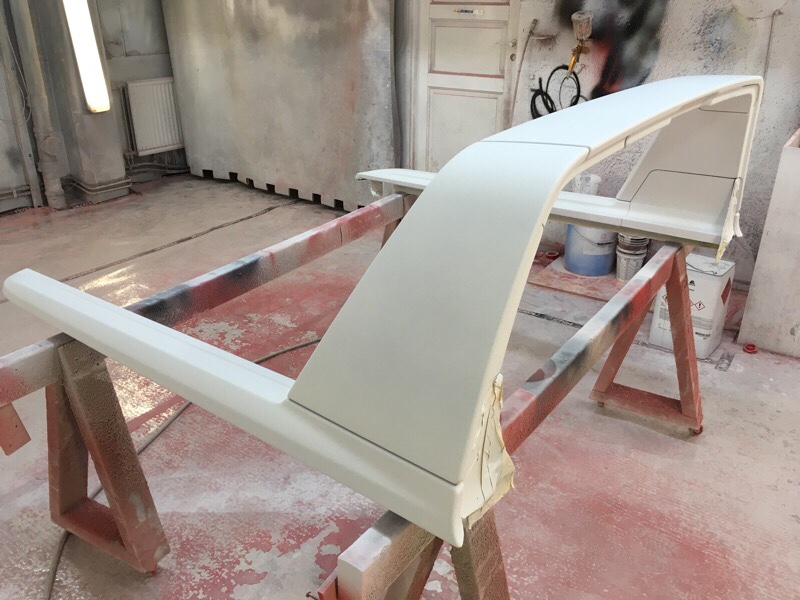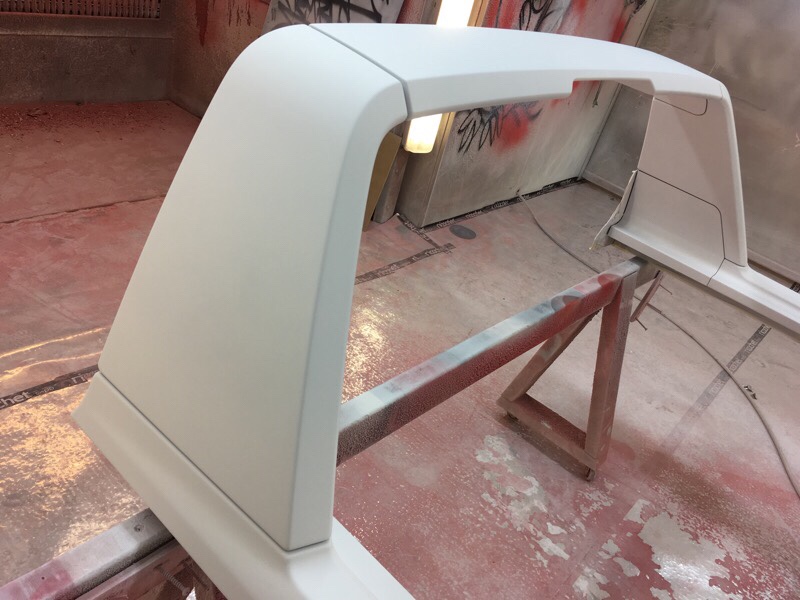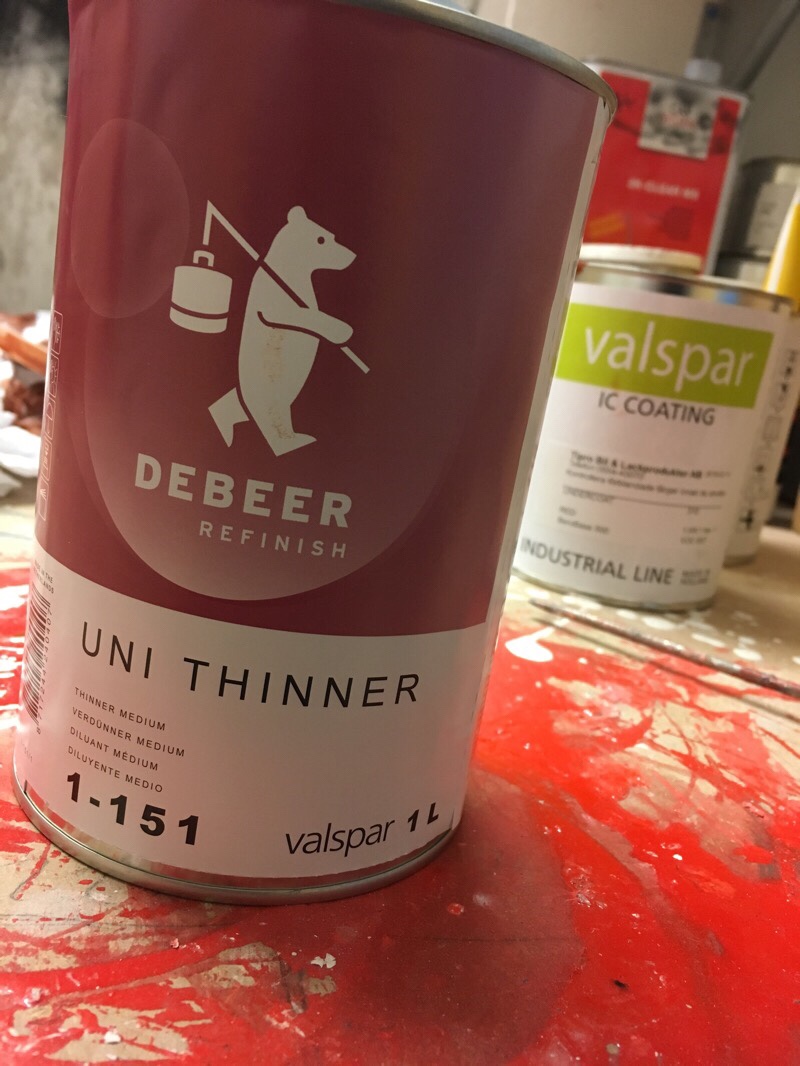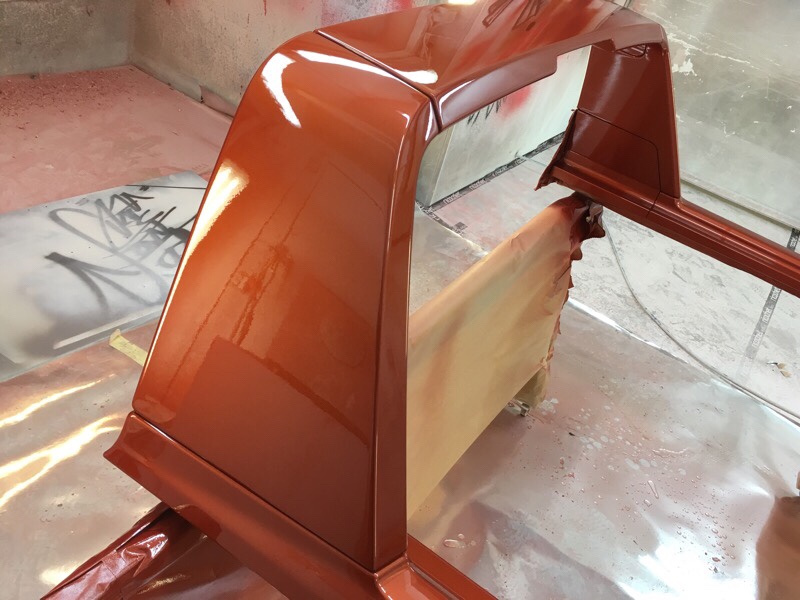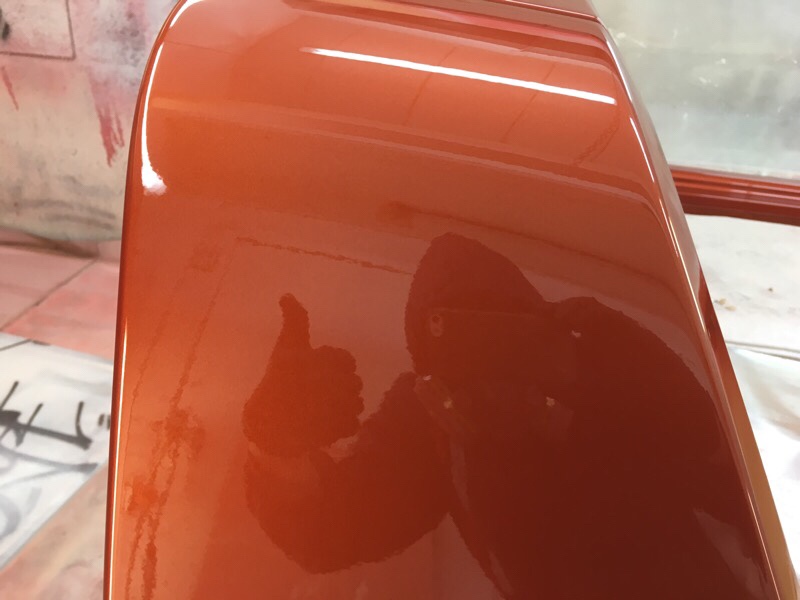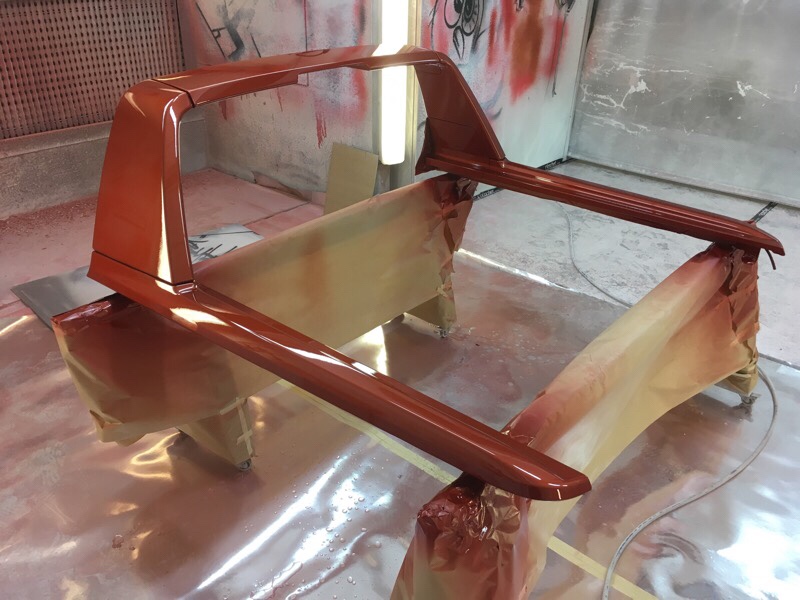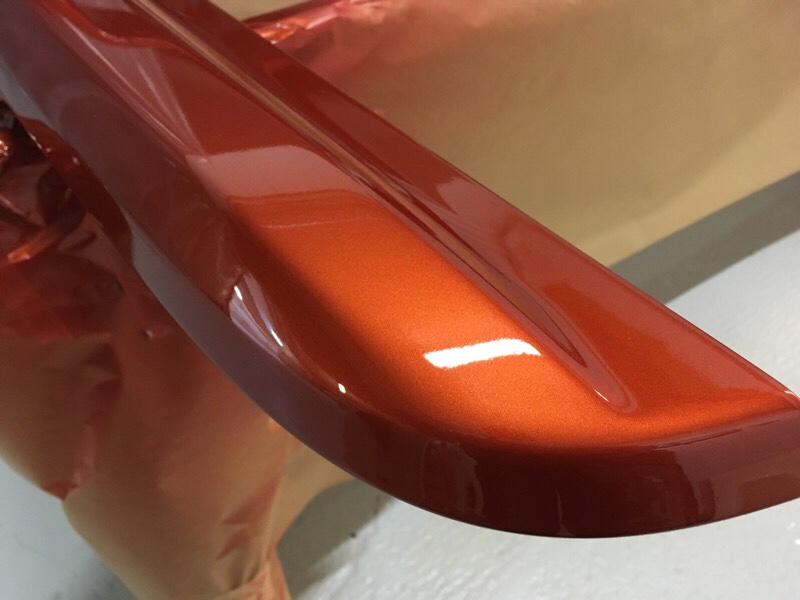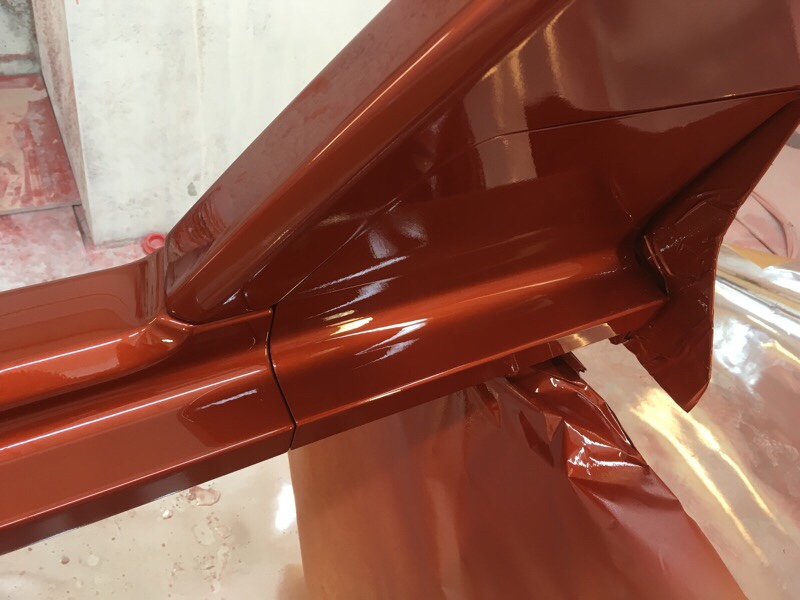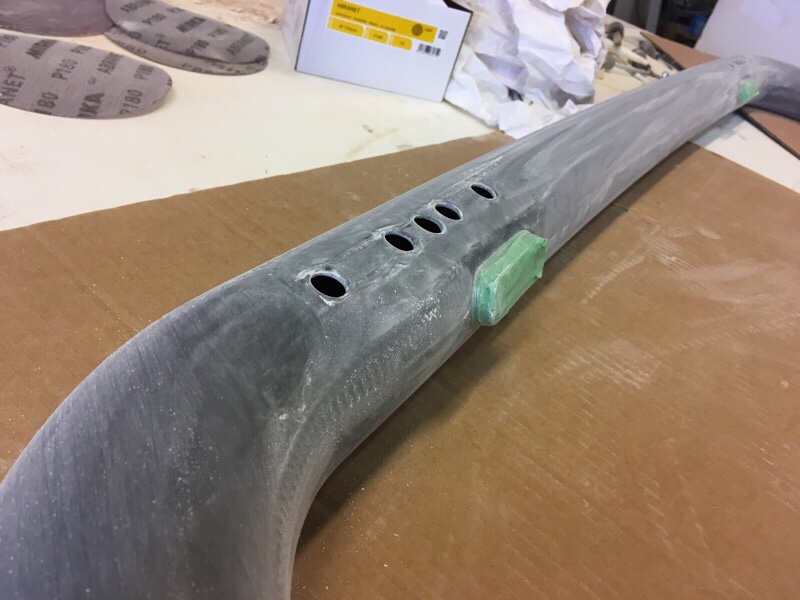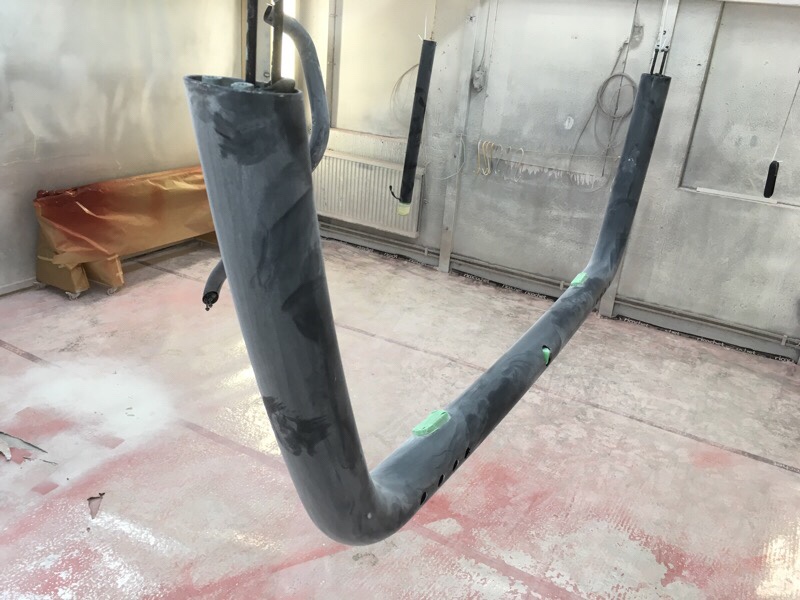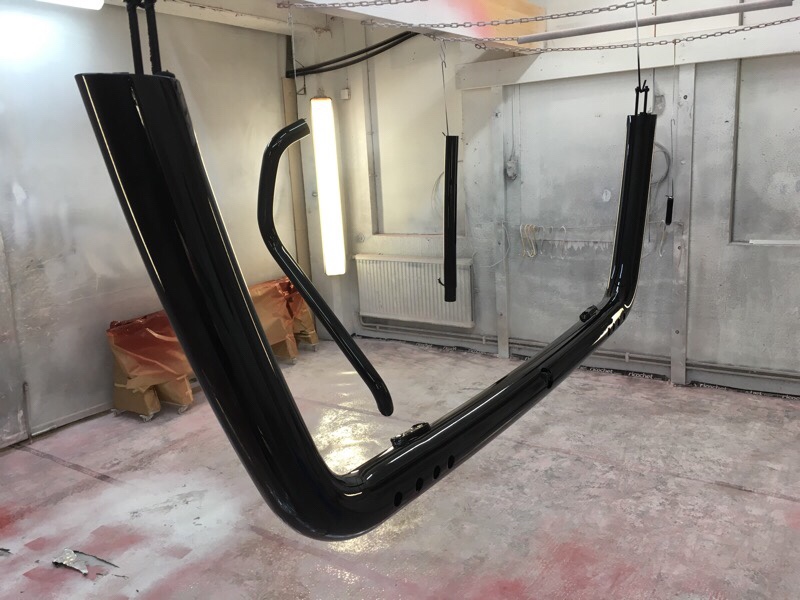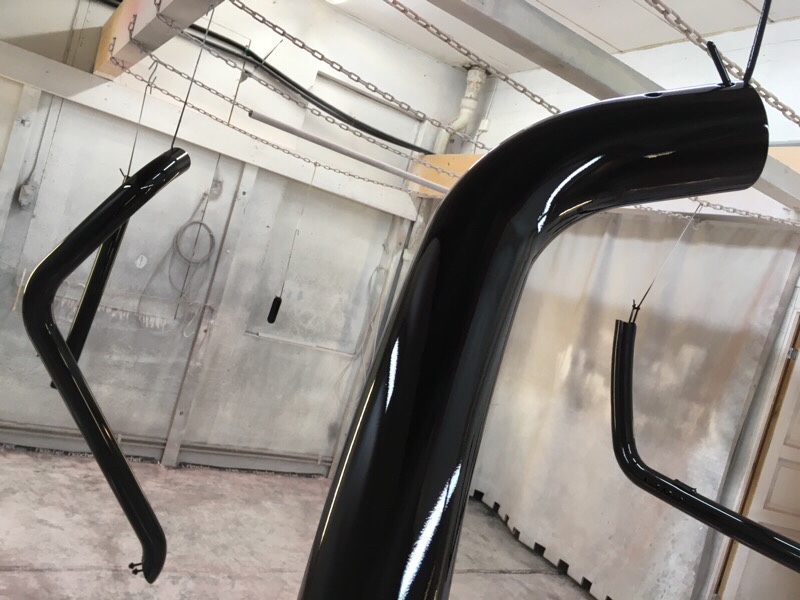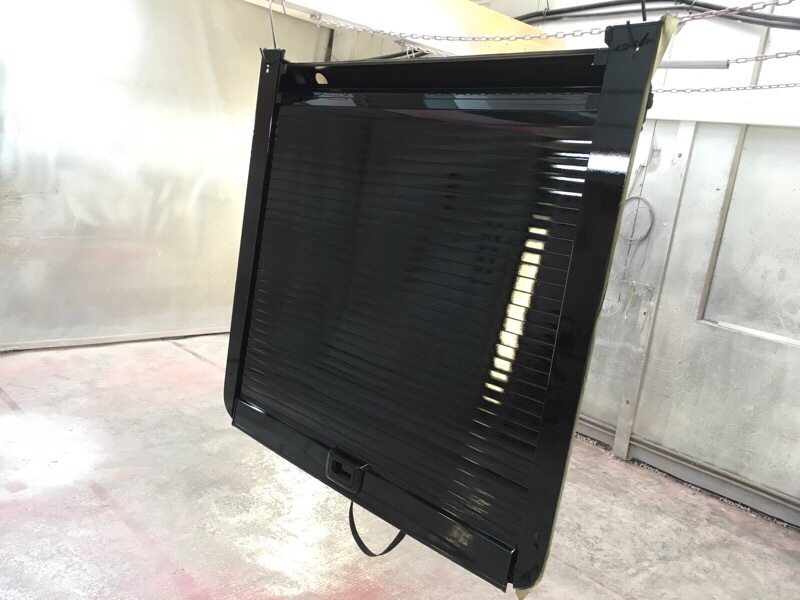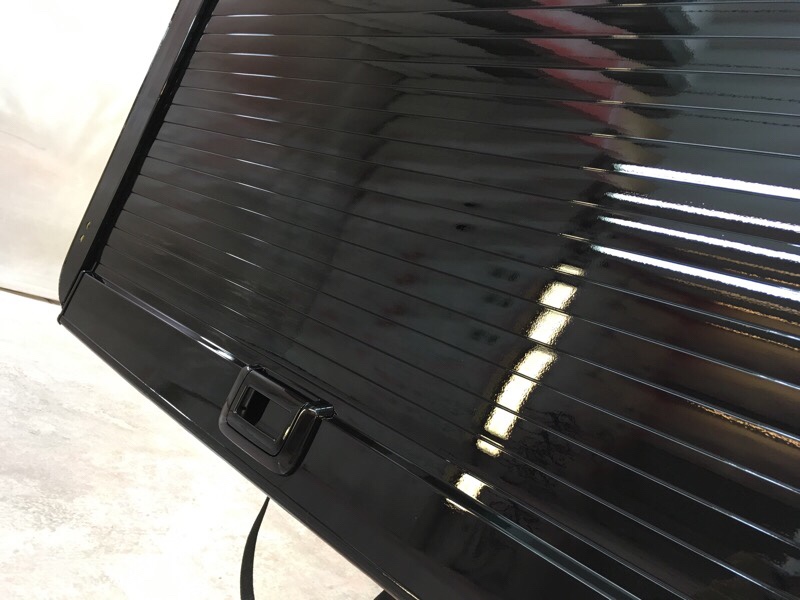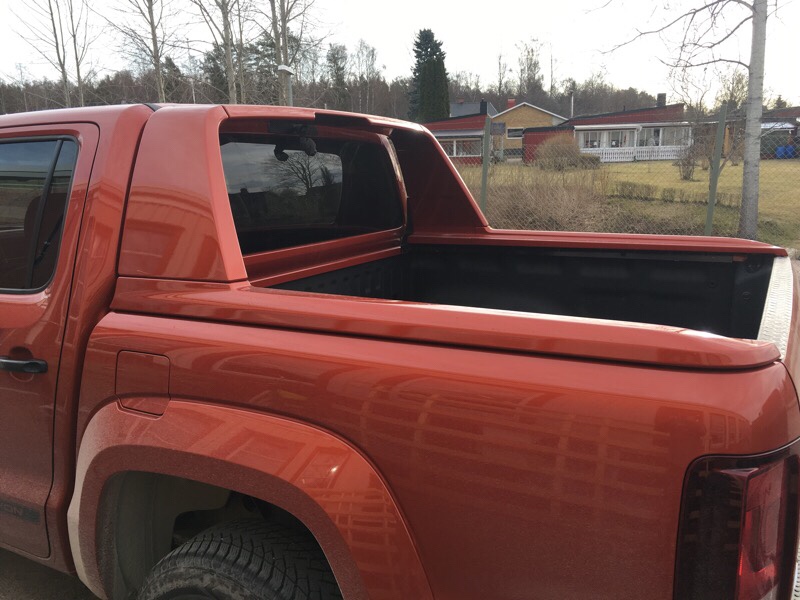 In this post I will show how I make a cabinet door from a big sheet of plywood. After lots of measures it's time to cut these numbers out to actually real things, this time cabinet doors for a overhead locker/storage to the Highroof Bay.
Draw up the dimensions on a 12mm lightweight plywood (never use ink pen!). Then cut it out with a steady hand and a jigsaw. Cut out laminate in slightly bigger size than the plywood, add 3M laminate glue on both sides, let it dry separate for 60mins. Then press the laminate together with the plywood and put it under pressure for at least 1hour or 2. Repeat it again to do the other side if needed. After this it's time to use the electric wood router and cut out the coutures. Then cut a profile in the end of the door using a special router bit. When this is done you can start knocking on the edging, you can buy these from special wood company's or camper conversion firms. Then measure out were you want the doorknob, drill it out, press in a bezel and install the lock. Mount hinges. Now you have one complete door, just everything else left to do 😉 Good luck!
Some of you have been asking for build plans for the Highroof Bay bus interior, but the only plans I have is in my head, sorry guys! 🙂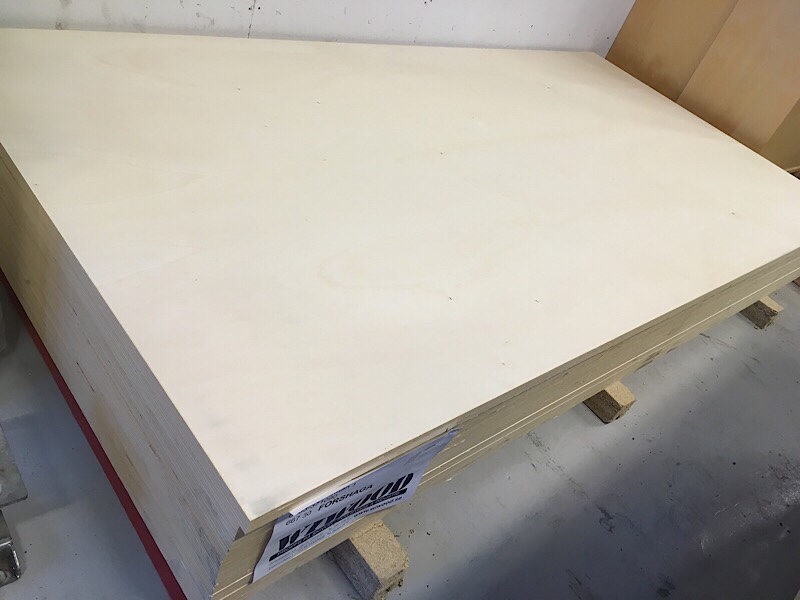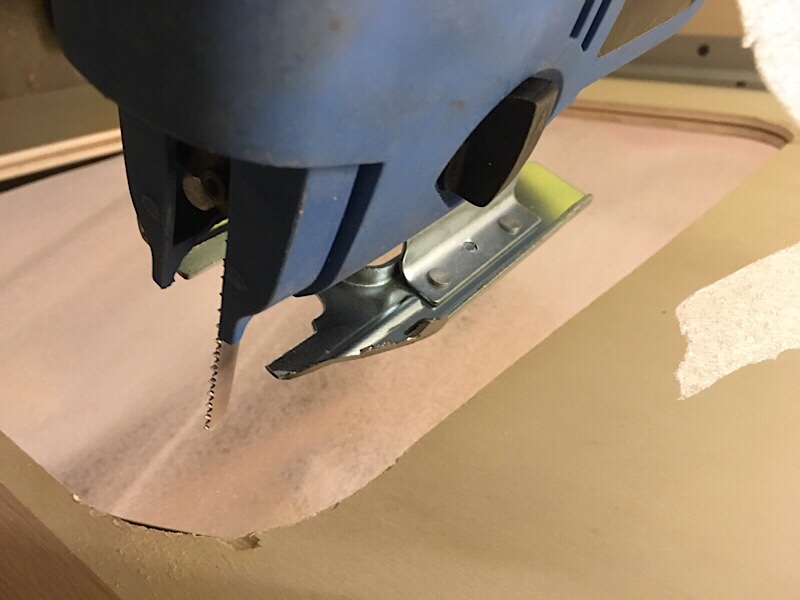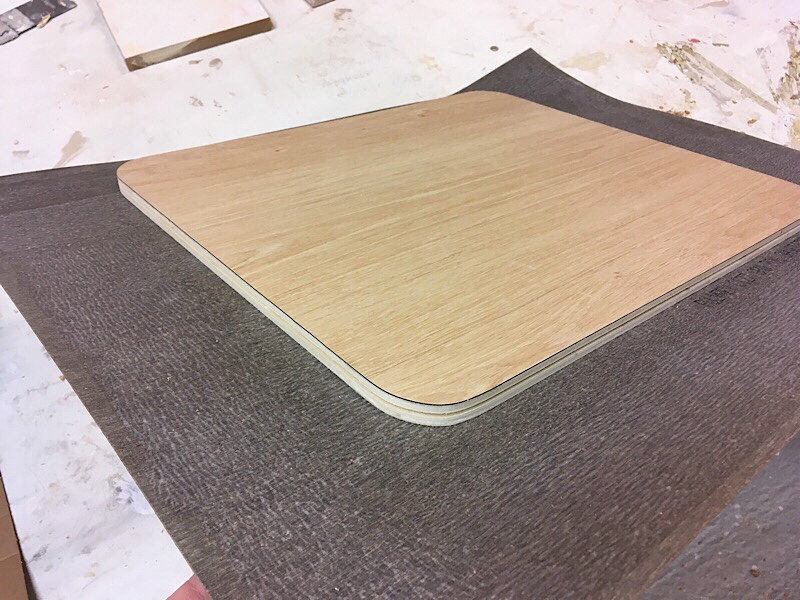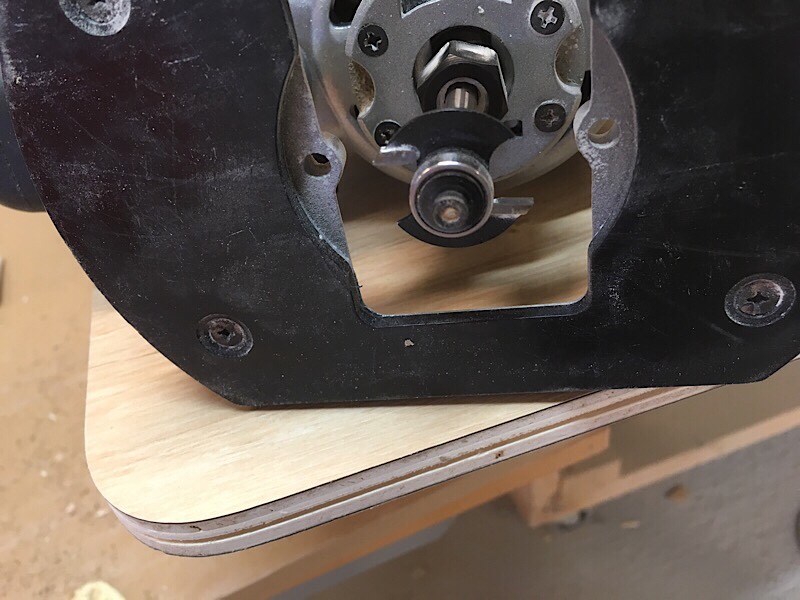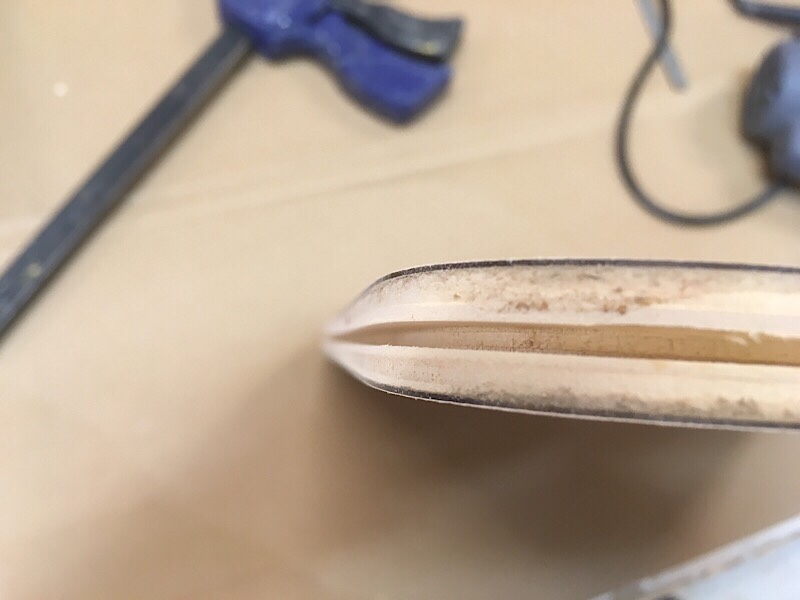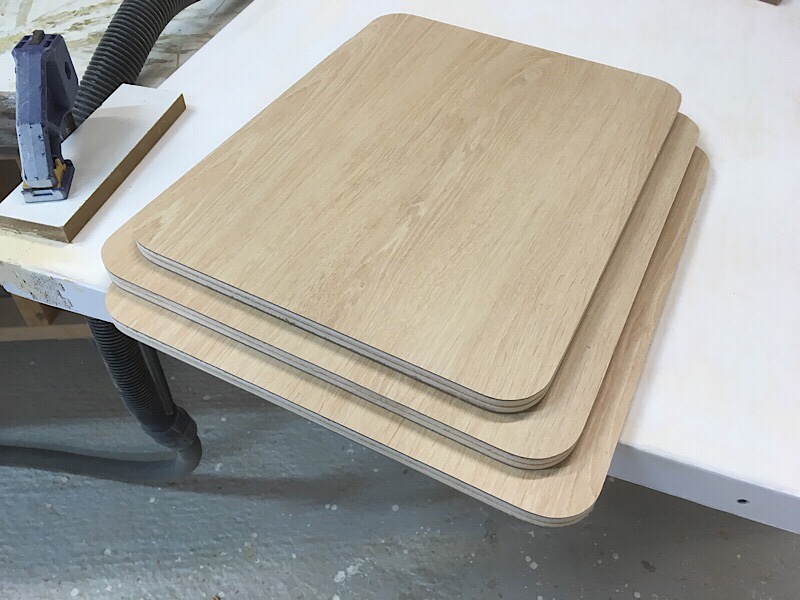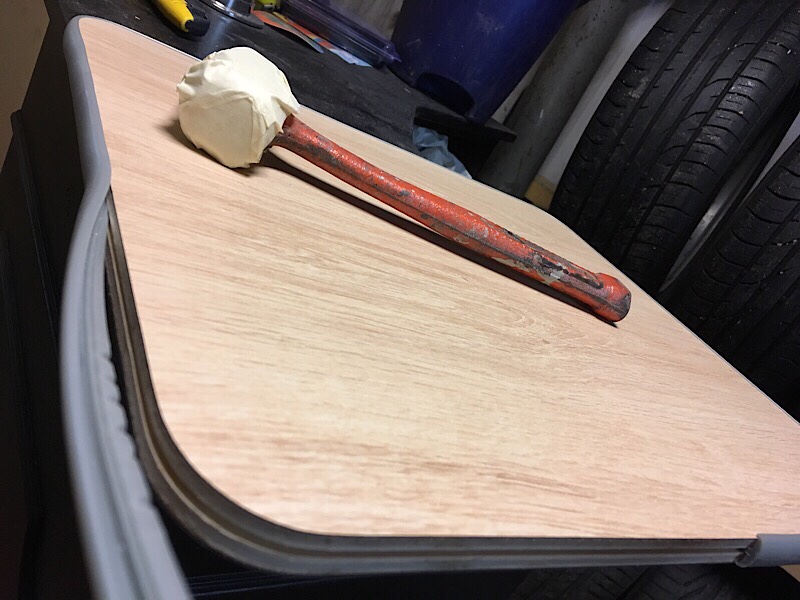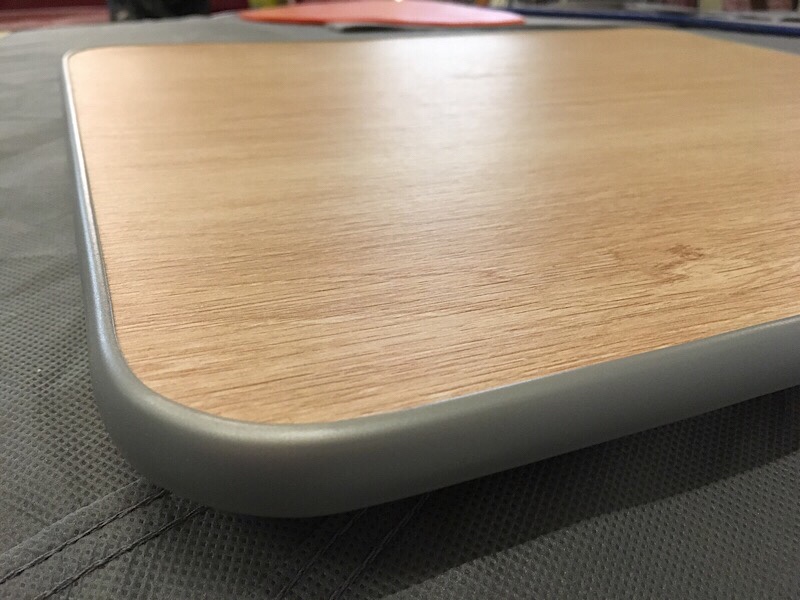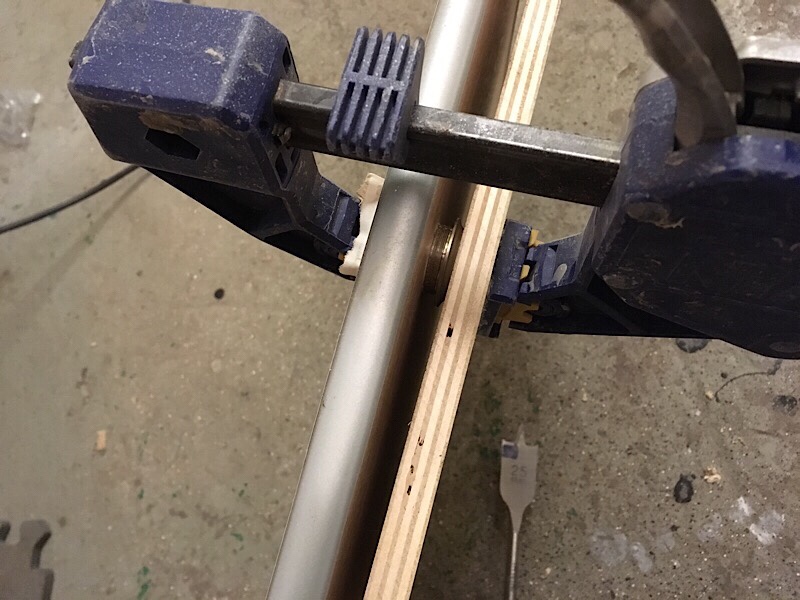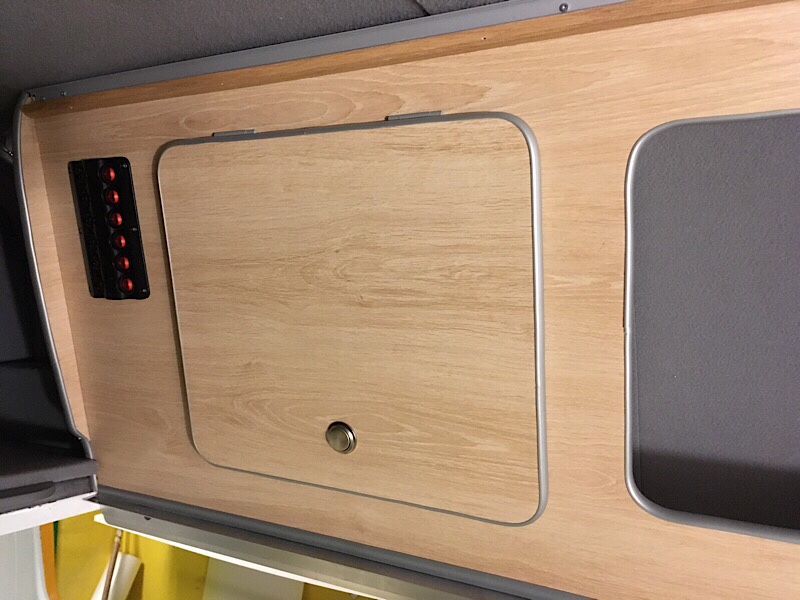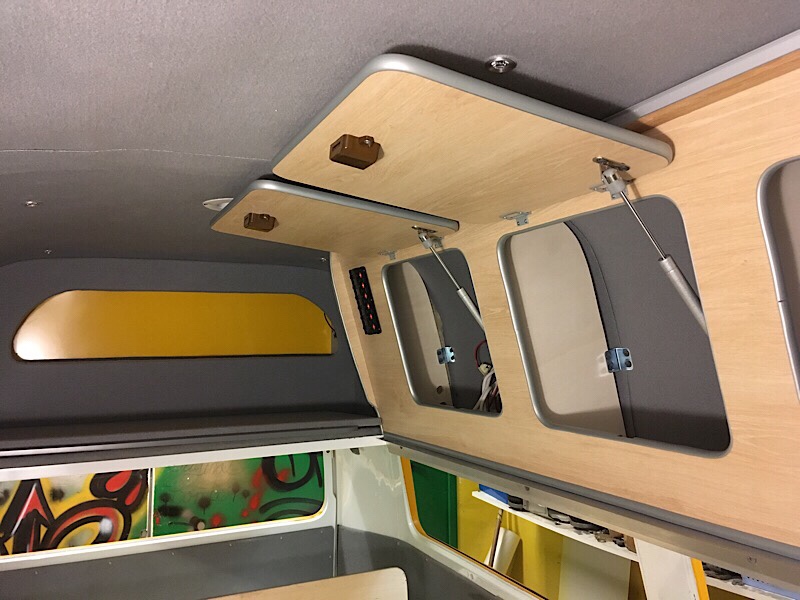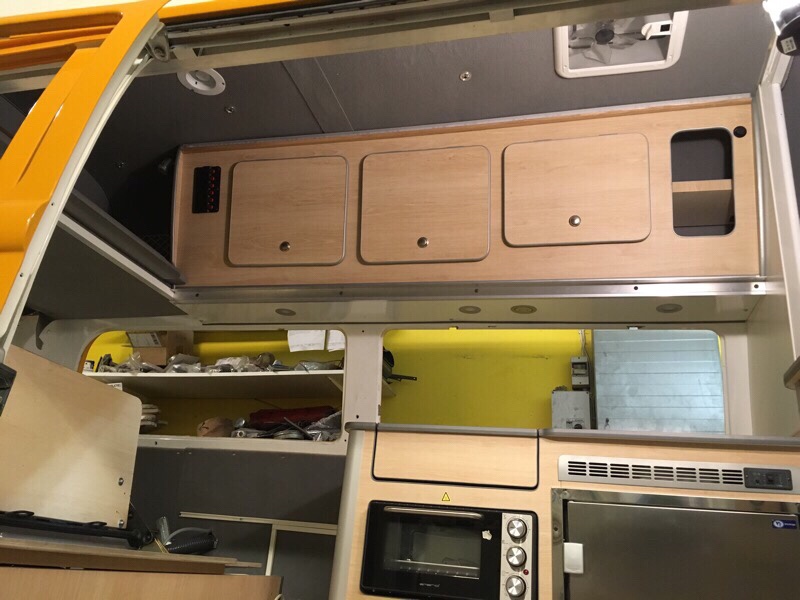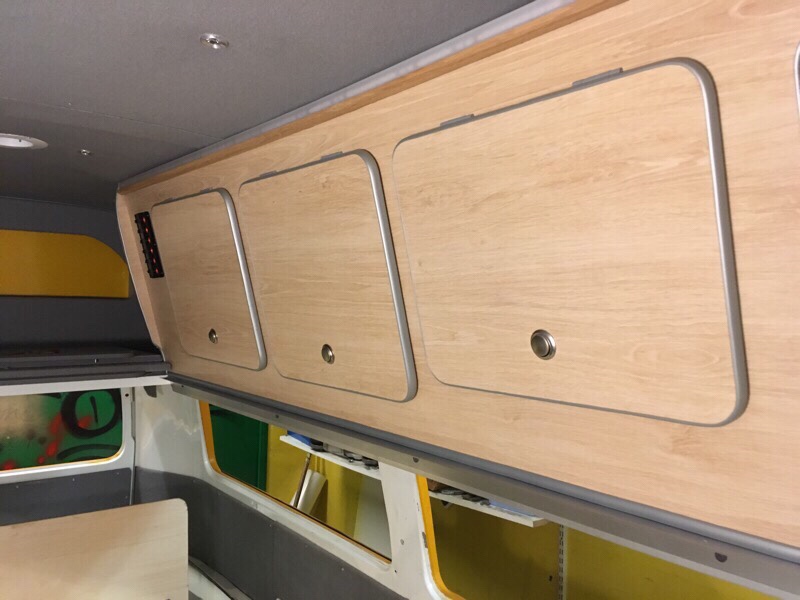 Piece by piece it's coming together! I Have been fixing with the bumpers and wheels lately. It have all been sandblasted, welded, epoxyed, sanded, primered and painted in same white as the roof. Really starts to come together now, some light in the tunnel. But still lots left to do, here is some new pics…
#highroofbayproject
Have not got very much done lately. As my first son (1 year old) takes most of the time now. So that more important at the moment. But Im trying to push forward on the bus too, couple of hours after work and on weekends etc. Soon have all doors and lids in primer and then it all just needs a easy sanding and then its time for a paintjob! Have also sandblasted the fueltank cover and bellypan and got them painted and ready too. Hope to start rebuild of the 1800cc Type 4 engine in begining of February also!
More to come, but thats it for now, here is some pics…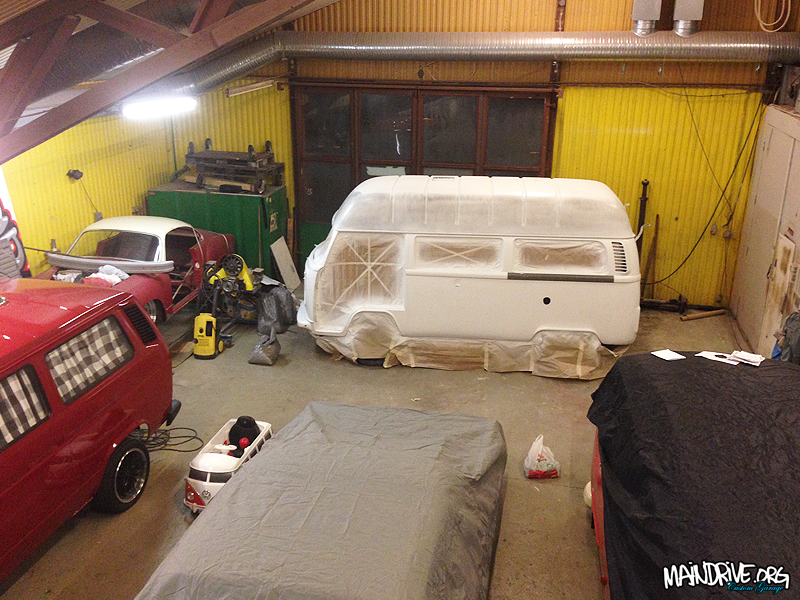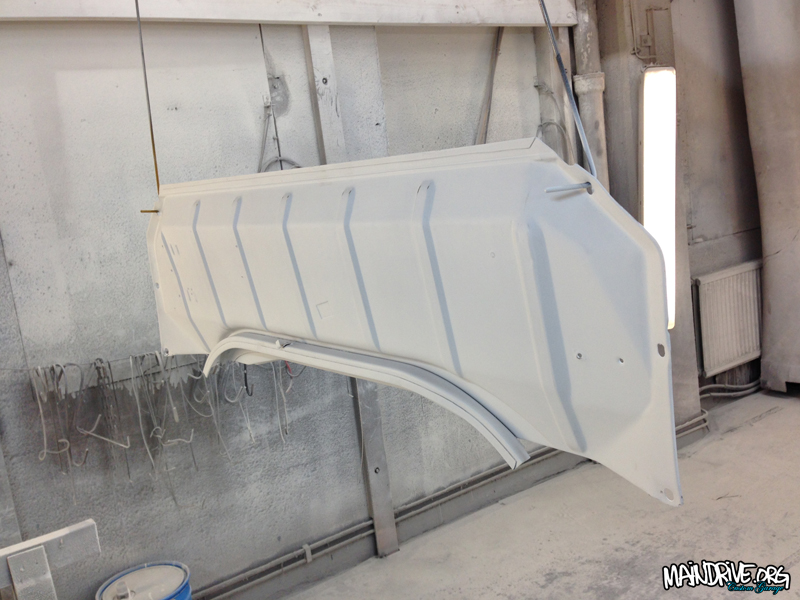 Blasted and epoxyprimer, ready for topcoat in VW factory greyish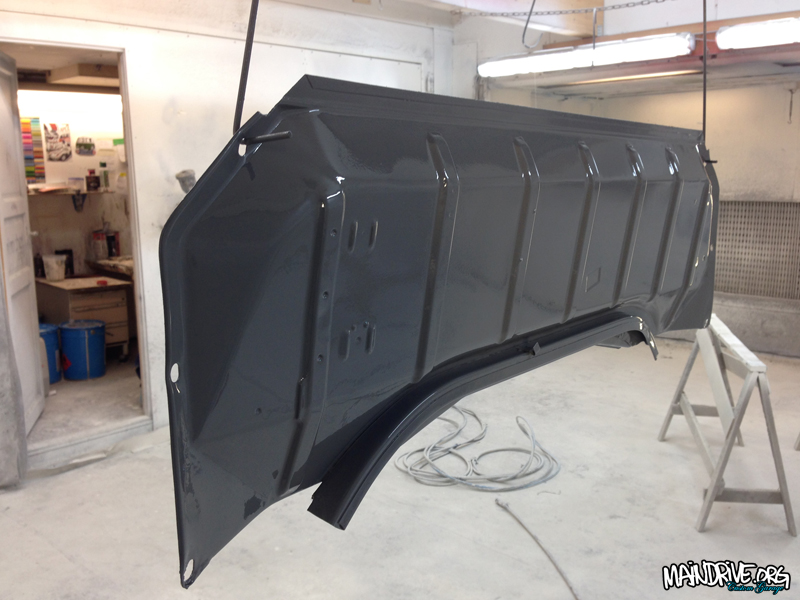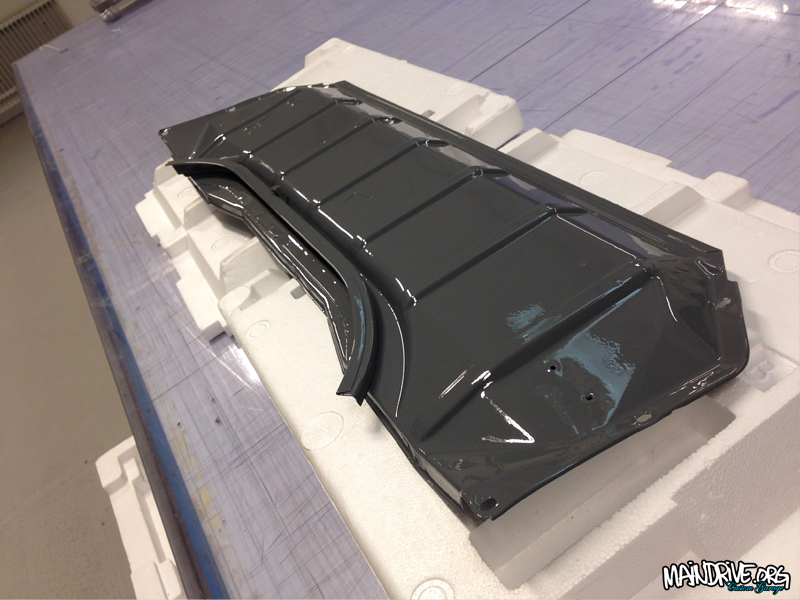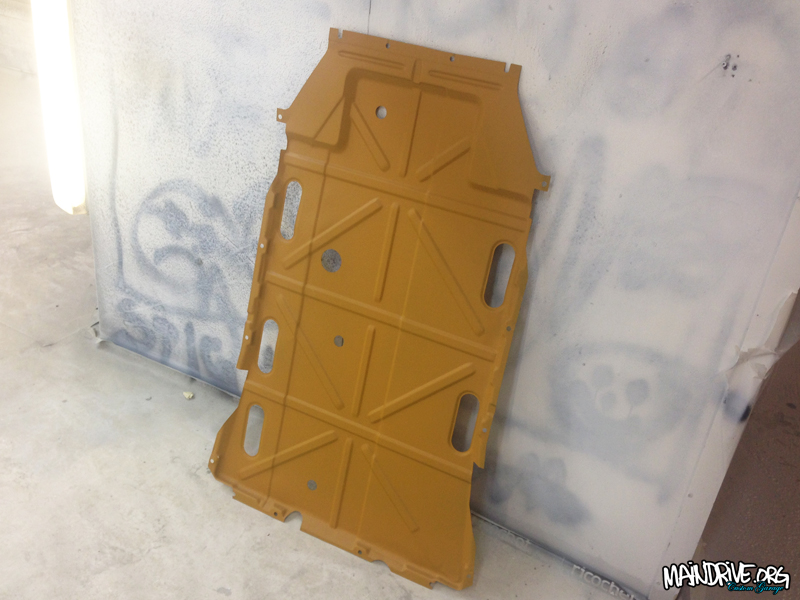 Baremetal then yellow epoxy/zinc primer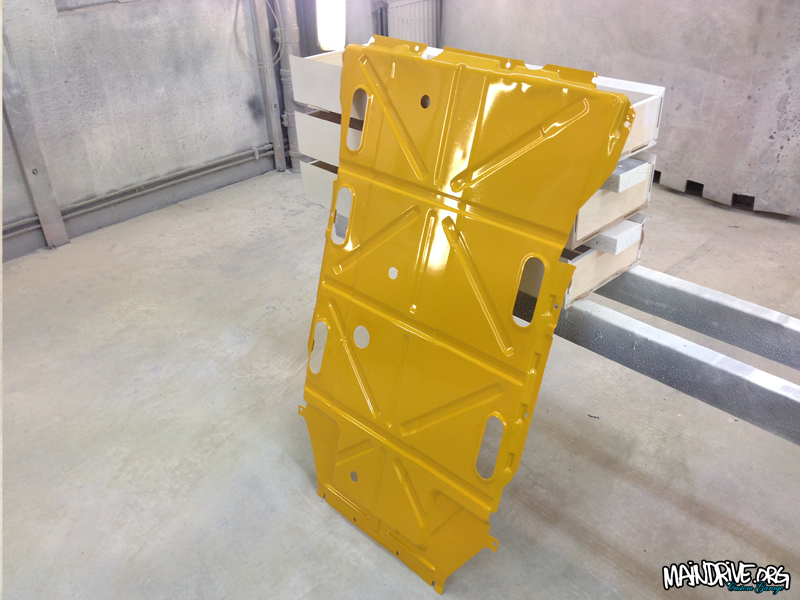 Topcoat in VW L20a Marino Yellow with 2K polypaint with elastic characteristics. So the stones wont chip the paint. The gloss on the elastic is a little less, but this panel is under the car and you normaly never see it anyway.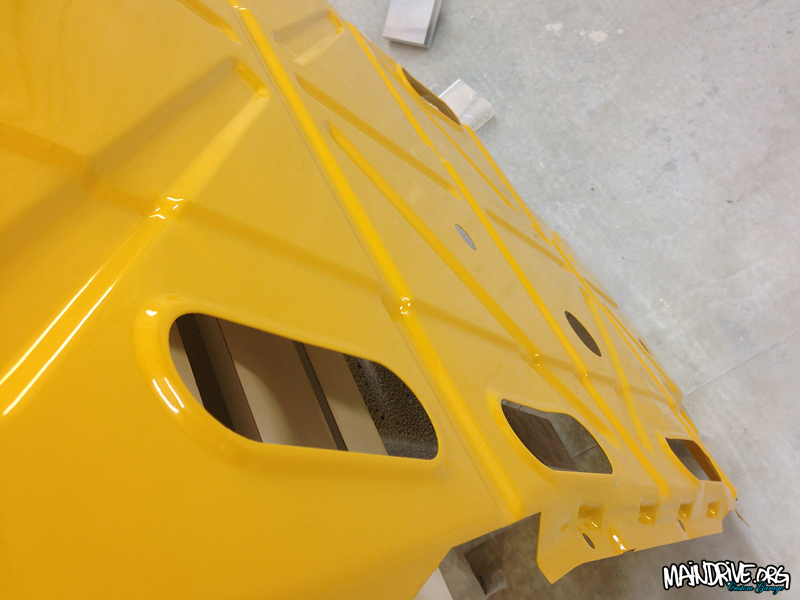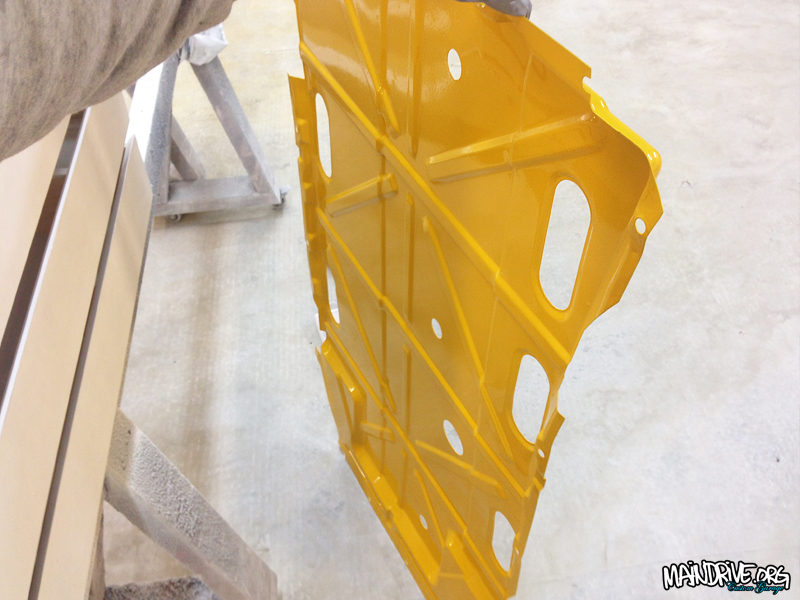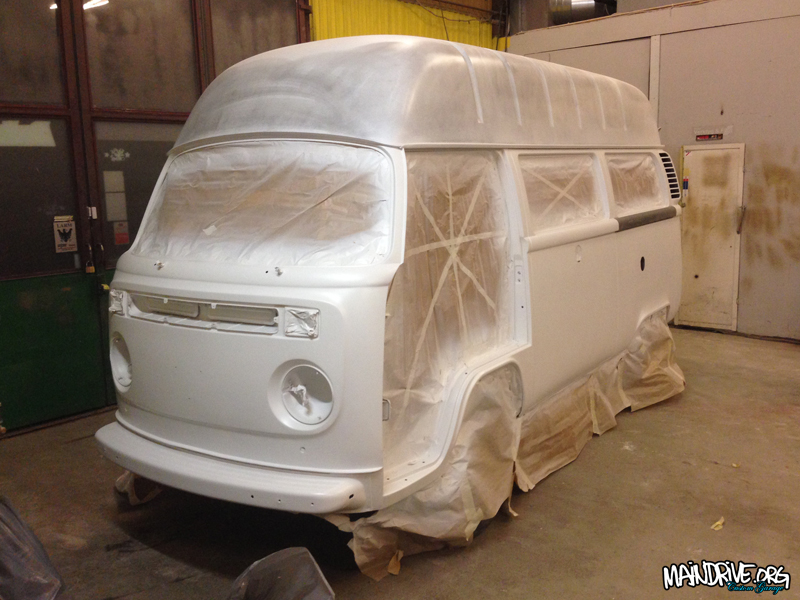 VW steering wheel lock (option) for early Beetle. Check out 4sale section for more info…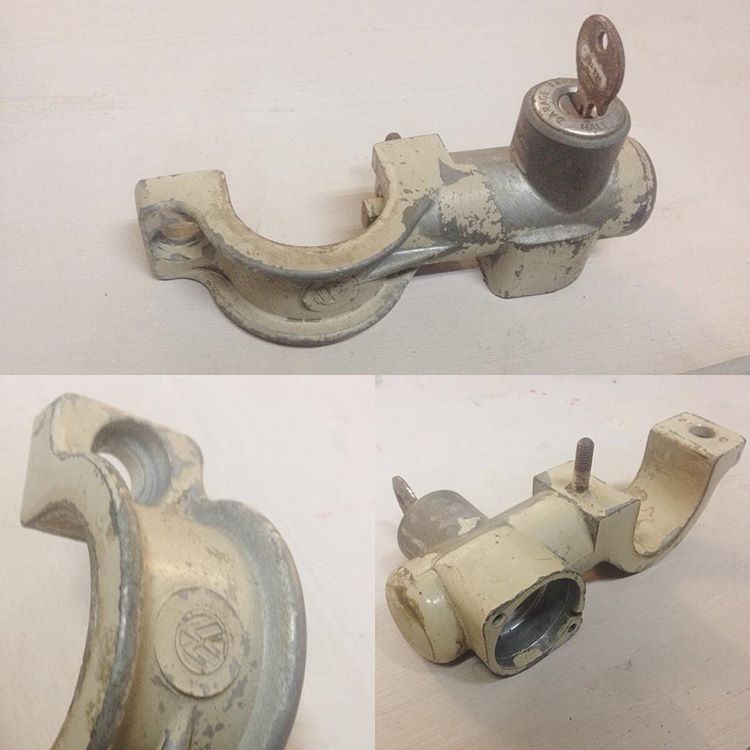 The engine bay is now ready for the fueltank and later on the 1800cc+ type 4 engine (need to be rebuilt first) to be installed. Today the whole front cab of the bus got sanded down (mostly by hand), front doors removed, masked, seamsealed, prepared for primer and then topcoat in Off White color in 2 layers. Most of this wont be showing when all sounddeadning materials and carpets are in place later but good to have a clean surface for glue and its also nice to know its clean and protected under the carpets.
Next up is; top section of dashboard needs to be removed to paint it in semi-gloss Deepblack (easier to do when windscreen is already out). After this I can start with the outside body of the bus and make it ready for paint. Here is some new pics…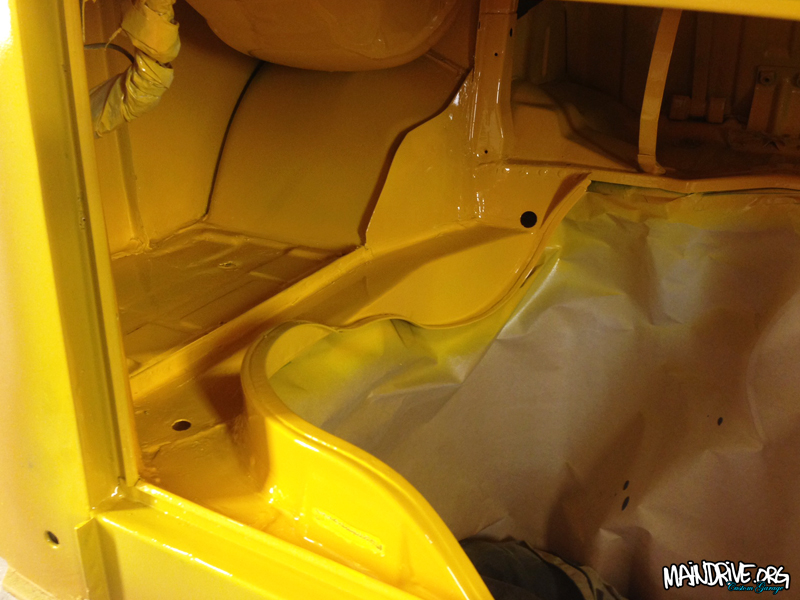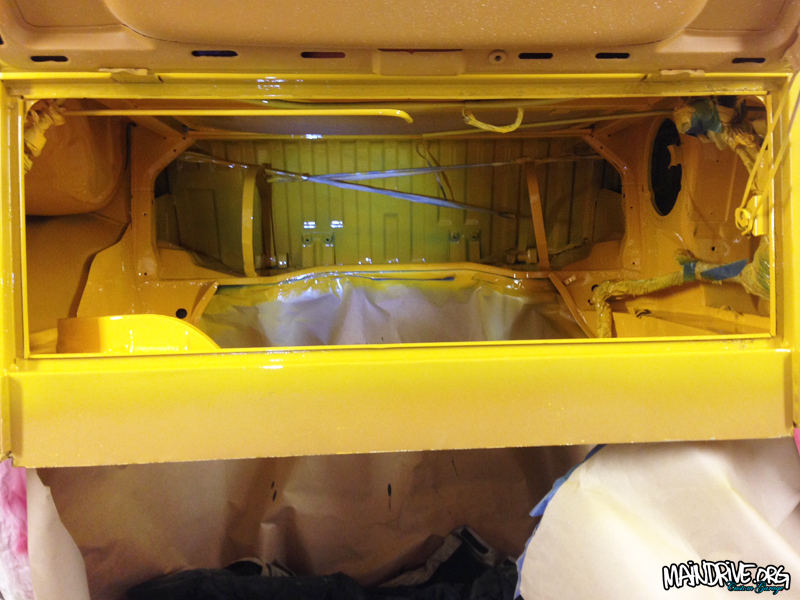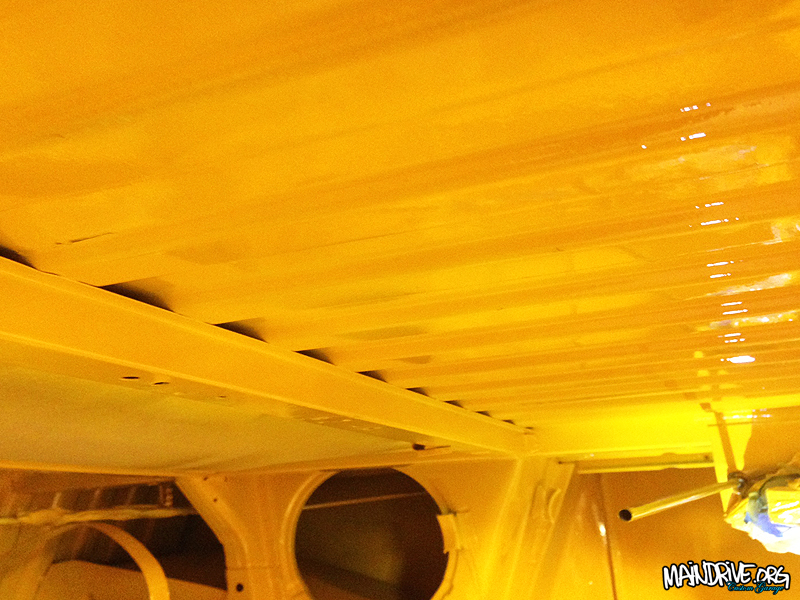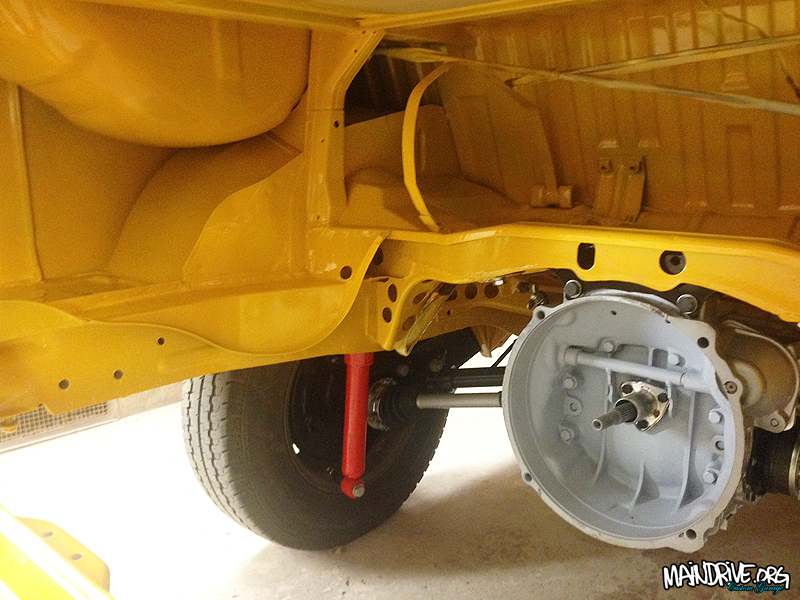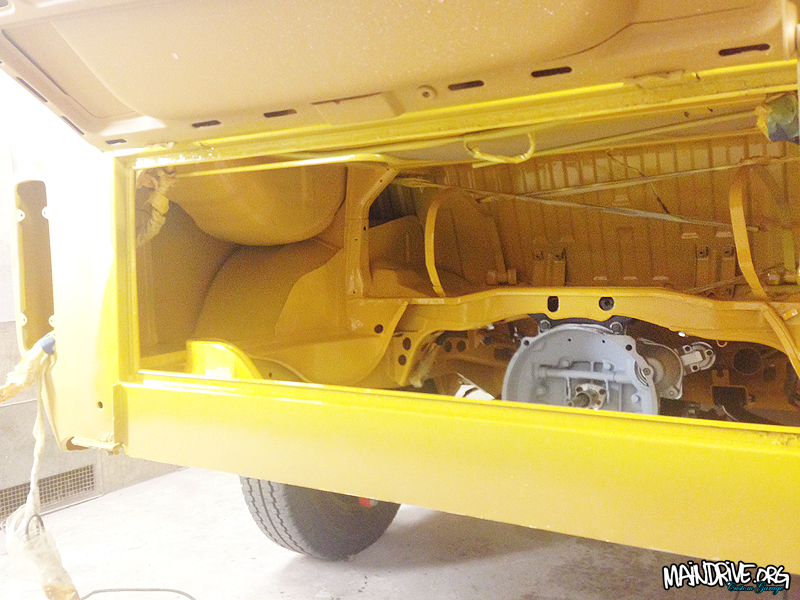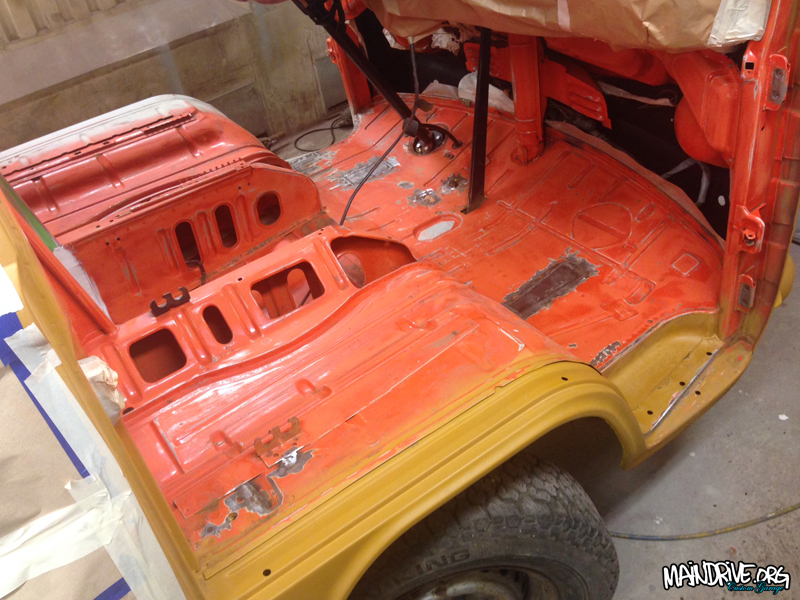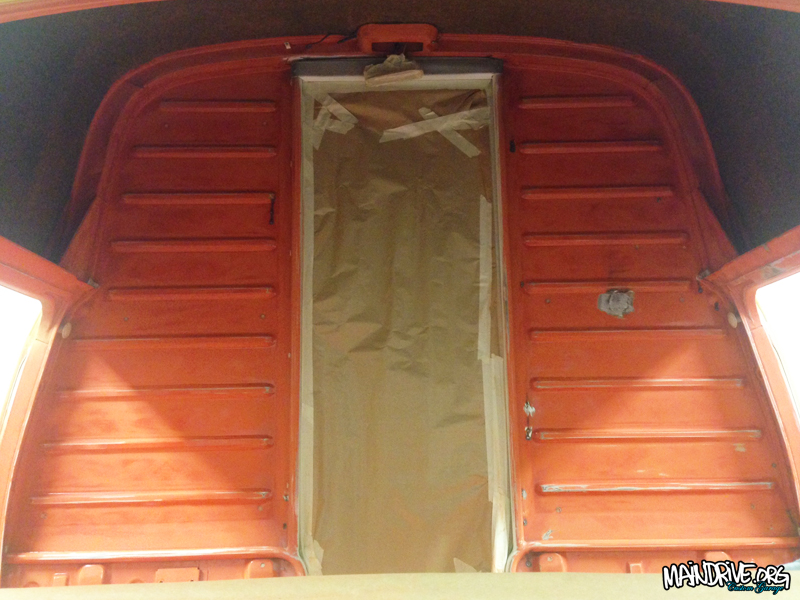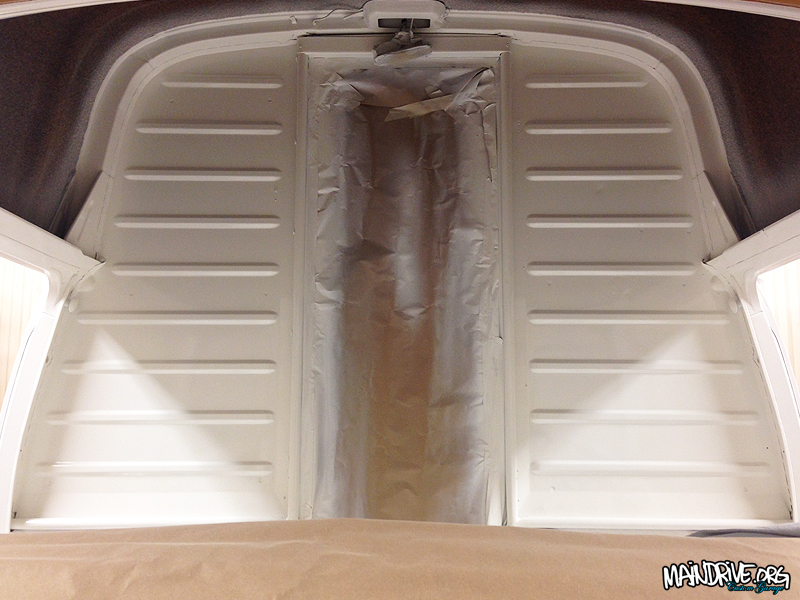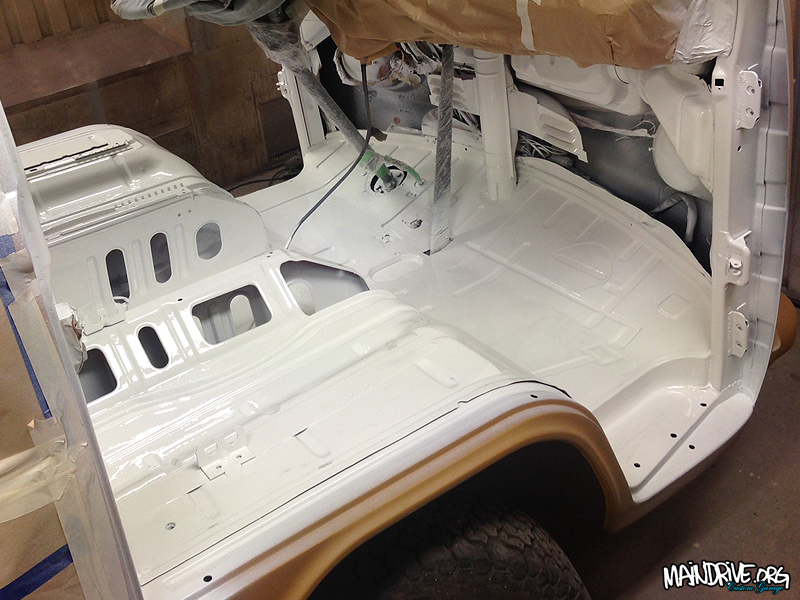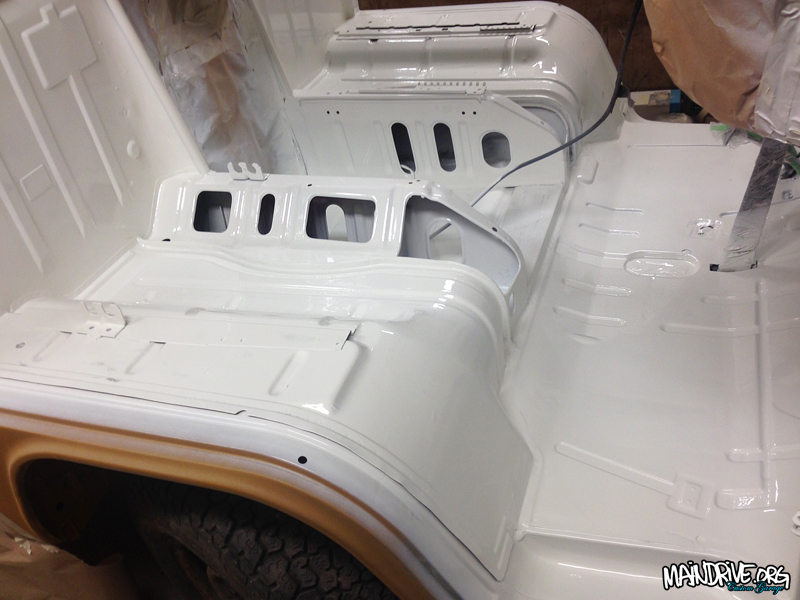 Got some new VW parts today from JustKampers, super fast delivery as always!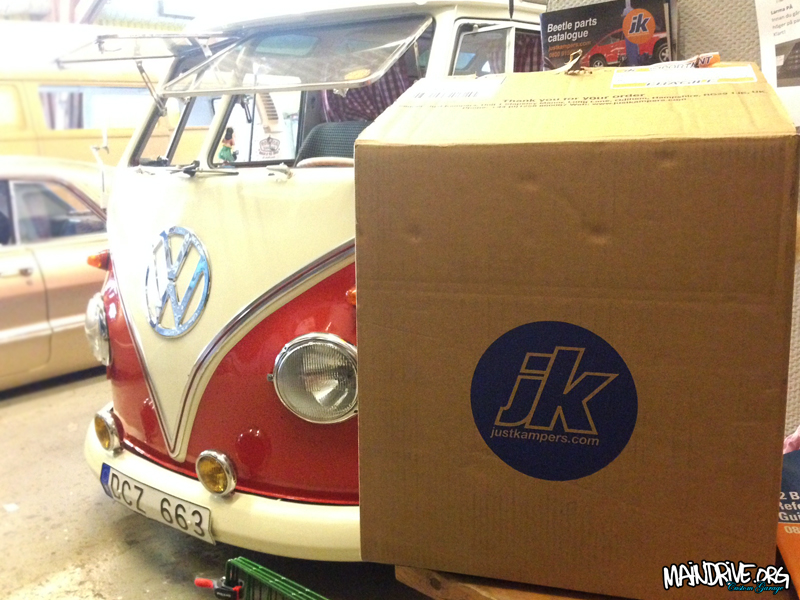 Started to get the other side done, blasted, painted and new bearings and seals. Waiting on some new parts from JustKampers and hopefully I can put the bus back on its own wheels this weekend for first time in 6 months. Also fixed the rusted and dented up front floor cover, blasted and painted ready to be installed when all wires and brakes are fixed.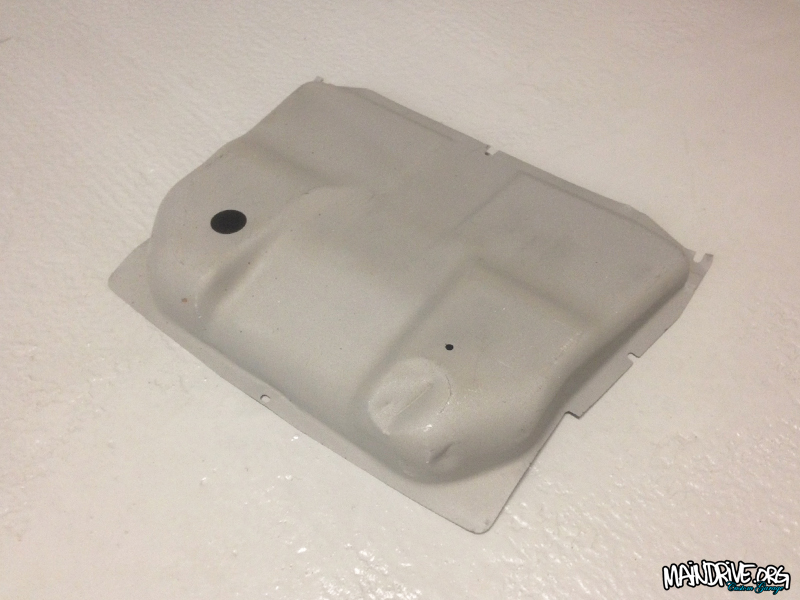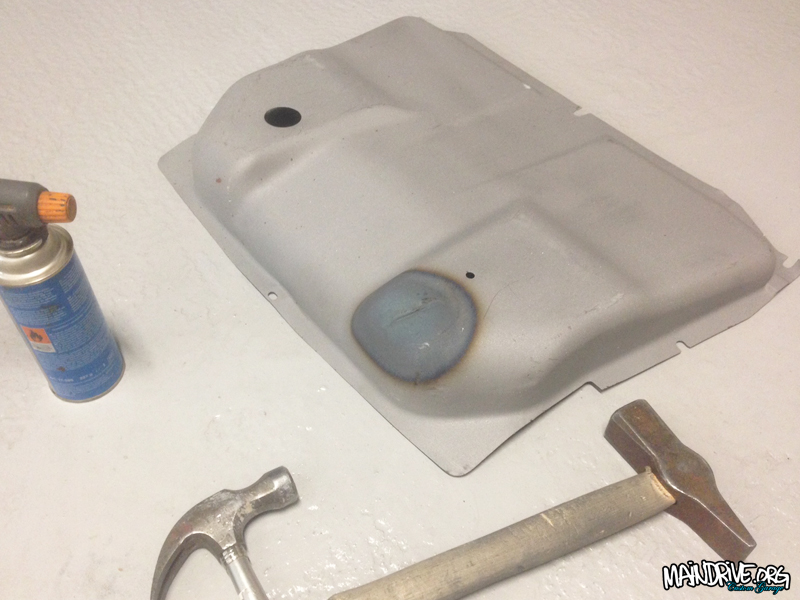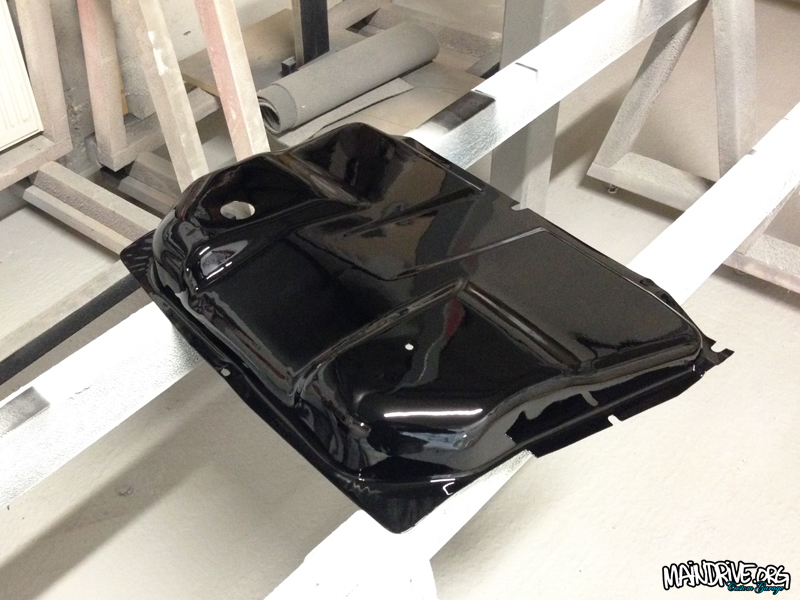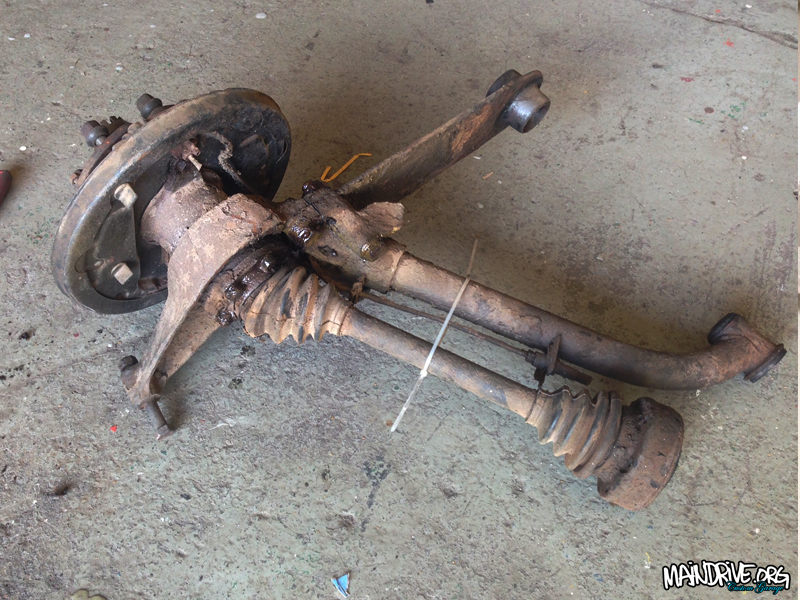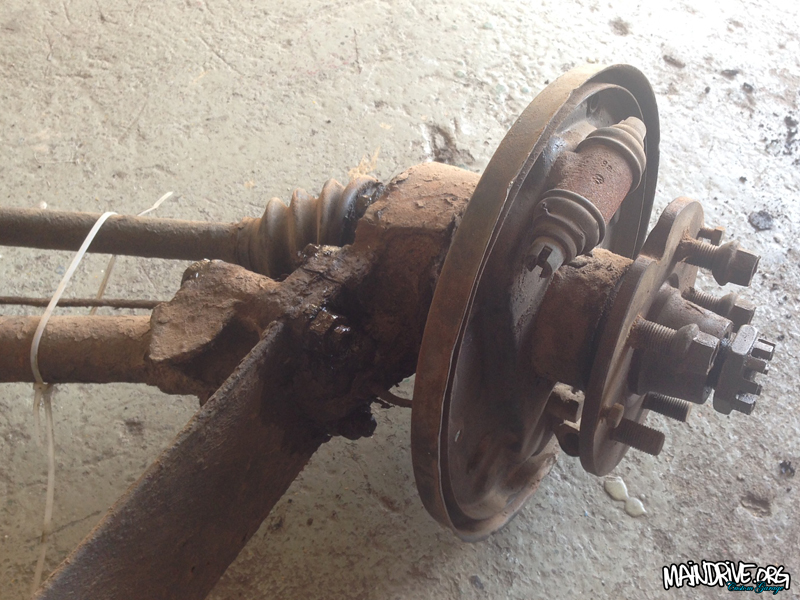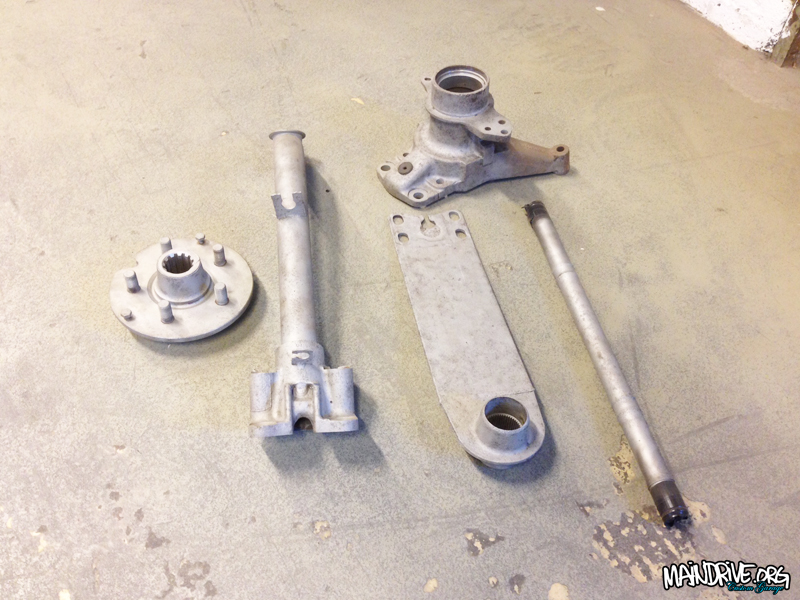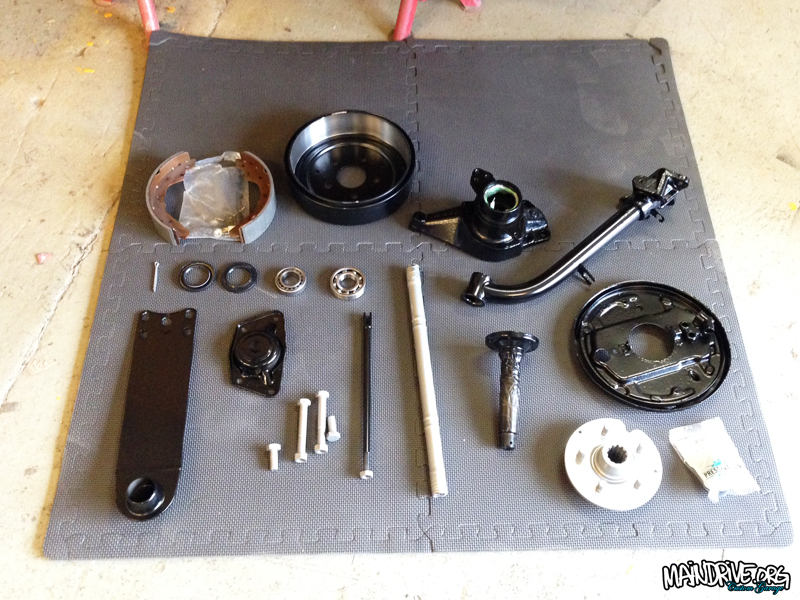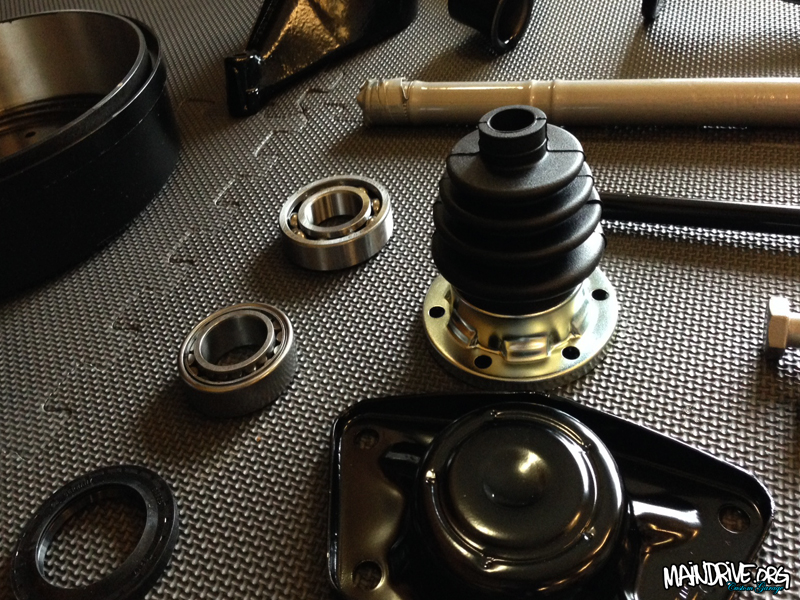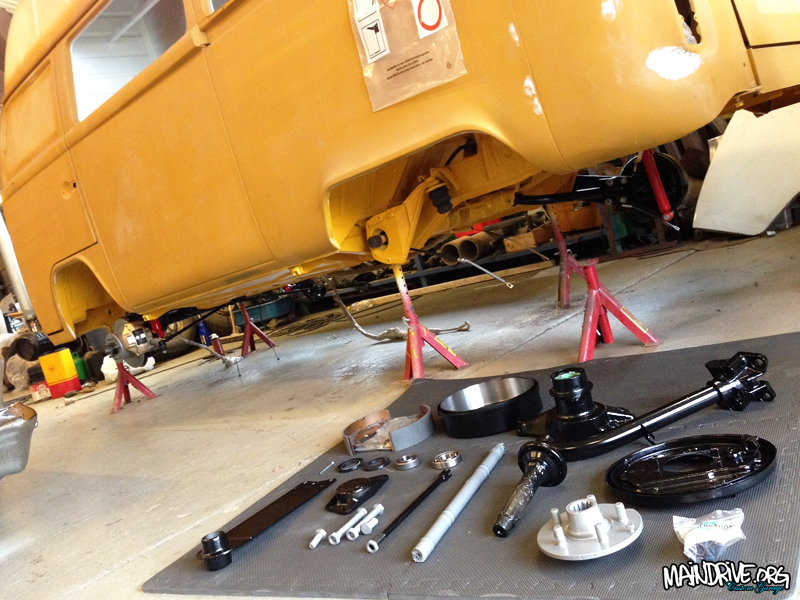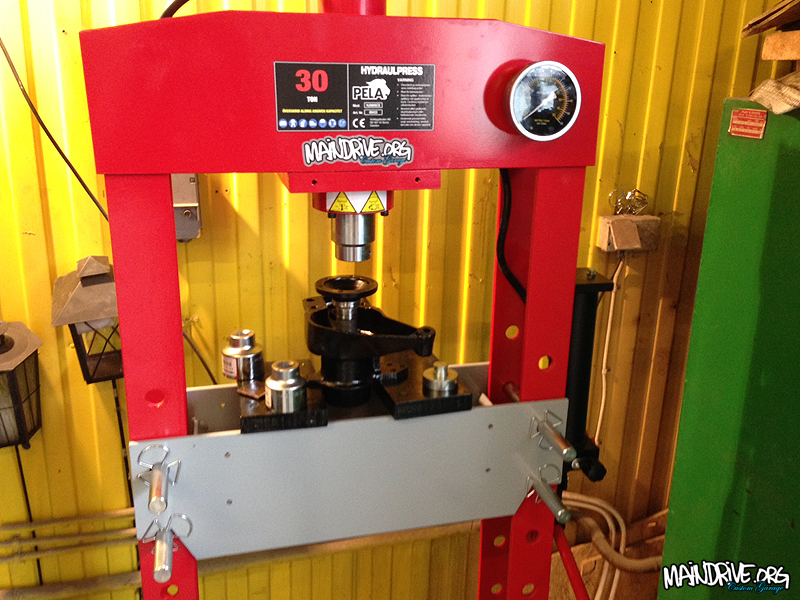 Have now started with the rear end of the bus, hope to soon have it rolling on wheels again, after 6 months in the air. Dismantled the rear IRS trailingarms, removed all old bearings and seals, cleaned it up and sandblasted everything. Then all parts was coated in zinc primer and the Deep black satin finish paint. All new wheelsbearings and seals pressed in, new bushings everywhere and also nuts/bolts. All new brakeparts and brakedrums too. One step closer…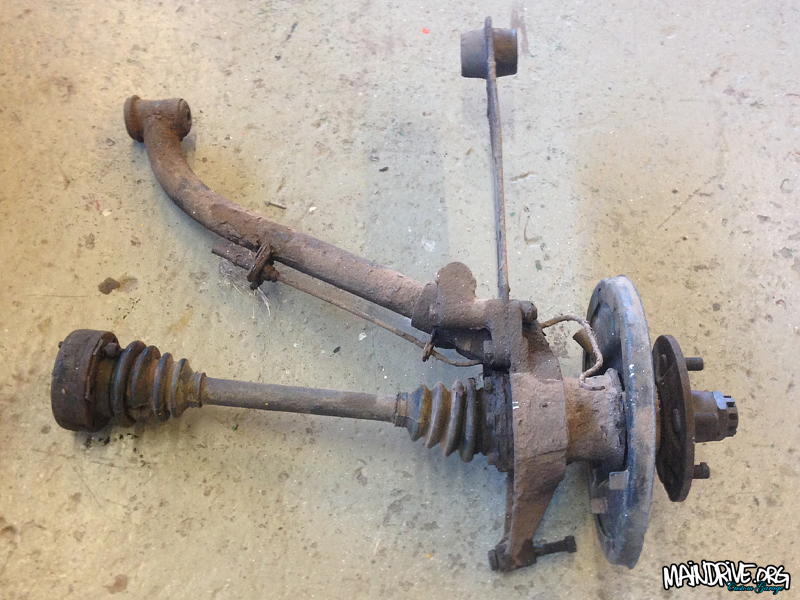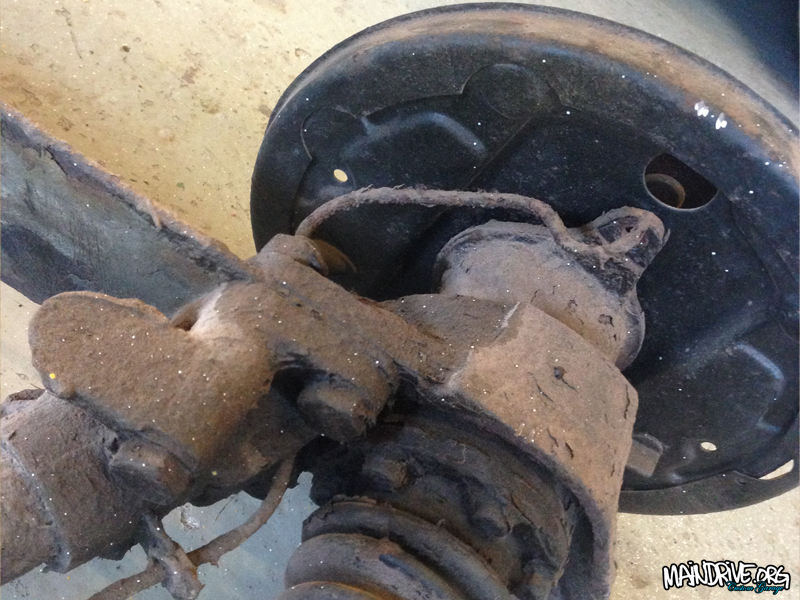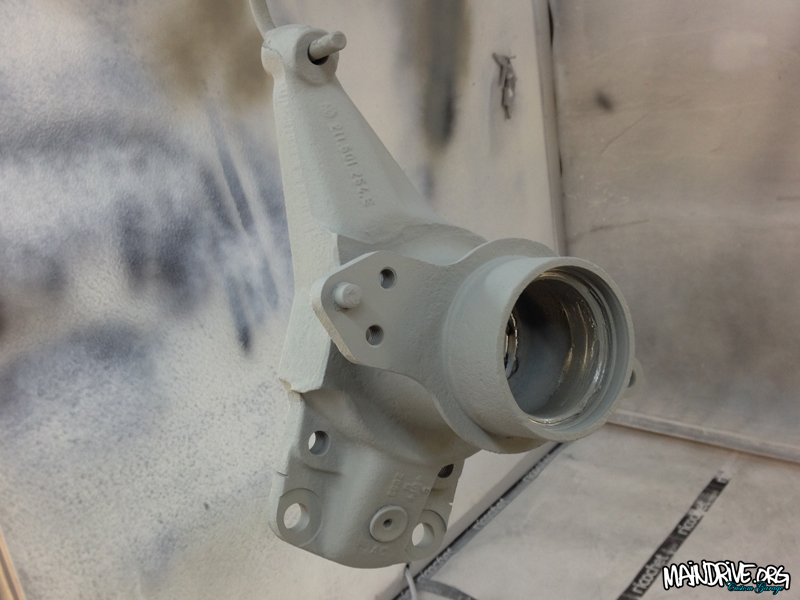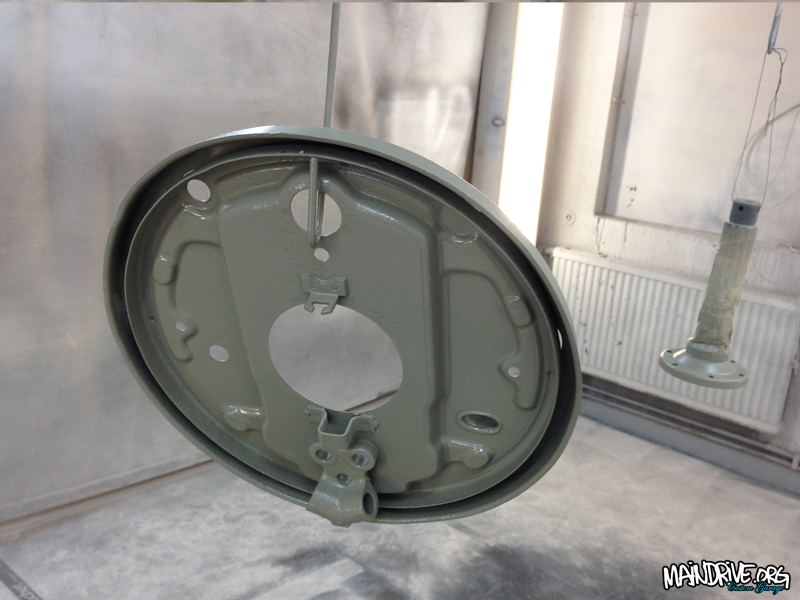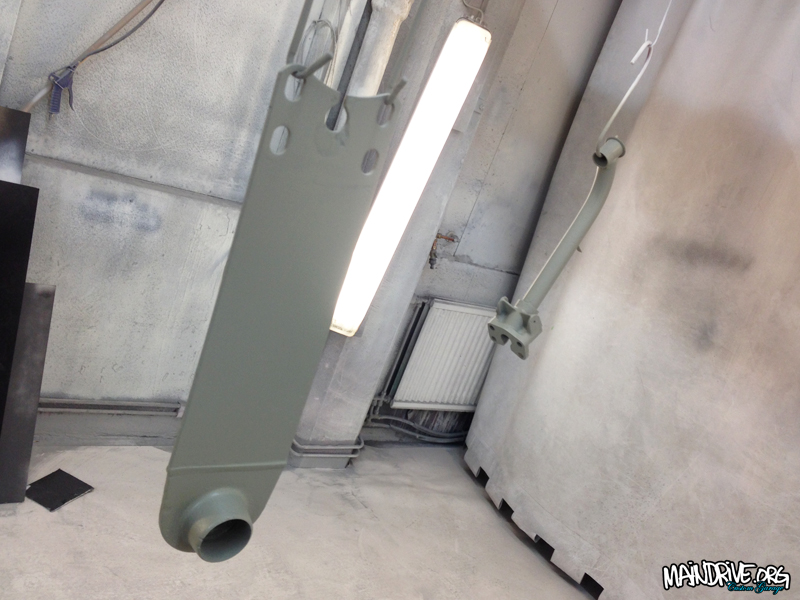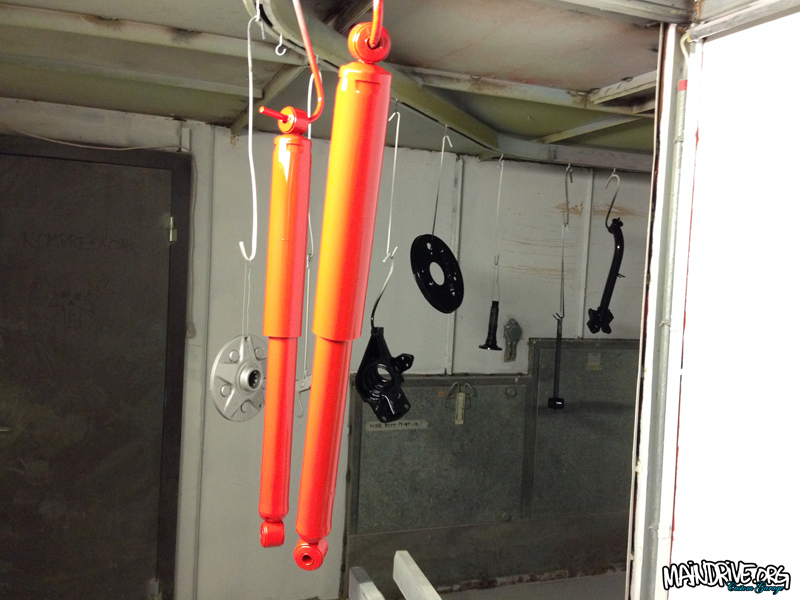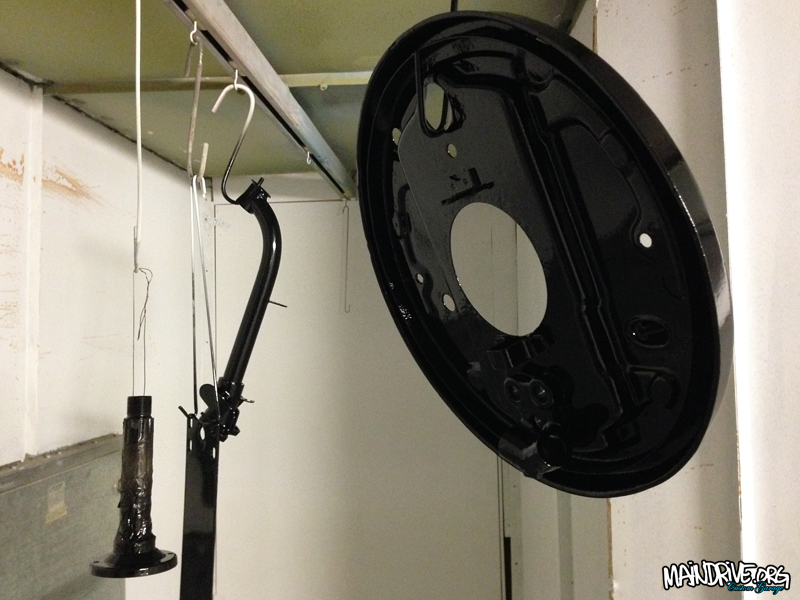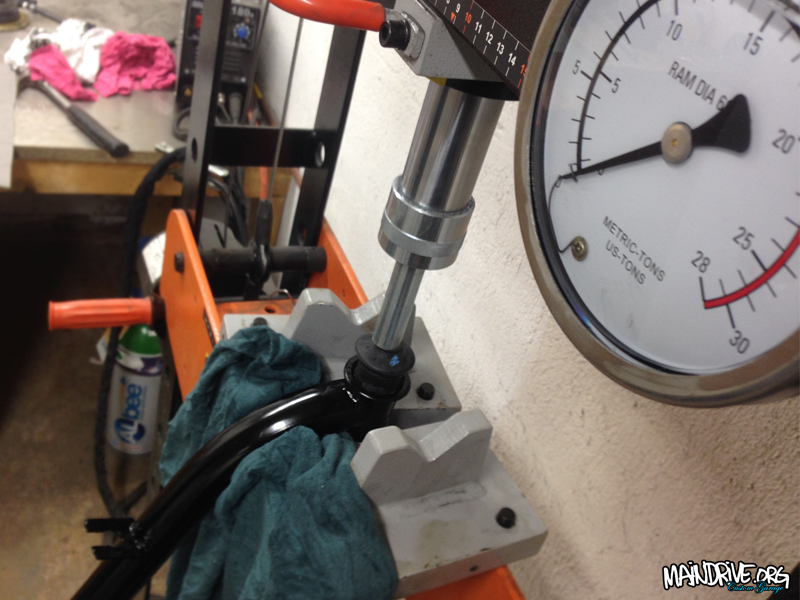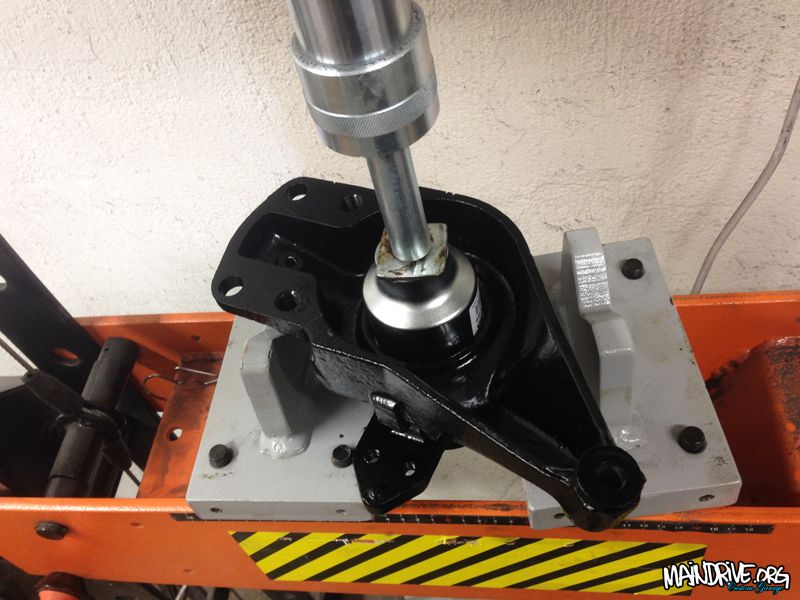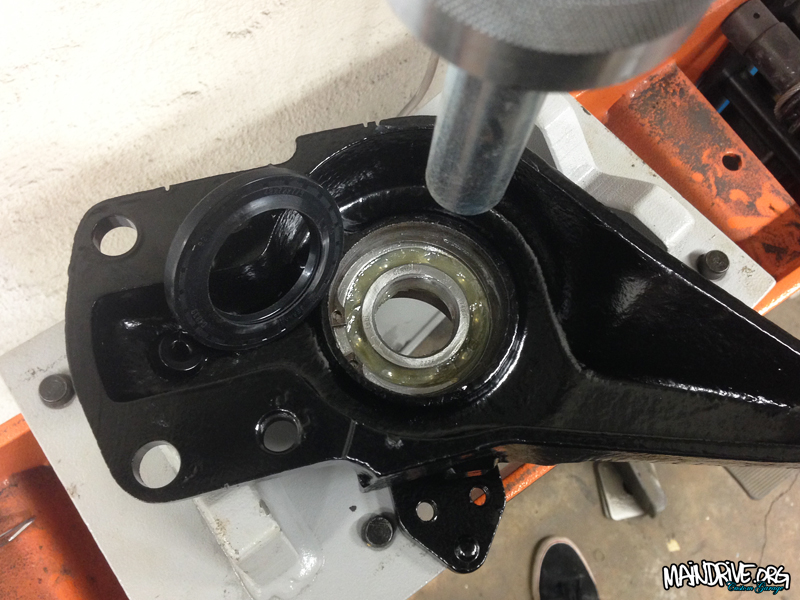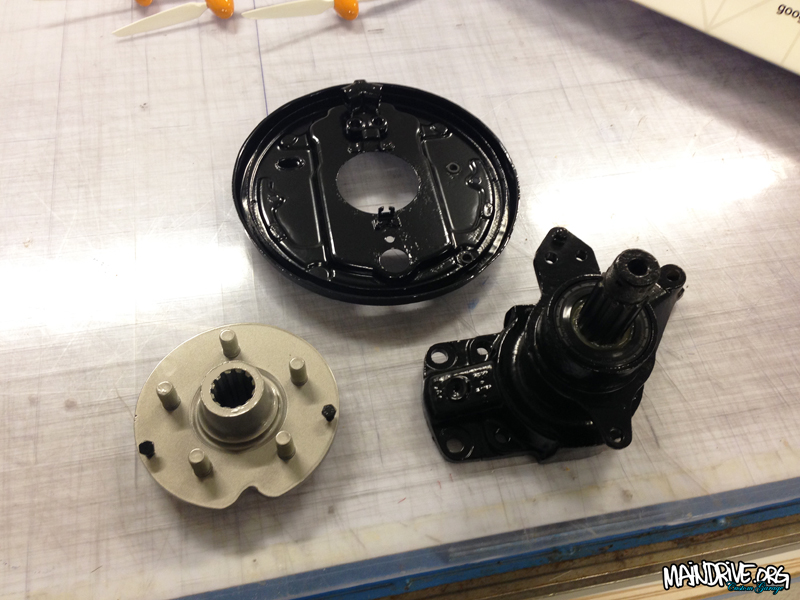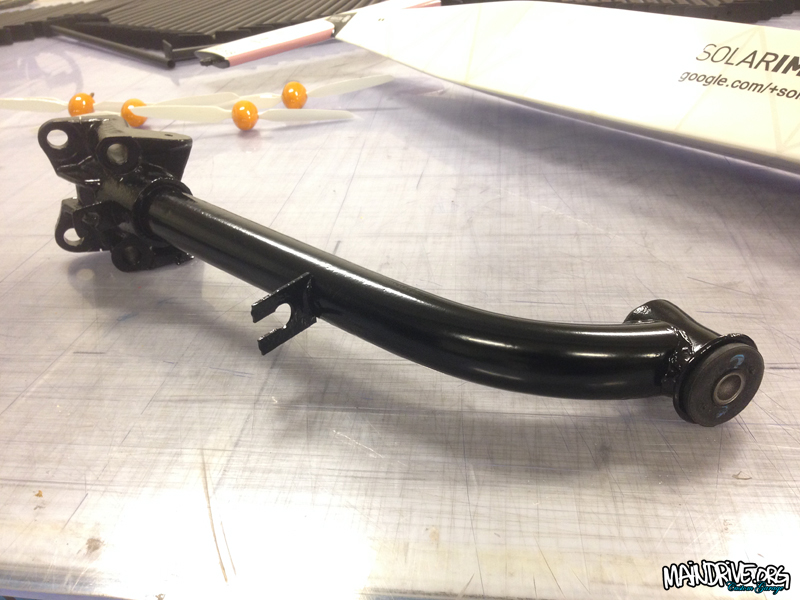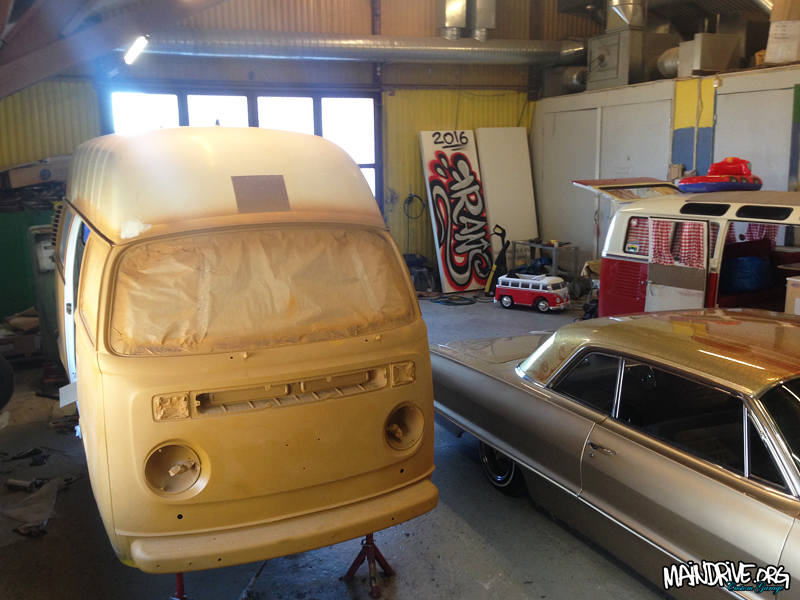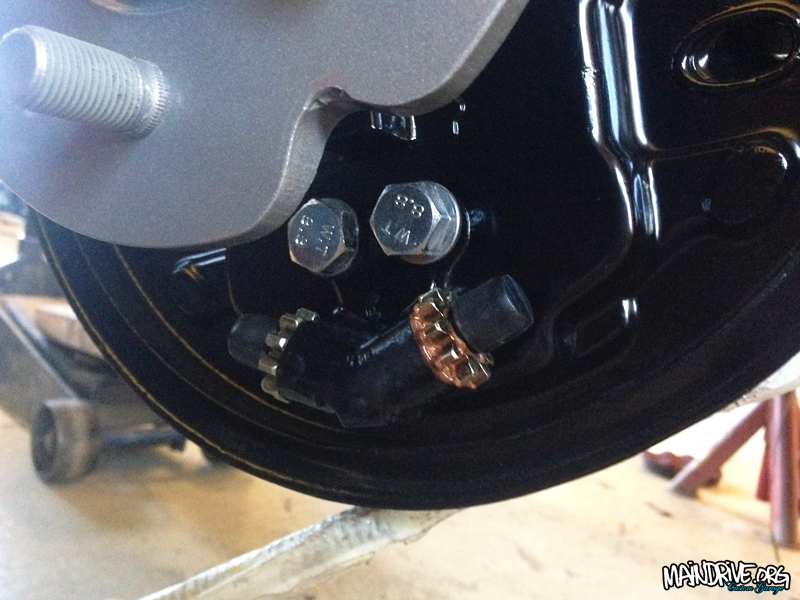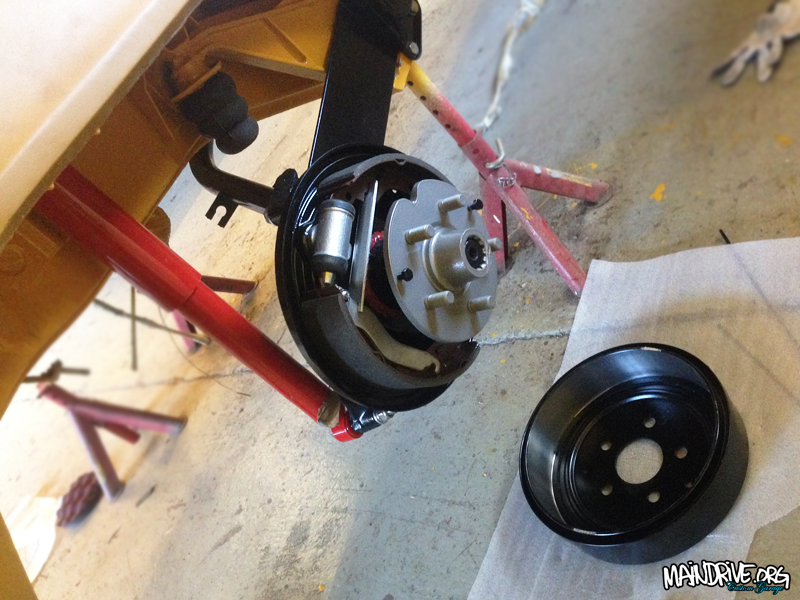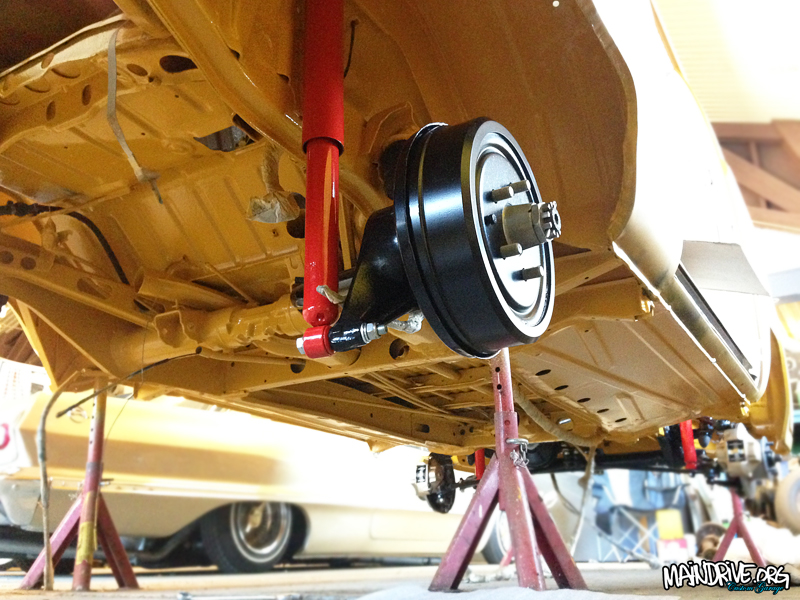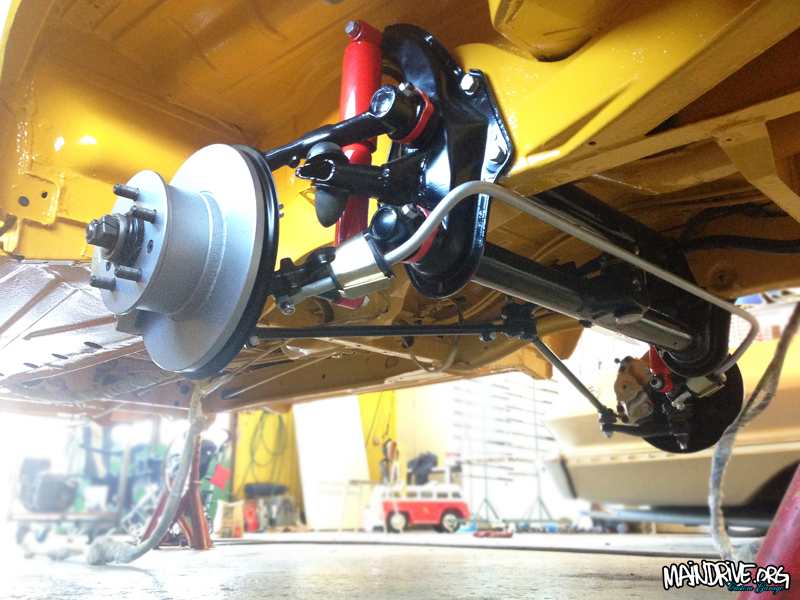 Frans driving his minibus 🙂 More pics at Instagram: @campersontour

Today the bus was dropped of at the glasshop for new front windscreen and installing all windows with new rubber seals. The last final parts (bumpers) are getting painted tomorow or on Thursday. They were handpainted with brush, twisted, rusty and lots of small dents. After sandblasting they got welded, straightned and all dents hammered out. Then a light coat of bodyfiller to make them straight again, then Zinc rustprimer and after this surfacer/ground primer to get them smooth again after the sandblasted surface. Next up is some more sanding and then Deepblack paint. New covers and bolts are waiting from Just Kampers! The bus should be ready for the road in the end of the week! More pics to come…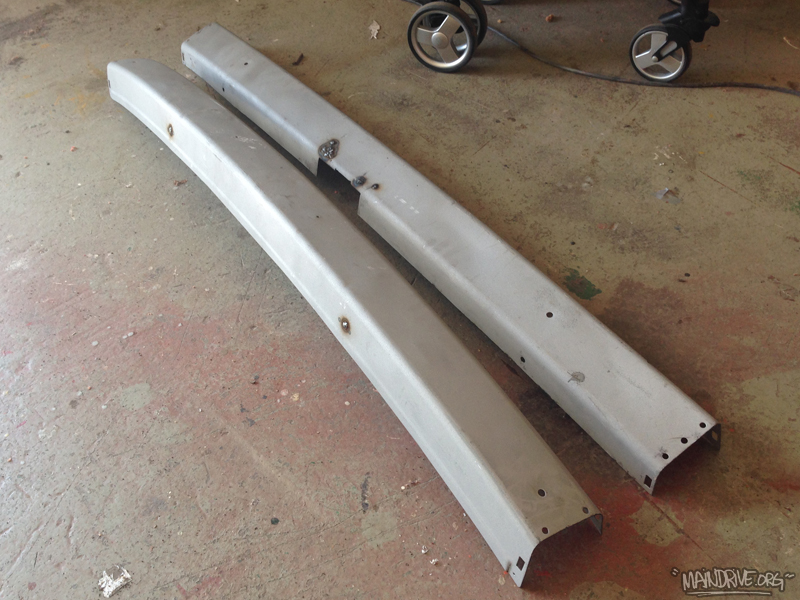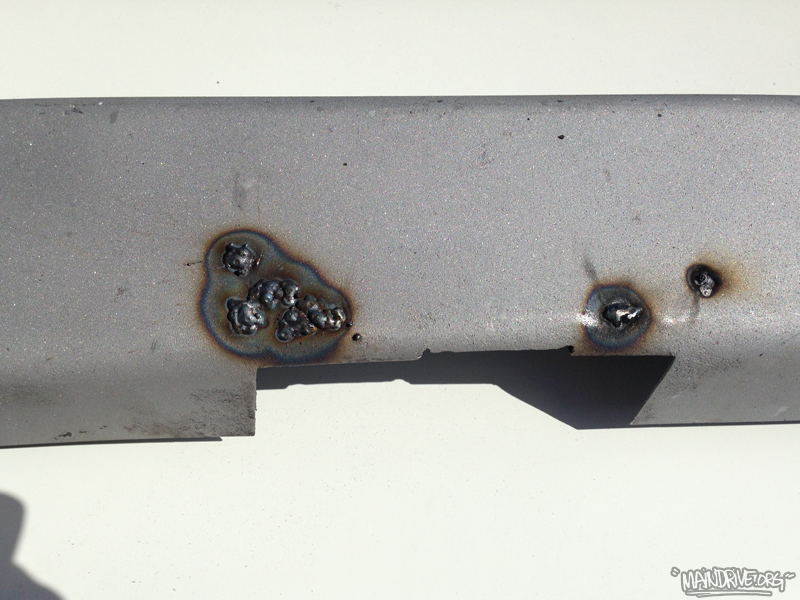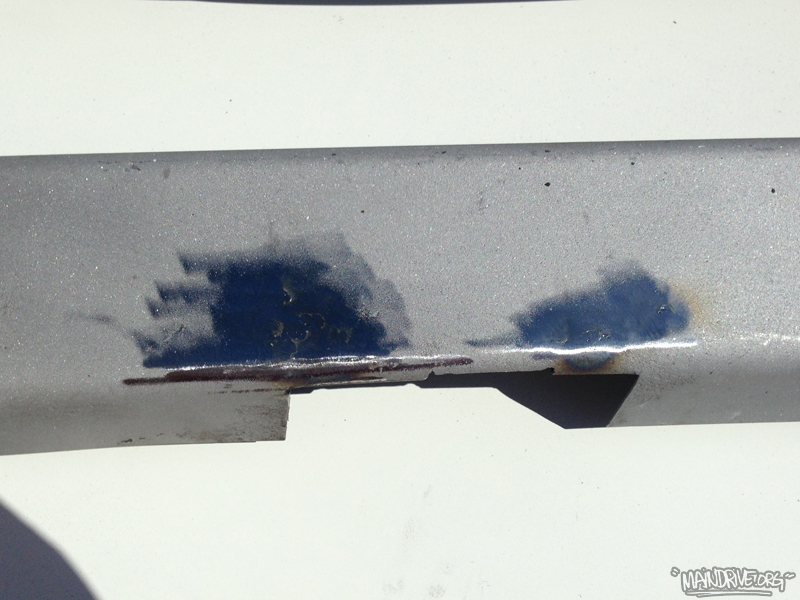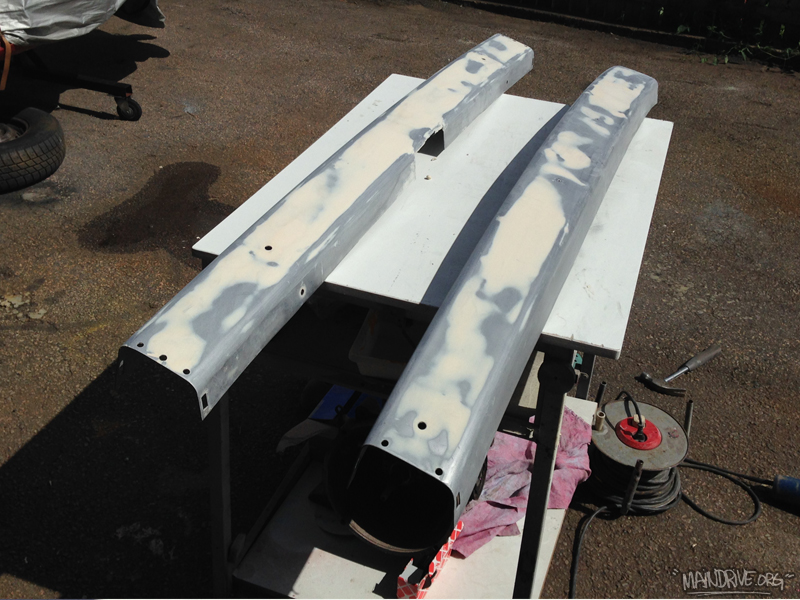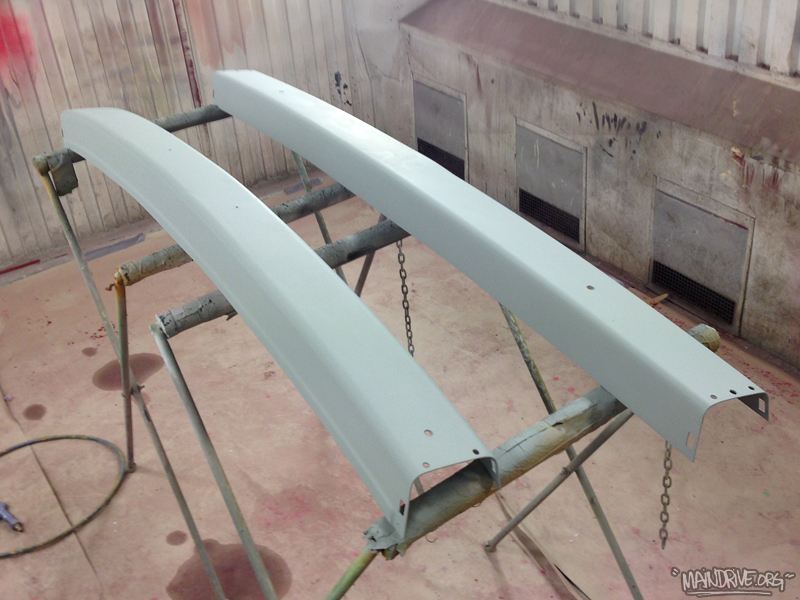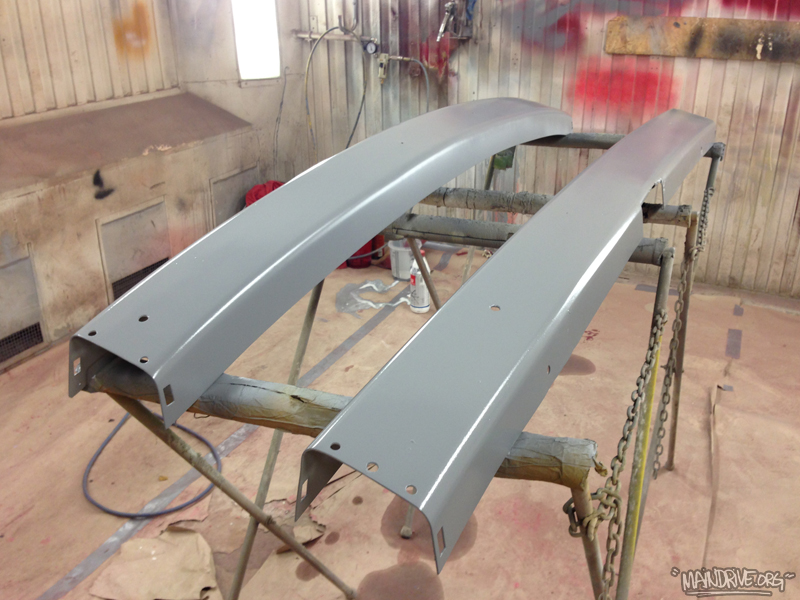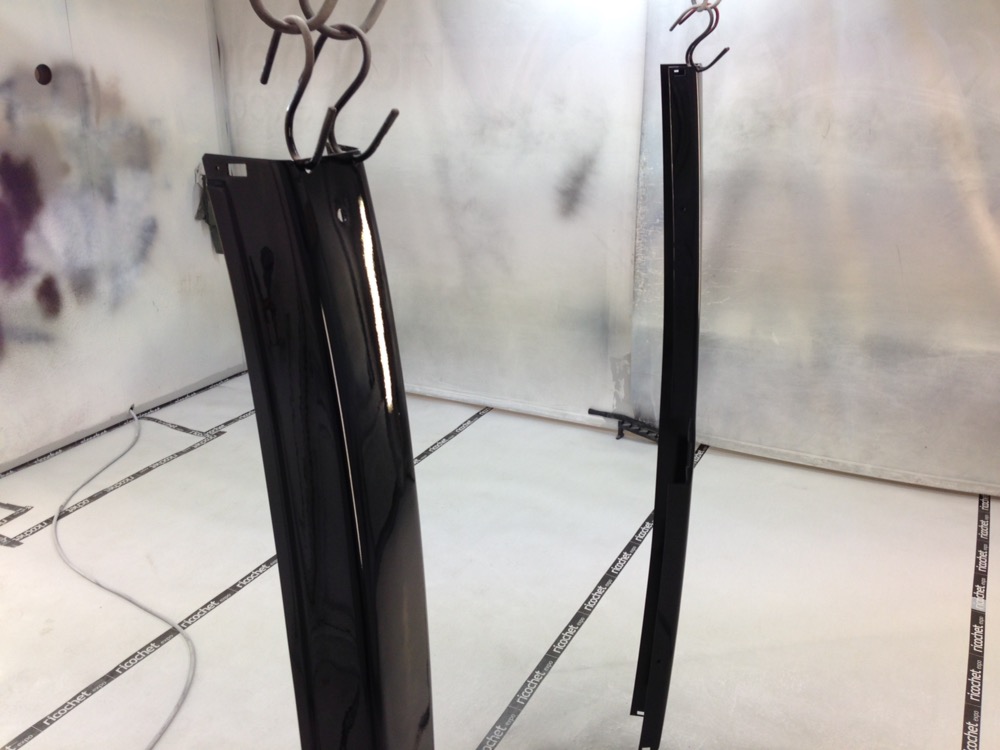 Wheels have been fitted, needed 5mm spacers all around and longer wheelstuds (56mm) in the rear and new bolts. Wheels are 17″ inch with 225/45 tires, offset 35. Need to make a custom centercap for the speedometer tho. Lots of new parts have been installed from Just Kampers, like new taillights, fuelfiller neck, footsteps, roof ventilation, mirrors, windowfelt trim in front doors etc. Waiting on tailgate seal and new clips for the freshly painted front grills. Bumpers have been blasted and are now getting welded, straightned up and removing big dents before paint in Deep Black. Next big step is taking it to the glass shop and get all windows installed with new rubber seals! Then its ready for the road…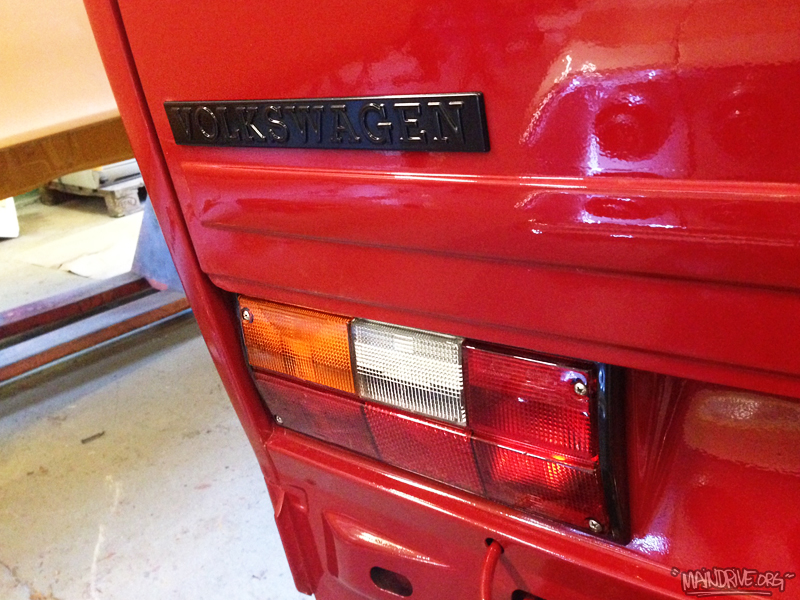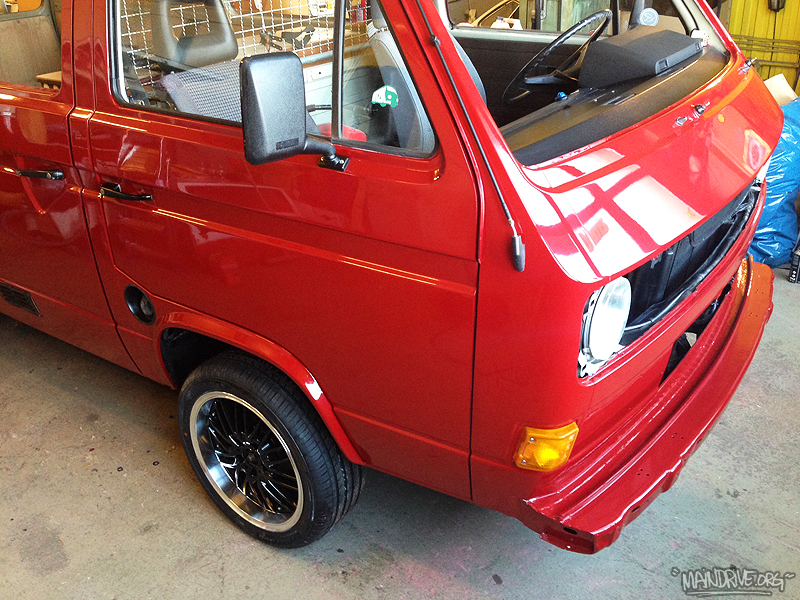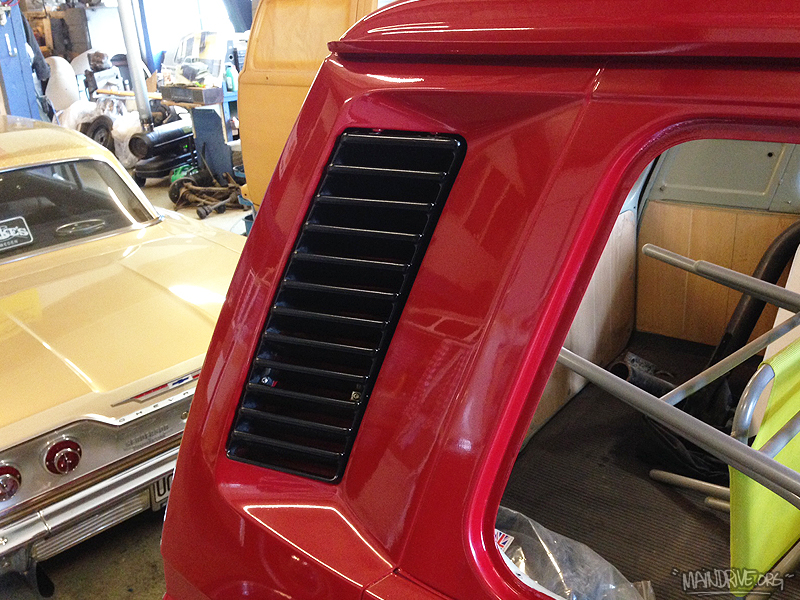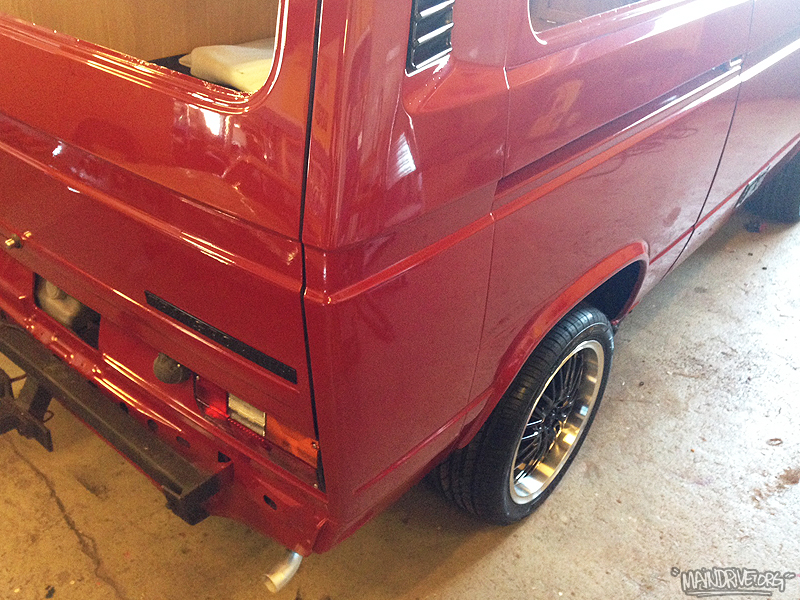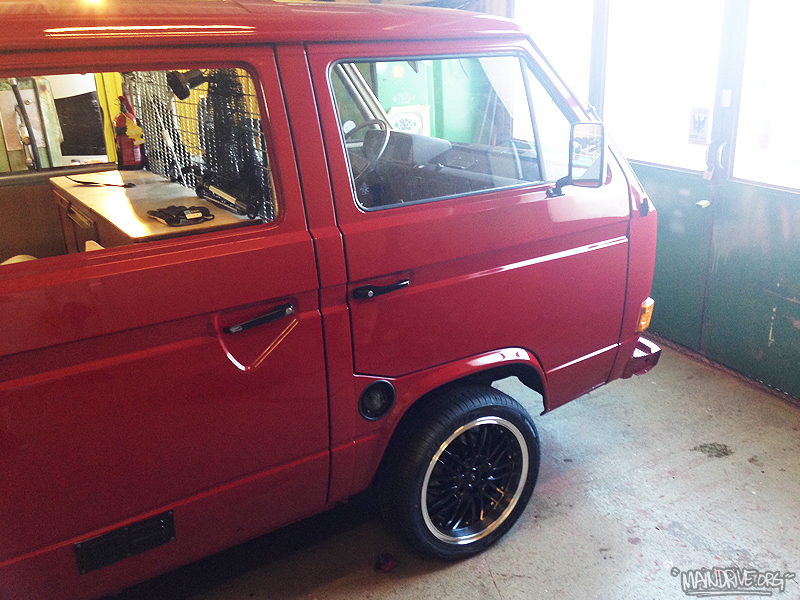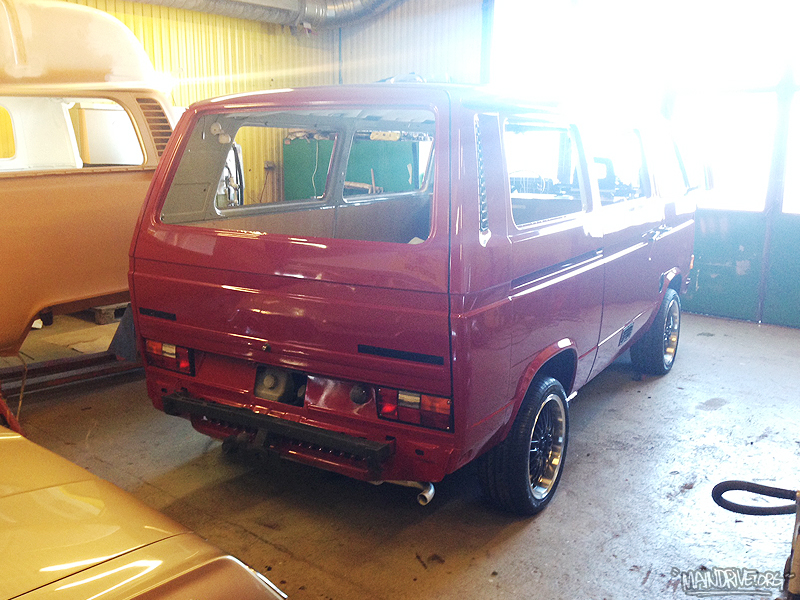 After alot of bodywork and sanding it was time for topcoat paint in VW Marsala Red H3D. Looks nice in red! Also got new Deepblack paint on the sun grey faded trim and parts like the front grills, handles, air intakes, wipers etc. I think all the black parts will match the black wheels perfect when its all together. The wheels from Germany will arrive this week and the other new VW parts from Just Kampers will be here tomorrow!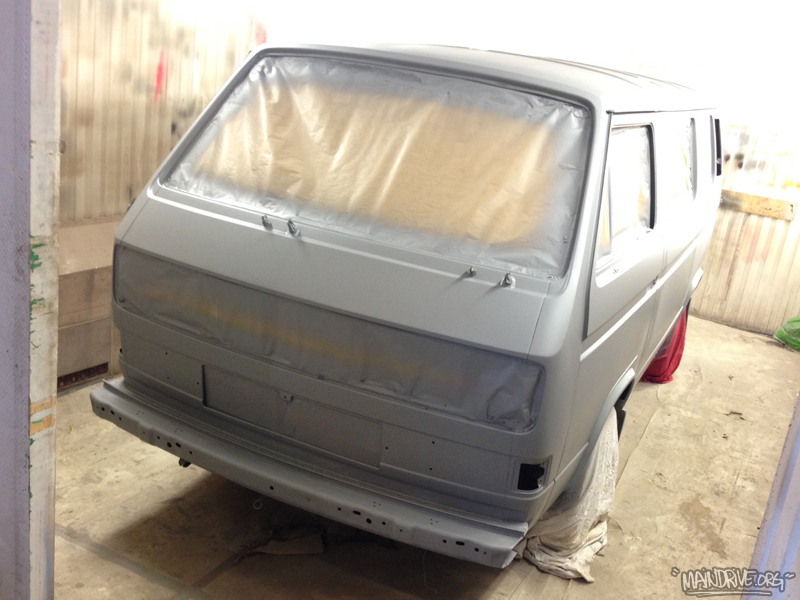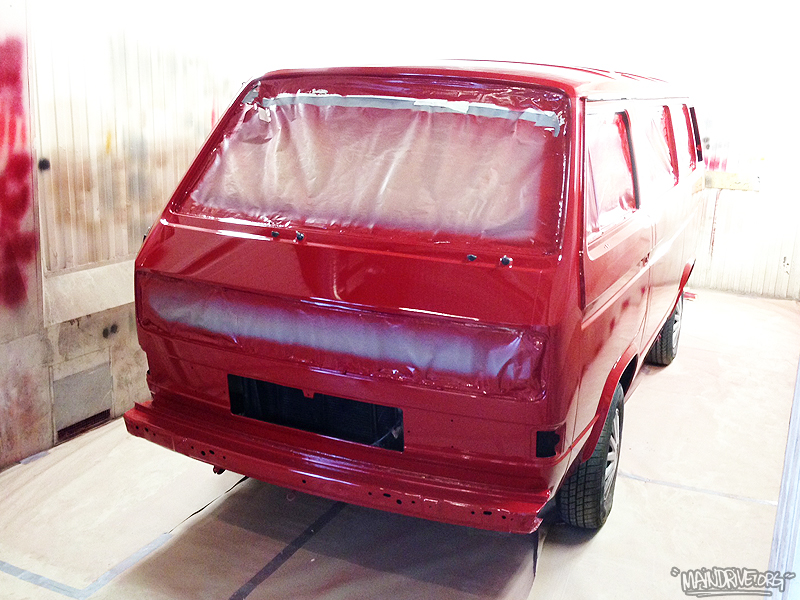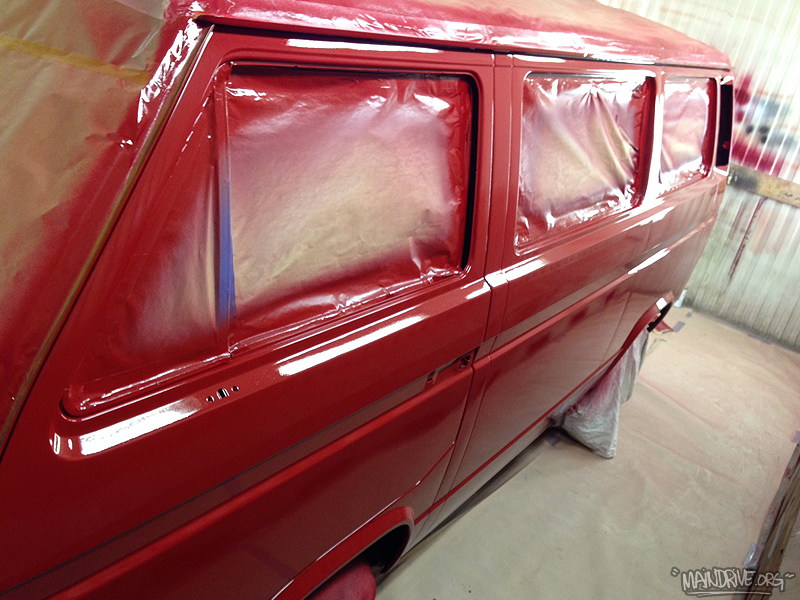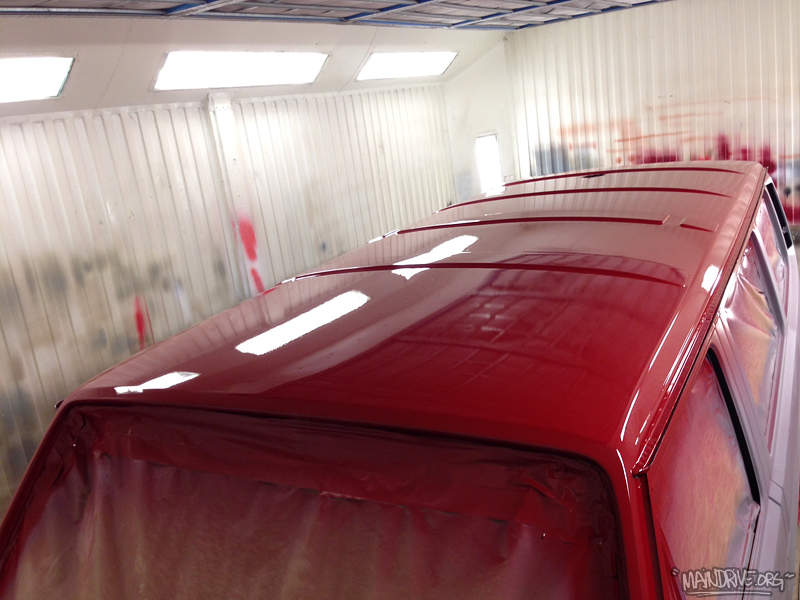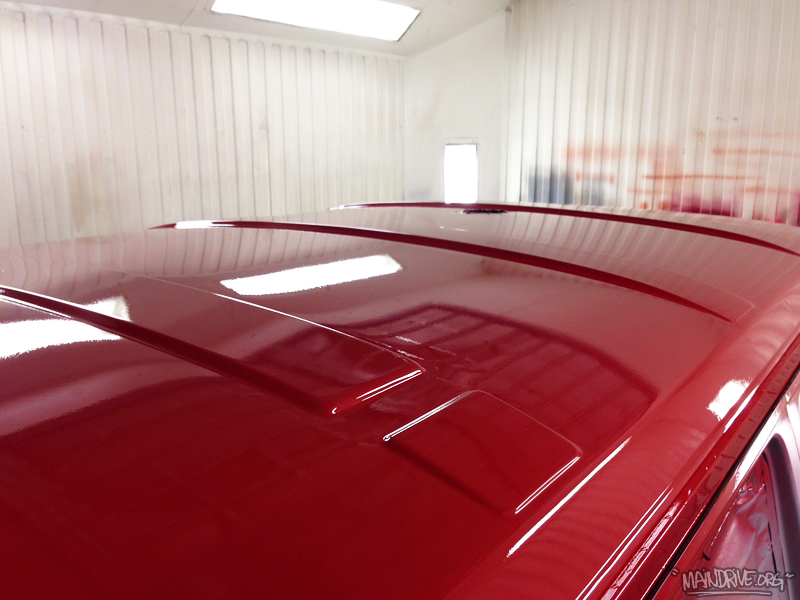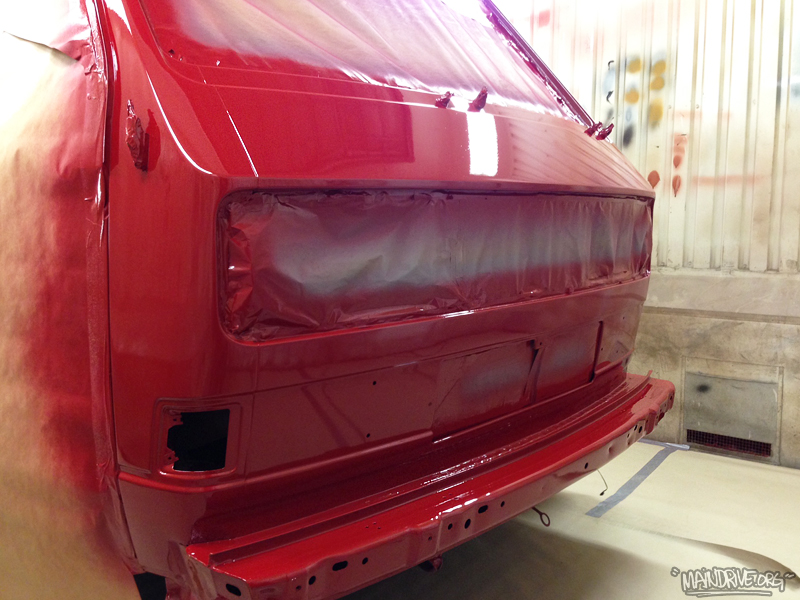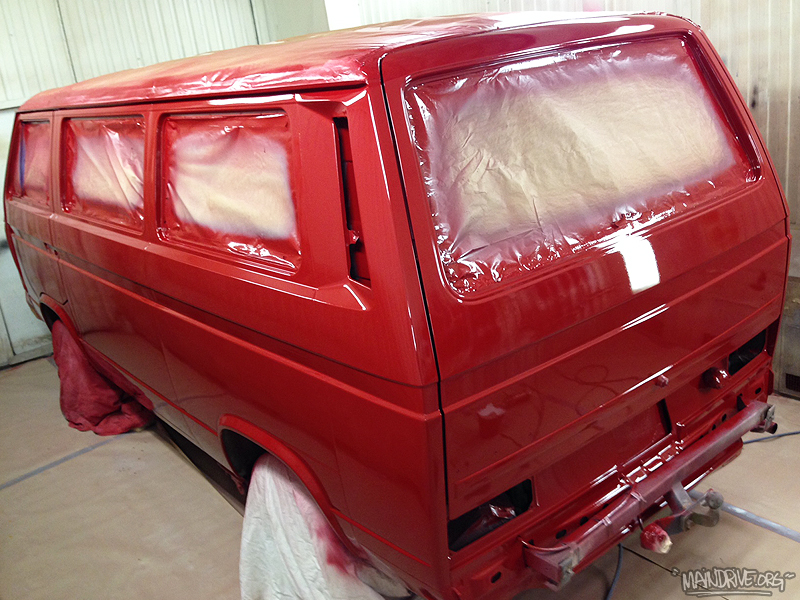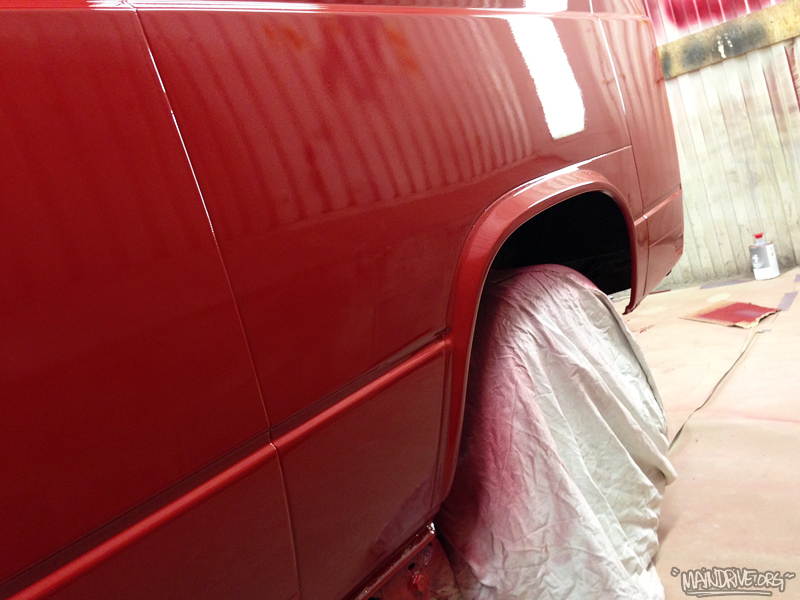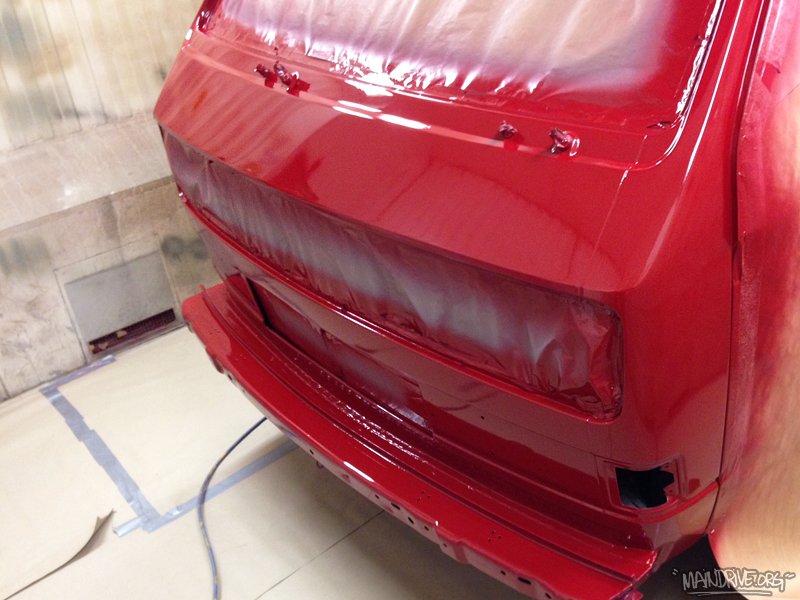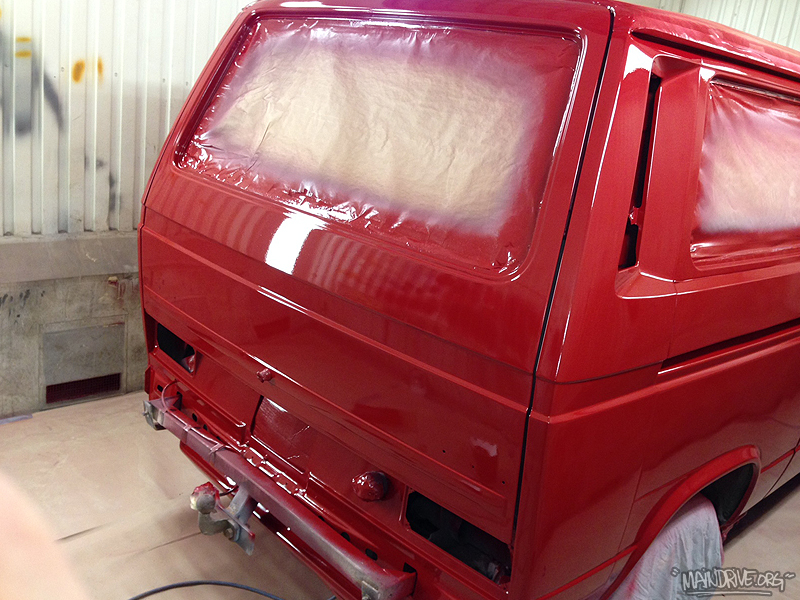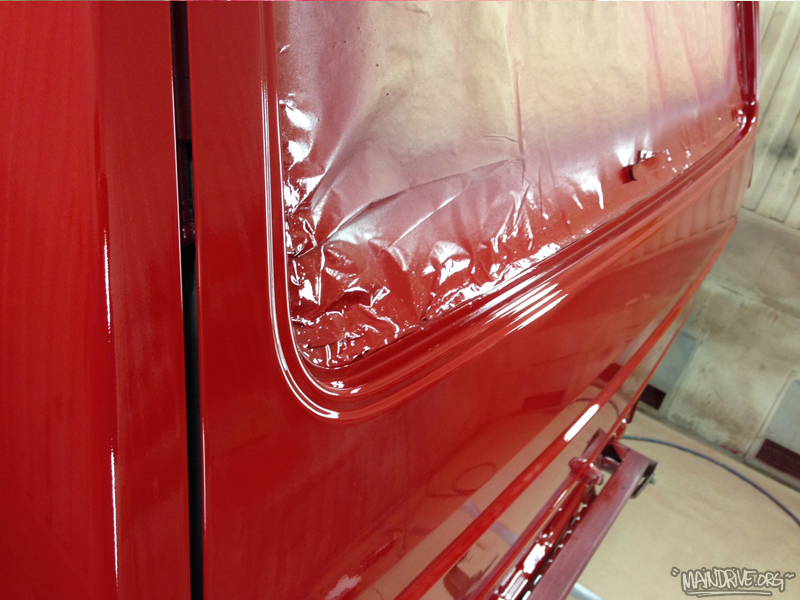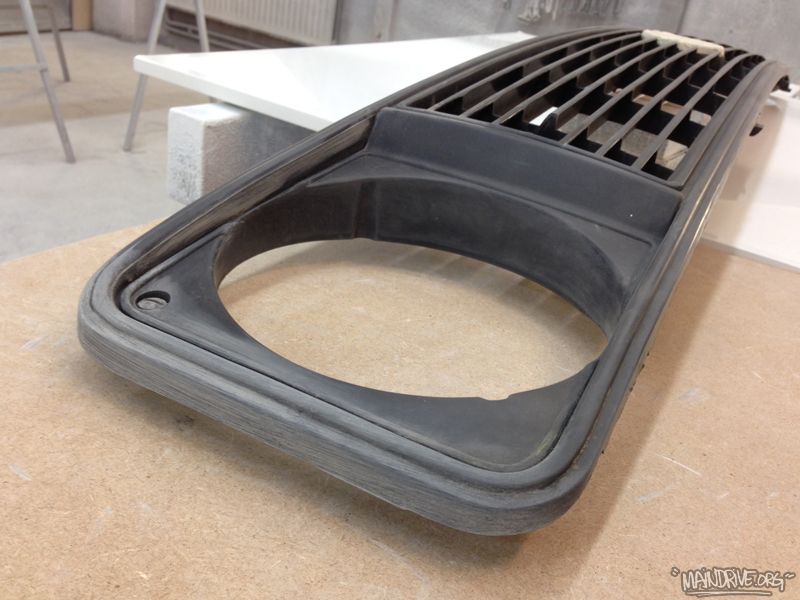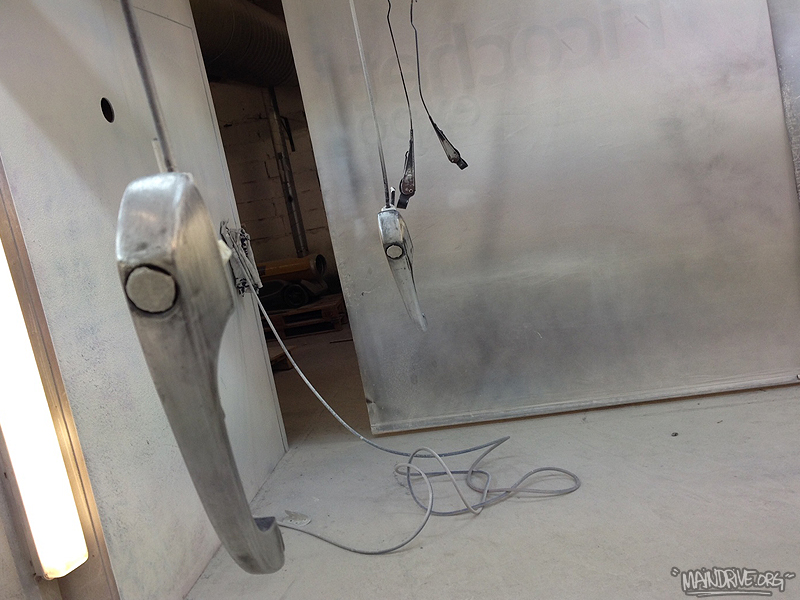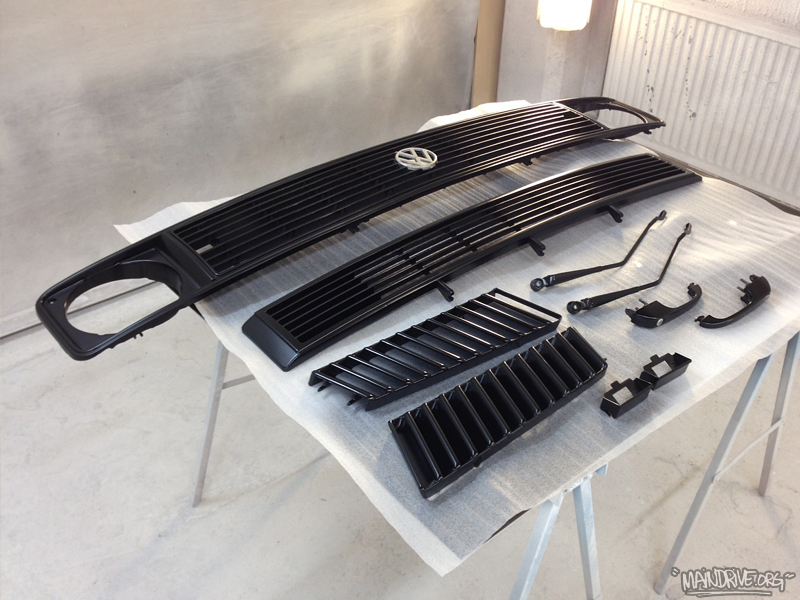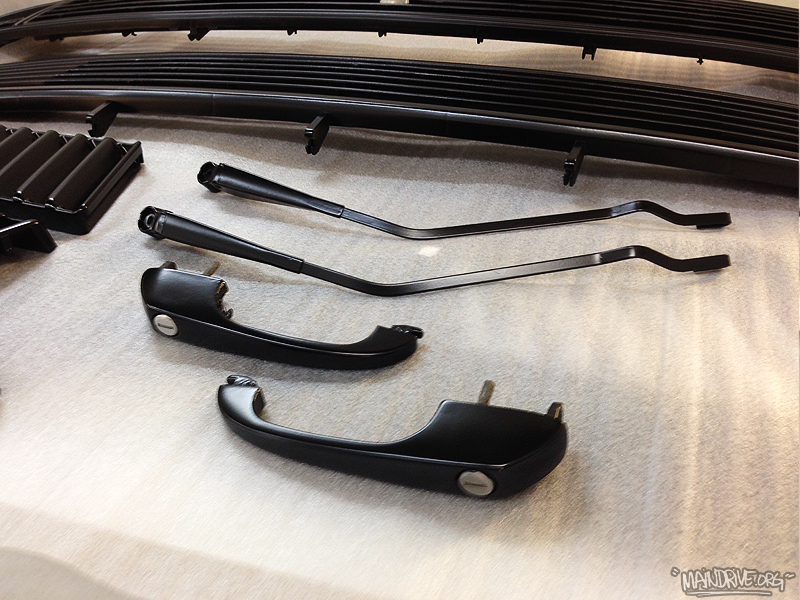 All the places that have been sanded and sandblasted down to the bare metal have been painted with yellow 2k epoxy rust primer for protection. After this, all the small dents, scratches and imperfections in surface/metal after sandblasting etc have been filled up and sanded smooth and all the seams have been sealed up with new seamsealer. Then it was covered in yellow epoxyprimer again. When it was all dryed it just needed a light sanding before 3 coats of grey surfaceprimer was added. Now it has to dry a couple of days before it can be sanded down again, but this time more carefully and must be perfect! When this is done its ready for topcoat paint in VW Marsala Red H3H3.
Bumpers and some smaller parts is at the sandblasters at this moment and more new parts from Just Kampers in UK is on its way right now. Time to choose some cool wheels also, stay tuned for more pics and updates!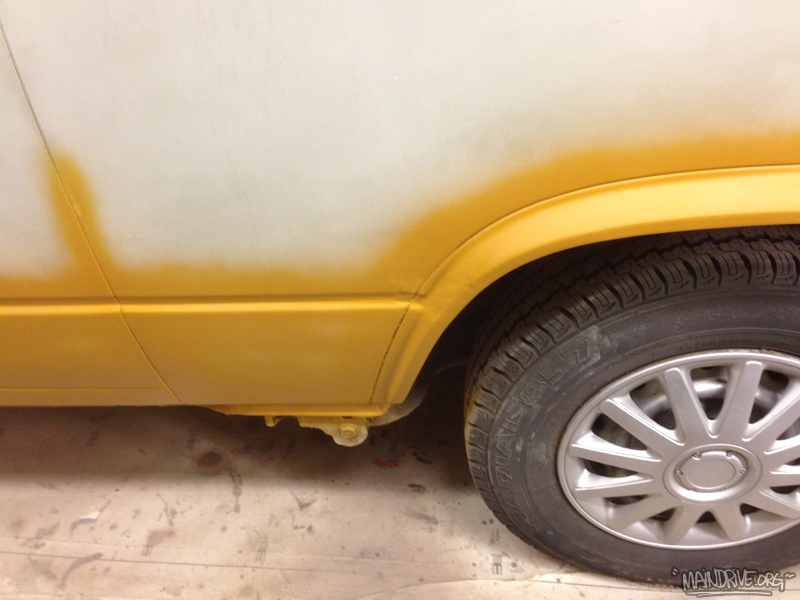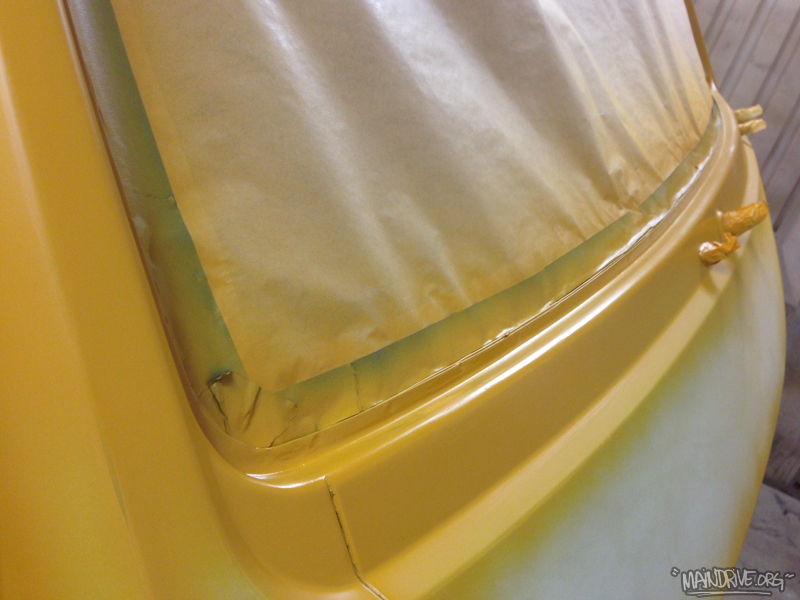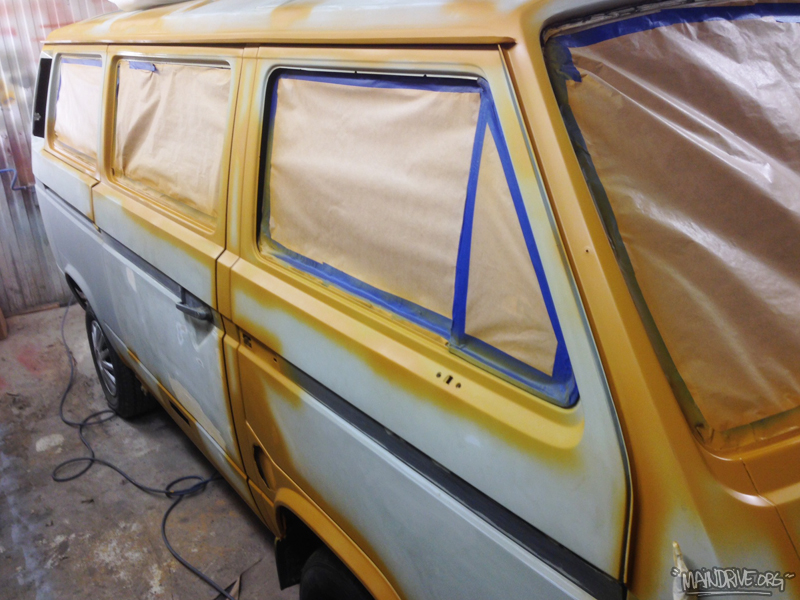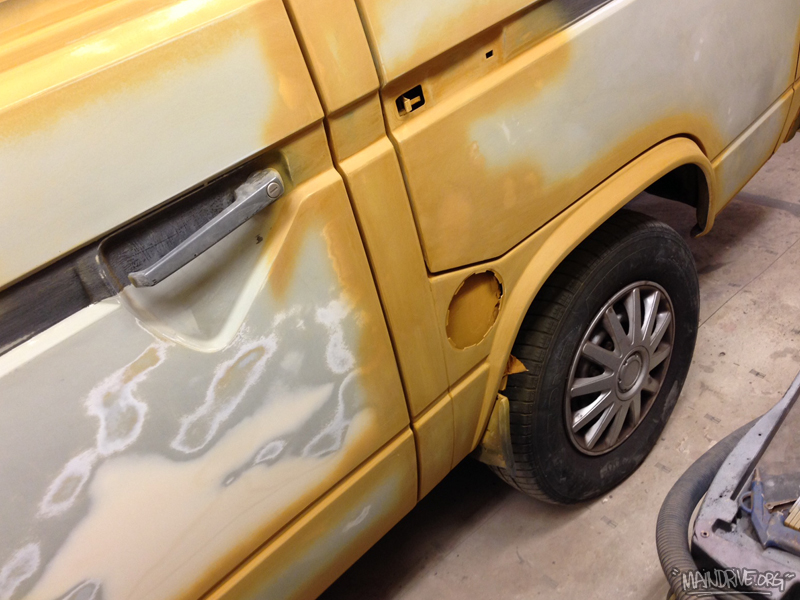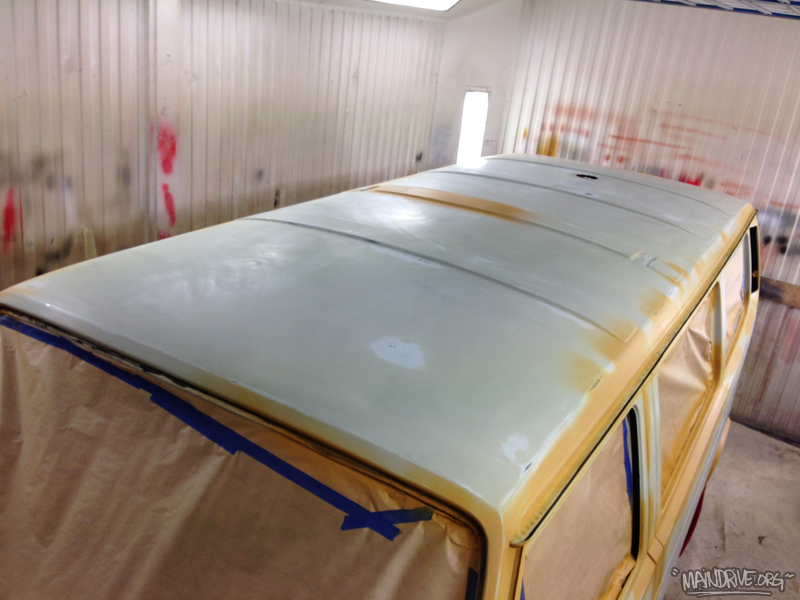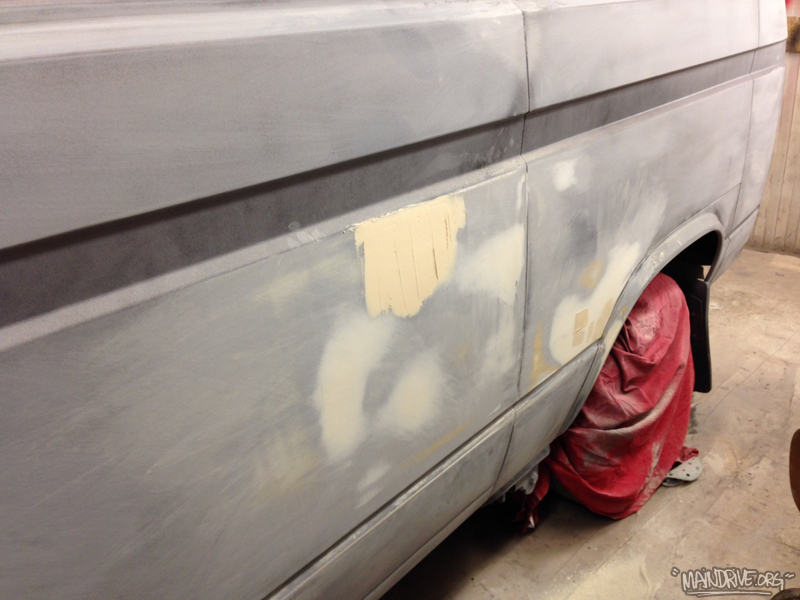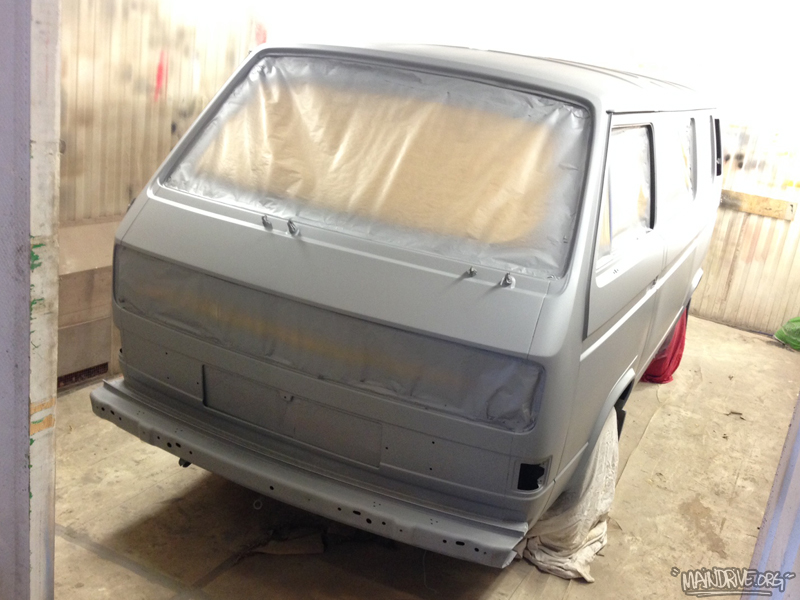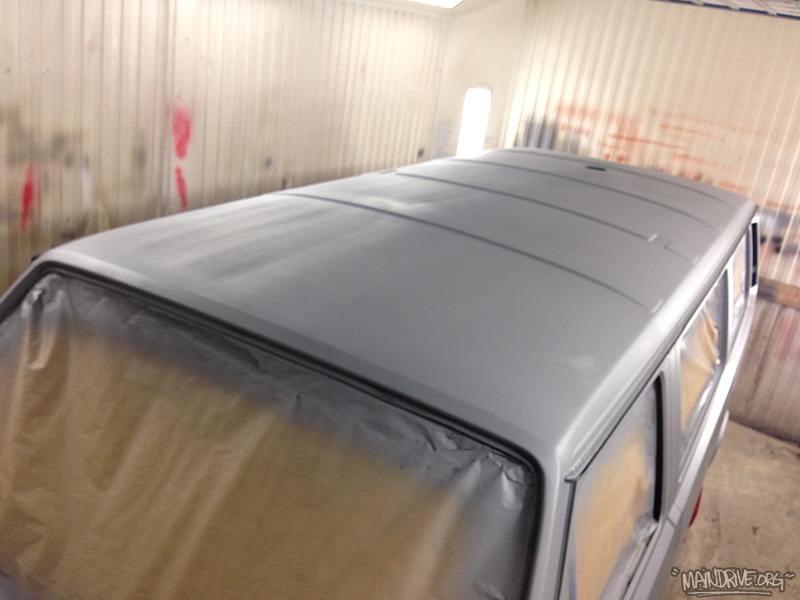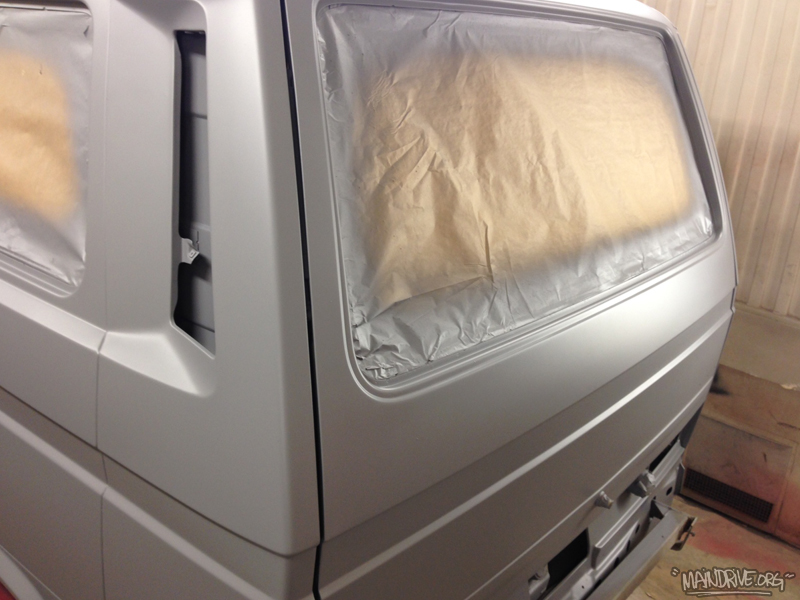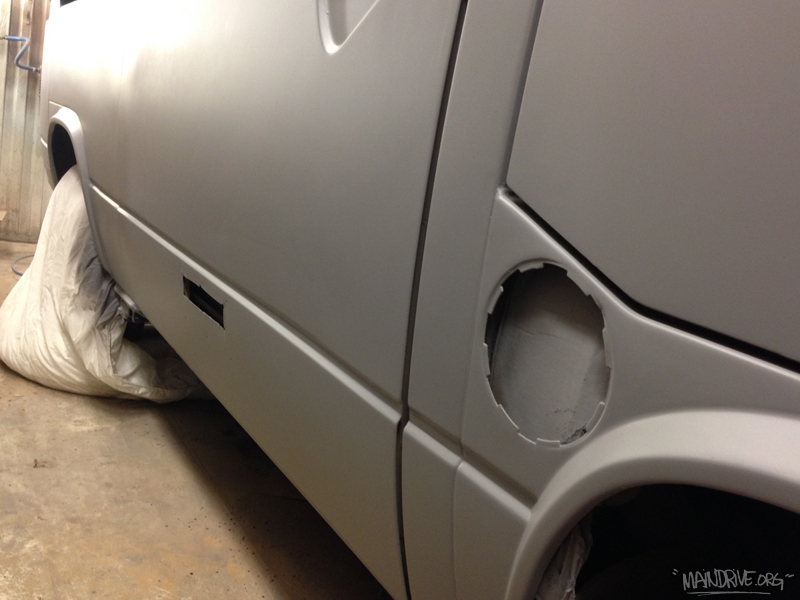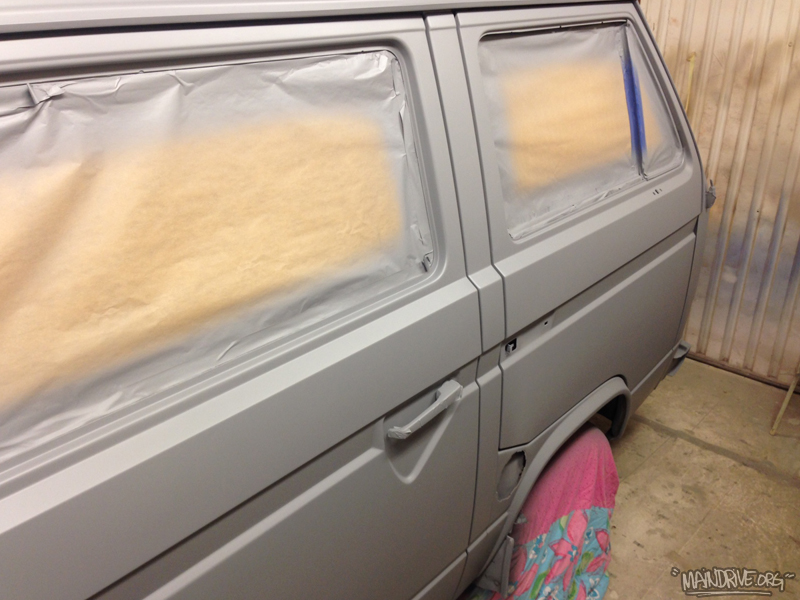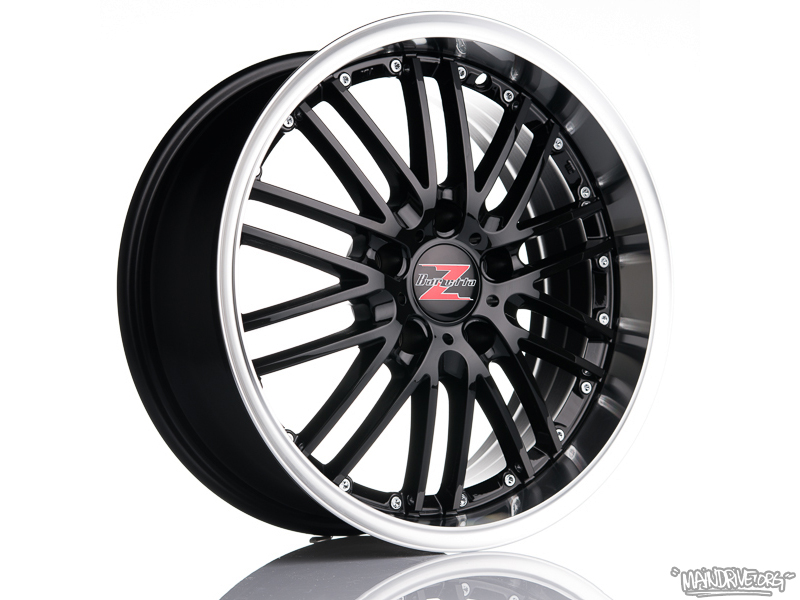 Maybe these 17″ wheels? 🙂
Some more progress made on the Highroof bus. More parts have been sandblasted and painted during the week. The chassi is finally painted too, after months of hard work. 2k polyurethane paint with elastic attribute. Good if you dont want to have stonechips in the paint later on. Cant wait to start bolting on all the new parts on the shiney chassi, no more dirty work! Also got a NOS 1960-70s roofrack that will get modified to fit on the highroof, perfect for the future solarpanels etc. Got a spare BA6 Eberspacher burner too, will be good to take parts from when I start the restoration of the original one. Here is the pics…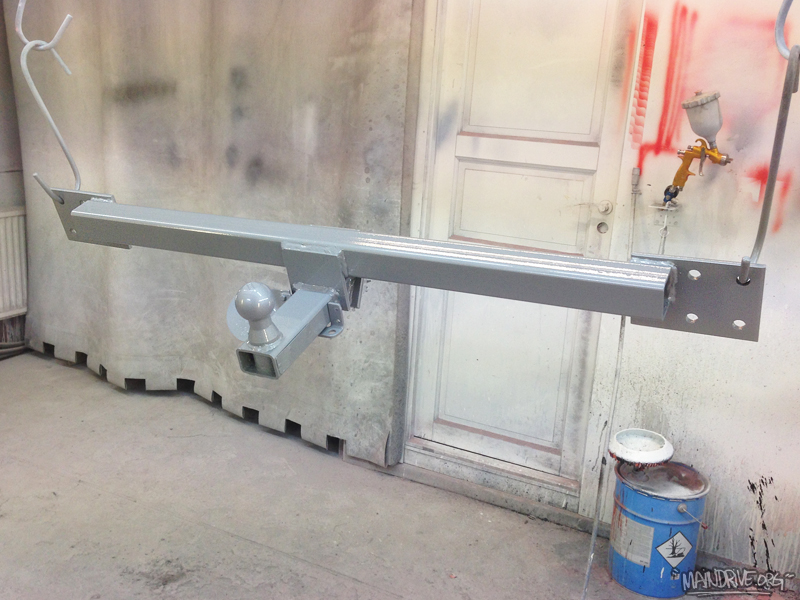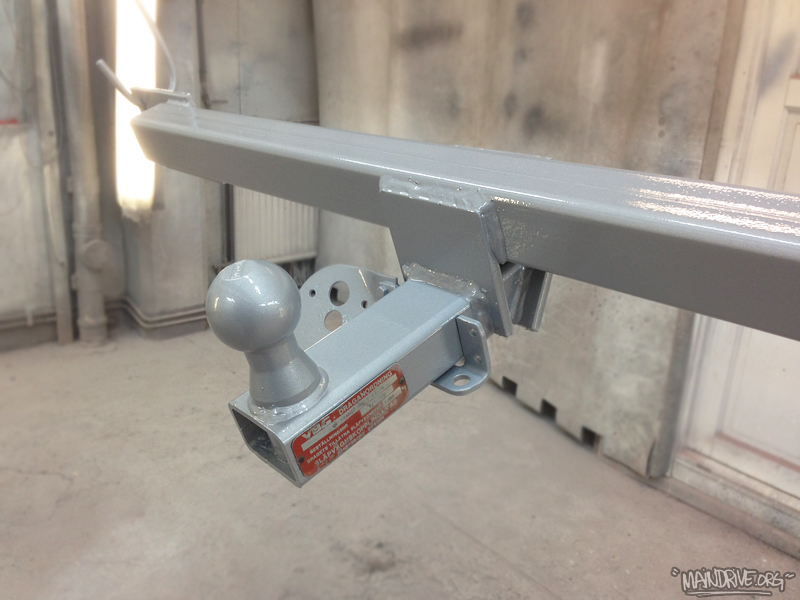 Sandblasted and painted silver metallic. RAL9006.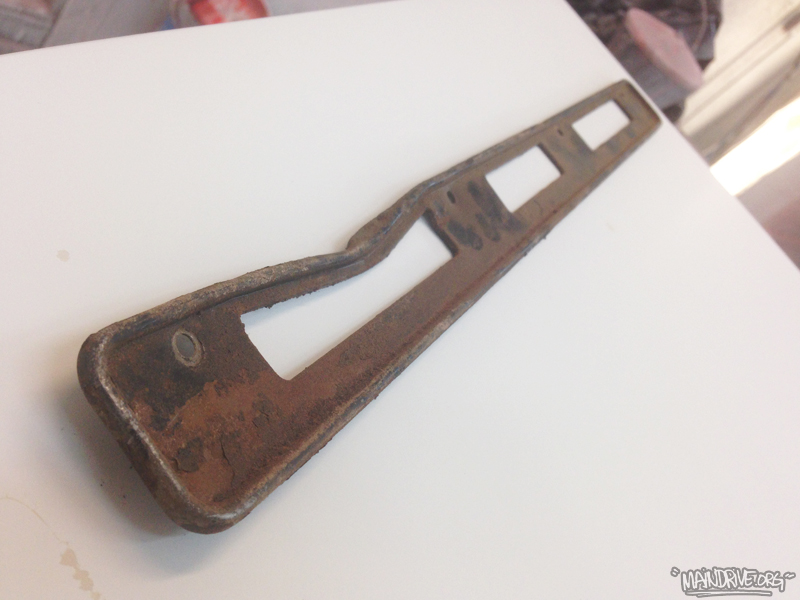 BEFORE.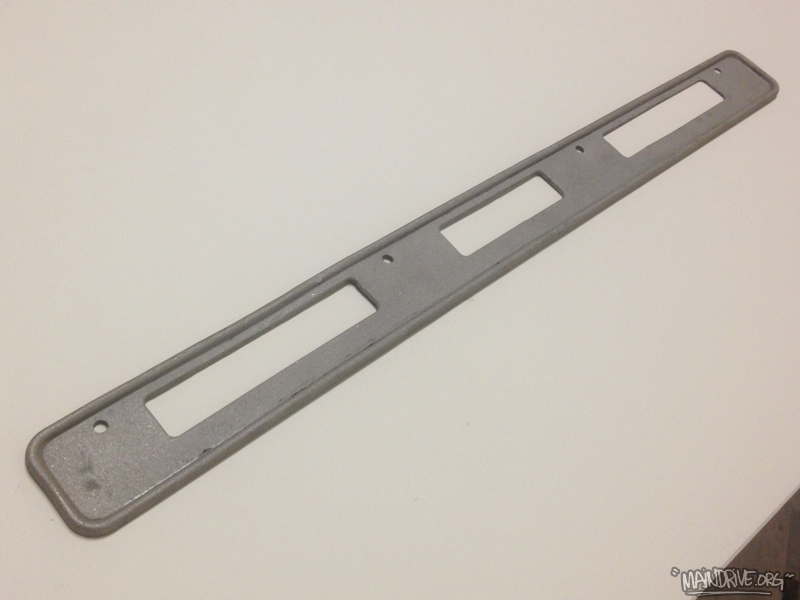 DURING. Straightned out and sandblasted baremetal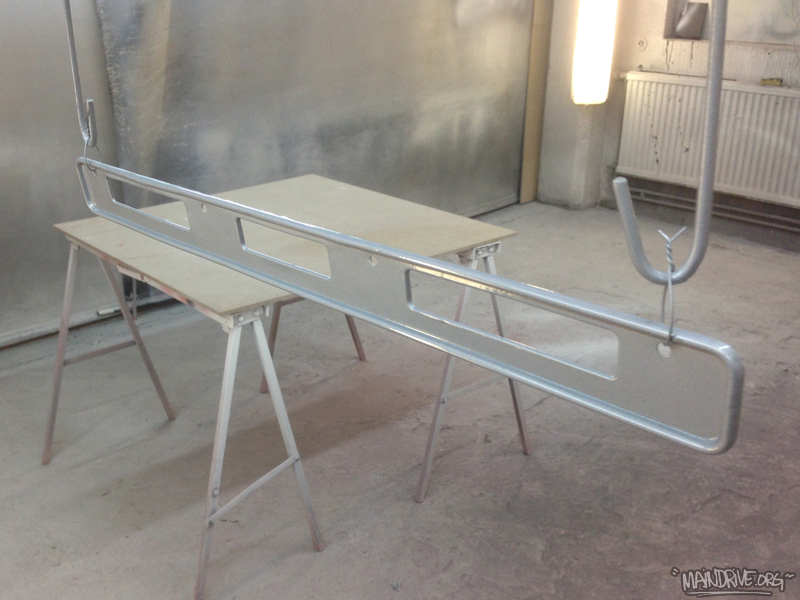 AFTER. Painted, also made a custom mesh in stainless for it but forgot to take photo.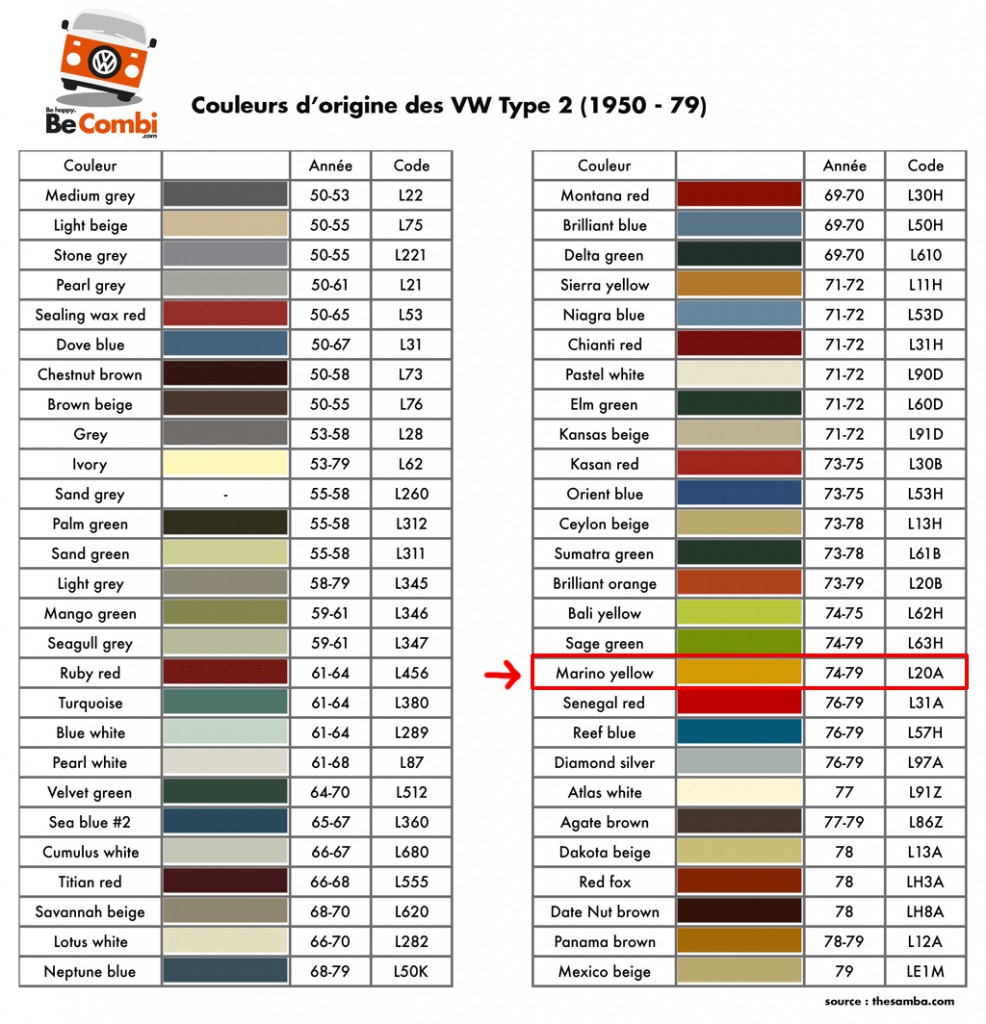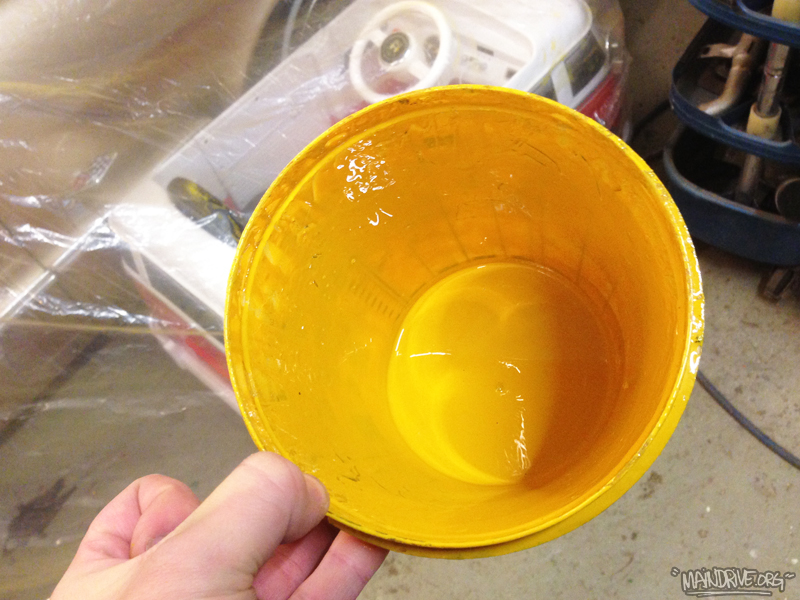 Marinoyellow VW L20A period correct.